April 14, 2010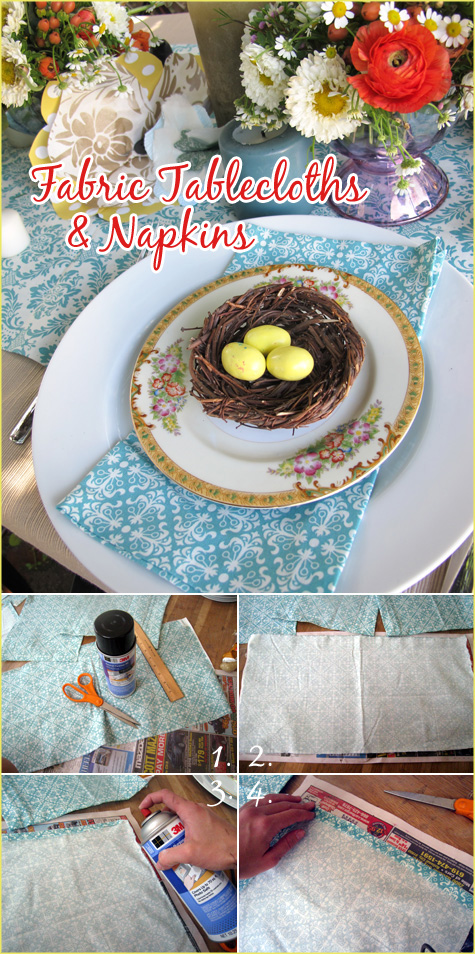 Here are two more quick projects from the Vintage Nesting shower I threw a couple of weeks ago. The first is a quick tutorial on handmade tablecloths and napkins – it's so easy to take a basic fabric remnant and turn it into themed linens for your entire party.
I found these teal damask prints at Joanns and used a spray adhesive to quickly hem them. *In retrospect I would use iron-on hem tape as my no-sew solution because my lovely linens did not hold up so well after multiple washings.*
For the entire step-by-step directions, check out the 'read more' button at the bottom of this post.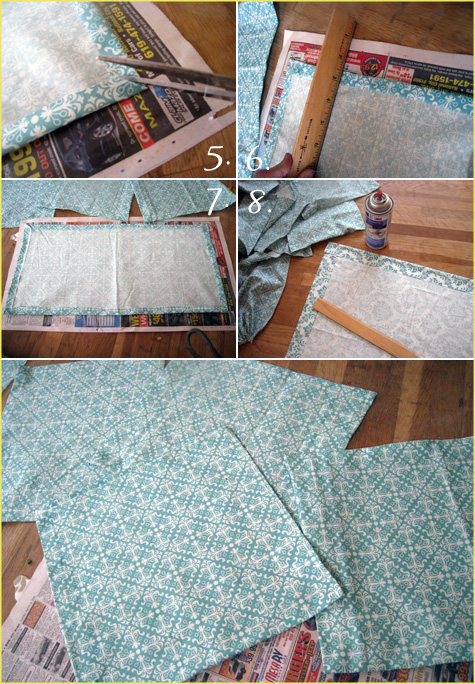 End result!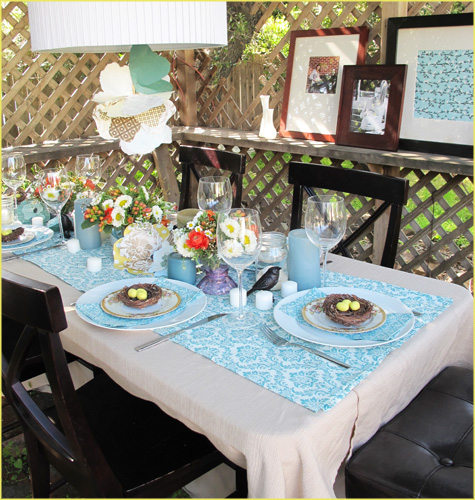 The second DIY project involved star shaped book bunting (unfortunately I didn't get the best picture of the bunting – which was connected via tiny vintage brads – but here are a couple of shots where I used the book art on the various shower tables and pin board). It's a vintage decoration that can be added anywhere.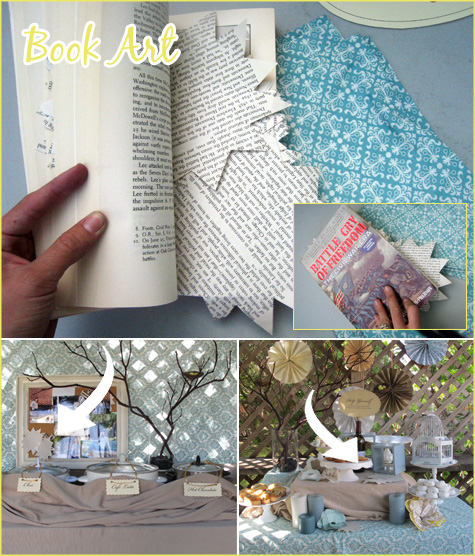 Battle Cry of Freedom sacrificed itself for this project… I used the pages to make a multi-point star template that became table top decoration added amidst pictures of the mom-to-be and even connected at the points for a bunting that could be strung between doors, windows, on tables and behind a dessert buffet.
More step-by-steps for the handmade linens after the jump! Read more »
Tags:
Accessories
,
Baby Shower
,
Before & After
,
Birthday
,
Blue
,
Bridal Shower
,
Crafty Solutions
,
Decorating
,
Dining Room
,
Dinner Parties
,
DIY
,
Fabric
,
Kids Party
,
Orange
,
Patterns & Color
,
Red
,
Teal
,
Wedding
Posted in
Crafty Solutions
,
Home
,
Parties & Entertaining
|
8 Comments »
April 13, 2010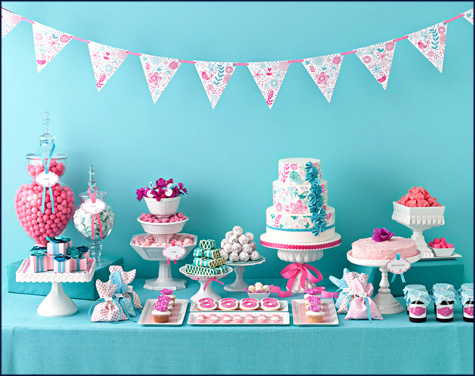 Oh yummy. And pretty. There are so many handmade & DIY finds in each of these lovely tables that Amy Atlas recently designed and created for Bride's Magazine. Here are all of the details!
The Vintage Table: "We incorporated aqua and magenta birds and blooms throughout the design of this table.  We made feed sacks by sewing vintage fabric, made homemade preserve favors, and created a bird and bloom bunting banner.  We included a birds and bloom ruffled wedding cake, nostalgic candy such as salt water taffy, maltballs, ribbon candy, an old fashioned buttercream cake and dahlia cupcakes.  We also made favor boxes with handmade fabric dahlias."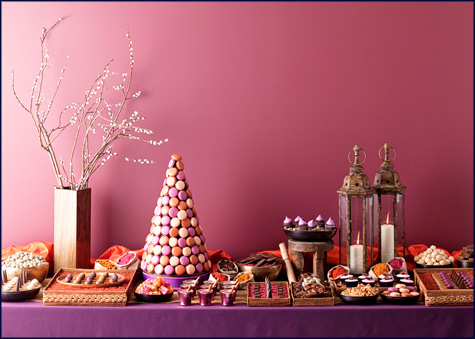 The Chocolate Spice Table: "We incorporated spiced chili and naga curry infused truffles, rosewater malban, pyramid-shaped chocolates, sesame candy and a macaron tower, all on bronze and rattan vessels filled with whole spices. For decorative elements, we included Moroccan lanterns and a pussy willow branch display. We also sewed together burlap fabric to create spice sacks to give the table a "Moroccan-market" feel and filled up Moroccan tea glasses with spiced hot chocolate and cinnamon sticks."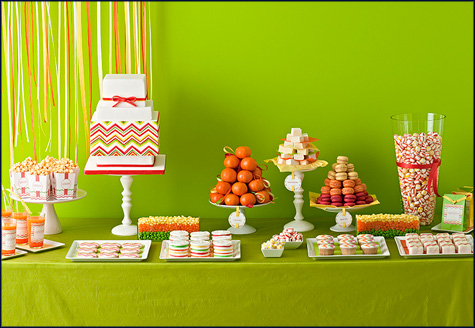 The Citrus Chevron Table: "For this table, we incorporated a bright citrus color palette of tangerine, lemon and lime with a modern chevron zig zag pattern.  We created a ribbon garland, clementine centerpiece, as well as chevron patterned popcorn cups and favor bags.  We included a modern chevron cake, which we placed on zig zag vessels.  Other great treats included passion fruit marshmallows, chevron patterned cupcakes and citrus meringue buttercream sandwiches."
Photos by Andrew McCaul.
Tags:
Baby Shower
,
Birthday
,
Blue
,
Bridal Shower
,
By Color
,
Cake
,
Crafty Solutions
,
Decorating
,
Dessert Bars
,
Dinner Parties
,
DIY
,
Green
,
Kids Party
,
Orange
,
Parties & Entertaining
,
Patterns & Color
,
Purple
,
Wedding
Posted in
Parties & Entertaining
|
6 Comments »
April 5, 2010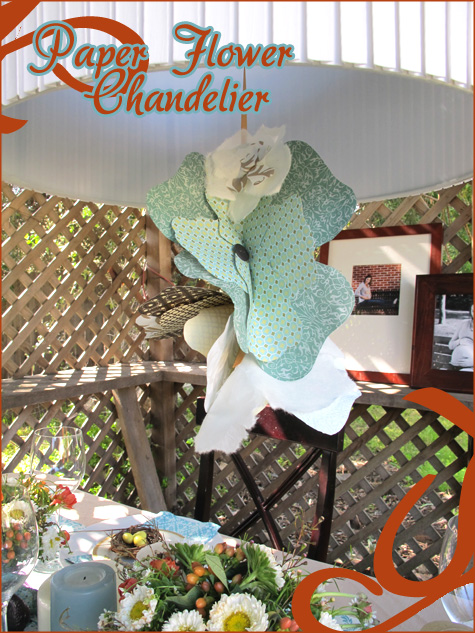 One of my favorite diy projects for this shower (Part 1 & Part 2) included handmade flowers and a big white chandelier to hang over the main table. Each flower was easy to assemble and when scattered about the table, dessert buffet or attached to long, gold ribbon they gave a vintage, rustic vibe.

The chandelier was a collage of handmade flowers hanging just below and inside the large white lampshade (a thrift store find at just $1) in place of a light bulb. I used the same gold ribbon to balance the shade above the table and also to hang the flower cluster from the inside of the chandelier.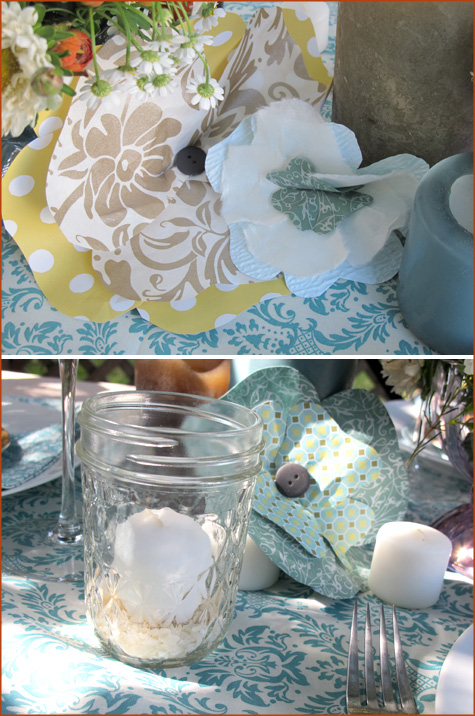 In addition to hanging the flowers from up above, small clusters were grouped on the tables and elsewhere around the party.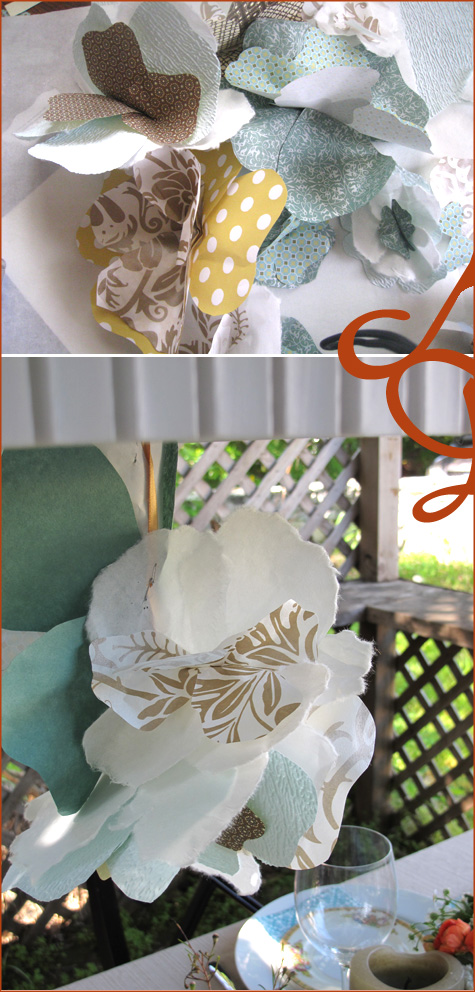 Making the flowers was simple. I collected specialty paper from stores such as Paper Source, Michaels and even my local Artists & Craftsman. I especially love the large rolls of handmade paper for their texture and variety.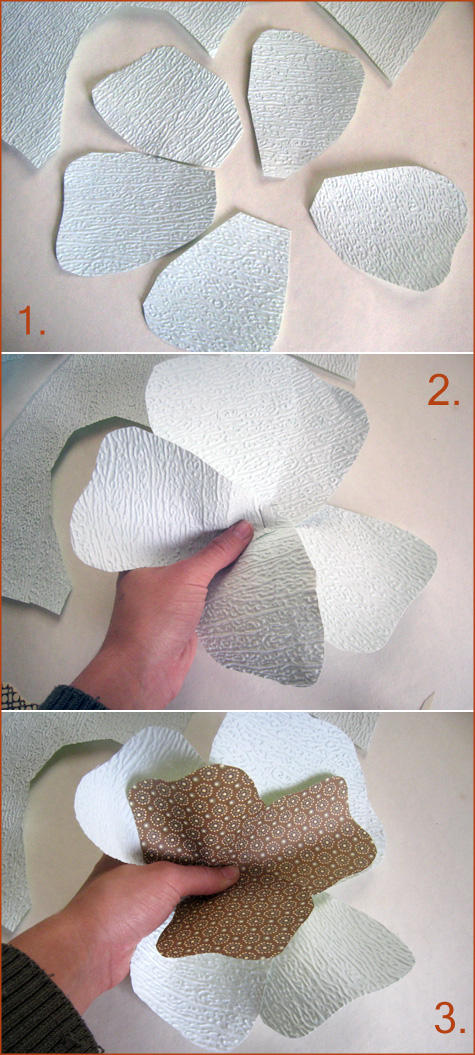 For complete diy instructions and more step-by-step pictures, follow the jump. Read more »
Tags:
Baby Shower
,
Bridal Shower
,
Crafty Solutions
,
Decorating
,
DIY
,
Kids Party
,
Parties & Entertaining
,
Patterns & Color
,
Tutorial
,
Vintage
,
Wedding
Posted in
Crafty Solutions
,
Parties & Entertaining
|
14 Comments »