April 2, 2012
Easter is just a week away! It is a favorite holiday of mine for so many reasons… one of those being the significance of new life, the passage of winter to bright, fresh spring. It's also a holiday that we celebrate with extended family. This year my aunt is pulling my Dad's side together to spend time with my Grandma who is turning 85 and I'm really looking forward to it.
Speaking of fresh, spring colors, these tablescape ideas are right up my Easter brunch alley. Perhaps I'll see if I can't call dibs on hosting the egg hunt next year.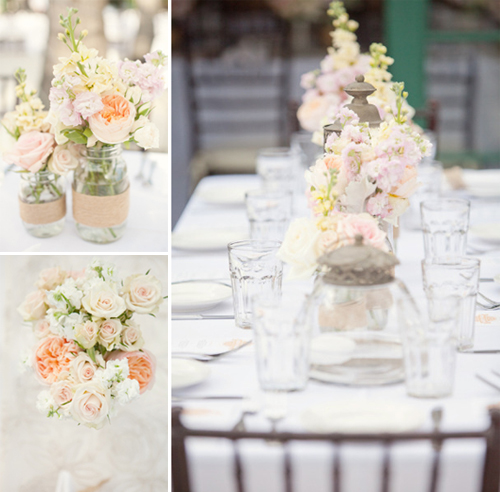 I love the muted coral, pinks and whites of this traditional table setting, and the sweet burlap, vintage jar and striped straw accents add thoughtful detail, as do the handwritten food labels.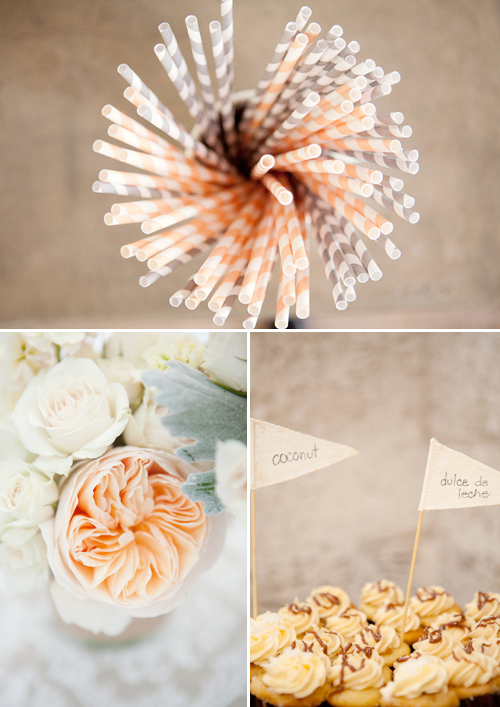 An alternative and brighter Easter palette to play with includes pops of fuchsia, burgundy and pink. Love the hanging floral spheres below (craft your own inexpensively from foam balls covered in hot glued plastic hydrangea flowers and hung from thick ribbon – we used white for our wedding five years ago and the floral spheres were hung high enough that guests were none the wiser of the faux decor).
A tablescape featuring a long fabric runner in a solid color and a hodge podge of silver vases full of wild flowers is the perfect centerpiece – pull brightly colored accents (such as throw pillows, a mirror or candles) into an outdoor space to tie the theme together.

Both parties found right here at Style Me Pretty.
Here's a nifty idea from Decor8′s contributing writer Leslie for incorporating pastel ribbons into an Easter tablescape. She suggests rummaging through your current supply to find unique ways to show off bits and pieces left over from other projects, including tying around vase stems or rolled napkins for breakfast.
And a grown-up Easter basket idea?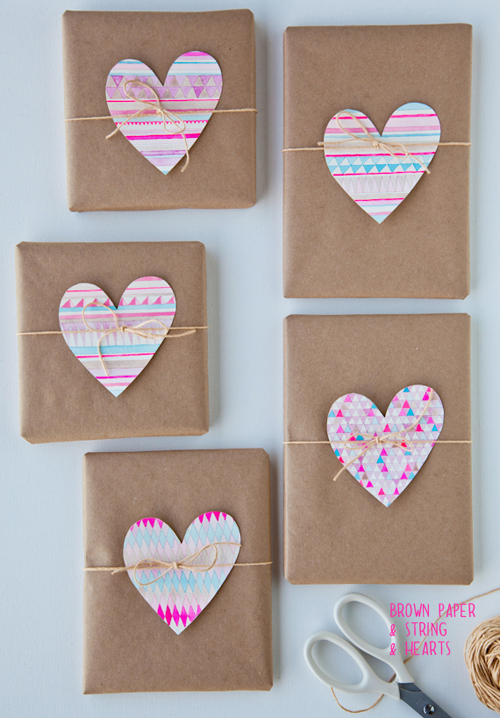 A box of trinkets, a favorite book or a boxed chocolate rabbit wrapped up in butcher block paper and tied in twine.
Happy Monday, and happy Easter preparations!
Tags:
Baby Shower
,
Bridal Shower
,
Decorating
,
Dinner Parties
,
Easter
,
Parties & Entertaining
,
Pink
,
Red
,
Wedding
,
white
Posted in
Crafty Solutions
,
Parties & Entertaining
|
7 Comments »
October 4, 2011
Yay! WordPress, the computer and internet connection are all playing friendly again. Turns out a plugin through wp was acting up, deactivating it set everything right.
But back to today's post… it was just the other day that I was thinking about the coming of fall… the warm, cable-knit sweaters – the butternut squash and hearty chicken noodle soups that Kevin's sure to 'throw together' – visiting pumpkin patches with friends, and then soon after the best holiday of all, Christmas.
But I'll be the first to admit that I'm hesitant to let summer go. Oh the warm days! The beach trips (did I get in as many as I should have?) and the sundresses that will have to be stored away. And so, here's to throwing a Summer-Meets-Fall party that marries the best of two great seasons.
The inspiration? Why this absolutely amazing soiree by Melanie Duerkopp and Stephanie Godfrey featured over at Hostess with the Mostess.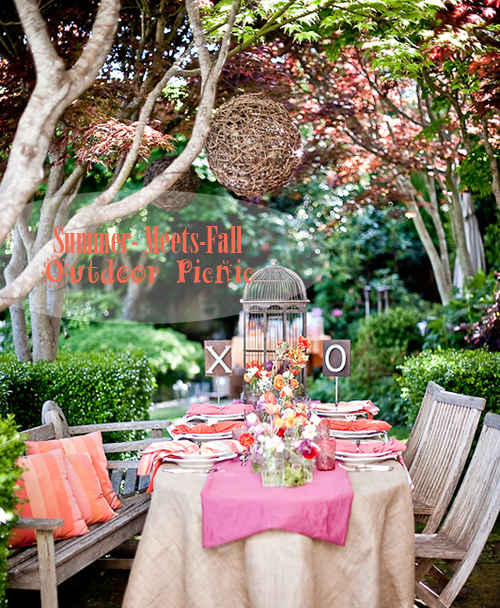 What this party does soooo right is the melding of bright summer pastels with the rich jewel tones of fall.
Love the burlap table cloth and LOVE the wooden 'nests' hanging in the trees. Looks a bit like the lanterns that I featured in my own bohemian picnic for San Diego Magazine (check it out here).
A closer look at the details: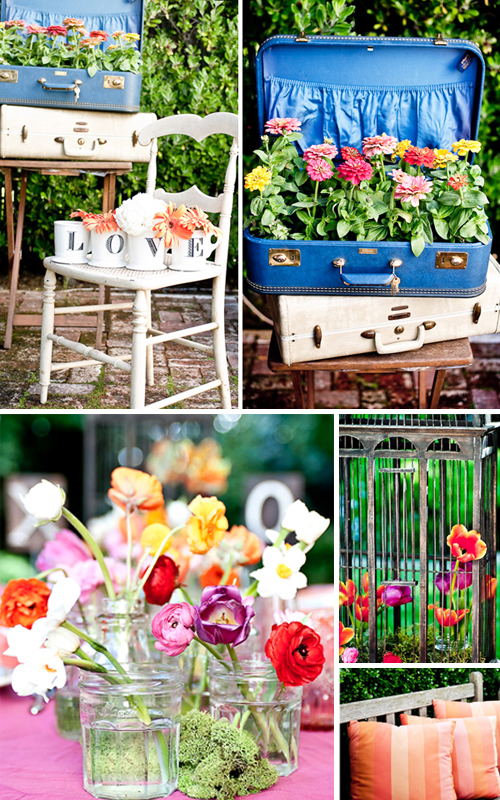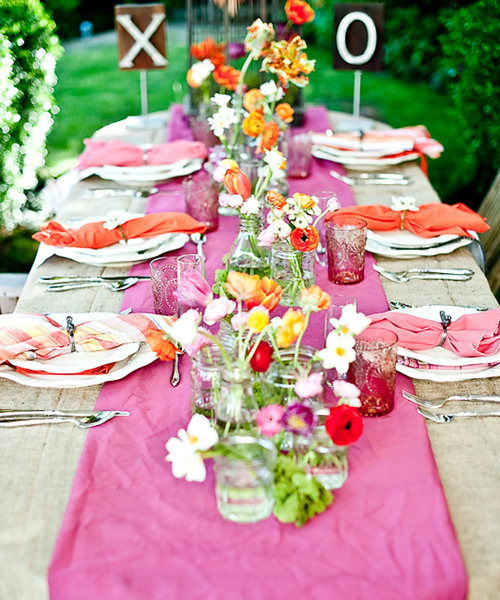 Mmm! Delicious. Great job, ladies!
Tags:
Birthday
,
Bridal Shower
,
Decorating
,
Dinner Parties
,
Orange
,
Parties & Entertaining
,
Patterns & Color
,
Pink
,
Wedding
Posted in
Parties & Entertaining
|
Comment »
August 10, 2011
It's starting to get a little hot. Okay, a lot hot. Some call these the Dog Days of Summer and I have a feeling we're in for a good one.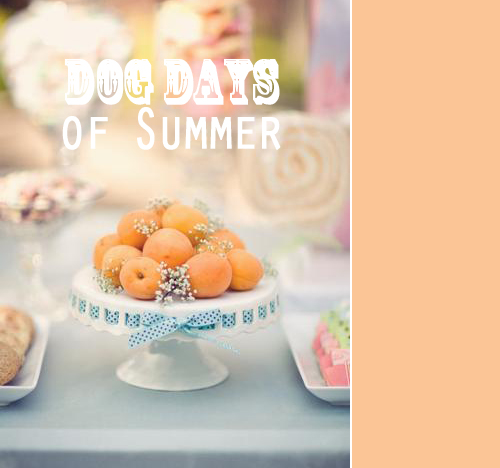 But right now all I can think about is pretty pastel fabric blowing in the breeze, as in this beautiful outdoor celebration that would make for an ideal excuse to throw a whimsical summer soiree.
Summer + cherry pie + vintage = favorite reason to throw an afternoon party. Lawn games, anyone?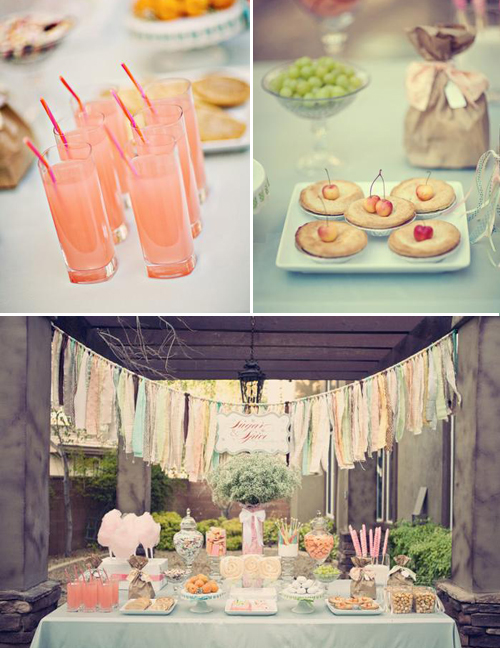 Designed by Suzanne of She Paperie, this outdoor party was recently featured here at HWTM.com.
I'm especially loving the torn fabric garland, it makes the perfect backdrop for the dessert table and would look so pretty strung around any outdoor event.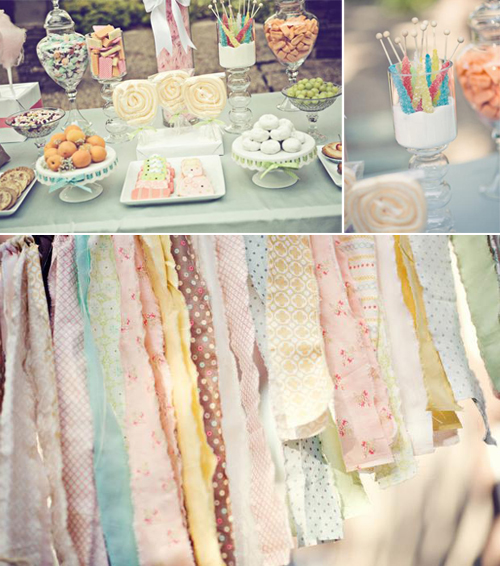 Bring on the sunshine!
Tags:
Baby Shower
,
Birthday
,
Bridal Shower
,
By Color
,
Decorating
,
Dinner Parties
,
DIY
,
Fabric
,
Kids Party
,
Outdoor Entertaining
,
Parties & Entertaining
,
Pink
,
Teal
,
Wedding
,
Yellow
Posted in
Parties & Entertaining
|
3 Comments »