November 28, 2011
Hope you had a wonderful Thanksgiving! We spent ours with family from both my mom's and dad's side and I had the chance to catch up with friends from my hometown over the weekend. It was a really nice four day break from the usual hustle and bustle.
The best part about Friday, November 25? Christmas music. I ventured out for a black Friday sale or two with a friend but what I loved even more than the discounts was 'Jingle Bells' playing on the radio! My favorite holiday has finally arrived.
It's not too early to start decorating, right? Here's a little Christmas tree project I recently put together for our guest room: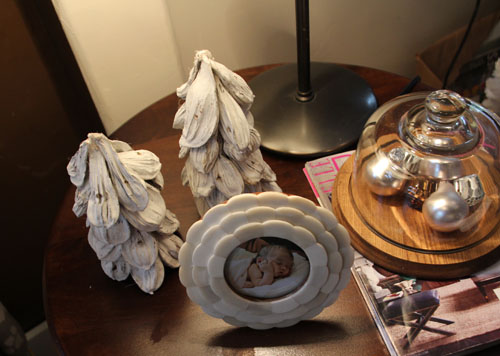 The little white washed Christmas trees are made out of wooden seed pods and cost a mere $1 each to make. Their current home is on the sweet new pedestal side table that we just recently found on major sale at World Market: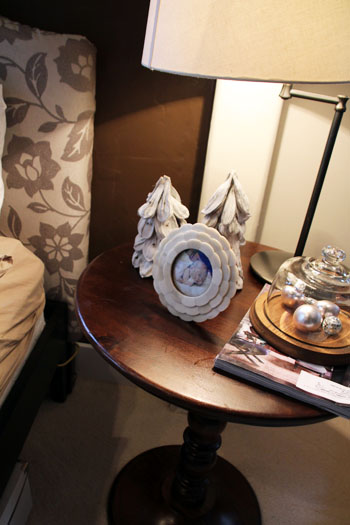 Sorry about the awful lighting. I assembled my diy trees in our living room late at night while watching a movie with Kevin.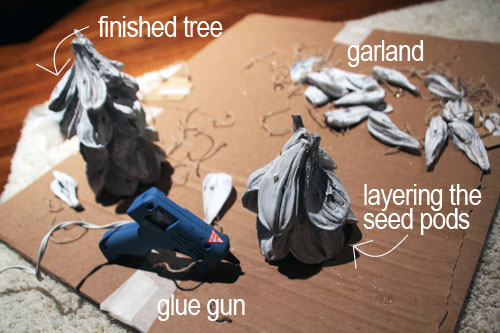 I was inspired a while back to build little driftwood Christmas trees after seeing trees like this or these, but finding the right driftwood was near impossible (so jealous of all those that live on Lake Michigan). I searched high and low and they do sell bundles on Etsy and even eBay, but boy are they pricey little bundles.
Then when I was perusing our local West Elm, I came across the neatest white washed wooden 'pods' (or giant seeds?) in hanging strands in the clearance section. Each bag had been marked down from $16 to $.97. Sweet, really really sweet. (I've searched and searched for a West Elm link but it seams these garland strands are waaaay last year and might only be available at a West Elm in your city, they're called the Nipa Pod Strand and they might be at the very bottom of the Sale bin.)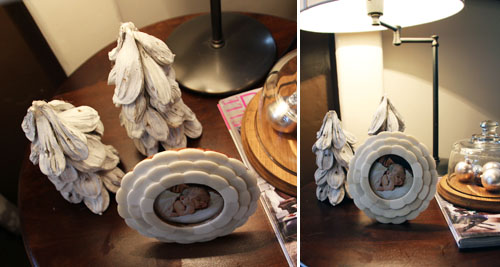 Assembly was easy. I cut my garland strands apart and built little pyramids by stacking the pods (it kind of reminded me of how you lean pieces of wood against each other to start a campfire) and gluing into place with a glue gun. Then I continued to layer.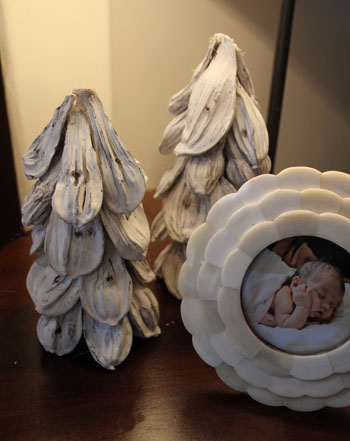 I love the results – they're the perfect little shabby chic accent for the guestroom this Christmas and the colors tie in great with the neutral space.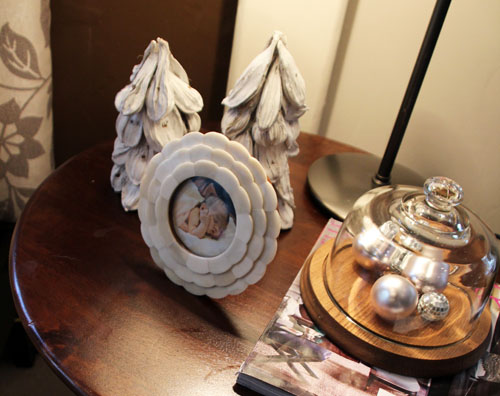 Christmas is here!

Tags:
Brown
,
Christmas
,
Crafty Solutions
,
Decorating
,
Home
,
Tutorial
,
white
,
Winter
Posted in
Crafty Solutions
,
DIY
,
Holidays
,
Home
|
3 Comments »
July 21, 2011
We've made great strides on our new office/guestroom, and to be quite honest, I'm still absorbing the drastic changes (woah! chocolate brown). After much debate and after much oogling over these dark brown inspiration rooms, we decided to go bold in (at least a part of) the office.
The to-do list currently includes:
1. Paint guest portion of the room chocolate brown (we opted to not paint the entire room a saturated color since it's so narrow and might read too dark). The rest of the room will receive a soft tan that matches the new grasscloth wall (see to-do list item #2!).
2. Grasscloth one accent wall in the office area.
3. Carpet mismatched hardwood floors for a cohesive look.
Want a peak in on the painting? Don't judge yet – once the room is finished in crisp white molding, patterned fabrics adorn the windows and bed, the wall artwork is hung and all of the other decor is added, I know it will look awesome. But right now? It looks like a bear cave. Our guests will be sleeping in a bear cave.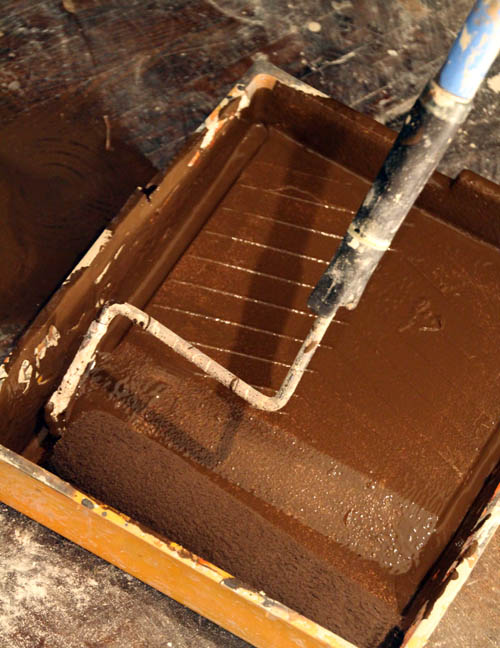 Family and friends reading this? Welcome to our guestroom/bear cave. This is where you'll be staying.
Here we are finishing the room late at night… when we work best

. Bonus to family visiting from out of town? Extra painters. My little brother wasn't anticipating a night of painting but he was game.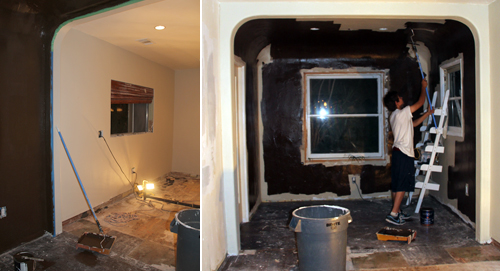 If after accessorizing and decorating the space still feels like a cave, we're considering boxing out the round ceilings or adding a trim (like a picture rail) and white ceiling to lighten it up. Sort of like one of these rooms: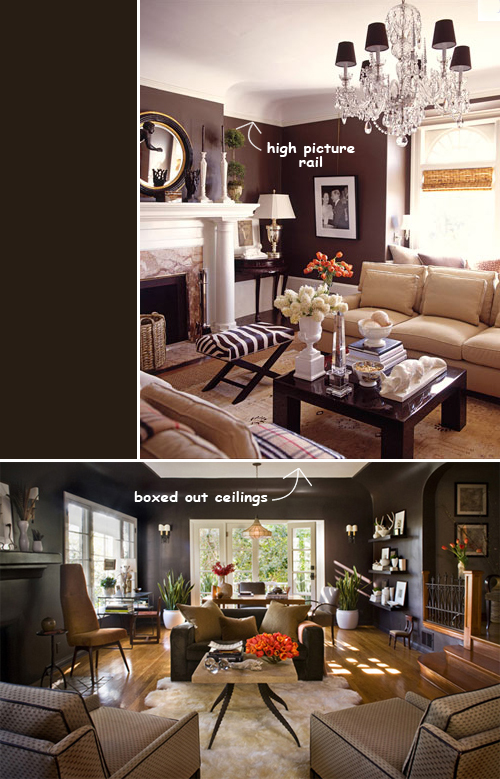 Or, maybe I'll pull out the paint brush at midnight three months from now, we'll see.
Since our office has those beautiful original arched walls, there was really no way around not painting the ceiling. Unless we do one of the above. But first we decided to go all out and see how it goes… to be continued!
PS Thank you everyone for your comments! I love and look forward to your thoughts and ideas.
For more Office Makeover posts, check out: finding carpet for the office, chocolate brown wall ideas, plastering progress,  inspiration for a diy desk, back in action!, desking hunting for under $300, bookcases under $300, inspirational rooms, room layout options, demo part 1 & demo part 2.
Tags:
Brown
,
By Color
,
Construction
,
Decorating
,
DIY
,
Office
,
Paint
Posted in
DIY
,
Home
,
Our Guestroom/Office
,
Renovating Adventures
|
3 Comments »
July 15, 2011
The latest Ballard Design catalog arrived in the mail and it is full of beautiful dark brown rooms. I've always been a fan – but it's so bold! What a commitment to cover your walls in such a rich color.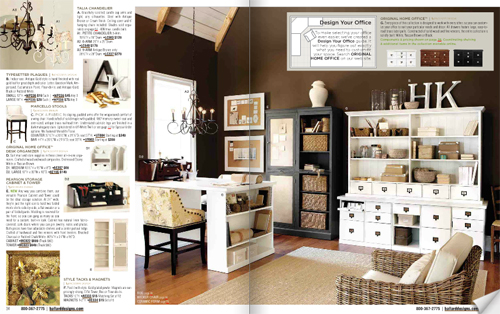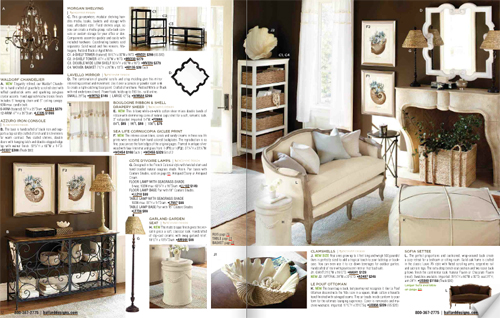 But the wheels began spinning and I set out for more wall-to-wall brown inspiration.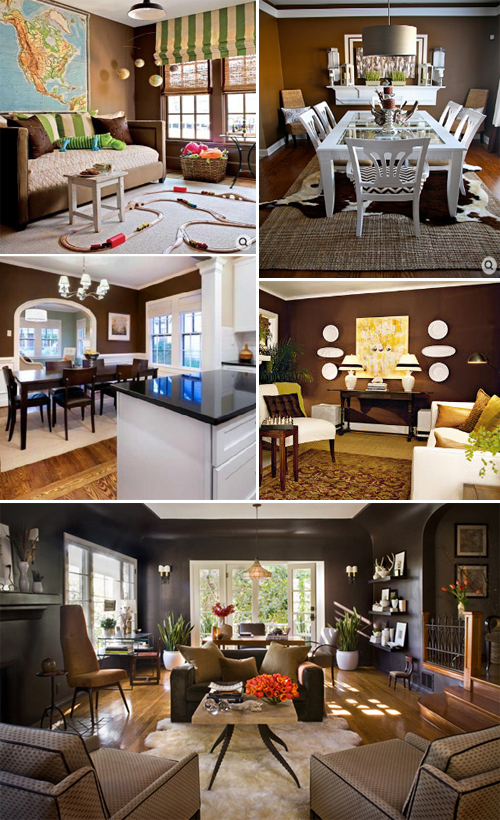 The best part of dark walls is the ability to really take advantage of contrasts in the forms of bright white molding, furniture – even ceramic decor. And how about those pops of raspberry, lime green and teal? And brass and gold? Oooh pretty.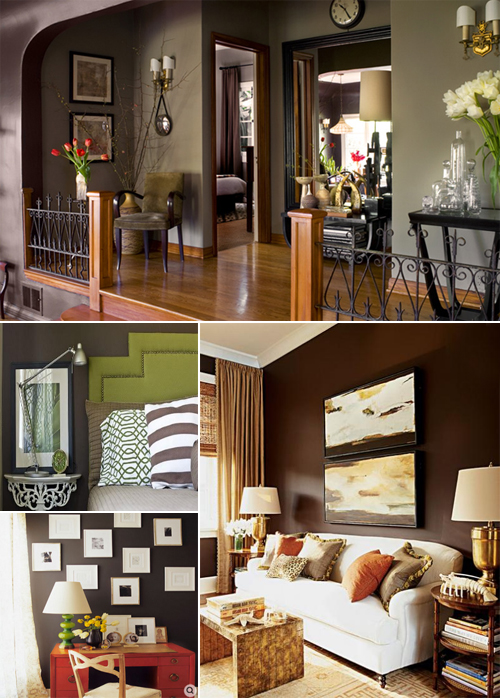 So stunning! But so bold. Do I dare paint an entire room dark brown? Most designers insist that the old adage of dark colors making a room feel smaller simply isn't true. It has much more to do with proportions and lighting.
What do you think? Too much? Or just right?
Tags:
Bedroom
,
Brown
,
By Color
,
Decorating
,
Dining Room
,
Home
,
Living Room
,
Office
Posted in
Home
,
Our Guestroom/Office
,
Renovating Adventures
|
13 Comments »