November 10, 2010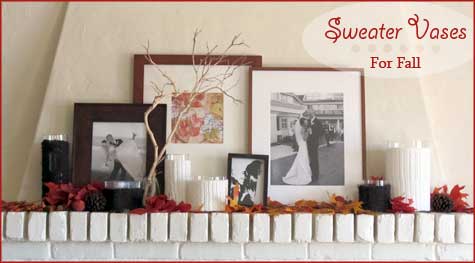 I've been determined to try this idea out for some time, especially after posting about Recycled Sweater Vases here. Creating my own knit covers for candle holders turned out to be one of the simplest projects to tackle!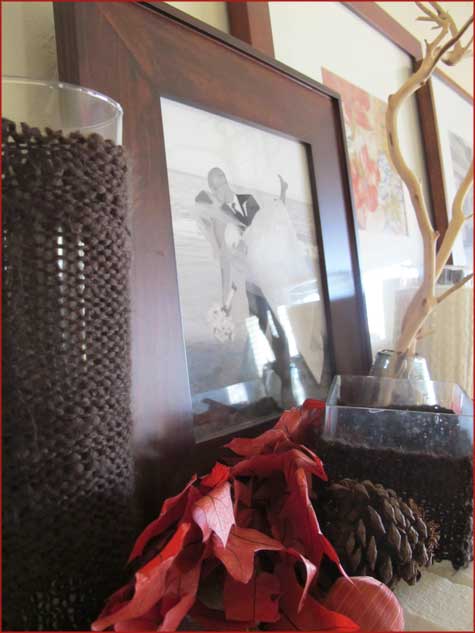 I used an assortment of class cylindrical and square vases to hold my candles, and then I purchase Goodwill knit sweaters to create snug coverings for the glass.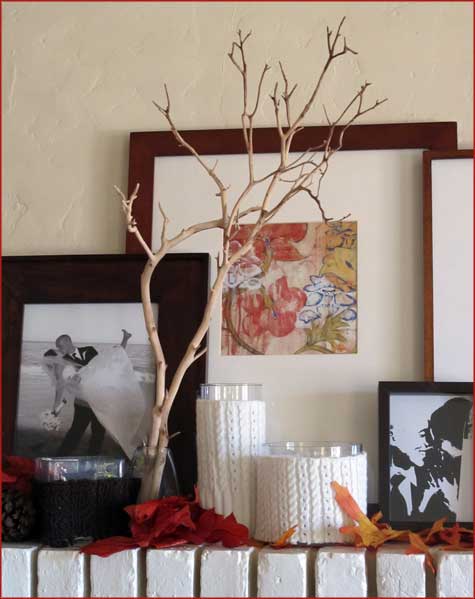 Only one large vase required any stitching, the others slipped into the neck and sleeves of the sweaters without any trouble. Simply measure out the length of your vase on the sleeve of the sweater, cut, and slip over glass. I don't mind the slight fray in the knitted edges, though you could fold these over to create a cuff as well.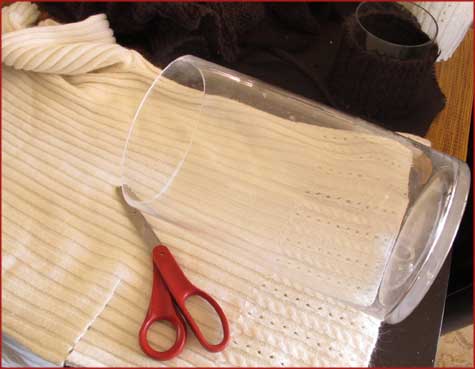 For my biggest vase, which wouldn't fit a sleeve or the turtleneck of the sweater, I cut the body of the sweater to the correct vase proportions, turned inside out and hand stitched the pieces back together. Super easy.
They look quite cozy at night with a flame as well: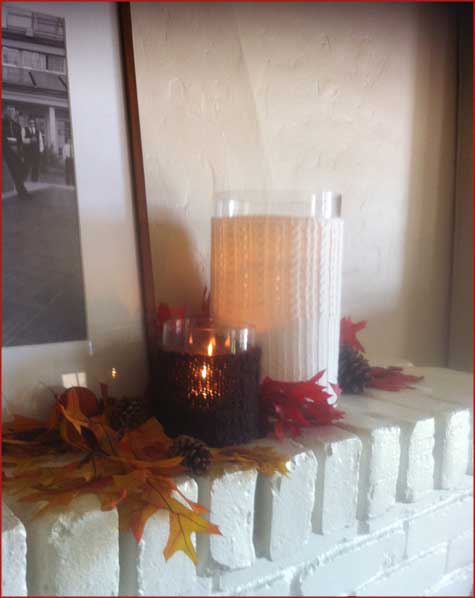 While on the sweater hunt, look for interesting edging and variations in the knit. The more variety the better!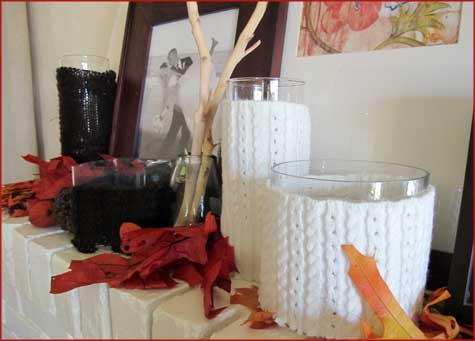 These might make it over to the dining room table to serve as a fall runner sometime in the future… I love how soft and fall-ish they look, and how simple they were to create. The entire project took about 15 minutes and cost just about $6 since I had the candles and vases on hand, my only purchase was for the two thrift store sweaters.
Tags:
Brown
,
Crafty Solutions
,
Decorating
,
DIY
,
Fall
,
Home
,
Mantel
,
Thanksgiving
,
Tutorial
,
white
Posted in
Crafty Solutions
,
Holidays
,
Home
|
9 Comments »
October 21, 2010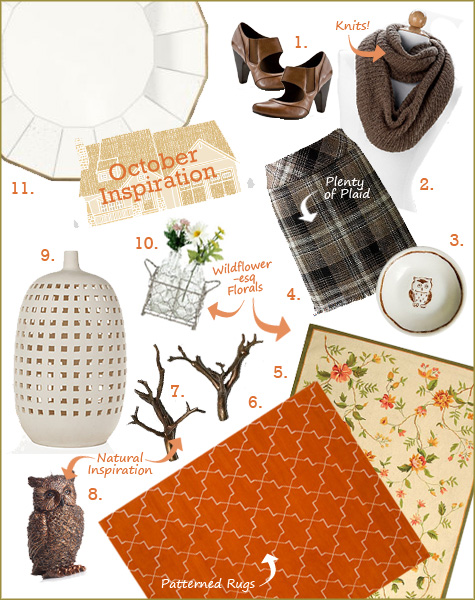 If I could pull together a wish list of any fall-inspired additions I'd add to the home and wardrobe this October, here would be my picks:
1. Brown Mary Janes: These could quickly become my go-to rain shoes with their sturdy 3″ heel (to keep me out of puddles) and the modern leather detailing. These Mary Janes would work great with a skirt and wool tights, or paired with denim jeans and a long cardigan.
2. Eternity Knit Scarf: I love the circular style of scarves right now! This ribbed version looks so warm and inviting.
3. Owl Accessories: I'd update my dining room with a few nature-inspired accessories like these owl salad plates. It would look great solo on a plate stand amongst the shelves of white dishes.
4. Plaid Pencil Skirt: Plaid and herringbone are my favorite fall patterns and this warm, soft wool skirt would look great paired with a cozy turtleneck and heels (maybe those brown Mary Janes?).
5. A Vintage Floral Rug: Okay, so maybe I wouldn't change out the throw rugs just for the season but I do love the wildflower-esq florals of this beautiful rug.
6. A Patterned Orange Rug: Likewise, I love the bright color and geometric pattern of this orange rug and would be oh-so-happy to add it to a bedroom for a fall lift.
7. Branch Clothing Hooks: I've always been a fan of branches – and how neat are these? They would be perfect in a mudroom ready to store pea coats from incoming guests.
8. An Owl Candle: More owl… he seems to be the animal of the season this year and this candle would be the perfect addition to the living room.
9. A White Patterned Ceramic Vase: I have always loved over-sized vases and the intricate square pattern adorning this one makes me think it would be a perfect fit for my space.
10. Cottage-esq Accessories & Vases: Back to the wildflower-esq accessories, this glass bottle and wire basket combo (resembling an old-fashioned milk carrier) would be a sweet country addition to the kitchen right next to the sink. Add a few stems and it would be a nice reminder of spring to come!
11. A Bold Sunburst Mirror: Can't get enough big, bold mirrors and this is my new favorite. Maybe a splurge I'll have to consider for above the mantel? It's a beauty.
Tags:
Accessories
,
Brown
,
Desserts
,
Fall
,
October
,
Orange
,
Wish List
Posted in
Home
|
7 Comments »
July 23, 2010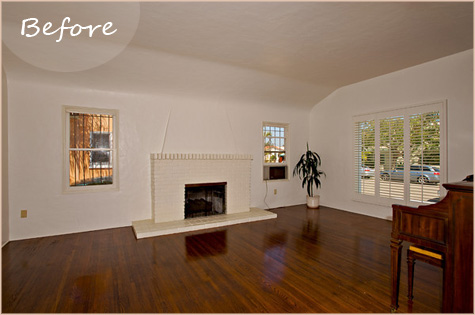 I've procrastinated long enough… it's finally time to get some pictures posted on the living room progress.
As you might remember, the Before shot was just before we moved in. After a bit of painting, several diy projects and finally a whole lotta assembly, here's where we stand: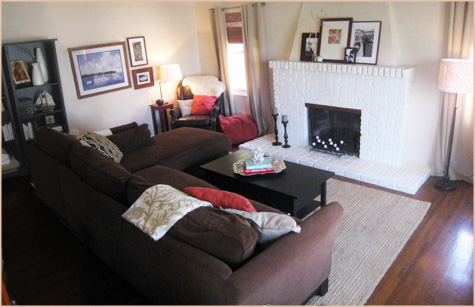 I see little holes and spaces that need attention! But I've decided this is my palette to grow on so as it gets minor tweaks and updates, I look forward to sharing all of the fun details.
Neutrals remained the theme of the room and I couldn't be happier with how the soft wool curtains and dark furniture help to set a base for the crisp whites and bold coral colors. Here's a link to the original inspiration boards back when color combos were being discussed.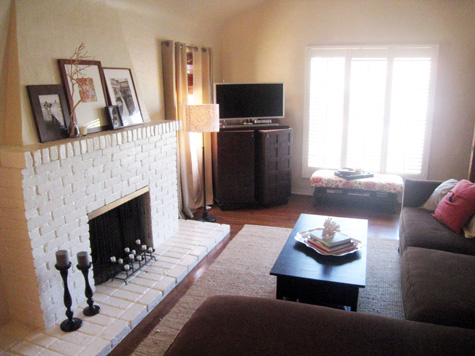 Here are a few of my favorite details:
I love picture collages so it's no surprise that I've found a way to fill this space with three (too many?). One symmetrical version behind the sofa, one wedding grouping above the mantel (I'm still playing with a mirror there – the survey from a week ago was pretty divided!) and one next to the bookshelf and above the "man" chair (aka the huge leather chair that the hubby rightfully claims as his own).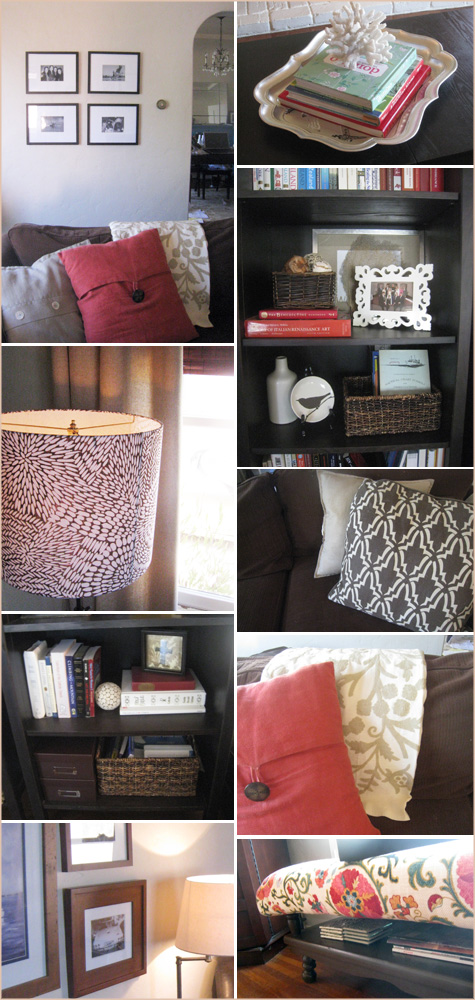 My coffee table-turned-bench has found the perfect spot below our big window and I am still oh-so in love with the suzani print. Jeanne McGee did a rockin' job on the brown zinnia custom lampshade and I'm thrilled with the splash of pattern it adds!
Storage was critical for us and we found a way to squeeze everything in through baskets, an awesome 'pouf' that hides a bajillion blankets, a bar that doubles as a tv stand, as well as sneaky spaces like a coffee table that holds board games, etc. below it's surface.
Every photo is sentimental, every painting important to us in someway (be it our love of sailing, artwork by Kevin's mom or diy projects soon to be shared…) and it's special to know that the space was hand crafted over time with much love.
Sources to come… thanks for sharing the design process with me!
Tags:
Before & After
,
Brown
,
Coral
,
Decorating
,
DIY
,
Home
,
Living Room
,
Red
,
white
Posted in
Home
,
Our Living Room
,
Renovating Adventures
|
11 Comments »