January 23, 2013
One of my favorite, super-quick-to-throw-together ideas from Liv's party was to create little favor pouches for gummy bears to hand out to all of the kids on their way home.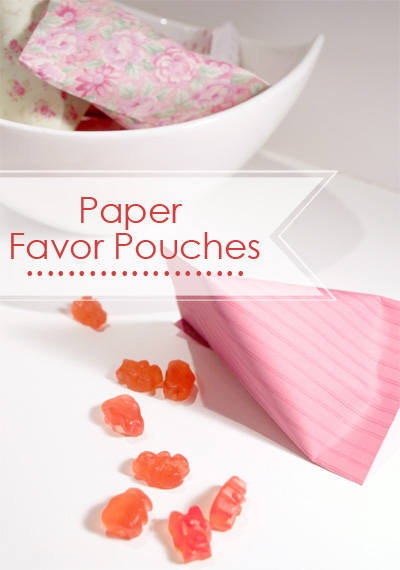 I didn't get a very clear photo of the treat bags at the actual party, but here's the gist on how we put them together: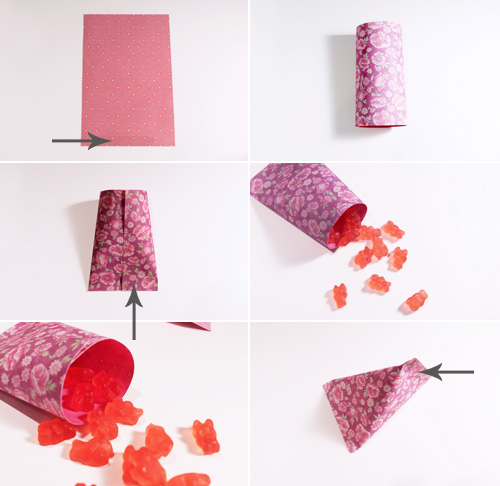 The grey arrows indicate where a piece of double sided tape was added to adhere two sides together. The pouches were popping open after a while, so I might try something stronger than plain old sticky tape next time. Maybe even cute staples or scrapbooking tape + a dab of glue in a few key areas (such as the corners).
They were a cute and easy addition to the party! And we literally made them as people were walking in (and as it dawned on me that I had meant to put favor bags together but had completely forgotten about them… luckily I remembered a few variations of this idea on Pinterest - not to mention those cool popsicles that used to be sold out of similar pouches when I was a kid – and happened to have paper and pink candy on hand!). Big thanks to my brother and friend Trish (the invaluable party co-preppers) for helping me assemble.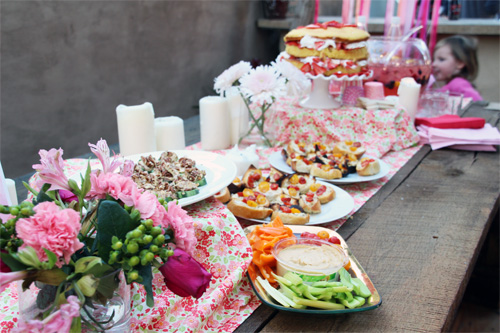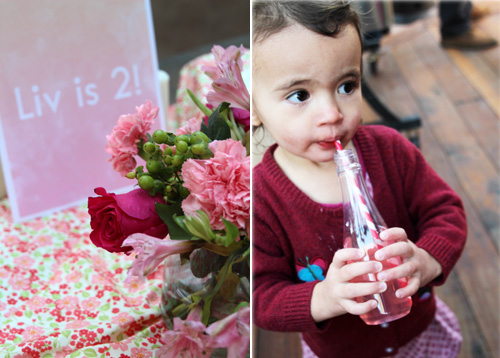 More pictures from Liv's 2nd birthday right here, and you can filter all party ideas posted on the blog by theme here!
PS this would be very cute for Valentine's Day treats, don't you think?
Tags:
Baby Shower
,
Birthday
,
By Color
,
Crafty Solutions
,
Decorating
,
DIY
,
Kids Party
,
Parties & Entertaining
,
Pink
,
Tutorial
,
Valentine's Day
,
Wedding
Posted in
Crafty Solutions
,
DIY
,
Family & Friends
,
Holidays
,
Olivia
,
Parties & Entertaining
|
1 Comment »
December 20, 2011
Tis' the season for giving and I have a really great giveaway for everyone today.  Petite Lemon recently asked if they could partner with me to share their line of kid's personalized growth charts, alphabet posters and photo posters.
Today they're offering a $50 gift certificate towards any of these, and they were kind enough to send one personalized product my way to check out: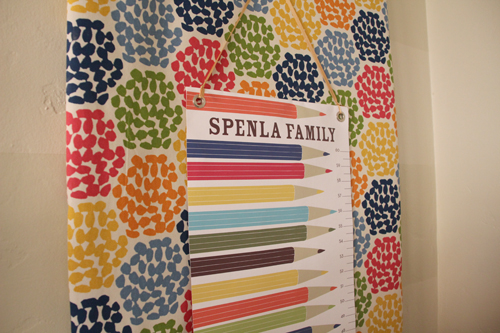 I love their contemporary style and I was immediately smitten with several of their personalized alphabet prints: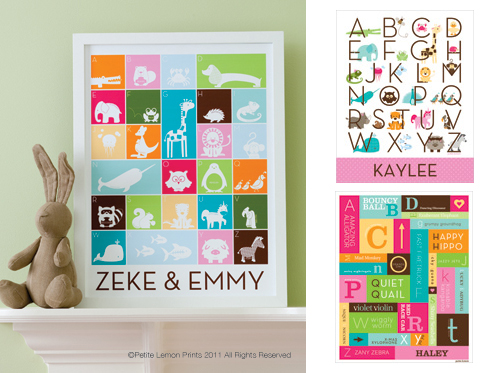 But because we have an adorable vintage-esq alphabet poster (which actually served as the inspiration for our nursery), I checked out their growth charts as well.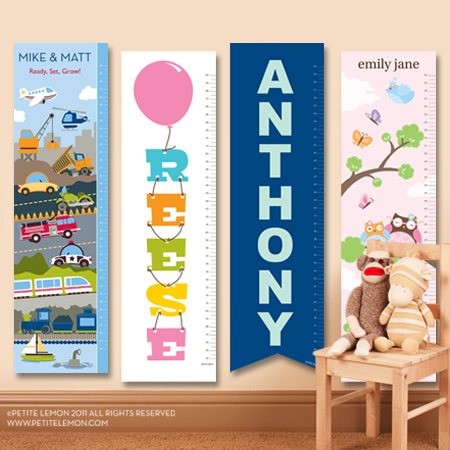 So cute! This Color Me chart below was my favorite and I thought it would fit right into the colors of the nursery: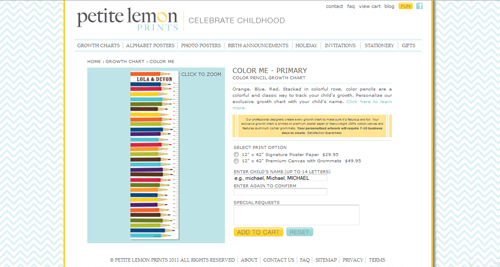 It's as adorable in person as it is online!
While I had 'Spenla Family' printed at the top, what I really mean is 'Spenla Kids' (since Kevin and I long ago passed up that 60″ mark – wait, does it say 60″? Actually I might still be able to put myself just above that mark on this chart at 5′ 3″…) anyhow, we wanted one chart that would serve the purpose of all Spenla Kids rather than just Liv (so we don't one day have 2, 3 or even 4 charts up) but I chose Spenla Family because, well, if we are blessed with just Liv then that's okay too :0).
The canvas growth chart is great on its own, but I wanted to really fill in this corner (between the door to the new bathroom and her dresser) and so I mounted the chart on a handmade fabric lined frame: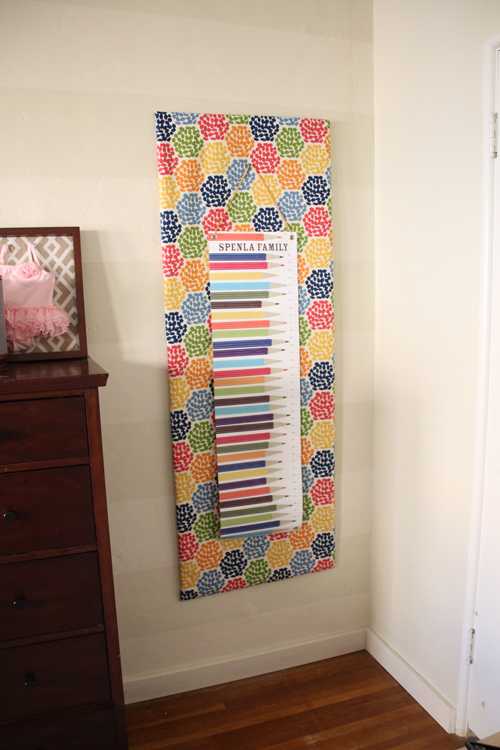 And hung the chart with a mustard yellow ribbon from the two top grommets.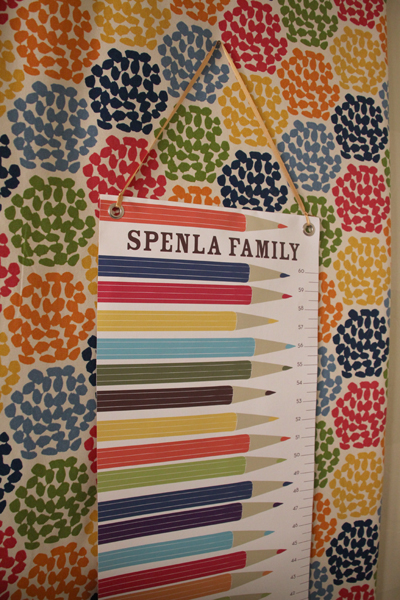 I made the fabric frame from molding I had lying around the garage (leftover pieces that I didn't use in this project), pretty primary colored fabric I found marked down to $4.99/yard, a couple of nails and a staple gun.
The process was fairly easy – similar to stretching a canvas for art. First, cut molding to the desired rectangle sizes (I wanted about a foot on top and bottom of the chart plus 8 or so inches on each side) and secure the pieces of wood together with a nail and hammer (you could do a fancy version of this with a pilot hole but I was going basic here and just tapped the nail right through one end of the molding and into the other).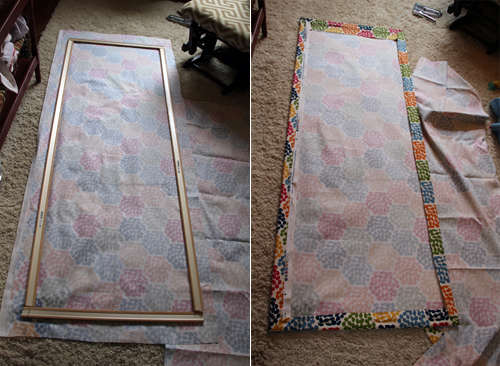 Next, cut fabric to the same size + 5″ or so on each edge for folding over the back. Lay the frame upside down on your fabric and 'stretch the fabric up and over each edge, securing the fabric to the frame on the back side with a staple gun (I went a little crazy with the staples for this example but you get the idea

).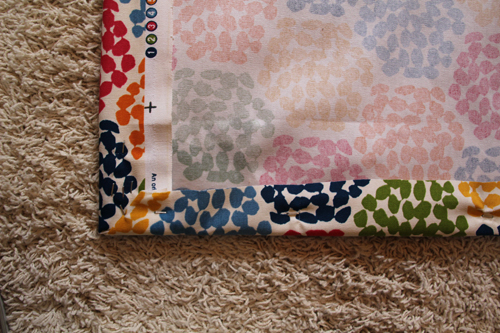 The chart and fabric tie in really well with the rest of the primary colors in the nursery: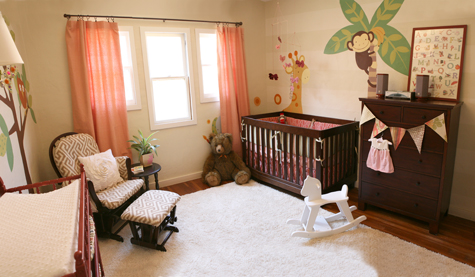 In fact, it almost pulls all of the colors together!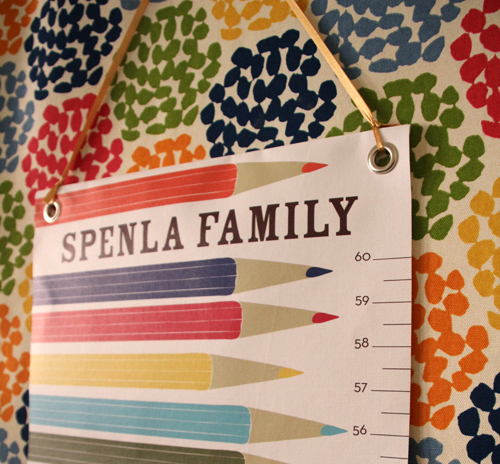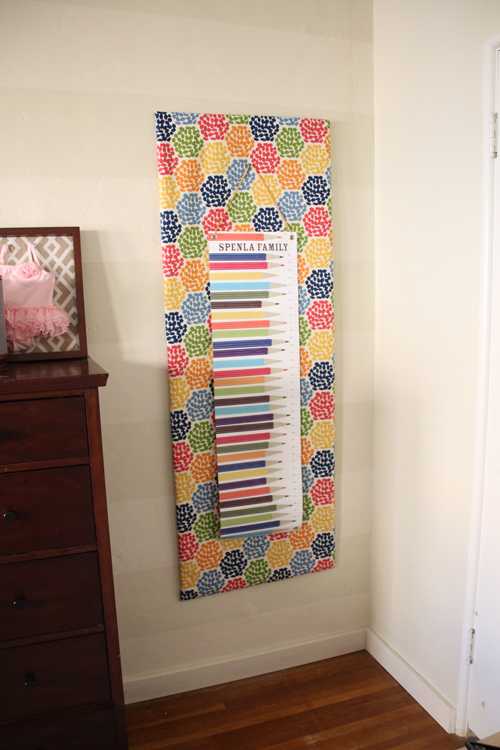 Back to that giveaway… Petite Lemon is giving away a $50 credit to their entire store! Find fun and contemporary ideas for a kids or teen room. Makes a great gift.
******************************************************************************************

Giveaway: A $50 credit to Petite Lemon towards a personalized growth chart, alphabet poster or photo poster
To Enter: Leave a comment here with your plans for giving this season! (Could be a gift, time, resources, charity…)

For Additional Entries: Become a Facebook fan of Petite Lemon and/or Pepper Design Blog. Be sure to leave a separate comment for each additional entry.
Giveaway ends Friday, December 23 at midnight PST, winner will be chosen randomly and announced the following Monday. Good luck!

*****************************************************************************************
In other news, I'm honored that Goo Gone has made me the Gooru of the week! Come check it out over here. Goo Gone is one of those must-haves for messy projects and I'm a huge fan.
Tags:
Accessories
,
Blue
,
By Color
,
Crafty Solutions
,
Decorating
,
DIY
,
Fabric
,
Green
,
Home
,
Nursery
,
Patterns & Color
,
Red
,
Tutorial
,
Yellow
Posted in
Crafty Solutions
,
DIY
,
Home
,
Liv's Nursery
,
Renovating Adventures
|
27 Comments »
November 15, 2011
There are three trees in our neighborhood that change colors during the fall. Three. In the entire neighborhood. When Liv and I go for walks I stare longingly up at the branches willing those crisp green leaves to take on their yellow and orange shades.
When my mother-in-law was in town this past weekend it happened! Not only did the trees change color but they shed a good portion of those beautiful leaves to the ground. When she came back from taking Liv for a stroll she brought with her a huge bundle of these: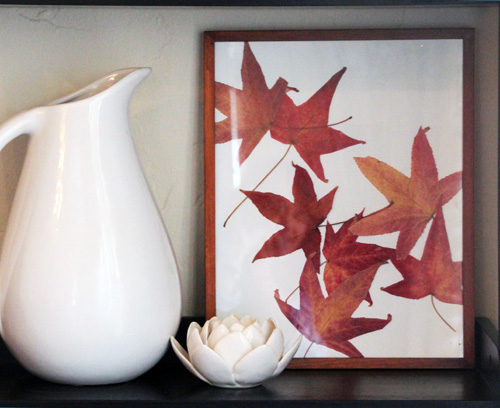 Naturally I pressed and framed them. I don't know how long they'll last but just maybe I can preserve them for the future. Waaaaay better than the fake ones I used over here.
Here they are sitting on a shelf in our dining room: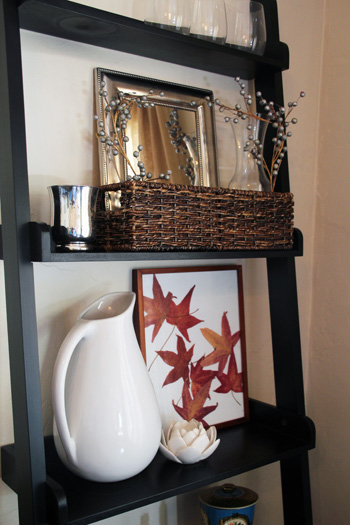 I first attempted to frame without flattening and the result was a bit sloppy, so my next approach was to organize them on my white sheet of construction paper, attach to paper with a double sided adhesive and then smoosh between two big heavy books.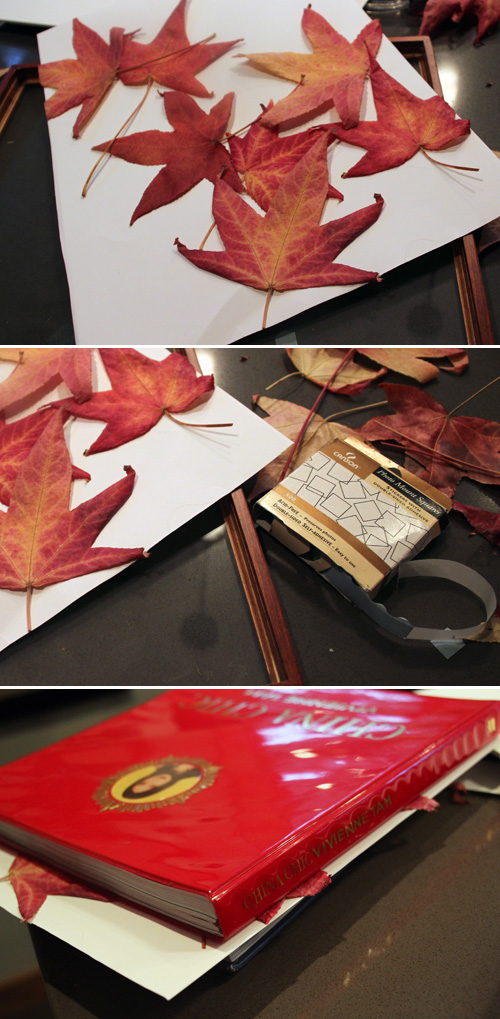 Then I added the construction paper back into the frame and sealed it up.
I love the colors, especially against the brownish red frame.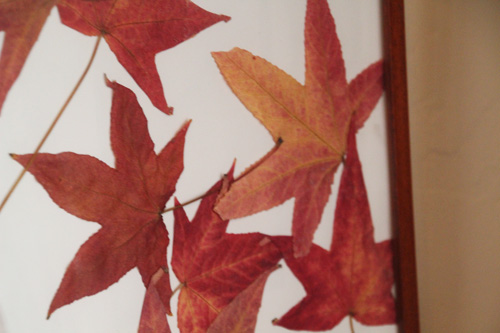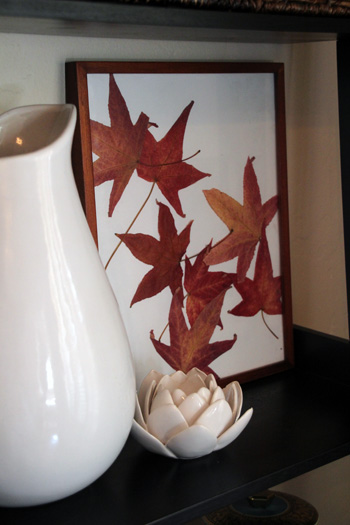 I had quite a few leaves left over so I made a very simple garland by stringing the leaves through twine. Here they are on the other bookcase: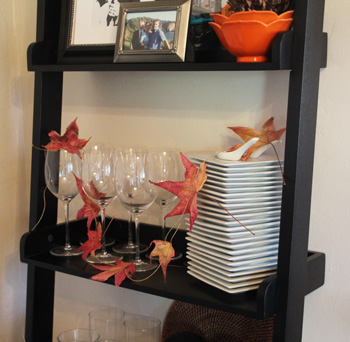 I think it's a nice little fall detail, especially when casually strung up like they are here.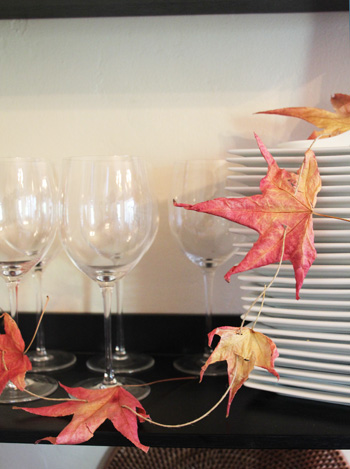 The process to make this guy was so simple and so quick: poke two holes in each leaf and string through – up and over for the first leaf, down and under for the next.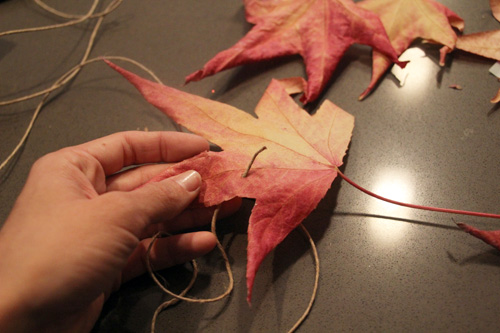 Just like you're sewing a simple stitch.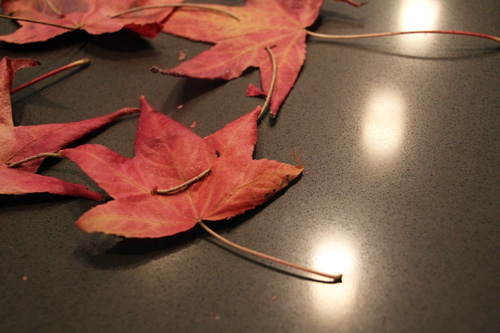 Until you've finished the whole lot:
They're perfect for the upcoming Thanksgiving holiday and I love how they bring just a little bit of the outdoors in!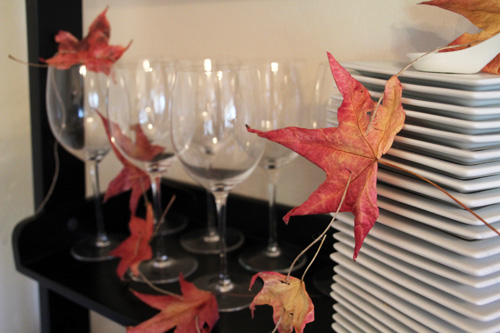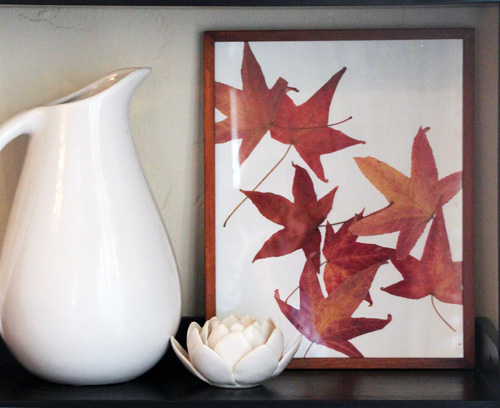 Tags:
By Color
,
Crafty Solutions
,
Decorating
,
DIY
,
Fall
,
Halloween
,
Home
,
Orange
,
Patterns & Color
,
Red
,
Thanksgiving
,
Tutorial
,
Yellow
Posted in
Crafty Solutions
,
DIY
,
Holidays
,
Home
|
6 Comments »