November 5, 2010
We won't be adding another full-size bedroom to our house any time soon. Well, we have an office/guest bedroom to create but it will likely be more office than bedroom so that doesn't really count. BUT I was in the mood to experiment with some of my recent favorite finds, and if I could add a bedroom this one would be dreamy!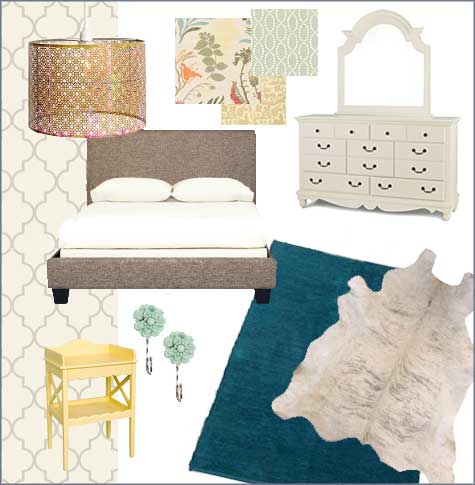 Caroline Bed – Urban Home $399, Recycled Metal Etch Shade – Urban Outfitters $49, Cowhide Rug – Urban Home $249, Savannah Dresser – JC Penny $469, Chenille Rug – Urban Outfitters $168, Trellis Wallpaper - Ballard Design $119, Elizabeth III Side Table - Ambiente, Beaded Flower Hook – Urban Outfitters $8, Pearl Trellis Fabric – Thibaut, Garden Envy Gardenia Fabric – Calico Corners, Chestnut Fabric – Thibaut
It's a bit modern, a bit whimsical, and exactly what I'd try out if we lived in a little cottage or even a city loft. I love the idea of using peacock blues with yellows, golds and LOTS of naturals. The fabric bed is a personal favorite! Especially at that price (did you notice that crazy price?!).
Mixing country cottage chic (aka side table & dresser) with the clean, modern lines of the bed and pendant light softens the entire room. And to paint a few pieces of furniture a bright color like that yellow! Love that. The fabrics (in throw pillows for the bed, maybe?) bring in more playful patterns that pull together all of the room colors and compliments the trellis wallpaper (that would look great along just one wall). The other walls I'd leave white. Ahhh sweet dreaming.
Tags:
Bedroom
,
Blue
,
By Color
,
Decorating
,
DIY
,
Fabric
,
Gold
,
Home
,
Patterns & Color
,
Yellow
Posted in
Home
,
Home Inspiration Board
|
7 Comments »
October 26, 2010
We're preparing for our annual Halloween dinner party this coming Sunday and I've pulled together a quick round up of a few of the amazing *spookified* table settings & dessert bars that have caught my eye: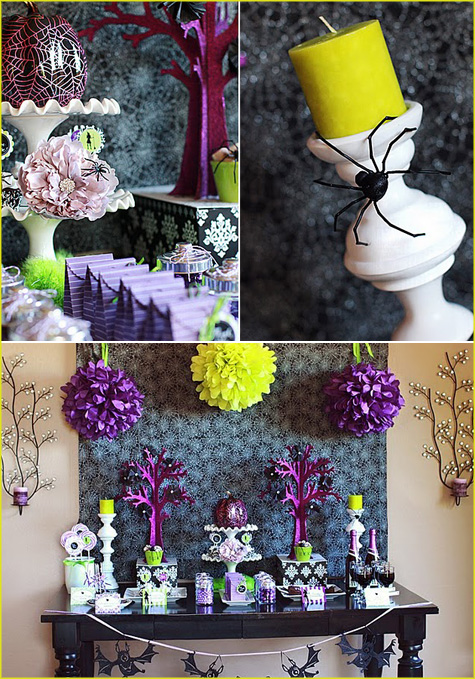 This glam Halloween dessert bar by TomKat Studios mixes in nontraditional lavender, lime and glitterfied decor to a create a fun, creative spread.
Sandra of The White Library created an equally chic tablescape full of spiders & crows. Rich jewel tones provide a much friendlier alternative to your everyday Halloween color palette, proving that the holiday doesn't have to be all about gore to be spooky and fun.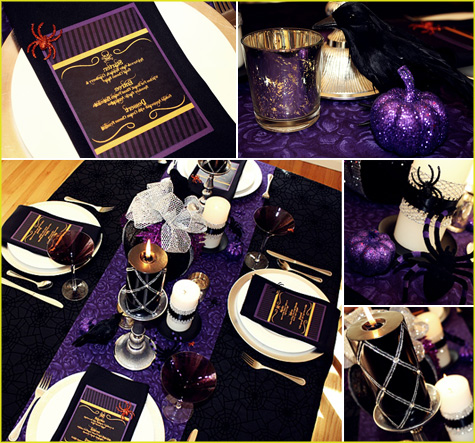 Katie recently showcased her orange and grey kid's dessert buffet on Celebrations at Home – simple, clean, beautiful!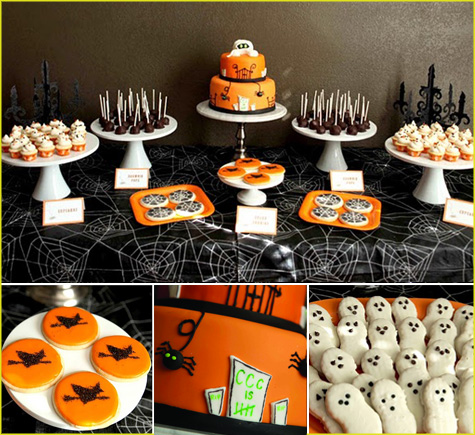 Anna and Blue created a delicious dessert buffet with similar colors in mind. Check out all of the great diy projects from this party at Hostess with the Mostess.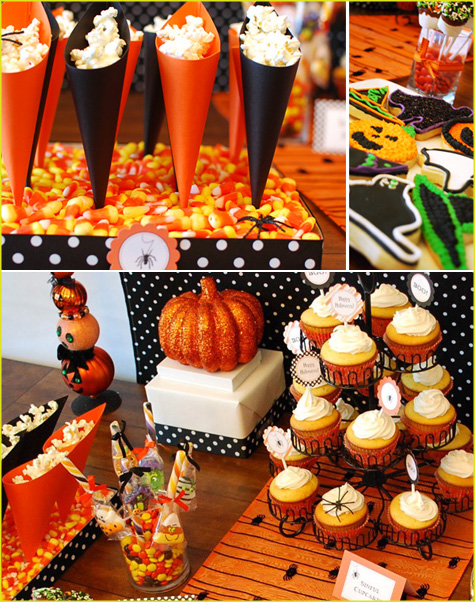 Finally, Sweets Indeed designed a delectable feature that's full of Victorian-esq details – including lace patterned cookies, paper products, black swags and even filigree-inspired icing. More on table decor and those mouth-watering desserts here.
Purple seems to be the accent color of choice this year! I do love how it provides a soft contrast to the bright oranges, blood reds and black that we often see. I might just have to make it a feature color of our Halloween spread as well…
Tags:
By Color
,
Desserts
,
Dinner Parties
,
DIY
,
Halloween
,
Orange
,
Parties & Entertaining
,
Patterns & Color
,
Purple
Posted in
Holidays
,
Parties & Entertaining
|
5 Comments »
October 13, 2010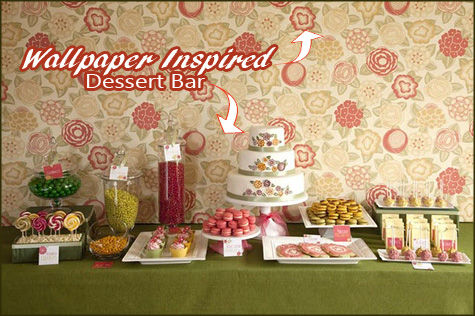 Every once in a while you come across one of those ooh & ahhh images that causes you to pause, stare and ogle for a good while. When Chris over at Celebrations at Home shared this beautiful Petites Bouchees Dessert Bar a while back I immediately filed it away into the ogling brain folder.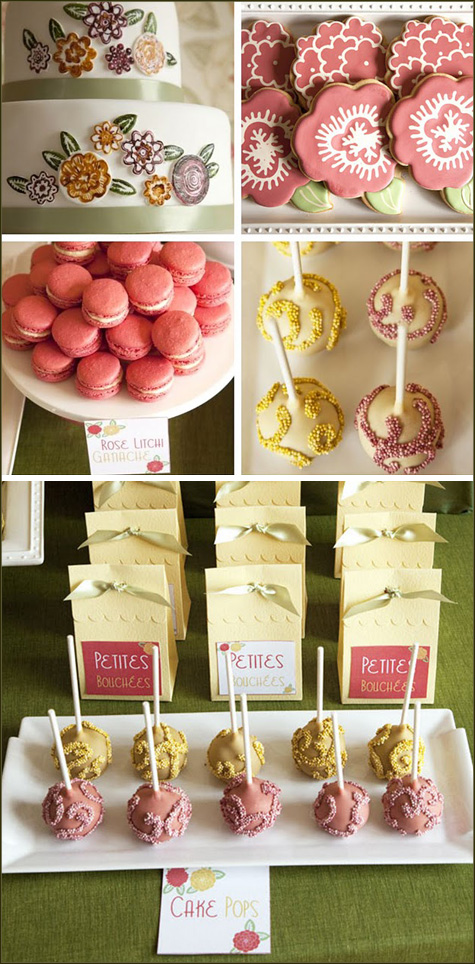 How wonderful are the colors? That's what I think draws me in most to this display. Rosey reds and sage greens (with a bit of yellow mixed in) is one of my very favorite combinations. The floral details are pretty wonderful, too!
I love the idea of using wallpaper as a backdrop for the table. I've hung fabric (even my duvet cover) behind tables in the past for that extra 'pop' – but wallpapering a piece of plywood sounds like it might be genius.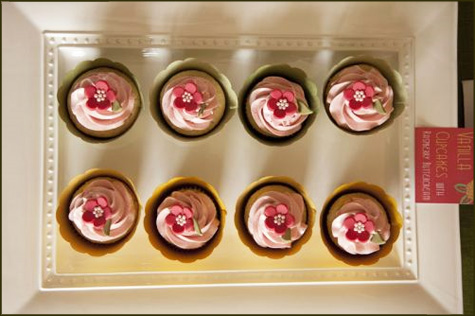 And a photo of a few more florals…. yum. One of the neatest day classes I've attended was a fondant flower making class – the little guys above are super easy and they make the cupcakes so professional looking.
This is the perfect theme for a bridal shower, baby shower or even a wedding!
Tags:
Baby Shower
,
Birthday
,
Bridal Shower
,
By Color
,
Cake
,
Decorating
,
Desserts
,
DIY
,
Easter
,
Green
,
Paper Crafts
,
Parties & Entertaining
,
Patterns & Color
,
Pink
,
Wedding
,
Yellow
Posted in
Parties & Entertaining
|
9 Comments »