January 28, 2011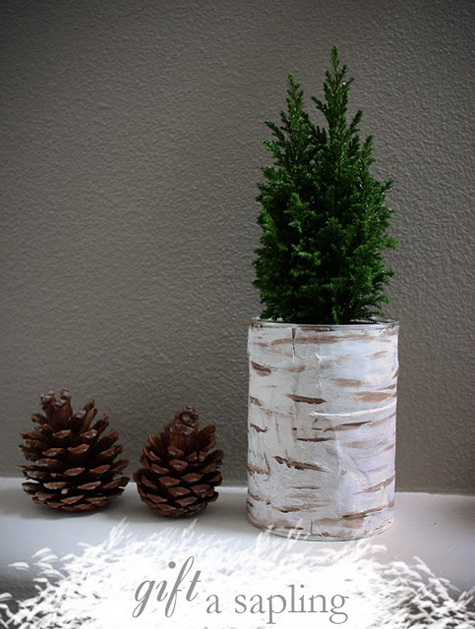 I love the look of this diy faux birch vase by Love & Lace. Wouldn't it look lovely grouped in a set of three (at varying heights) as a centerpiece for an outdoor wedding or party? I'd house a beautiful bouquet of white flowers (such as peonies, garden roses and wax flowers) in each, or even long branches (like manzanita or pussy willow) that would stretch up over the center of a table.
Check out the full project and step-by-step directions by Stephanie here. It's the perfect alternative to buying the real deal at ~$20 a pop…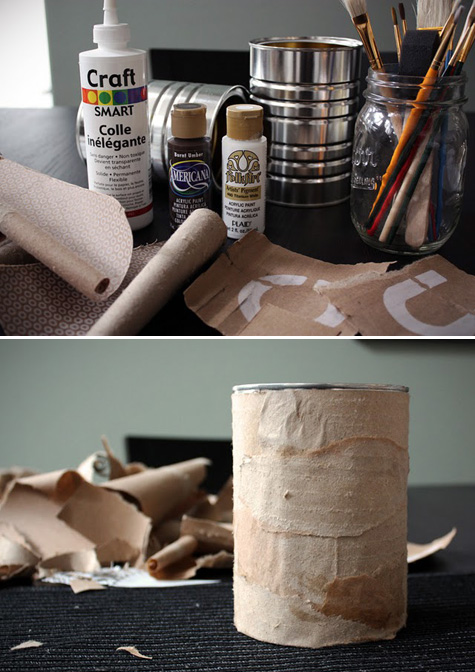 Stephanie turned hers into gifts (a great favor idea), and because it's essentially a decorated tin, made beautiful cookie containers out of the birch project! You could also use them as indoor decor for the mantle, dining room table or a kitchen nook. Be sure to check out her very creative blog while you're visiting, too.
Happy Friday, everyone!
Tags:
Centerpieces
,
Crafty Solutions
,
Decorating
,
DIY
,
Parties & Entertaining
,
Wedding
Posted in
Crafty Solutions
,
Parties & Entertaining
|
6 Comments »
November 12, 2009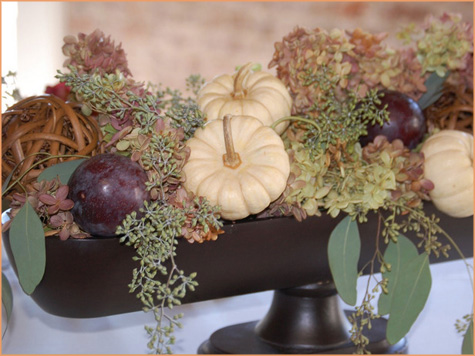 A few Thanksgiving centerpieces to mull over as you plan for the special day… whether your style is muted & soft or blazing with color there are so many brilliant ideas out there to give you inspiration. I've collected a few of my favorites from design experts around the web: BHG, Party Perfect Blog, HGTV and Cathie Filian.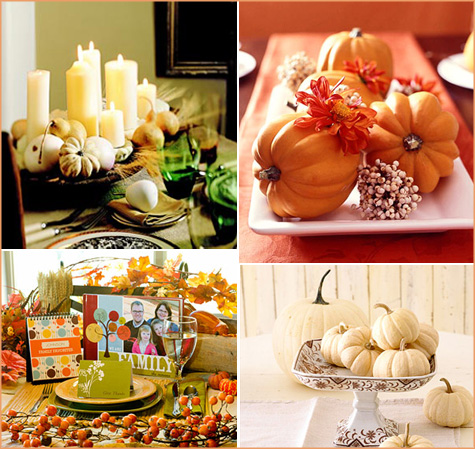 Before you begin… choose your theme wisely. Will this holiday be traditional & cozy or modern & eye-catching? Choosing your color palate can be most challenging but incorporating just one 'wow!' color can make a huge difference. Bright pastels like orange, pink and green give your table a pop and are all over the place this season.
By the way, isn't this idea of incorporating photos into a centerpiece runner a neat tribute to family?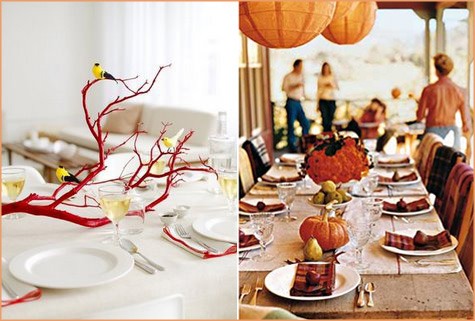 Be out of the ordinary. Surprise your guests with unique elements that will make them remember this holiday for years to come. It can be as simple as a painted red branch, as crafty as ribbon wrapped paper lanterns or as unique as veggie candle holders (for those last two ideas, jump on over to the next page).
Where ever your inspiration comes from your guests will surely appreciate the extra effort! Read more »
Tags:
Centerpiece
,
Centerpieces
,
Crafty Solutions
,
Decorating
,
Dinner Parties
,
DIY
,
Flowers
,
Parties & Entertaining
,
Thanksgiving
Posted in
Crafty Solutions
,
Parties & Entertaining
|
4 Comments »