December 13, 2011
It's beginning to look a lot like Christmas around here. And none too soon really – Christmas is just around the corner. But I have a serious affection for twinkle lights and I will take as much or as limited amount of time with them as I can get

.
I had a low-cost decorating plan this year and I'm happy to say that I stuck to my guns and decorated with only what was in my holiday boxes (with the exception of these West Elm finds at $.97 a piece…). To mix things up though, I did away with all things red. There was plenty of red last year and so this year I found my color palette in green, peacock blue, white and bits of pink.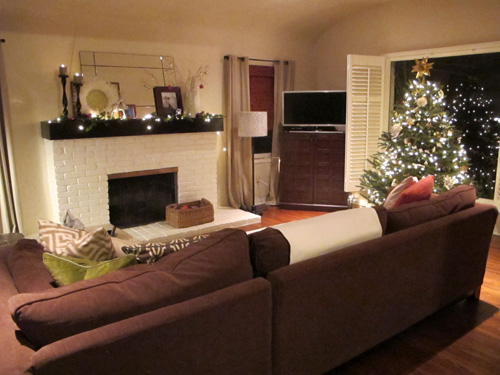 This might be a better angle to see the subtle blues, greens, pinks and whites in the tree and reflected on the mantle.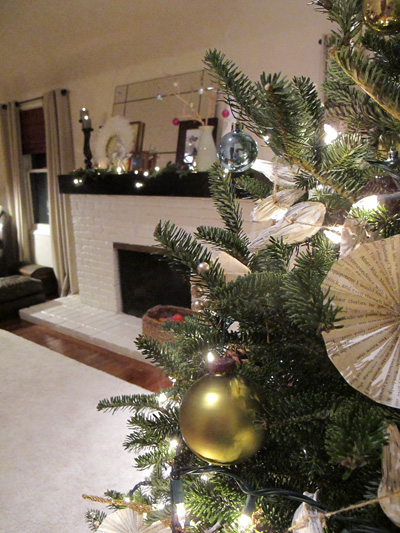 We covered the tree in green and blue ball ornaments (non-breakable, plastic versions that Liv can pull off and we don't have to worry about shattered pieces), homemade book page snowflakes, silver berries and white paper flower arrangements, and last but not least I found a new use for those .$.97 West Elm white washed pod strands.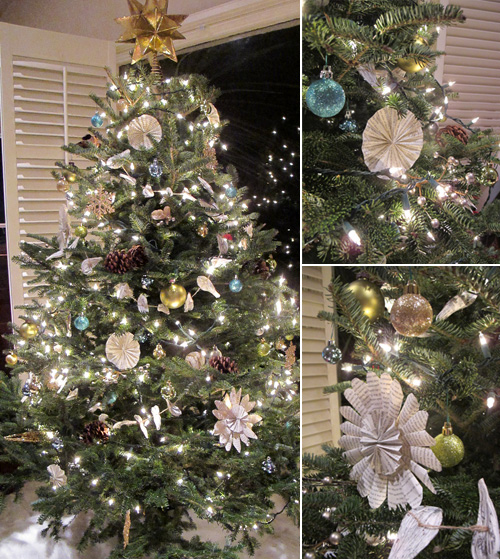 The book page ornaments are a combination of folding and wrapping – I actually began making them for a friend's Story Time-themed shower in November but ended up finishing them just in time for Christmas. They're kid-friendly, handmade and they fit in really well with the tree this year.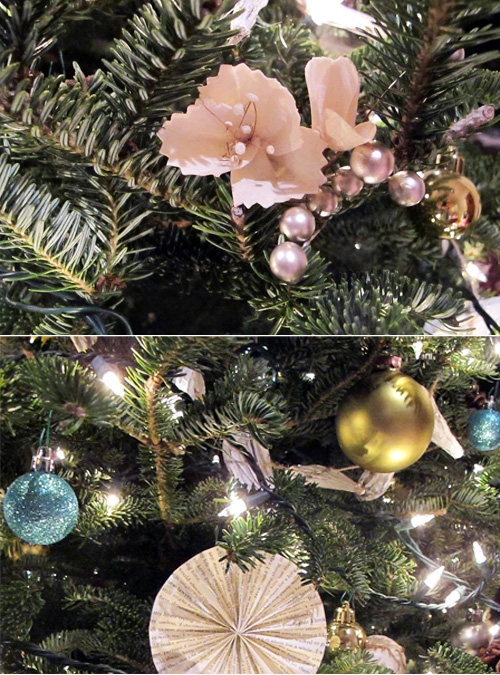 We went to a Christmas tree farm where you can cut your own tree this year, but since we live in a semi-desert environment (see furry trees below) we decided that actually we kind of wanted a non-furry pre-cut tree shipped in from out of state. They offered those at the farm too so we ended up with the above. Not very eco-friendly but oh-so-pretty.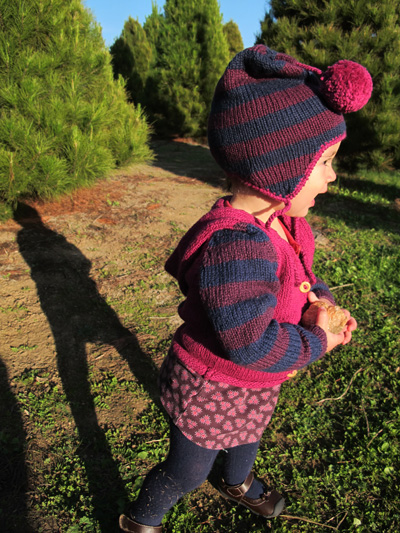 Liv and her boyfriend Michael enjoyed the sticks and pine cones best.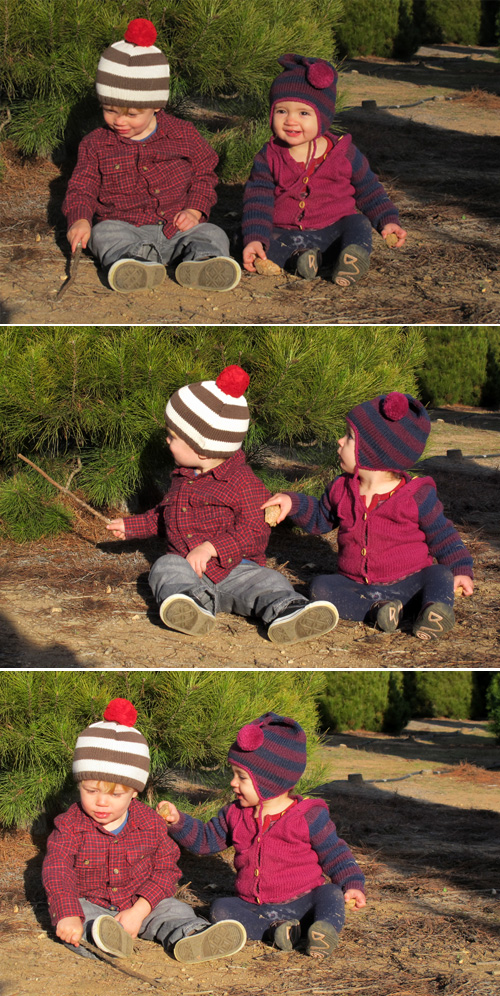 And meeting Santa for the first time?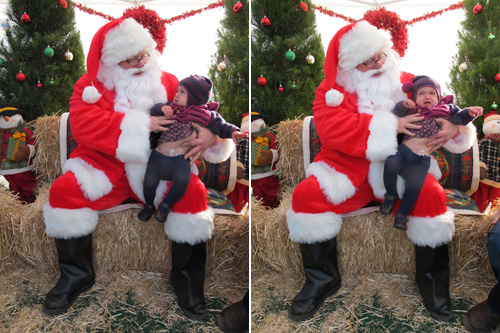 It was kind of a scary experience.
But back to holiday decorating… The bookcase on the left side of the room received a little Christmas makeover as well: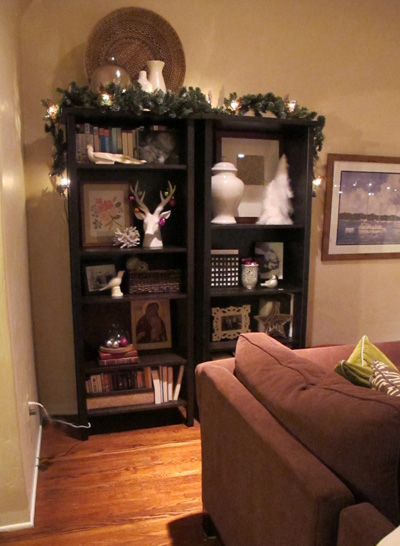 I switched out a few prints to compliment the colors and brought in just a couple of sparkly baubles here and there. Even my feather trees from last year found a home.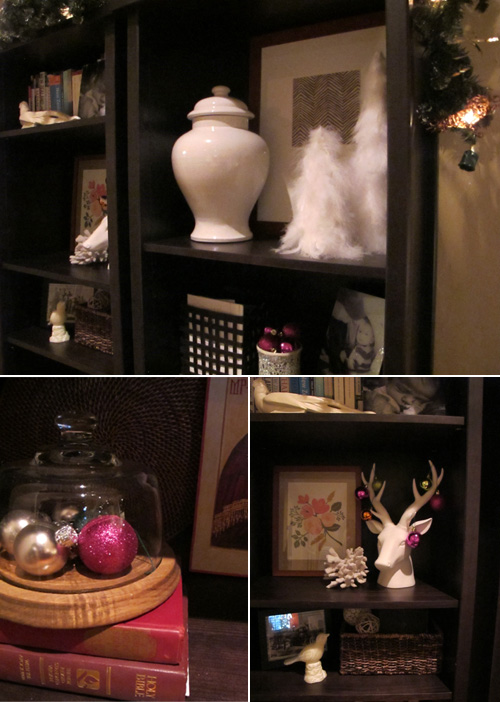 The mantle was a fun project because it challenged me to find green and blue accents from around the house.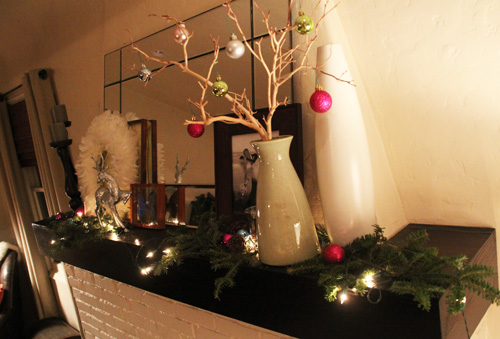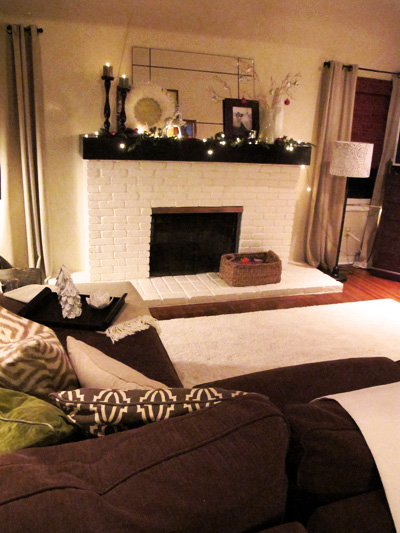 I framed a neat piece of handmade paper from my stash to pull in a little green and added my butterfly from the guest room to compliment the blue in the ornaments. The white feather wreath was added next (plays off of the feathered trees and all of the white on the Christmas tree), along with a bit of natural garland from clippings from the tree, and finally a few colorful bulbs for the bleached manzanita branches.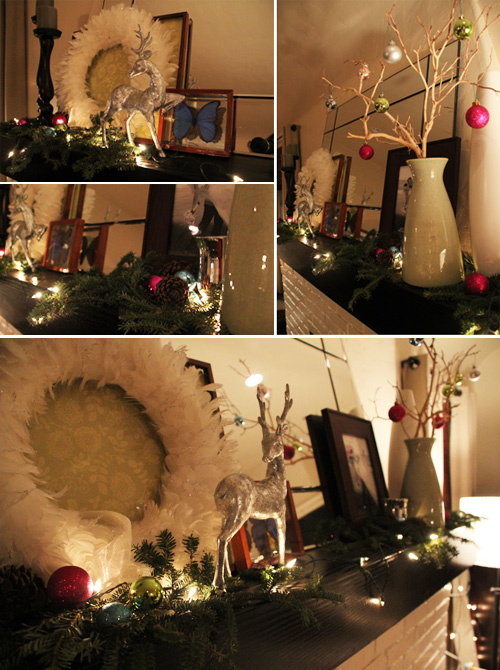 Even my wooden pod trees (see West Elm above) found their way into the room and out of the office (which didn't get much holiday love this year).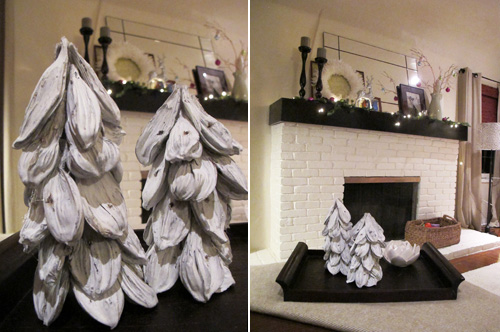 I love a classic brown paper with a colored ribbon and this year Ikea pulled through with their extra large roll of brown wrapping paper (very economical) and their red raffia. I'm just starting to place finished presents under the tree now.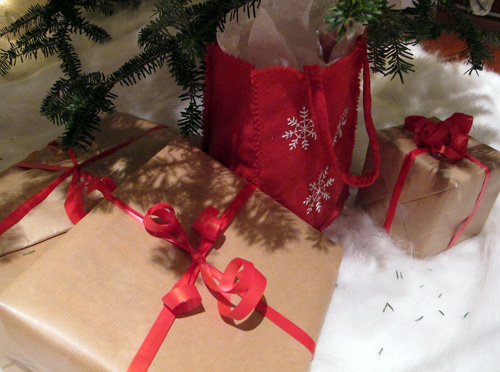 On the other side of the Christmas space the start of our Christmas card collection is displayed in the dining room on contrasting navy, blue and green ribbons, while our nativity scene is set up on the buffet with an extra bright and shimmery star looking ore.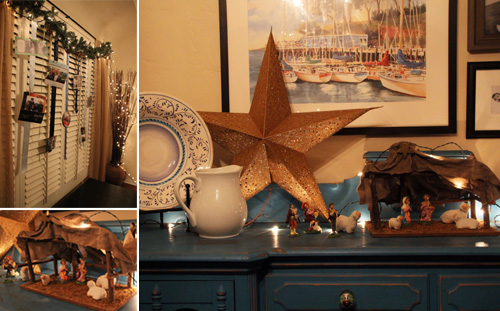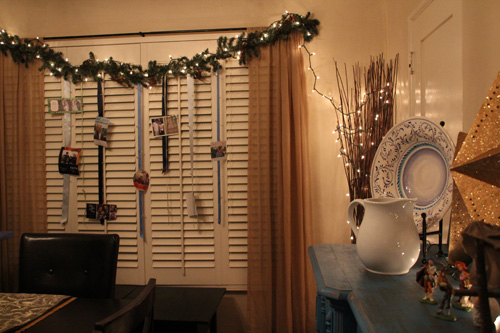 And now I think our home is officially in the mood for Christmas, too!
Tags:
Christmas
Posted in
Holidays
,
Home
|
13 Comments »
December 12, 2011
Hope you had a lovely weekend! Ours was fairly low key with quite a bit of catching up on our to-do lists plus a Christmas party on Saturday. Speaking of Christmas parties,  Maryam and I each put together two December-themed style boards of what's inspiring us this season. (To check out the full list of boards, jump out to the Wardrobe Style Board gallery.)
Maryam's up first!
**********************************************************************************
Hello again!
I am guessing you're probably spending time with your loved ones, decorating the home and adding a little tinsel here and some shimmering lights there. In the midst of all this wonderful holiday cheer (or madness), you may have forgotten about you…As in what you'll be wearing for the possible events to come. So I thought I'd share a little of my sparkling style inspirations for this season.
Shimmering sequins abound these days, and I am all for it. Glitzing up a bit can really change your mood. I wanted to show a few different ways you can be both bold or subtle with your sparkle use.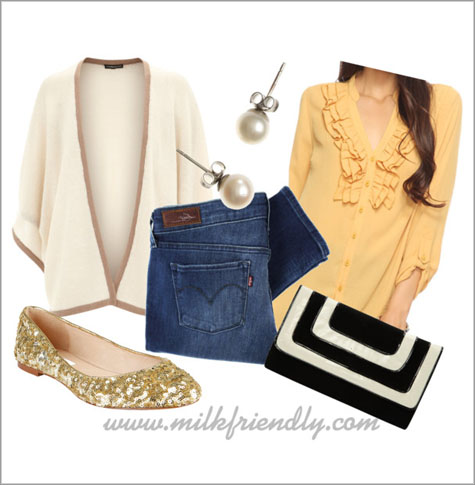 Grabbing yourself a pair of sequined flats is a sure fire way to subtly elevate a simple outfit and take it to chic town. Plus, if you're out in an uncomfortable situation, you can always tap those toes together and mutter "there's no place like home."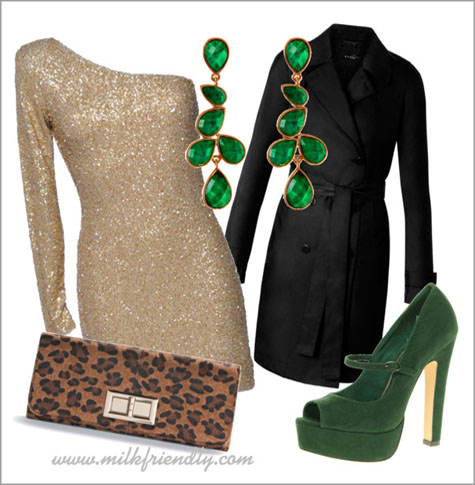 More formal holiday parties and/or New Years Eve celebrations are the time to go all out. Asos has a fabulous variety of glam dresses to chose from. Decide quick, so you can get your treasures in time to par-tay!
No matter what holidays you may be celebrating this season, I hope you all get to savor the little moments with loved ones. Enjoy and I'll see you next week!!
a
With love,
Maryam
**********************************************************************************
Alright, the baton's been passed back to me. I'm jumping on the sparkly bandwagon this Christmas as well and agree that it's the perfect time of year to incorporate glittery shoes, handbags and tops into your everyday wardrobe. I also have a love for all things matchstick cords and am really adoring this giant navy chunky sweater. A go-with-everything watch (like this classic Timex) is on my Christmas wish-list.
Shabby Apple sent me over the below skirt and I've been coming up with clever ways to wear it for winter. I love the look of a baggy top tucked into a high-waisted skirt and this particular skirt is so flattering! I'd match it with a sparkly boat neck like this one or a navy loose knit sweater. That plus knit tights and a bright clutch and I'd be set for a Christmas party.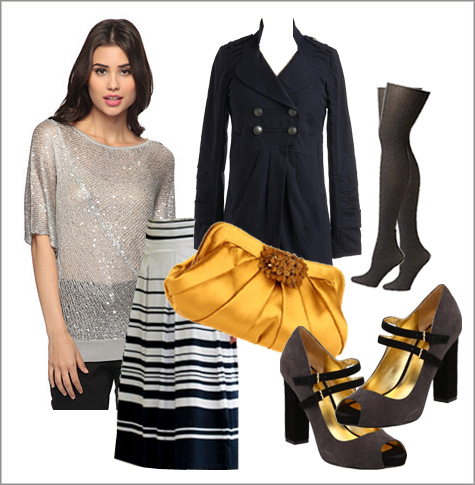 We'll be sharing one more style board post (and four more fun ideas) next week… with New Years Eve in mind!
As always, you can find sources and prices for the above in the gallery. Thanks, Maryam! (Oh, and for more sparkly style posts by Maryam don't forget to check out her blog.)
Tags:
Christmas
,
Fall
,
Fashion
,
New Year's Eve
,
Winter
Posted in
Wardrobe
|
2 Comments »
December 8, 2011
*Update* Images were having trouble loading earlier today – now the post includes all missing photos

.
We took our Christmas card pic this last Sunday (yay!) and I thought I'd share a few tips I've picked up for producing better family photos.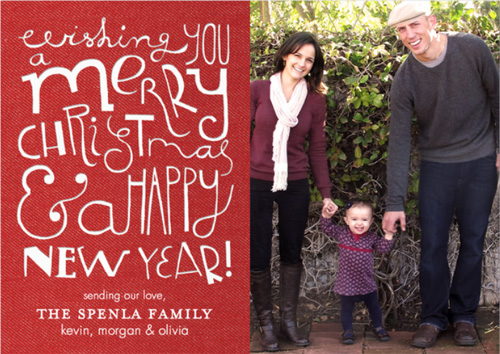 I should begin by saying that I'm no expert when it comes to taking a great photo (I use a Canon Rebel t3i and I generally try to work in manual mode to capture the best lighting – but I'm really a beginner in this area, as evident by all of the horribly lit indoor pictures on this blog – here's a great resource to help with those questions!). What I am pretty good at, however, is editing. I'm in marketing by trade, so Photoshop is like my third arm – I use it for everything.
But you don't need a high powered photo editing program to enhance your photos, in fact there are many free versions out there such as Picasa, Picnik and Photoshop Editor (see my suggestions near the bottom!). Regardless of how ordinary a family photo might be you can enhance it to bring out the strongest qualities.
Shooting
m
Let's start at the beginning. For me, the secret to a creative family photo lies in: the background, positioning of family and candidness of the photo.
1. Background: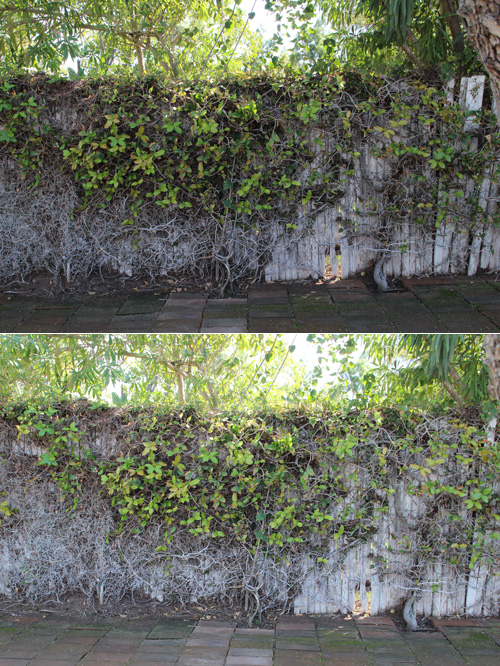 Choose a background full of texture and contrast. Living backgrounds work wonderfully – fields of flowers, the bark of a tree, even a red brick wall (not living but equally neat) brings visual interest to a photo. Adjust your camera settings right off the bat without anyone in the picture (here's another link to Kate's great suggestions for this).
2. Positioning:
When it comes to positioning the family, consider taking a few shots from a 'normal' angle (photographer standing holding camera up to their eye) and a few from unusual angles. For this photo I knew the positioning that I wanted – all three of us standing and the photo taken straight on. Even a slight angle would have taken away the effect and I'm pretty sure this shot was not taken at eye level but that the camera was held down a bit at the chest or even belly.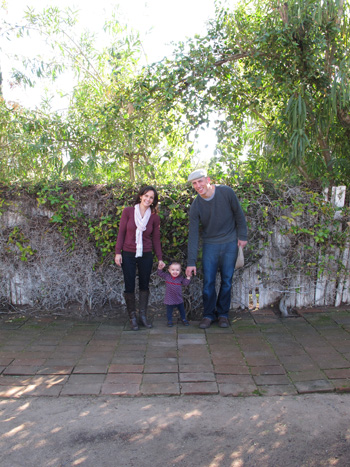 As long as your image is in focus (if that's the goal you're looking for), start big and then later crop in an editing program. You'll have the most freedom with how your final image looks. Take a LOT of photos. If you think you've captured your shot take 20 more anyways, double that with kids.
3. Candidness
Generally speaking, I like it when one family member is looking at another or the whole group is laughing with eyes in different directions (aka not all looking at the camera). We tried a few photos with one of us not looking at the camera: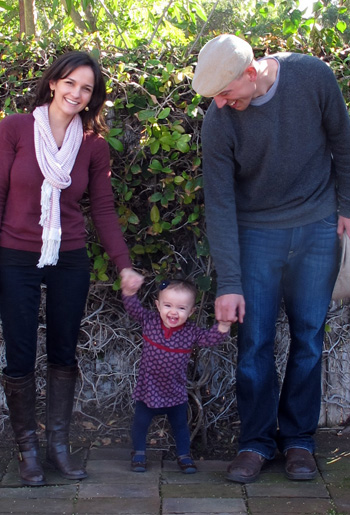 But in the end both of us looking won out. By the way, getting Olivia's big grin took about 50 photos and much dancing by our friends. (Thanks, Phil & Trish!)
The image in its current state is ordinary. It's now time to edit to enhance.
Editing

m
1. First, crop uniquely: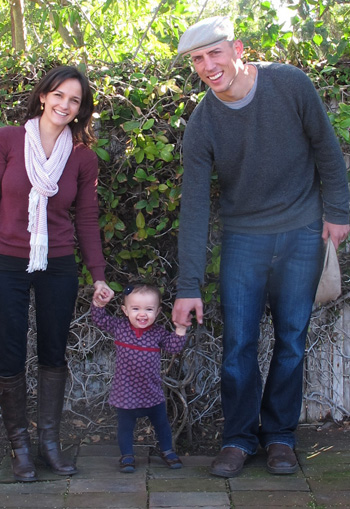 The goal here is to avoid symmetry. By leaving my outer hand out of the shot and including Kevin's, I've broken up the symmetrical feel of the shot – now Kevin is in half and Liv and I are in half instead of third, third and third. Play with cropping for your cards, tighter then wider then some crazy ones just for fun.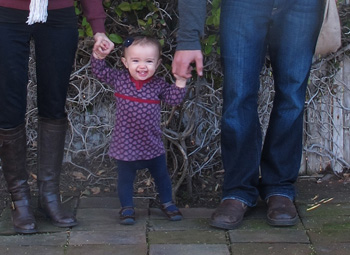 This one is unexpected but adorable! Pair that with another shot of all of us grouped together and smiling and that could be a cool Christmas card.
2. Next, I adjusted the contrast: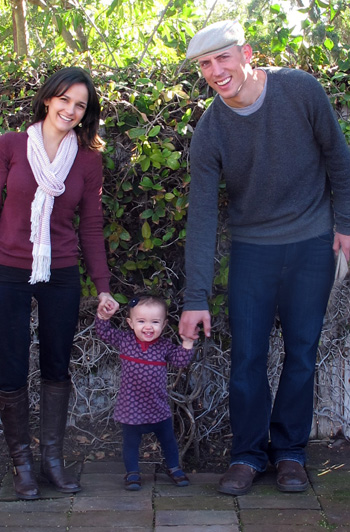 Pop up that contrast to really pull out the shadows (you can play with brightness as well).
2. And then the exposure: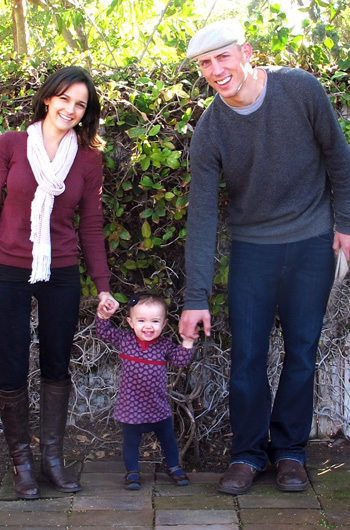 The photo already feels so much more alive!
I would approach editing this photo differently if we were planning on hanging it on the wall, but because it's for our Christmas card I'm taking the editing of contrast, exposure and lighting a bit to the extreme. You can get away with it for holiday cards!
3. Here's a subtle edit that packs a punch. The photo was getting a little top heavy in color (with those brilliant greens above and the soft greys below) so I used a red filter over the bricks. See how much better this is?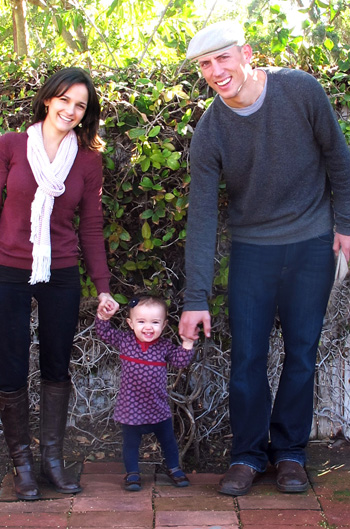 Unfortunately that's a Photoshop edit, not available in the free editing versions… (see more on that below).
4. But adding just a touch of sepia (or 'temperature' as some of these programs call it) is!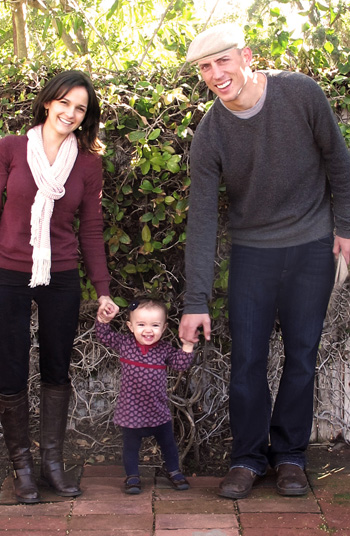 Much more worthy of a Christmas card!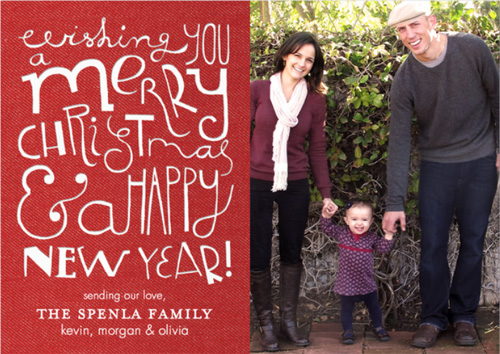 More on Free Photo Editing Software
You can make nearly all of the edits that I made above in a free photo editing software like Picasa, Picnik or Photoshop Editor. I have each a spin and here are some of my favorite features:
1. Picasa
First up is Picasa, a free photo editing software that you download on to your computer (no need for internet) and that automatically uploads every photo on your hard drive into the system. It also connects easily over from Picasa Web Albums if you use this program to store your photos online.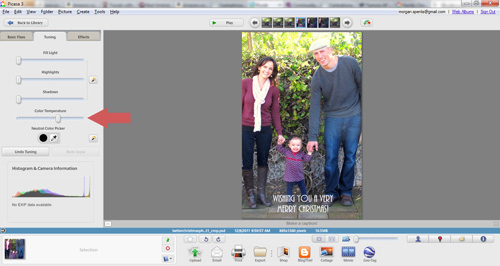 The photo is imported with all of it's specs (ISO, f-stop, aperture – even a histogram) for those of you looking to see what went well and what can be improved next time you use your manual setting on your camera. The tool allows you to adjust lighting, contrast and exposure (and will even do an auto correct if you're wanting a quick fix) – but my favorite feature was the 'Temperature' which adjusted color to achieve a white balance change or even an allover warm/cool look. I was able to achieve the same semi-sepia look that I did in Photoshop using the Temperature feature.
2. Picnik
Picnik is a great little tool that works right on the internet (no editing when you're not connected though) and probably the most user friendly. You simply upload a photo and you're immediately presented with a wide range of options just like the above. They have a Temperature tool as well, and also many effects presets. I would say Picnik and Picasa are near identical with the one exception that Picnik allows you to upload a solo file to the internet and Picasa scans your entire computer and becomes your 'editing software' that's on your hard drive.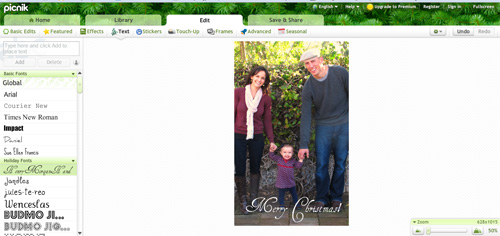 Picasa will upload any existing font (that's on your computer) to its database, but Picnik's font tool is easier to maneuver.
Last but not least is Photoshop Editor. This is the most complex of the three and allows for more advanced editing. What I love about this tool is that it offers you a selection of photo options for each effect: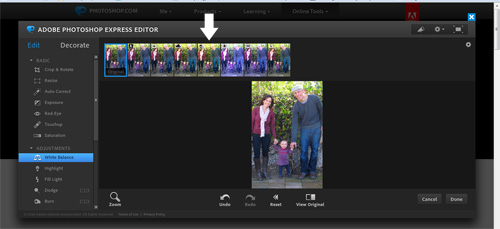 The terminology is similar to advanced photo editing programs making it easy for me to navigate through (no 'temperature' button here), but it gets a low grade in my book for user friendliness. The screen is dark, the editing buttons are a little confusing and if you don't take time to learn the tool you might be lost. On the plus side it offers features such as 'burn' and 'dodge', which are very neat enhancement tools that the other two don't have.
The conclusion? I use Picasa Web Albums to share my high res photos with family and friends (the only free program that I know of that does this!) and because it links automatically to Picasa editing and Picnik I'll probably use these first to edit quickly when I'm not in Photoshop itself. Because Photoshop Editor is designed by Adobe though (which all of my graphic design programs have in common) I'll probably continue to check in on its list of growing features offered

.
Creating

m
Tiny Prints sponsored our cards again this year and I had the toughest time choosing from their adorable designs (see last year's here). Others in the running included: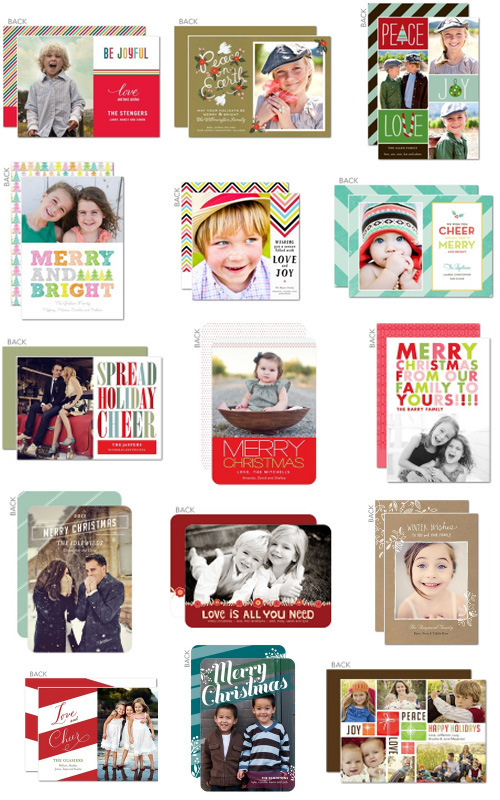 Difficult, right? They have a ton of adorable and contemporary designs to choose from in their selection of over 500 Christmas cards, but to me the best feature is the 'Favorite' bar located at the bottom of each page. As you find a style you like, you simply add it to the bar (I had something like 40 in mine) and then you can narrow down your results by comparing just the ones you love.
Tiny Prints is offering 20% off + free shipping on orders of $49 or more with coupon code: holba20 through 12/11!
***********************************************************************
There you have it, my thoughts on shooting, editing and creating a photo card for the season. Happy Holiday Card making!
Tags:
Christmas
,
Photography
,
Tutorial
Posted in
Family & Friends
,
Holidays
|
9 Comments »