May 2, 2011
It's about time for a bathroom update. Our bathroom-from-scratch doesn't feel like it's moving along quickly, but I have to remind myself that it's well underway and in a state of in-progress projects (like the most recent day of tiling!).
Here's a little in-progress update and a tiling overview of the new shower nook. I love the color of the tile! so zen: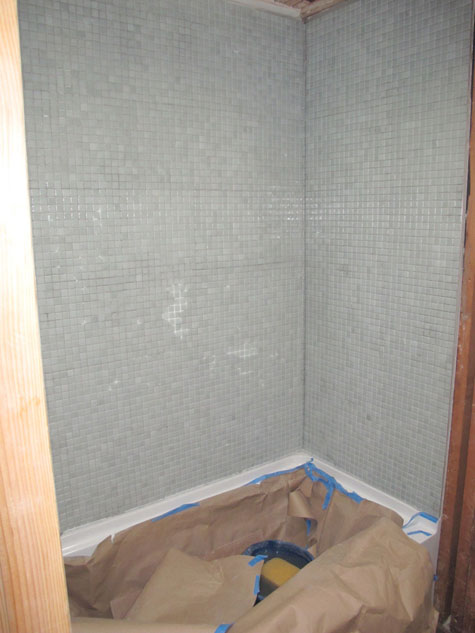 The newly framed out guest bath looked like this just a few weeks ago: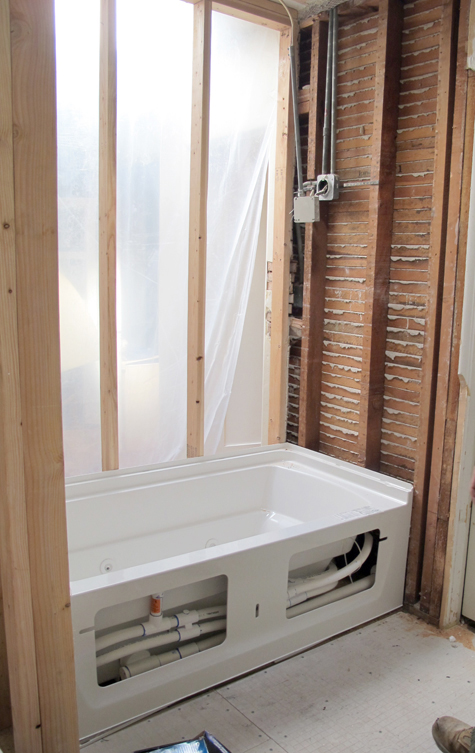 Then the tar paper (a barrier for moisture intrusion) was stapled into place: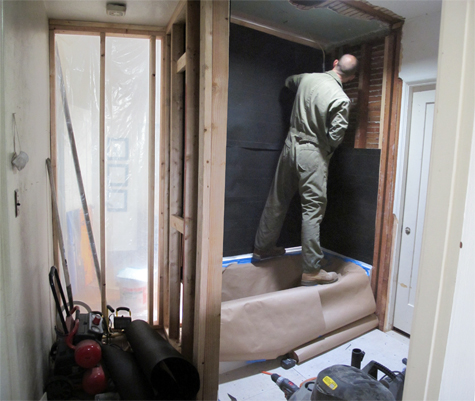 A final layer of drywall was added (I wish I had a better picture) before the shower walls were ready.
We chose Elida Ceramica recycled glass tile in Moonlight for a variety of reasons – it's beautiful! and we love to encourage and support sustainable home remodeling (did you know that despite recycling, more than 70% of our glass ends up in landfills?). It looks unassuming on the shelf, but up in our bath it's stunning and we're really happy with it.
As for cost? As you can see below the going rate for our choice is $4.44 (on sale from $4.98) for a 12×12 sheet of tile. This notably is on the cheap end of tile, let along recycled tile! Your average glass tile sheet per square foot will run you about $15 and I've noticed that recycled and regular is pretty comparable on that front. We love the look and feel of the tile and in our opinion quality definitely wasn't compromised for such a fantastic price. Enough tile for our shower nook would average $180 + tax for the Elida Ceramica recycled glass tile in Moonlight (Lowe's actually offers four different color choices in this price range), to tile it at the average cost of glass tile could easily cost you $600 plus.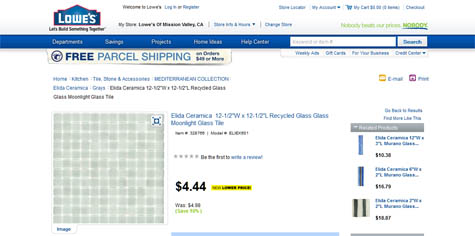 Recycled glass is formed by melting down industrial and everyday glass waste in boilers that are heated to over 2000 degrees. The molten glass is then formed into various sizes and styles of tile for the bathroom, kitchen, outoors, etc. Some of the benefits of recycled glass include: it's incredibly durable (most often scratch, stain and heat resistant), it uses less fossil fuels (reshaping glass takes less time and energy than making glass from scratch), it's easy to clean, it's resistant to chemicals and stains, it does'nt allow certain types of bacteria to grow, it reflects light and brightens up areas, it creates a use for the overabundance of post-industrial glass, and finally it helps to reduce waste in landfills.
********************************************************************************************
Tiling Glass 1×1 Tiles

n
Materials: glass tile, thinset mortar, tiling trowel, bucket for mixing thinset, several sponges, non sanded grout (double check your tile instructions – usually located on the back of the tile sheet), bucket for mixing grout, dry soft cloth
A few points to keep in mind when tiling with small glass tiles:
While dry setting (or laying out your tile pattern before adding thinset) is not easy to do when you're applying the tile to the wall, it's a good idea to layout your design on paper and to measure to make sure you take into account any necessary tile cuts.
Cuts can be made with a tile saw or glass snippers (if the tiles are tiny).
Mix your thinset to the consistency of creamy mashed potatoes – let sit 8ish minutes and then mix once more before using. A cage-type or paddle-type mixer attached to your drill in a 5 gallon bucket is the best way to achieve this.
Use the straight side of a tiling trowel to first 'skim coat' a section of wall with thinset, then use the grated side to spread the thinset out (this order is important).
If your tile comes on sheets of mesh and with a sticky back side (like ours), peel off the paper and apply directly to thinset. If your tile does not have a sticky back side, 'butter' the back of the tile sheet with a swipe of thinset and then apply to the wall.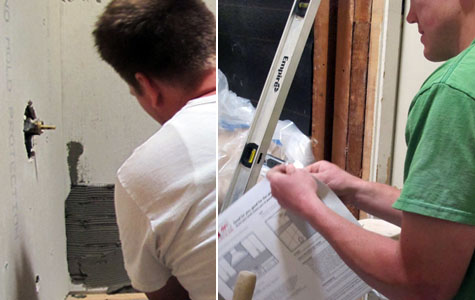 Be careful to not overbuild your thinset on the wall, this can cause a wavy, uneven final product (plus it increases the possibility that the thinset might shrink when it dries).
Carefully press the glass tile into the wall.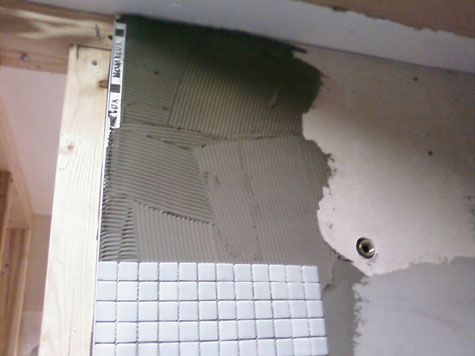 Repeat and repeat a few times more until your wall is complete.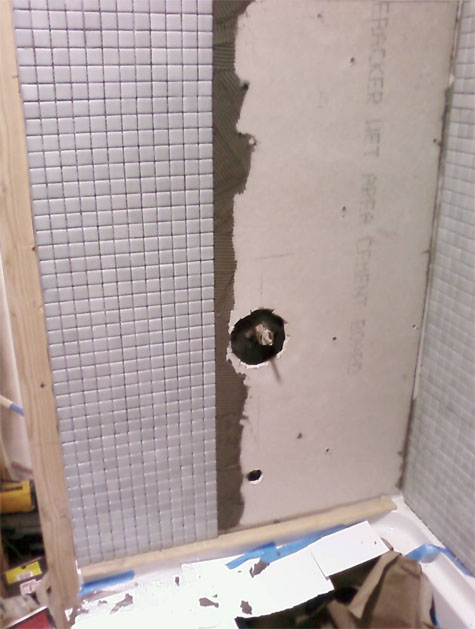 Grout should be mixed to the consistency of a milkshake. Apply a glop to the top of the dry tile and spread with a sponge. Press into all spaces and don't worry about getting the tile dirty!
Lightly wash the tile with a wet sponge removing larger chunks and streaks of grout.
Wait 48 hours and wipe the glass tile down again with a soft cloth, removing all excess grout.
Seal the tile
We haven't reached the grouting/sealing portion of the project yet but the overall installation process has been great. Usually small 1×1″ tiles are tricky to work with, but the mesh backing and thinner tiles (thinner than ceramic) have made it really easy.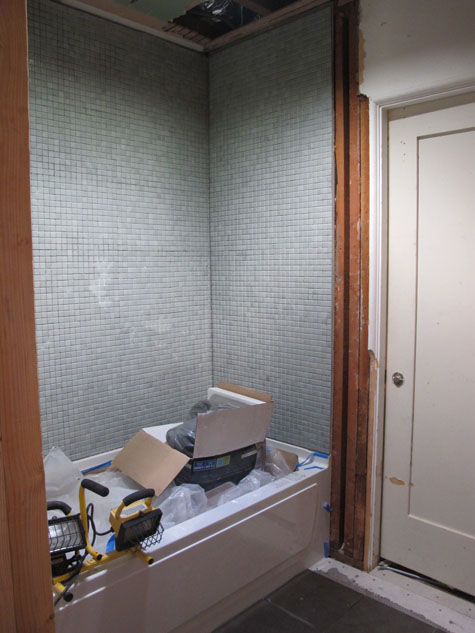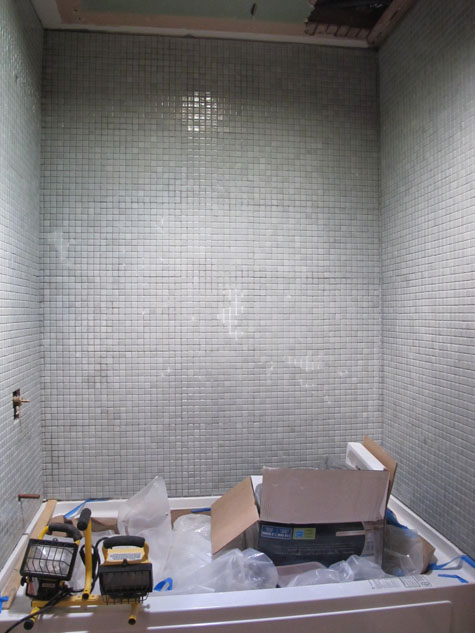 Now onto the floors – the new bath is coming along!
More building a bath from scratch posts: rub-a-dub-dub choosing and installing a tub, demo time, initial inspiration and where it all started – a Lowe's collaboration.
Tags:
Construction
Posted in
Construction
,
Crafty Solutions
,
DIY
,
Home
,
Our Bathroom
,
Project Lowe's
,
Renovating Adventures
|
9 Comments »
April 28, 2011
What happens when your family comes into town for Easter? Little projects that have been shelved for months get a bit of attention.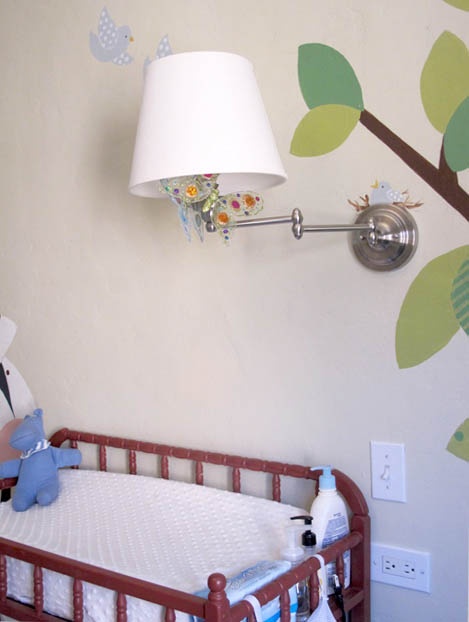 We've finally installed a much needed lighting update over the changing table! If I could move the entire sconce down and a bit to the left I would… but given the previous state of the light I'm loving the improvement!
My parents visited us for the weekend and decided to help tackle a few projects around the house, changing out the light fixture was at the top of my list.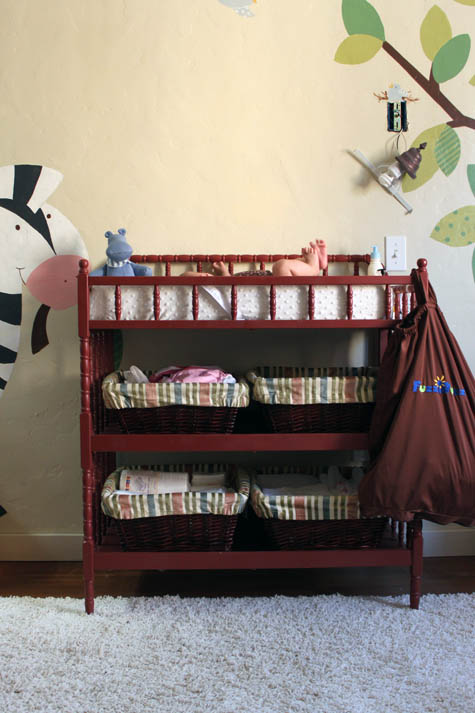 I'll apologize right now for the horrible lighting in the room (especially at different parts of the day, like above).
But yay for a new light! And the new sconce sits so perfectly below the little nest that Aunt Karen & Momma Eileen painted. The little birdie is Liv, and Kevin and I are the poppa and the momma flying down to the nest. So sweet.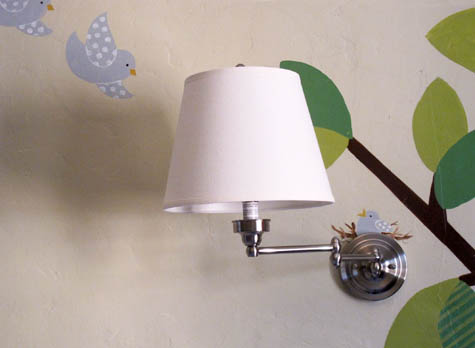 The added butterflies (from a baby shower gift) are a neat little detail and will tie into the new mobile project. Now when Liv is on the changing table she stares up at the bright, shimmery colors.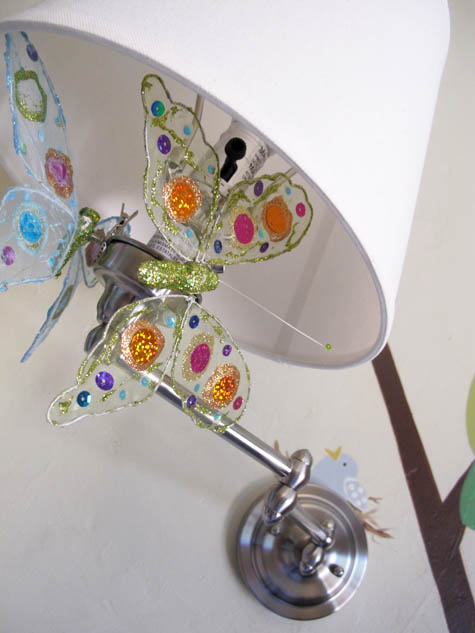 So the hunt for the new light began a while back but I couldn't settle on the look that I was going for. You might remember the makeover we did on the pendant in the center of the room and it brought such a wonderful, modern update to the space.
But… all of the modern sconce options were a little too modern.

Lamps Plus George Kovacs
I love these vintage industrial-style lights, perhaps to nicely balance out the modern pendant in the center of the room? But they might be better suited for the new office.

We decided that we liked the style of the swing arm sconce. We can easily move the light over the changing table or the reading area with the glider, and little toys (like the butterflies) or a mobile can hang from the arm to entertain Liv.
Why the randomly placed sconce was installed in the first place makes us curious (here's before pics of the room). Actually, the previous owner has found this blog, Hi Patt! and there's probably a great reason behind it, like perhaps a desk or bed used to sit below it, or perhaps it was even installed many owners ago. But by happenstance the changing table fits nicely beneath it's current placement, so we've found a good use for it.
Lamps Plus, Target, Pottery Barn
I was on the search for a sturdy, low priced version and had finally resigned to pay $100 plus when I scooped up this version for $40 from Lowes!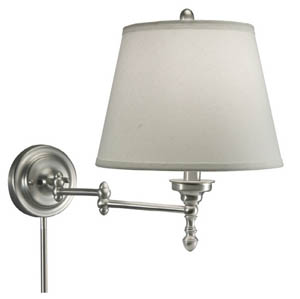 We modified it to hard wire straight into the existing electrical box and I left off some of the more ornate bulb decor (is that what you'd call them?) for a cleaner look.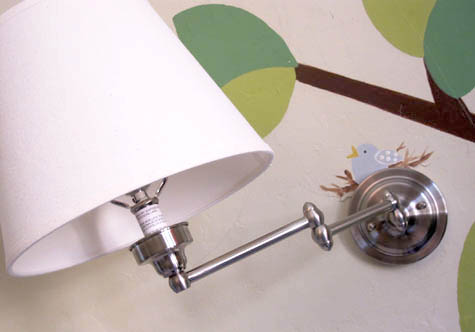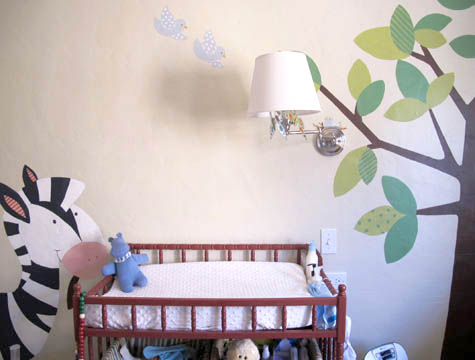 So one big item crossed off of the nursery list. Just a few more to go!
More Project Nursery posts: basket liners part 2, basket liners part 1, the great glider makeover, sewing the curtains part 1, part 2, part 3, nursery fabric board, curtain fabric selection, rocking horse find, new pendant light, vintage wall art addition, changing table makeover, nursery wall striping tutorial, painted animal project, the initial inspiration board and the before picture posts.
Tags:
Before & After
,
Construction
,
DIY
,
Nursery
,
Shopping Source Lists
Posted in
DIY
,
Home
,
Liv's Nursery
,
Renovating Adventures
|
3 Comments »
April 19, 2011
Remember when our living room fireplace looked something like this? the mantel was in need of a makeover.
One day I'd like to either knock down the brick to expose an original (fingers crossed) fireplace or fill in the brick with plaster to create a Spanish-style fireplace to match the house. Until then though, my first thought was to create a solid beam look by fitting a wooden box to the top of the current mantel. Kind of like the last image in this post.
So… I took my ideas and layout to my local hardware store that has a milling department and we created a mitered edge box that was just what I had in mind. But it came back looking like this.
And now, we're finally back on track!
First up is staining. Since different types of wood will each have their own unique look with different types and colors of stain, I flipped the wood mantel over and tried out three different stains. The perfect shade? We chose the red mahogany in the center.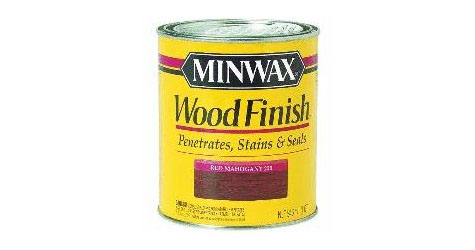 If our mantel had been cut from a softwood (uneven wood grain or blotchy patterns indicate that wood might be softwood), I would add a pre-stain wood conditioner to prevent an uneven covering (the conditioner seeps into the wood to create a consistent surface). Back when we were choosing materials originally, my carpenter friend recommended a vertical grain cut, this means that the growth rings run at 45 degrees and that the wood was quarter-sawn at the lumberyard – it increases the hardness by 20%, is a bit more expensive, but it looks beautiful.
Staining step-by-step:
1. Stir stain well.
2. With rubber gloves on, I used a brush (you can also use a sponge or old rag) to cover the bottom of the mantel. Applying stain to the bottom first means you don't have to worry about dripping while the mantel is upside down! Or I should say the stain will still drip, but you'll be covering it up when you stain the front – and cover it up quick, that dripping stain dries immediately. Next up is the top of the mantel and then finally the front, making sure to brush in one continuous movement in the same direction of the grain.
3. I then let the first coat of stain dry and reapplied several times.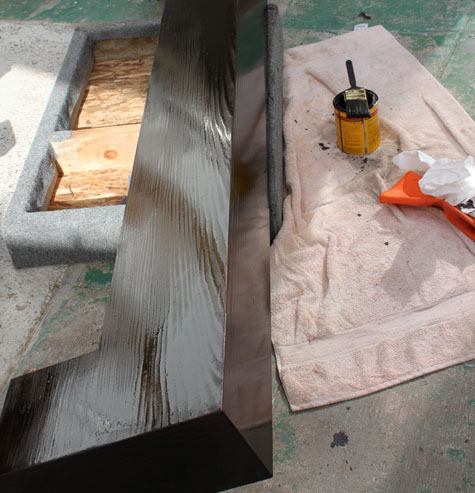 4. It's a good idea to apply a top coat of polyurethane to seal in the mantel (and off gasses) and to protect it from water rings from future vases, wine glasses, etc.
5. The entire mantel stayed outside for 3-4 days to prevent any off gassing in the house.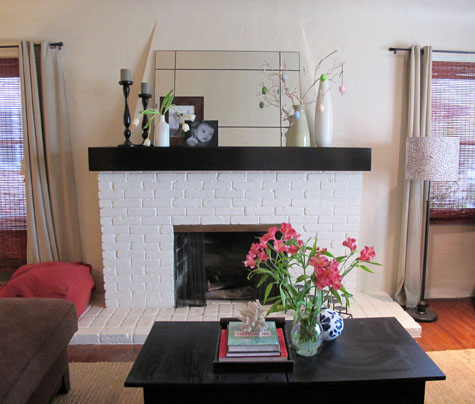 Here she is, all dressed for Easter! It makes such a difference in the room, I love it.
The extent of our Easter decorations this year is fresh flowers and beautiful hand blown eggs decorated by my Mom when she was my age.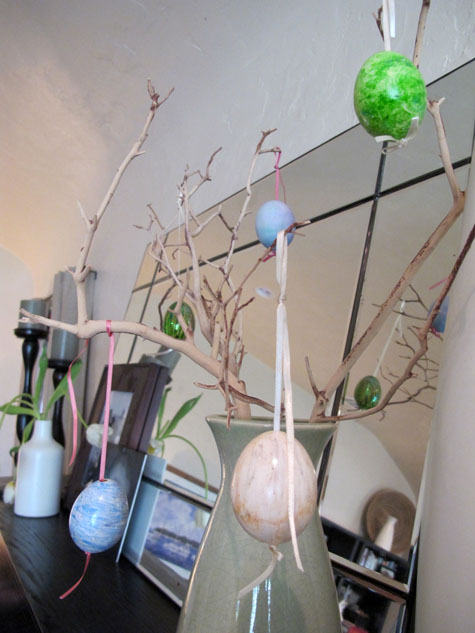 What a neat gift to pass down through the generations, right?
My dad recently sent us this picture that he took of Liv when she was just two weeks old, he had it mounted on photo board – I love her little expression and her little scrunched forehead. So alert when she was so young!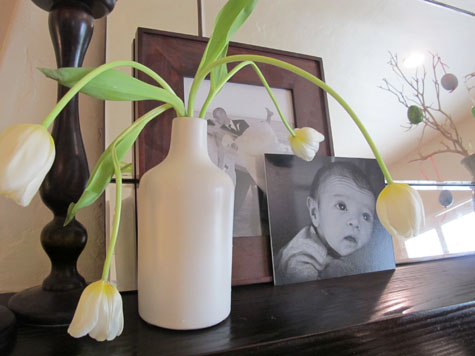 And now the living room has a brand new look!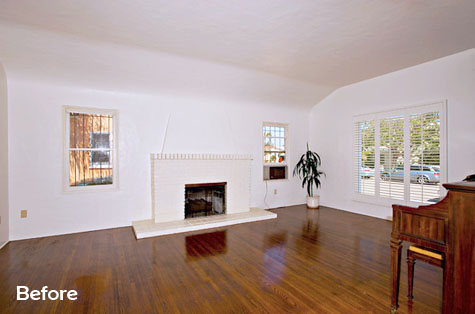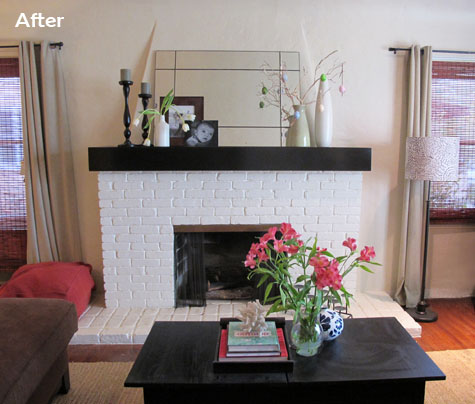 More living room posts: mantel progress, updating a fireplace mantel part 1, bookshelf styling tips, decorating in layers: stage 1, inspiration boards, picking the perfect couch, custom lampshade, coffee table-to-ottoman, and the'before' photos.
Tags:
Before & After
,
Construction
,
Crafty Solutions
,
DIY
,
Home
,
Living Room
,
Tutorial
Posted in
Home
,
Our Living Room
,
Renovating Adventures
|
14 Comments »