November 1, 2012
Hope you all had a wonderful Halloween! I meant to post pictures of Liv's costume and our party prep yesterday, but time started to run out and costume changes were being made with cobwebs still to be hung… and then everyone arrived for trick-or-treating. So here we are with a fun little round up of yesterday's events! I hope you had a wonderful, safe night full of trick-or-treating (or handing out candy, or sitting fireside with a nice glass of wine), too! Those being affected by Sandy right now, you are in our prayers.
First up a few halloween decoration shots from around the house. We didn't go crazy this year, just a few sprigs of black spray painted fake flowers to mix in with the usual mantel decor (made those guys a few years ago) and a couple of pumpkins (that we can keep up through Thanksgiving).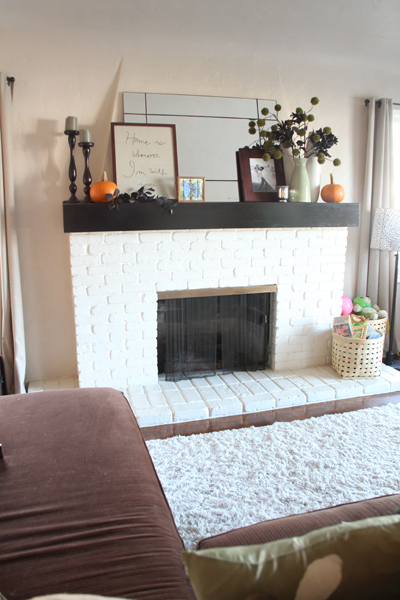 I also added a few Halloween additions to the gold dipped pumpkins on the buffet…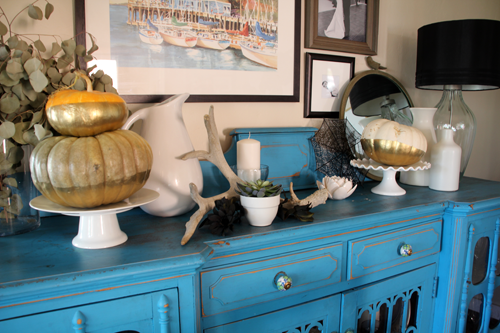 And spent most of my time decorating outdoors on our new deck! Look at that baby, she's finished! Needs a coat of stain but she's ready for a Halloween party.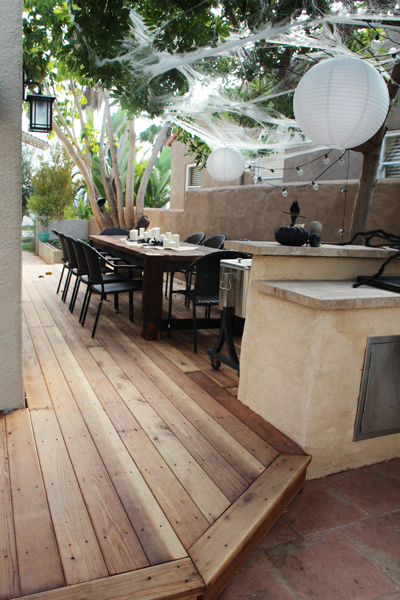 A few globe lights and white paper lanterns in the trees and near the fireplace, too.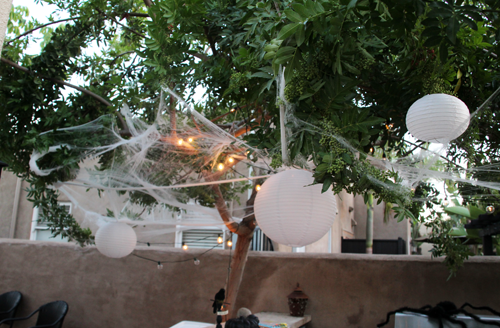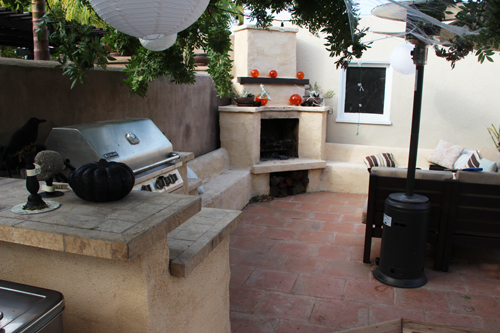 And a row of candles, burlap and black frames for the NEW table that Kevin built for the side yard (more on that to come!).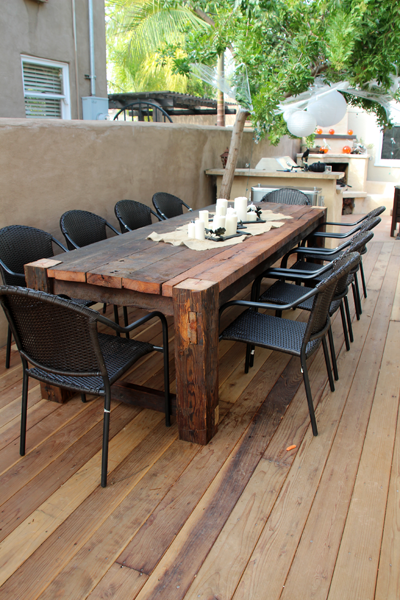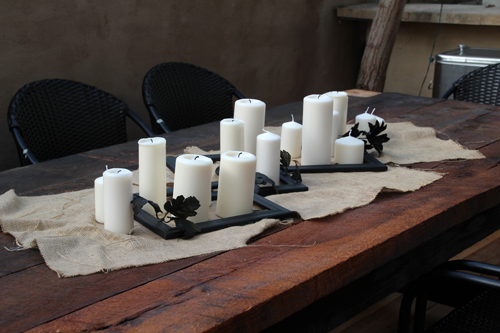 Then our little trick-or-treating crew began to arrive!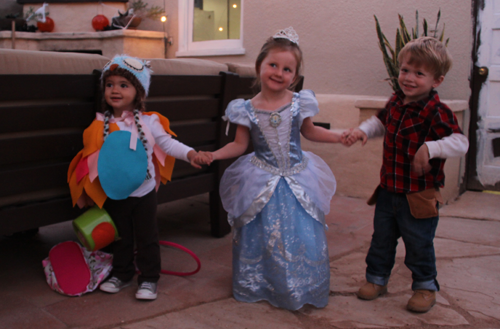 And soon we had the entire gang. No one was very happy about the obligatory group pic.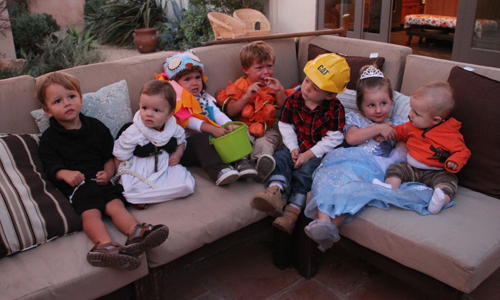 (Check out these same babes just a couple of years ago. Some of them weren't here just yet…)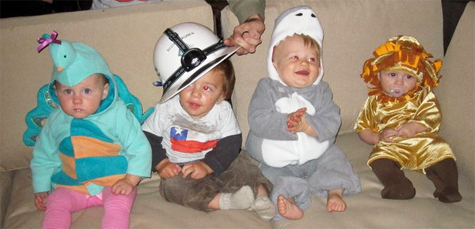 And then off to trick-or-treat! Forgive the blurry photos, I didn't realize my focus wasn't set correctly until the night was through.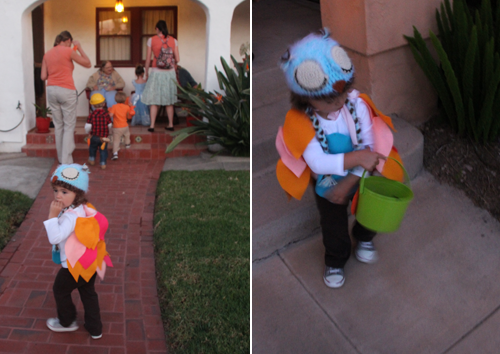 We actually went through a few costumes with Liv before she agreed to dress up for Halloween, and even then it was as her friends were arriving that she put on her final attire (nothing like a little peer pressure…). My first costume for her was a cute little cupid outfit (with momma and daddy wearing hearts that connected), but I should have realized earlier that the tiny wings were just too overwhelming and would result in tears every time we pulled them out of their box.
Soooo plans b & c were a cow costume that Mimi (Grandma) sent or a duck (thank you for Killer B for the fabulous last-minute inspriation!). Liv decided no cow (they'll work great as PJs) and so we went with the yellow and pink wings that resulted from my morning felt fest (while on a conference call with our main office with my regular 9-5 job… shhhhh don't tell).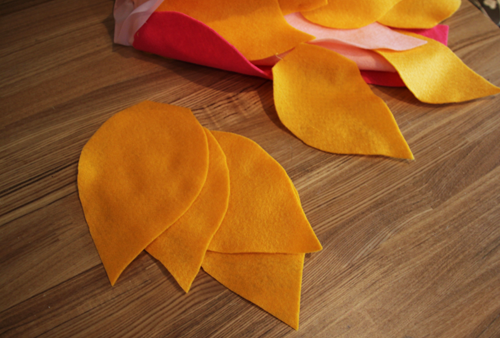 The process to create the cape was quite easy. I first cut enough 'feathers' to cover my cape template (which was basically a slightly curved rectangle) and applied a simple stitch to hold each overlapping feather in place. A ribbon at the top allowed me to tie the cape around Liv's shoulders.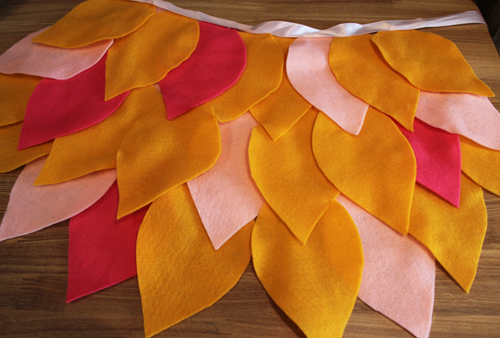 At the last minute Liv wanted to wear her owl cap (a previously brainstormed costume), so we added a turquoise belly and brown pants to her outfit and turned her into an owl!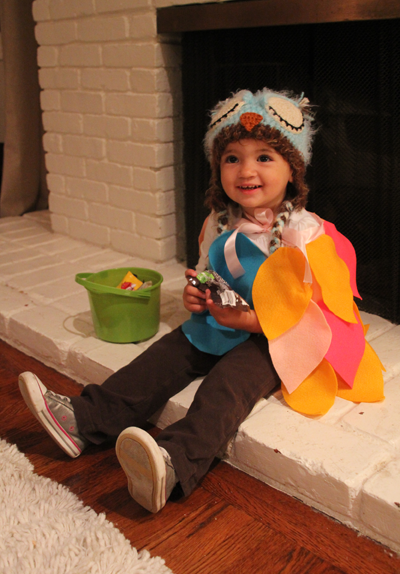 Which she was keen on and we were all happy.
After candy sorting, it was time to continue the party and share a delicious potluck dinner.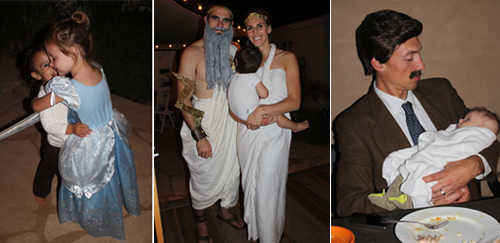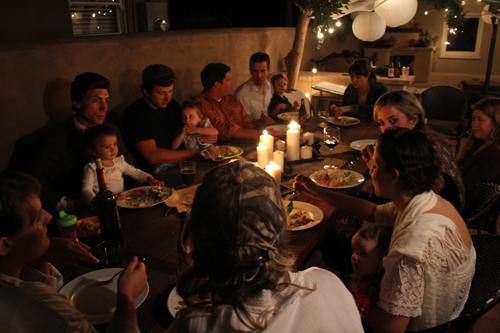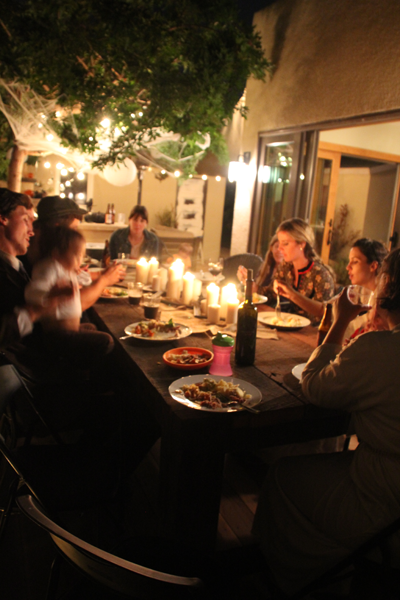 Followed by delicious Halloween desserts! Nice job, Steph and Melanie. Below are adorable owl-oreo cupcakes and nutter butter ghosts. We also had little mini cupcakes and delicious creamscicle cocktails that I neglected to photograph.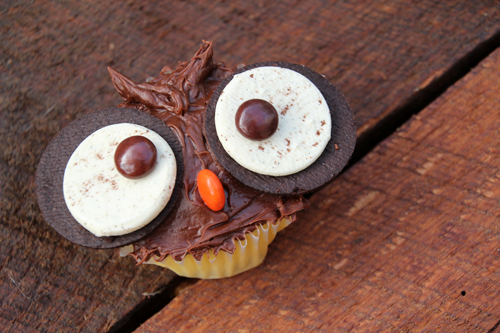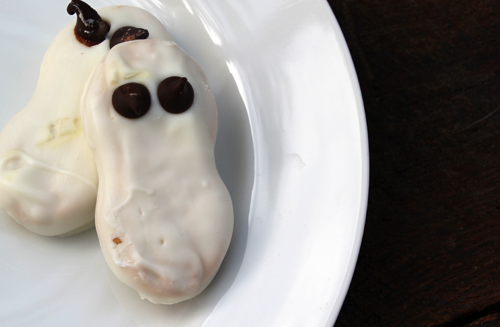 That's our Halloween! A fun night with great friends and a lively street full of trick-or-treaters. And just in case you're wondering, that's Kev above in his last minute costume as Ron Burgundy/Ron Swanson in the wig and mustache. You stay classy, San Diego.
Happy day after Halloween

.
Tags:
Crafty Solutions
,
Decorating
,
Desserts
,
DIY
,
Halloween
,
Parties & Entertaining
Posted in
Crafty Solutions
,
DIY
,
Family & Friends
,
Holidays
,
Olivia
,
Parties & Entertaining
|
1 Comment »
October 30, 2012
I rolled up my sleeves and crossed one big holiday-related project off of my list this past week after a little motivation from Katie and Sherry's seasonal Pinterest Challenge. Too early for Christmas? Maybe, but making this project happen (with all that I have stacked for the big holiday season) was high on my priority list for Liv this year and I'm SO happy to have it ready to go for the holidays! Liv totally digs it, too. Even if we have to box it up and rehang it in about a month.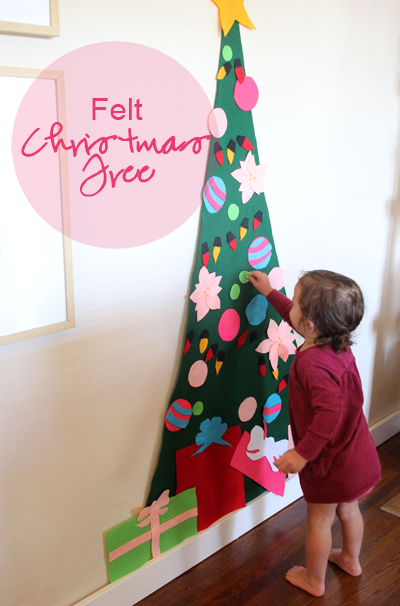 I imagine turning this into an Advent calendar of sorts when Liv is old enough to open up one ornament each day to add to the tree (maybe even ornaments we've made together?), and the concept behind Advent. Maybe I'll try a version this year to… to be determined.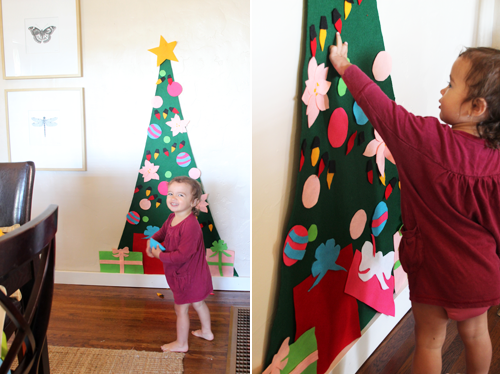 I love me a good deadline to make a project that I would normally push off and off happen. It could be a visit from family, a dinner party or a challenge like this one! Previous Pinterest challenges have produced my ombre stool for Liv, painter's tape wallpaper, DIY gold mercury glass, shimmery chevron napkins (a bit of a womp, womp – these guys didn't wash so well, though they look awfully cool) and the capiz pendant/chandelier that hangs in our office.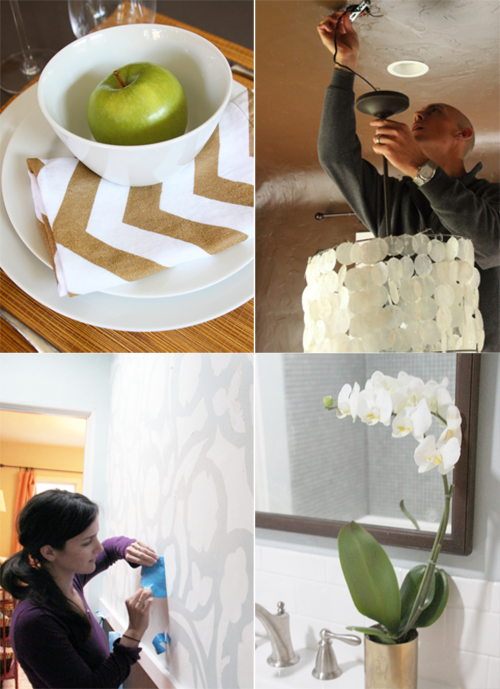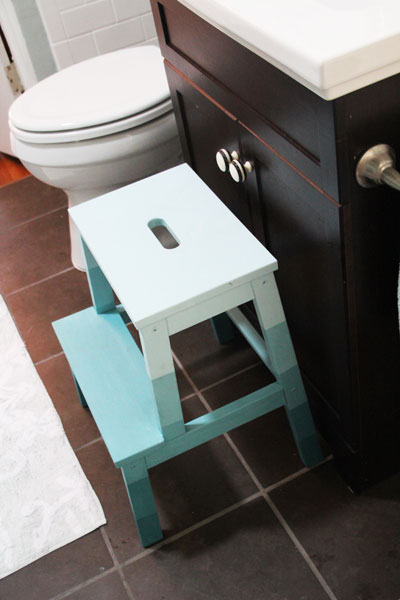 The original inspiration for the felt Christmas tree came from this blogger, who redeveloped her version of a felt tree after being inspired by this blogger.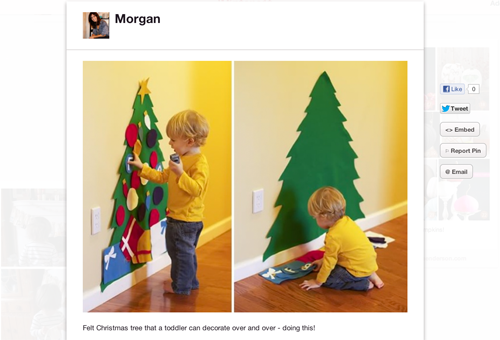 What a neat idea for a toddler? Liv is at that age where she loves to mimic and especially loves to replicate whatever I'm doing on her own – she likes to carry a purse when I have a purse, cook when I'm making dinner, pretend to drive when we get into the car, attempt to apply lipstick in the bathroom mirror…. and the best solution for her to recreate and to copy momma and dadda, without actually cooking or carrying around my purse, is to give her her own version. Hence why this felt tree is genius.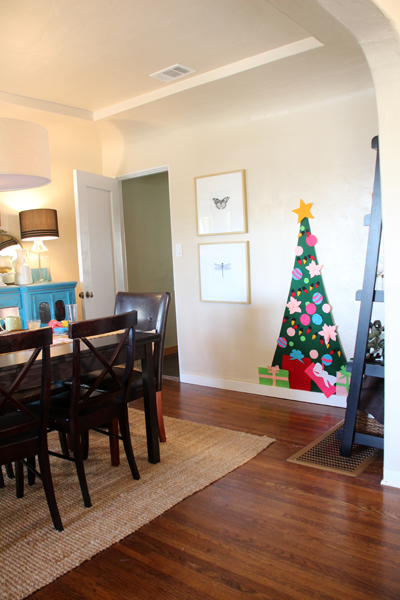 I hope that when it comes time to decorate the 'big' tree, she'll be just as cheery at decorating her own version. And perhaps not try and undress or reorganize the real version in the living room?
A few of the ornaments I assembled in advance, like the poinsettia flowers and the striped pink and turquoise bulbs. A little stitch or glue holds these guys together so it's easier for Liv to move the entire decoration. It's wonderful that felt sticks to felt – no adhesives to attach the actual ornaments to the tree.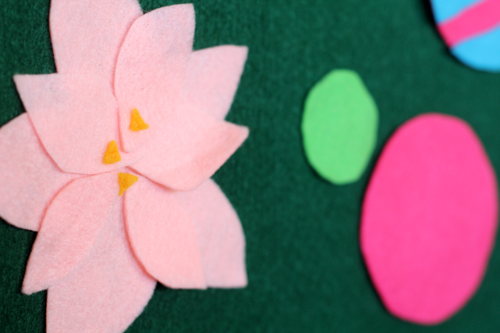 Others I left unglued so that she can play with and rearrange bows and packages and Christmas lights.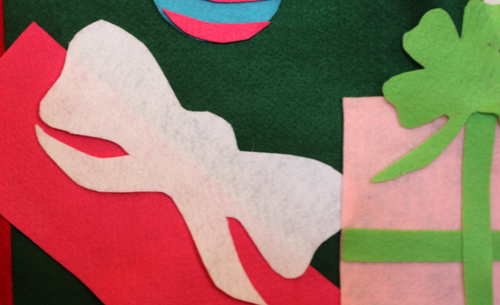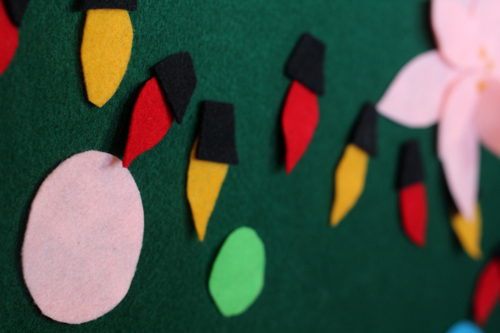 Creating this guy was fairly simple. I way over bought on yards of felt (1.5 of green for the tree, 1/4 each of the various colors) which left me with about $18 worth, this project was probably made with a fourth of that though so you can add this to the extremely budget-friendly category.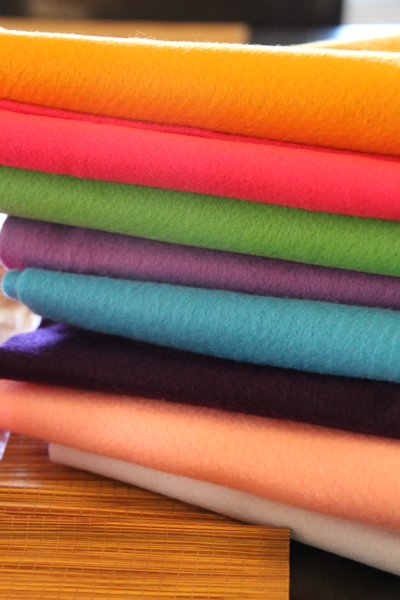 I opted for a modern, basic triangular shape for my little tree and chose the dining room (with a big open space on the wall while our fiddle leaf fig soaks up some sun closer to the window) as its home.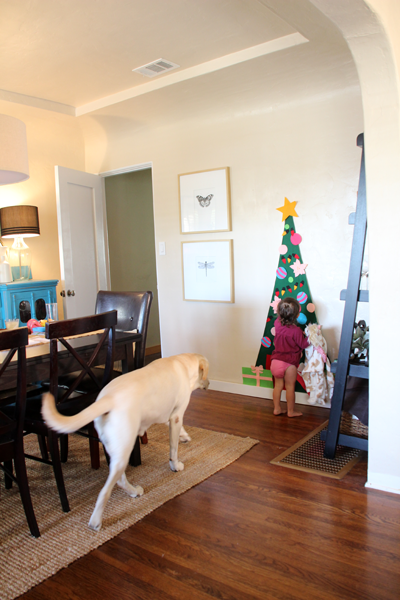 Various votive candle holders and glasses made for the perfect stencil to make my round ornaments, the rest were basically free hand.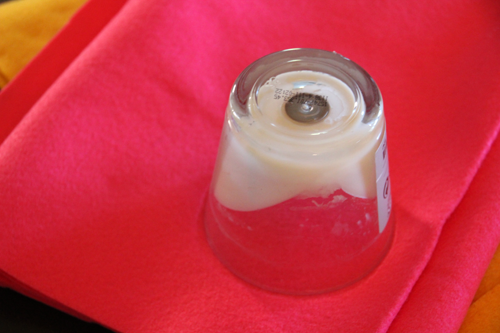 One of the best tips I have for messy projects like this (aka lots of bits of felt everywhere) is to use the ol' Rachel Ray scrap bucket rule. I love this! instead of leaving your scraps (of food on the prep table, in Rachel's case) out, collect them all in a bowl for the trash or composting pile. In our case, a felt scrap bowl. As we cut out ornaments, we immediately pushed all of the extra bits and pieces from the table into the bowl leaving us with a cleaner workspace.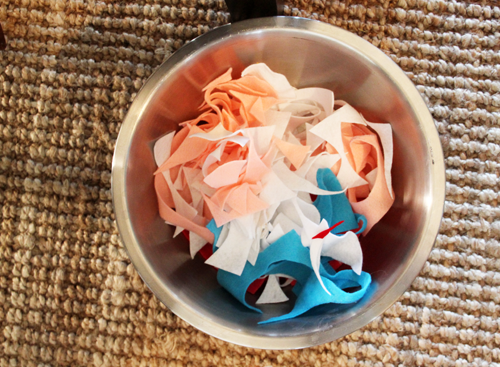 Which resulted in faster ornament making!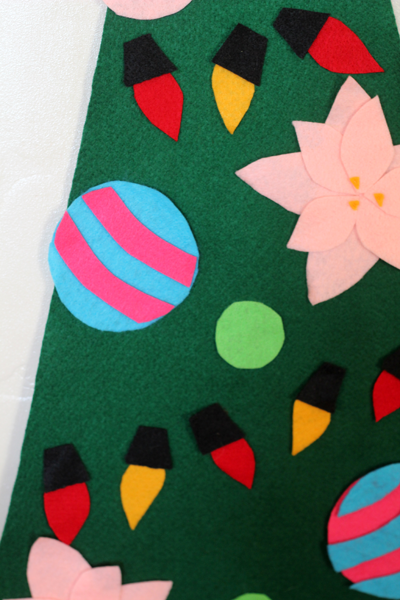 I'm imagining the felt board possibilities… We can keep rearranging and updating this tree through December, Liv has already stripped it down a few times to start again. What next? An ocean scene? or maybe a play kitchen out of felt?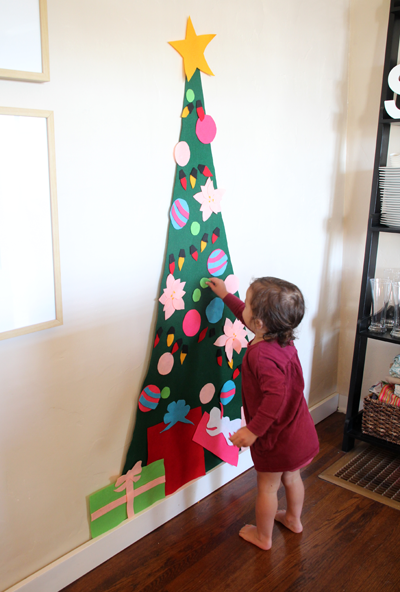 And as of tomorrow, back to Halloween. Can't wait to show you Liv's homemade costume and my plans for our annual Halloween dinner party. PS I owe you all updates on our recent travel adventures, painting of the house, new deck (new side yard!) and so much more. Forgive me, I'm so behind.
Happy Pinterest pinning! If you participated in the challenge, I'd love to see your project!
Tags:
Christmas
,
Crafty Solutions
,
Decorating
,
DIY
,
Green
,
Kid's Crafts
,
Pinterest Challenge
,
Tutorial
Posted in
Crafty Solutions
,
DIY
,
Home
,
Olivia
|
15 Comments »
October 29, 2012
I made a little treat bucket for Liv's trick-or-treating this Wednesday after seeing this cute project from Tarjay's Todd Oldham. The entire tote is made out of felt! Adorable. (Step-by-step directions found here.)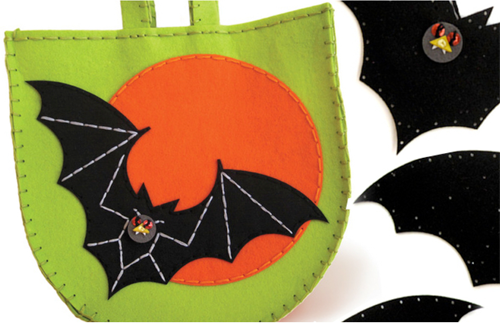 His is much more detailed, mine is the 15 minute version.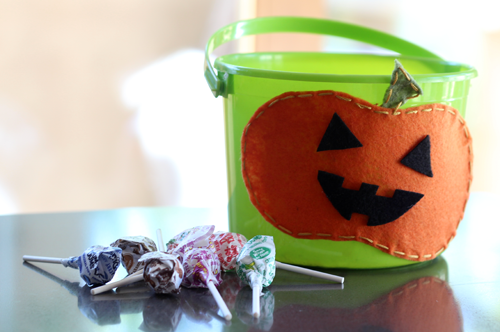 I love Todd's project because it's a clever way to bring the family in on creating their own felt totes/buckets for trick-or-treating, and this is an easy one to put your own creative spin on (how about a felt black cat? Or a witch's hat? sequins? puff paint? whatever's around the house).
Liv's bucket was super simple. A bit of felt (from my stash in the office), embroidery thread and a pint-sized green bucket that we usually store her chalk in. I simply traced my idea onto the felt, cut it out and did a rough embroidery stitch around the opposite side (so that my pen marks weren't visible). Then a bit of Elmer's glue to hold it all together.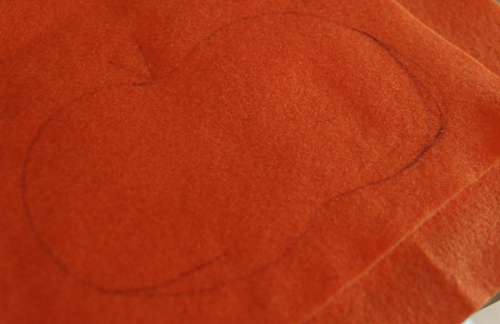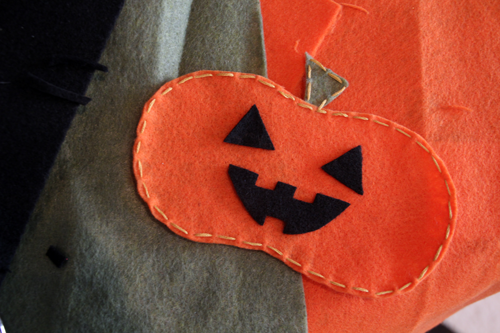 Liv has been verrrry into purses and bags lately, she carries two or three around the house (in the crook of her elbow which is just adorable) all of the time, so I know she'll really love this whole 'treating' part of the holiday. I'm suddenly much more aware of why some parents hand out boxes of raisins and bags of carrot sticks. Oh please let Liv collect more raisins than she does candy on Wednesday! Not going to happen, I know. Happy Monday!
Tags:
Black
,
Crafty Solutions
,
DIY
,
Felt
,
Green
,
Halloween
,
Orange
,
Tutorial
Posted in
Crafty Solutions
,
DIY
,
Holidays
|
1 Comment »