January 28, 2010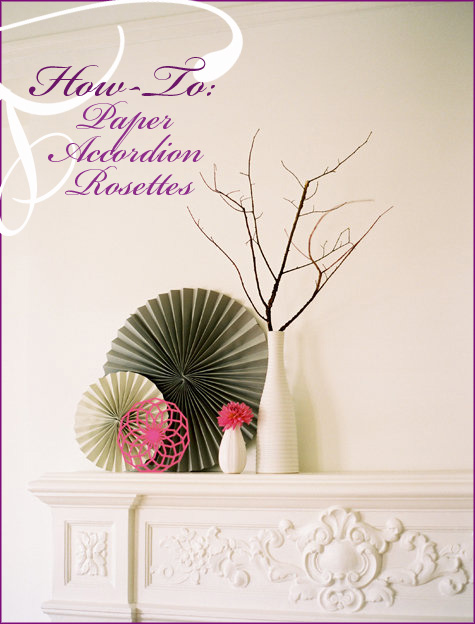 I love when you find inspiration in the most unexpected of places… the other day I was thinking about those little accordion paper fans I used to make as a little girl by folding up 8 1/2×11 sheets of white printer paper. They might turn into turkey tails for Thanksgiving or maybe even folded hearts for Valentine's Day.
I found this lovely inspiration board (below) at Paper Crave and it brought me right back to the 2nd grade. The grown-up version of paper accordions comes in the form of folded maps, book pages or antique wallpaper.
I really love the simple way these accordion paper poms fit into every type of party decor. I can imagine them delicately hung above a wedding reception dance floor, lined neatly over a bridal shower dessert buffet or in bright & bold hues for a child's birthday party.

The rosette 'table confetti' is my favorite. And how pretty are the button and brooch centerpieces? A little pearl bead would be perfect.
Once Wed designed an entire grey, green & pink dinner party around this theme (see top top photo), and design*sponge shares it here. To make your own paper accordion rosette, Paper Source provides a free downloadable pdf. And finally, a super easy DIY awaits after the jump! Read more »
Tags:
Baby Shower
,
Birthday
,
Blue
,
Bridal Shower
,
By Color
,
Christmas
,
Crafty Solutions
,
Decorating
,
Dinner Parties
,
DIY
,
Green
,
Grey
,
Kids Party
,
New Year's Eve
,
Paper Crafts
,
Parties & Entertaining
,
Patterns & Color
,
tea party
,
Tutorial
,
Wedding
,
white
Posted in
Crafty Solutions
,
Parties & Entertaining
|
8 Comments »
January 25, 2010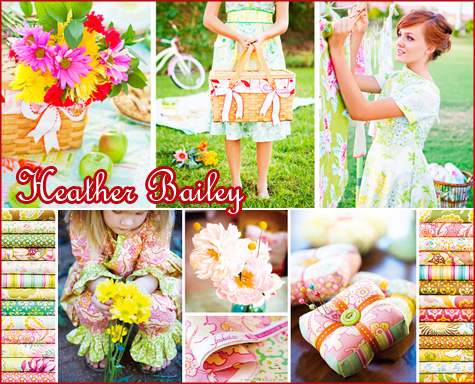 I found this beautiful collection by Heather Bailey (shared by All Things Lovely) and thought it would be an ideal addition to PDB's Favorite Fabrics (see the right hand sidebar button for the entire list to browse). If fabrics with names like 'kissing booth', 'porch swing' and 'sugar mallow' don't make you smile, the country chic-meets-retro prints most definitely will.
Her latest line: Nicey Jane, is a feminine kickback to all things your grandmother probably loved (you might find yourself reminiscing about a window treatment or two!).
I'd adore a quilt made out of big patches of her entire collection.

Tags:
Crafty Solutions
,
Fabric
,
Patterns & Color
,
Red
,
Teal
,
Yellow
Posted in
Crafty Solutions
,
Favorite Fabric
|
2 Comments »
January 25, 2010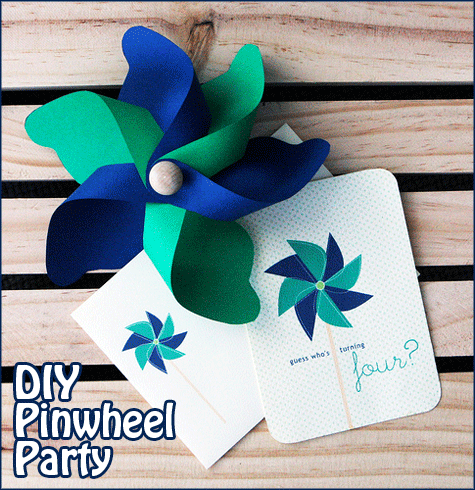 If you had a chance to check out this post from earlier last week, you might note that right now I have a minor obsession for all things pinwheels. So when I came across this diy pinwheel party that Sharnel (of My Life – My Loves) from Brisbane, Australia, threw for her son's 4th birthday, I thought you might enjoy it as well!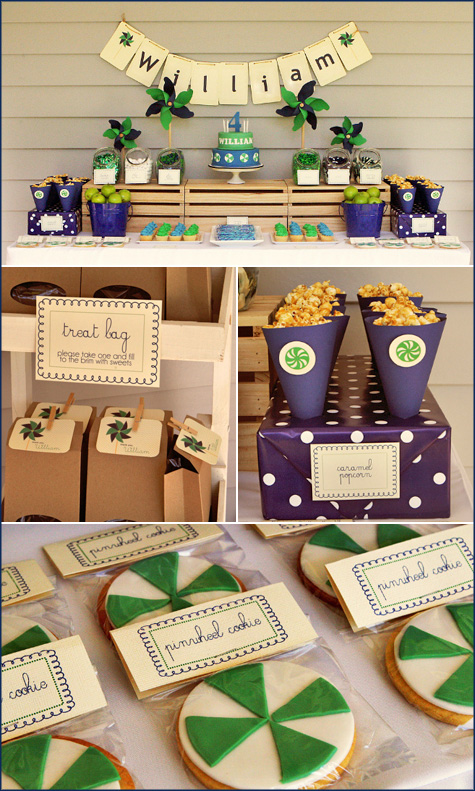 From the block print banner to the handmade caramel popcorn cones and the delicate navy dessert labels – I can't decide which detail I like best! The pinwheel cookies and packaging is at the top of my favor list right now and reminds me of a few ideas from here.
Amy Atlas shared her accolades with Sharnel over such a lovely dessert buffet on her blog Sweet Designs (check in to read the kind words of encouragement) and I can't agree more – beautiful job! For the full post and sources, jump on over to My Life – My Loves.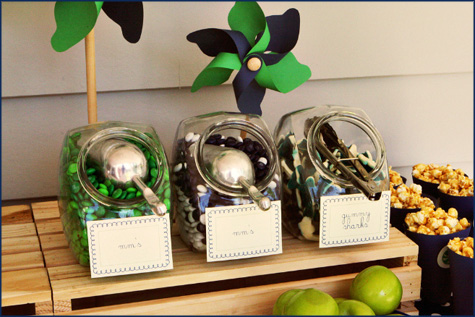 Thanks for sharing this wonderful blog, Full House!
Tags:
Baby Shower
,
Birthday
,
Blue
,
Bridal Shower
,
By Color
,
Cake
,
Crafty Solutions
,
Decorating
,
Desserts
,
Dinner Parties
,
DIY
,
Green
,
Kids Party
,
Parties & Entertaining
Posted in
Crafty Solutions
,
Parties & Entertaining
|
4 Comments »