December 10, 2012
Here's a quick DIY gift to share today that I just finished and put under our tree. I can't remember where this idea stemmed from – possibly a Pinterest post? or an excess of cupcake supplies in the kitchen? perhaps from something I've seen at the store? – but either way this was a fun and easy gift to assemble and one I hope the recipient will think is thoughtful and fun (especially for the baker!).
I made two versions of this gift, one that was smaller and is packaged more as a hostess gift, stocking stuffer or little favor, and the other as a meatier version with plenty of cupcake treats.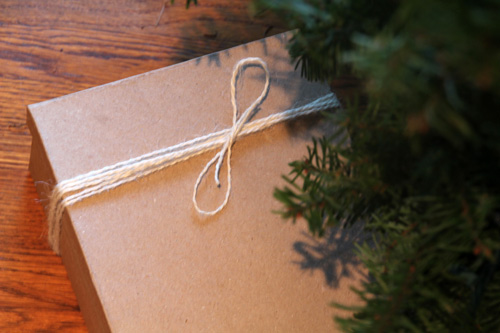 The larger kit contains a colorful mix of mini taper candles, cupcake liners in a variety of shapes and sizes, sprinkles (repackaged in little bead containers), specialty nonpareils, mini cookie cutters (perfect for fondant or cupcake pops) and lollipop sticks (more cupcake pop!). You could also include icing tubes, food coloring, marzipan flowers, toothpick toppers or a little cupcake book for decorating inspiration. I found my cardboard box right here.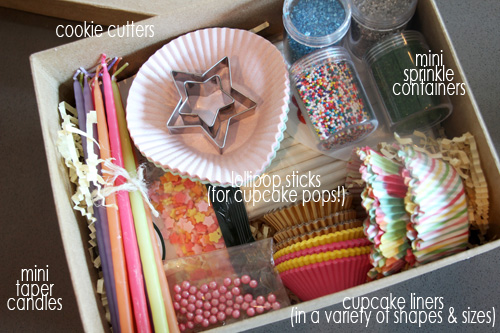 I like the idea of sticking to a rough color scheme (mine below is sort of pink, orange and yellow) to keep the contents looking a little planned. But it could be equally fun to go crazy with color! Or design a kit based off of a specific event, like a graduation with school colors, a bridal shower theme or a holiday.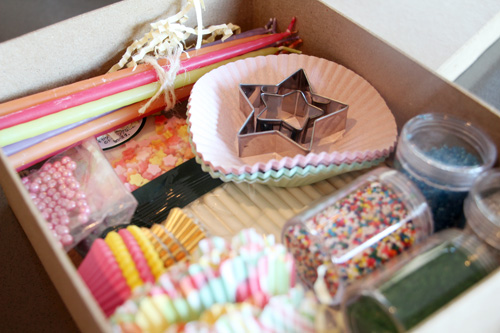 The mini kit contained some of the above but in a more edited form.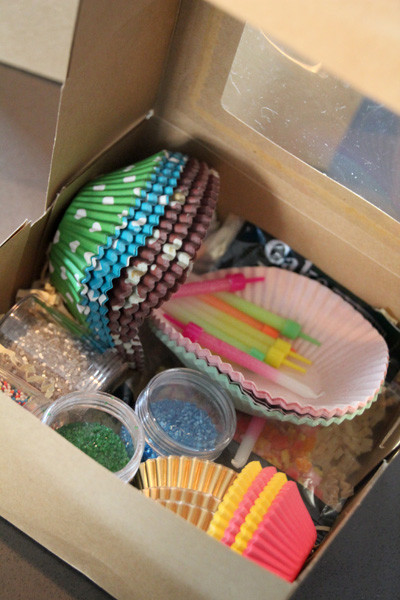 I found the clear-topped cupcake boxes at Michaels, it's kind of fun to peek inside!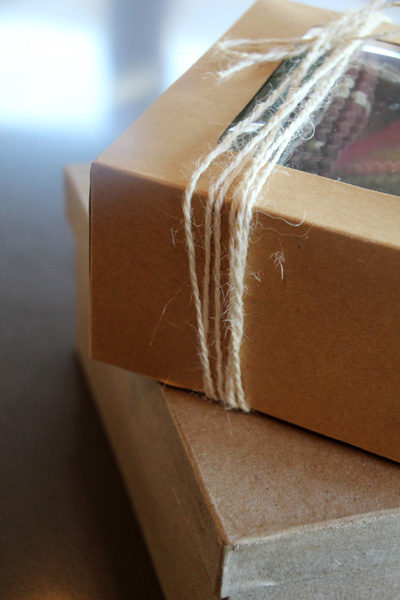 One more gift to cross off of the Christmas list and one more handmade project that I'm really digging. Now on to the rest!
PS You can find the line up of this year's handmade projects by sorting all posts here.
Tags:
Christmas
,
Crafty Solutions
,
Desserts
,
DIY
,
Parties & Entertaining
Posted in
Crafty Solutions
,
DIY
,
Gift Guides
,
Handmade Gifts
,
Holidays
,
Parties & Entertaining
|
8 Comments »
December 5, 2012
This weekend I finished my first batch of handmade Christmas presents. Warning friends and family – you may or may not be gifted one of the several projects that I'm planning to feature over the next two weeks. If you are, pinky swear you'll act surprised.
This first gift is inspired by our love of cooking. Kevin and I are the type that really dig those usual (and sometimes a little crazy) gifts of thyme-infused syrup, lemon sea salt, curry pistachio paste, pickled potatoes… you know, the weird stuff that you can experiment with in the kitchen. This actually happens to be my favorite find of all time, I keep containers of it in our pantry and add it to almost every finished dish. Especially raw avocados. Mmmm.
My goal was to make something unique – and not too crazy – for kitchen use for friends and family. Actually, many of my homemade ideas this year stem from some sort of favorite cooking or bartending technique.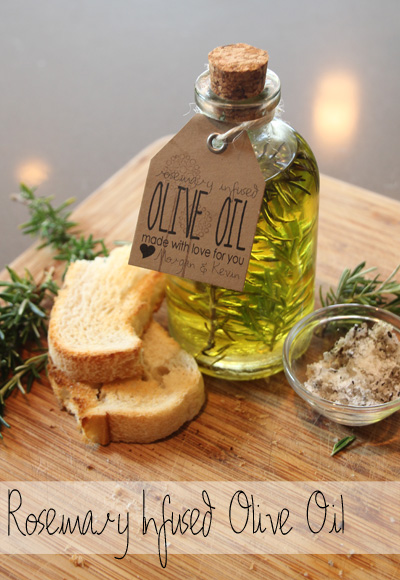 Pretty, inexpensive and not too time consuming! The trifecta of handmade gifting. I really enjoyed spending this past Saturday morning decorating for Christmas with this delicious fragrance roaming through the house in the background. A homemade gift that I highly recommend.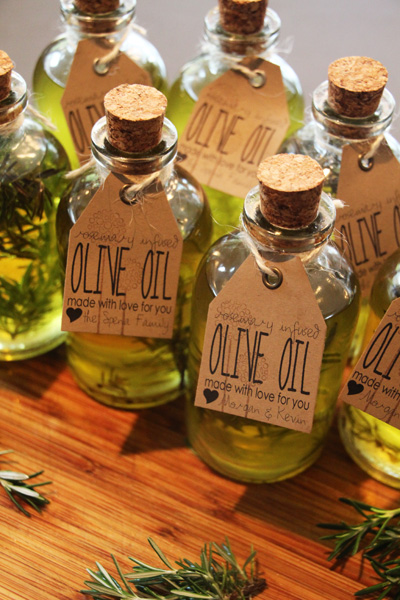 The infusion will now sit until Christmas, soaking up all of that wonderful rosemary goodness while the oil becomes the perfect base for salad dressings and marinades, or drizzled alone over sliced heirloom tomatoes or crusty bread.
Rosemary Infused Olive Oil
m
Materials for six 8oz bottles: 15-20 fresh rosemary sprigs, one half gallon of olive oil, small glass bottles with a sealable lid
A quick note on materials. You really could swap out any fresh herb in exchange for rosemary (or even lemon, garlic or roasted veggies, for that matter – though you'll want to read up on how to prep these to avoid bacterial growth). Olive oil is completely subjective to taste but I've read that original (and not extra virgin) is ideal for taking on infused flavors. I imagine EVOO would work great as a substitute in a pinch. I considered ordering a fancy gallon of olive oil online and then I read the rave reviews and blind taste testing results for Costco's very own and was sold. It's supposedly one of the best! Finally, any glass bottle will do (even canning jars) and I've heard that Ikea carries a nice selection as well.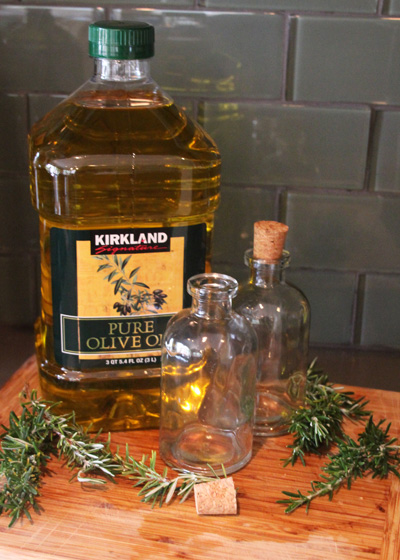 One big secret here is to use fresh herbs, preferably those that you grow just under your window sill (or in your front yard, we have waaay too much rosemary in our front yard, but it does smell fresh and yummy year round).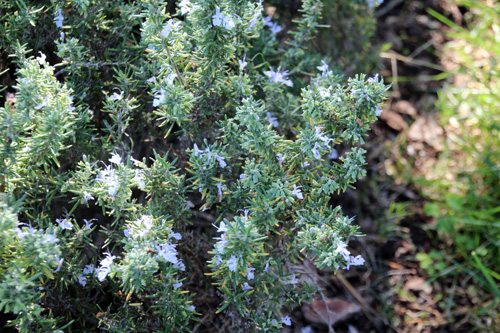 I found my little glass bottles at Save-On-Crafts after searching and searching (my kind sister noticed my dilemma over Thanksgiving and a day later she pointed me to a pinterest link for these adorable bottles! Thanks sis.) and was pleasantly surprised at the quality, price ($1.29 each!) and adorable little corks. When the bottles arrived, they received a thorough dishwasher washing and were allowed to completely dry.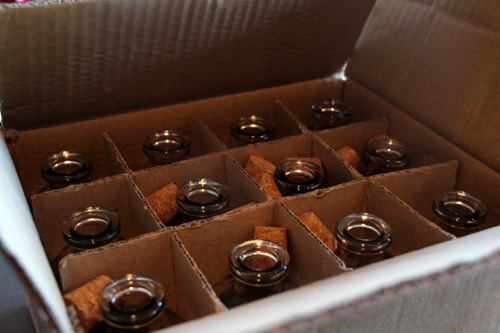 The rosemary, mind you it's straight from the garden where bugs live and children play, was cut down to sprig size and thoroughly rinsed. The whole bunch was left to soak in a water bath for about an hour. This is a sure fire way to uncling any unnecessary flavoring, if you know what I mean, from the sprigs. Followed by a few more rinses.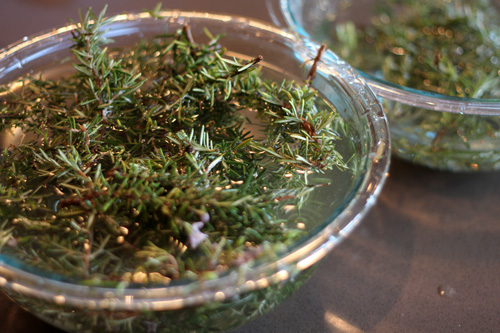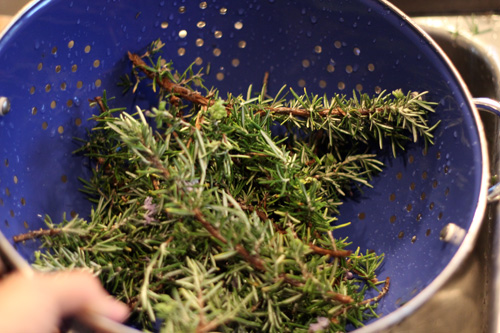 Once the rosemary is thoroughly washed, allow it to thoroughly dry (either out on the counter or by speeding up the process on a low temp in the oven). This is especially important for the rosemary sprigs that will go straight into the bottles (rather than the infusion) – any type of moisture allows for the possibility of mold. Update: my very first batch began showing mold at the very top of the rosemary in several jars after two weeks. I did a bit of research and realized that by soaking the rosemary I had allowed too much moisture into the bottle. For my second round, I let my rosemary dry out for several days so that no water was present during bottling.
To prep my infusion, I poured half of the olive oil and half of my clean rosemary into a large pot on low heat. To keep the olive oil from frying the herbs, ensure all goes in at the same time and that the oil is not spattering when you dust a little water over its surface, the oil should be luke warm. Let the mixture sit and infuse for 5-10 minutes, there's no science to this process but you'll know that much of the flavor has been steeped out of the herbs when they begin to wilt and turn a different shade of green. Turn heat off and let cool completely.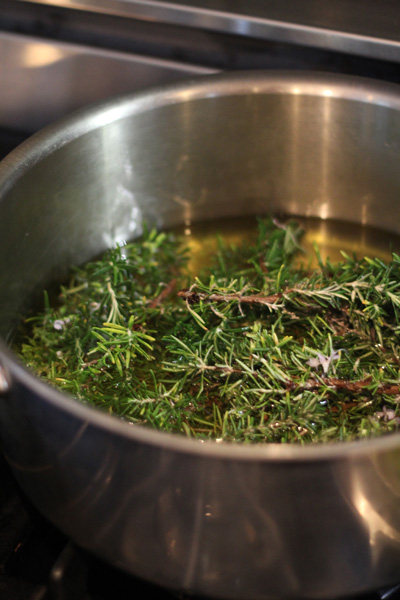 Meanwhile, use the other half batch of fresh rosemary to fill your glass bottles. You don't want to reuse the same rosemary in the above process, this rosemary is now a sad shade of green and will droop in your bottles.
I used a small liquid measuring cup to scoop out the rosemary infused olive oil from the pot to pour slowly into each bottle. It's okay if some rosemary leaves and even sprigs are transferred with the oil. Fill each bottle half way with warm, infused olive oil and half with your remaining fresh olive oil.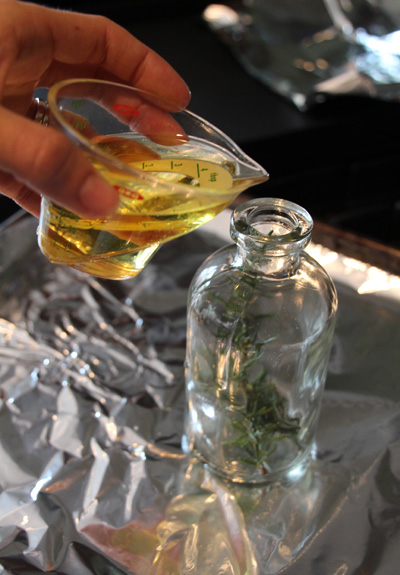 Pouring over a foil lined cookie sheet makes clean up a breeze. Simply scrunch up the mess when you're done, no gooey oil to sop up.
Oh it smells sooo good.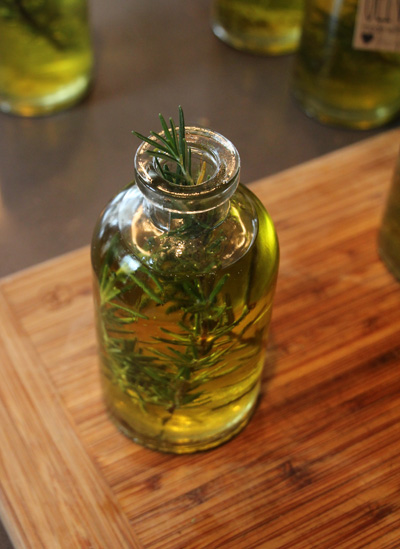 Cork well and let sit for 1-2 weeks for a full infusion. If you're planning on gifting right away, the oil will still be deliciously infused after just a few days, but mention to the giftee that if they let it sit in the cupboard for a full two weeks the olive oil will reach its peak.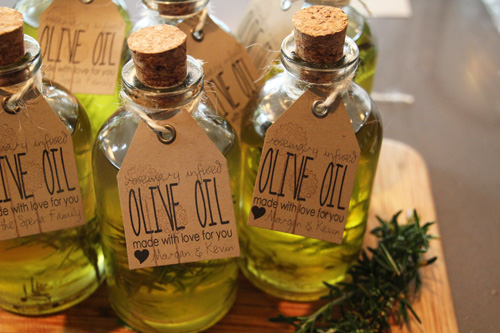 I made these labels on my computer at home and printed on brown card stock. A little stamp in the background adds a subtle handmade touch. Do you use Illustrator? You're welcome to my template if you'd like, just shoot me an email since I can't post ai files directly on the blog.
Update: So thrilled there are so many of you who would like to try this out! I've made a generic pdf template without the 'Love, Morgan & Kevin' that you can download here, you could always leave it blank or write in your own name on the printed version. Of course I'm also happy to share the .ai file, too!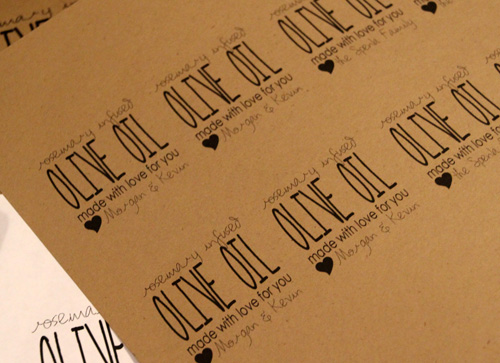 A couple of snips, a grommet and some twine later, and my rosemary infused olive oil project is finished.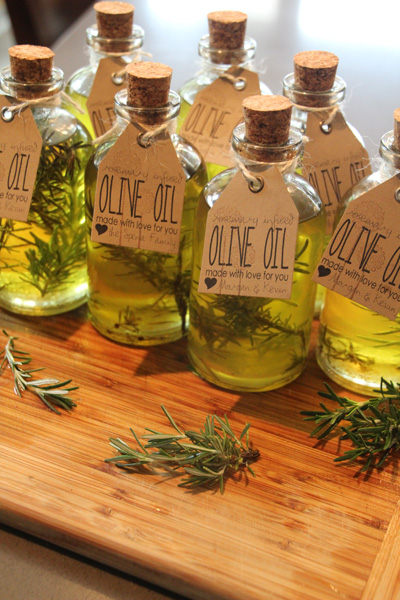 Did I mention it's delicious with just plain bread and salt? Oh man.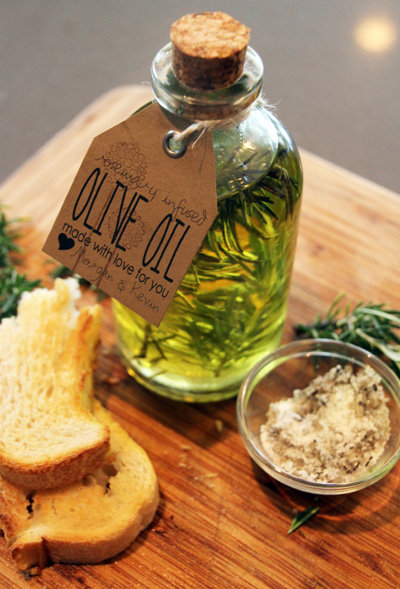 Happy cooking!
Tags:
Christmas
,
Crafty Solutions
,
Parties & Entertaining
,
Recipes
,
Tutorial
Posted in
DIY
,
Handmade Gifts
,
Holidays
,
Parties & Entertaining
,
Recipes
|
9 Comments »
November 19, 2012
Happy Thanksgiving week! We are up to our ears in holiday events, projects, work stuff and family (always, always awesome) and I've discovered (I am a late, late comer) the most amazing tool to document all of the holiday-wonderfulness that is happening at the moment! What have I been missing out on all of these months without Instagram? Count me in as an immediate fan. Lately I've been posting on projects-in-progress, Liv-isms, travel adventure updates and sweet Sunday mornings with the family.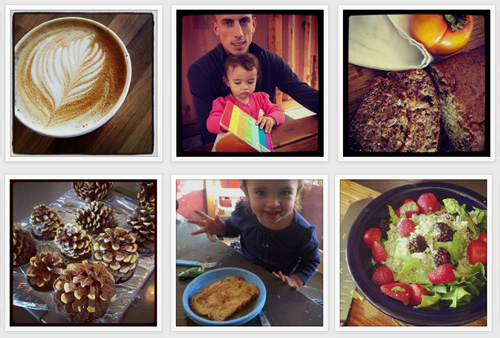 You can meet me over there by searching for 'morganspenla' (I know it's not so original when it comes to Instagram names… I'll try to be clever next time. but you'll know it's me when you find me because there's none other

). Really, there isn't. There are perhaps 20 Spenlas on the entire planet and likely you are related to us if you are one of them (don't be confused by the alternative sugar substitute, most telemarketers and grocery clerks are. But it's all good.).
The true purpose for the post today is to share the progress on our kitchen nook. The cushions are finished and are in place! And the bench functions as a real bench! It's wonderful, it's the bench that this kitchen has always needed.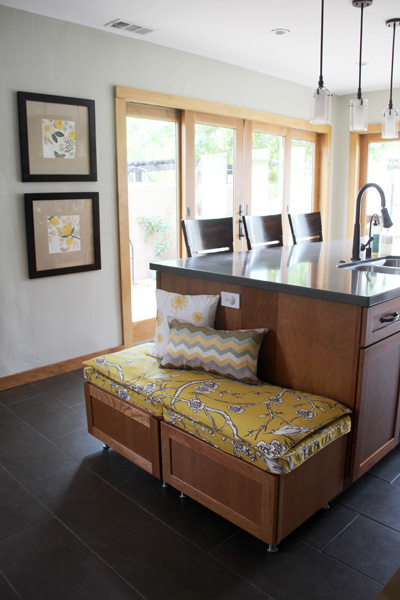 Last I left you, we had purchased over-the-fridge cabinets from Lowe's (because of their unique height and width) and had added legs to prop them up off of the ground.
I specifically chose a yellow for this space to help cheer up the empty color zone between the dark floors and the grey quartz countertops. The yellow up close is a great mustard that is not quite too bright but happy enough to make you smile when you walk into the room.
Here is the link online over at Calico Corners (who teamed up with me on this project, I'll be sharing the full, finished breakfast nook next month ish on their blog as well once the tables, chairs, etc are in place! I'm assuming it will take me a bit to hunt every little piece down…

).
I really labored over the type of fabric to use here… everything in my gut insisted on an outdoor, easily wipe-upable canvas fabric that would repel any future kid (or adult) stains. But I couldn't find anything that I loved, and I looked and looked and looked for a long while. When I came across this Vintage Blossom print I immediately fell for how it would tie in so well with the rest of the kitchen and how it would also function as a 'base' for additional patterns in the form of pillows and chair cushions. The colors are simple – mustard, brown (which is also prevalent in the bar stool cushions) and white.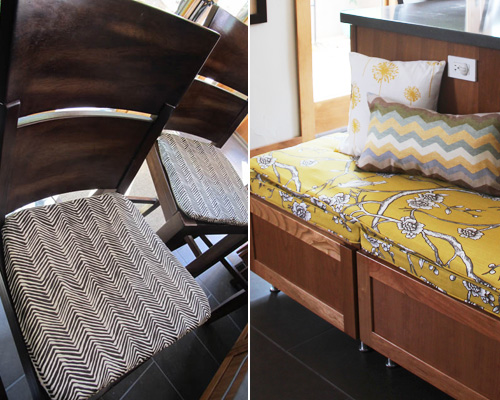 The colors also tie in nicely with the existing calendar artwork.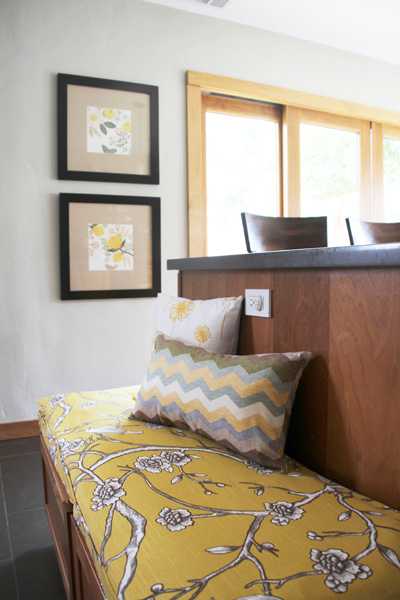 But rest assured it will get a healthy coating of a stain repellent spray like Scotchguard.
The lumbar throw pillow with the fun zig zag print is by Etsy artist PillowMio and the dandylion print by MyModernHome. I purchase most of my inserts at West Elm because of how deliciously cozy and reasonably priced they are.
The photos are one step too close to washed out, but it's hard to capture that light through the doors in contrast with the dark floors, which pulls everything down.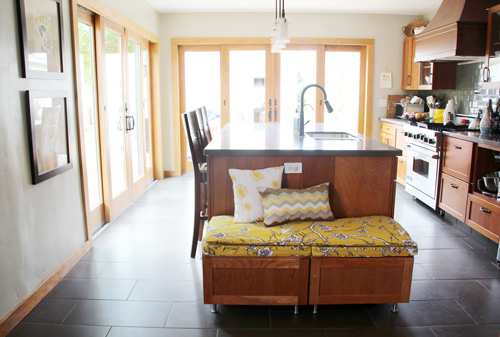 My inspiration for the style of cushion was to use a settee pattern, kind of like this one: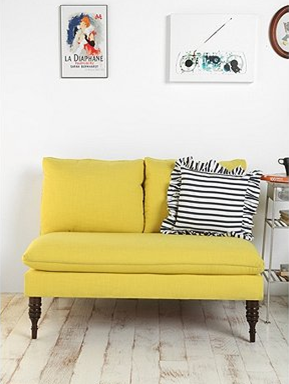 Or this one from Joss & Main (which I considered purchasing when it was up for a steal of a price before this all started, but the seat depth on a traditional settee is too overwhelming for our kitchen).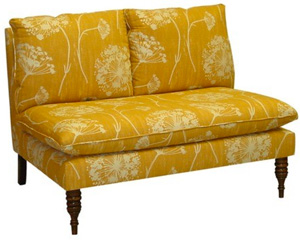 I used this pattern in reverse so that if I were to separate out the two benches, the tops would come with easily. The 'topper' is one long piece that can also be used as a bench back. Thinking out of the box here

. I need to add more padding though, now that I'm looking at all of these photos.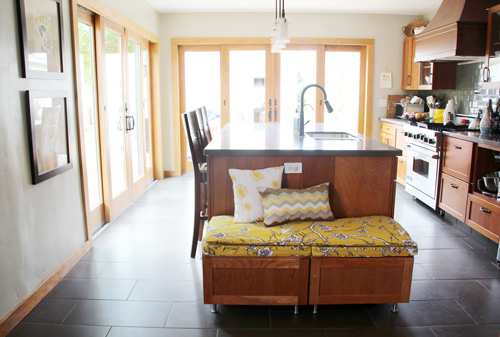 Here's a shot of what I mean about separating out those two bench pieces: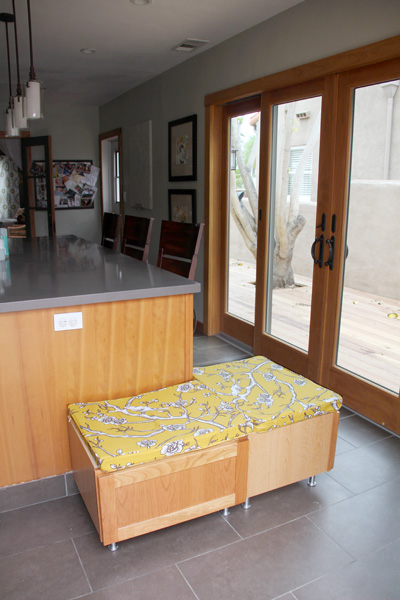 Here's the opposite end of the island, and see how these benches might be used for extra seating when we have the big french doors wide open and guests are mingling about (with a glass of wine and hor d'oeuvres?) from deck to kitchen? Ah, lovely.
In fact, I may not even keep the bench where it is now. It might find its way over to the wall to the left of the doors and kitchen where there is currently a rather large gap of space.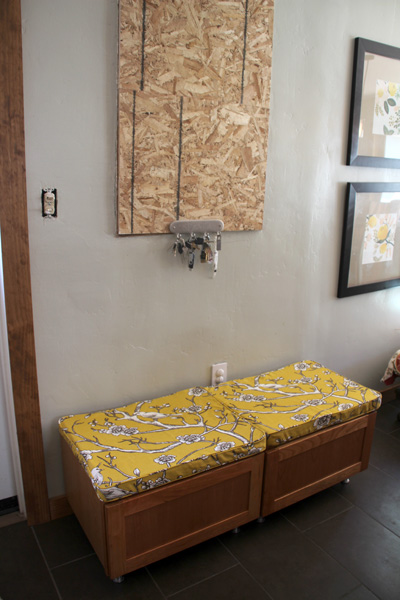 The plywood hides the remnants of an old window from the previous layout of the den. I currently hide it with canvas art or by covering it with pinned up finger paintings by Liv and what have you, but here is the eyesore in all of its glory. I suppose it does function as a key holder. There is its purpose in life.
When it came to the cushions themselves, I left it to the pros. I gave my amazing dry cleaning lady – my secret weapon – (who made these awesome slip covers for my nursery rocker) the dimensions of the cabinets and future cushions, the roll of Vintage Blossom fabric (purposefully adding enough for welting, which she added for $5 per cushion), and invisible zipper material for all. I believe the entire sewing portion ran me about $20 for each full cushion.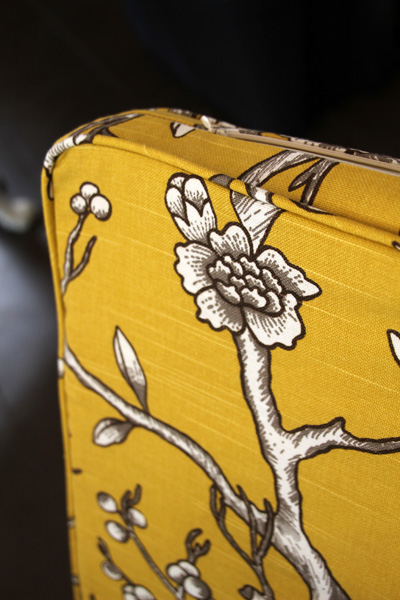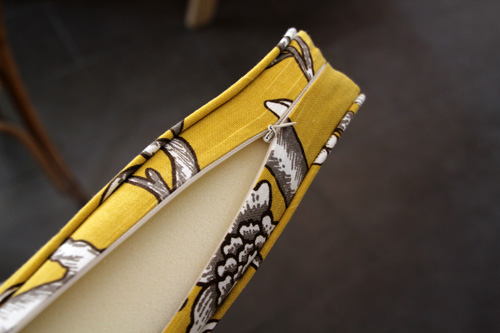 I could have attempted it but the quality and price of outsourcing this project was absolutely worth it! With that much less of a chance of me and the sewing machine getting into a fight over box cushions (perhaps I will one day learn).
We are that much closer to finishing up the entirety of this kitchen!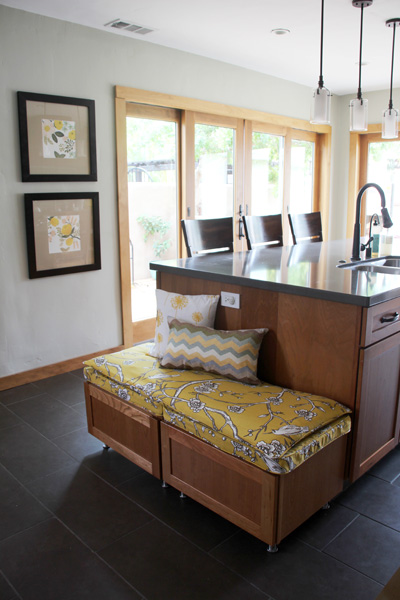 Still left? A table, chairs (bistro? bentwood?), a neat piece of art for to cover up my one-day-we'll-fix-it window, and few additional molding touch ups. Perhaps a big pendant to go over future table? Happy Monday!
PS you can catch all of the kitchen posts (which started as this den) right here.
Tags:
Accessories
,
Breakfast Nook
,
Crafty Solutions
,
Decorating
,
Fabric
,
Home
,
Kitchen
,
Yellow
Posted in
Favorite Fabric
,
Home
,
Our Kitchen Remodel
,
Renovating Adventures
|
13 Comments »