July 26, 2012
Hello, hello! We are three posts into this wedding cake trio and I'm happy to announce that the cake is baked, iced and awaiting assembly with no major catastrophes! If you have yet to read post 1 and 2, feel free to head on out there to catch up on this particular DIY challenge and then back to see the results.
Speaking of, let's jump straight to a results photo: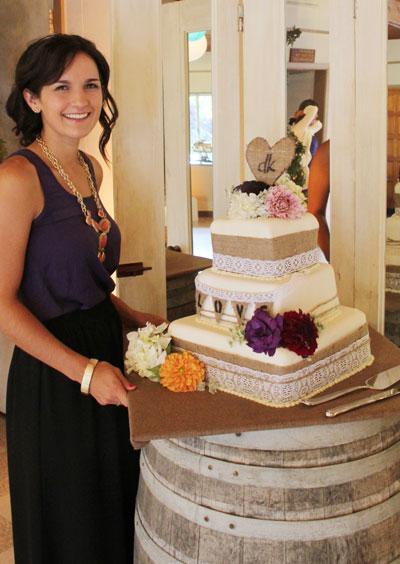 Project wedding cake: complete!
For this last assembly step, this was the bag of goodies that the bride gave me: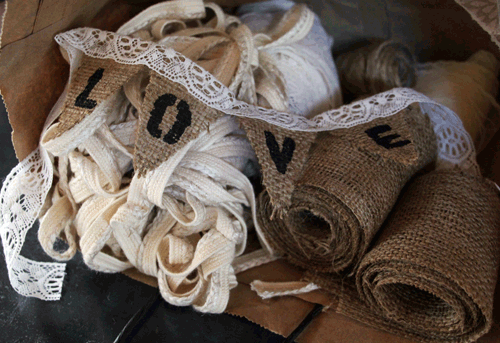 How pretty is the L-O-V-E banner that she made? Or the heart-shaped cake topper with their initials? So many fun supplies.
But let's go back to where we left off with our last post and talk about assembly. Last we spoke, the cake was successfully covered in a buttercream and then fondant for that smooth, wedding-white look.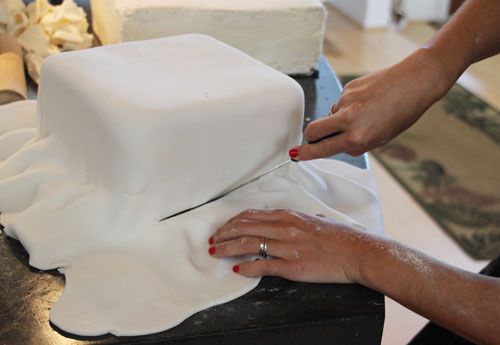 It's important to add a structural support system to the cake because at this point it's quite heavy. Without dowels or rods of some sort, the bottom tiers of the cake will eventually give way to the top tiers above, resulting in concaved and bulging bottom layers over the hours that the cake is on display.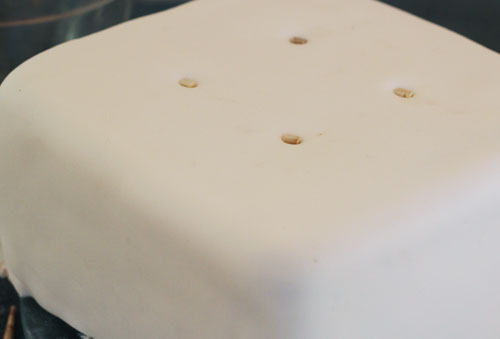 In the past I've used 1/4″-1/2″ wooden dowels from the craft or home improvement store, but for this particular cake (and the relatively small size when considering wedding cakes), I used chopsticks! These were easy to cut to height and were the perrrfect diameter. My base layer received six tier-height cuts and the middle layer four. The support system should be at the exact height as the cake – no higher, no lower.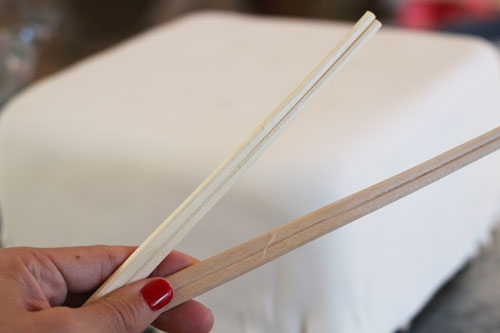 I added my chopstick support system the day before the wedding, and the morning of we packed up the car with my three tiers of cake resting on cookie sheets on the floor of the back seat, and traveled the 10ish miles to the reception site.
Once there I began the assembly in the kitchen… dun, dun, dun, dun…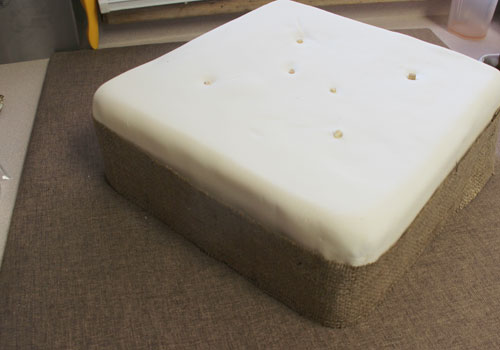 The  bride covered a piece of plywood with fabric to serve as my cake board base. On went the first tier with the six supports as well as a layer of cut burlap.
Next up was the second tier (by the way, moving these layers is 10 thousand times easier with this tool! The mother of all spatulas and another tool that I borrowed from a friend and will be purchasing.)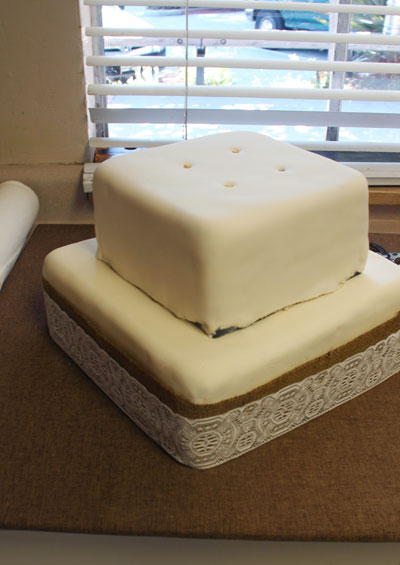 Finally the last tier, several layers of burlap, lace and twine, a good smattering of flowers that we asked the florist to set aside, and a beading of icing to help blend where the layers meet.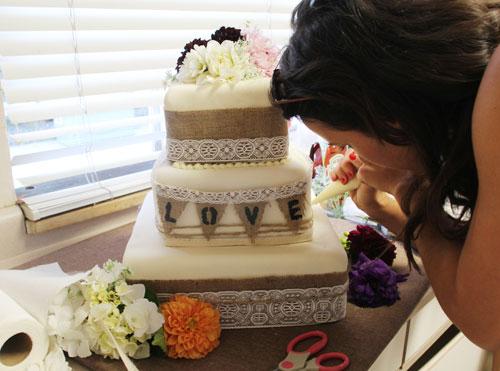 That soft little beading line can make a huge difference in the 'finished' look of the cake and it's really not difficult with a bit of practice. Using a pastry bag (or zip lock bag) and small round tip, pipe a little round bead, move your bag forward about 1/3″ of an inch and pipe another. Repeat until all layer bases are covered. (Sometimes it's easier to move 'backwards' rather than 'forwards', so play with what is your style until you find your rhythm.)
Next, I found some big strong men to move my 50+lb cake from kitchen to reception area. The bride had these beautiful antique mirrored doors for right behind the cake and a big wine barrel as its podium!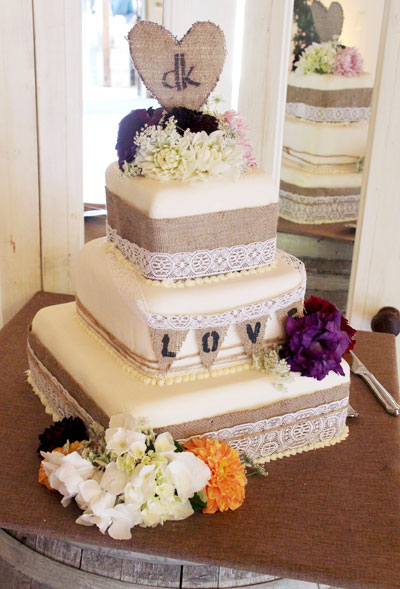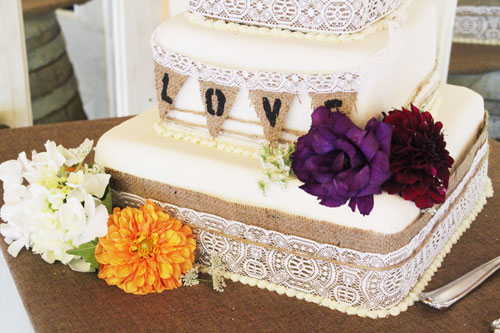 Finished! And ready for its close up. Pretty close to Katie's inspiration, right?
The entire day was just beautiful, starting with a lovely ceremony and followed by that rustic, organic reception that I was describing earlier. Every detail was so special. Here are a few pictures to offer a recap.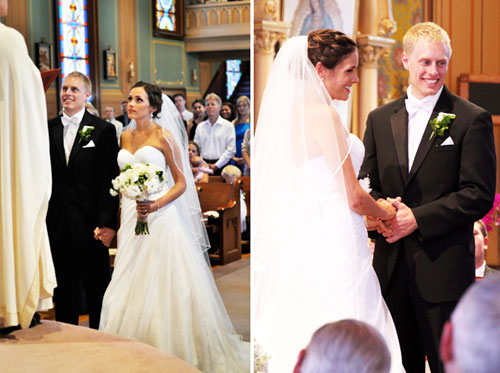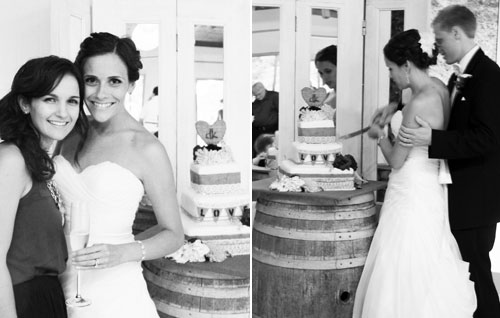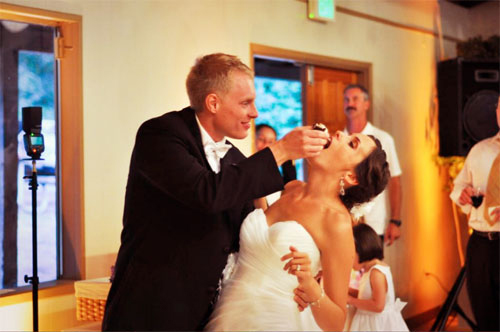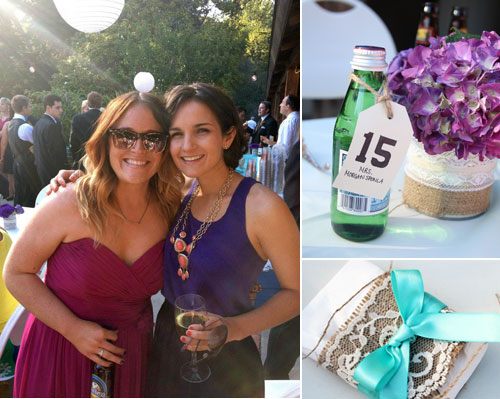 I'm so happy with how the cake turned out! And to save the bride a small bundle – ingredients ran in the $200 range, though cakes to feed 150 are probably closer to $750-1000 from a bakery – made the effort all worth it. Hope you enjoyed following along!
Tags:
Decorating
,
Desserts
,
DIY
,
Recipes
,
Tutorial
,
Wedding
,
white
Posted in
DIY
,
Family & Friends
,
Favorites
,
Recipes
|
17 Comments »
July 16, 2012
I have an ever so subtle update to share today from the nursery…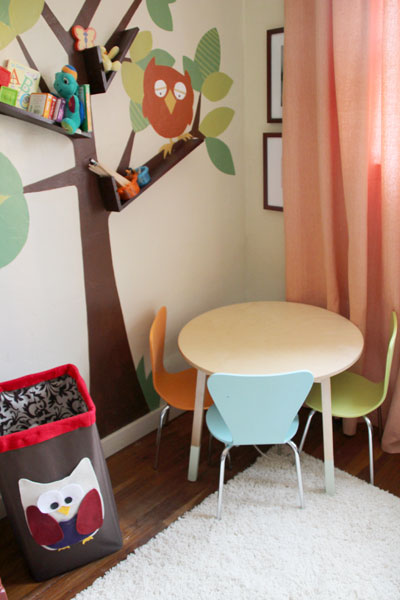 Notice anything new? Okay, I gave a little hint in the post title but I 'dipped' Liv's little table legs in a bright green paint as just a small added detail.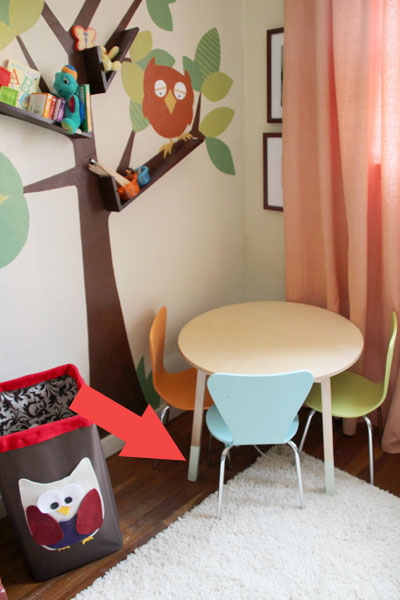 The idea stems a bit from this project but on a smaller scale, and I think it would be a fun addition for so many projects in the house, from dining room chairs to kitchen bar stools to house plant pots. An ever so subtle 'dip' of color.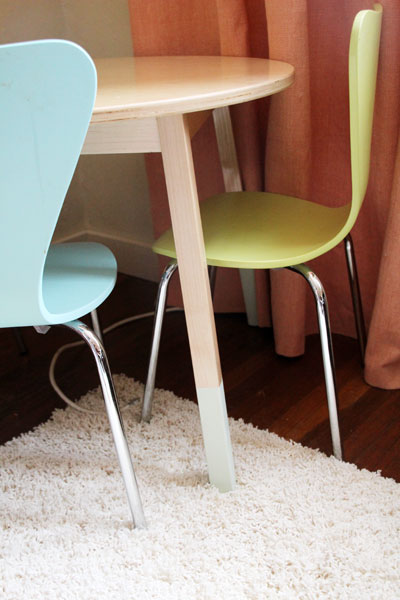 Hard to even see the contrast in these photos but the green is soft and subtle and really makes a nice difference to the birch table.
To accomplish, I simply flipped the table upside down, used painter's tape to help form my 'dipped' lines, and then painted away. Took me maybe 10 minutes with a sponge brush (which I really like to use on already painted/stained furniture to prevent brush marks), and then I repeated the process three times for a thick, seamless look (just like spray paint I prefer to add one layer of coat of paint – even if brush marks are visible – let dry and repeat until smooth).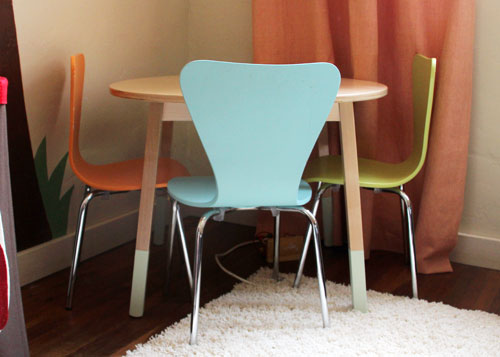 Sometimes it's all in the details! Have a lovely start to your week!
More Project Nursery posts found right here.
Tags:
Accessories
,
Before & After
,
Decorating
,
DIY
,
Green
,
Home
,
Paint
,
Tutorial
Posted in
Crafty Solutions
,
DIY
,
Home
,
Liv's Nursery
,
Renovating Adventures
|
9 Comments »
July 10, 2012
Terribly cheesy title I know, but today's post is all about one of my favorite new paint trends + a necessary home addition for a very busy toddler.
Lately Liv has turned into quite the independent lady. If it's at all possible (and she can figure it out), she wants to do it herself. 90% of the time that's a little tough, though we do try. 10% of the time it's to accomplish basic tasks like washing of hands after a messy breakfast. This type of independence I love, most toddlers run from a wet washcloth honing in on yogurt smeared cheeks, but Liv still finds cleaning up a delight.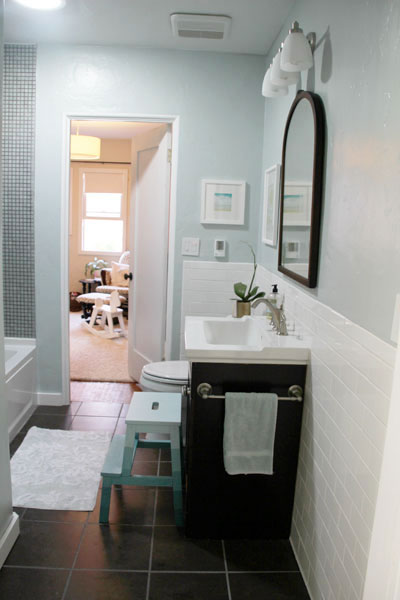 So I've been searching out a fun step stool for her bathroom. I was really hoping for something older with beautiful curved lines (more Jenny Lind – like Liv's changing table – less modern and boxy) but when I came across this little birch stool from Ikea for $15 I couldn't pass it up. It was begging for a fun coat of paint, too!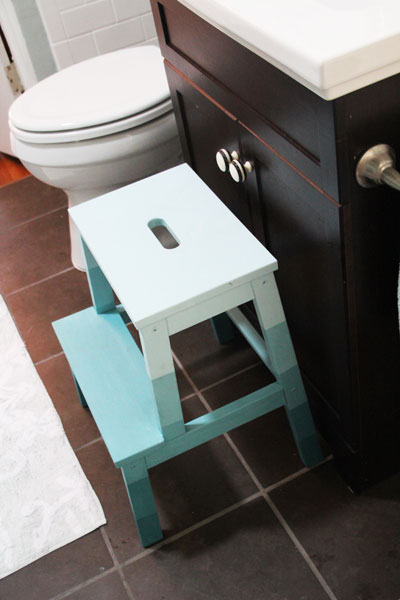 When Sherry and Katie announced their summer Pinterest challenge last week, I decided it was time to tackle this project and make it happen. (PS if you haven't heard of this fun challenge I definitely recommend checking it out. If you are a procrastinator like myself and thrive on deadlines, this is a great opportunity to give yourself a deadline to tackle one crafty project you've had your eye on).

The real Pinterest inspiration for this challenge is actually this coffee mug that has hunkered down in the back of my brain image gallery for some time.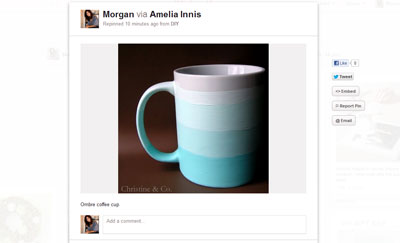 I've actually become quite enamored with the ombre trend as of late and have a few idea of else where in the house I might be able to spice things up with a bit of graduated paint colors…
And now for our much inspired ombre step stool: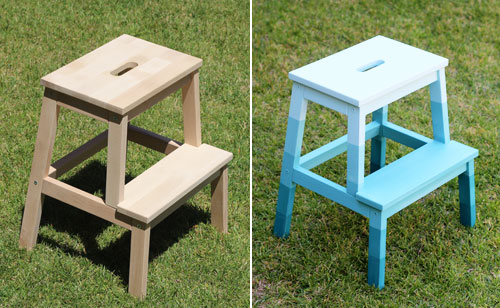 I used two paint samples and a quart of white paint to mix my ombre layers.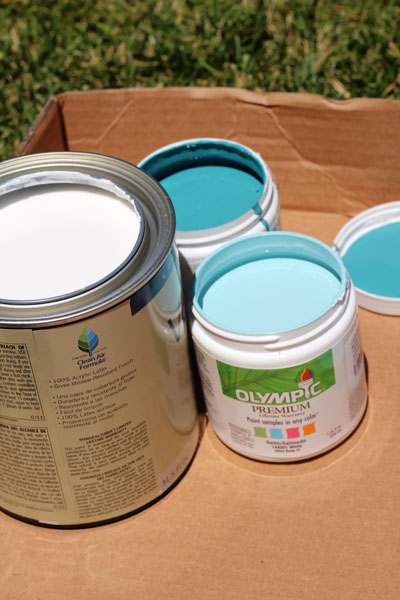 Which left me with five variations of teal blue – from a beautiful deep peacock to a clear summer's day sky blue.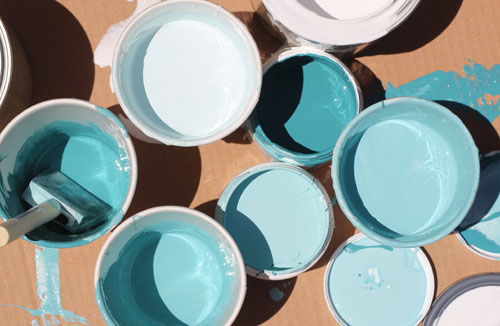 My first layers of paint were pretty rough. I began at the top and slowly worked my way down the stool painting in loose stripes and not bothering too much with exact lines.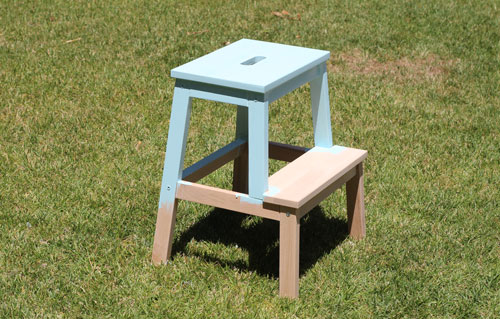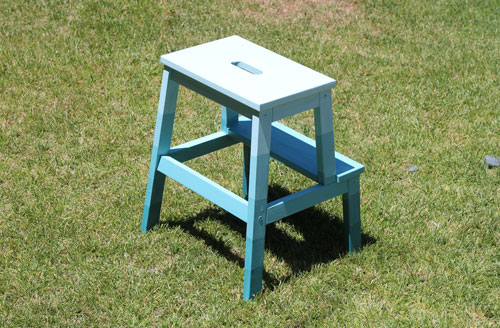 After some time in the sun, I went back with painter's tape and measured out my layer heights so that each transition could result in a sharp contrasting line.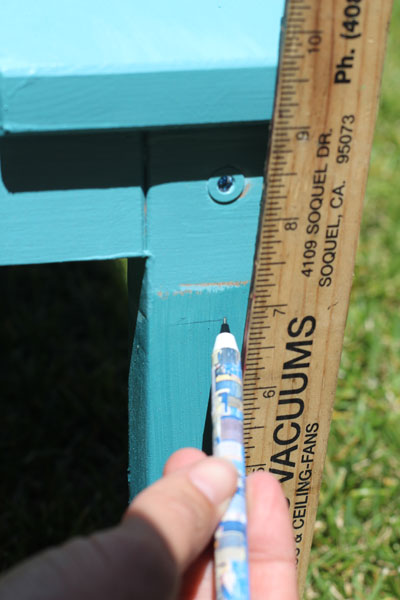 The top tier is the widest, slowly working down by 1/2″-1″ increments (roughly 5.5″ for tier 1, 4.5″ for tier 2, 3.75″ for tier 3, 3.25″ for tier 4, 3″ for tier 5) so that the stripes at the base were skinnier than the ones at the top.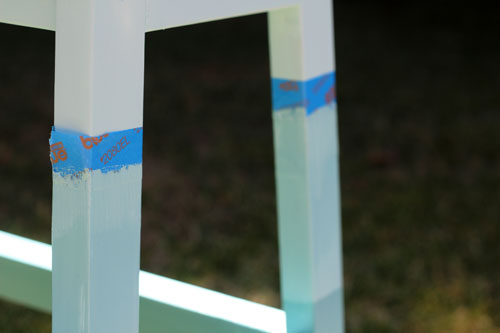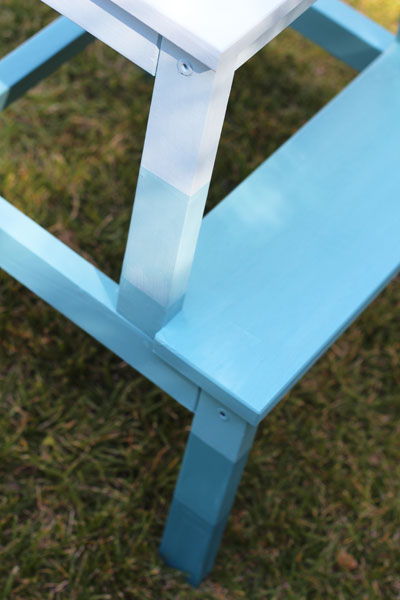 It turned out just as I had hoped for! I really dig the colors.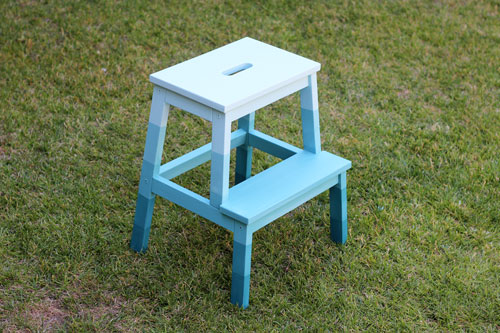 Nana helped to distract Liv on the other side of the yard, but occasionally she's wander up behind me and grab onto my neck. I ended up wearing paint for days and I'm still surprised she left the scene without a drop on her.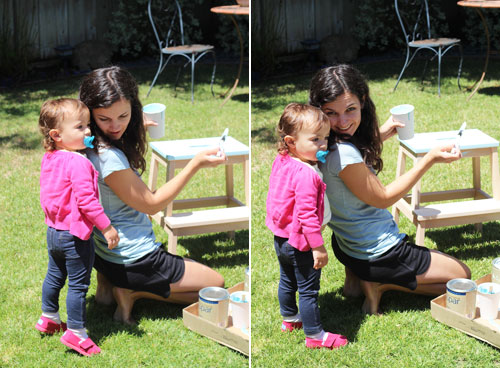 The stool is taller than I anticipated (it comes in a flat box from Ikea and I hadn't paid close attention to the overall height) but it seems to work really well with Liv's 18 month old reach.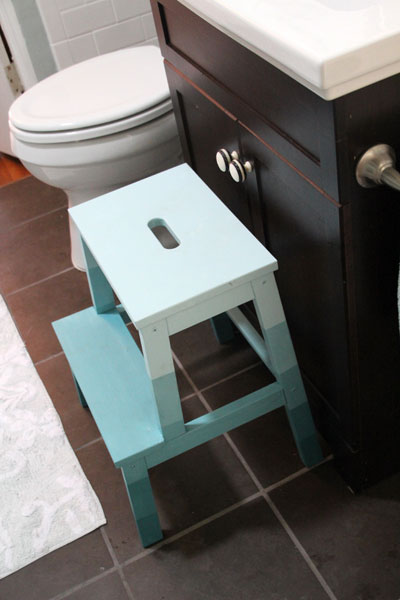 I had chosen the colors right from the existing shades in the space and I love how the turquoise pops against the tiles in the shower, the blues in the artwork, the pale hand towels.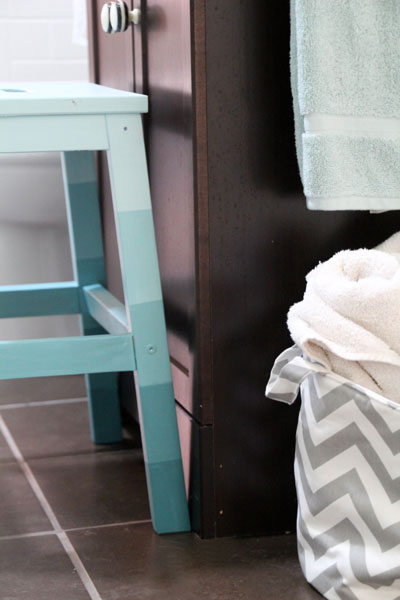 So far she dares to make it to the first step. It might get a little tricky after she figures out that she really can crawl to the top on her own.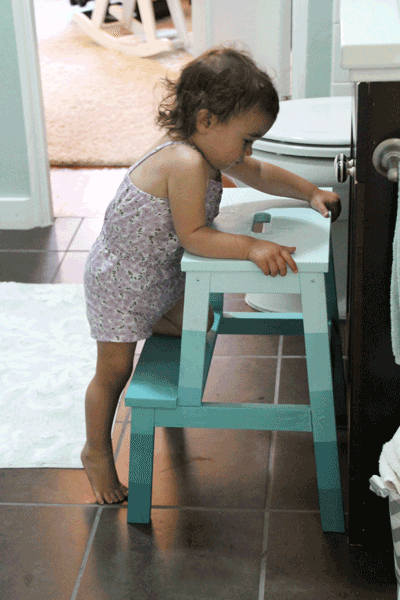 But when it comes to hand washing she gets a little help.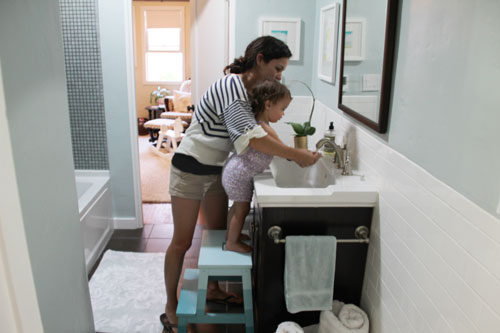 Oh wow how she loves it! After the stool moved its way inside, it was all I could do to distract her from trying to wash her hands every 10 minutes.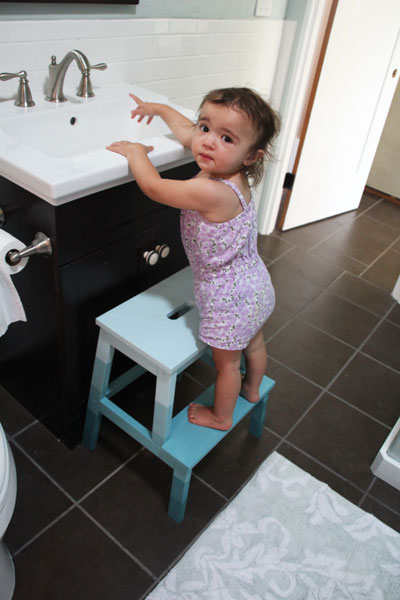 I'm glad she loves it as much as I do!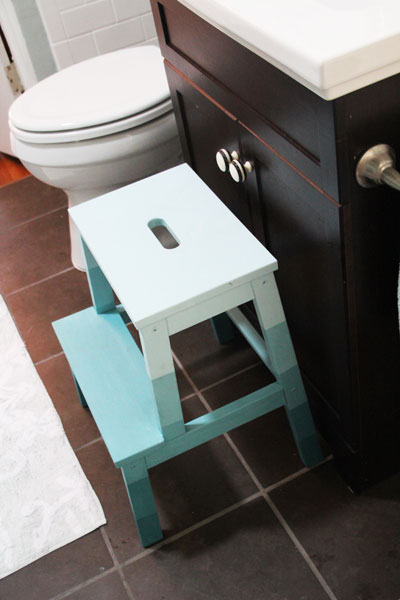 Yay for projects that make you get to-do's done.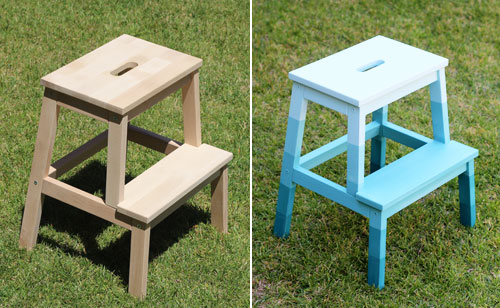 Here's a quick link to the previous Pinterest challenges that I've worked on. Still quite proud of that capiz chandelier, painter's tape wallpaper and gold mercury glass. But don't forget to head on over to Sherry's post and Katie's post (and Kate's and Michelle's! who are guest hosts) to find all kinds of crafty and fun ideas.
Tags:
Accessories
,
Before & After
,
Blue
,
Crafty Solutions
,
Decorating
,
DIY
,
Home
,
Paint
,
Pinterest Challenge
,
Teal
,
Turquoise
,
Tutorial
Posted in
Crafty Solutions
,
DIY
,
Home
,
Our Guest Bathroom
,
Renovating Adventures
|
11 Comments »