July 5, 2012
A while back, I noticed that Jenny of LGN was growing a citrus tree right in her NYC apartment. And I thought it was brilliant. We don't have much room on our property for fruit trees but there's something about producing your own cooking accoutrements (delicious thyme and rosemary and dill) that is so appealing. Lemons fall into that category for me. They can be found in nearly every dish, from fresh fish to a salad dressing to a cold glass of iced tea, and so I decided to give indoor gardening a go. Our little herb garden on the side of the house will produce the seasoning for daily meals, and now perhaps my indoor fruit tree will provide several lemons to give us juice on a semi-regular basis.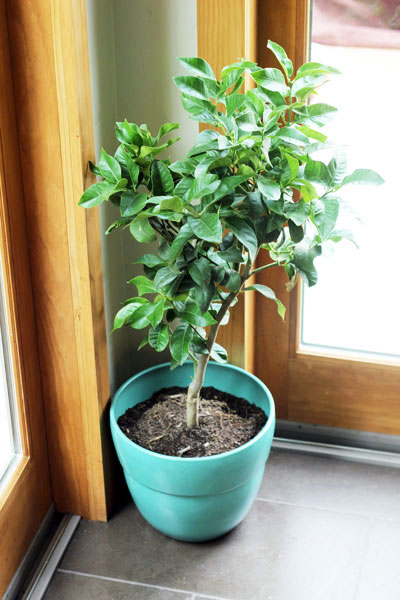 Worst case it becomes a pretty green addition for the kitchen. Of course when he gets too big (though he is a dwarf lemon) I'll have to transplant him into a large pot on the future deck. But for now, my little lemon tree has found the perfect spot to flourish.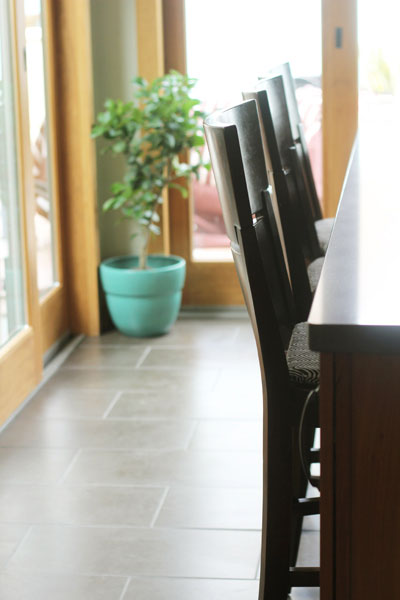 I'll keep you updated on the success of indoor fruit harvesting. Back when I was in grade school I attempted this with a tomato plant and produced little cherry tomatoes year round by placing it at the corner of two bright windows. Will lemons act the same I wonder?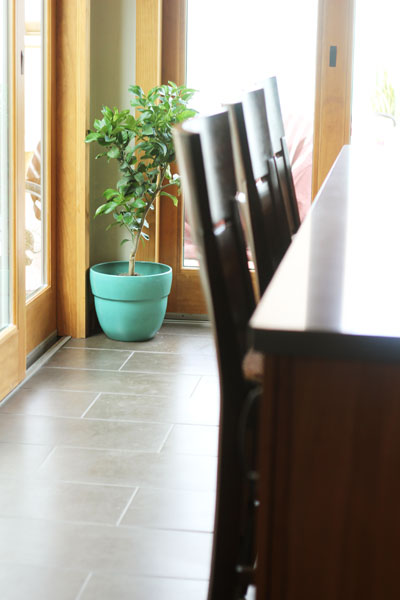 I have become mildly obsessed with houseplants of late. Trees for various rooms and beautiful crawling vines for the tops of bookshelves. The added greenery and life brings energy to a space – an organic vibe that I am really drawn to at the moment.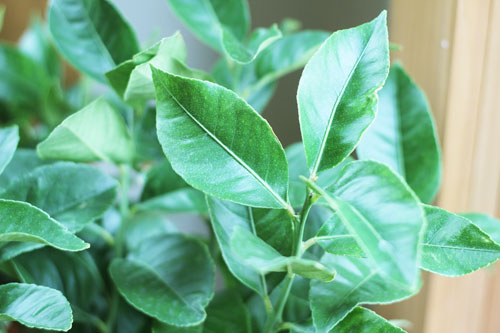 This lemon tree is just what the kitchen ordered. I chose a dwarf Eureka lemon, mostly because I thought it was much prettier than the Meyer up close (which was my original plan) and would be a tad more attractive as an indoor varietal.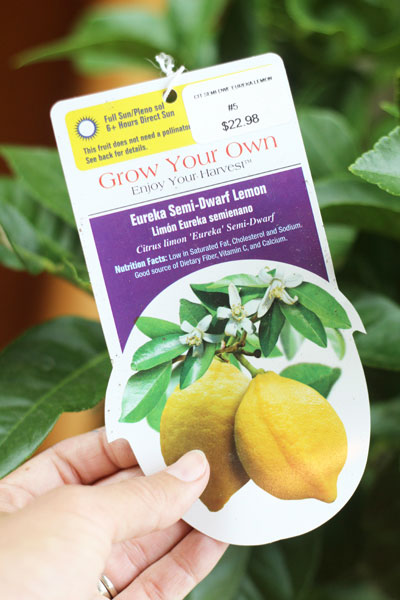 Here's what I've learned about the two common types: Eureka's are "true" lemons while Meyer's are actually a hybrid, whose origin is unknown but is believed to be a cross between a lemon and a mandarin orange or orange. Eureka's have fewer seeds but their lemons are a tad more acidic. Eureka's blossom with full white blooms in mid spring and offer a winter harvesting period which lengthens as the tree ages. I should expect fruit now (the plant is roughly 2-3 years old) but it will continue to get fuller as it gets older. I can keep him a dwarf with regular pruning and should be able to easily control the span and size, though it definitely will not need a new pot for at least a year. Should I attempt this again in the future I'll probably seek out true dwarf rather than a semi-dwarf, but I didn't really learn the difference until Googling post-purchase.

I've placed him next to the sliding glass doors so that on especially bright days I can pull him outside and into direct (rather than window-muted) sun.
Here's a reminder of our kitchen remodel so you can see the amount of light that this space gets on a regular basis: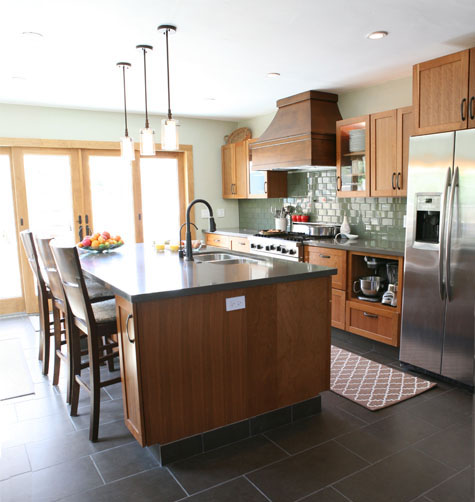 I love love my turquoise pot (a find from Lowe's) and I might fill in that showing dirt with a thin layer of lime green moss. Sort of like this example from Martha.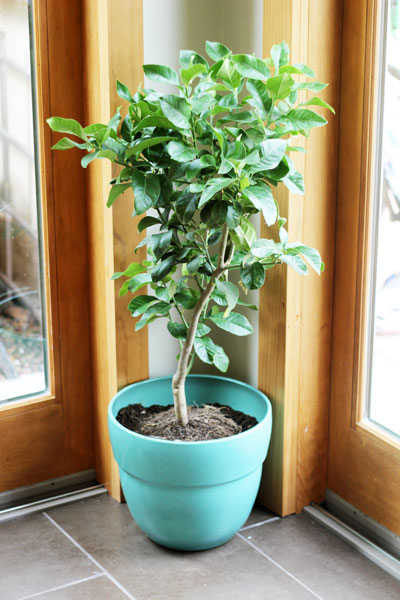 I've been watching closely for several weeks now at the brand new green leafy clumps that are stretching out of the branches, and just as we were leaving town this week I noticed my first little bud. The sign of new life. And it could not have peeked out at me at a better time.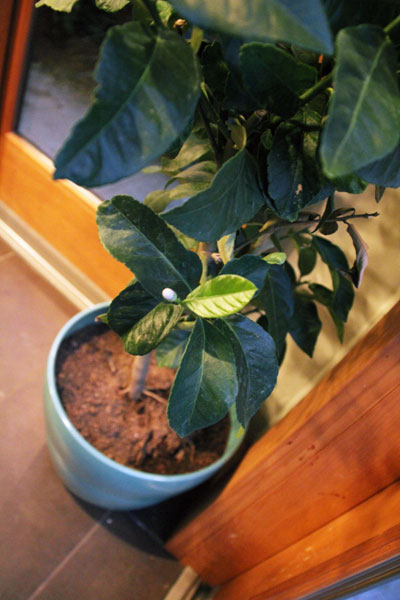 To be continued when the first little green-yellow ball takes shape… more tips on indoor citrus gardening from Jenny here, she highly recommends Calamondin orange trees and shares plenty of pretty inspiration.
Tags:
Decorating
,
Green
,
Home
,
Kitchen
,
Yellow
Posted in
Gardening
,
Home
,
Our Kitchen Remodel
,
Renovating Adventures
|
11 Comments »
June 28, 2012
Last week I added the new Orla Kiely curtains to the dining room and I immediately loved how the vibrant pop of blue worked with the vintage buffet! But with the new matching color scheme, the room also felt like it was lacking a dose of contrasting color to really mix things up. So the wheels began turning for updating our current ottoman-turned-dining bench…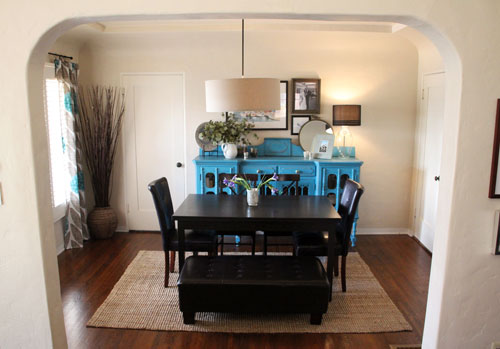 Right off the bat I'm thinking that a new set of taller legs and a covering in a soft velvet would make this guy work for the space. The tufted ottoman is a Craigslist find (surprise!) but he's been with us for a while and has slowly begun to wear and tear (literally) and up until recently has been on the replace or let go list.
But perhaps he can be remade into something awesome. Here are a few badly photoshopped ideas of what colors might work well with that bold blue (and a few random lumbar pillows that might coordinate well for the end chairs):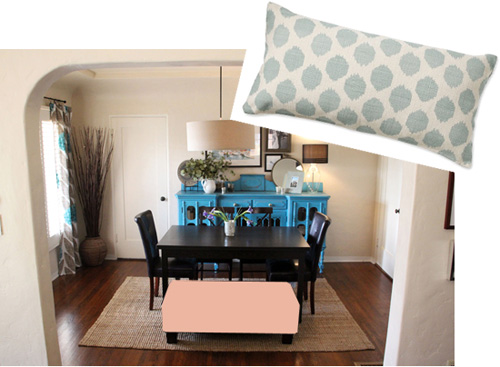 A soft pink to lighten things up? I found the softest pink velvet for $10/yard at our discount fabric shop. (pillow)
Or how about mint green? A favorite summer accent of mine! (pillow)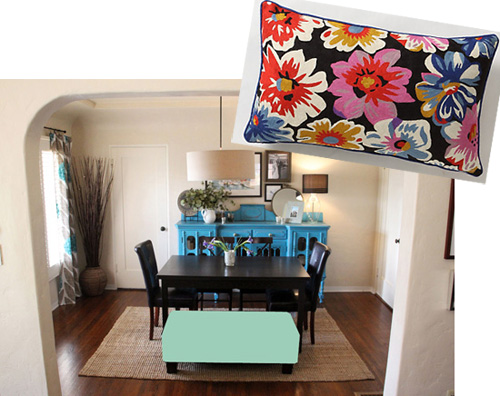 Or perhaps something a little more limey would look best… (pillow)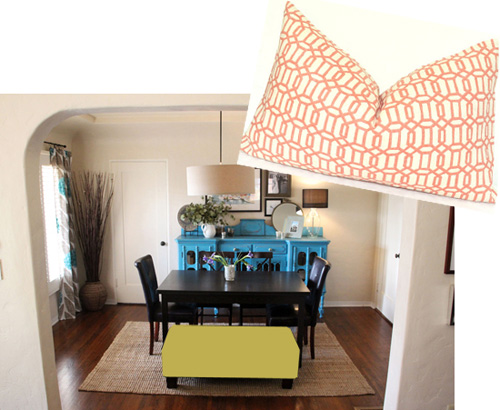 Burnt orange?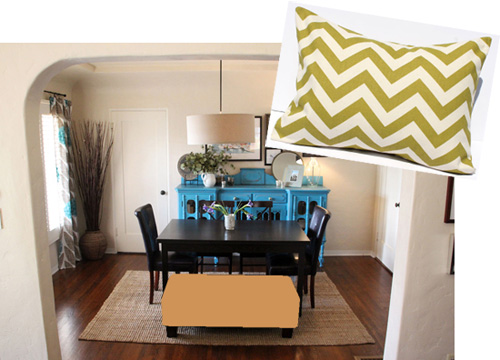 Or how about plum to cool down that bright blue? (pillow)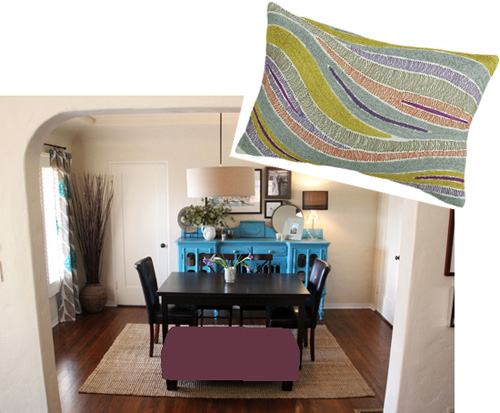 I'm not quite sold on any of the pillow pairings but you can see where I'm hoping to go with a little color in this space, and if pricing out velvet and new legs ends up being pricier than a new upgrade, here are a few benches that I have my eye on: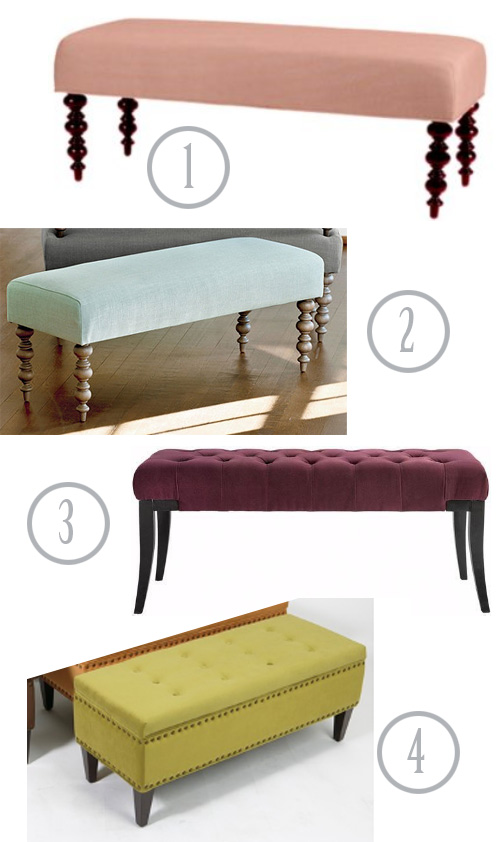 Oh I love that minty Ballard bench with the curved legs!
Read the full dining room story by starting here: choosing a rug, curtain call part 3, curtain call part 2, curtain call part 1, newly styled bookshelves, a buffet-over, upgrading the lighting, the before.
Tags:
Accessories
,
Crafty Solutions
,
Decorating
,
Dining Room
,
DIY
,
Fabric
,
Green
,
Home
,
Orange
,
Patterns & Color
,
Pink
,
Purple
,
Turquoise
Posted in
Home
,
Our Dining Room
,
Renovating Adventures
|
11 Comments »
June 27, 2012
Kevin and I headed up to San Francisco for a quick trip to celebrate our 5th anniversary and we had such a great time! Thanks to those who left a comment or sent an email wishing us a great day!
Now that Kevin is out of school for the summer, I cannot think of a better anniversary present than spending some time together working on a few big changes for the front of our home. We tend to reserve major renovation projects for when Kev finishes up classes for the summer (which, by the way, I'm so proud of him for right now! Three of his hardest years down, two to go until he finishes up his degree in architecture ), and he just wrapped up finals last week.
This summer is no exception with a big wrap around deck (side yard and back), pergola, outdoor eating area, side yard wall, landscaping and overall outdoor beautification on the list. I am even more excited about that fact that we are once again partnering with Lowe's to help participate in their Trend & Design theme for the summer – curb appeal!
The above is our home today, and here's a quick reminder of where we started at: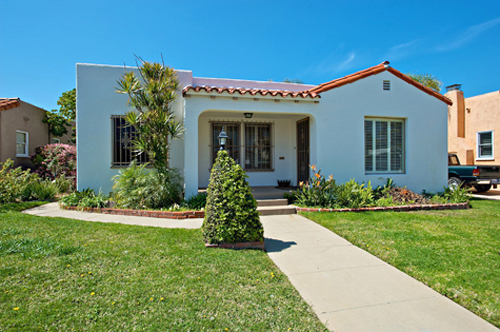 Not too shabby so far, right? But we have BIG plans, starting with painting the house!
Olympic and Graco have offered to partner with us for this project and of course that made the reality of such a big undertaking feasible for us to move ahead with as early as this upcoming weekend! Wow.
I have been patiently looking forward to updating the traditional white on the front of our home since the day we moved in four years ago and excited doesn't even begin to capture my feelings at the moment. Overwhelmed, giddy, smiling ear to ear might get me a little closer.
Olympic has a helpful tool that allows you to upload a picture and then play with paint colors. I can't get too color carried away as we live in a Spanish style house and I tend to love these particular bungalows in beiges, tans and browns anyway, but that's where we're starting our search.I uploaded our current outdoor photo into ColorClix to get a better idea of what our home would look like in a few favorite shades.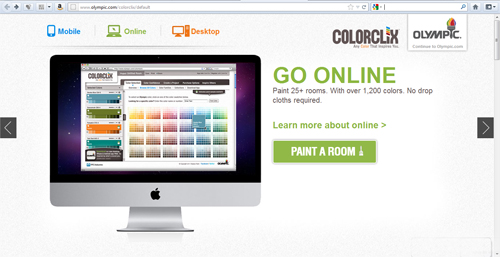 The first step is to use the tool markers to identify what is a paintable wall vs plants vs roof, etc. (these same steps apply for interiors, but identifying interior walls, furniture, windows and trim instead).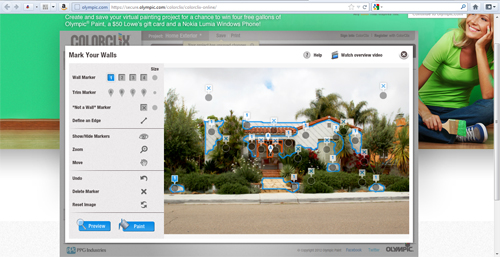 Then it was time to experiment away!
This light Vanilla Brandy is a favorite: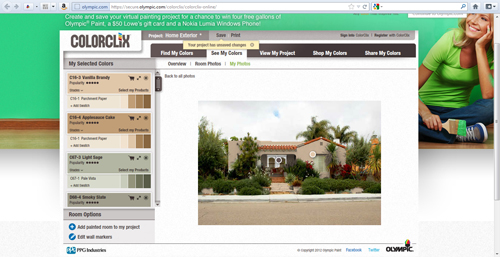 As is Dusty Trails with its ever so smoky-tan appeal:
A slightly darker option is Stony Creek: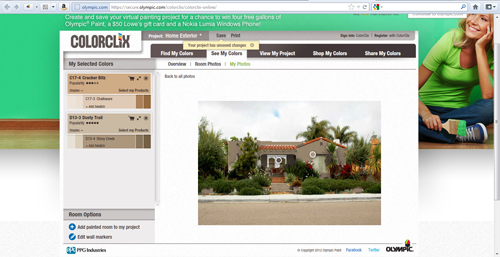 Applesauce Cafe rounds out my fourth favorite tan (I sometimes wonder where these names come from – what a fun job) with its honey undertone: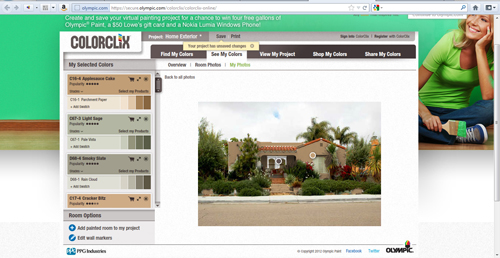 Kevin really digs the idea of a mossy grey house. If we lived in any other style I think that I would be on board (or at least seriously consider the option), but I'm not such a fan for our home: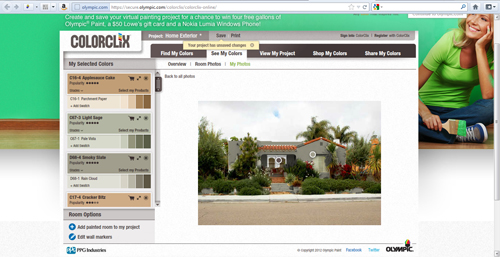 Will keep you posted on the progress! We are deciding colors asap and it's quite daunting.
Next up on the paint list is trim. I'm thinking white, but perhaps a dark brown would be option 2. Spanish homes are known for their creative trim-on-trim styles and maybe an even better, dual option is out there somewhere… this is when long walks with Liv and sneaky iPhone camera shots of my favorite homes in the neighborhood become very helpful as local inspiration. It's not odd to pretend like you're talking to someone at arms length while you line up a shot of the neighbor around the corner's home, right?
Any home painting tips, thoughts? or do you have any big projects lined up for this summer?
Tags:
Decorating
,
DIY
,
Home
Posted in
Curb Appeal
,
DIY
,
Home
,
Our Yard
,
Project Lowe's
,
Renovating Adventures
|
3 Comments »