October 21, 2010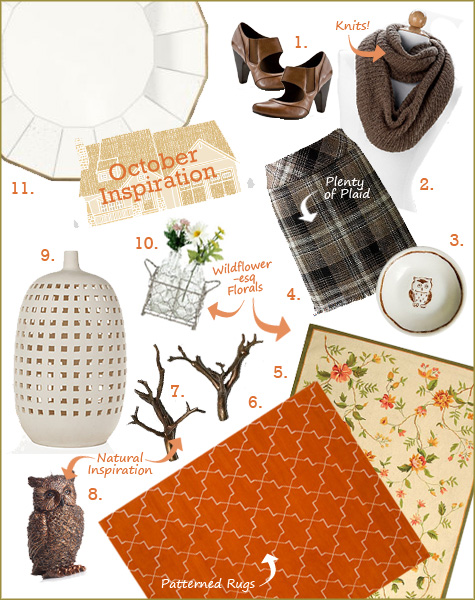 If I could pull together a wish list of any fall-inspired additions I'd add to the home and wardrobe this October, here would be my picks:
1. Brown Mary Janes: These could quickly become my go-to rain shoes with their sturdy 3″ heel (to keep me out of puddles) and the modern leather detailing. These Mary Janes would work great with a skirt and wool tights, or paired with denim jeans and a long cardigan.
2. Eternity Knit Scarf: I love the circular style of scarves right now! This ribbed version looks so warm and inviting.
3. Owl Accessories: I'd update my dining room with a few nature-inspired accessories like these owl salad plates. It would look great solo on a plate stand amongst the shelves of white dishes.
4. Plaid Pencil Skirt: Plaid and herringbone are my favorite fall patterns and this warm, soft wool skirt would look great paired with a cozy turtleneck and heels (maybe those brown Mary Janes?).
5. A Vintage Floral Rug: Okay, so maybe I wouldn't change out the throw rugs just for the season but I do love the wildflower-esq florals of this beautiful rug.
6. A Patterned Orange Rug: Likewise, I love the bright color and geometric pattern of this orange rug and would be oh-so-happy to add it to a bedroom for a fall lift.
7. Branch Clothing Hooks: I've always been a fan of branches – and how neat are these? They would be perfect in a mudroom ready to store pea coats from incoming guests.
8. An Owl Candle: More owl… he seems to be the animal of the season this year and this candle would be the perfect addition to the living room.
9. A White Patterned Ceramic Vase: I have always loved over-sized vases and the intricate square pattern adorning this one makes me think it would be a perfect fit for my space.
10. Cottage-esq Accessories & Vases: Back to the wildflower-esq accessories, this glass bottle and wire basket combo (resembling an old-fashioned milk carrier) would be a sweet country addition to the kitchen right next to the sink. Add a few stems and it would be a nice reminder of spring to come!
11. A Bold Sunburst Mirror: Can't get enough big, bold mirrors and this is my new favorite. Maybe a splurge I'll have to consider for above the mantel? It's a beauty.
Tags:
Accessories
,
Brown
,
Desserts
,
Fall
,
October
,
Orange
,
Wish List
Posted in
Home
|
7 Comments »
October 13, 2010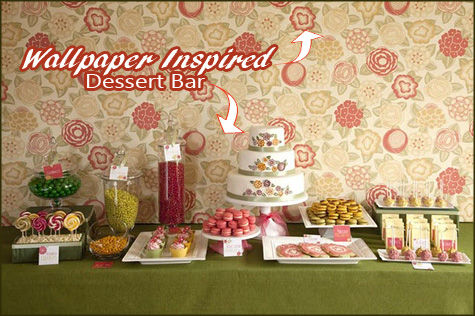 Every once in a while you come across one of those ooh & ahhh images that causes you to pause, stare and ogle for a good while. When Chris over at Celebrations at Home shared this beautiful Petites Bouchees Dessert Bar a while back I immediately filed it away into the ogling brain folder.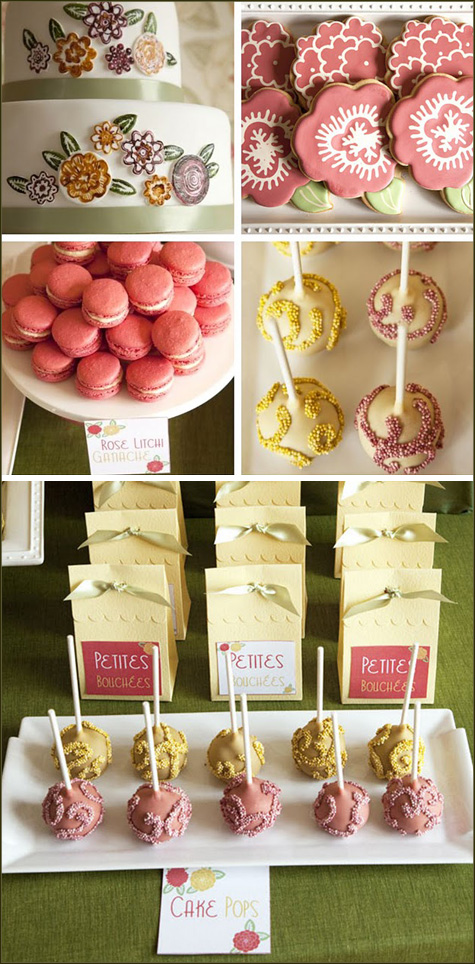 How wonderful are the colors? That's what I think draws me in most to this display. Rosey reds and sage greens (with a bit of yellow mixed in) is one of my very favorite combinations. The floral details are pretty wonderful, too!
I love the idea of using wallpaper as a backdrop for the table. I've hung fabric (even my duvet cover) behind tables in the past for that extra 'pop' – but wallpapering a piece of plywood sounds like it might be genius.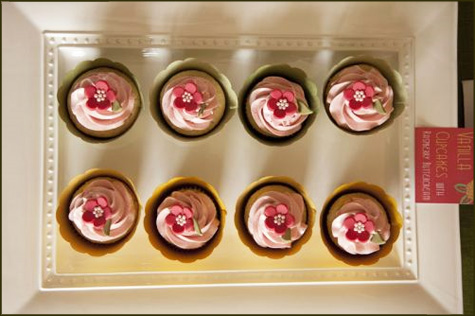 And a photo of a few more florals…. yum. One of the neatest day classes I've attended was a fondant flower making class – the little guys above are super easy and they make the cupcakes so professional looking.
This is the perfect theme for a bridal shower, baby shower or even a wedding!
Tags:
Baby Shower
,
Birthday
,
Bridal Shower
,
By Color
,
Cake
,
Decorating
,
Desserts
,
DIY
,
Easter
,
Green
,
Paper Crafts
,
Parties & Entertaining
,
Patterns & Color
,
Pink
,
Wedding
,
Yellow
Posted in
Parties & Entertaining
|
9 Comments »
September 14, 2010
My mother-in-law threw my first baby shower this past weekend in her hometown of Tempe, Arizona. It was so neat to catch up with all of our Arizona family & friends!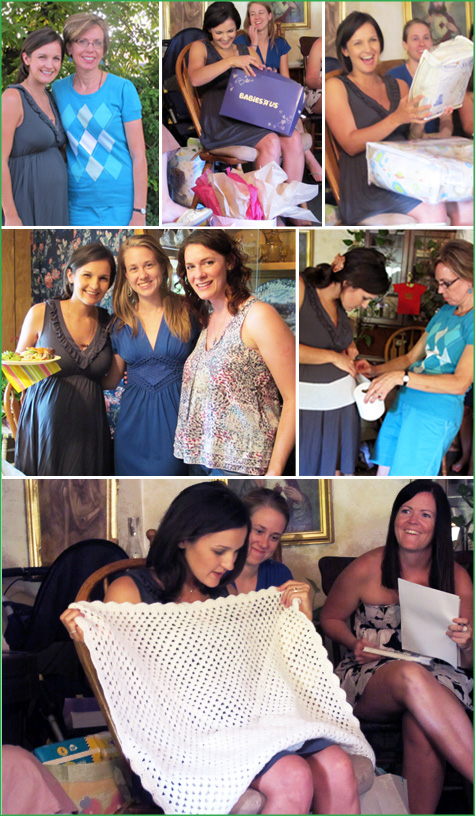 Plus she decorated the cutest cupcakes that I hope to copy and try out for a future shower. "Binkie" cupcakes look like little pacifiers! I'm pretty sure they were made from nello candies and gummy lifesavers…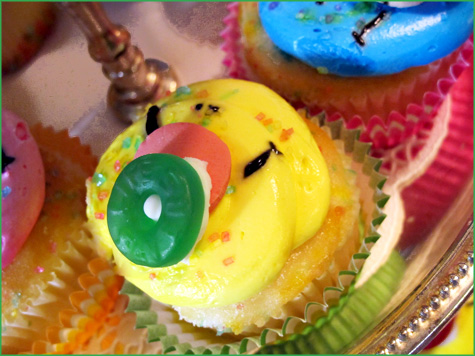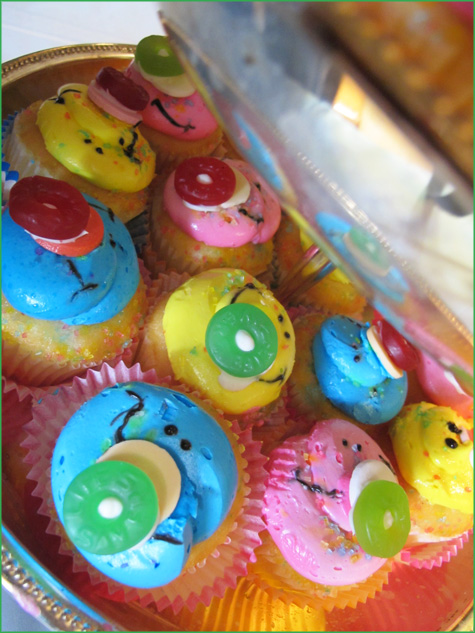 The weekend was full of special treasures like a hand-crocheted blanket from our first-time great grandma, fun games by the MIL and delicious food all around.
Tags:
Baby Shower
,
Desserts
,
Parties & Entertaining
,
Recipes
Posted in
Family & Friends
,
Parties & Entertaining
|
9 Comments »