March 21, 2010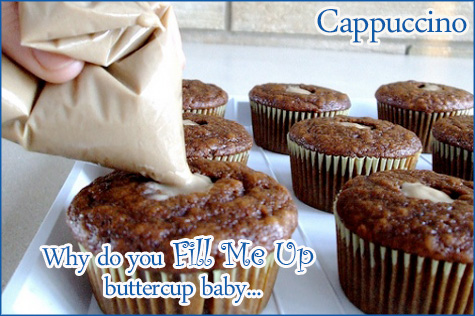 Cupcakes make the perfect little dessert be it for a wedding or kids party. But how to make them even more delectable and, oh, I don't know, take it to the next level? How to add something unexpected and delicious – to make your dessert so much more than just a piece of 'cake'? Fill 'er up!
Here are a few finger-lickin' ideas to make even the Hostess Cupcake officianado beam. Whether you're a chocolate, lemon or chipotle (yes, chipotle) loving baker, these recipes are sure to get your attention (and those of your guests!).
"Why do you fill me up, fill me up, buttercup baby, just to let me down…"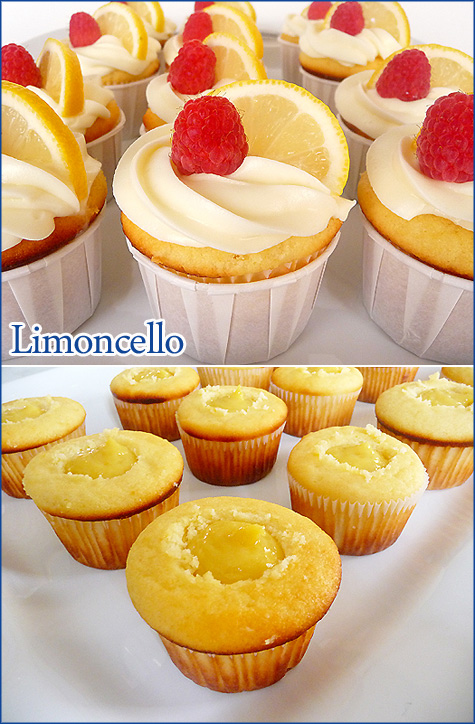 I'm loving the sound of cappuccino cupcakes, and Brown Eyed Baker's limoncello version must be heavenly!
My favorite way to fill cupcakes is by using a melon baller to remove a small piece from the center of each. Squeeze a small amount of filling (using a plastic zip lock bag with a pastry tip in one corner) in each cupcake hole and frost as usual (refrigerating between these two final steps can help keep your filling out of the frosting).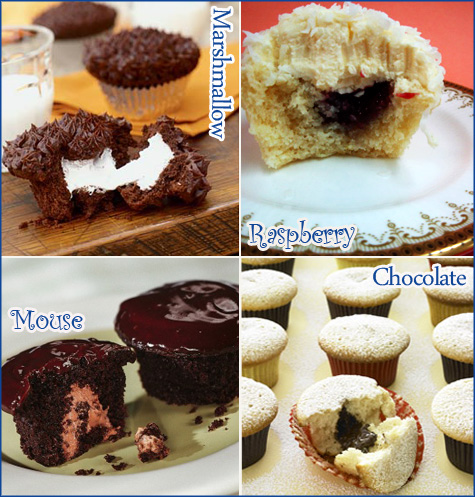 Ooooo how about these marshmallow, raspberry, mouse & chocolate options? Too many choices…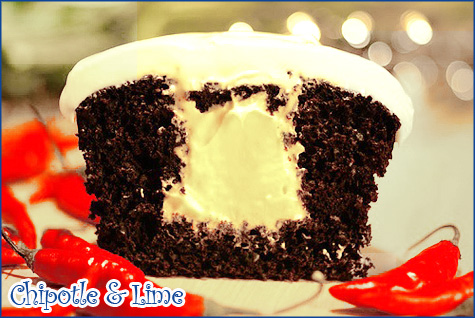 To really spice it up, try this Chocolate Chipotle del Muertos (with a dash of lime) recipe from Cupquake! Sure to knock at least a few socks off.
Marange smores and mascarpone filling, after the jump! Read more »
Tags:
Baby Shower
,
Birthday
,
Bridal Shower
,
Cake
,
Cupcakes
,
Desserts
,
Kids Party
,
Parties & Entertaining
,
Recipes
Posted in
Parties & Entertaining
,
Recipes
|
3 Comments »
March 17, 2010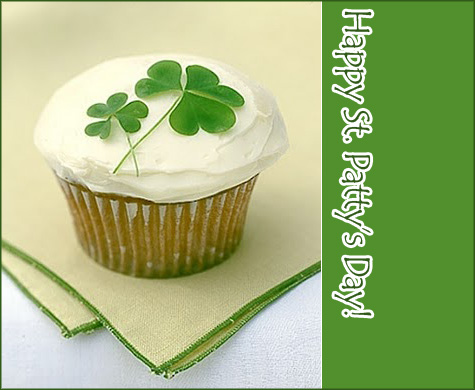 Hope you celebrate with a wee bit of cheer tonight! and just a quick reminder to check out the adorable Vintage Paper Parade giveaway which ends this Friday!
Happy Wednesday!
Clover topped vanilla cupcake from Martha Stewart Living.
Tags:
Desserts
,
Green
,
St. Patrick's Day
Posted in
Parties & Entertaining
|
Comment »
March 8, 2010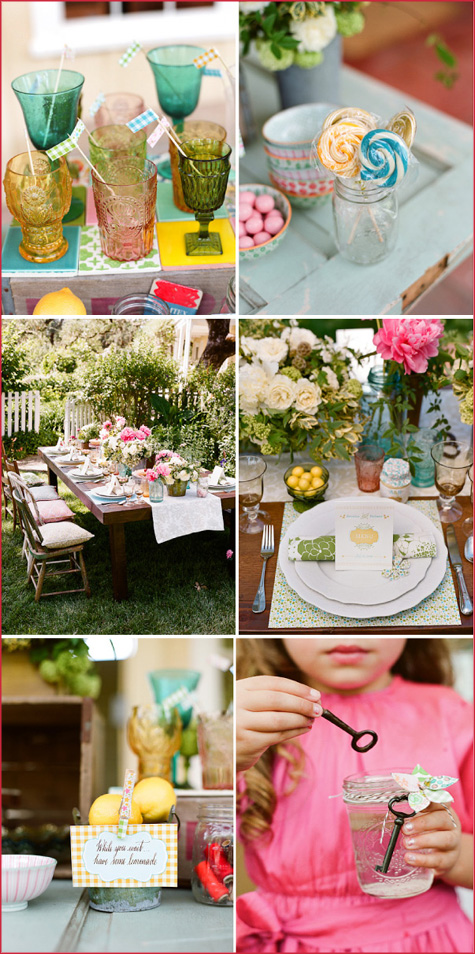 Ready for a little spring eye candy? I almost fell out of my chair when I came across this absolutely adorable 'recycled chic' backyard party. I'm loving the idea of a *sweet* celebration for the coming months!
A vintage candy & cakes theme would work just as well for a shower, a wedding or even Easter.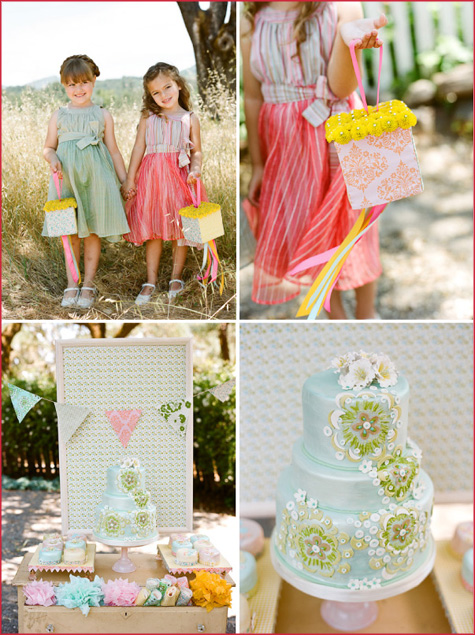 Style Me Pretty shares this lovely photoshoot, complete with colorful poms, a delicious dessert table (make that the most adorable bookshelf you've ever seen!) and vintage place settings. I'm head-over-heels in love with every detail.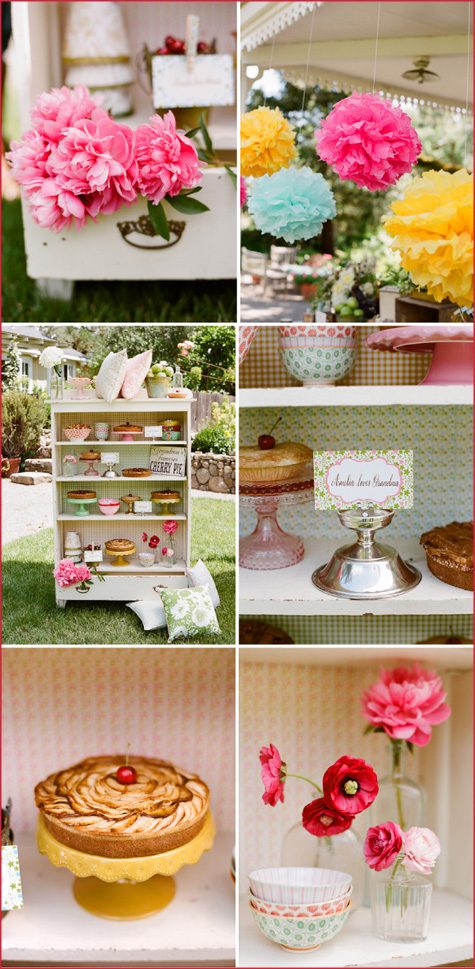 I can't decide which perfect little piece of this party I like best. Is it the mis-matched paper prints (on the signs, as drawer liners, the background for the cake table, as place mats…) or the amazing floral designs (did you see that tablescape up top??) or the mouth-watering desserts!
More delicious photos - including the invitations, adorable handmade pillows and petite cakes - after the jump! Read more »
Tags:
Baby Shower
,
Birthday
,
Bridal Shower
,
Cake
,
Decorating
,
Desserts
,
Dinner Parties
,
DIY
,
Easter
,
Kids Party
,
Parties & Entertaining
,
Patterns & Color
,
Pink
,
Wedding
,
Yellow
Posted in
Parties & Entertaining
|
13 Comments »