January 14, 2013
We had a great weekend full of family and friends and celebrating. We hosted Liv's birthday on our back deck on Saturday afternoon, and while it was a little prickly and cold outside, the outdoor fireplace and heater helped to warm things up.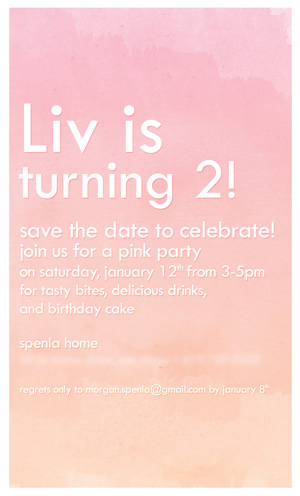 I'll try to get to more of the details of the party in future posts (like the easy little favor pouches a friend helped me throw together last minute and some of the ribbon/tissue paper details we're keeping around to reuse in Liv's future big girl room), but here's a little wrap up of the event: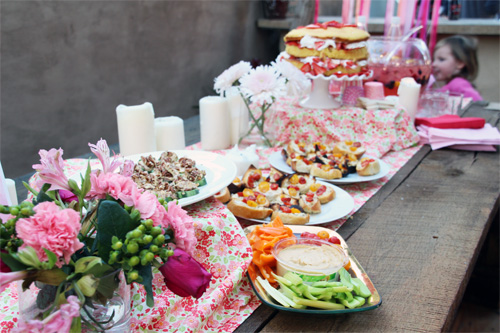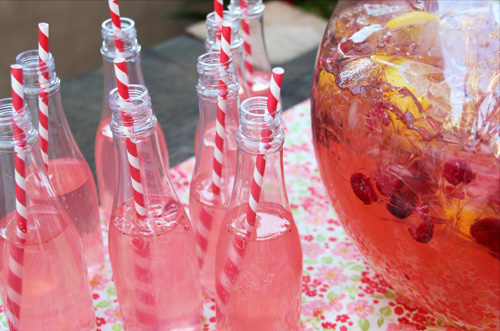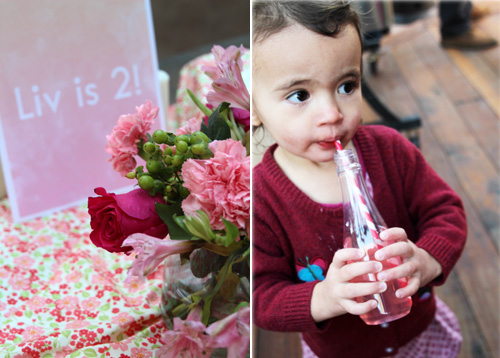 We served heavy appetizers, berry lemonade, and an overstacked strawberry shortcake for dessert. My favorites included my mom's delicious potato and corn chowder soup in our white coffee mugs, cheesy homemade macaroni for the kiddies, BBQed teriyaki chicken & pineapple skewers, toasted ricotta and chive bites (with pomegranate seeds to look like little flowers), and roasted tomato, cream cheese & poppyseed bruschetta. All served atop pretty floral fabric that I found here.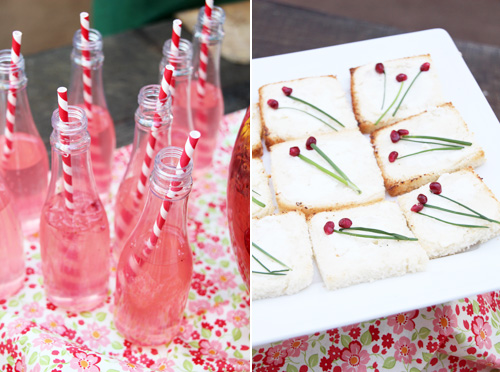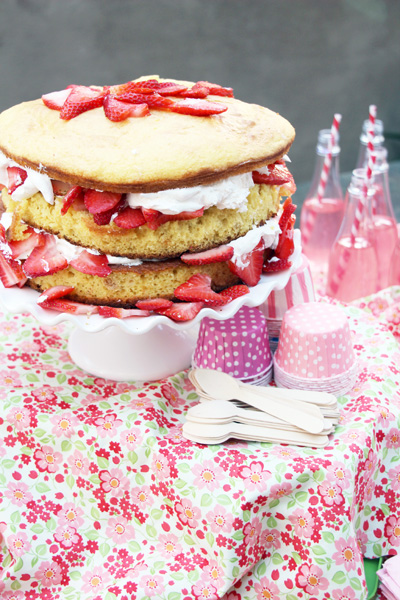 I found adorable plastic milk bottles online for the kids to enjoy their berry lemonade (easy and almost spill proof). The invites and sweet little signs for the event were by this Etsy artist (I loved working with Katrina, I highly recommend). Oh and I cannot forget – this is my favorite source for paper lanterns! At roughly $1.30 a pop it's impossible not to cover a room in a dozen of them (which it's hard to see from the photos, but the outside patio is).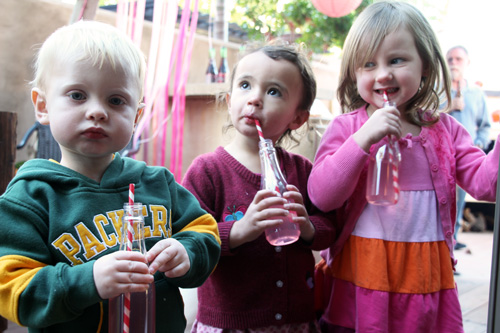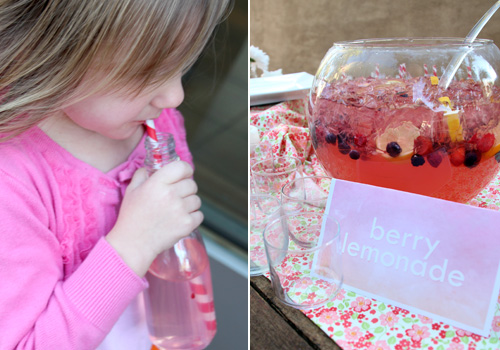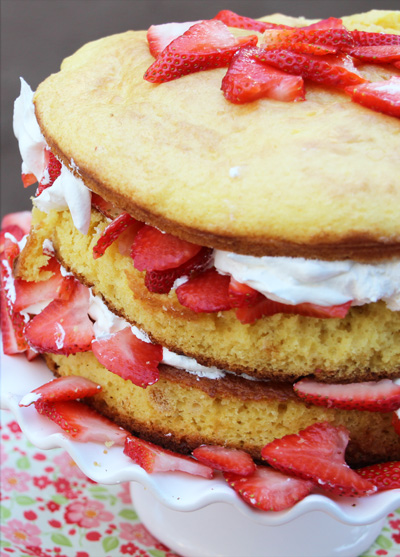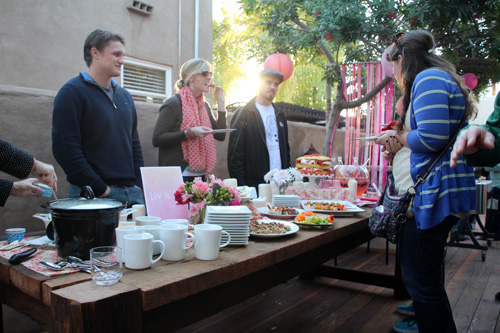 I snapped a few photos as everyone was arriving and before it got too crazy…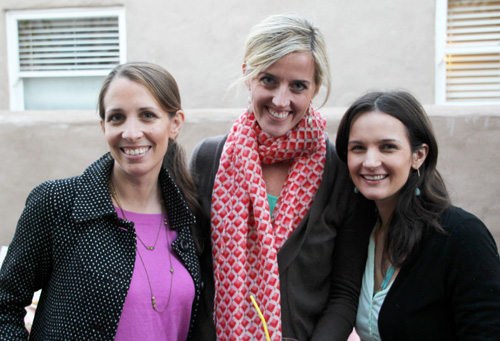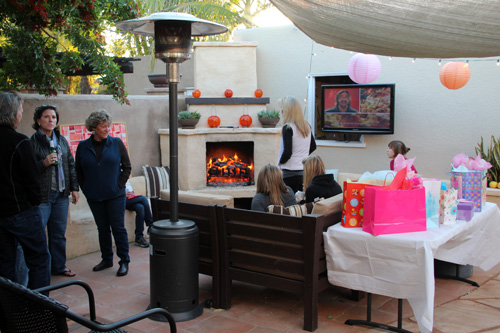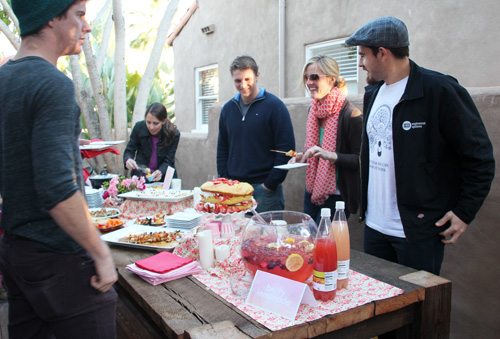 We purposefully scheduled the party for post-naptime for Liv and all of her little friends… but guess who didn't nap all day? Good thing all of the excitement kept her busy!
One of Liv's presents from mommy and daddy was a finished sand box! More details on this to come but we actually built it right into the deck. The kids loved it.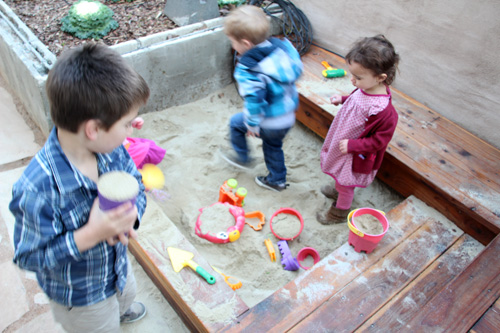 I opted for an easy dessert this year since we were hosting the party at our house and I knew there would be so much to do (thanks mom and dad for all of your help! We owe you). But the strawberry shortcake fit in great with the rest of the decor and it was a tasty treat for kids and parents alike. We even used these little cups and wooden spoons to serve up the cake in a manageable size for the little ones.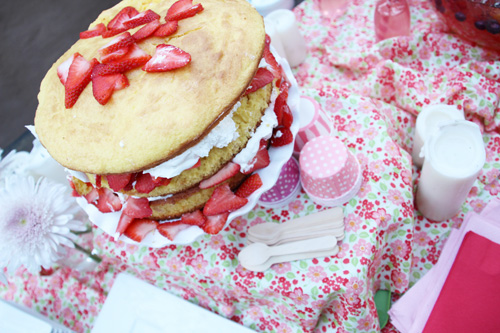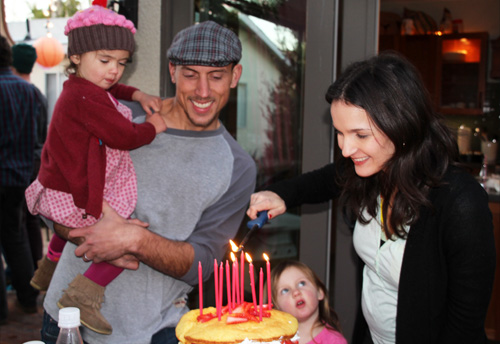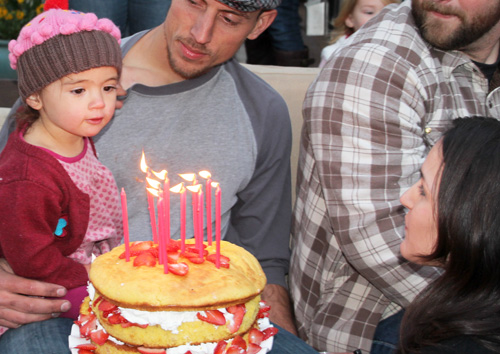 An awkward photo of my but a cute instagram pic of Liv getting ready to blow out her candles (and her little cupcake hat

).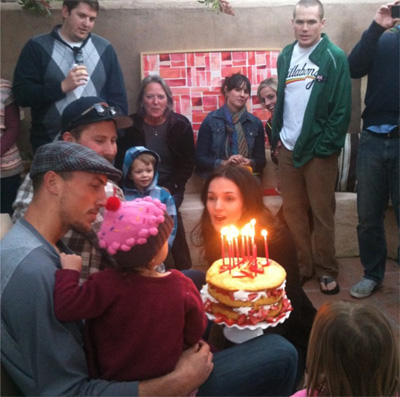 Liv thought that the strawberries and whipped cream were most delicious (and amazingly, since it was so chilly, the entire dessert stayed assembled with no melting whatsoever).
By the time we opened presents, the sun had finally crawled out of sight and all children were decently tired out. But what a fun day!!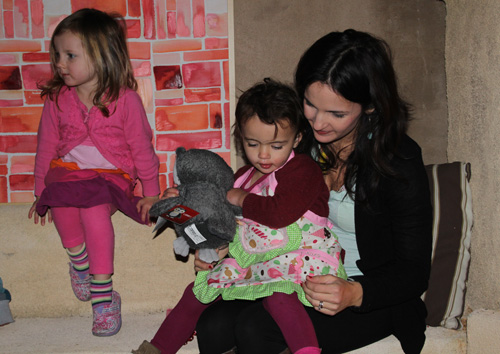 More on the invites and the inspiration for the party here and here. And just for fun, Liv's first birthday linked right here (with my favorite red and white striped DIY tablecloth

).
Tags:
Decorating
,
Desserts
,
DIY
,
Kids Party
,
Parties & Entertaining
,
Pink
Posted in
Crafty Solutions
,
DIY
,
Family & Friends
,
Olivia
,
Parties & Entertaining
|
3 Comments »
December 10, 2012
Here's a quick DIY gift to share today that I just finished and put under our tree. I can't remember where this idea stemmed from – possibly a Pinterest post? or an excess of cupcake supplies in the kitchen? perhaps from something I've seen at the store? – but either way this was a fun and easy gift to assemble and one I hope the recipient will think is thoughtful and fun (especially for the baker!).
I made two versions of this gift, one that was smaller and is packaged more as a hostess gift, stocking stuffer or little favor, and the other as a meatier version with plenty of cupcake treats.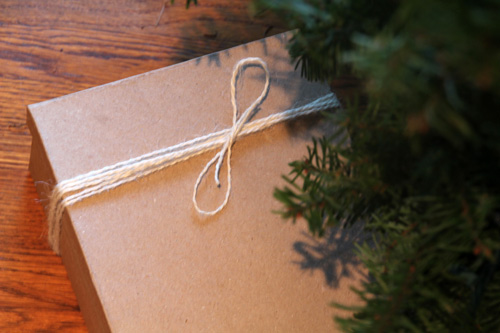 The larger kit contains a colorful mix of mini taper candles, cupcake liners in a variety of shapes and sizes, sprinkles (repackaged in little bead containers), specialty nonpareils, mini cookie cutters (perfect for fondant or cupcake pops) and lollipop sticks (more cupcake pop!). You could also include icing tubes, food coloring, marzipan flowers, toothpick toppers or a little cupcake book for decorating inspiration. I found my cardboard box right here.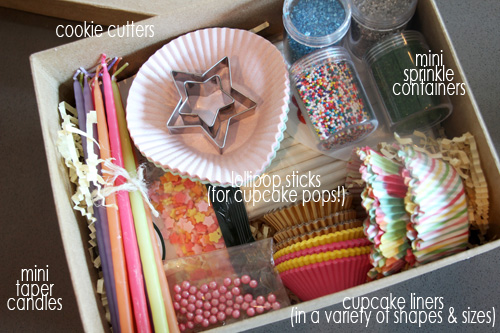 I like the idea of sticking to a rough color scheme (mine below is sort of pink, orange and yellow) to keep the contents looking a little planned. But it could be equally fun to go crazy with color! Or design a kit based off of a specific event, like a graduation with school colors, a bridal shower theme or a holiday.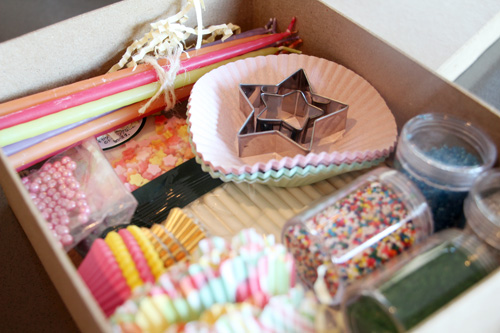 The mini kit contained some of the above but in a more edited form.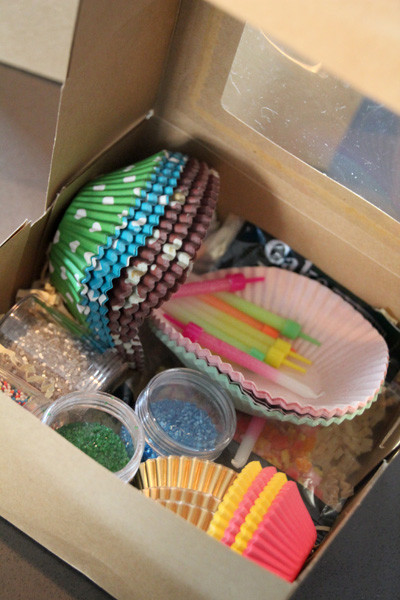 I found the clear-topped cupcake boxes at Michaels, it's kind of fun to peek inside!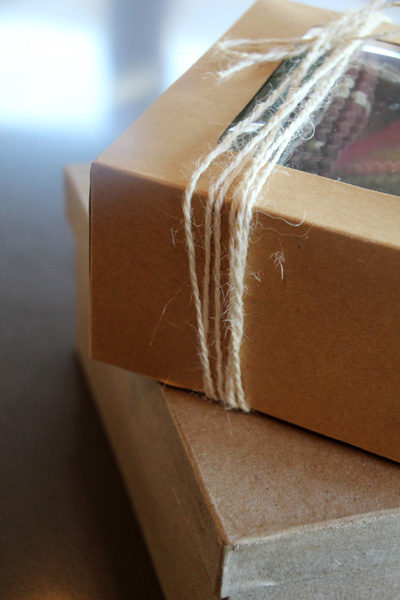 One more gift to cross off of the Christmas list and one more handmade project that I'm really digging. Now on to the rest!
PS You can find the line up of this year's handmade projects by sorting all posts here.
Tags:
Christmas
,
Crafty Solutions
,
Desserts
,
DIY
,
Parties & Entertaining
Posted in
Crafty Solutions
,
DIY
,
Gift Guides
,
Handmade Gifts
,
Holidays
,
Parties & Entertaining
|
8 Comments »
November 7, 2012
This past weekend we were incredibly blessed to witness the baptism our dear friends' son, Gabriel, as his Godparents. It was a very special afternoon, a very joyous occasion!
After a special Mass in his name, we celebrated picnic-style with sandwiches and dessert on a big lawn outside of the chapel. My contribution was an attempt at a 'non-meltable, child-friendly' dessert that did in fact begin to melt (chocolate, even as a garnish, is still chocolate. oops). But the kids (and adults) seemed to approve!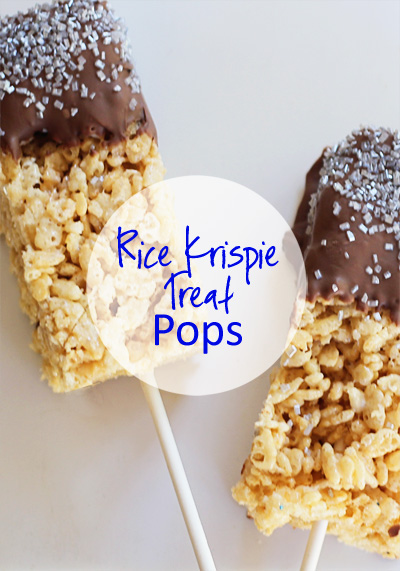 Rice krispie treats are one of those no-bake wonders that require a bit of prep work, are a lot of fun to create, and fall into the monster clean-up category (hardened marshmallow 5-quart pans, anyone?). Oh but it's all worth it.
To assemble pops, I made a usual batch of rice krispie treats just as the directions off of the box suggested. Butter + marshmallow + cereal = finished.
I smooshed my rice krispie goodness into a baking pan coated in butter and pressed the cereal into the pan throughly so that these pops would be a bit more condensed (and sturdier) over your average bar.
Once the pan had cooled, I cut the treats into rectangular shapes and added a lollipop stick to each (found at your local craft store, I picked mine up at Michael's).
Using a double boiler (a sauce pan filled with a couple of inches of boiling water + a glass bowl that fits snuggly on top), I melted my Ghirardelli milk chocolate chips (mmmmmmmmm) until they were a smooth and satiny consistency. No need for butter or water or any other additive.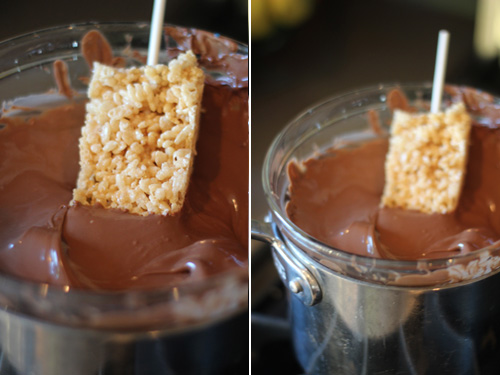 In go the pops until the first inch or two is thoroughly coated!
A new cookie sheet lined with wax paper (also with a coat of butter) awaited the dripping chocolate treats. I kept the pops here to cool for a bit before adding sprinkles (or it can become a messy, melty task).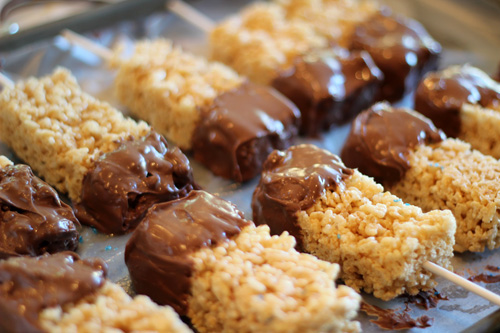 After a little experimenting (including dunking the pops into a coffee mug full of sprinkles), I found the best way to coat the pops was to use a plate and my (or Liv's) fingers to manually sprinkle those sprinkles on.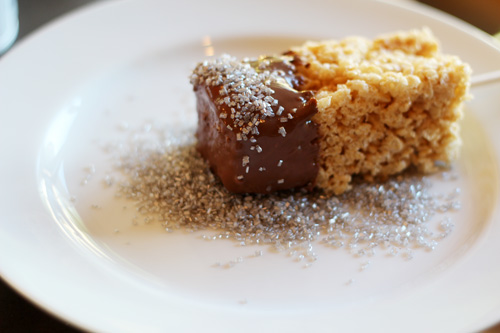 Such a great helper.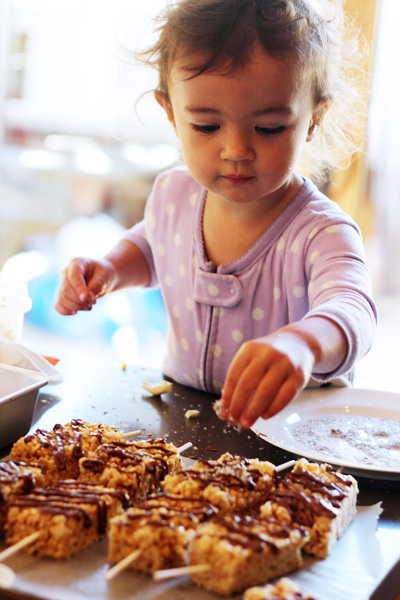 Some pops received a lighter 'glazing' of chocolate via a 1 quart ziplock bag with the tip cut off and warm, gooey chocolate inside.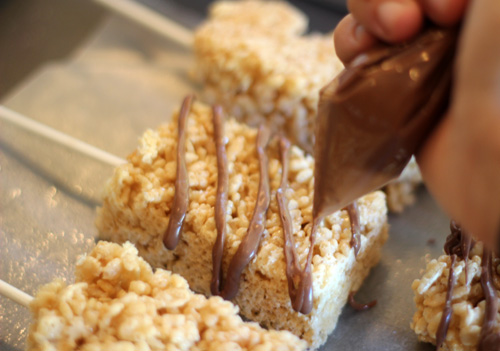 Let sit until chocolate hardens! Oh, and do keep out of the sun or store in an icebox until almost ready to serve. Lesson learned. Although I was grateful to find a cooler when arriving at the baptism so my semi-melted creation could recover a bit

.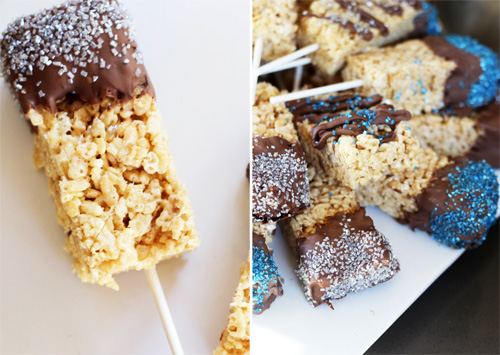 Ready for a few shots of mister handsome Gabriel being baptized? Here we are just before and after the priest surprised him with water.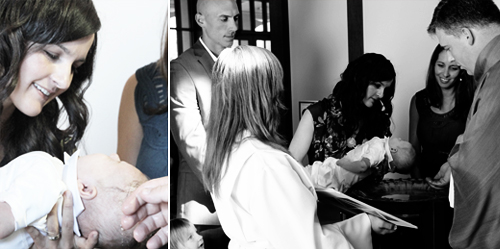 Woah, what was that?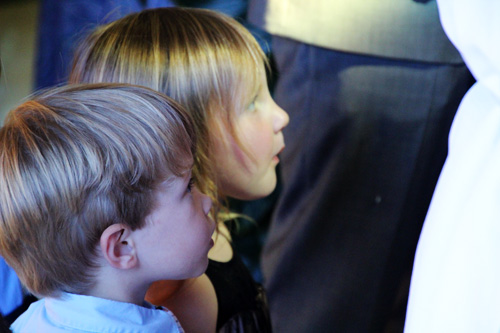 And the adorable sign that Gabriel's mom made for the special day.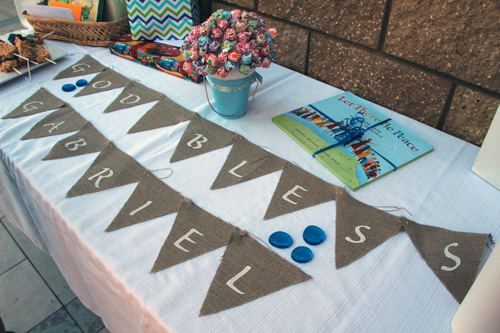 More yummy Good Eats recipes filed away right here. Mmmmm enjoy!
Tags:
Baptism
,
Desserts
,
Recipes
Posted in
Family & Friends
,
Parties & Entertaining
,
Recipes
|
2 Comments »