November 1, 2012
Hope you all had a wonderful Halloween! I meant to post pictures of Liv's costume and our party prep yesterday, but time started to run out and costume changes were being made with cobwebs still to be hung… and then everyone arrived for trick-or-treating. So here we are with a fun little round up of yesterday's events! I hope you had a wonderful, safe night full of trick-or-treating (or handing out candy, or sitting fireside with a nice glass of wine), too! Those being affected by Sandy right now, you are in our prayers.
First up a few halloween decoration shots from around the house. We didn't go crazy this year, just a few sprigs of black spray painted fake flowers to mix in with the usual mantel decor (made those guys a few years ago) and a couple of pumpkins (that we can keep up through Thanksgiving).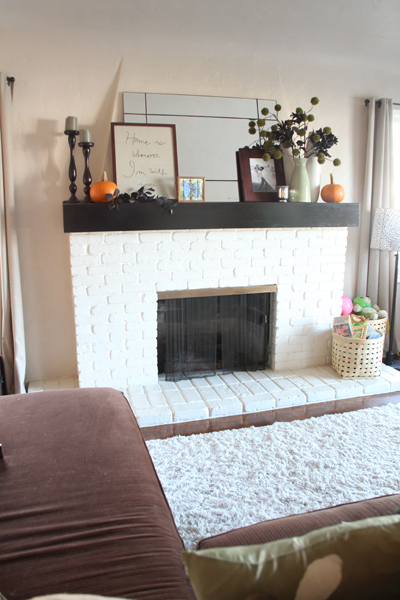 I also added a few Halloween additions to the gold dipped pumpkins on the buffet…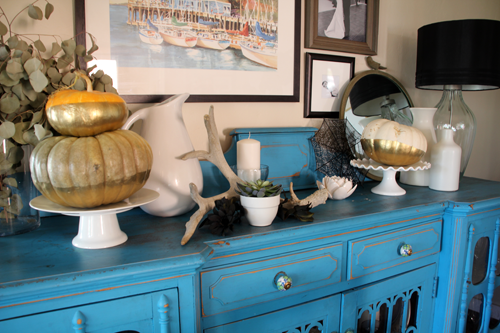 And spent most of my time decorating outdoors on our new deck! Look at that baby, she's finished! Needs a coat of stain but she's ready for a Halloween party.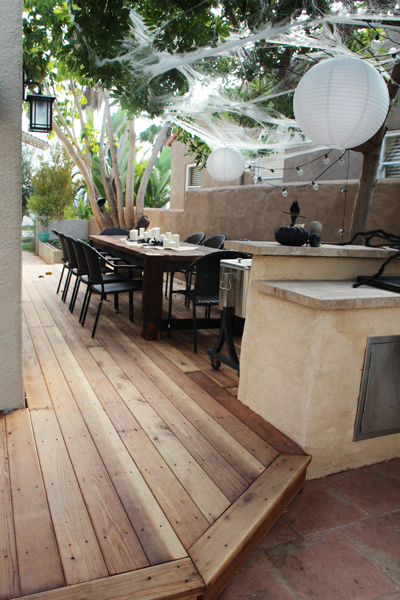 A few globe lights and white paper lanterns in the trees and near the fireplace, too.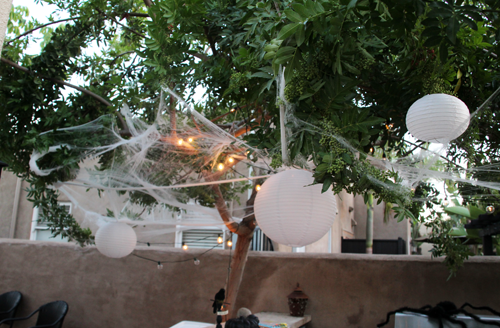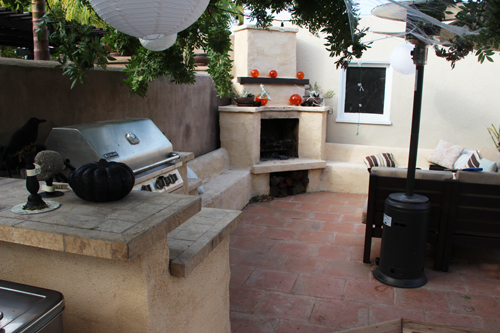 And a row of candles, burlap and black frames for the NEW table that Kevin built for the side yard (more on that to come!).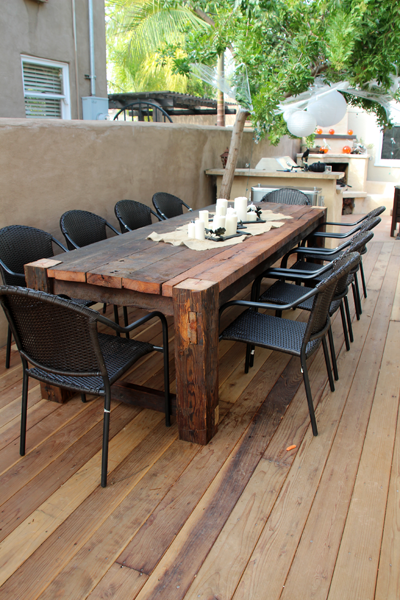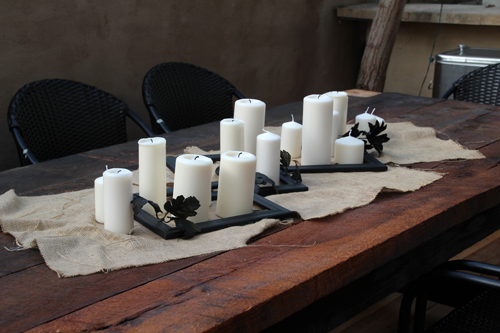 Then our little trick-or-treating crew began to arrive!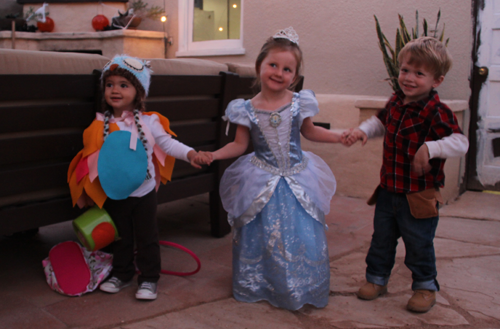 And soon we had the entire gang. No one was very happy about the obligatory group pic.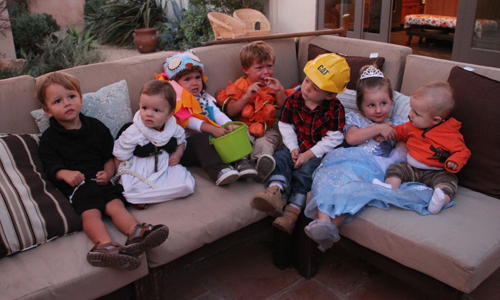 (Check out these same babes just a couple of years ago. Some of them weren't here just yet…)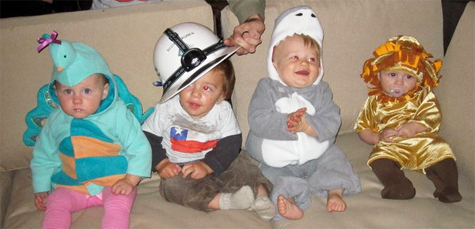 And then off to trick-or-treat! Forgive the blurry photos, I didn't realize my focus wasn't set correctly until the night was through.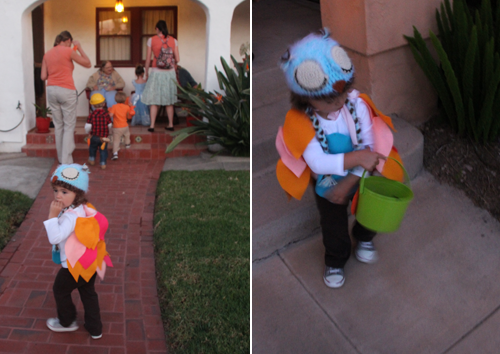 We actually went through a few costumes with Liv before she agreed to dress up for Halloween, and even then it was as her friends were arriving that she put on her final attire (nothing like a little peer pressure…). My first costume for her was a cute little cupid outfit (with momma and daddy wearing hearts that connected), but I should have realized earlier that the tiny wings were just too overwhelming and would result in tears every time we pulled them out of their box.
Soooo plans b & c were a cow costume that Mimi (Grandma) sent or a duck (thank you for Killer B for the fabulous last-minute inspriation!). Liv decided no cow (they'll work great as PJs) and so we went with the yellow and pink wings that resulted from my morning felt fest (while on a conference call with our main office with my regular 9-5 job… shhhhh don't tell).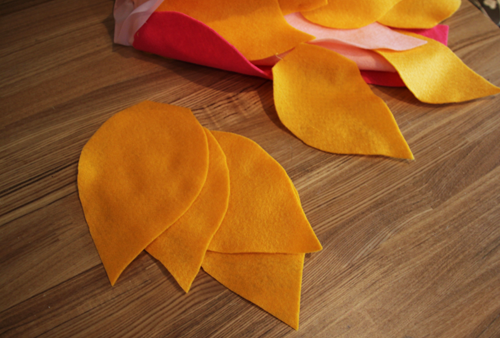 The process to create the cape was quite easy. I first cut enough 'feathers' to cover my cape template (which was basically a slightly curved rectangle) and applied a simple stitch to hold each overlapping feather in place. A ribbon at the top allowed me to tie the cape around Liv's shoulders.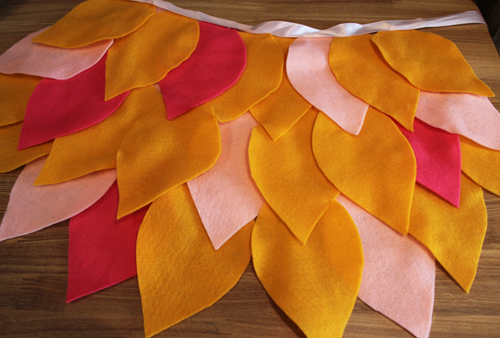 At the last minute Liv wanted to wear her owl cap (a previously brainstormed costume), so we added a turquoise belly and brown pants to her outfit and turned her into an owl!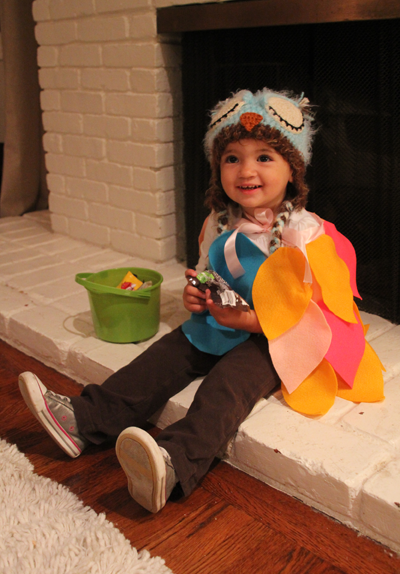 Which she was keen on and we were all happy.
After candy sorting, it was time to continue the party and share a delicious potluck dinner.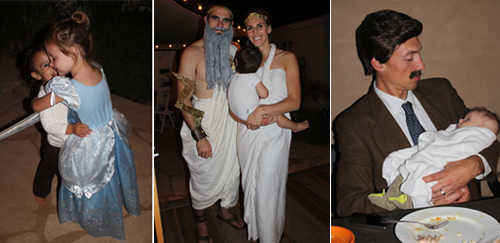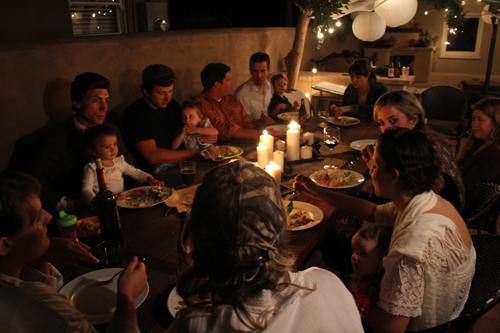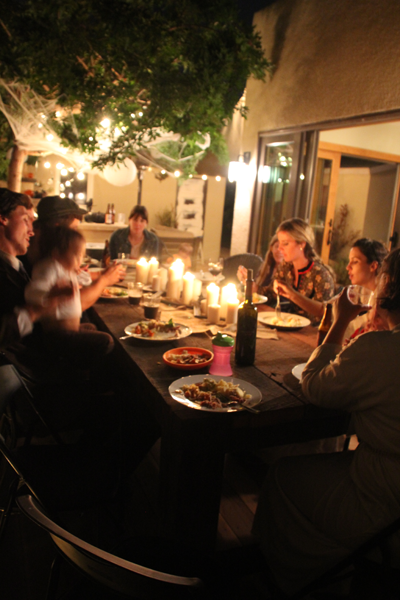 Followed by delicious Halloween desserts! Nice job, Steph and Melanie. Below are adorable owl-oreo cupcakes and nutter butter ghosts. We also had little mini cupcakes and delicious creamscicle cocktails that I neglected to photograph.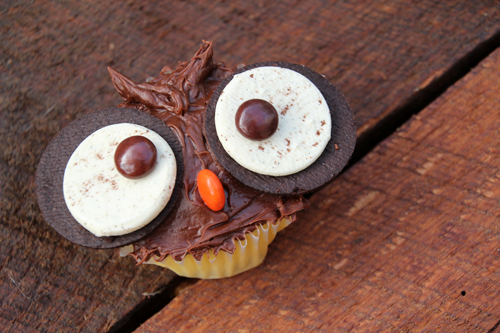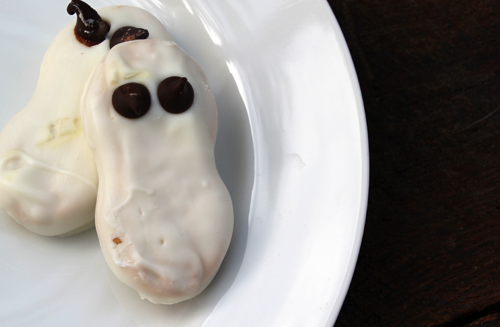 That's our Halloween! A fun night with great friends and a lively street full of trick-or-treaters. And just in case you're wondering, that's Kev above in his last minute costume as Ron Burgundy/Ron Swanson in the wig and mustache. You stay classy, San Diego.
Happy day after Halloween

.
Tags:
Crafty Solutions
,
Decorating
,
Desserts
,
DIY
,
Halloween
,
Parties & Entertaining
Posted in
Crafty Solutions
,
DIY
,
Family & Friends
,
Holidays
,
Olivia
,
Parties & Entertaining
|
1 Comment »
September 26, 2012
Taking a break from the travel updates today to share a favorite recipe with you. With all of the running around we're doing over here, I'm barely squeaking out favorite travel photos/posts to share – but I can't believe I have a line up of home/entertaining/interview posts on the back burner to help fill the calendar with while we are *absent* too. Ha! We might be on vacation but absent apparently we are not

. Europe is full of opportunities to jump on the internet (gone are the college days of seeking out a cafe to pay $2 for 10 minutes to check email) be it for good or bad (we've actually spent quite a few late nights working on 'real work' projects – bad! but we've also used our nifty iphone GPS system, surfed for B&B recommendations and have stayed in contact with family). A blessing and distraction in one. Hopefully I'll finish up a bit of that editing – until then, enjoy!
Here's an easy recipe that can be converted into little loaves of bread, into a dessert cake or even into mini breakfast muffin bites. And it's in the 'healthy' category! Sort of.
I call it the Farmer's Market Cupcake recipe because you can incorporate just about any yummy fruits and veggies left over in the produce drawer of the fridge at the end of the week, or feel free to shop your local Farmer's Market with these ingredients in mind.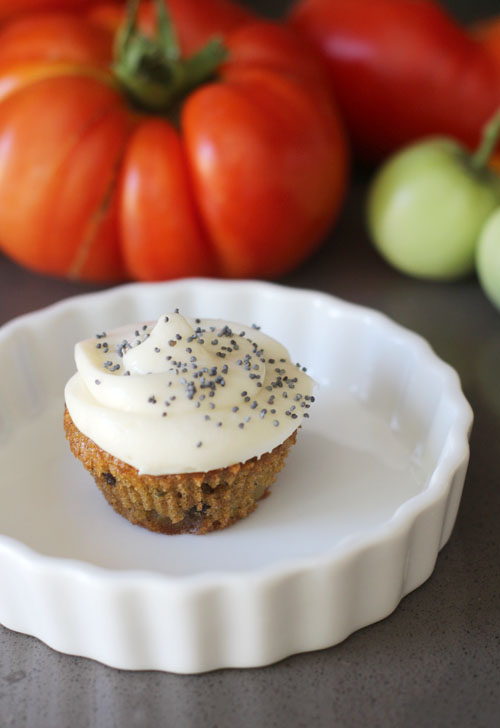 Farmer's Market Cupcakes
(Makes roughly 3 dozen mini cupcakes)
1 cup granulated sugar
1/3 cup vegetable oil
2 tablespoons orange juice (any juice or even applesauce is great)
1/2 teaspoon pure vanilla extract
2 large eggs
1 teaspoon baking powder
1/2 teaspoon baking soda
1/2 teaspoon ground cinnamon
1/4 teaspoon ground nutmeg
1/2 teaspoon salt
1 cup flour (feel free to sub in whole wheat)
2 ish cups of any combination of the following shredded or finely shopped: carrots, zucchini, squash, hard fruit such as peaches, nectarines, apricots, plums, apples, coconut, pineapple – you name it! Strain to remove excess juice, or sub out this juice instead of OJ above.
1/2 ish cup chopped walnuts
1/2 ish cup of raisins, cranraisins, golden raisins, chopped dates, etc
Poppy seeds for garnish
Cream cheese frosting (if making as a dessert)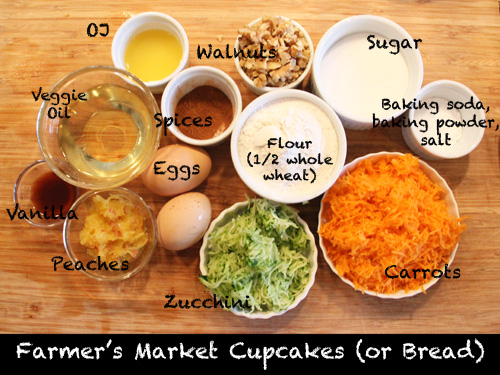 1. Preheat over to 300 degrees. In a bowl, combine sugar, vegetable oil, orange juice, vanilla extract and eggs. Stir in baking powder, baking soda, cinnamon, nutmeg and salt. Add flour slowly and mix. Stir in shredded fruit, veggies, walnuts and raisins.
2. Pour batter into mini cupcake tins (oiled or lined with paper), or divide amongst small loaf pans. Double recipe to make a large loaf of bread. Bake until toothpick inserted comes out clean (usually 25 minutes for large cupcakes or loafs, 15 ish minutes for minis – but I watch carefully because a moist cupcake can make all the difference!).
3. If for a dessert, frost with your favorite cream cheese frosting and garnish with slices of fruit or poppy seeds. If served as the main sweet treat of the event, sometimes I'll cut in half traditional sweet vanilla frosting, half cream cheese for a sweeter finish. Enjoy!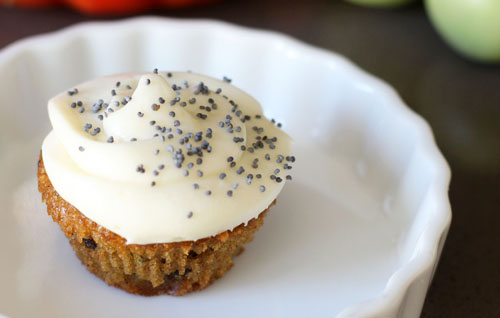 To achieve that swirled icing look, I used a quart sized ziplock plastic bag (freezer bags are sturdiest) with a hole in the corner – just like in this cupcake post.
I've actually used these for quite a few events this summer, from an Olympic-themed brunch (where are those darn pics?) to little Gigi's 3rd birthday party (an adorable fairy themed bash – nice job Cassie) they're an easy go-to.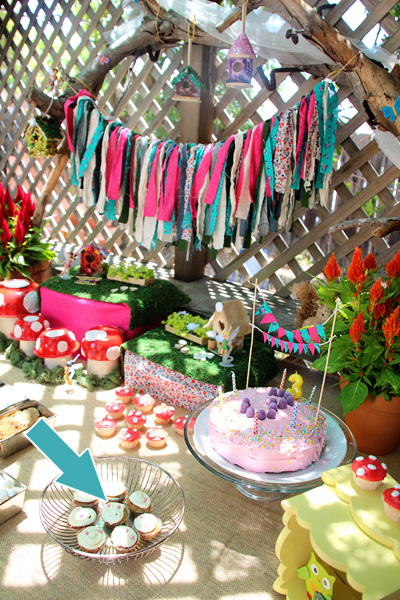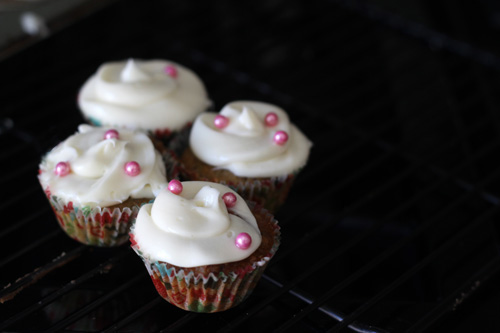 Bite sized bits of moist deliciousness! And I'm sure there are many more healthy subs that can be made. Time to empty out the fruit bowl and the veggie drawer.
Tags:
Breakfast
,
Desserts
,
Recipes
Posted in
Recipes
|
3 Comments »
July 26, 2012
Hello, hello! We are three posts into this wedding cake trio and I'm happy to announce that the cake is baked, iced and awaiting assembly with no major catastrophes! If you have yet to read post 1 and 2, feel free to head on out there to catch up on this particular DIY challenge and then back to see the results.
Speaking of, let's jump straight to a results photo: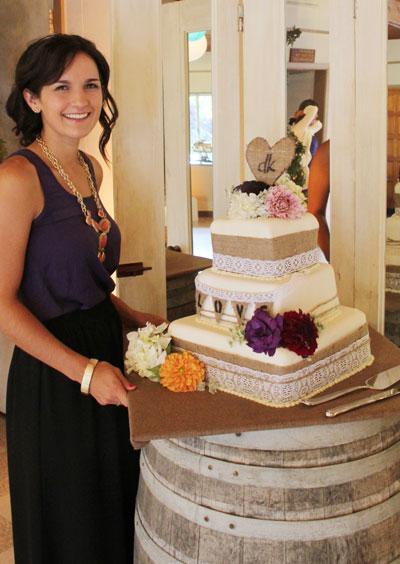 Project wedding cake: complete!
For this last assembly step, this was the bag of goodies that the bride gave me: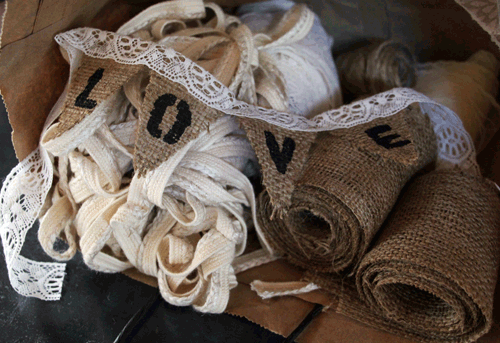 How pretty is the L-O-V-E banner that she made? Or the heart-shaped cake topper with their initials? So many fun supplies.
But let's go back to where we left off with our last post and talk about assembly. Last we spoke, the cake was successfully covered in a buttercream and then fondant for that smooth, wedding-white look.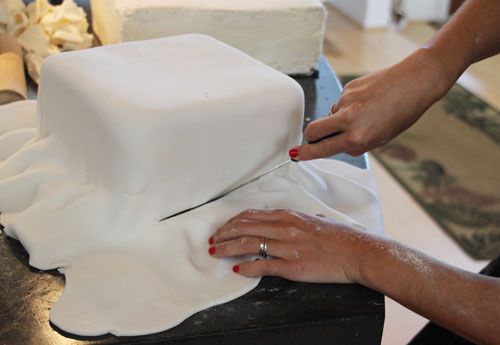 It's important to add a structural support system to the cake because at this point it's quite heavy. Without dowels or rods of some sort, the bottom tiers of the cake will eventually give way to the top tiers above, resulting in concaved and bulging bottom layers over the hours that the cake is on display.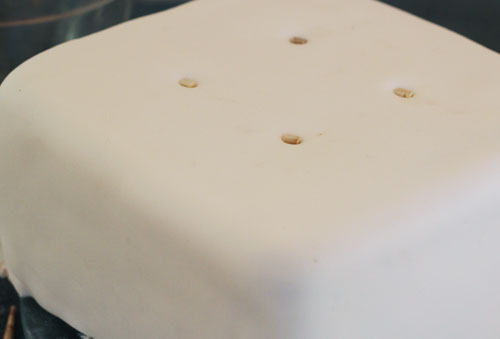 In the past I've used 1/4″-1/2″ wooden dowels from the craft or home improvement store, but for this particular cake (and the relatively small size when considering wedding cakes), I used chopsticks! These were easy to cut to height and were the perrrfect diameter. My base layer received six tier-height cuts and the middle layer four. The support system should be at the exact height as the cake – no higher, no lower.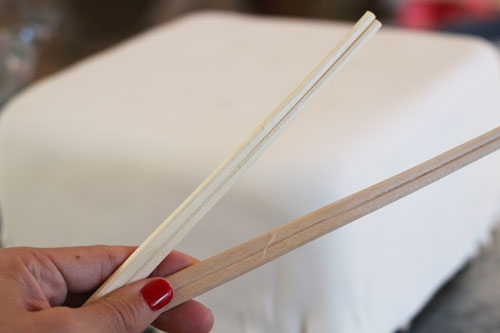 I added my chopstick support system the day before the wedding, and the morning of we packed up the car with my three tiers of cake resting on cookie sheets on the floor of the back seat, and traveled the 10ish miles to the reception site.
Once there I began the assembly in the kitchen… dun, dun, dun, dun…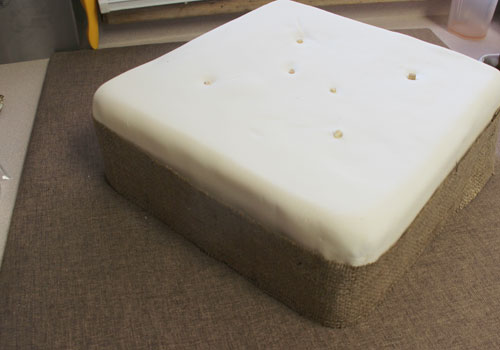 The  bride covered a piece of plywood with fabric to serve as my cake board base. On went the first tier with the six supports as well as a layer of cut burlap.
Next up was the second tier (by the way, moving these layers is 10 thousand times easier with this tool! The mother of all spatulas and another tool that I borrowed from a friend and will be purchasing.)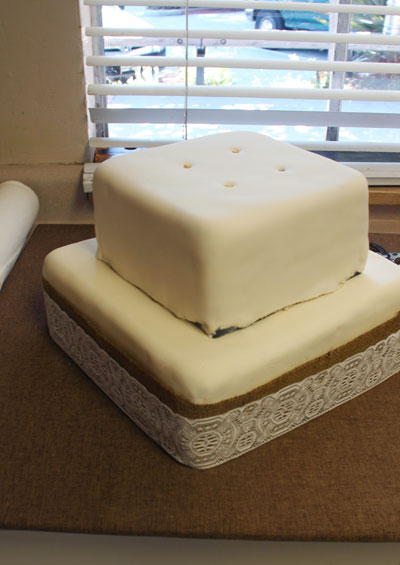 Finally the last tier, several layers of burlap, lace and twine, a good smattering of flowers that we asked the florist to set aside, and a beading of icing to help blend where the layers meet.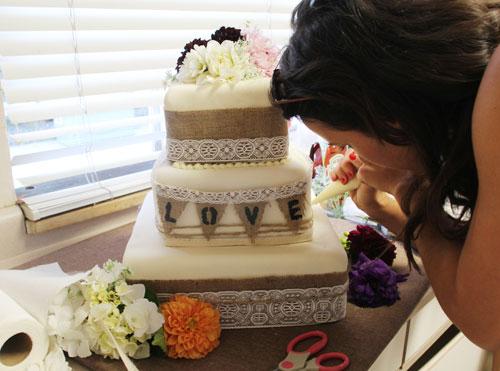 That soft little beading line can make a huge difference in the 'finished' look of the cake and it's really not difficult with a bit of practice. Using a pastry bag (or zip lock bag) and small round tip, pipe a little round bead, move your bag forward about 1/3″ of an inch and pipe another. Repeat until all layer bases are covered. (Sometimes it's easier to move 'backwards' rather than 'forwards', so play with what is your style until you find your rhythm.)
Next, I found some big strong men to move my 50+lb cake from kitchen to reception area. The bride had these beautiful antique mirrored doors for right behind the cake and a big wine barrel as its podium!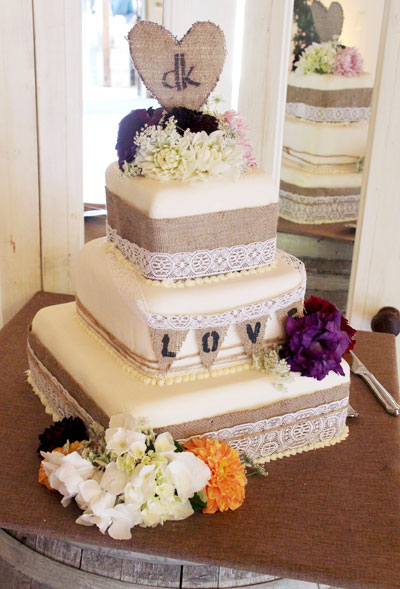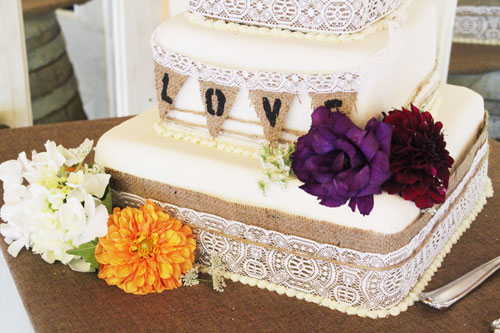 Finished! And ready for its close up. Pretty close to Katie's inspiration, right?
The entire day was just beautiful, starting with a lovely ceremony and followed by that rustic, organic reception that I was describing earlier. Every detail was so special. Here are a few pictures to offer a recap.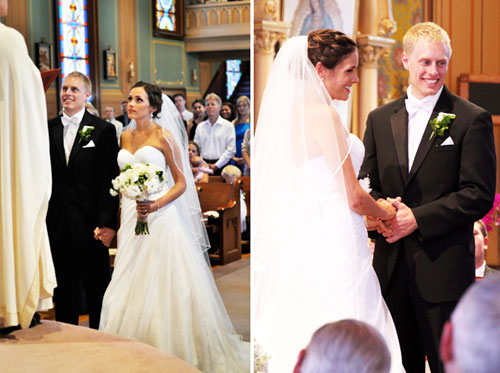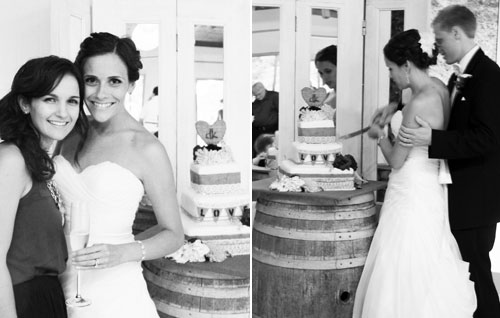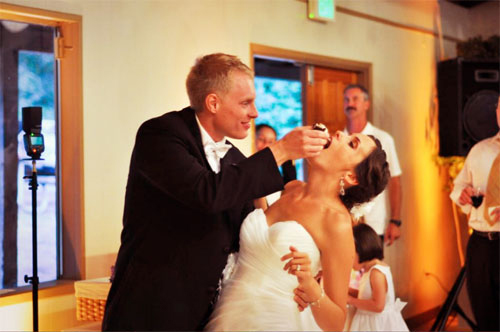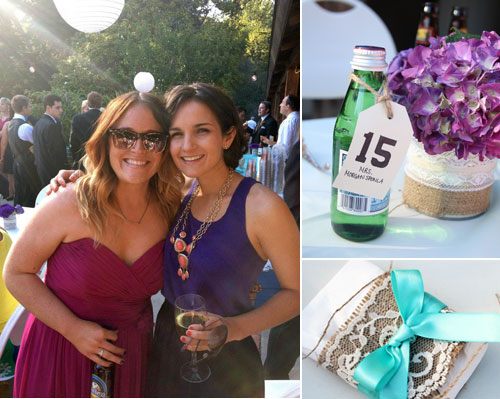 I'm so happy with how the cake turned out! And to save the bride a small bundle – ingredients ran in the $200 range, though cakes to feed 150 are probably closer to $750-1000 from a bakery – made the effort all worth it. Hope you enjoyed following along!
Tags:
Decorating
,
Desserts
,
DIY
,
Recipes
,
Tutorial
,
Wedding
,
white
Posted in
DIY
,
Family & Friends
,
Favorites
,
Recipes
|
17 Comments »