July 22, 2010
This idea is so clever! I can't wait for my next shabby chic tea party opportunity to try it out. It's a bit similar to these DIY cakestands but with teacups for beautiful votive holders.
Disney of Ruffles & Stuff, who to my sadness wrote her last post just recently, shared this creative idea in June. I will miss her beautiful talent! But the blog is still alive so we can continue to meander through it every once in a while for inspiration. Hope she's enjoying much more mummyhood time now.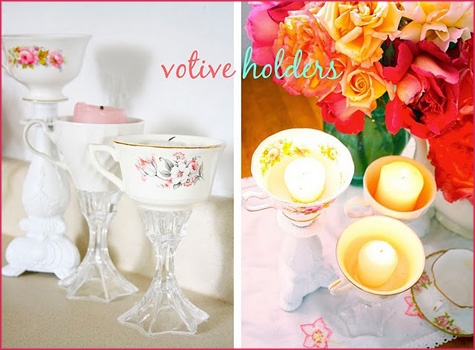 Candlesticks are great thrift finds and it would be easy to adhere a teacup to each with a bit of epoxy or super glue. I fill my teacup votives (shown here in this vintage shower scape) with rice to keep the wax from settling at the bottom of the cup.
Tags:
Baby Shower
,
Bridal Shower
,
Crafty Solutions
,
Decorating
,
Dining Room
,
Dinner Parties
,
DIY
,
Home
,
Parties & Entertaining
,
Tutorial
Posted in
Crafty Solutions
,
Home
,
Parties & Entertaining
|
3 Comments »
April 28, 2010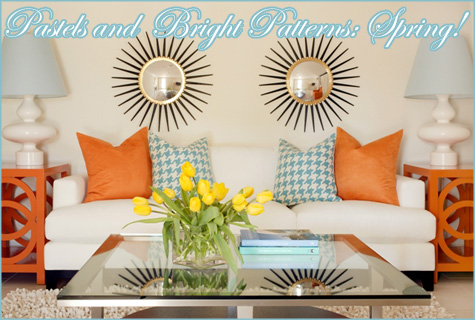 I can't believe it's already the end of April! This month as flown by so quickly.
April inspires me with bright colors, bold patterns and PASTELS! What's the best way to incorporate a bit of pastel? In beautiful accessories (like muted lampshades, funky upholstered headboards, throw pillows and even wallpaper) that add a hint of soft, sunny color to lighten up an entire room.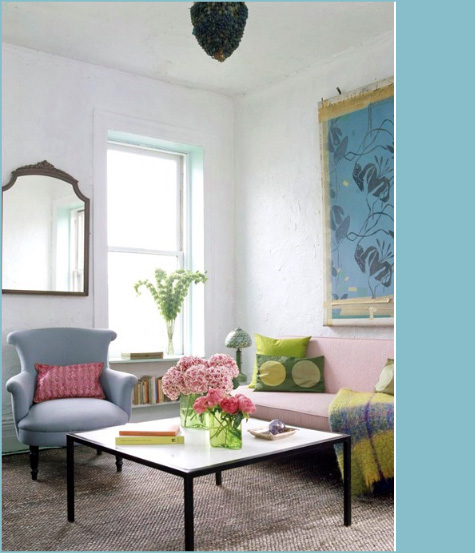 Oh I adore the above room from BHG, it very much reminds me of dyed Easter eggs and spring. Sigh.
My mind has been in many bright places recently and April seams the fitting month to honor the spring mentality! I love the look of gentle pastels contrasted with bold colors like the living room at the top of this post by Tobi Fairley and these bedrooms from DecorPad: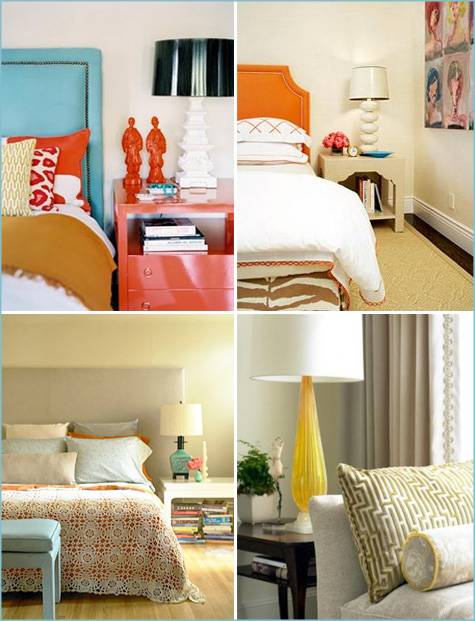 The orange hints peeking through in this House to Home room are subtle but lovely against the shades of soft blue in the wallpaper.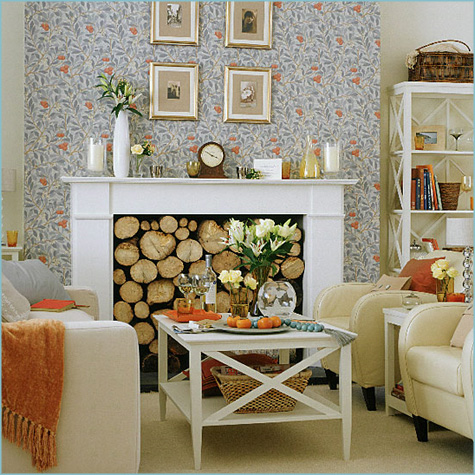 Two pastel rooms that really take on the meaning of bright and beautiful: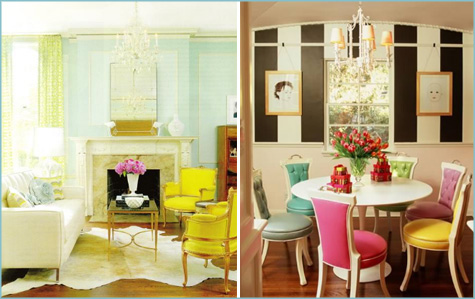 There are too many great examples! Here's a quick link to the rest of the Rooms Inspired by the Month series. Five more reasons to love spring right after the jump. Read more »
Tags:
Bedroom
,
Decorating
,
Dining Room
,
Home
,
Living Room
,
Rooms Inspired by the Month
Posted in
Home
|
2 Comments »
April 17, 2010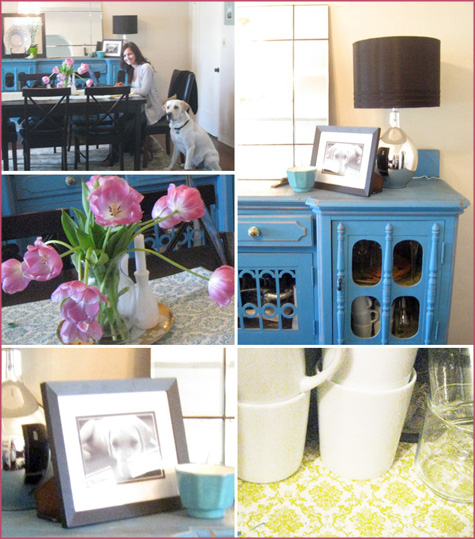 Come visit me today over at 6th Street Design School! Kirsten asked me to share one of my favorite spots in our home… and I was delighted to share a sneak peek and several details of our ever-transforming dining room (which has served as my office space, our dinner party venue and project table during our remodel).
Come say hi!
Tags:
Accessories
,
Blue
,
Decorating
,
Dining Room
,
Furniture
,
Turquoise
Posted in
Guest Blog
,
Home
,
Renovating Adventures
|
2 Comments »