January 8, 2010
It's wonderful to bring the Friday Guest Interview series back after a break from the busy holidays (today is our first holiday-free Friday in a while!).
I'm so excited to introduce you to today's very talented blogger and have been waiting oh-so patiently to share The Party Dress and Kelly's wonderful interview! (And inspiration, because she has MUCH of it – just take a gander at the wonderful eye candy she sent over!)
The Party Dress is an entertaining inspiration site full of ideas that cover the gamut from hostessing, home decor, dressing in style and even an entire gallery on NAPKIN ideas (genius!).
Kelly founded The Party Dress ~ Inspirations from the Well-Heeled Hostess in 2009; she is also a regular contributor to Project Nursery, has a newly-opened shop on OpenSky, and just recently started a social stationary shop on etsy.com called WH Hostess (the neatest shop – adorably designed invitations and the like).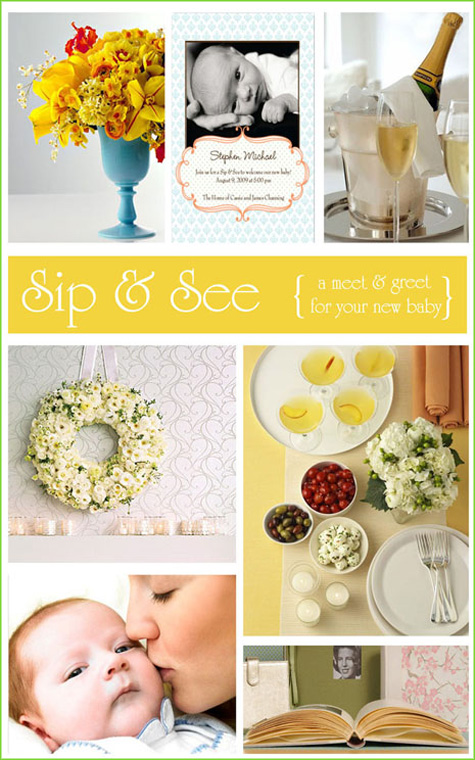 Splitting her time between the fashion industry and her love for party planning, Kelly shares her wonderful ideas on a very user-friendly site; posts are divided by categories so you can easily search for the latest and greatest by topic.
Be sure to check out more pictures and Kelly's answers to PDB's favorite four questions (love her dine-in answer to current favorite trends!) after the jump! Read more »
Tags:
Baby Shower
,
Bridal Shower
,
Decorating
,
Dinner Parties
,
DIY
,
Guest Blog
,
Guest Interview
,
Kids Party
,
Parties & Entertaining
Posted in
Guest Blog
,
Interview
,
Parties & Entertaining
|
6 Comments »
January 7, 2010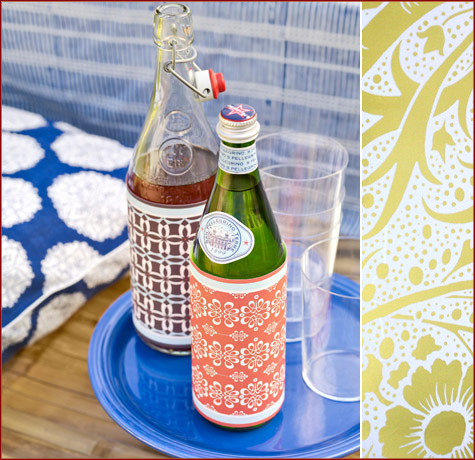 This idea is too great. Wrap up those random bottles and labels for your upcoming events – from showers to bbqs – with beautiful scraps of favorite scrapbooking or wrapping paper (maybe even fun stickers or remnants of vintage wallpaper?). Nicely ties signature drinks in with the party *theme* and hides unsightly labels (or two buck chuck!).
I really love the reusable glass jar as well – a great way to hold and identify mixers such as cranberry juice, oj, or club soda again and again for each get together.
We have big carafes from C&B that we keep around for the same use – guests can build their own mimosas for a Sunday morning brunch or elaborate cocktails at a dinner party. Image from Martha Stewart.
Tags:
Baby Shower
,
Birthday
,
Bridal Shower
,
Crafty Solutions
,
Decorating
,
Dinner Parties
,
DIY
,
Parties & Entertaining
Posted in
Crafty Solutions
,
Parties & Entertaining
|
3 Comments »
January 5, 2010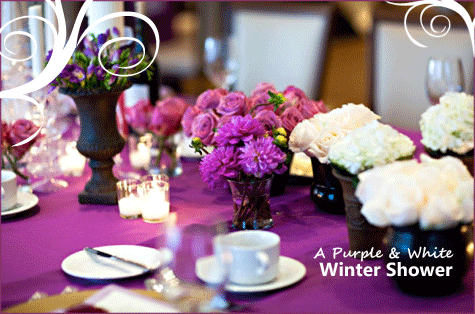 I'm feeling inspired today to share one of my favorite winter-y color combinations… all shades purple, lilac and lavender. Set against a snowy white backdrop it really does make a lovely party or shower theme.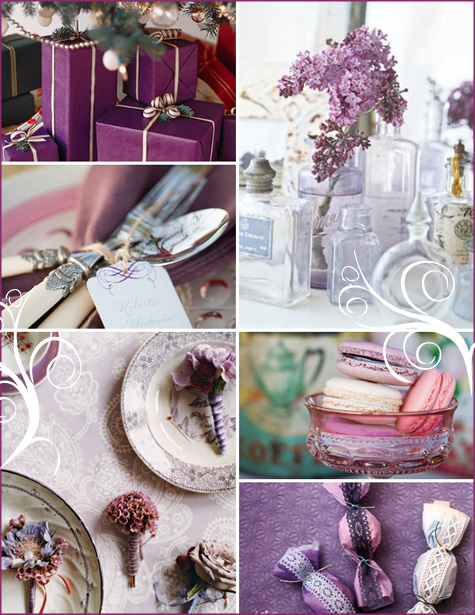 These inspiration boards were built from images found at Style Me Pretty — forever a favorite! I love the idea of homemade purple candies wrapped in doilies, a mis-mash of jars & vases full of flowers, and soft purple ribbons draped about silverware & centerpieces. Read more »
Tags:
Baby Shower
,
Birthday
,
Bridal Shower
,
By Color
,
Crafty Solutions
,
Decorating
,
Dinner Parties
,
DIY
,
Parties & Entertaining
,
Purple
,
white
Posted in
Crafty Solutions
,
Parties & Entertaining
|
5 Comments »