October 14, 2009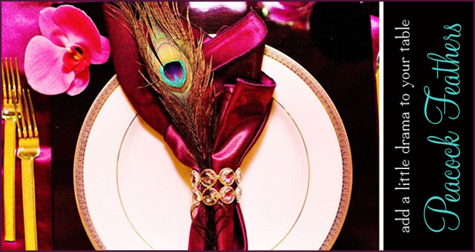 I found this stunning picture on The Party Dress and loved it so much I went on the search for more gorgeous peacock finds. The colors are rich and beautiful — perfect for fall without being the traditional palette. I love the jeweled napkin ring above and am wondering if I can recreate on my own, could be a fun project. Plum, fuscia, emerald green, burgundy, cerulean blue… all beautiful!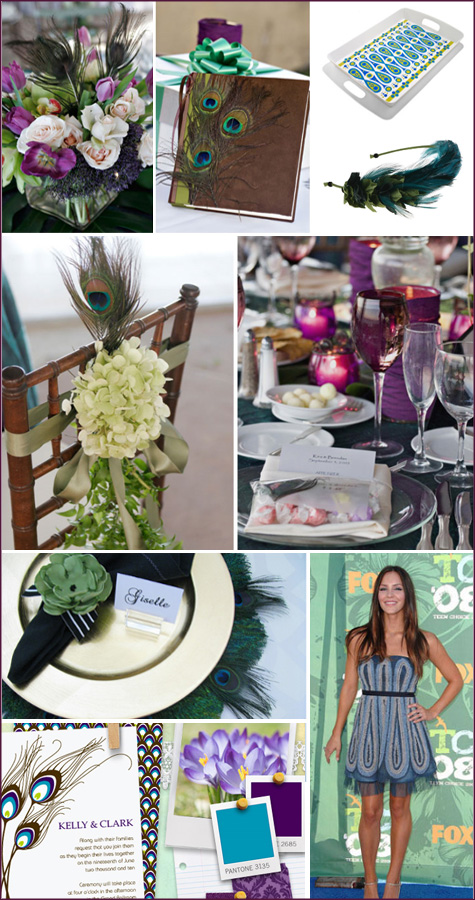 So much inspiration for any kind of celebration — I would love to see this turned into a beautiful bridal shower! Follow the jump for the where-to-find for this inspiration board. Read more »
Tags:
Baby Shower
,
Birthday
,
Blue
,
Bridal Shower
,
By Color
,
Decorating
,
Dinner Parties
,
Green
,
Inspiration Board
,
Parties & Entertaining
,
Patterns & Color
,
Purple
,
Wedding
Posted in
Parties & Entertaining
|
1 Comment »
October 13, 2009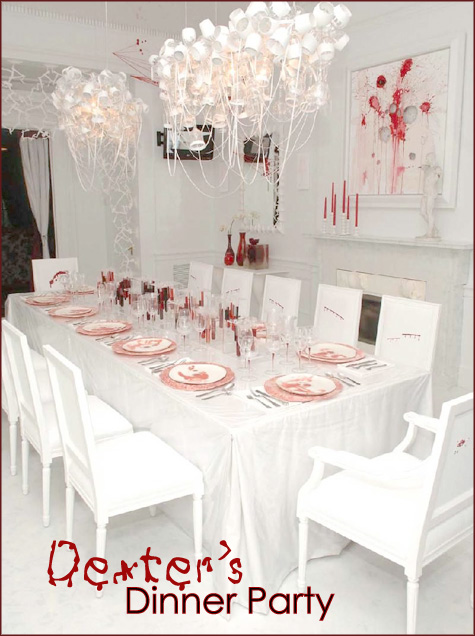 This is so creepy. And yet the ideas captured by Amy Lau in her dining room refashion based off of the Showtime Dexter series is incredibly creative! It would be a very cool and unexpected twist on the standard annual Halloween party theme!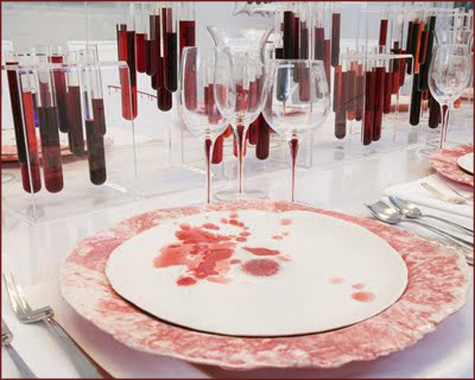 The overall look kind of gives me the heeby jeebies, but you have to admit that it's pretty genius. If you're ready to recreate for yourself, here's a little inspiration board I pulled together with help from This Next.
Follow the jump for more pics and where to track down these gorey finds. Read more »
Tags:
Crafty Solutions
,
Decorating
,
Dinner Parties
,
DIY
,
Halloween
,
Parties & Entertaining
Posted in
Parties & Entertaining
|
10 Comments »
October 10, 2009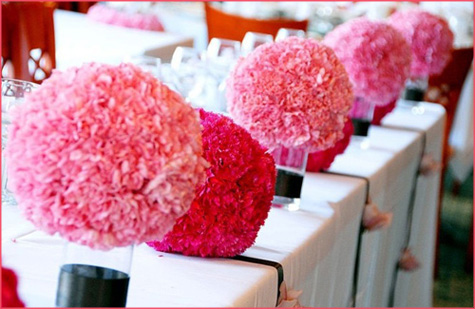 Carnations really don't deserve that bad rap they've been receiving all of these years… florists, party planners and brides alike frown at the idea of including carnations in centerpieces or displays (you know you've been there…). But really, carnations are a pretty ideal bud. They can be found in a selection of vibrant colors at almost any time of the year and are by far one of the cheaper stems on the market (probably due to that above mentioned bad rap).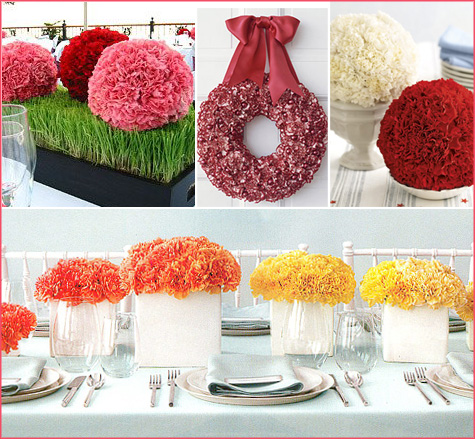 'Lollipop' or ball centerpieces are one of my favorite ways to introduce carnations into modern tablescapes. By using floral foam, you can take advantage of a carnation's full foliage by clipping them short and placing them tightly together to form a floral structure. I love this with wreaths, half circles and full balls. When placed a top risers, it creates a stunning effect.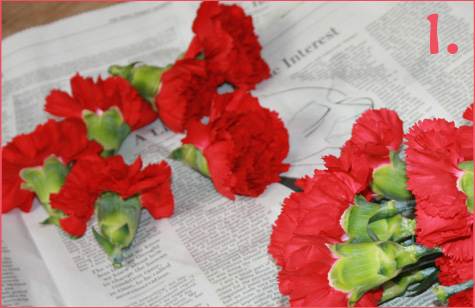 Here is the How-To for creating your own lollipop centerpiece as pictured in the Colorful Candy Buffet posting from last week. Follow the jump! Read more »
Tags:
Baby Shower
,
Birthday
,
Bridal Shower
,
By Color
,
Crafty Solutions
,
Decorating
,
Dinner Parties
,
DIY
,
Easter
,
Parties & Entertaining
,
Wedding
Posted in
Crafty Solutions
,
Parties & Entertaining
|
4 Comments »