December 8, 2009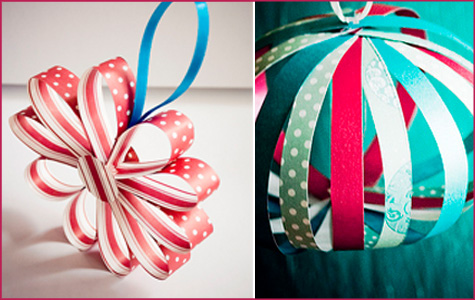 Whether you're looking for the perfect way to use up left over scrapbooking paper, an easy diy project for the kids or how to add a special handmade touch to the holidays, paper ornaments are fun and easy to make! How lovely are these unique examples and the artists behind them?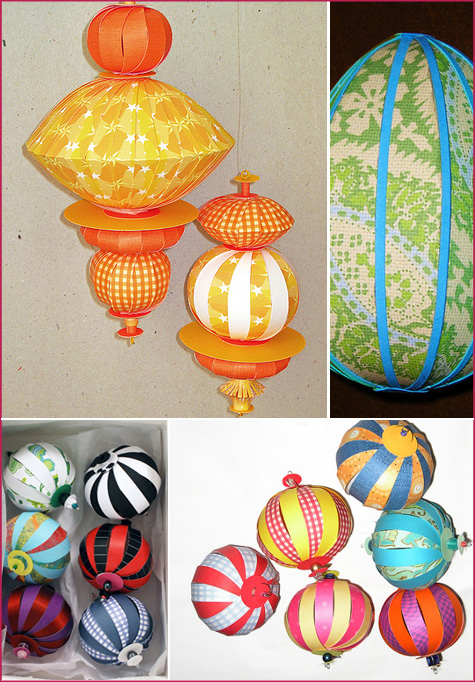 Danielle Hamilton features beautiful handmade paper ornaments that are nothing short of inspirational (very top) and Carlos N Molina has the most amazing eye-candy website all about paper projects — which includes templates and how-tos for his globe and stacked ornaments (ornament collage directly above).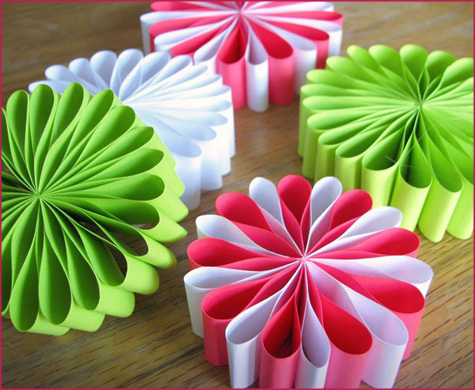 Perfect for hanging from the chandelier over the dining room table, stringing as garland in the windows or on the mantel, stacked casually as a dinner party centerpiece, or displayed in a large bowl on the coffee table. Oh yes, you could hang them from the tree, too.
Follow the jump for more crafty creations — from super simple to very elaborate — and the how-to for paper flower ornaments! Read more »
Tags:
Christmas
,
Crafty Solutions
,
Decorating
,
DIY
,
Home
,
Kids Party
,
Parties & Entertaining
,
Patterns & Color
,
Tutorial
Posted in
Crafty Solutions
,
Home
,
Parties & Entertaining
|
7 Comments »
December 7, 2009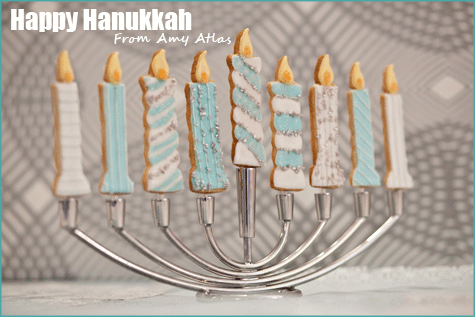 Hanukkah is fast approaching (begins this Friday at sundown) and now is a great time to prep for a neat menorah project for the entire family. Amy Atlas sent over this DIY centerpiece she created using homemade cookies and lollipop sticks (to give structure and stabilization to the 'candles') to share with you.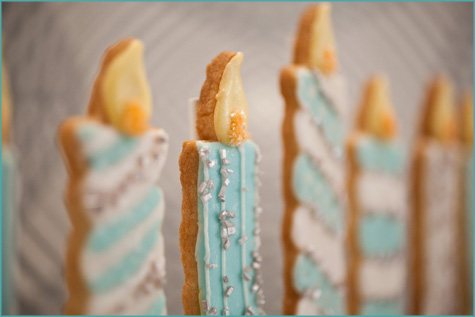 In Amy's own words:
"This fun dessert and craft project makes a great centerpiece on the Hanukkah table. It is also a fun project that your kids can help out with because you can enlist them to decorate the cookies! Simply pick up these cookie cutters from Sur La Table, bake off a basic sugar cookie recipe in the candle shape with these lollipop sticks attached to your dough, and then decorate the cookies with royal icing and sprinkles. If your kids are helping out with decorating, don't feel obligated to follow a design – let them decorate away! That way, the cookies will feel more festive and your kids will take a lot of pride in their cookie candle menorah when it is part of the Hanukkah table! When the cookie candles are finished, simply glue-gun the lollipop sticks to your favorite menorah. Enjoy!"
Find the entire post and project at her blog here. Photography credit by Allan Zepeda for Mel Barlow Photography.
Tags:
Crafty Solutions
,
Decorating
,
Desserts
,
DIY
,
Hanukkah
,
Parties & Entertaining
Posted in
Crafty Solutions
,
Parties & Entertaining
|
Comment »
November 27, 2009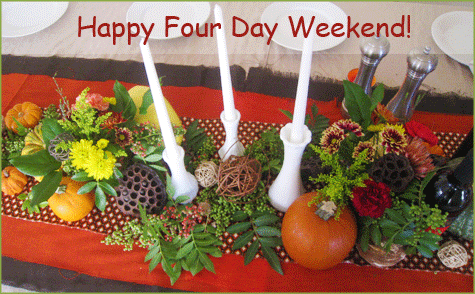 My husband and I had the wonderful opportunity of hosting our very first Thanksgiving in our new home. It was such a treat!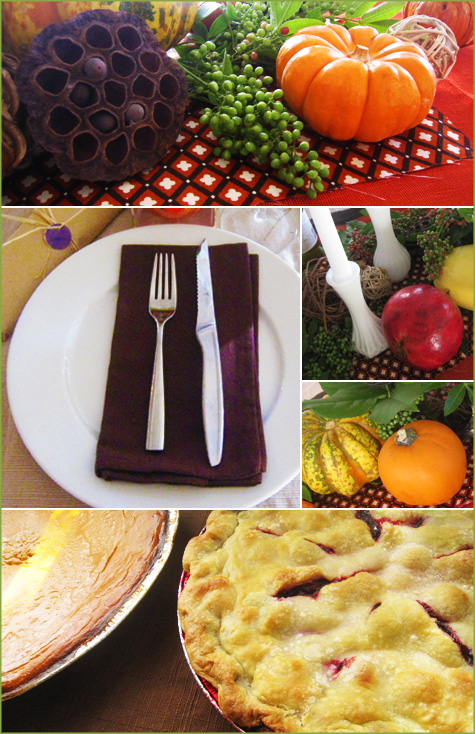 To share the holiday in true blogging style, I thought I'd leave you with a snapshot of our table yesterday… all inspired by this fun little brown and orange remnant from the local fabric shop.
The orange and brown solid burlap fabrics (from Ikea) made the perfect complimentary runner — no need to sew, the unraveling edges looked great as is. White milk glass bud vases from around the house made the perfect taper candle holders.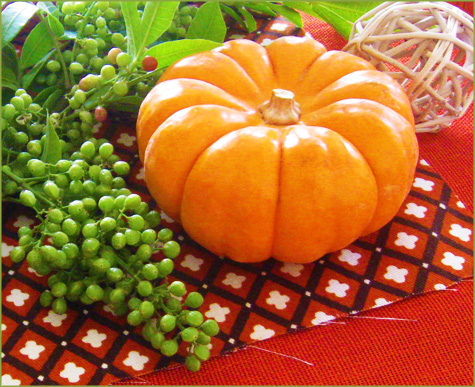 Now off to a sunny San Diego holiday with out-of-town family and friends! Have a restful and relaxing four day weekend.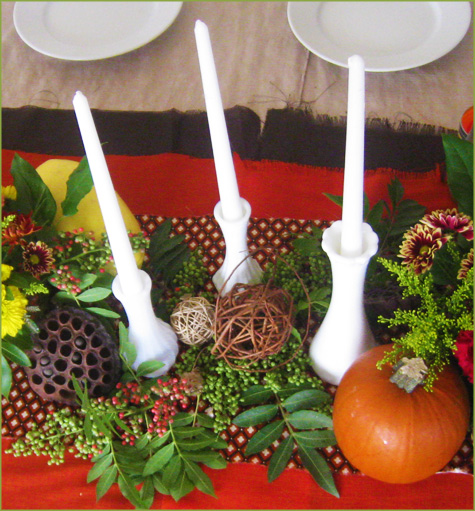 Our Friday Guest Blog Interview Series will be back next week! Drumroll… I'll put myself in the hot seat to formally introduce the face behind Pepper by sharing my answers to the four PDB questions. I'm really looking forward to it!!
Tags:
Crafty Solutions
,
Decorating
,
DIY
,
Fabric
,
Orange
,
Parties & Entertaining
,
Thanksgiving
Posted in
Crafty Solutions
,
Parties & Entertaining
|
Comment »