October 15, 2012
It feels a little funny to leave home in the middle of a hot summer and come back right in the thick of fall, Halloween, cool weather and changing leaves (well, that last one is almost true. We have only two trees on our street here in San Diego that go from green to red but I marvel at them all season long…) This past weekend we made our annual trip to our favorite pumpkin patch (complete with pumpkin spice lattes before hand and a delicious chili potluck after) and the reality of the season has finally hit! More on that below…
While at the pumpkin patch I picked up a handful of pumpkins to decorate the house with too, and thought I'd share my faux 'dipped' versions today.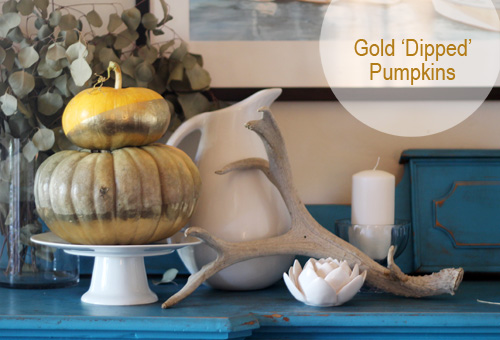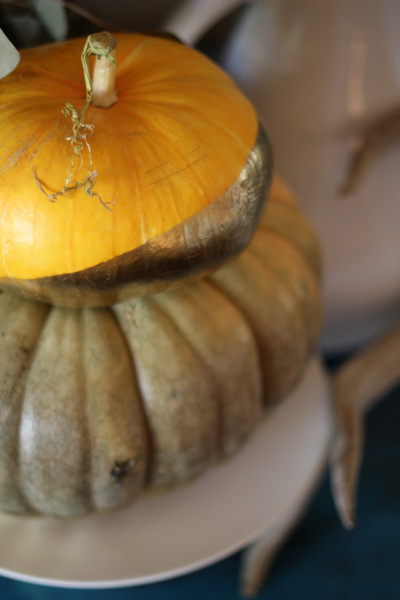 I'm not sure where the idea came from but while brainstorming fall & Halloween decorations I thought it might be fun to bring a few organic, neutral details into our house (that I wouldn't mind leaving up for a few months) while also filling it with plenty of oranges and reds and traditional colors.
Gold has been a favorite accent color of mine, from shiny knob handles to burnished vintage vases to classic jewelry – and that became a starting point. Creating some sort of dipped decor out of white and green pumpkins seemed like a neat way to try it out.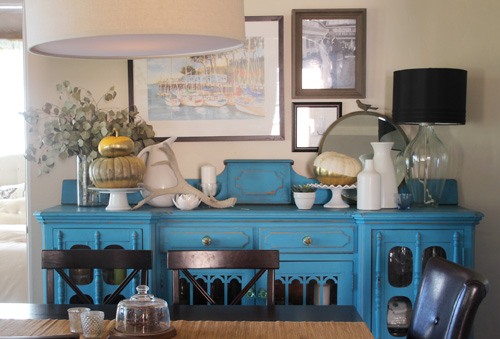 I'll have to mix some spooky Halloween decor in there soon, too.
These pumpkins really don't looked as if they were 'dipped' in paint in the traditional sense, but I actually love the contrast of the lines and attempted to give it a slightly crooked, mis-aligned feel on purpose. A little more organic.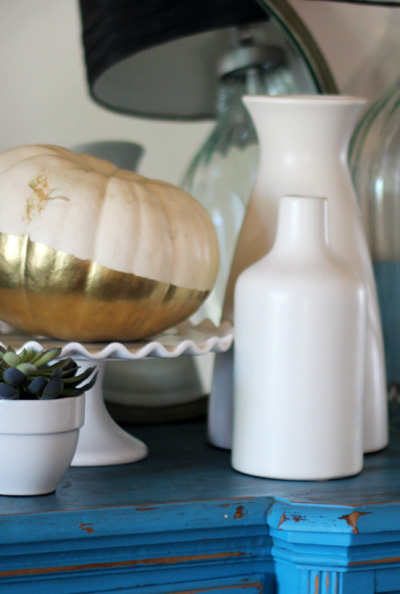 My original thought was that maybe I'd actually try to dip the pumpkins and considered buying a quart of gold paint, filling a round bowl large enough for my pumpkins and literally 'dipping' them, but then realized that spray paint might be a bit more efficient in application, cheaper and less wasteful.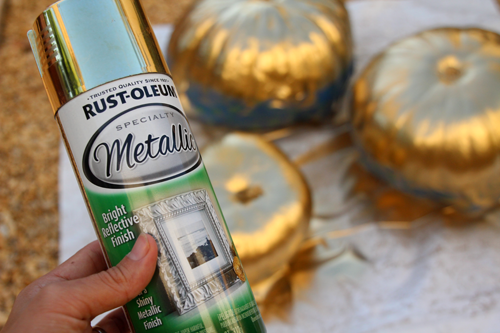 I love the result!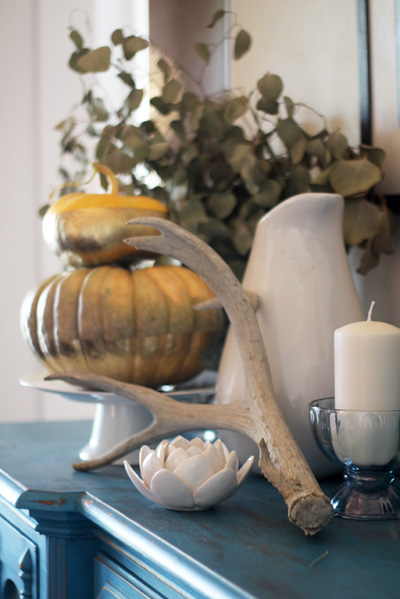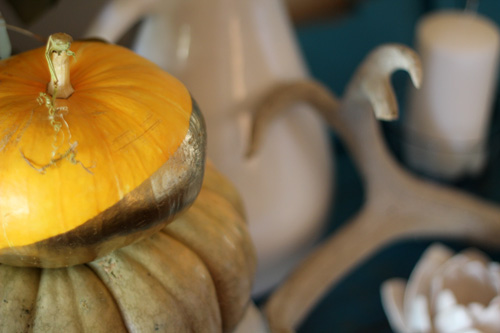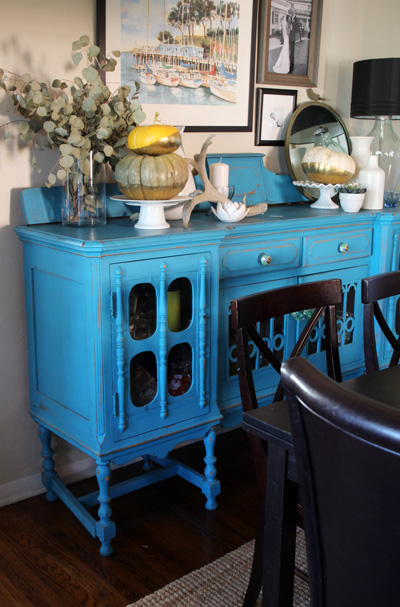 Just a little bling for the room, and a fun alternative to decorating pumpkins in the usual way. Soon Liv will be old enough to really help!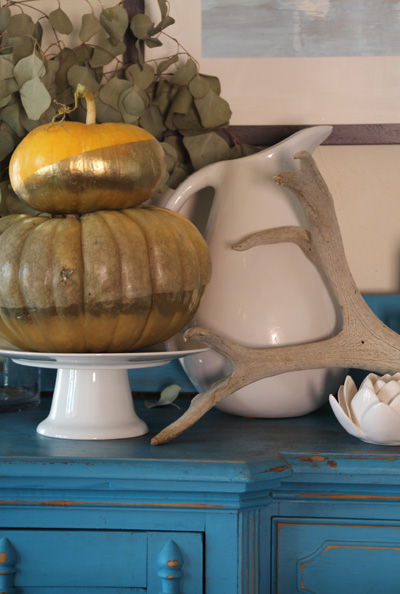 The process was simple. I first wrapped the pumpkins with painters tape (choosing the wider version since spray paint can get a little crazy and I wanted to avoid paint getting on the top half of my pumpkins. The alternative would be to tape on some type of barrier like cellophane or paper to cover the top completely), pressing down on just the lower half of the tape (since the edges are round to prevent creases in the tape) and aligning it at a bit of an angle.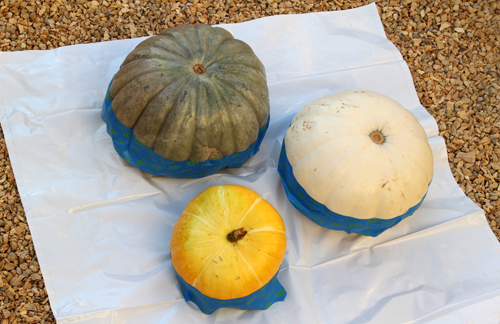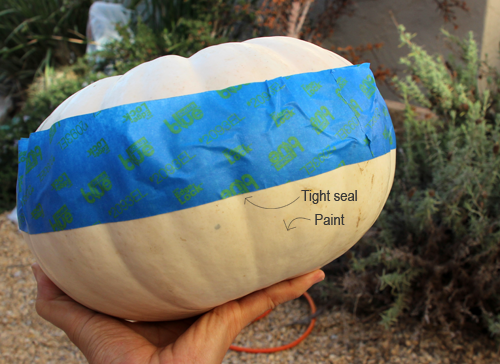 Then spray away! Be sure to keep your can of spray paint at least 10-12″ from the actual pumpkin to avoid dripping.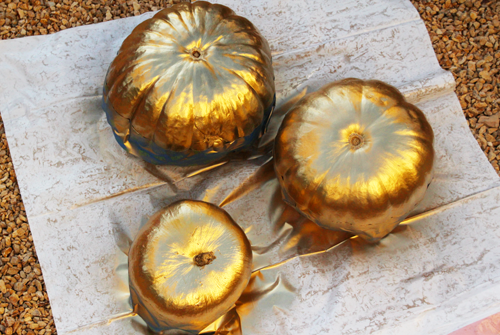 And here they are again in the dining room: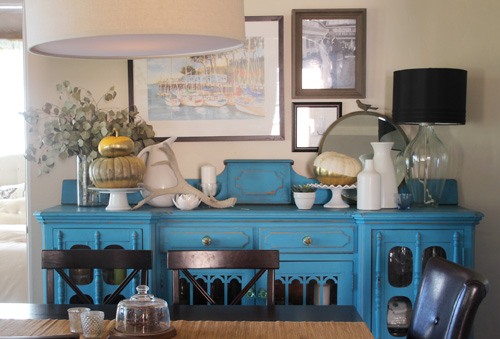 Looks great with the turquoise buffet!
Decorating the pumpkins has been a lot of fun, but visiting the pumpkin patch to find them is a great family tradition, too! Years back a friend found the perfect pumpkin patch for our annual trip just about 25 minutes east of us here in San Diego.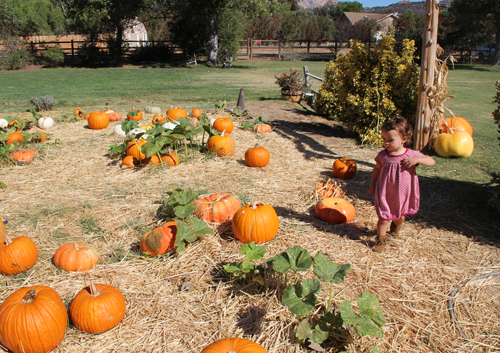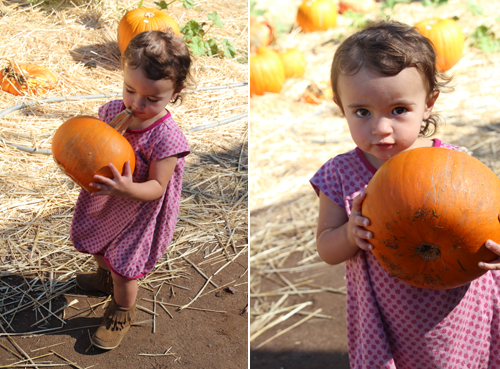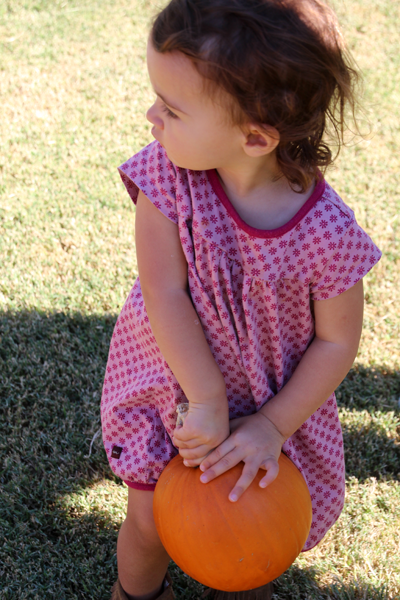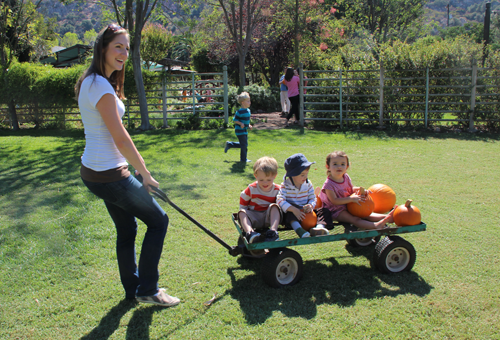 Summer's Past offers huge, crawling gardens to roam, a snap pea 'maze', animals for petting, a coffee bar for warm beverages (although the weather in October is always about 75), a cute little shop full of lavender soaps and such, little 'vignettes' around the property that are perfect for holiday photos, jump houses for the kids and a great big open pumpkin patch. We've even aligned our visit with their little harvest festival in the past for even more goodies.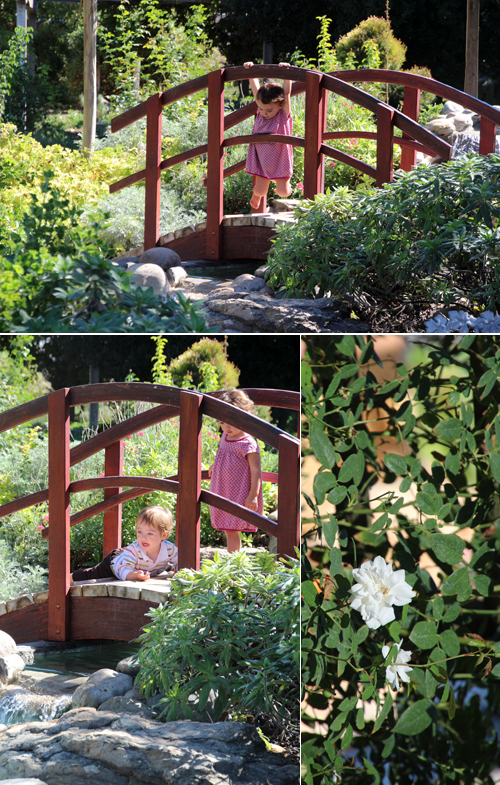 Liv romantically walking the gardens with her potential future hubby, Gavin.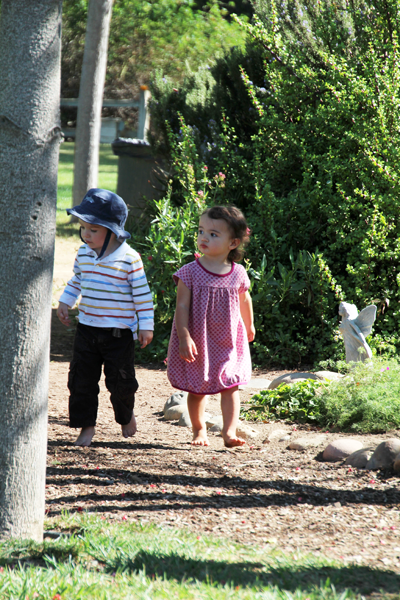 Why won't it move!?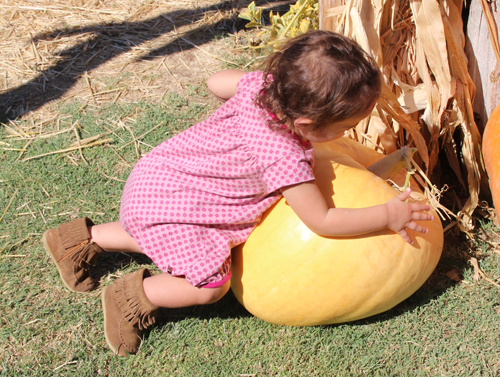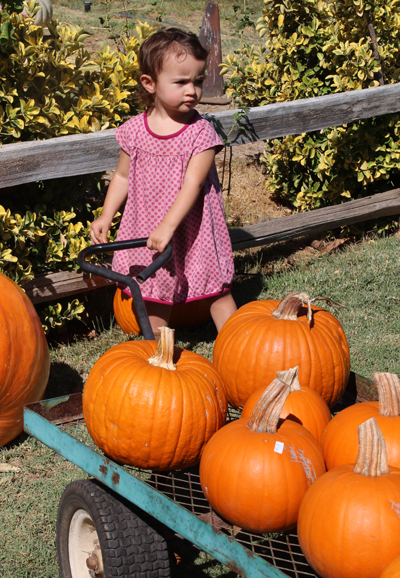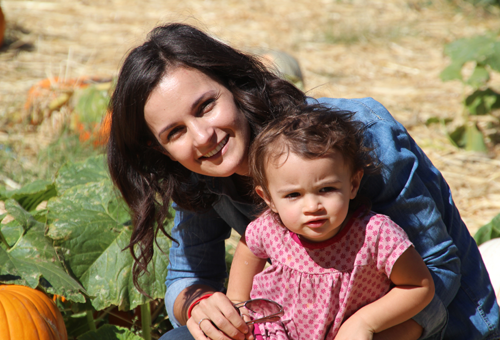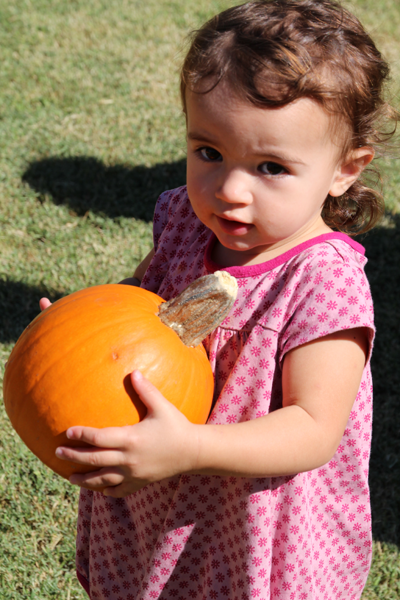 Here's our group shot this year!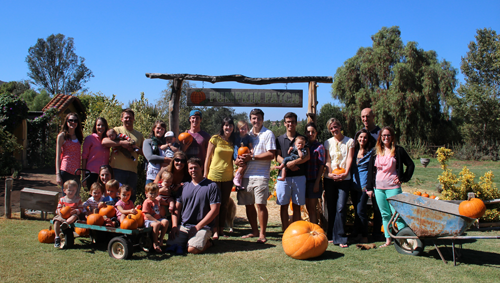 And a sneak back on previous years… the quantity of children continues to climb!
2010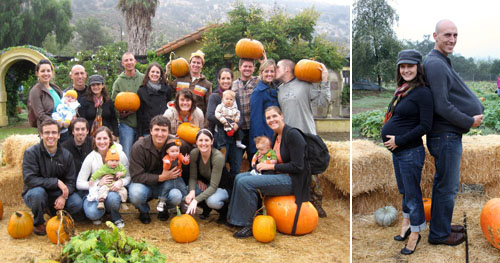 2011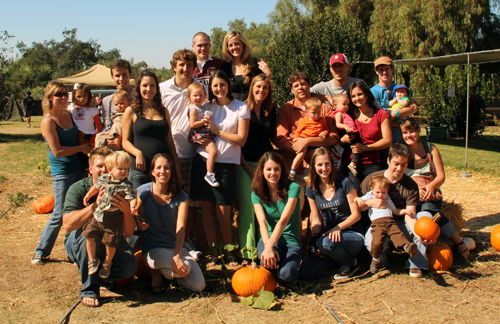 2012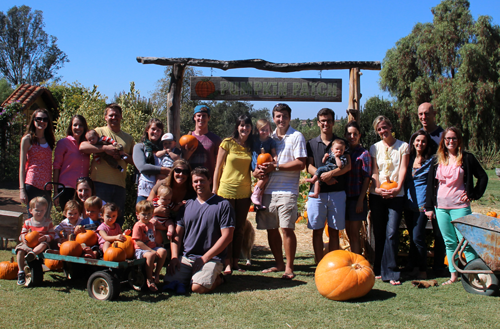 Liv picked out a few pumpkins, enjoyed a little cart ride and played in the jump house for most of the morning. We managed a family photo as well.
Sort of. Liv's not paying attention, but what can you do…
I look forward to this event with amazing anticipation every fall! This one sort of snuck up on me but I already can't wait to go back. And now it's time to really get decorating for Halloween! We're also throwing a little dinner and trick or treating around the neighborhood party again this year. Yay for fall!
Tags:
Accessories
,
Crafty Solutions
,
Decorating
,
Dining Room
,
DIY
,
Fall
,
Gold
,
Halloween
,
Home
,
Paint
,
Patterns & Color
,
Thanksgiving
,
Tutorial
Posted in
Crafty Solutions
,
DIY
,
Family & Friends
,
Holidays
,
Olivia
|
11 Comments »
September 21, 2012

Happy Friday! I'm back with another awesome Friday Guest Blog Interview. It's actually a two in one, because we're featuring SPACEStv (that awesome new home and design YouTube channel that was just released) and Janet of Living in a Nutshell, a super stylish blogger with a fantastic little episode on SPACES, a new book and a lovely blog.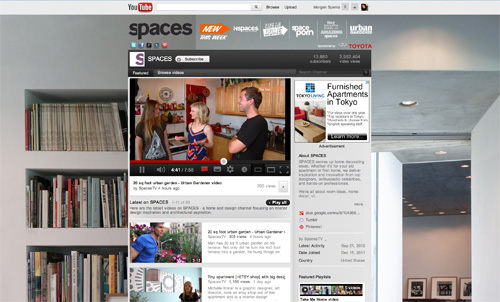 Have you heard of SPACEtv? A new YouTube channel that serves up home decorating ideas of all sizes – and it's instantly available in cute little 5-15 minute chunks of delicious decorating morsels. I'm really loving discovering all of the various series! And if you're like me and live sans cable, then this is an excellent HGTV alternative (plus, you can skip all of those pesky ads). A few of my favorites have been this inspirational Brooklyn loft crash, this roof deck on Urban Gardener, and of course, Janet's eclectic How to Decorate a Small Apartment episode. So much goodness.
Janet is taking a few moments to answer our usual 4 design questions about her favorite trends, tips and design ideas. Janet is the voice behind Living in a Nutshell and her new book of the same title. How brilliant is that mix of color in the cover photo?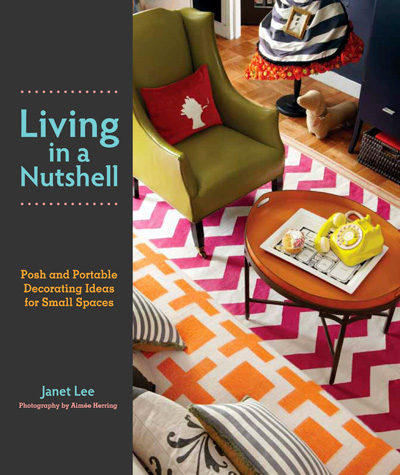 I was immediately intrigued to learn more about Janet's style after watching her SPACES episode and checking out stills of her pint-sized NY apartment (including that above living room). Jump on out to the interview for a closer look. Read more »
Tags:
Decorating
,
DIY
,
Guest Blog
,
Guest Interview
,
Home
,
Small Spaces
Posted in
Guest Blog
,
Home
,
Interview
|
Comment »
September 6, 2012
We are making huge progress on the side yard! The goal is a new wall, a new deck and a new flagstone walkway before Europe. Plus, finish painting the house! Which has turned into quite the beast.
Back in the spring we made a goal to really focus on and tackle big projects on the outside of our house this summer – we dubbed it the Curb Appeal Transformation (even though a good chunk of it isn't visible from the street

) and while it's nearly fall, I'm so happy with how on target we actually are. Even if that means we've had to bring in reinforcements here and there (in the form of friends, family and even a few tradesmen) when absolutely necessary.
A quick reminder on the jungle that was our side yard just a few weeks back: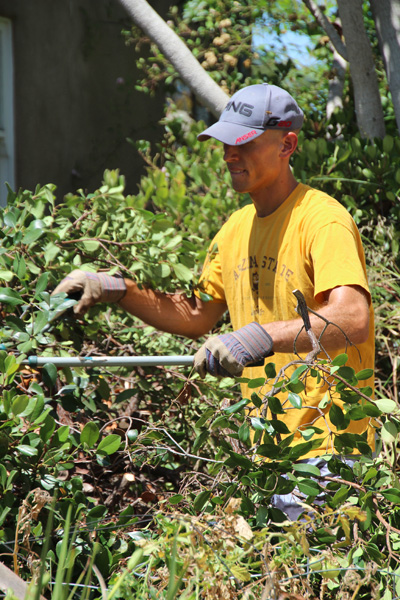 Here's where I left you last in the part 2 post on laying the new foundation for the wall that would box in this new space: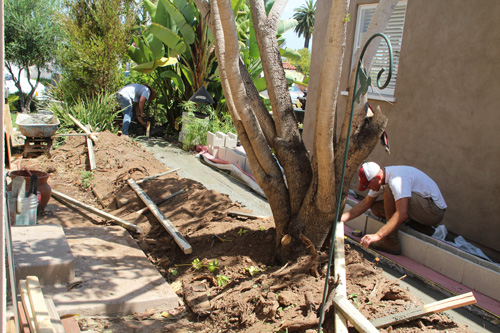 Amazing how many details and how much time a project like a cement block wall can take!
Here the boys are slowly building the wall up and up! Two levels…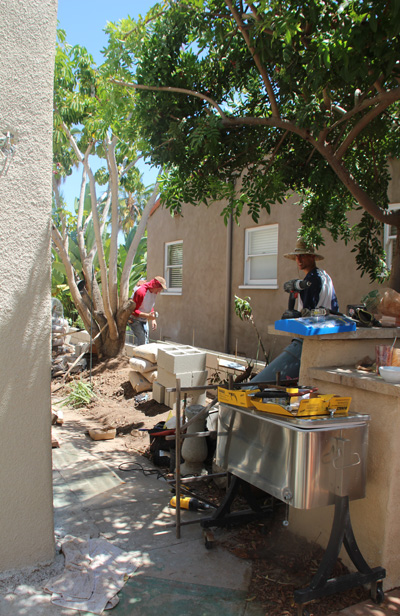 …quickly turned into eight.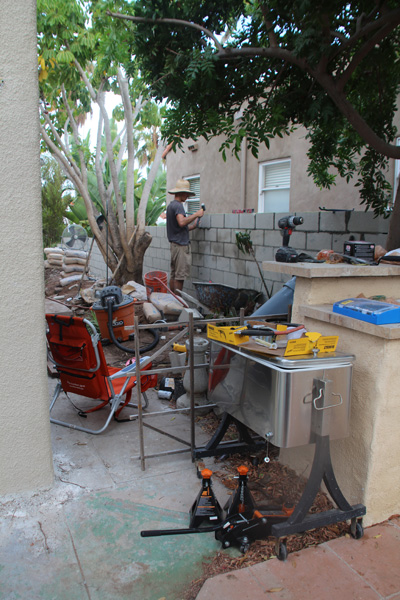 Safely barricaded behind a door and glass, I'm observing some heavy duty cement block slicing to create the very top layer of the wall. This wall is one of those projects that I left to Kevin and was happy to do so.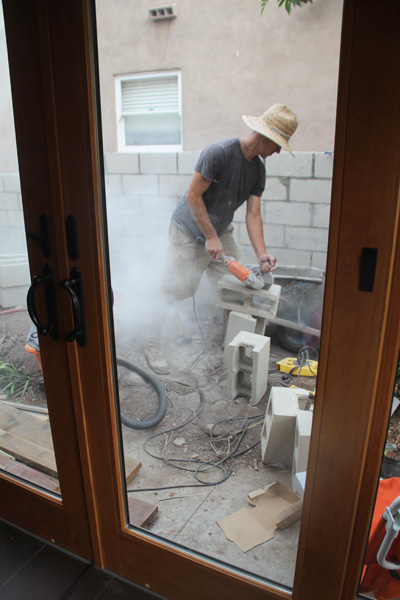 Finally a "brown coat" (which isn't necessarily brown) was applied to give the plaster a surface to adhere to, the final layer will be a tinted plaster. More troweling, measuring and leveling ensued: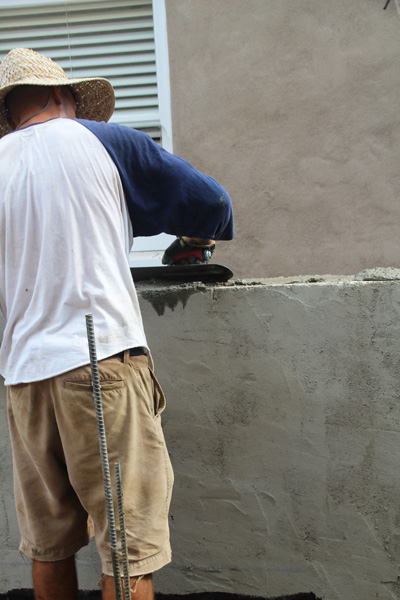 Woohoo! Now that's a wall!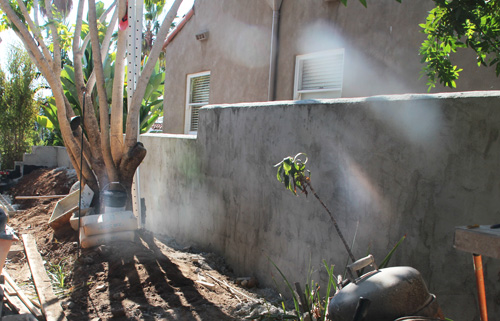 Kevin designed the wall so that it stair stepped down from the back of the property to the front of the house, where it is only 4 feet ish high. We can still have friendly conversations with our great neighbors without them being Wilson-style (Home Improvement, anyone?), but the tall back wall will allow us to enjoy the dining portion of the future deck in privacy (and keep music, etc contained).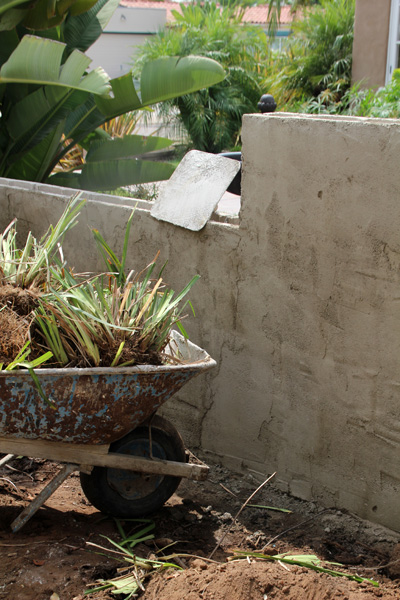 Here's where the new wall meets with the existing wall: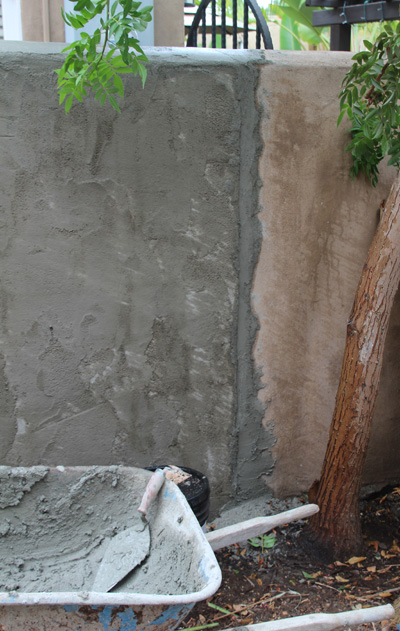 A day's work is done!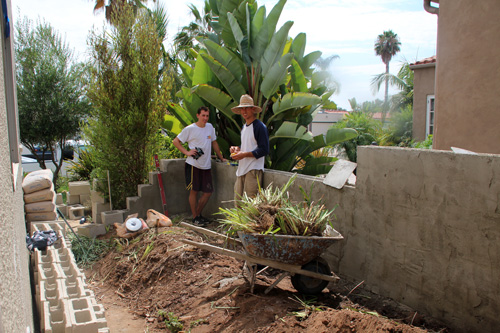 The toughest critic was probably our little building inspector…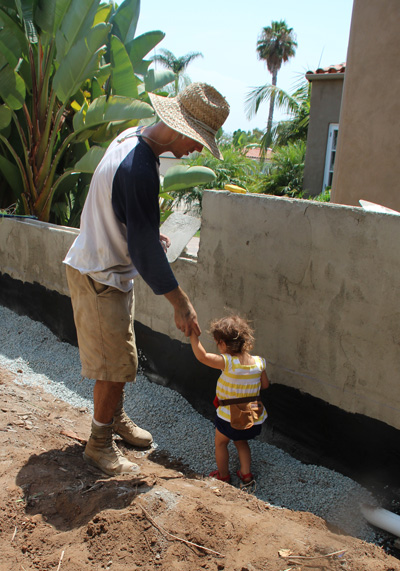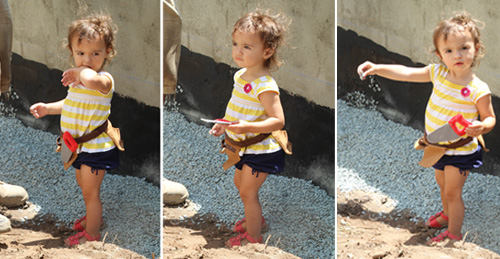 She questioned the use of gravel over our built-in irrigation system for the future planter box, but was pleased overall.
Speaking of planter box, Kevin applied a watertight sealing over the area that would soon hold veggies and flowers to ward off potential water damage.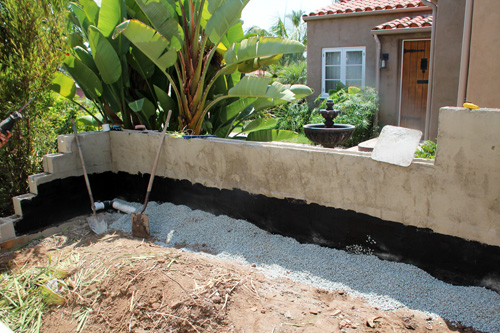 The last part of the actual construction of the wall was the planter box itself. Here's the footing being poured into place: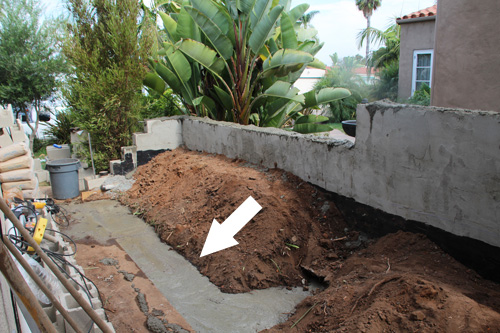 And the entire cement block process was repeated to build a mini wall.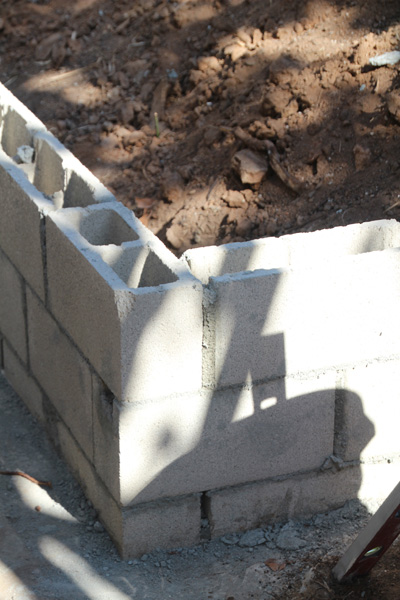 Finished!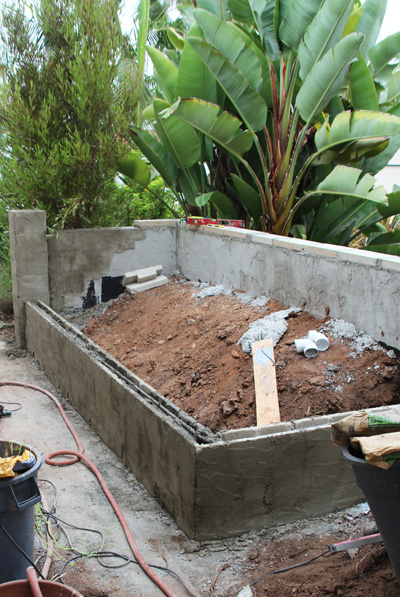 Sometimes it's cheaper and more efficient to bring in a big cement truck to help out, like we did here, but sometimes it's more cost effective to mix up that cement yourself (stucco, too):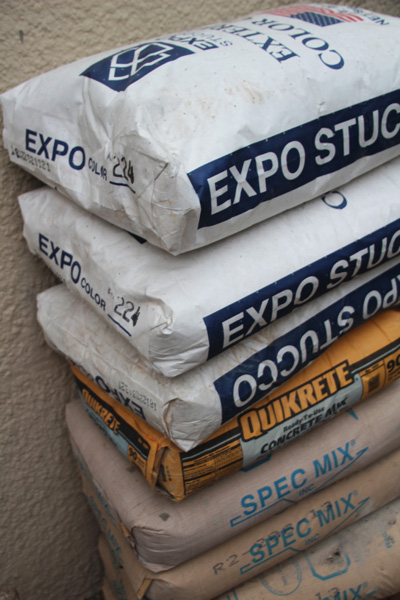 Helps to also have a cement mixer in your toolbox (er, garage), I think we found this guy on Craigslist a long while ago and have used it for many, many projects.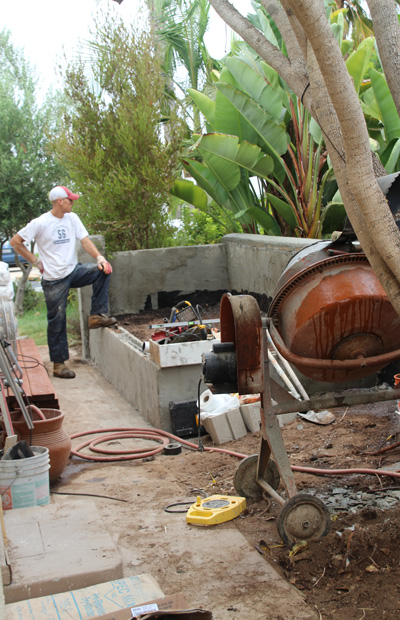 The soon-to-be entrance to the side yard from the front: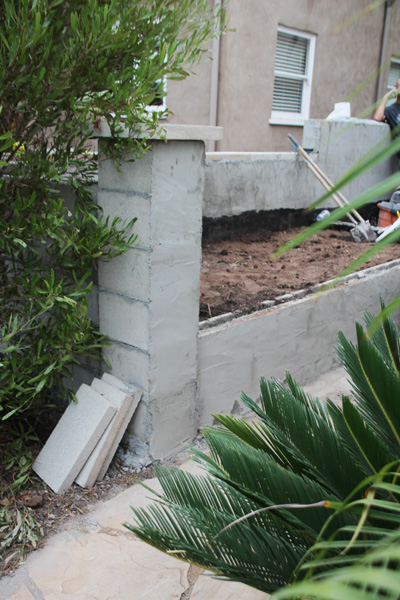 And here she is! Plenty of room for a big deck and dining space: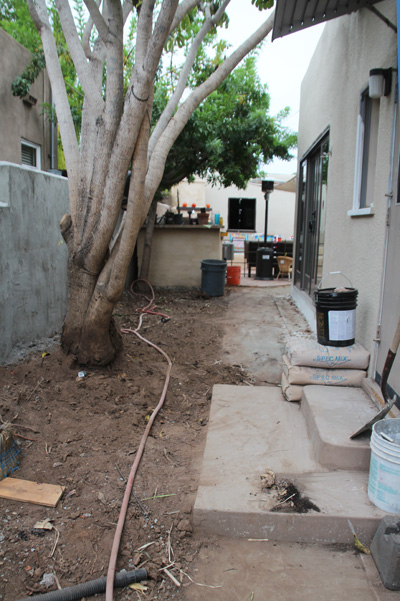 Liv approves, and plays with her best friend while we all check out daddy's hard work at the end of the day.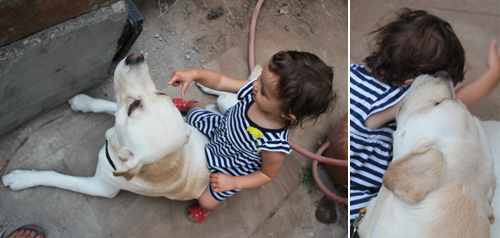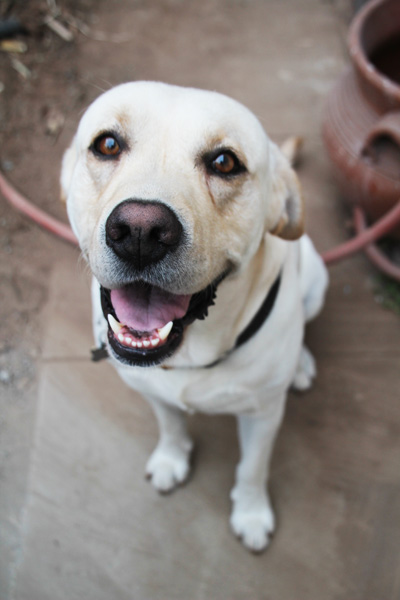 Bodie is such a good dog. I can't believe he was just a little puppy when we moved into this house.
More side yard transformation posts here: part 1: breaking ground, part 2: foundation. And more outdoor projects/curb appeal progress right here!
Tags:
Construction
,
DIY
,
Home
Posted in
Construction
,
Curb Appeal
,
DIY
,
Our Yard
,
Renovating Adventures
|
7 Comments »