July 16, 2012
I have an ever so subtle update to share today from the nursery…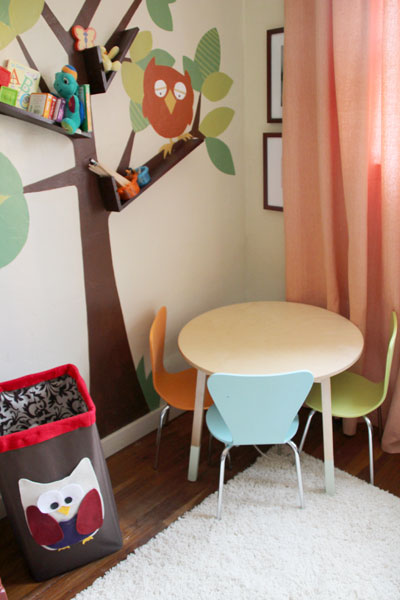 Notice anything new? Okay, I gave a little hint in the post title but I 'dipped' Liv's little table legs in a bright green paint as just a small added detail.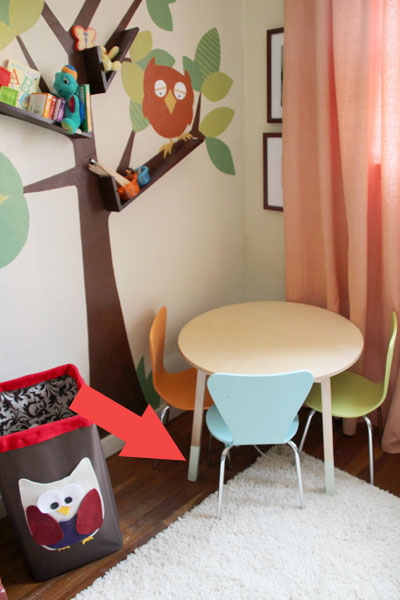 The idea stems a bit from this project but on a smaller scale, and I think it would be a fun addition for so many projects in the house, from dining room chairs to kitchen bar stools to house plant pots. An ever so subtle 'dip' of color.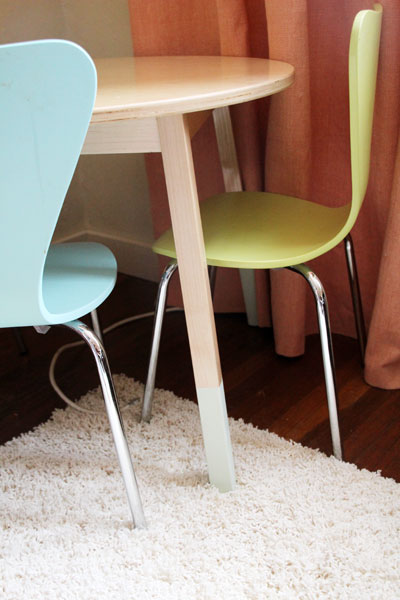 Hard to even see the contrast in these photos but the green is soft and subtle and really makes a nice difference to the birch table.
To accomplish, I simply flipped the table upside down, used painter's tape to help form my 'dipped' lines, and then painted away. Took me maybe 10 minutes with a sponge brush (which I really like to use on already painted/stained furniture to prevent brush marks), and then I repeated the process three times for a thick, seamless look (just like spray paint I prefer to add one layer of coat of paint – even if brush marks are visible – let dry and repeat until smooth).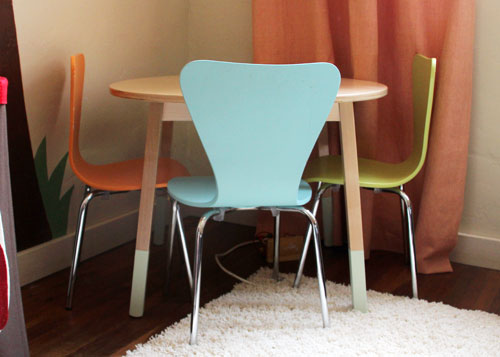 Sometimes it's all in the details! Have a lovely start to your week!
More Project Nursery posts found right here.
Tags:
Accessories
,
Before & After
,
Decorating
,
DIY
,
Green
,
Home
,
Paint
,
Tutorial
Posted in
Crafty Solutions
,
DIY
,
Home
,
Liv's Nursery
,
Renovating Adventures
|
9 Comments »
July 10, 2012
Terribly cheesy title I know, but today's post is all about one of my favorite new paint trends + a necessary home addition for a very busy toddler.
Lately Liv has turned into quite the independent lady. If it's at all possible (and she can figure it out), she wants to do it herself. 90% of the time that's a little tough, though we do try. 10% of the time it's to accomplish basic tasks like washing of hands after a messy breakfast. This type of independence I love, most toddlers run from a wet washcloth honing in on yogurt smeared cheeks, but Liv still finds cleaning up a delight.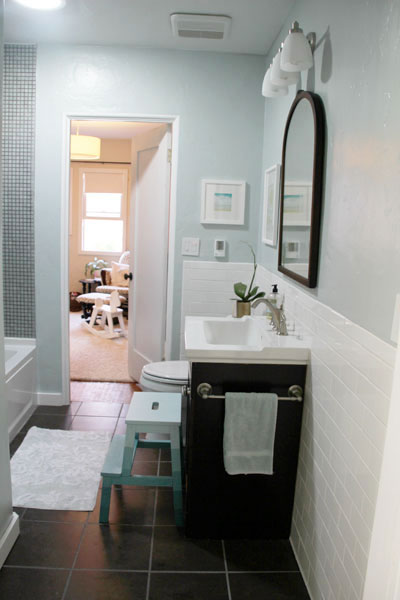 So I've been searching out a fun step stool for her bathroom. I was really hoping for something older with beautiful curved lines (more Jenny Lind – like Liv's changing table – less modern and boxy) but when I came across this little birch stool from Ikea for $15 I couldn't pass it up. It was begging for a fun coat of paint, too!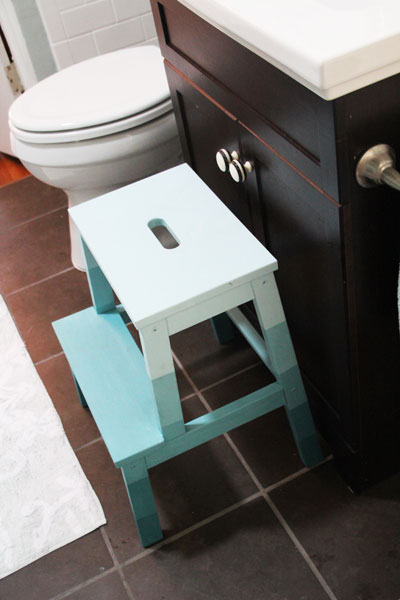 When Sherry and Katie announced their summer Pinterest challenge last week, I decided it was time to tackle this project and make it happen. (PS if you haven't heard of this fun challenge I definitely recommend checking it out. If you are a procrastinator like myself and thrive on deadlines, this is a great opportunity to give yourself a deadline to tackle one crafty project you've had your eye on).

The real Pinterest inspiration for this challenge is actually this coffee mug that has hunkered down in the back of my brain image gallery for some time.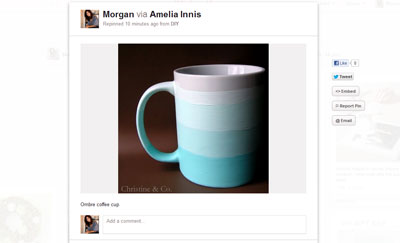 I've actually become quite enamored with the ombre trend as of late and have a few idea of else where in the house I might be able to spice things up with a bit of graduated paint colors…
And now for our much inspired ombre step stool: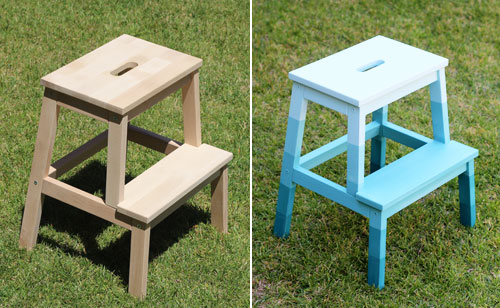 I used two paint samples and a quart of white paint to mix my ombre layers.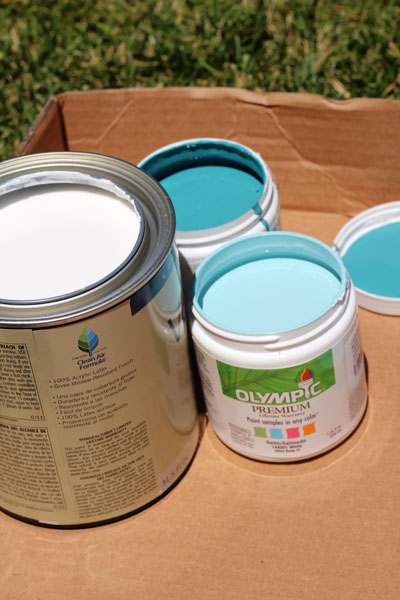 Which left me with five variations of teal blue – from a beautiful deep peacock to a clear summer's day sky blue.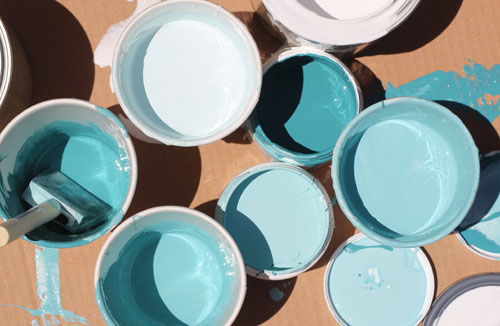 My first layers of paint were pretty rough. I began at the top and slowly worked my way down the stool painting in loose stripes and not bothering too much with exact lines.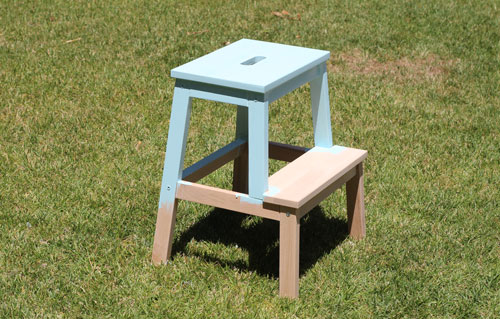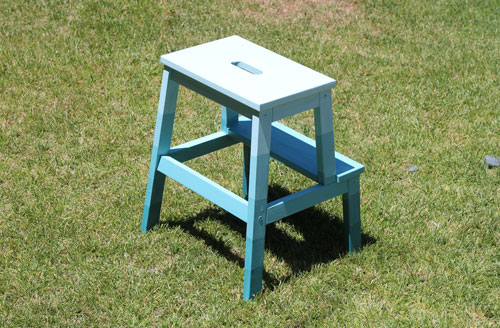 After some time in the sun, I went back with painter's tape and measured out my layer heights so that each transition could result in a sharp contrasting line.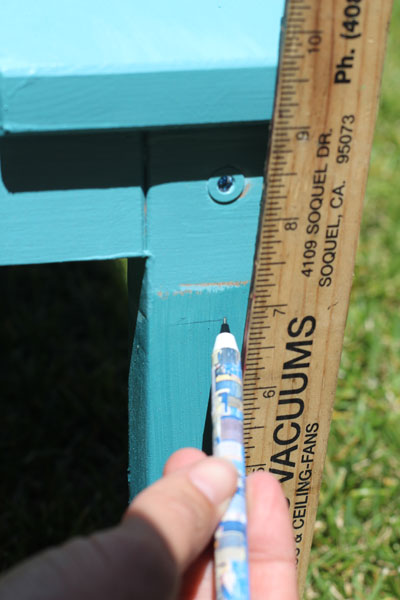 The top tier is the widest, slowly working down by 1/2″-1″ increments (roughly 5.5″ for tier 1, 4.5″ for tier 2, 3.75″ for tier 3, 3.25″ for tier 4, 3″ for tier 5) so that the stripes at the base were skinnier than the ones at the top.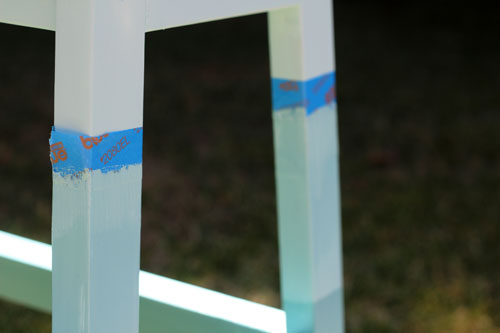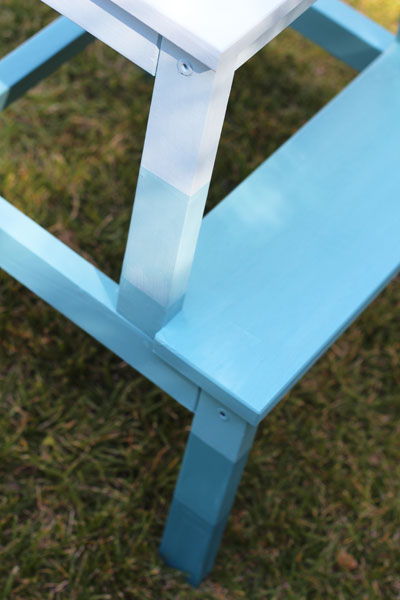 It turned out just as I had hoped for! I really dig the colors.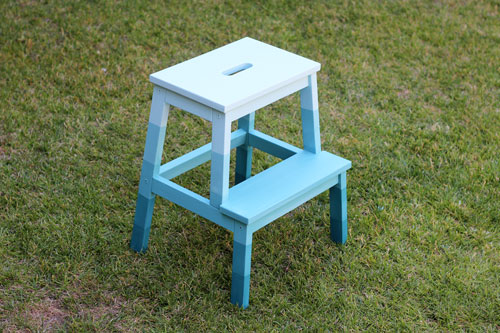 Nana helped to distract Liv on the other side of the yard, but occasionally she's wander up behind me and grab onto my neck. I ended up wearing paint for days and I'm still surprised she left the scene without a drop on her.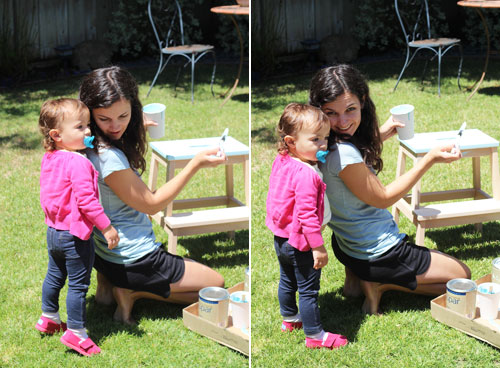 The stool is taller than I anticipated (it comes in a flat box from Ikea and I hadn't paid close attention to the overall height) but it seems to work really well with Liv's 18 month old reach.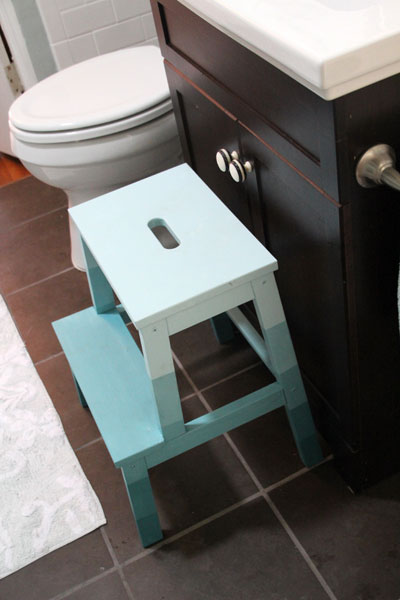 I had chosen the colors right from the existing shades in the space and I love how the turquoise pops against the tiles in the shower, the blues in the artwork, the pale hand towels.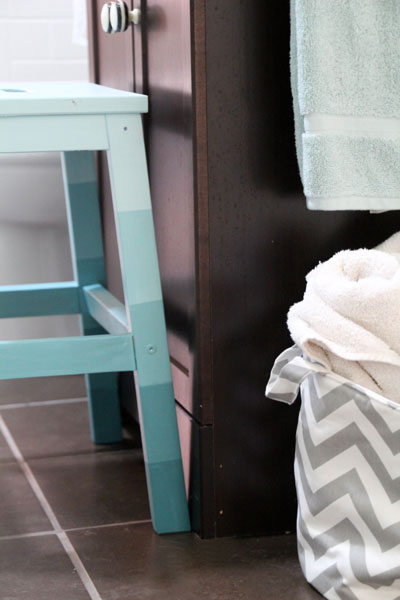 So far she dares to make it to the first step. It might get a little tricky after she figures out that she really can crawl to the top on her own.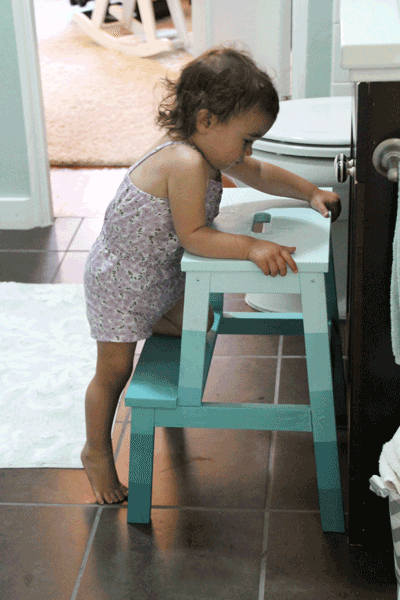 But when it comes to hand washing she gets a little help.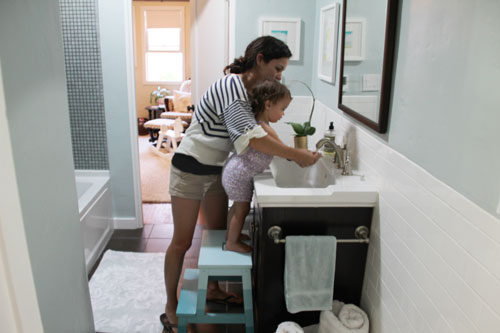 Oh wow how she loves it! After the stool moved its way inside, it was all I could do to distract her from trying to wash her hands every 10 minutes.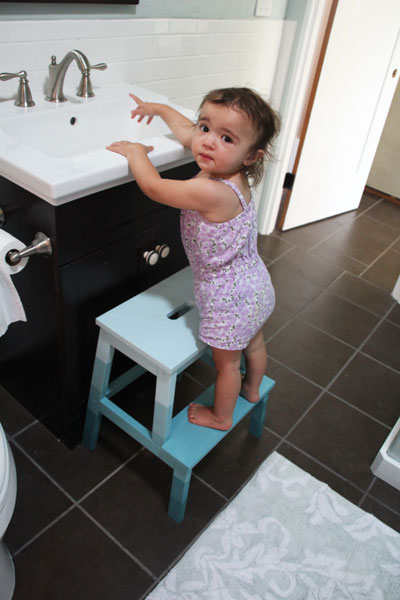 I'm glad she loves it as much as I do!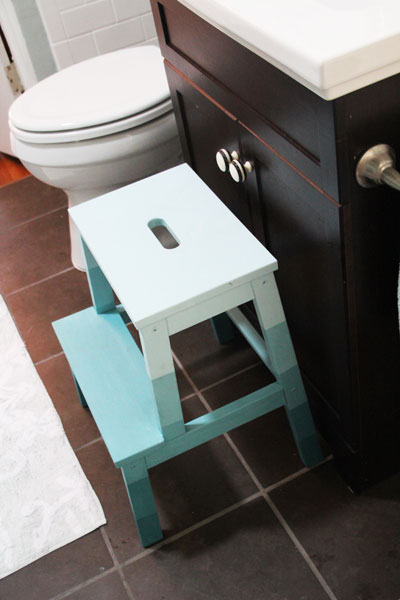 Yay for projects that make you get to-do's done.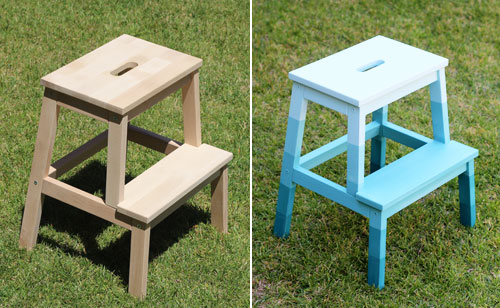 Here's a quick link to the previous Pinterest challenges that I've worked on. Still quite proud of that capiz chandelier, painter's tape wallpaper and gold mercury glass. But don't forget to head on over to Sherry's post and Katie's post (and Kate's and Michelle's! who are guest hosts) to find all kinds of crafty and fun ideas.
Tags:
Accessories
,
Before & After
,
Blue
,
Crafty Solutions
,
Decorating
,
DIY
,
Home
,
Paint
,
Pinterest Challenge
,
Teal
,
Turquoise
,
Tutorial
Posted in
Crafty Solutions
,
DIY
,
Home
,
Our Guest Bathroom
,
Renovating Adventures
|
11 Comments »
June 28, 2012
Last week I added the new Orla Kiely curtains to the dining room and I immediately loved how the vibrant pop of blue worked with the vintage buffet! But with the new matching color scheme, the room also felt like it was lacking a dose of contrasting color to really mix things up. So the wheels began turning for updating our current ottoman-turned-dining bench…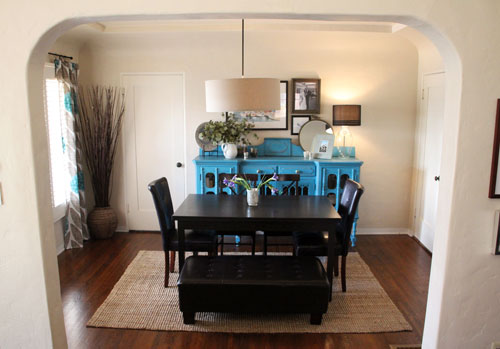 Right off the bat I'm thinking that a new set of taller legs and a covering in a soft velvet would make this guy work for the space. The tufted ottoman is a Craigslist find (surprise!) but he's been with us for a while and has slowly begun to wear and tear (literally) and up until recently has been on the replace or let go list.
But perhaps he can be remade into something awesome. Here are a few badly photoshopped ideas of what colors might work well with that bold blue (and a few random lumbar pillows that might coordinate well for the end chairs):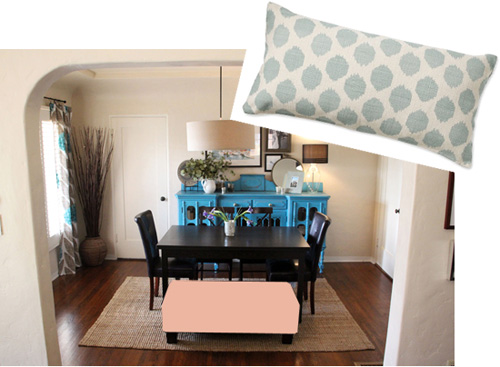 A soft pink to lighten things up? I found the softest pink velvet for $10/yard at our discount fabric shop. (pillow)
Or how about mint green? A favorite summer accent of mine! (pillow)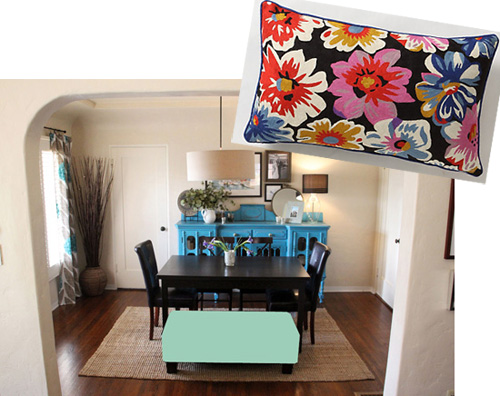 Or perhaps something a little more limey would look best… (pillow)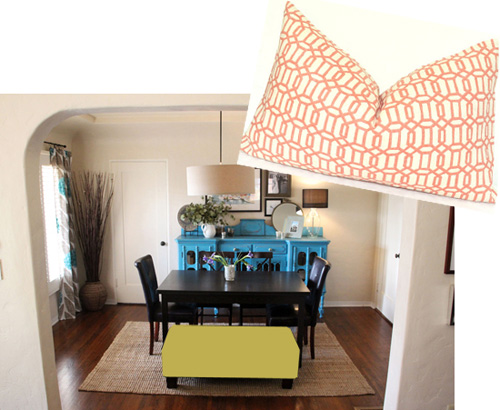 Burnt orange?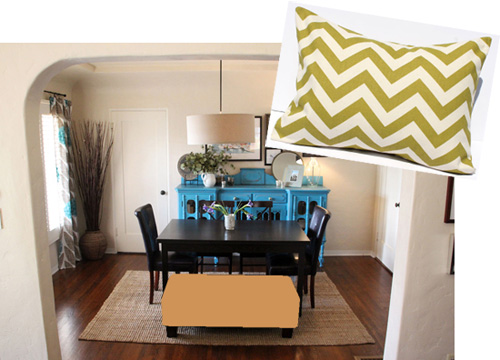 Or how about plum to cool down that bright blue? (pillow)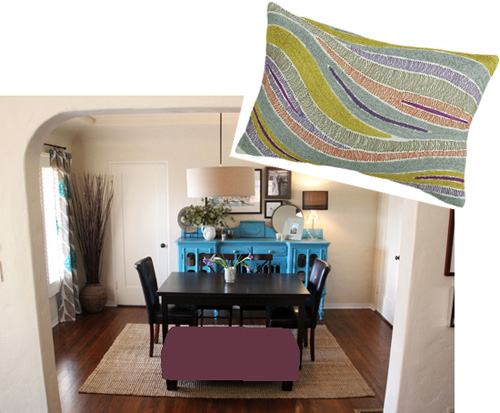 I'm not quite sold on any of the pillow pairings but you can see where I'm hoping to go with a little color in this space, and if pricing out velvet and new legs ends up being pricier than a new upgrade, here are a few benches that I have my eye on: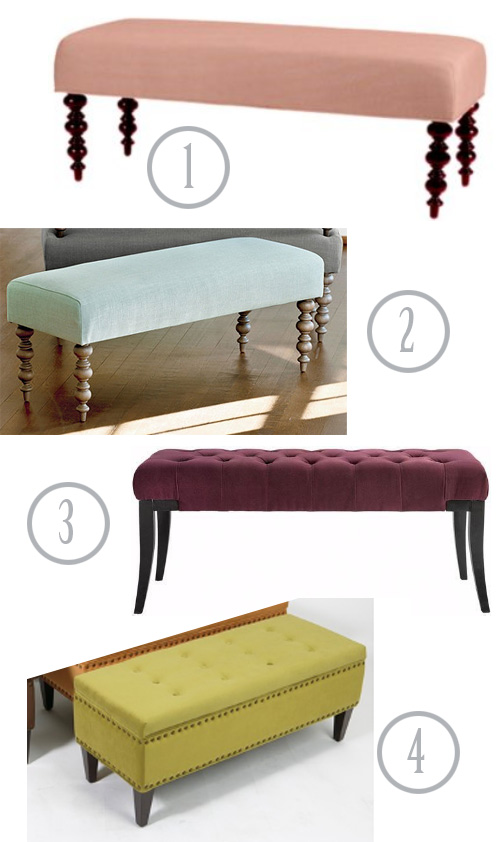 Oh I love that minty Ballard bench with the curved legs!
Read the full dining room story by starting here: choosing a rug, curtain call part 3, curtain call part 2, curtain call part 1, newly styled bookshelves, a buffet-over, upgrading the lighting, the before.
Tags:
Accessories
,
Crafty Solutions
,
Decorating
,
Dining Room
,
DIY
,
Fabric
,
Green
,
Home
,
Orange
,
Patterns & Color
,
Pink
,
Purple
,
Turquoise
Posted in
Home
,
Our Dining Room
,
Renovating Adventures
|
11 Comments »