May 8, 2012
Have you seen those adorable chalkboard decals floating round the web? I was initially inspired by this one, but decided that it was a bit ornate and pricey for our space. So instead I ordered a long sheet of chalkboard vinyl off of Amazon and made my own.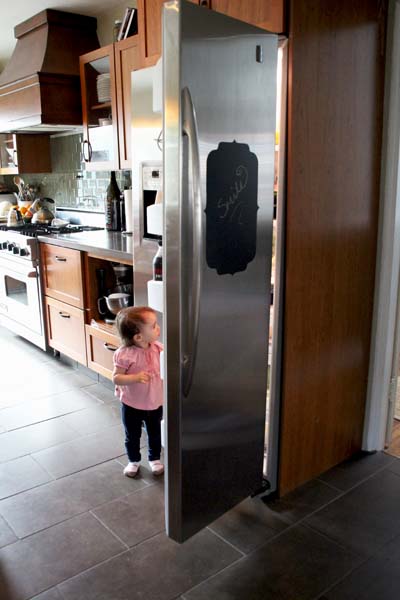 Our fridge is stainless steel so it doesn't hold on to magnets for lists or invites or pictures that we want to hang. It's usually nice to keep it clutter free (and we actually have a little white board for proudly displaying invites, cards and Liv drawings in the corner of the kitchen) but I thought a memo pad for the fridge would be nice.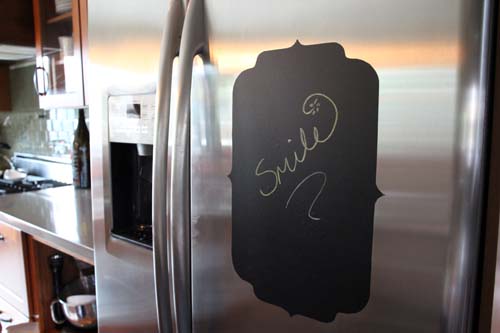 It's proved to be a pretty little addition to the space, too!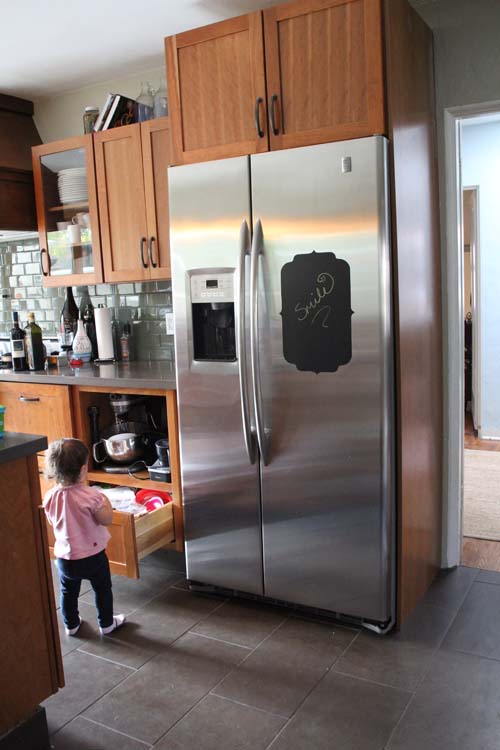 ************************************************************************
DIY Chalkboard Decal
m
To create the chalkboard memo pad, I designed a little swirly edged rectangular shape in Adobe Illustrator and printed it out on 16×20″ paper (here's a link to download my high res version). The graphic ended up being about 12×18″ to accommodate the size of the vinyl.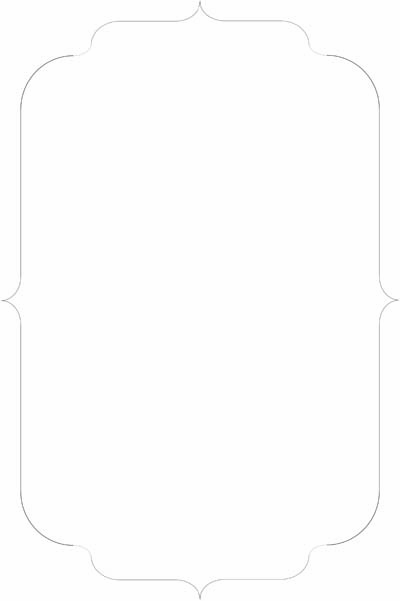 Then I cut the above out and traced it onto the back of my vinyl paper.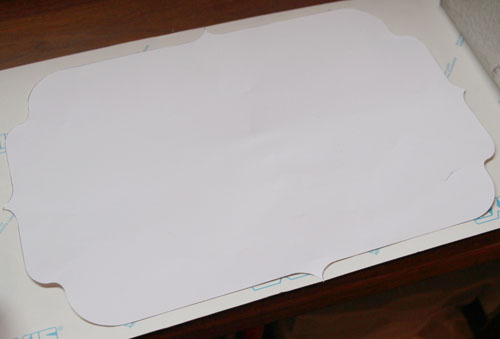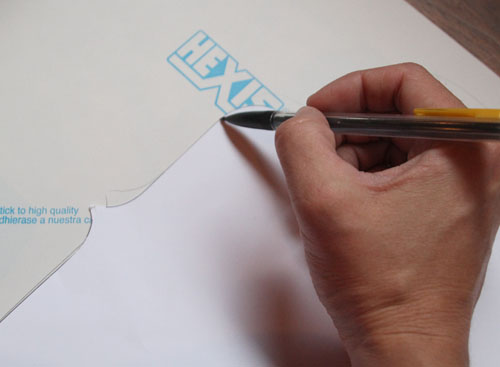 And then carefully cut out my vinyl decal.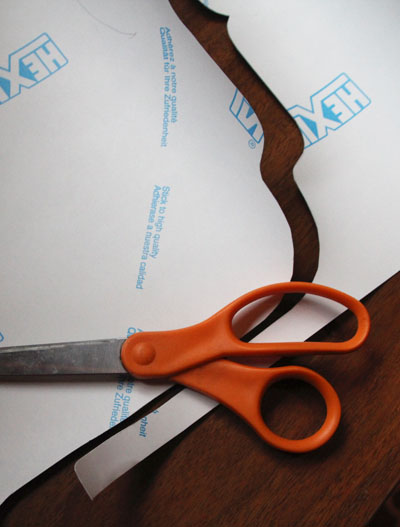 Easy peasy.
Attaching to the fridge took a little bit of time and a lot of smoothing (my Driver's License worked great for slowly smoothing out bubbles as I applied the decal). I used the ice and water fridge door insert as my guideline for where the decal should sit on the door. This stuff is completely repositionable! I must have pulled it off and reapplied it 5 or 6 times before settling on the final placement.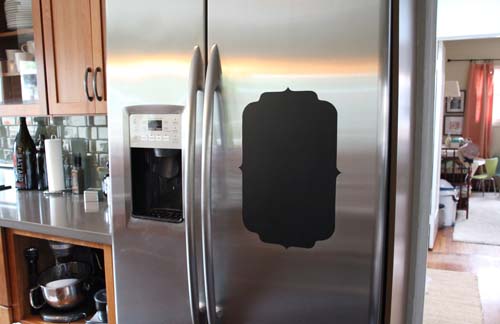 Will the vinyl decal leave a mark when it's removed? I love my fridge too much not to double triple check! The packaging said that absolutely no residue would be left behind, but I tested anyhow.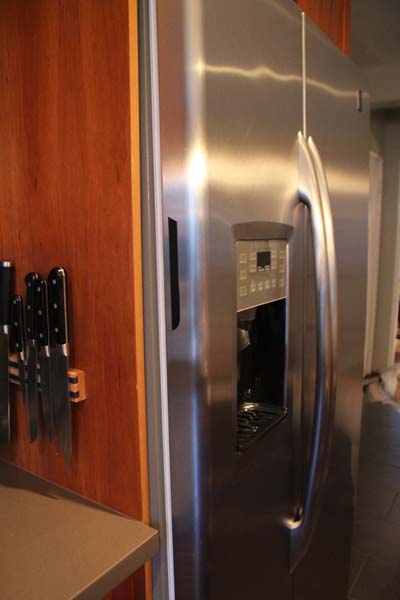 I cut a little strip of the decal and left it on the side of the fridge for a couple of hours and no residue – and then a second strip for over two weeks! with no residue to be found when I gently pulled the decal up.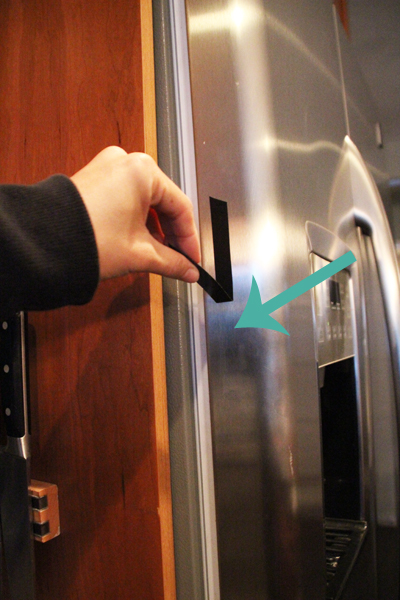 There was a faint outline of where the decal had been placed, but I think it was a little bit of moisture build up because a dry cloth was all it took to gently wipe it away.
************************************************************************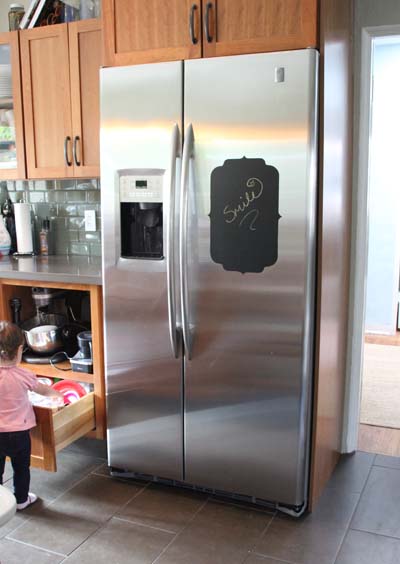 Now the memo pad is available for little grocery messages or inspirational reminders. The easiest way to memorize a helpful quote or saying is to see it everyday, after all! I think that that probably becomes especially useful as kids get older. But, if we change our minds long before Liv can read, I can rest assured that this baby should come off with no problems and no damage, at least as far as our particular fridge is concerned.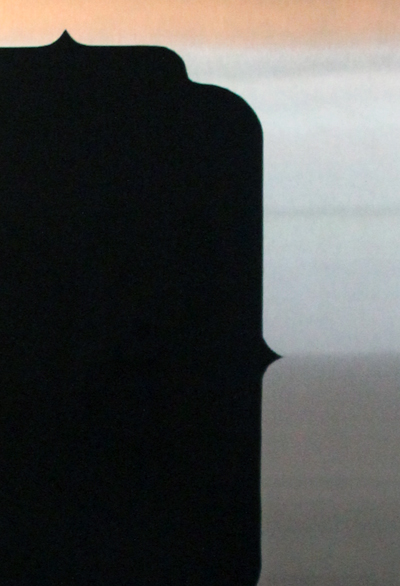 Kind of adds a little something, don't you think? A little curvy art to a big grey box has a nice look to it.
No eraser needed if I want to remove the message, just a soft cloth and a little water and it's completely gone. Not a trace of chalk left behind. In that sense it's not really chalkboard material – no opportunity to screechingly scratch nails (thank goodness), the decal is actually more of a vinyl feel.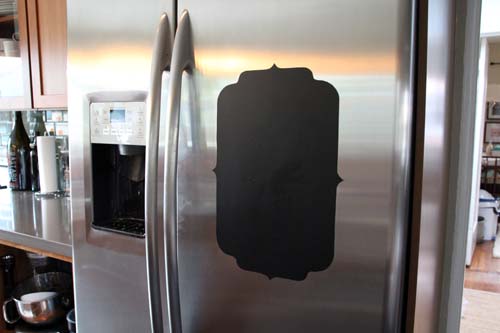 Now both chalkboards are in full use at the house! Liv loves her kid-friendly height version, and my list-making side loves my kitchen version.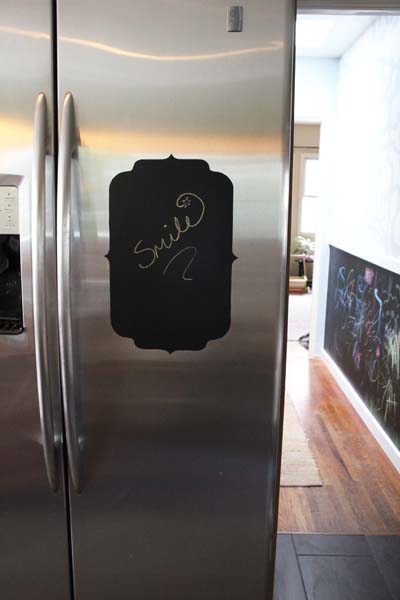 If you're not interested in making your own, here are some great Etsy options, too! There are so many great options out there.
But now back to the refrigerator, which Liv finds incredibly fascinating. So many good things come in and out of it all day – I wonder what sort of magical box she must think it is.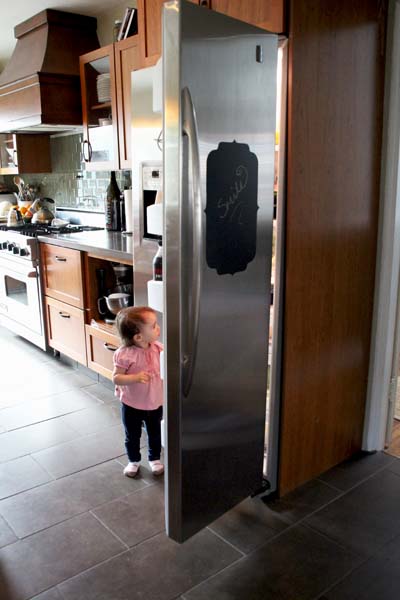 All kitchen makeover posts can be found right here.
Tags:
Accessories
,
Crafty Solutions
,
Decorating
,
DIY
,
Home
,
Tutorial
Posted in
Crafty Solutions
,
DIY
,
Favorites
,
Home
,
Our Kitchen Remodel
,
Renovating Adventures
|
10 Comments »
May 2, 2012
I've been so inspired lately with all of the decorating ideas on bringing the outdoors in. One trend that has especially caught my eye is the glass vase terrariums that we're seeing on dining room tables, in kitchens and even in outdoor spaces.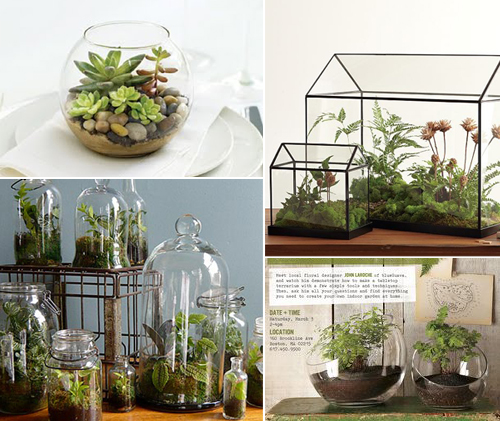 I was rummaging through my buffet recently, attempting to reorganize, clean it out and cut down on what I no longer use, when I came across a few vases and vase fillers that I thought would be perfect for a couple of indoor terrariums for our dining room. In fact, I didn't buy a single thing for this project – everything was either from under the buffet (where lots of vases live), in my craft bin, from around the house or from the garage.
Here's what I managed to find to put these guys together: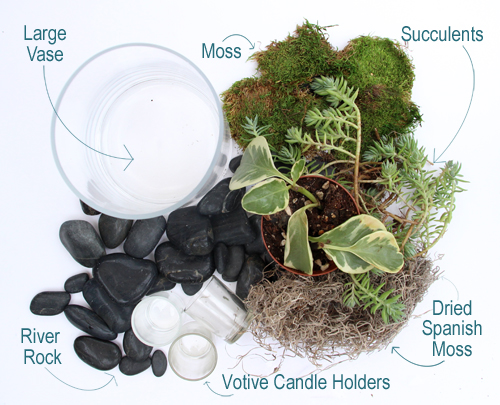 *A large clear vase (you could also use a fish bowl or punch bowl)
*Several smaller, shorter vases for holding the potted plants (I used votive holders)
*River rock (this can be purchased in mass at a home improvement store in the gardening section, just hose off those dirty river rocks and you should find beautiful black ones! these are left over from my wedding as vase fillers, believe it or not)
*Dried Spanish moss (also from my vase filler collection – can br purchased at any craft store)
*Dried or live green moss (mine came from the craft store as well, also left over from a wedding)
*Succulents for planting (from Ikea and our yard)
First up was to replant my little succulents in the votives with a little potting soil and a little water.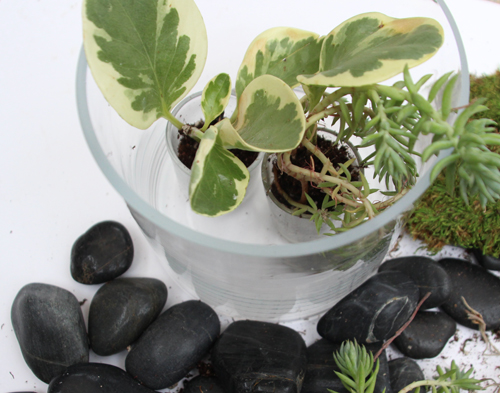 There are actually three little votive candle holders in the bigger vase above, though it's hard to see that last one.
Then I filled in rocks around the votives: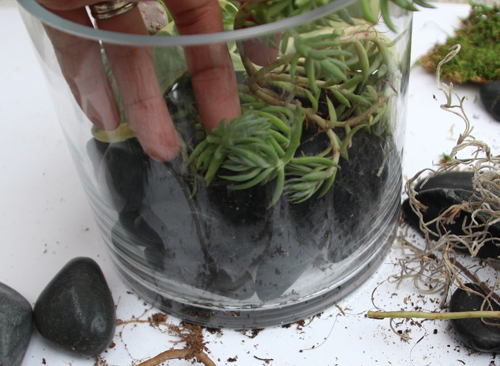 Next up was a layer of Spanish moss: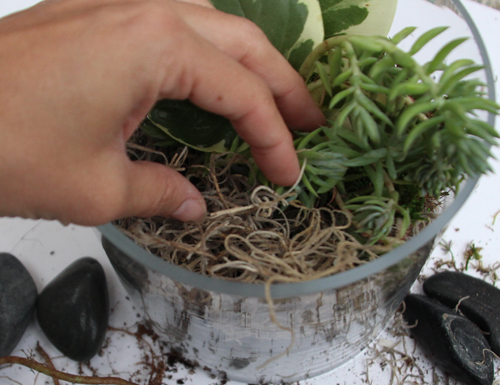 And finally a thin top layer of the rich green moss: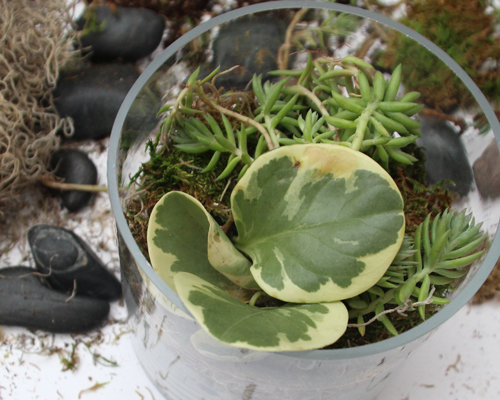 Put it all together, and what do you get!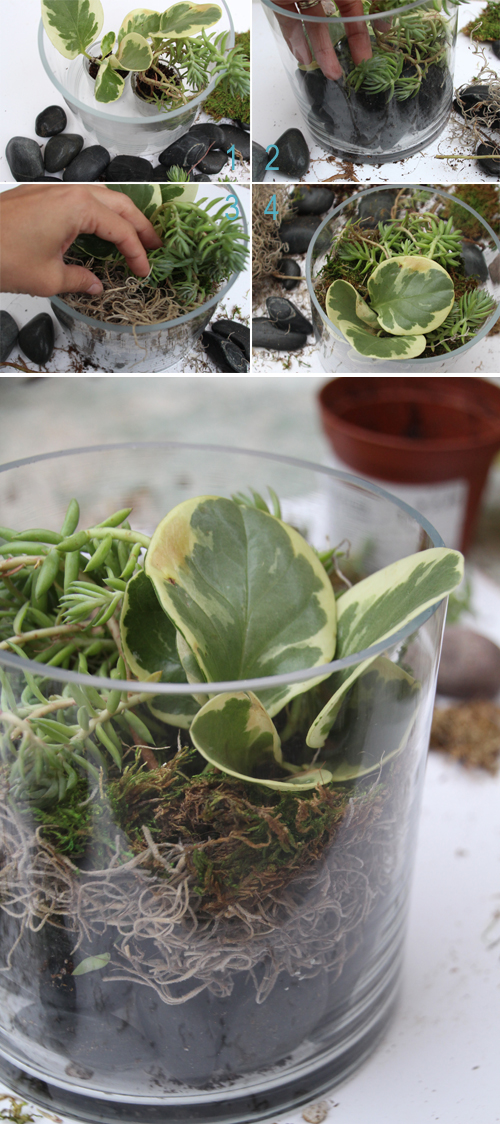 Lots of layers or prettiness!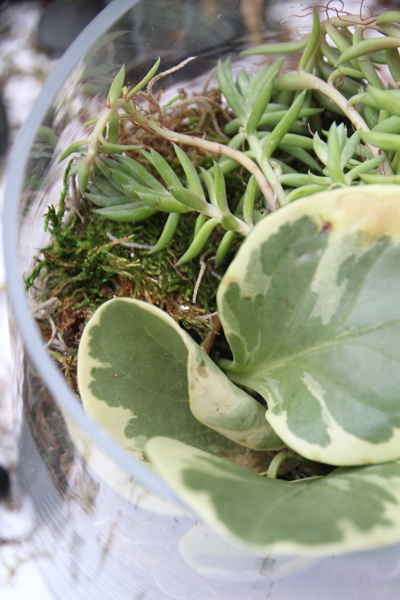 I ended up 'planting' a few more cactus varieties from our yard to add a little color, and I added a few rocks to the top after bringing these guys inside.
The smaller one was super simple – same as the above but just one votive of planted succulents.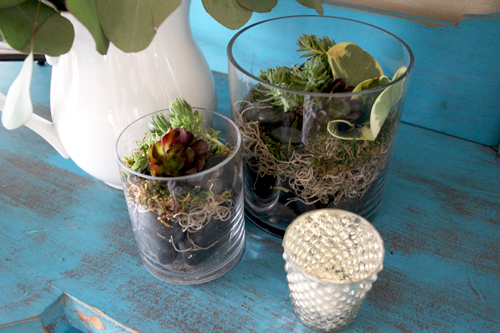 I've been playing with styling these guys – maybe with a cloche? He's holding on to a few left over clippings.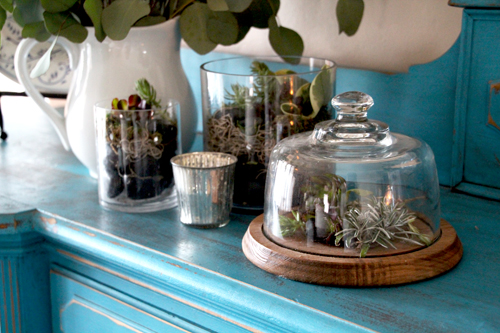 I think they look great in the dining room. The terrariums would be neat as a centerpiece for the table over a burlap runner and surrounded by simple white flowers for a dinner party. Oooo, I can see it now.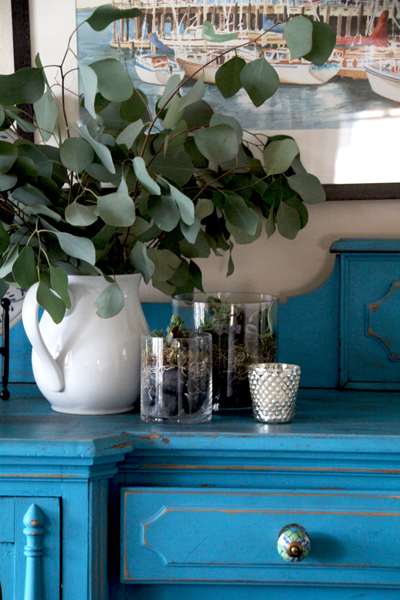 Again, the layering is what really makes these guys. Though some sort of tinted vase might be kind of neat as well.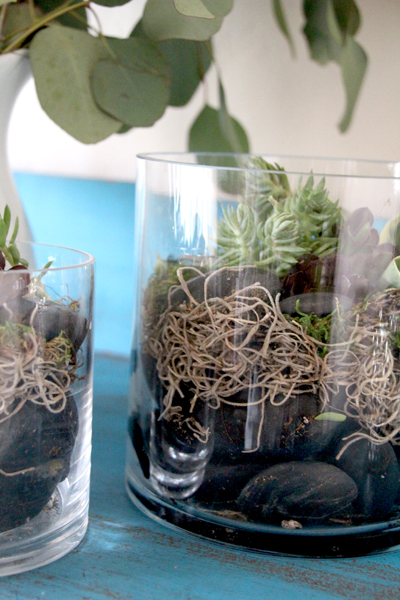 I love that I had all of the supplies on hand, makes for a super easy weekend project!
I kind of have a thing for collecting and holding on to great vases and different filler decor. It all started with my wedding five years ago and has grown to help plenty of friends with their big day centerpieces (yes, that many vases. times three). So that little stash in my garage is actually a cabinet that really needs to be emptied out… one indoor terrarium at a time.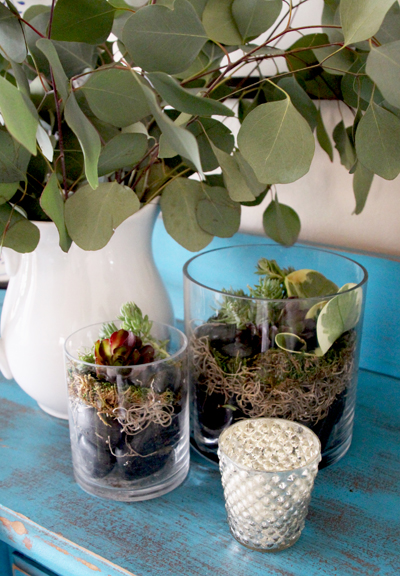 Tags:
Accessories
,
Crafty Solutions
,
Decorating
,
Dining Room
,
DIY
,
Home
,
Tutorial
Posted in
Crafty Solutions
,
DIY
,
Home
|
5 Comments »
May 1, 2012
This past weekend I finished up the new curtains for the bedroom. Last week I had shared a sneak peek of the fabric I had found, but a little pinning, pressing and hemming later and my curtains are up and hanging.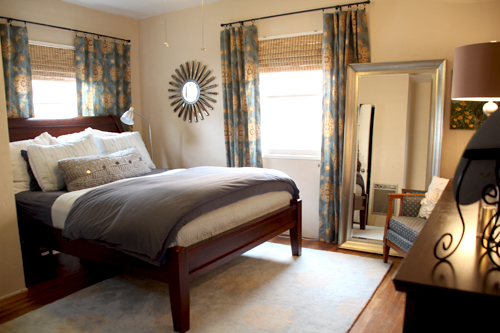 This room has been asking for a little character update since we moved in almost four years ago, and being the hidden bedroom that it is (no one ever really wanders into the master), I've left it as-is for some time. But now it's well on its way to a little sprucing up! Even if that just means a few new fabrics, art and rearranging.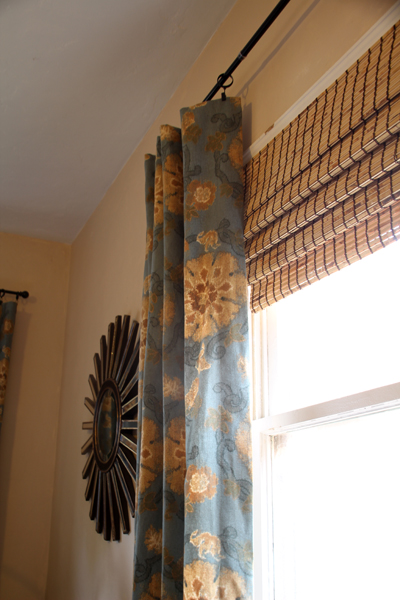 I'm loving the start! This fabric has had me smitten for some time and just as I had imagined, it goes so well in the space. The blue compliments the bedding and the tans work perfectly with our bamboo roman shades.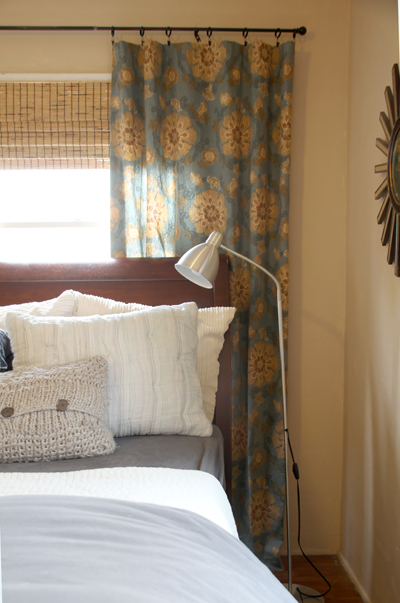 The bed still needs a few punchy throw pillows, and I think I'll recover those bright white shams in the back, but the new front standard shams are from West Elm and my aqua/soft blue coverlet was found at Pottery Barn. So much better than the all-blue as it was before. This side of the bed is still in dire need of a night stand…
Alright, on to those curtains. Here's the quick and dirty on how I sew a simple unlined curtain panel (this style can be a pocket rod or used with clips like I did above. Just for reference, here's where I tackled lined curtains).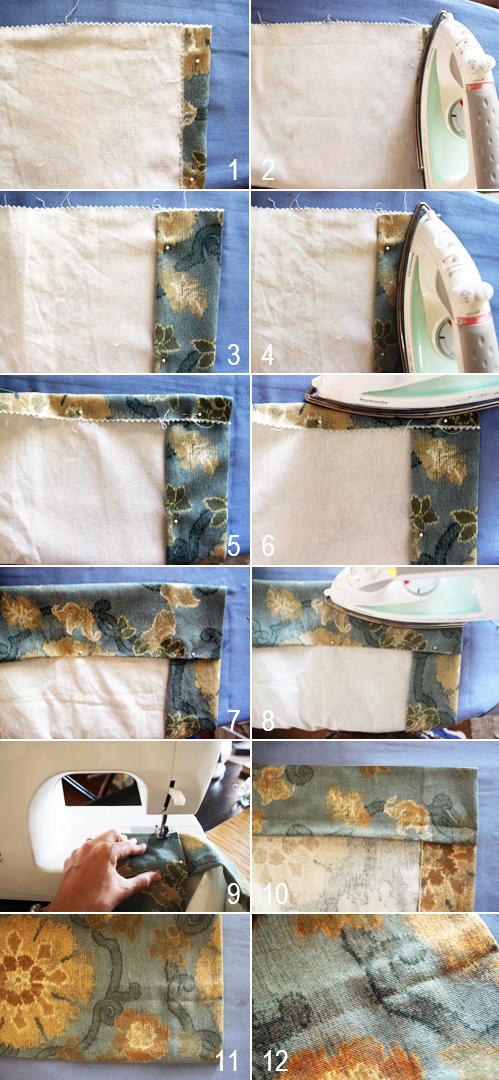 For me, it's all about the folding and pressing.
I begin by flipping my fabric over, folding down one edge about 1″ and then I pin and press into place. Next I fold down that same edge to create a wide hem, usually 4-5″ for the bottom of a curtain, 3-4″ at the top and 2-3″ on either side (to me, the thicker the hem the more professional it looks).
Here's an example of prepping the top of the curtain. First I fold the fabric over 1″ and pin, then press that fold into place. Next is folding again for an addition 4″, pin then press. This is what is my new top pocket rod if that's the style of curtain I'm making.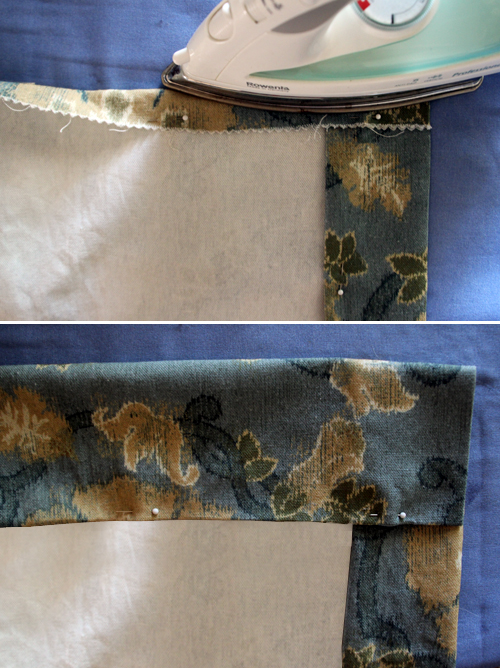 That pressed crease is key! It will not only guide your sewing line but will keep the curtains looking polished.
I repeat that process for three of the four sides (all except the bottom) and then sew along the top fold about 1/2″ in from each new hem (not the edge of the curtain but the folded over part, see arrow).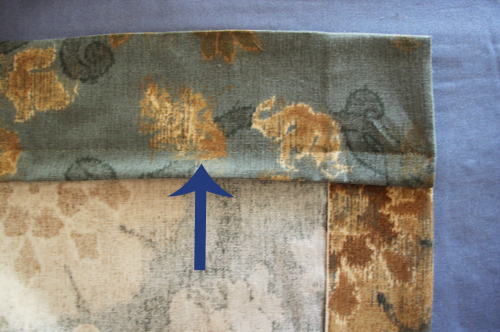 I sew the top hem first and then hang my curtain to let the weight of it pull the fabric down. Now I measure exactly where the fabric hits the ground and pin about 1″ below that to allow a slight break at the floor. This establishes the base point of my curtain. (I highly recommend remeasuring here by hanging your curtain unfinished from the rod, there's nothing like sewing a panel in one go to only find out your 1/2″ too short or too long!)
Next I pinned, pressed and sewed the bottom hem just as I did the top. I haven't sewn my sides up, but they are pressed into place just like in the image above.
Now it's time to sew up the sides. Beginning at the top panel hem (not the top of the curtain) I sew straight down each side, again about 1/2″ in from the folded over hem edge. I'm keeping my top and bottom hems unsewn along the sides because I think it looks cleaner, and it creates a nifty little pocket if you want to hang your curtains directly from the rod without clips.
If I flip the corner over, here's a visual that shows that the side hem stops right at the bottom hem.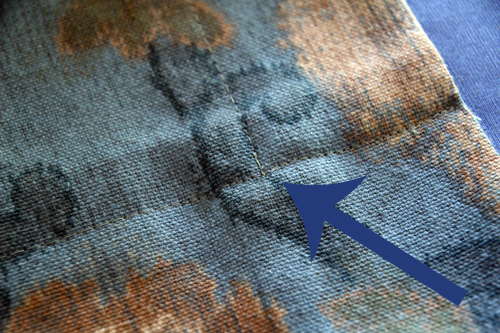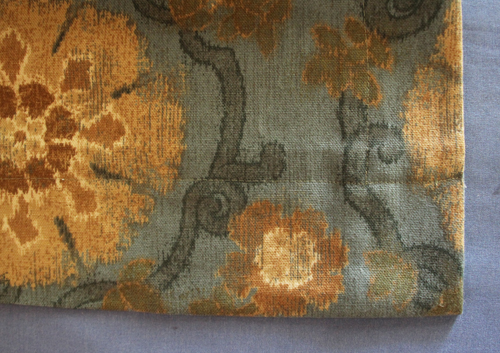 And if you have any boo boos? Because mistakes are always inevitable… I turn to my trusty Sew No More (discovered this guy in the $1 bin at Vons – you know, the bin where they're just trying to get rid of product? But this stuff is awesome.)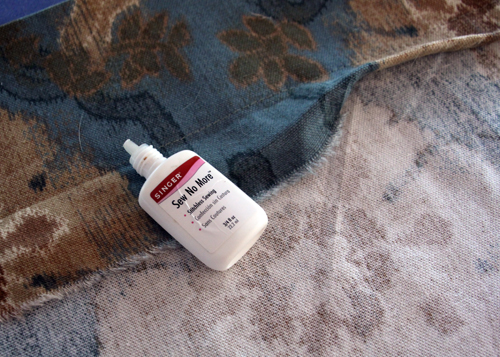 My sewing machine stitch hadn't caught about 10″ of a pressed hem, so I applied a little fabric adhesive and now it's all better.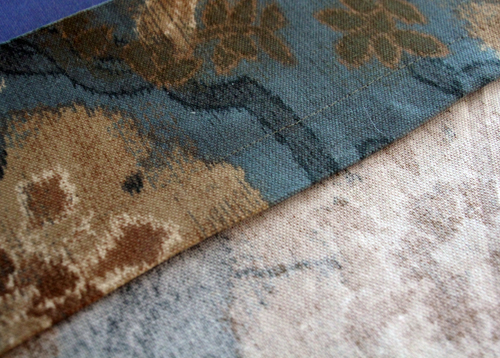 The last step was ironing the curtains one last time and then hanging them up! As mentioned before, I opted to hang my panels from curtain rod clips (you can find a pack of 7 – one pack for each panel – at any home improvement store).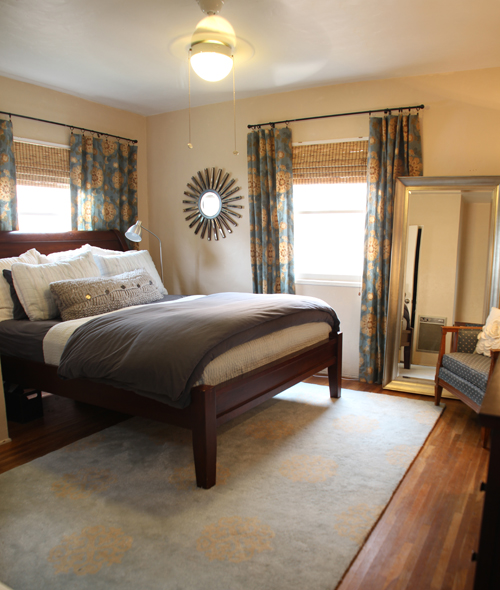 To help shape the pleats, I improvised a bit and used a hair duck clip

and left the panels bunched for several hours.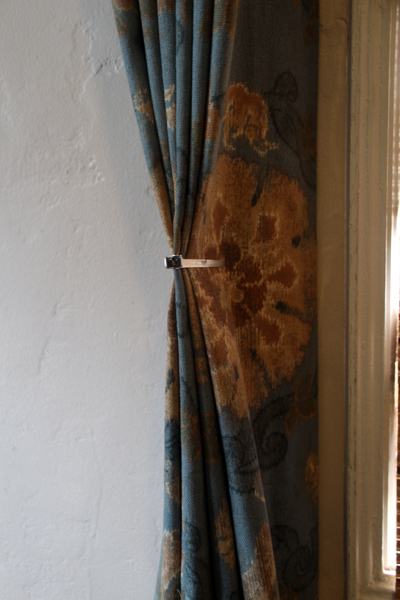 I'm sure there's a better way to do that…
The curtains tie in well with other areas of the room, too. A garage sale painting I found a while back (above chair) looks as if it were made with the curtain color palette in mind: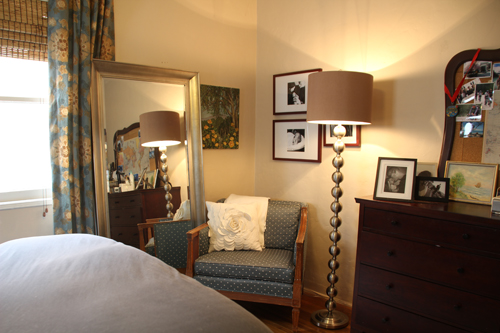 I'm thinking now that mustard might be a great color to use as an accent on the bed? Actually, the fabric from my thrift store chair looks pretty matchy too.
The curtains also help to balance out a window behind the bed that's a little off center, though this bed is asking for new throw pillows.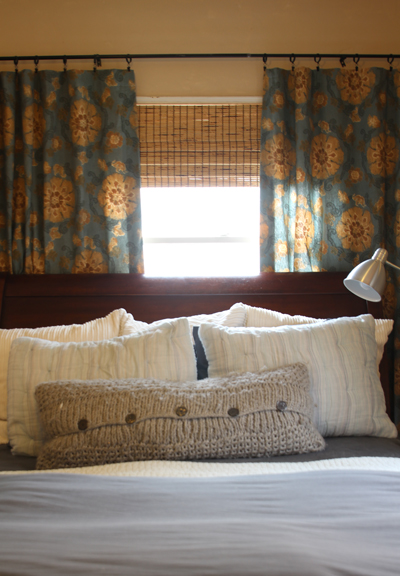 The fabric reminds me of a more floral suzani print, the actual name is Orbetello by Thibaut in blue.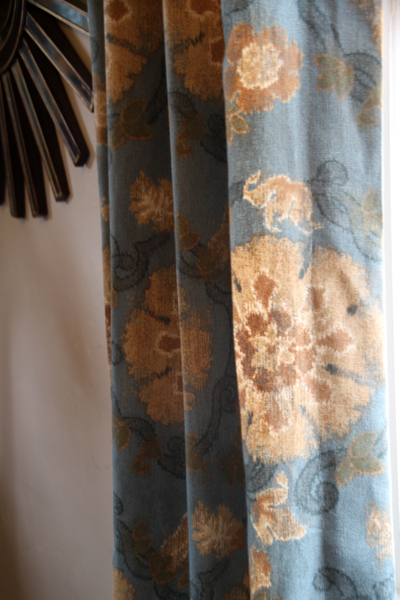 One more project crossed off of the list!
A reminder of the room before we moved in: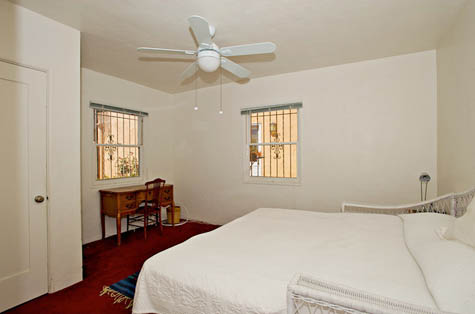 What we put together shortly after we unpacked boxes (in pretty bad lighting):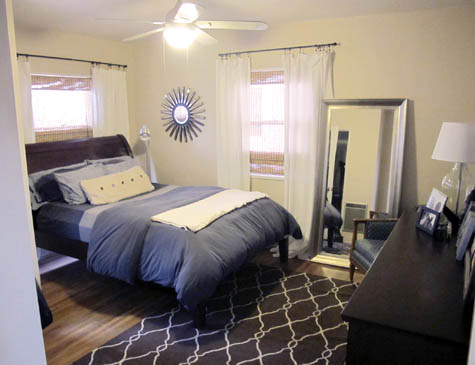 And now where the room is today: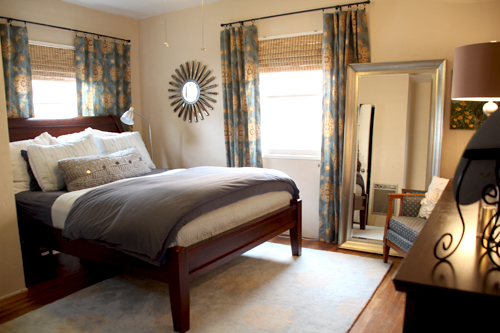 That means as of now the rug, most of the bedding and the curtains are done! With art, pillows and possibly a new bed frame to go.
We actually have plans to demo this room and the adjoining bath to create one master suite sometime next year… that will really be a fun project. But baby steps, all in due time!
More master bedroom posts here: curtain fabric sneak peek, a new rug, the floor plan.
Tags:
Accessories
,
Blue
,
Crafty Solutions
,
Decorating
,
DIY
,
Fabric
,
Home
,
Patterns & Color
,
Sewing
,
Tutorial
Posted in
DIY
,
Home
,
Our Master Bedroom
,
Renovating Adventures
|
14 Comments »