March 8, 2010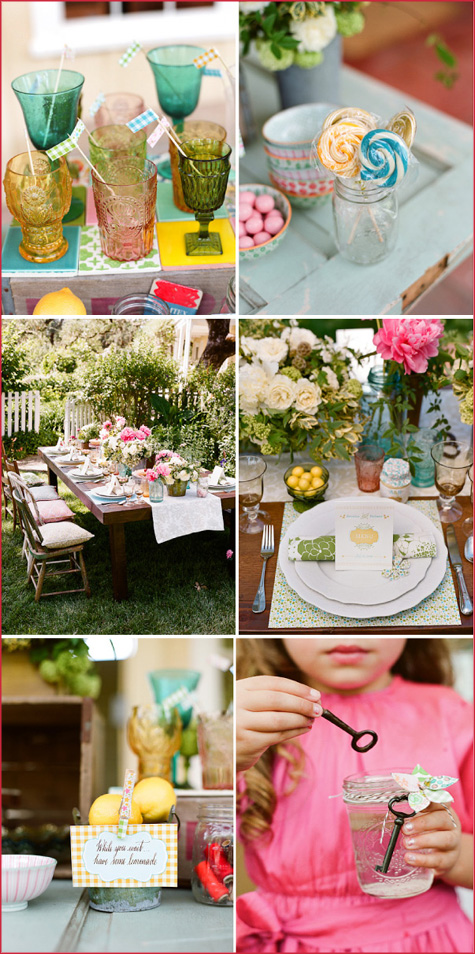 Ready for a little spring eye candy? I almost fell out of my chair when I came across this absolutely adorable 'recycled chic' backyard party. I'm loving the idea of a *sweet* celebration for the coming months!
A vintage candy & cakes theme would work just as well for a shower, a wedding or even Easter.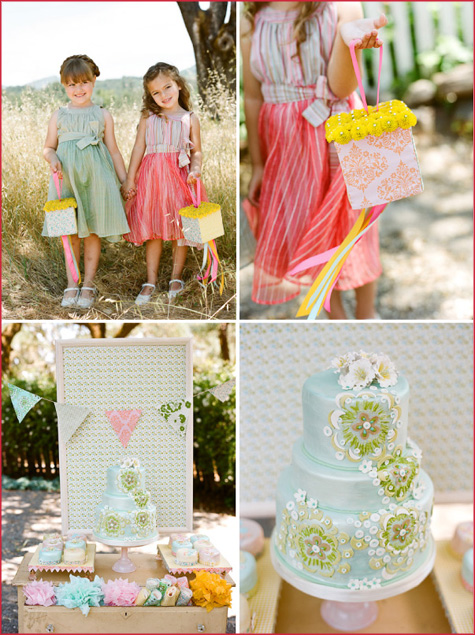 Style Me Pretty shares this lovely photoshoot, complete with colorful poms, a delicious dessert table (make that the most adorable bookshelf you've ever seen!) and vintage place settings. I'm head-over-heels in love with every detail.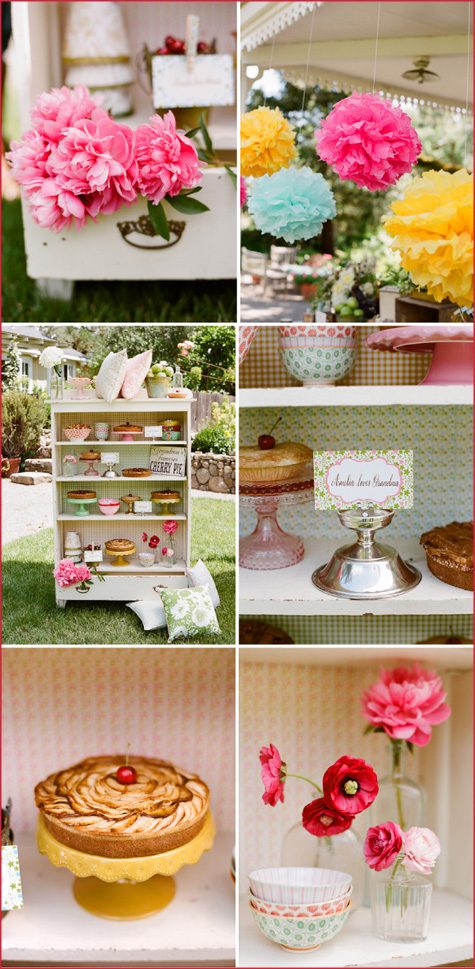 I can't decide which perfect little piece of this party I like best. Is it the mis-matched paper prints (on the signs, as drawer liners, the background for the cake table, as place mats…) or the amazing floral designs (did you see that tablescape up top??) or the mouth-watering desserts!
More delicious photos - including the invitations, adorable handmade pillows and petite cakes - after the jump! Read more »
Tags:
Baby Shower
,
Birthday
,
Bridal Shower
,
Cake
,
Decorating
,
Desserts
,
Dinner Parties
,
DIY
,
Easter
,
Kids Party
,
Parties & Entertaining
,
Patterns & Color
,
Pink
,
Wedding
,
Yellow
Posted in
Parties & Entertaining
|
13 Comments »
October 10, 2009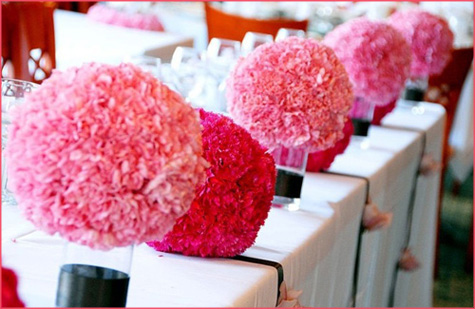 Carnations really don't deserve that bad rap they've been receiving all of these years… florists, party planners and brides alike frown at the idea of including carnations in centerpieces or displays (you know you've been there…). But really, carnations are a pretty ideal bud. They can be found in a selection of vibrant colors at almost any time of the year and are by far one of the cheaper stems on the market (probably due to that above mentioned bad rap).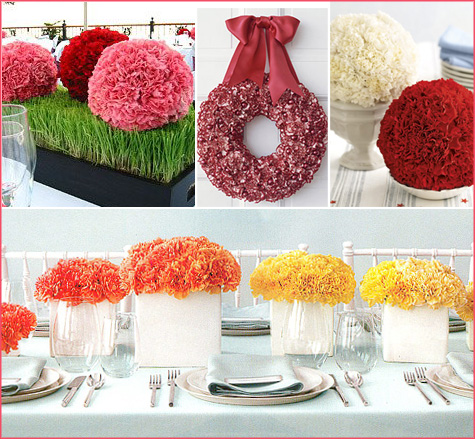 'Lollipop' or ball centerpieces are one of my favorite ways to introduce carnations into modern tablescapes. By using floral foam, you can take advantage of a carnation's full foliage by clipping them short and placing them tightly together to form a floral structure. I love this with wreaths, half circles and full balls. When placed a top risers, it creates a stunning effect.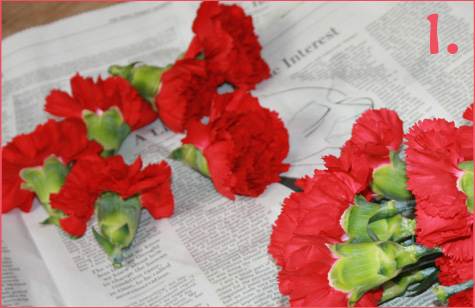 Here is the How-To for creating your own lollipop centerpiece as pictured in the Colorful Candy Buffet posting from last week. Follow the jump! Read more »
Tags:
Baby Shower
,
Birthday
,
Bridal Shower
,
By Color
,
Crafty Solutions
,
Decorating
,
Dinner Parties
,
DIY
,
Easter
,
Parties & Entertaining
,
Wedding
Posted in
Crafty Solutions
,
Parties & Entertaining
|
4 Comments »
September 30, 2009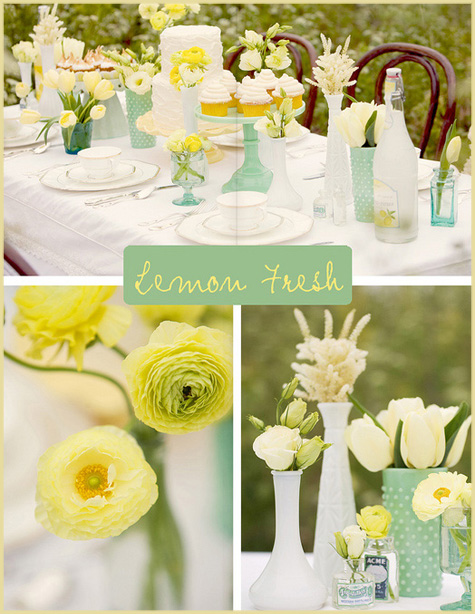 I love the color yellow, it's so light, bright and cheery that just the thought of it puts a smile on my face. These lemon yellow party themes do too — and they're full of creative ideas for a celebration in any color of the rainbow. I'm loving the soft green accents that Utterly Engaged has tied into this Lemon Fresh bridal shower (especially the green pedastal cake stand)!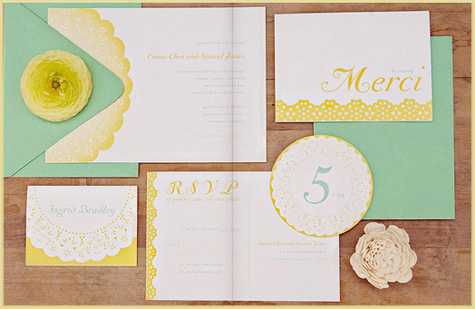 I'm brainstorming a baby shower for a friend who's waiting to find out the baby's sex, and it has been so fun seeking out new colors to incorporate instead of the traditional blue and pink. It's lemon yellow that I love today, but word has it that mommy's leaning towards green as her neutral, so bring on the kelly, lime and sage!
Follow the jump for two more parties full of bright, cheery ideas… including a yellow paper lantern and balloon lined dessert table, mini clothespinned favors and an adorable lemonade label. Read more »
Tags:
Baby Shower
,
Bridal Shower
,
By Color
,
Decorating
,
Dinner Parties
,
Easter
,
Parties & Entertaining
,
Patterns & Color
,
Wedding
,
Yellow
Posted in
Parties & Entertaining
|
5 Comments »