March 7, 2013
Just finished a new project for our kitchen and I love how it turned out!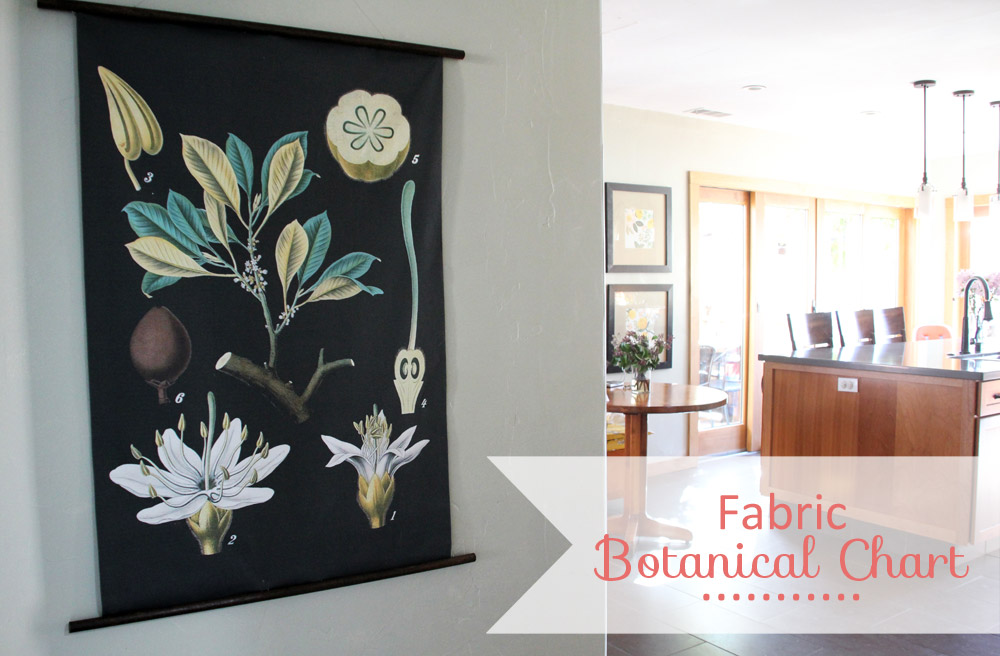 Let's start this post off with some yummy inspiration.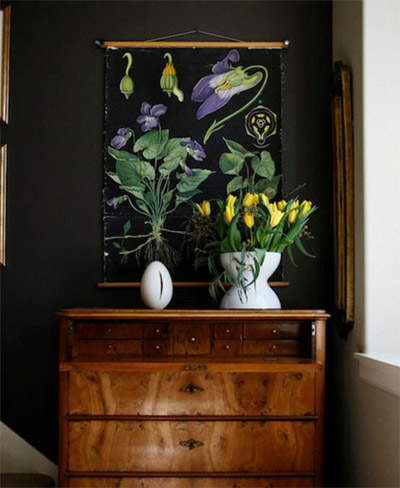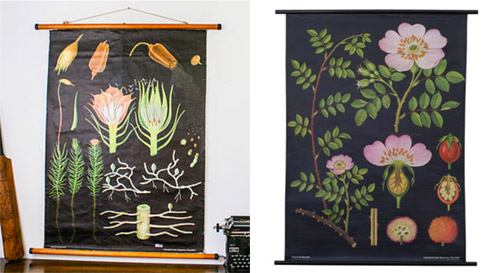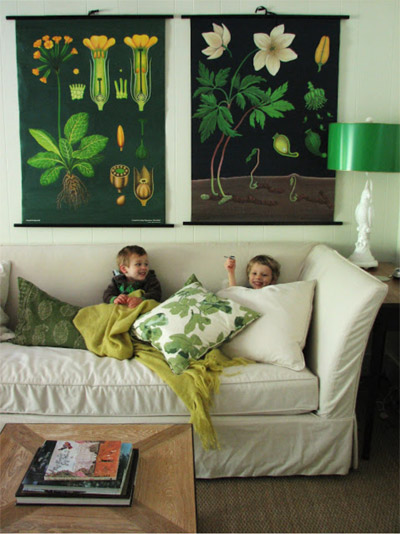 I have loved the look of vintage botanical charts for some time! They are oversized, full of contrasting color (love the black backgrounds) and the illustrations are so detailed and just stunning.
But I ran into two dilemmas before finding one for the house. The first was tracking down the right print for the right price. I was hoping to find a fabric version rather than a print that I would frame behind glass (see those beautiful dowels above? my favorite way to hang a piece of art like this) and many fabric versions are originals from quite some time ago and because of that they all seem to be pretty pricey (like in the hundreds of dollars a pop range).
The second was finding the right spot! I wanted to find a creative way to hang a new print but these guys are usually pretty big and they need a special home that's just perfect for the look of the print.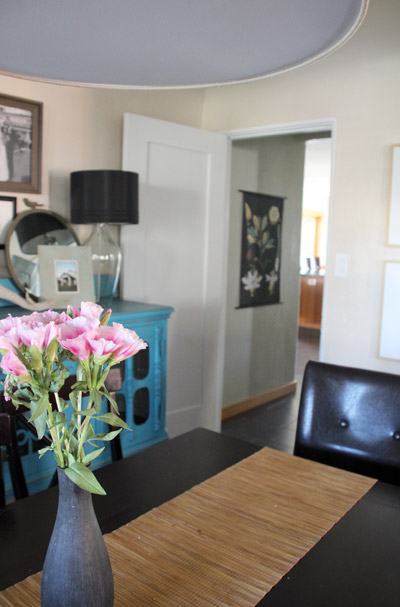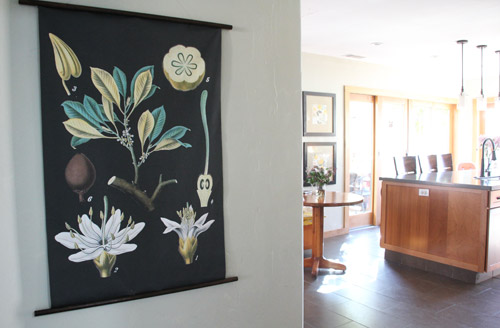 Then very recently, I found the perfect source (and added a little DIY love) and the perfect spot in our home! Our new fabric botanical chart now hangs in the hallway between our dining room and kitchen, and it fits in perfectly.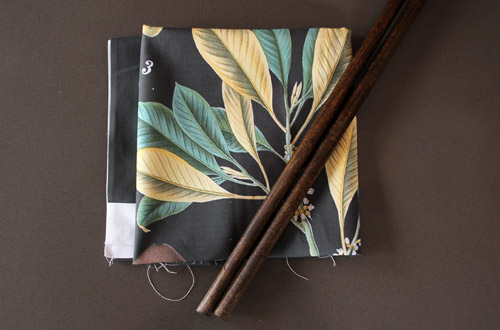 After a few months of occasionally googling and searching, I stumbled upon KSarahDesigns and her beautiful botanical print reproductions on Etsy. The store offered a gorgeous selection of paper prints, but I reached out to Kristen anyhow to ask about possibly using her artwork to print the illustrations on fabric. I was so happy and surprised when she offered to take on the project herself! Spoonflower is an awesome source for printing your own fabric and a few short weeks later I received my folded, heavy duty cotton twill fabric in the mail.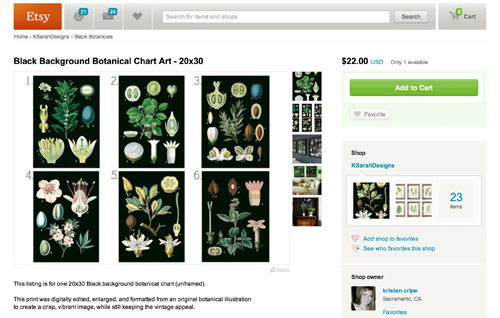 Printing black onto fabric is near impossible (we learned the hard way) but even the dark charcoal grey looks great as a chart.
Next step was to transform the fabric into a hanging piece of art. I snipped the white edges (no need for a perfect cut since my edges would either be hemmed or hiding behind a dowel) and then carefully added a very small hem to the long, horizontal sides of the chart. My first thought was to use an iron on hem tape to secure the hem, but after pre ironing my hem flat on each side I noticed that the tape wasn't necessary – the edges stayed perfectly.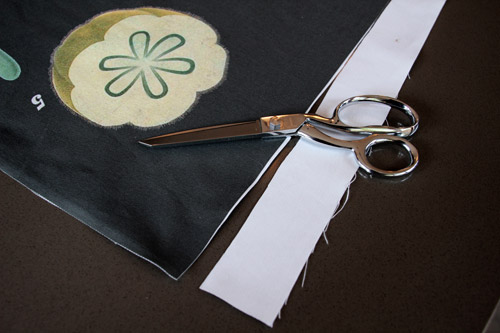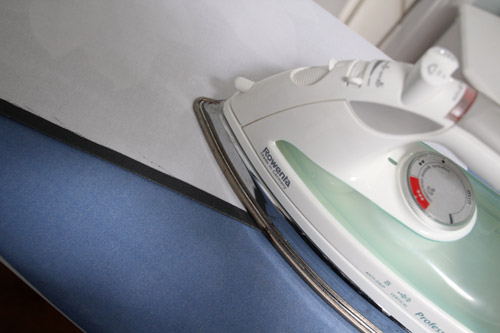 I picked up two 1/2″ dowels from Lowe's and we cut them to size. Then I stained them a warm, chestnut brown (they were originally pine) and I stapled my chart directly to the dowels to give the top and bottom of the print a clean look.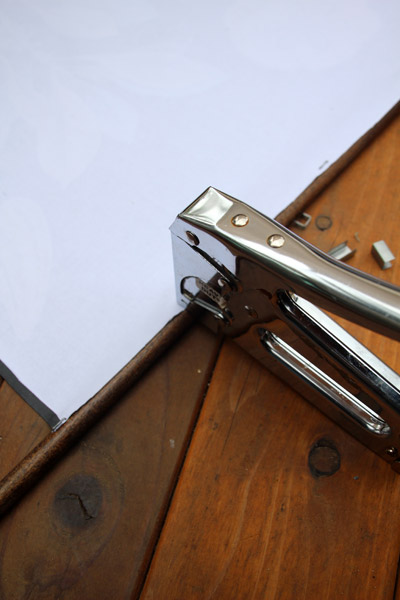 It's hard to see the string in the photos (and I may switch that out in the future) but for now the chart simply hangs from a nail. Finished!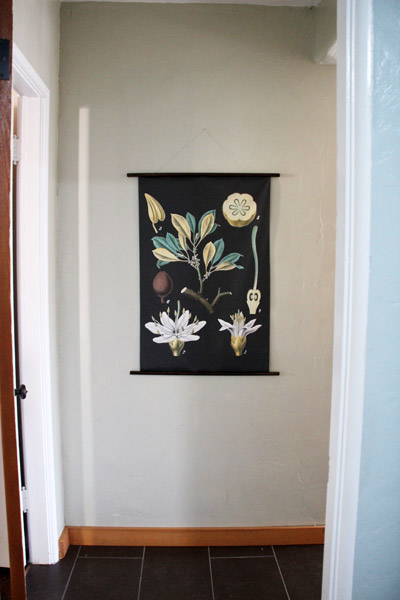 And a glance from our dining room! Love the black accents and how the lampshade, b&w photos and print compliment each other. The chart leads you into the next space.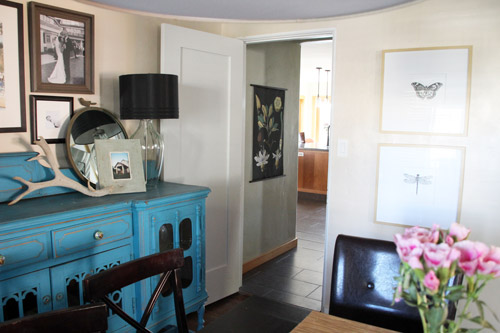 From the kitchen, the black of the fabric looks great with the new chalkboard and the black framed calendar floral art (those big prints that are sitting just to the left of the sliding doors).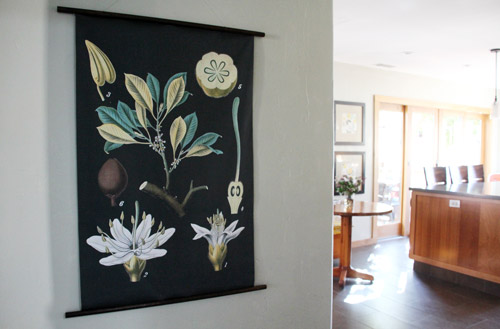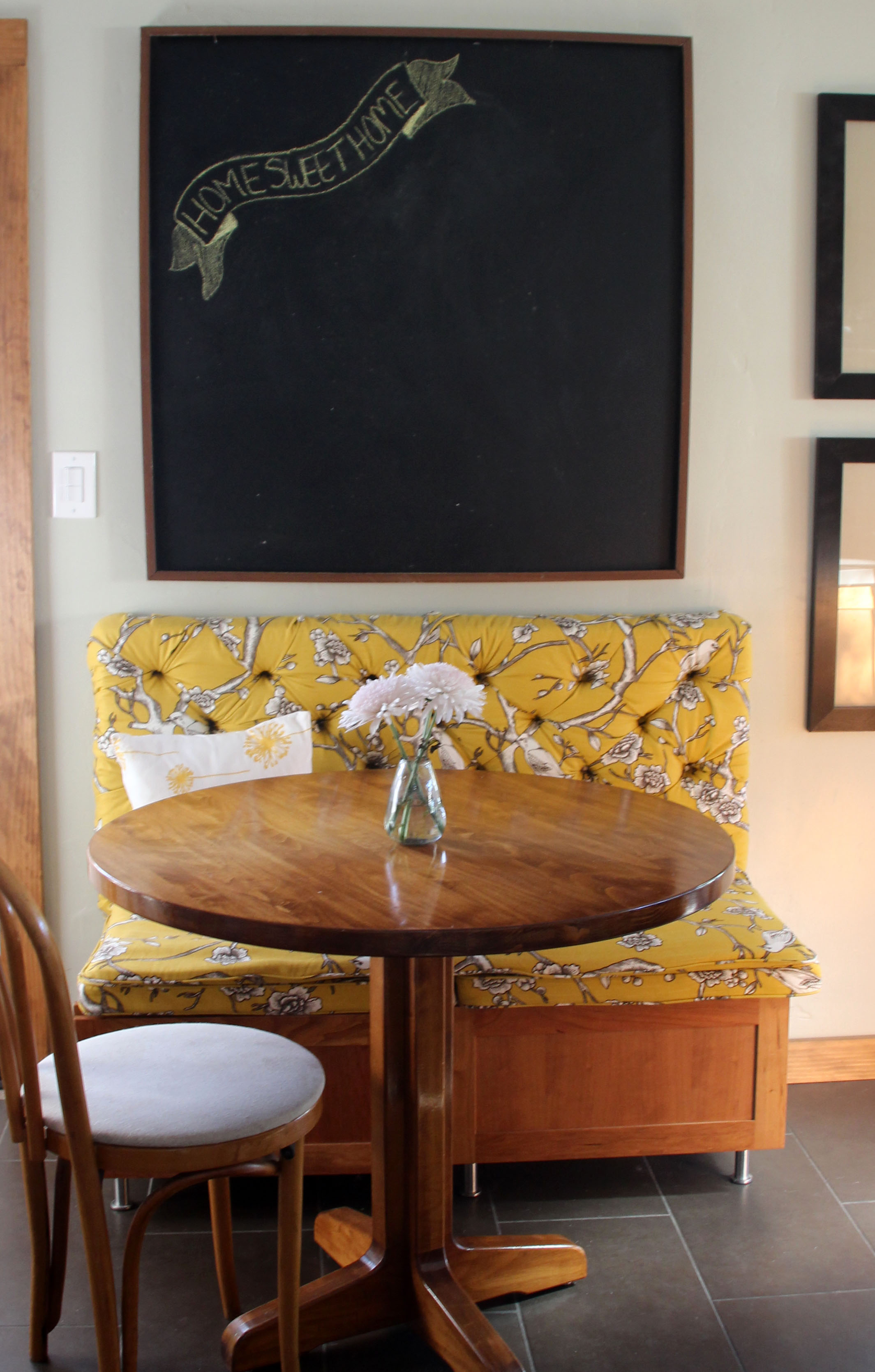 Love my new art and that the price for the finished, semi-DIY piece (which came in at under $50) is a totally affordable alternative to the originals out there.
Tags:
Accessories
,
Art
,
Black
,
Crafty Solutions
,
Decorating
,
DIY
,
Fabric
,
Home
,
Kitchen
,
Tutorial
Posted in
Crafty Solutions
,
DIY
,
Favorites
,
Home
,
Our Kitchen Remodel
,
Renovating Adventures
|
6 Comments »
January 17, 2013
Sorry for the lull around here! We've all been fighting off terrible colds and crossing our fingers that the flu doesn't arrive at our doorstep – but it feels as though it might. We've all been a bit down lately.
I did get an awesome project finished before the horrible sniffles and headaches hit though, and I can't wait to share with you. AND found a great Craigslist breakfast nook table that fits the spot really well!
There she is! A newly tufted back to the breakfast nook bench seat. It makes a world of a difference.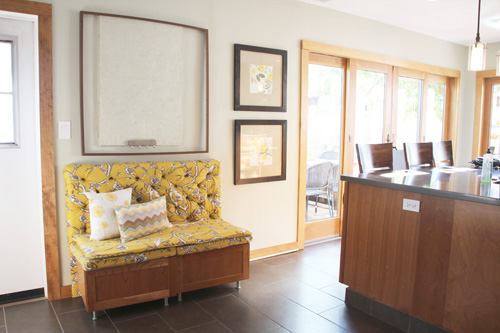 Previously the space felt bare and the cushions weren't substantial enough to make a big impact.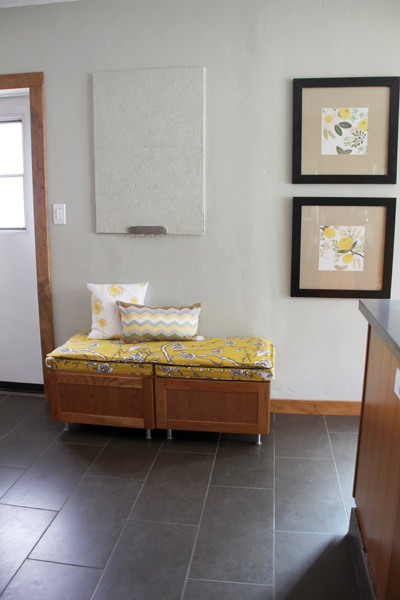 Now the bench feels a little more permanent (even though we assembled all of the pieces so that it can move about the kitchen, backing and all) and it really fills up the space well!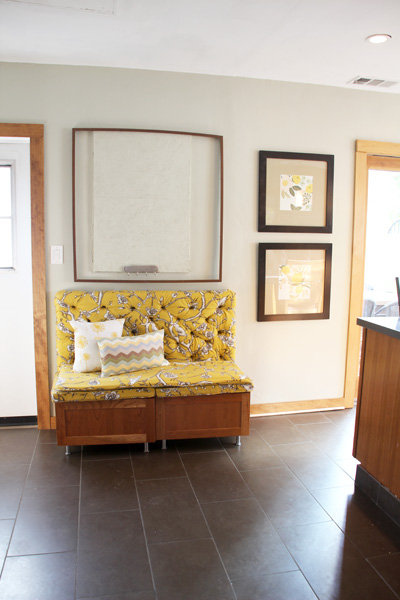 Love the detail and the deep tufts, more on DIYing this project very soon.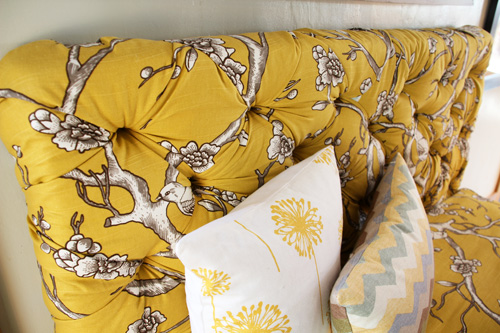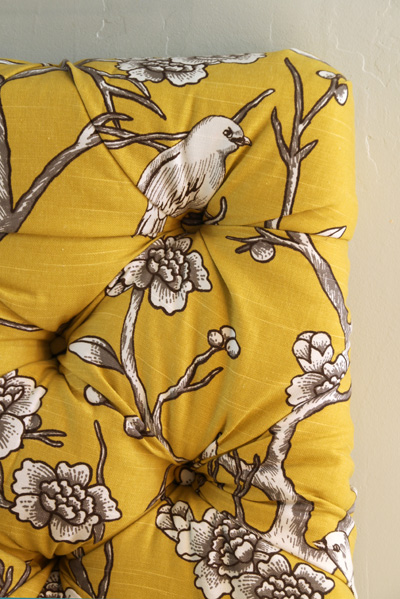 But that's not the only breakfast nook update… I found a Craigslist table and a thrift store chair to match: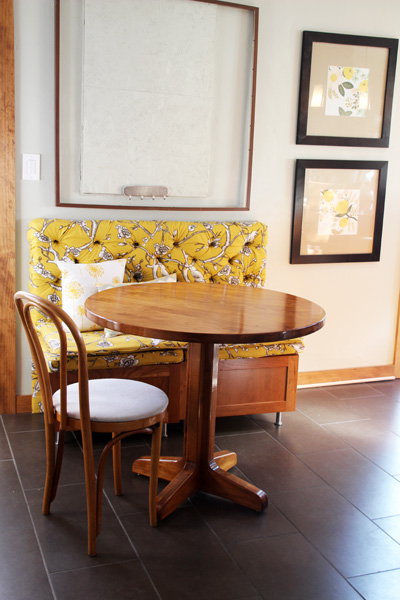 Initially I was on the hunt for a table in a contrasting color – perhaps something dark or something that I could paint a bold 'pop' of color. But finding a table that was neither too small, too big or too expensive was a challenge. So when this bad boy came up in my Craigslist search, I jumped on the chance to check it out. Turns out it matches the cabinetry almost perfectly and is just the right size.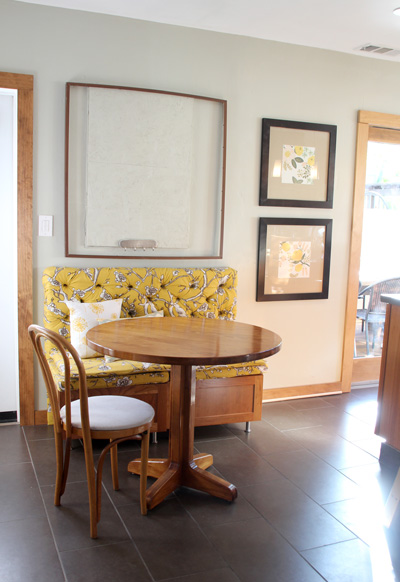 I've played with the idea of painting it because I'm not too crazy matching sets (see how the table looks like it almost belongs to the bench seats?), but it's in such great shape that that decision can sit on the back burner for a little while.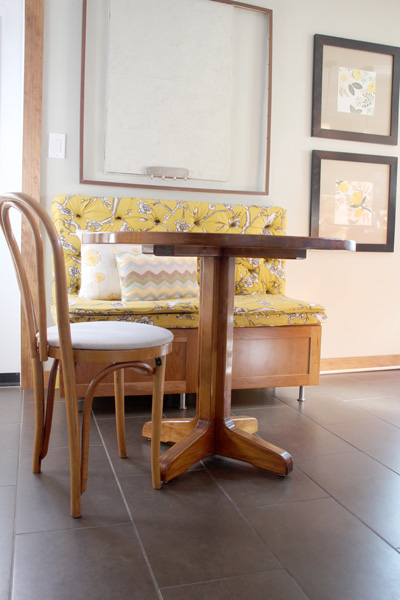 I also played a bit with making my own table – that is, hunting down a neat pedestal and then getting a little creative with the top. Ahh well, sometimes these things fall in your lap and you take 'em and run!
The first chair I spotted for this table was actually a bentwood from a thrift store that salvages pieces from the local junk yard. It's in pretty bad shape and I scored it for $1. Then I found this matching guy at a local furniture consignment shop for $19: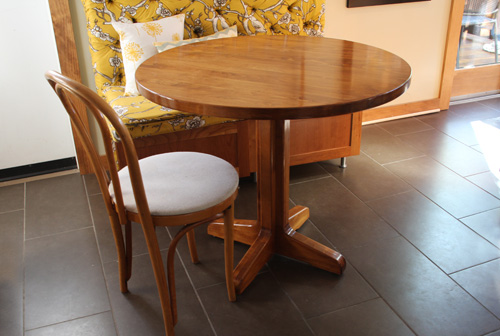 The $1 version needs some love before she's allowed inside. But hopefully a pair of chairs is in this table's immediate future.
And hopefully some artwork, too! Thank you, thank you for all of your excellent suggestions on how to temporarily cover up that plywood window we're hiding until summer, and as you can tell from my photos I'm on to an idea… as oversized as it may be at the moment.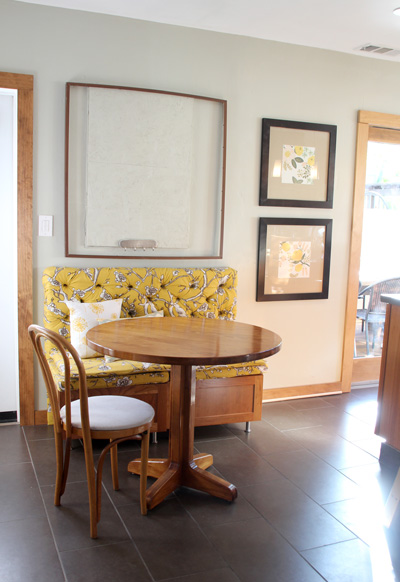 Still loving my new tufting! My favorite upholstery project to date.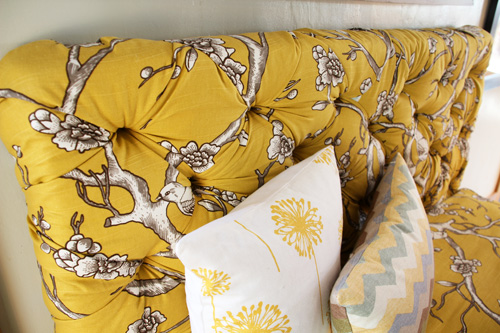 This bench area is now a great spot to snuggle up in while reading the morning paper or to enjoy a quick bowl of oatmeal before the day starts. The thick, soft backing is just what this space needed.
Working on pulling all of the images together now for a little DIY post on how I made the stand alone bench back (it's not connected to the actual benches) and finished the tufting.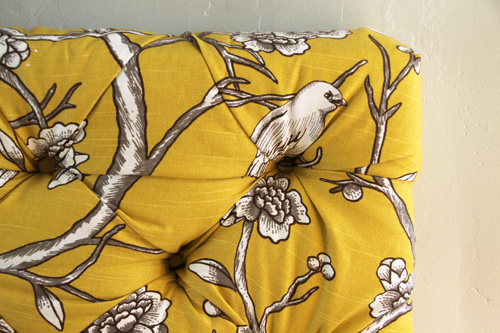 More to come.
Hope your home is staying sick-free and keep us in your no-flu thoughts! We are all hanging on…
PS More on the breakfast nook transformation here: part 1, the inspiration, part 2, the bench, part 3, the cushions!, part 4, the ugly wall design dilemma
Also, a big thank you to iVillage for featuring the dipped play table legs project in Liv's room in their 2013 trends to watch!
Tags:
Breakfast Nook
,
Crafty Solutions
,
Decorating
,
DIY
,
Fabric
,
Home
,
Kitchen
,
Patterns & Color
,
Yellow
Posted in
Crafty Solutions
,
DIY
,
Home
,
Our Kitchen Remodel
,
Renovating Adventures
|
10 Comments »
December 11, 2012
I've been anxiously waiting to catch you all up on my breakfast nook project, but I've reached a bit of a design dilemma and I thought I'd share what's going through my mind right now.
I've moved the bench seat from the edge of the island: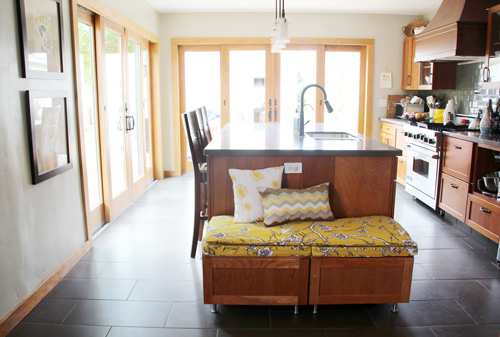 To this blank wall. We'll call it the problem wall.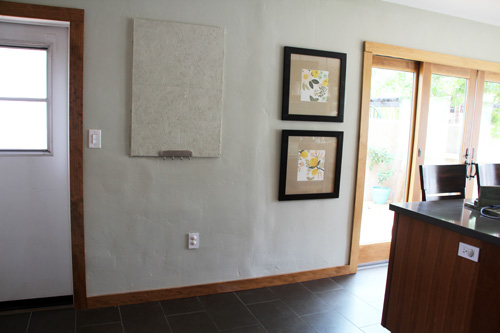 This particular wall used to be the dividing line between what was (way before us) a bedroom and an entry room (at least that's our suspicion…). It had an unusually placed window just to the right of the side door that makes us wonder if a mudroom existed here before (and a slight buckling in the wall where there may have been another wall that jutted out of it?). The wall was gone before we moved in and a den was in its place.
During our kitchen transformation, this small little window broke and was quickly boarded up and left for a future project. The plan is to either A. replace it, B. use glass block to fill it in, or C. make it disappear altogether as a solid wall. The last is my vote, but Kevin is not 100% convinced on which he loves best. So it sits now as a piece of plywood in the kitchen. We finally painted it to match the walls (though it doesn't blend much…) and avoid photographing it altogether

. When we have guests over, sometimes I hang a piece of art right up over it.
The ultimate goal is to integrate that space back into the house, and even if we wait on the to-close-or-not-to-close decision for a while, I'd like to come up with a solution to hide the eye sore in the interim.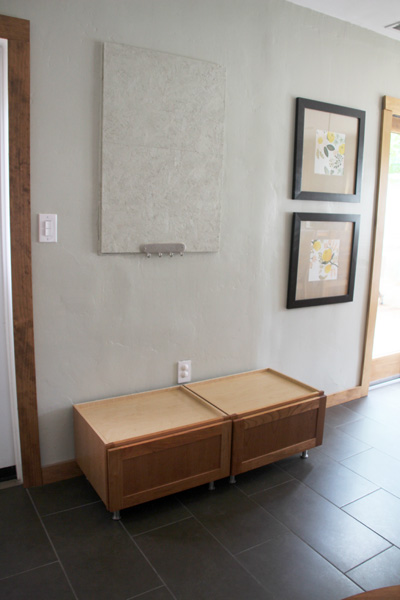 I had this space in mind too for the kitchen breakfast nook and I thought it might work well if the end of counter idea (see top pic) didn't. And the bench? The perfect size!
Now just picture a round little table and two chairs in front of it.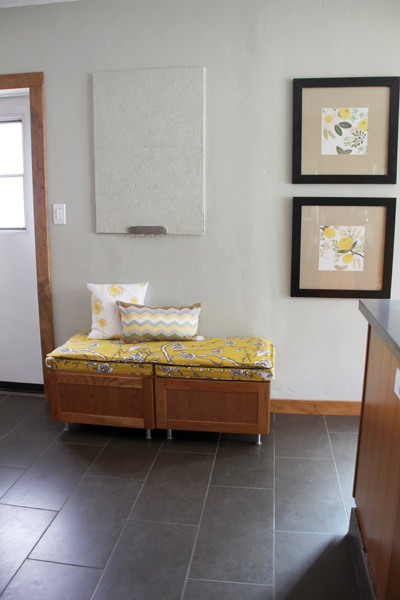 I love that the colors tie in so well with the artwork.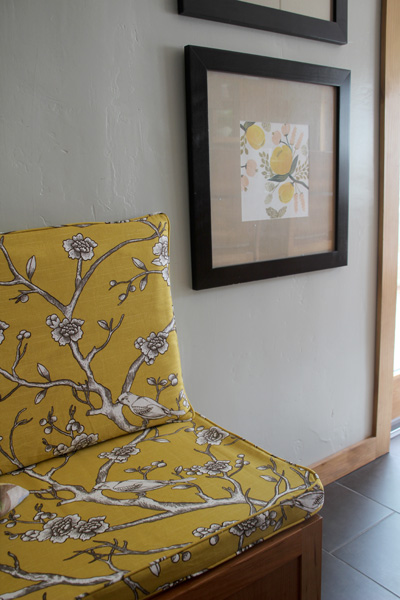 But back to that dilemma, because the plywood 'pin board' is a big eye sore.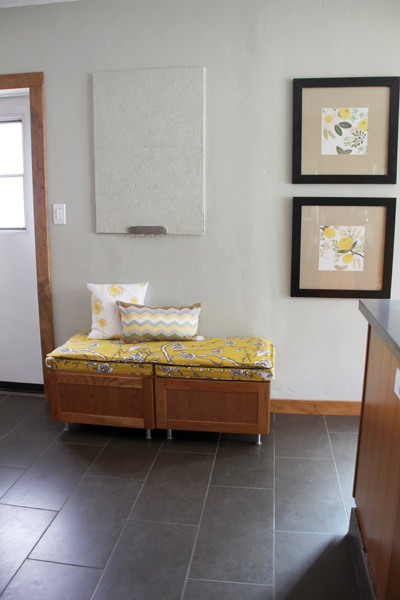 I have a couple of ideas…
The first one that I imagined as perfect for the space was to find a cool old mirror and convert it into a chalkboard, like this: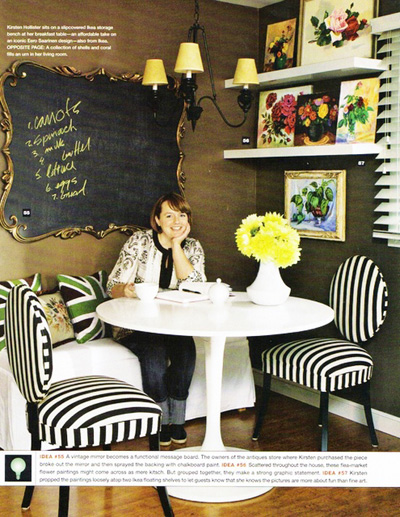 How beautiful! Image from here.
But I searched and searched and had the hardest time tracking down a large enough ornate mirror. See, to both cover up that plywood (temporarily, of course) and look somewhat natural on the wall, I needed a piece that is roughly 44″ tall and 40″ wide (big and tough to find).
Still on the hunt for an ornate mirror, but I suppose option two would be to hang a regular square chalkboard that might look something like this: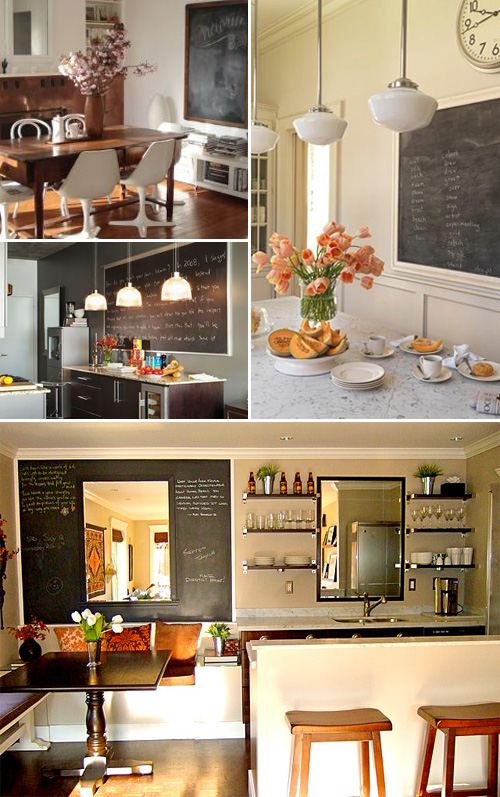 I could build my own or find a large frame and then turn it into a chalkboard.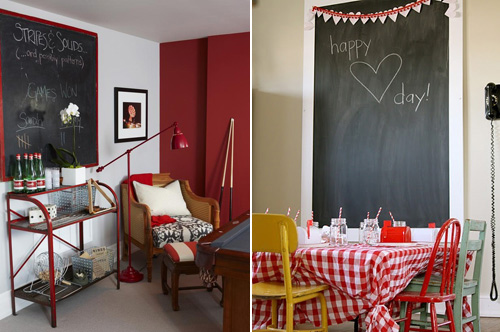 Image sources for all of these ideas can be found over on my kitchen Pinterest board (Pinterest is where I was lucky enough to track most of them down!)
If I build my own frame… perhaps a chunky reclaimed wood look?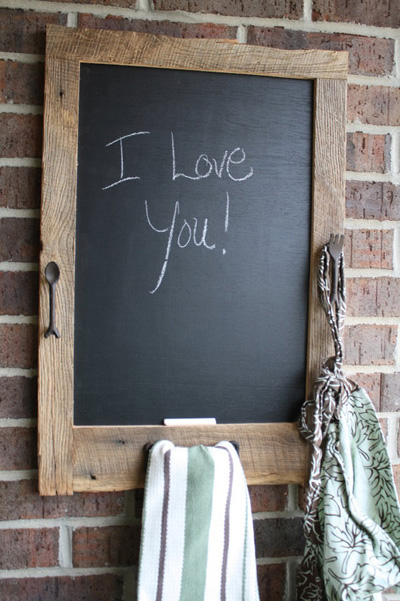 Love the look of wood and chalkboard… though gold is high up there as well!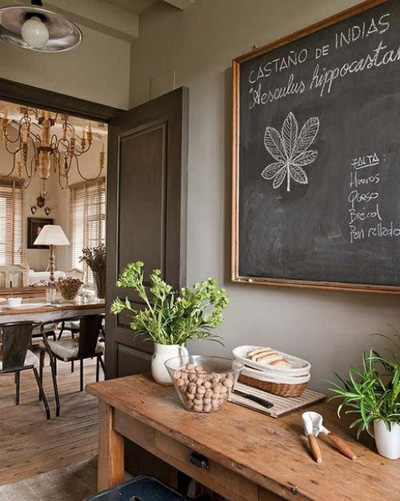 And I'd have to make it magnetic, just like Christina did: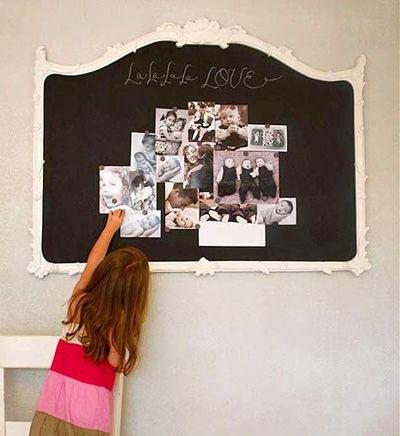 Part of me is secretly wondering though if a command station so front and center as you walk into the kitchen is the right idea? Do I want lists and ticket stubs and reminders so evidently visible? Could I keep this space visually clean?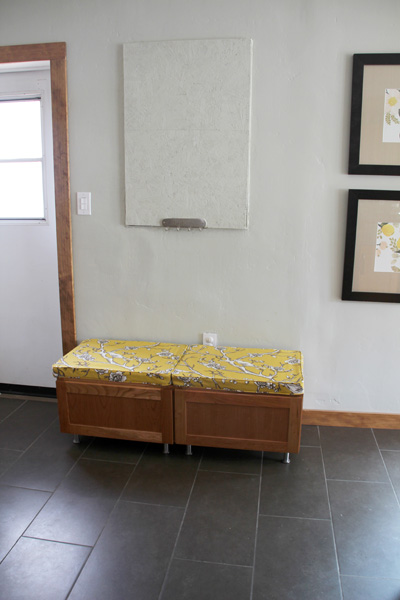 That wall above is just to the left of the island below. I'm standing in front of it while snapping this picture: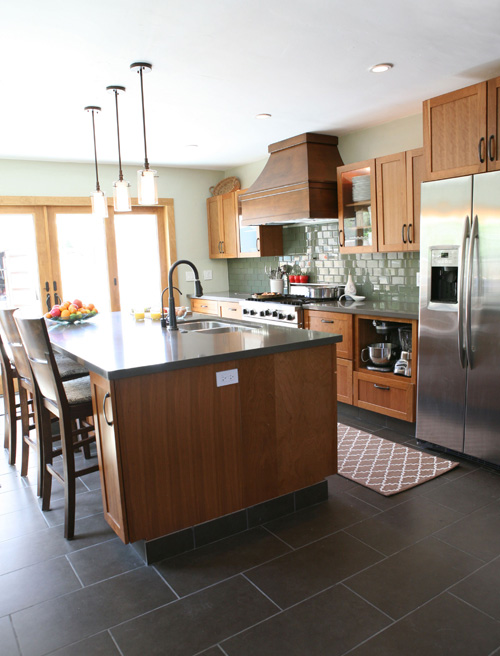 If I could and was willing to make that promise to myself, why not a cool fabric pinboard?
Picture this coral in a square frame and Liv's art hung up in a semi-organized fashion: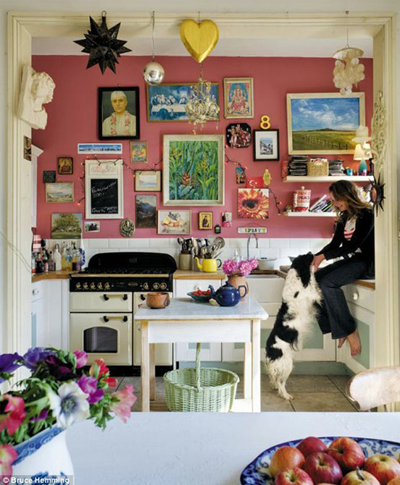 Or perhaps I nix the command station idea and hang just a stunning piece of framed fabric (from a vintage scarf, tablecloth, remnant piece…):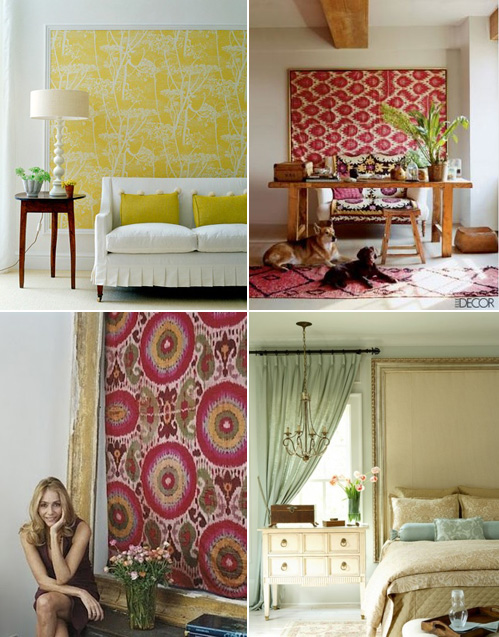 Maybe a framed picture? Painting? Map? What would not look out of place in a kitchen/dining space? See how difficult I've let this one become?

 PS You can find all of the kitchen renovation stories here.
Tags:
Accessories
,
Breakfast Nook
,
Crafty Solutions
,
Decorating
,
DIY
,
Fabric
,
Home
,
Kitchen
,
Yellow
Posted in
Crafty Solutions
,
DIY
,
Home
,
Our Kitchen Remodel
,
Renovating Adventures
|
8 Comments »