November 19, 2009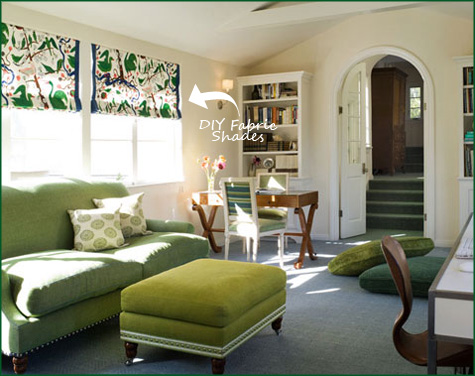 It's been a while since I've had the chance to feature a really awesome DIY project and I couldn't be MORE excited about this one! Fabric roman shades are classy and beautiful — and they add a bit of pattern and personality into any room. The fabric shades that Coddington Design incorporated into the above living room pull the room together.
Here are three step-by-step DIY projects (from your own old blinds or from scratch) to keep you busy!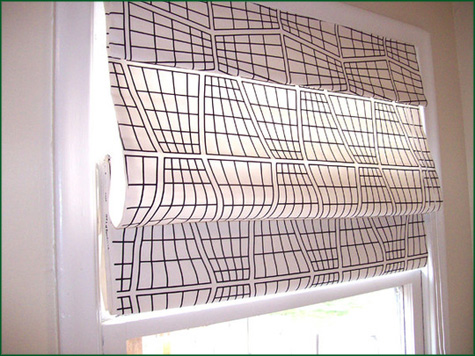 You could purchase pre-made shades or even have custom window coverings designed out of your favorite material — but if you have an old set of blinds or roman shades lying around, creating your own can be quick & easy!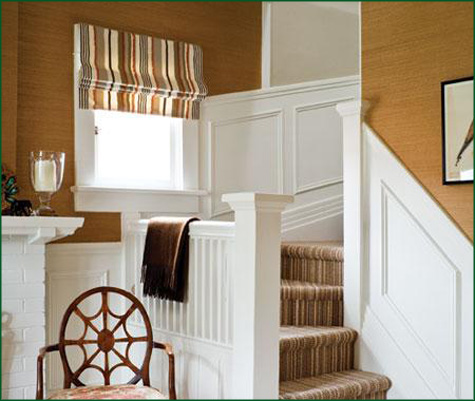 Follow the jump for step-by-step instructions for custom roman shades created from old blinds, an old roman shade (even a cheaper version that you find on the market, like a standard Ikea or Target shade is a great starting point) OR even from scratch! Apartment Therapy, Little Green Notebook and Canadian House & Home have it covered! Literally. Read more »
Tags:
Accessories
,
Crafty Solutions
,
Decorating
,
DIY
,
Fabric
,
Home
,
Living Room
,
Tutorial
,
Window Coverings
Posted in
Crafty Solutions
,
Home
|
3 Comments »
November 7, 2009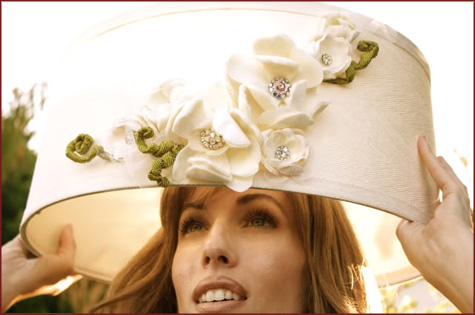 Felt — that fuzzy material you used in fourth grade to make cut out animals & party masks — has made a beautiful come back! By it's very DIY nature, felt is a neat texture and material to incorporate. From it's no-hem-needed cutting capabilities to the ease of tracking it down (every craft, art or kids store in your neighborhood), you could not ask for a more versatile DIY textile.
Full House featured these two lampshade and pillow felt inspirations, I adore the delicate flowered lampshade that could be remade with a few flea market broaches. The ruffled pillows below add a whimsical touch to the room and would be so easy to create with gathered strips of felt and a quick hand stitch (from Kelly + Olive).
How great are these BHG felt projects? Refashion a standard throw pillow by adding leaf, flower or butterfly felt embellishments. The grey felt placemat is by Kikkerland.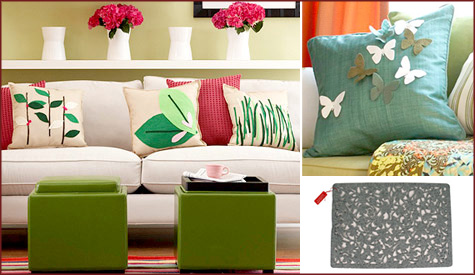 This floral pouf from Modern Dose makes a fabulous statement and would be so great for casual extra seating in the living room. Lace felt throw pillows from BHG — you can purchase similar lace embellishment strips in scrapbooking and craft stores.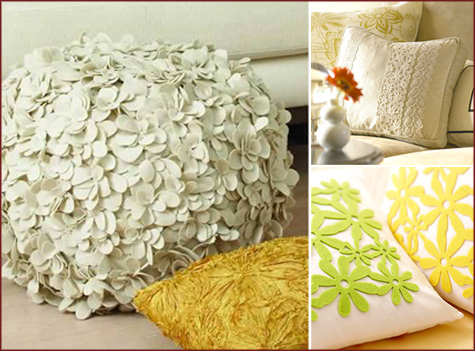 More great felt accessories to follow! Read more »
Tags:
Accessories
,
Crafty Solutions
,
Decorating
,
DIY
,
Fabric
,
Home
Posted in
Crafty Solutions
,
Home
|
5 Comments »
November 3, 2009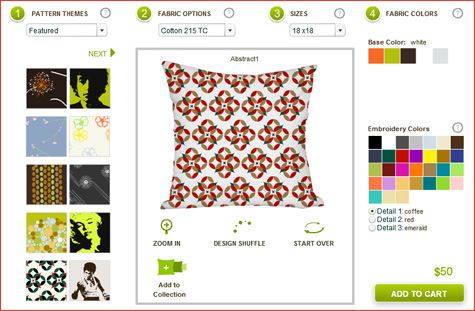 Ever feel inspired to create something that is uniquely you for your home? This is a fun site that allows you to design your own throw pillows or duvet cover: select your accessory, choose your favorite fabric, search through dozens of contemporary themes and match your home accent colors!
Inmod has a neat selection of modern furniture, lighting and accessories.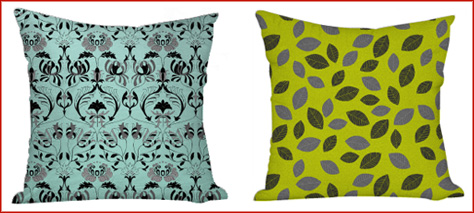 Tags:
Accessories
,
Bedroom
,
Decorating
,
DIY
,
Fabric
,
Living Room
,
Patterns & Color
Posted in
Crafty Solutions
,
Home
|
1 Comment »