October 27, 2009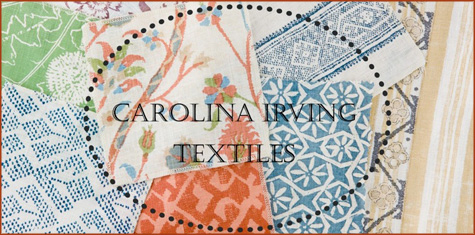 I adore Carolina Irving for so many reasons — from her clean, consistent look to her diverse offerings (you'll find a block print, country floral, wide stripe and geometric pattern in her latest line, for example) that you really can't go wrong with.
Former editor of House & Garden and Vogue Living, Carolina has always had a keen eye for fabric and fashion. While her line is still only available through select showrooms (my one big gripe with interior design-style collections), you may be able to nab a yard or swatch through eBay or perhaps even splurge through the traditional route. I'm eyeing this paprika Andaluz print for my dining room chairs…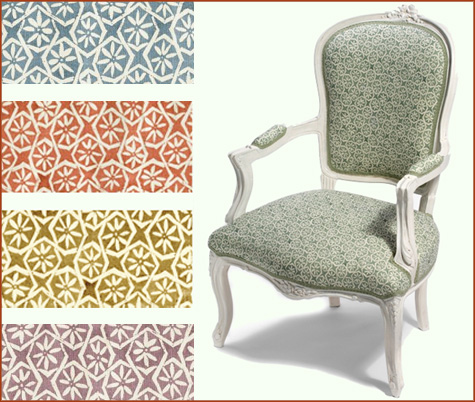 Is there a fabric designer or a specific print that you love? Send it on over to Pepper as a 'Fabric of the Week' suggestion and share the secret with us all!
Tags:
Fabric
Posted in
Favorite Fabric
|
Comment »
October 26, 2009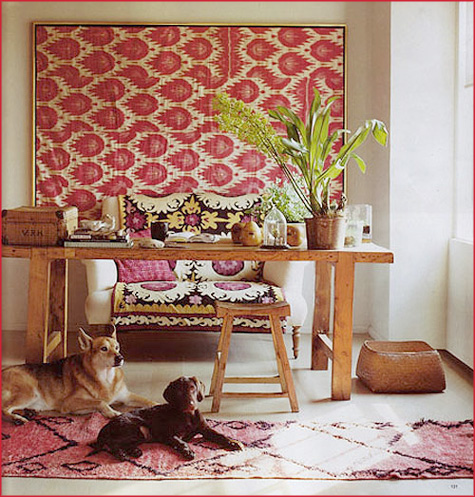 If you've been following this blog for a bit now, you've noticed that incorporating patterns into a room is a design essential that I love, and love finding creative ways to achieve. It's that secret edge that makes a room feel pulled together — and for me, there is nothing more inviting & appealing than a print that provides a focal interest point for a room.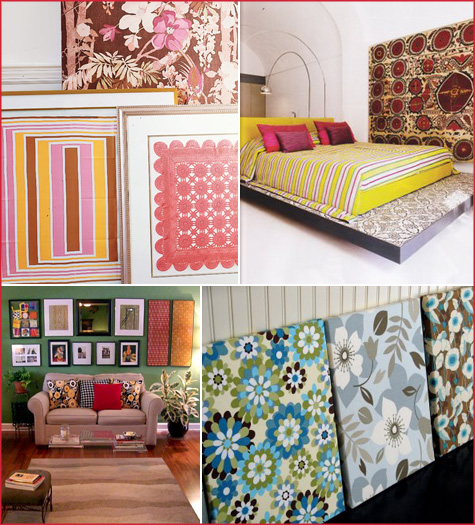 Framing textiles from exotic vacations (think saris and brightly colored tablecloths), scrap remnants (reusing old curtains or salvaging a beautiful cut from a sweater with bleach stains) or flea market finds (silk scarves, lace doilies and upholstery scraps) are excellent ways to incorporate prints into your space.
A simple wood or metal frame elevates the item — molding is another great way to border a print (see below). Applying a hem to unfinished fabric and hanging from a curtain rod behind a bed or sofa is another tried-and-true method of showing off finds that otherwise might be gathering dust at the bottom of a linen closet.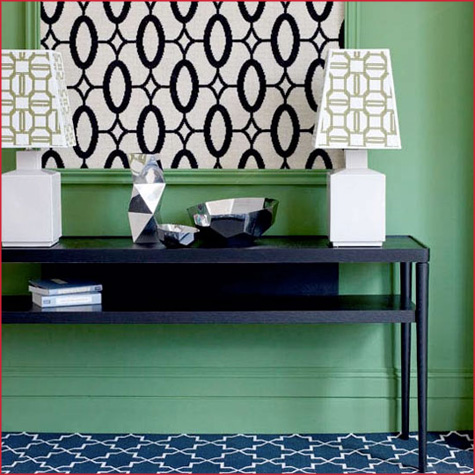 Images above: Framed ikat from The Style Files, pink vintage fabric on Country Living, a bold tribal print found at Sara Says Awesome, framed scarves with wall photos from Apartment Therapy, fabric art from Apartment Therapy, and finally a print from House to Home featured at Apartment Therapy.
Follow the jump for a quick How-To on canvasing fabric and for more great ways to frame your prints (quilting circles, anyone?). Read more »
Tags:
Accessories
,
Crafty Solutions
,
Decorating
,
DIY
,
Fabric
,
Home
,
Patterns & Color
Posted in
Crafty Solutions
,
Home
|
4 Comments »
October 21, 2009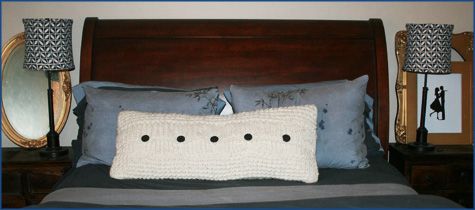 I really love the unique and customizable look of fabric lampshades and after posting several of my favorites last month, as well as a how-to by All Things Lovely, I decided to give the project a spin myself.
I ordered this great hand stamped block print fabric from HomeSweet on Etsy and found two replacement lampshades at a local lighting store. All I can say is easy, easy, easy! I was so impressed with how quickly I whipped both of these out, and I really love the blue with my bedroom.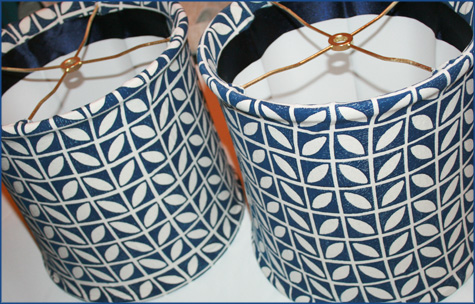 To see my custom creation journey and follow step-by-step, follow the jump!
Tags:
Accessories
,
Bedroom
,
Before & After
,
Blue
,
By Color
,
Crafty Solutions
,
Decorating
,
DIY
,
Fabric
,
Home
,
Lighting
,
Patterns & Color
,
Tutorial
Posted in
Crafty Solutions
,
Home
|
5 Comments »