October 1, 2009
Update: I'm realizing that this post is getting to be quite popular over at Pinterest and while I still love the directions offered here for creating your own DIY tufted headboard, I more recently did create my own (below are directions from Apartment Therapy) and you can read all about it (especially for tips and suggestions for trying this out) here.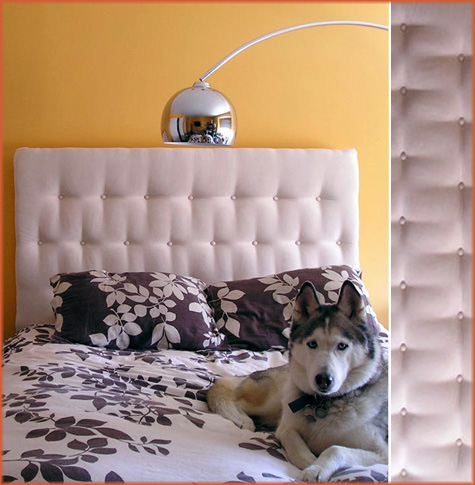 Tufted headboards are chic and lovely, and would look great in any bedroom. They are that perfect balance: soft and comfy but equally classy and modern; somewhere between masculine and feminine without leaning this way or that;  you can go bold with your color choice or keep it sleek and simple in a bright white and it remains perfectly appealing.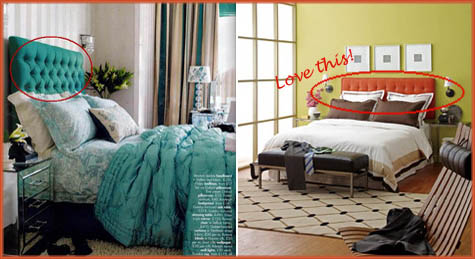 I would love even more to make one of these by hand –  and after reading this great tutorial at Apartment Therapy on homemade headboards, I'm considering that even my basic sewing skills might be up to par. Follow the link for more great tufted headboard inspiration and the complete How-To. Read more »
Tags:
Accessories
,
Bedroom
,
Crafty Solutions
,
Decorating
,
DIY
,
Fabric
,
Home
,
Patterns & Color
Posted in
Crafty Solutions
,
Home
|
37 Comments »
September 29, 2009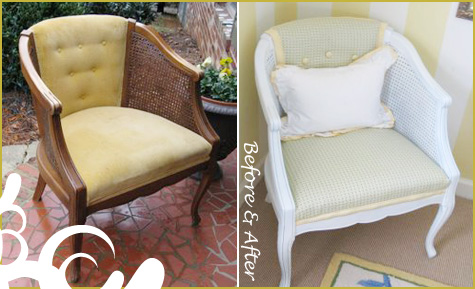 Over the past couple of weeks I've been searching for a great chair makeover on my local Craigslist for our guest room, only to have the perfect chair sold hours before I could nab it! Bummer. Here's another great makeover project from the blog Matters of Style to spice up an older sitting chair for a newly appreciated place in the house. And you can't beat the starting structure: French legs, rattan siding and an elegantly curved back.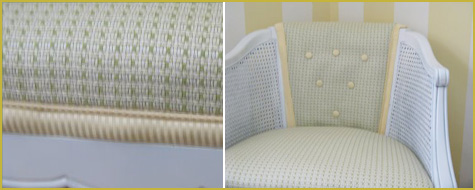 I love the fabric and trimming — so classy!
Coming up later this week… an improptu reason to throw a party (our friends got married! and since the celebration was two weeks ago and miles and miles away, they want to celebrate with local friends and family with a second, last-minute reception) and I'm on the search for a great dessert bar for the duo. Stay tuned.
Follow the jump for the How-To on this beautiful chair, and more pics! Read more »
Tags:
Accessories
,
Crafty Solutions
,
Decorating
,
DIY
,
Fabric
,
Furniture
,
Home
,
Tutorial
Posted in
Crafty Solutions
,
Home
|
2 Comments »
September 28, 2009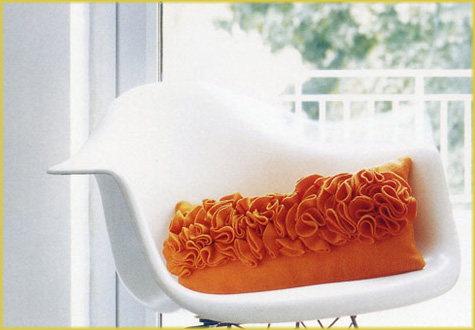 This felt pillow with it's rosettes (or ruffles) is very much my style. As author Michelle Traub, in this adorable Etsy How-To Article, so eloquently puts it "I haven't crafted with felt since I was little, but… now I have a whole new universe of respect for the material," and I couldn't agree more!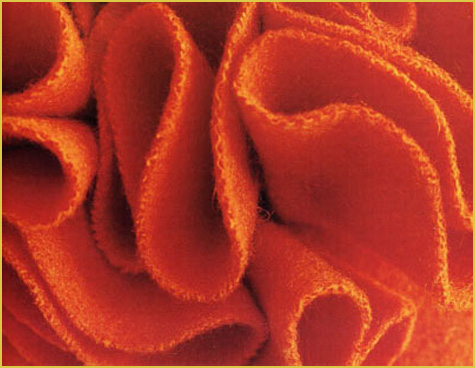 The artist of the ruffled felt pillow, Anne Kyrrö Quinn, has a similar chic design style as one of my favorite blogs: My Mama Made It. If you love handmade rosettes, ruffles and pretty, delicate things… you must check it out.
While Alexis, of My Mama Made It, focuses primarily on sewing and clothing refashions, we're teaming up to offer a wonderful tablescape give-away this month featuring her fabulous work.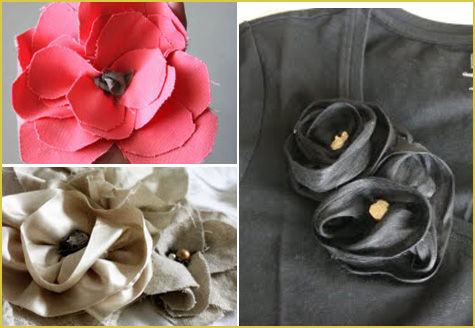 There are so many ways to add a bit of homemade touch to your decor… Shown above are a few of Alexis's floral corsage pins that could easily be incorporated into home design, as these Etsy pillow examples (Raw Studio, De De Etsy Shop) illustrate. My Mama Made It blog offers step-by-step tutorials for all of her creations, too.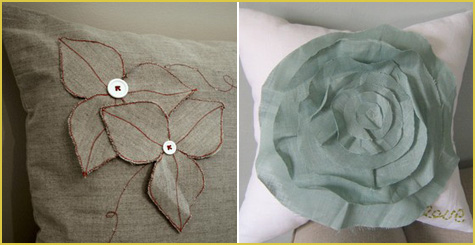 Follow the jump for the DIY of the felt pillow! Read more »
Tags:
Accessories
,
Crafty Solutions
,
Decorating
,
DIY
,
Fabric
,
Home
,
Orange
,
Patterns & Color
Posted in
Crafty Solutions
,
Home
|
1 Comment »