February 1, 2012
Spring and its gorgeous palette of brilliant pastels is sneaking up on us be it for wardrobe or home design (check out this article on Houzz for more fun proof) and I'm so excited to welcome Maryam back to share her take on this coming season's fashion favorites (you can catch the full style board gallery over here). Take it away!
******************************************************************************
Hi there!
Maryam here, dropping in to give a little peek on one of this spring's trends that is sure to brighten up your coldest winter days! I am talking about PASTELS!
Heaps of sorbet and pastel color pieces are popping up all around the fashion world. Colors like cantaloupe, honeydew, peachy pink, lavender, mint, sea foam (sounds like dessert time. huh?) are all adorning anything from skinny jeans, heels, tanks, blazers, backpacks, rings- truly, the possibilities are endless.
This is a color trend that doesn't have to stop with one accent piece. Don't be afraid to mix and match colors and shades to create a cohesive outfit. The neutral tones compliment each other quite nicely… a lot like the sorbet section in the ice cream shop, so I say, go all out!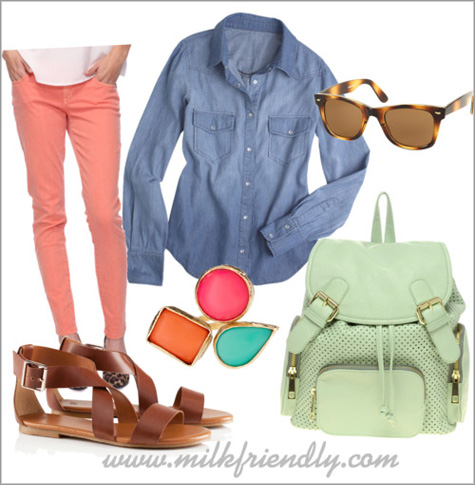 If you just want to just try a little taste of this sorbet-lovin' trend, buy yourself a great pair of colored skinny jeans. Almost every online and in-store boutique is carrying them, and it's a great way to ease into this color trend. Pair them with a chambray or denim button-down (one of my closet staples) and you got yourself a great looking outfit if I do say myself. And I could go on for days on that minty backpack… so very dreamy.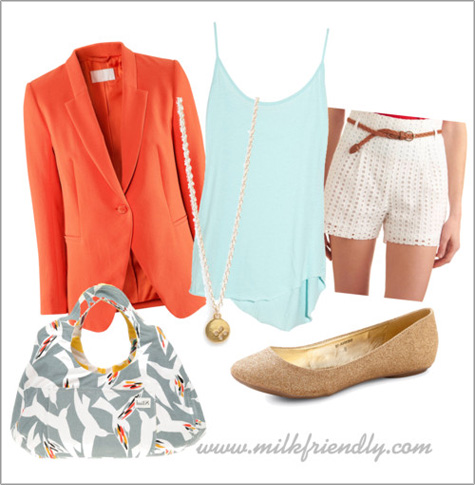 If you're a gal who likes to dress it up or down, I adore the boyfriend blazer. The blazer is so very versatile, wear it with jeans, shorts, a mini or maxi skirt, over a dress- truly there are so many ways to style it. My favorite is to pair the blazer with a textured short. This look is classy, but you don't have to worry about matching your shorts with the blazer, because its special feature is the texture. Eyelets or lace give a great contrast while still looking put together.
So what do you think about this year's pastel trend? Are you going to eat it all up?
Maryam
******************************************************************************
As always, you can visit the slideshow gallery for sourcing info to track down any of the above.
I have always loved Maryam's LOVE for bright and beautiful colors, these style boards are the perfect example of how well and easily she mixes her favorites – be it an outfit of pastels, primaries or saturated colors – so wonderfully. I am in awe, being the neutral gal that I am. As hinted at yesterday, I'm working on taking the leap into brighter signs of spring for the house, too (a slow leap… but working my way up that color confidence ladder). Thanks again for visiting, Maryam! (PS You can always visit her right here.)
Tags:
Fall
,
Fashion
,
Spring
,
Summer
Posted in
Wardrobe
|
2 Comments »
December 22, 2011
Happy Thursday! Maryam and I have added four new inspiration boards over to the Wardrobe Style Board gallery, you can check 'em all out (as well as sourcing info) over here. Today's post is sort of a part 2 to last week's part 1 for winter fashion.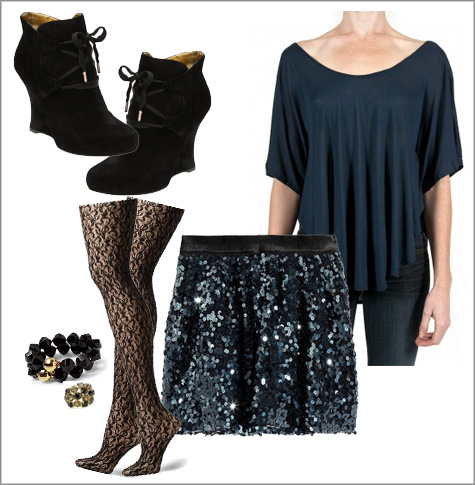 New Years Eve is just over a week away! There's nothing like a little bit of sparkle and this adorable navy mini would pair perfectly with a comfy, slouchy top tucked in. Match black booties with lace tights for a fun, night-out-on-the-town look.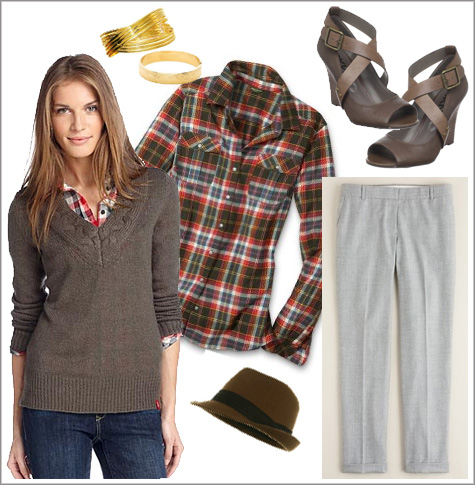 Here's a nontraditional winter outfit that pulls together both the comfy cozy of a soft flannel and sweater with capri slacks and a cute fedora. Swap out pumps for flats to run errands or pair with dressy jewelry and heels for a date night.
Maryam shares two of her favorite winter looks:
"I love the idea of this sweater tunic. It is a beautiful blend of a print and a little pizazz. I would wear an outfit like this for a family party, parade or Christmas light viewing."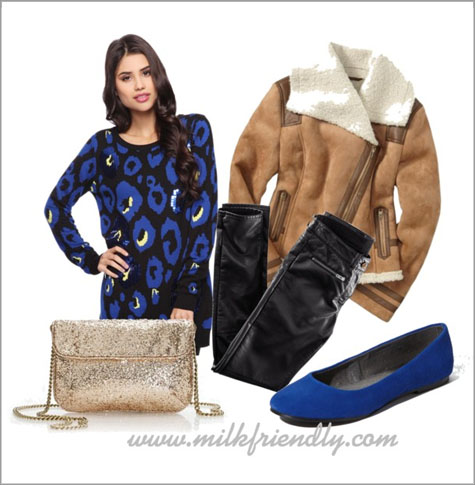 "More formal holiday parties and/or New Years Eve celebrations are the time to go all out. Asos has a fabulous variety of glam dresses to chose from. Decide quick, so you can get your treasures in time to par-tay!"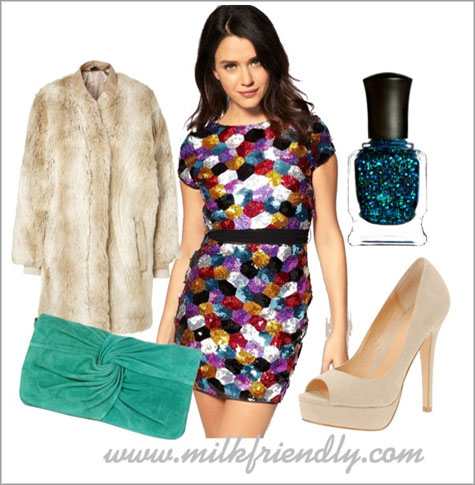 There's our wrap-up to the Style Board Gallery for 2011 – whether you have a night in with friends or a big date night out planned for your New Years, hope that this provides a bit of fun inspiration!
Tags:
Fall
,
Fashion
,
New Years
,
Winter
Posted in
Wardrobe
|
Comment »
December 12, 2011
Hope you had a lovely weekend! Ours was fairly low key with quite a bit of catching up on our to-do lists plus a Christmas party on Saturday. Speaking of Christmas parties,  Maryam and I each put together two December-themed style boards of what's inspiring us this season. (To check out the full list of boards, jump out to the Wardrobe Style Board gallery.)
Maryam's up first!
**********************************************************************************
Hello again!
I am guessing you're probably spending time with your loved ones, decorating the home and adding a little tinsel here and some shimmering lights there. In the midst of all this wonderful holiday cheer (or madness), you may have forgotten about you…As in what you'll be wearing for the possible events to come. So I thought I'd share a little of my sparkling style inspirations for this season.
Shimmering sequins abound these days, and I am all for it. Glitzing up a bit can really change your mood. I wanted to show a few different ways you can be both bold or subtle with your sparkle use.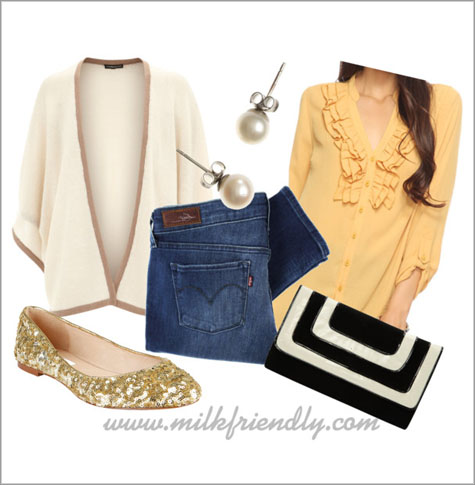 Grabbing yourself a pair of sequined flats is a sure fire way to subtly elevate a simple outfit and take it to chic town. Plus, if you're out in an uncomfortable situation, you can always tap those toes together and mutter "there's no place like home."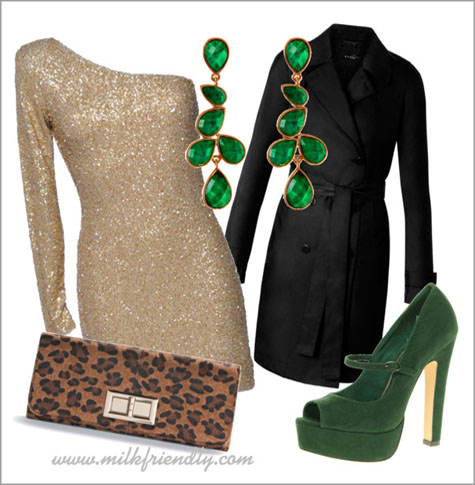 More formal holiday parties and/or New Years Eve celebrations are the time to go all out. Asos has a fabulous variety of glam dresses to chose from. Decide quick, so you can get your treasures in time to par-tay!
No matter what holidays you may be celebrating this season, I hope you all get to savor the little moments with loved ones. Enjoy and I'll see you next week!!
a
With love,
Maryam
**********************************************************************************
Alright, the baton's been passed back to me. I'm jumping on the sparkly bandwagon this Christmas as well and agree that it's the perfect time of year to incorporate glittery shoes, handbags and tops into your everyday wardrobe. I also have a love for all things matchstick cords and am really adoring this giant navy chunky sweater. A go-with-everything watch (like this classic Timex) is on my Christmas wish-list.
Shabby Apple sent me over the below skirt and I've been coming up with clever ways to wear it for winter. I love the look of a baggy top tucked into a high-waisted skirt and this particular skirt is so flattering! I'd match it with a sparkly boat neck like this one or a navy loose knit sweater. That plus knit tights and a bright clutch and I'd be set for a Christmas party.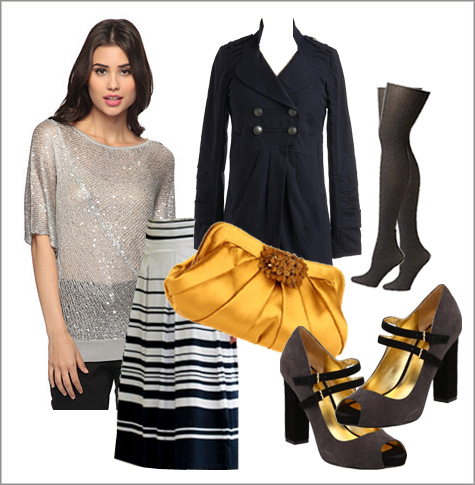 We'll be sharing one more style board post (and four more fun ideas) next week… with New Years Eve in mind!
As always, you can find sources and prices for the above in the gallery. Thanks, Maryam! (Oh, and for more sparkly style posts by Maryam don't forget to check out her blog.)
Tags:
Christmas
,
Fall
,
Fashion
,
New Year's Eve
,
Winter
Posted in
Wardrobe
|
2 Comments »