November 8, 2010
The temperature is playing a silly game of betcha-still-think-it's-summer in this neck of the woods with record November highs in the 90′s, but our weather man claims that that's about to change (fall, where are you?).
Regardless, this is what I'd be eyeing if it were a tad bit chillier – and if it were MUCH chillier (as it is in some parts!) perhaps a knee-length cream or navy pea coat to top it off: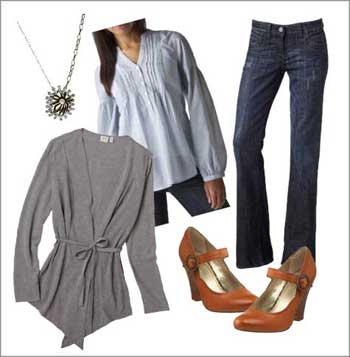 Sources and pricing info over on the Style Boards page.
Simple, clean and very chic. A basic striped blouse topped with a tie cardigan and long silver pendant for the top, and bootcut jeans with tan leather mary janes (these Seychelles have a sturdy enough heel to survive a day of working/running around on the feet) on the bottom. Rotate out the top with a plain white tee, floral tank or even another sweater and you've got yourself some easy fall looks waiting in the closet!
In honor of San Diego's semi-sweet weather, here's a mild-weather, basic inspiration board for a weekend around town: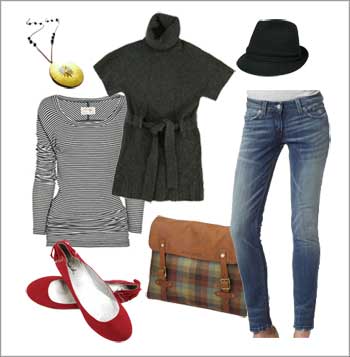 I love love exaggerated, over-sized sweaters and this black cinched waist version would look great layered over a striped long sleeve tee. Match that with skinny jeans in a light wash (I might roll these to a few inches above the ankle), bold flats (love the lace up design on the back of these), a gender-neutral messenger bag and a black fedora and you'd be ready to go. For a simple statement piece, an over-sized gold locket fits over the over-sized short sleeve sweater.
If it's a bit blizzardy where you are, swap out the flats for knee-high boots and throw on a knit scarf and a waist-length jacket for running to and from your warm, heater-filled car to the house.
This is a wonderful time of year! Scarves, layering and wool hats make fall an exciting season to look forward to. More inspiration, style boards and the sources/pricing for above boards found here.
Tags:
Fall
,
Fashion
,
Winter
Posted in
Wardrobe
|
11 Comments »
November 3, 2010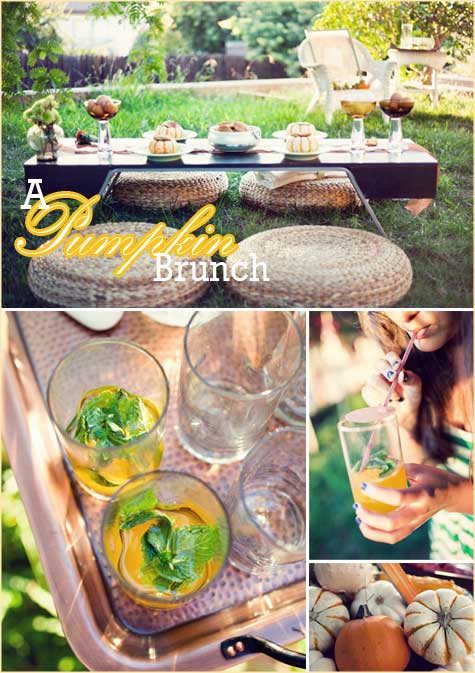 It's the perfect time of year for a sweet fall outdoor celebration. It's beginning to crisp up elsewhere in the States but here in San Diego the weather is still offering it's sunny, cloud-less skies in the first week of November.
This pumpkin brunch by City Cradle Design is a cozy and simple way to celebrate autumn with friends. Mmmmmm. And I'm definitely inspired to purchase rattan floor cushions ASAP!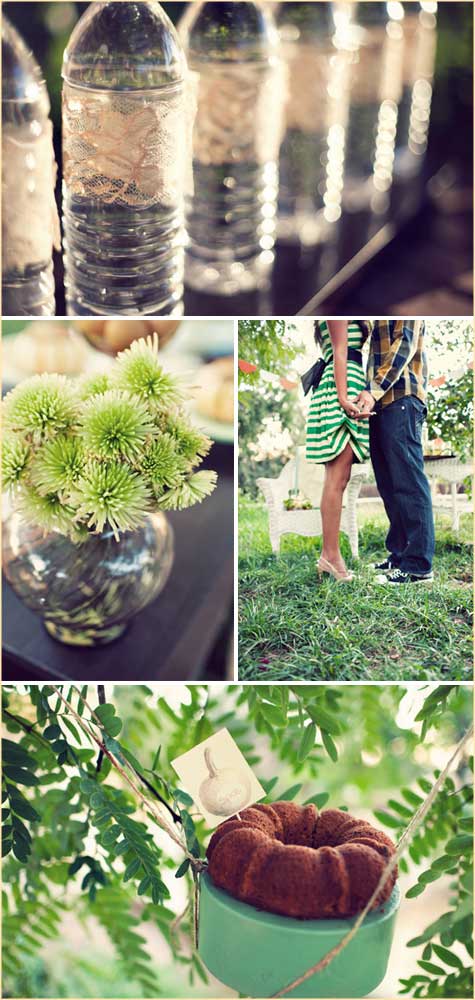 The details are great – from the hanging cakes in the trees to the scooped out pumpkins filled with pancakes and handmade, heart-shaped toppers. And replacing the standard water bottle labels with lace (see above) is an idea I'd love to steal for a tea party or shower. Victoria offers all of the little DIY projects at her site.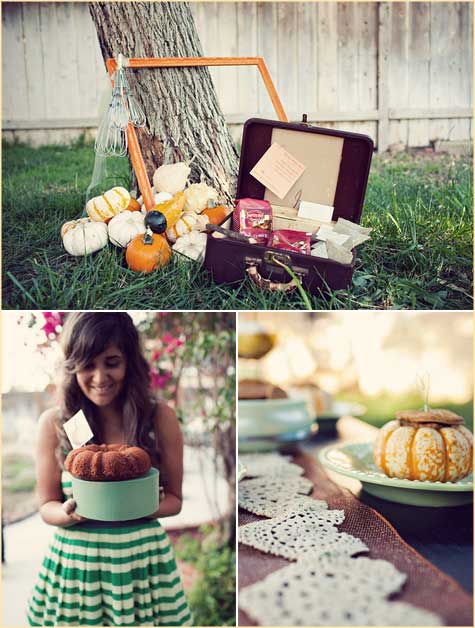 The paper flags in the trees would be a neat decoration to leave up from September through Christmas and sharing a meal out on the grass (again on those great cushions) sounds like a fun way to dine any time of the year (maybe even for Thanksgiving?).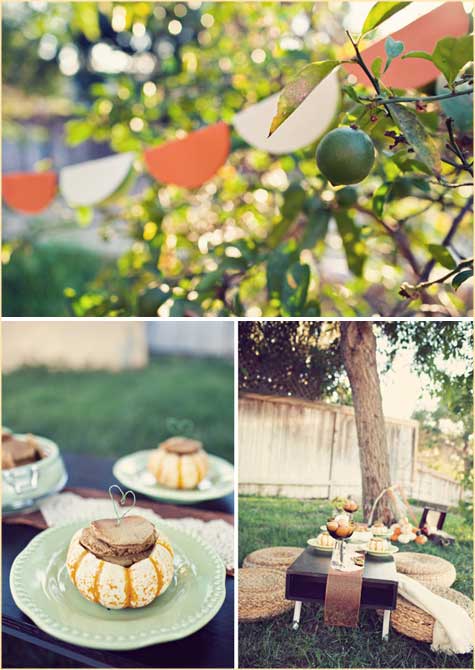 Ahhh sweet fall inspiration. Isn't this the perfect way to spend a Sunday morning in November?
Tags:
Autumn
,
Decorating
,
Dinner Parties
,
DIY
,
Fall
,
Halloween
,
November
,
October
,
Orange
,
Parties & Entertaining
,
Thanksgiving
,
Yellow
Posted in
Holidays
,
Parties & Entertaining
|
3 Comments »
October 21, 2010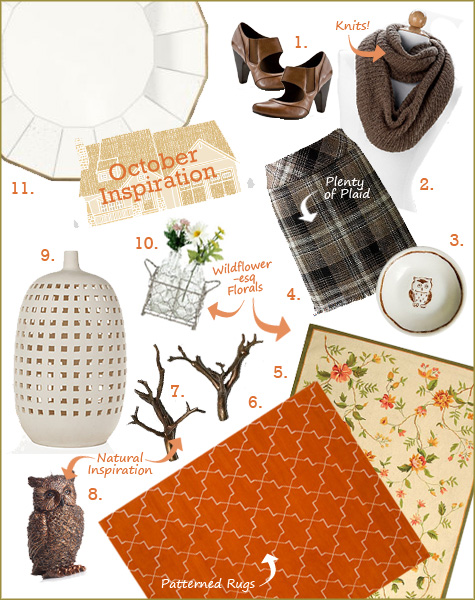 If I could pull together a wish list of any fall-inspired additions I'd add to the home and wardrobe this October, here would be my picks:
1. Brown Mary Janes: These could quickly become my go-to rain shoes with their sturdy 3″ heel (to keep me out of puddles) and the modern leather detailing. These Mary Janes would work great with a skirt and wool tights, or paired with denim jeans and a long cardigan.
2. Eternity Knit Scarf: I love the circular style of scarves right now! This ribbed version looks so warm and inviting.
3. Owl Accessories: I'd update my dining room with a few nature-inspired accessories like these owl salad plates. It would look great solo on a plate stand amongst the shelves of white dishes.
4. Plaid Pencil Skirt: Plaid and herringbone are my favorite fall patterns and this warm, soft wool skirt would look great paired with a cozy turtleneck and heels (maybe those brown Mary Janes?).
5. A Vintage Floral Rug: Okay, so maybe I wouldn't change out the throw rugs just for the season but I do love the wildflower-esq florals of this beautiful rug.
6. A Patterned Orange Rug: Likewise, I love the bright color and geometric pattern of this orange rug and would be oh-so-happy to add it to a bedroom for a fall lift.
7. Branch Clothing Hooks: I've always been a fan of branches – and how neat are these? They would be perfect in a mudroom ready to store pea coats from incoming guests.
8. An Owl Candle: More owl… he seems to be the animal of the season this year and this candle would be the perfect addition to the living room.
9. A White Patterned Ceramic Vase: I have always loved over-sized vases and the intricate square pattern adorning this one makes me think it would be a perfect fit for my space.
10. Cottage-esq Accessories & Vases: Back to the wildflower-esq accessories, this glass bottle and wire basket combo (resembling an old-fashioned milk carrier) would be a sweet country addition to the kitchen right next to the sink. Add a few stems and it would be a nice reminder of spring to come!
11. A Bold Sunburst Mirror: Can't get enough big, bold mirrors and this is my new favorite. Maybe a splurge I'll have to consider for above the mantel? It's a beauty.
Tags:
Accessories
,
Brown
,
Desserts
,
Fall
,
October
,
Orange
,
Wish List
Posted in
Home
|
7 Comments »