August 27, 2012
Hope you had a beautiful weekend! The weather here in San Diego has been a bit on the muggy side, but I can't complain when it's sunny and bright outside. I'm traveling today so I thought I'd share a couple of my favorite summer wardrobe pieces with a new Style Boards installment.
I built these two boards around wardrobe staples this summer, pieces that I love and wear every day! I have a few more coming with lighter, airier dresses in mind, but these are a few go-to pieces for after the sun sets or when it's not quite so hot out.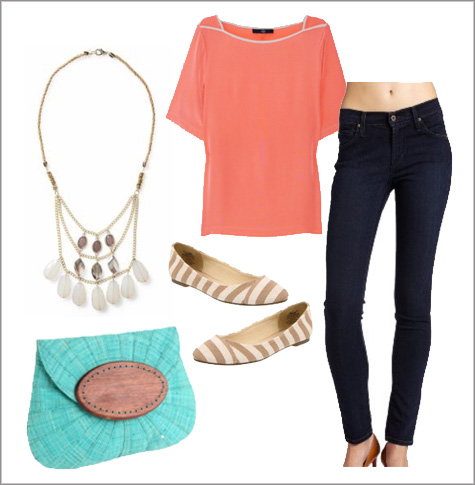 I love a good second hand shop that sells designer jeans for a discount (eBay is a great source, too), but when I was in a pinch and could not find a flattering skinny jean (and getting frustrated at my bad luck), I gave these a go and fell in love. They're perfect rolled as capris, all the way to the ground with flats or tucked into boots (yay, fall!) and won't scrunch, stick or stretch out too terribly. Likewise, this bib necklace is an absolute steal right now and it's stunning in person! I really am digging it this summer.
I've become a big fan of the oversized statement necklaces this summer and I was really excited to find this one on sale over at Piperlime, too. That pink is quite the pop! Love it against the dark purple of my favorite silk tank (which is easily one of the most versatile pieces right now – matches great with shorts, as a shell with suit pants for the office or tucked into a skirt).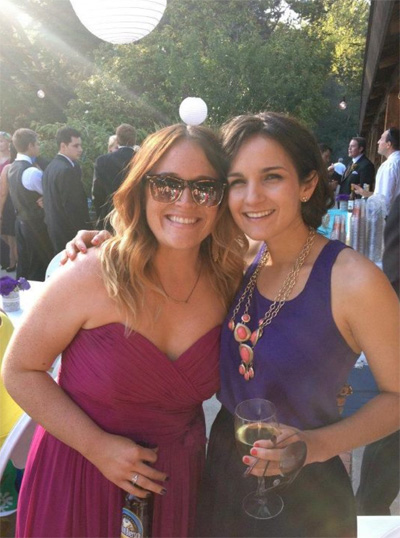 And so my next little round up includes the above plus a maxi skirt that I have found to be incredibly flattering (with a seam down the front that helps to flatten everything out) in a soft cotton for running around town: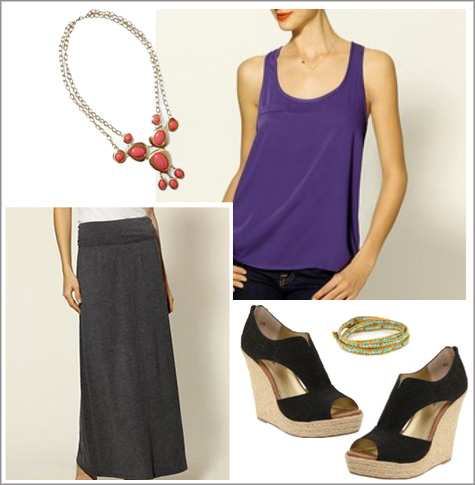 There you have it, five of my favorite finds this summer (after a little trial and error!) that add a little trend and spunk to my usual wardrobe. Will be back soon to post these in the actual gallery with all of the sources/pricing for everything I've shared.
Tags:
Fall
,
Fashion
,
Spring
,
Summer
Posted in
Wardrobe
|
4 Comments »
April 4, 2012
Here in California the weather has been slowing crawling towards beautiful spring – but with just enough chill to make you want to keep a cozy sweater nearby. It's the season of Spinter – make that Spring emerging from Winter.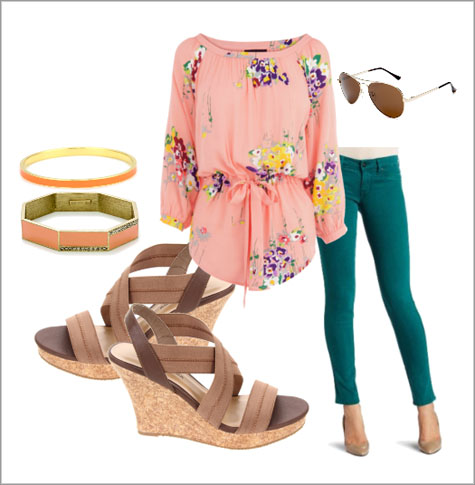 This time of the year I'm drawn towards bright colors but in slightly comfier cuts, such as a blousy long sleeve top paired with a dark pant. I'll be the first to admit that I'd probably pair the above with everyday sandals, but the elastic on those Chinese Laundry heels look awesomely comfortable for a slightly dressier weekend brunch or luncheon.
The color I'm leaning towards this spring? Coral! I love the versatility of the bold shade of peach meets pink. Coral is easily paired with so many contrasting colors, including lavender, navy, teal, plus all of the neutrals.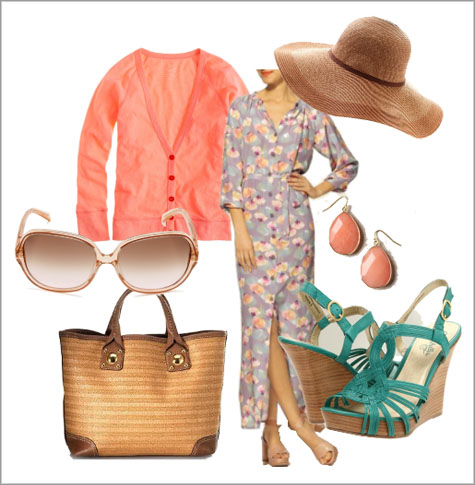 Another spring meets winter go-to is a classic maxi dress matched with a cardigan. A long sleeve, long skirt like the above is the perfect find for this time of year! And if you're feeling a little resort-ish, pair with a wide brimmed hat (beach, anyone?) and a straw tote.
My everyday early spring attire is usually in the form of a cuffed jean, a casual top and a pair of colorful drop earrings. This floral blouse offers a great cut with the knotted front.
Have you heard of Rent the Runway? It sounds like a really awesome alternative to purchasing dresses for big events, and this coral color block silk dress is one of my favorites. I would pair this dress with gold for a wedding or flat leather sandals and a shoulder bag for a more casual shower. I love the idea of being able to invest a small percentage into a rented, stunning dress rather than purchasing a full price outfit you might only wear once or twice. I haven't tried it out yet but rumor has it that they ship you the same dress in two sizes to be sure of the fit.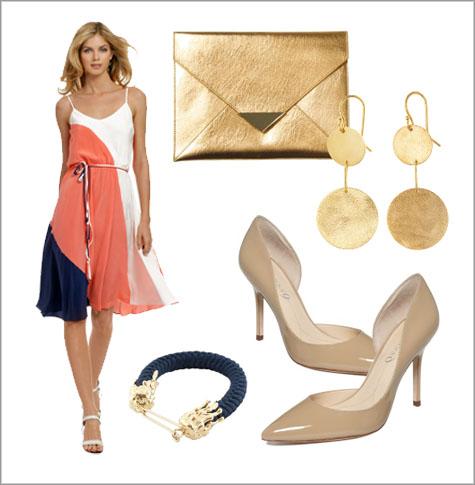 There you have it, a few of my coral favorites perfect for this early spring weather! Happy Wednesday

.
Pricing and all sourcing can be found on the Style Boards page right here.
Tags:
Fall
,
Fashion
,
Spring
,
Summer
Posted in
Wardrobe
|
2 Comments »
February 1, 2012
Spring and its gorgeous palette of brilliant pastels is sneaking up on us be it for wardrobe or home design (check out this article on Houzz for more fun proof) and I'm so excited to welcome Maryam back to share her take on this coming season's fashion favorites (you can catch the full style board gallery over here). Take it away!
******************************************************************************
Hi there!
Maryam here, dropping in to give a little peek on one of this spring's trends that is sure to brighten up your coldest winter days! I am talking about PASTELS!
Heaps of sorbet and pastel color pieces are popping up all around the fashion world. Colors like cantaloupe, honeydew, peachy pink, lavender, mint, sea foam (sounds like dessert time. huh?) are all adorning anything from skinny jeans, heels, tanks, blazers, backpacks, rings- truly, the possibilities are endless.
This is a color trend that doesn't have to stop with one accent piece. Don't be afraid to mix and match colors and shades to create a cohesive outfit. The neutral tones compliment each other quite nicely… a lot like the sorbet section in the ice cream shop, so I say, go all out!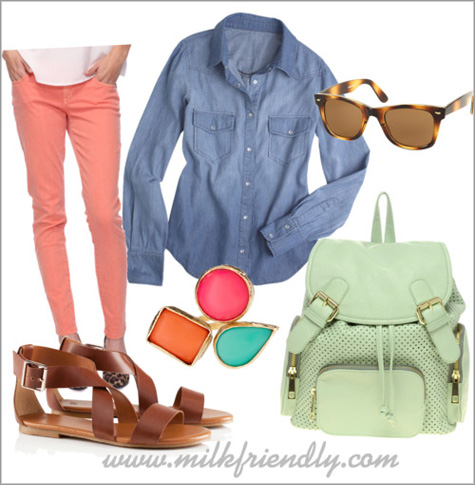 If you just want to just try a little taste of this sorbet-lovin' trend, buy yourself a great pair of colored skinny jeans. Almost every online and in-store boutique is carrying them, and it's a great way to ease into this color trend. Pair them with a chambray or denim button-down (one of my closet staples) and you got yourself a great looking outfit if I do say myself. And I could go on for days on that minty backpack… so very dreamy.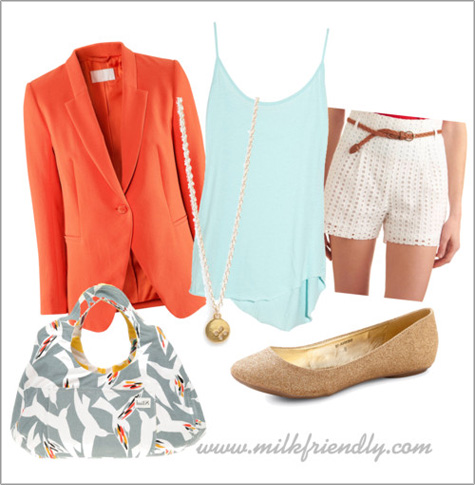 If you're a gal who likes to dress it up or down, I adore the boyfriend blazer. The blazer is so very versatile, wear it with jeans, shorts, a mini or maxi skirt, over a dress- truly there are so many ways to style it. My favorite is to pair the blazer with a textured short. This look is classy, but you don't have to worry about matching your shorts with the blazer, because its special feature is the texture. Eyelets or lace give a great contrast while still looking put together.
So what do you think about this year's pastel trend? Are you going to eat it all up?
Maryam
******************************************************************************
As always, you can visit the slideshow gallery for sourcing info to track down any of the above.
I have always loved Maryam's LOVE for bright and beautiful colors, these style boards are the perfect example of how well and easily she mixes her favorites – be it an outfit of pastels, primaries or saturated colors – so wonderfully. I am in awe, being the neutral gal that I am. As hinted at yesterday, I'm working on taking the leap into brighter signs of spring for the house, too (a slow leap… but working my way up that color confidence ladder). Thanks again for visiting, Maryam! (PS You can always visit her right here.)
Tags:
Fall
,
Fashion
,
Spring
,
Summer
Posted in
Wardrobe
|
2 Comments »