October 9, 2012
While we were away we celebrated Kevin's birthday! I actually haven't gotten around to finishing his present, but I do have his Father's Day present to share (four months later…). I originally hadn't planned on posting about this project (part of my effort to show Kevin that I hadn't made the piece for the blog – but for him! But I think it's kind of cool and four months of not posting about it is enough time for me.)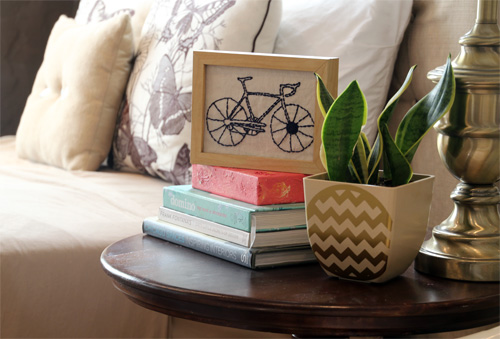 It's an embroidered bicycle that I then framed and had on display on our mantel for a while. Kevin and his family are big bikers, and I was hoping to hand make something that was special to him personally. He and Olivia LOVE to bike (she is thrilled every time she sees one go by, and constantly asks to go for a ride in her iBert) and I thought that something with bicycles might be fitting for Father's Day. (I also traced her little hand on a card – something that I think will be neat to do every year just to watch how she grows!)
Kevin is really terrible to buy gifts for. I mean, really terrible. He doesn't need anything, doesn't really get excited  about anything and in general is hard to impress. I worked on this project during the evenings when he was in class for a few weeks in the spring, when he opened it he thought it was cool and thoughtful and that was enough for me.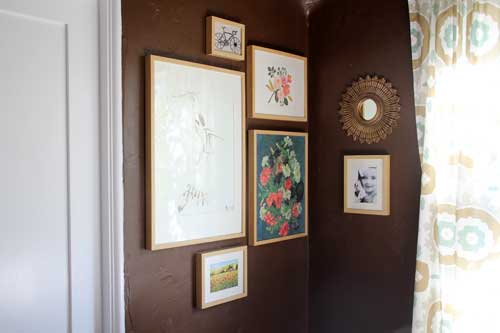 Now the embroidered bike sits at the top of the wall collage in the office/guestroom. This is a nice spot for it, perhaps a permanent one.
Sadly, I don't have photos documenting the progress (goes along with the whole I-made-this-just-for-you part of the gift), but this is an excellent tutorial on how to embroider just about anything. I actually found a generic picture of a bicycle online and printed it out to the proper size, lined it up with an off white fabric scrap I had on hand and reminded myself on how to make a basic embroidery stitch. I didn't use an embroidery hoop but I will next time. Lesson learned.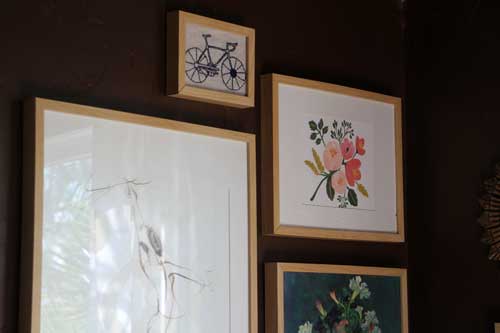 It's a little folksy, a little artsy, and by no means perfect. But that's what I kind of what I like about it!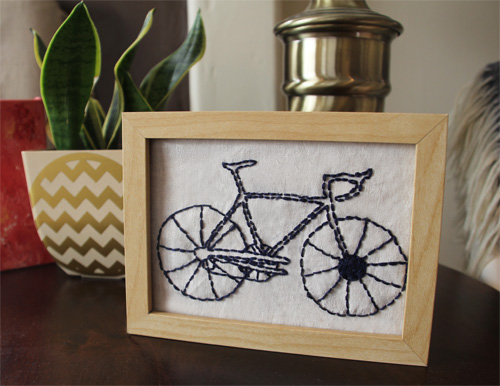 Maybe a quick ironing pre-framing would have helped with a few of those wrinkles…
More office/guestroom posts found here.
Tags:
Accessories
,
Crafty Solutions
,
Decorating
,
Embroidery
,
Father's Day
,
Home
,
Office
,
Tutorial
Posted in
Crafty Solutions
,
DIY
,
Home
,
Our Guestroom/Office
,
Renovating Adventures
|
2 Comments »
June 7, 2012
Father's Day is not too far away! I was thinking about what creative little idea Liv and I can put together for the dad and granddads in our lives, I'd like to focus on something simple, sweet and handmade (kind of like our Mother's Day gifts).
In the not simple and homemade variety, Dads can be a little difficult to shop for and it can be hard to come up with something thoughtful and unique. Here are a few ideas for the guys that I have been eying: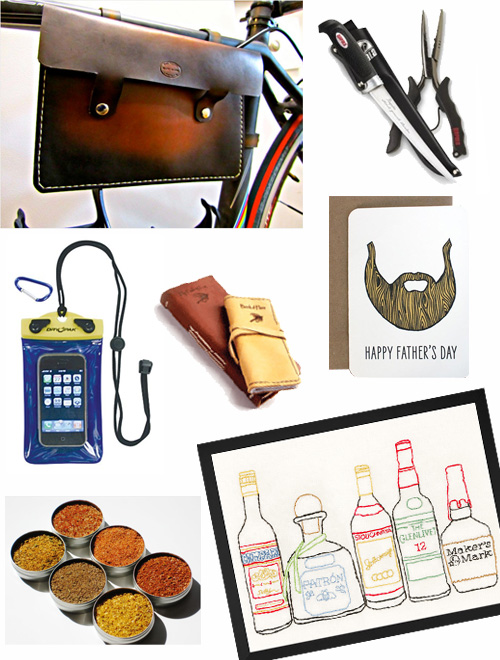 A very cool leather bike frame bag, Rapala fishing fillet knife, sheath and pliers for the fishermen in your life (or these neat Rustico leather log books for classy fishing, golf, etc recording), every water man needs at least one Dry Pak cellphone case, this Etsy lumber dad card is adorable, we all benefit from dad's great cooking skills + a custom dry rub spice kit and this Stephen Campbell '5 Bottles' embroidery art print is perfect for the man cave or bar.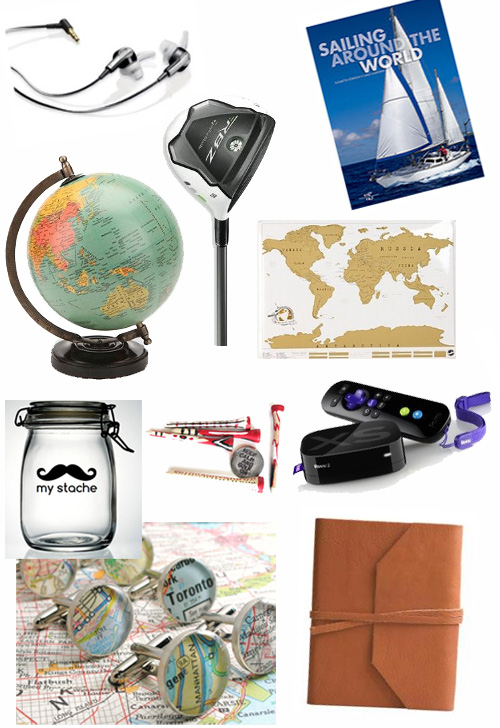 Bose IE2 headphones would be a much loved gift, Kevin insisted I include his top wish list Rocketballz golf club (not gonna happen) and I would really love to see this desktop globe in our one day joint office. The idea behind this scratch off world map is so awesome! and these Etsy artist golf tees and custom marker set are great for the golf lover. Roku HD Streaming is a really neat Dad's day splurge, as would these vintage map cufflinks be. Let Dad stash all of his odds and ends (golf balls, coins, random screws and bolts found around the house – is that just us?) in his sweet stache jar. Finally, there's something about this Frieiri leather journal that works so well with travel junkies and future architects alike (hint, totally something for Kevin).
More gift guides for the guys can be found here.
Tags:
Father's Day
Posted in
Gift Guides
,
Holidays
|
Comment »
June 17, 2010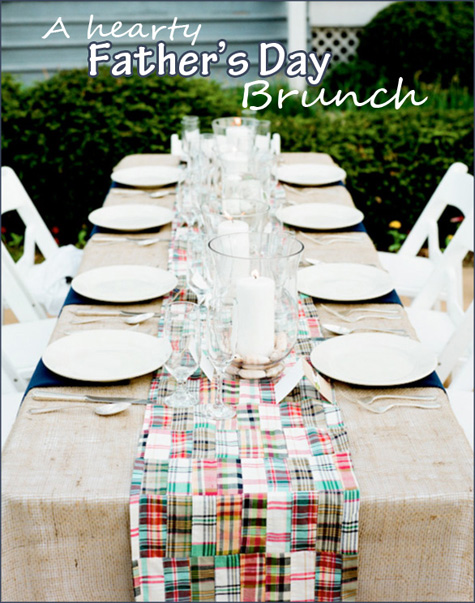 Celebrate Dad's Day in style with a big family brunch this coming Sunday. I love the idea of gathering all of the grandpas, uncles and dads together for one big, delicious celebration!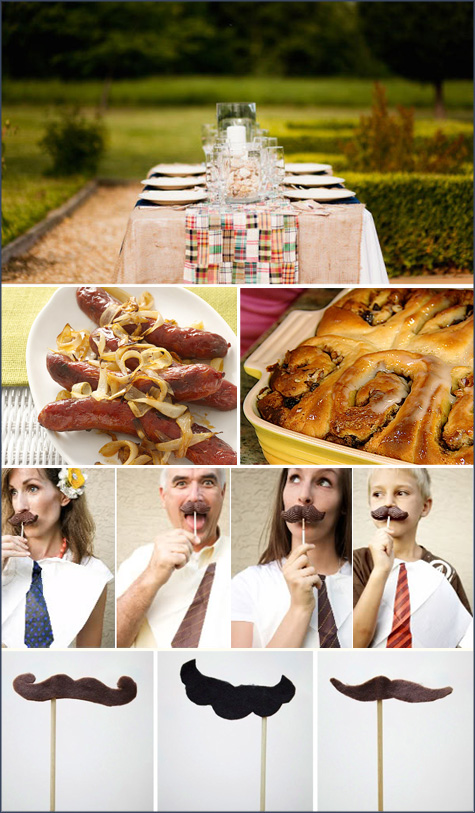 Incorporate a few lawn games like bocce ball, cricket or even a relay race to amp up the afternoon fun. I love these mustaches that have become so popular at parties (like this one over at Full House!) – how cute would they be as casual little place cards?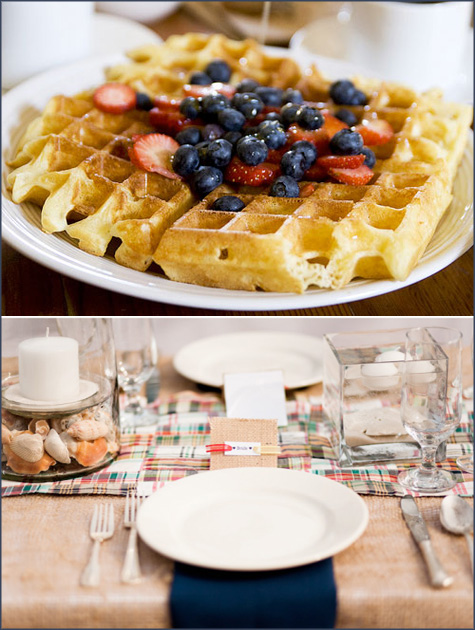 You can't go wrong with a hearty brunch like this line-up: The Food Network's Nana's cinnamon rolls, roasted spicy sausage with sauteed onions, a hearty vegetable frittata and BHG's greatest-waffle-recipe-ever. Table design found on Style Me Pretty.
While I won't get to spend Father's Day with our dad's this year, I'm looking forward to a mellow weekend with the hubby working on the house! Cards, gifts and honoring of our dear papas are in the mail.
Tags:
Birthday
,
Blue
,
Decorating
,
DIY
,
Father's Day
,
Recipes
Posted in
Parties & Entertaining
|
3 Comments »