October 6, 2011
We've all seen so many great examples of fabric bulletin boards, but here's a roundup that I'm inspired by for the new office. Bulletin boards so practical! And they can be so pretty. I'm building two panels that will lay vertically up against the wall behind the desk – and they're almost ready for their reveal.
Here are more great examples to fit just about every style: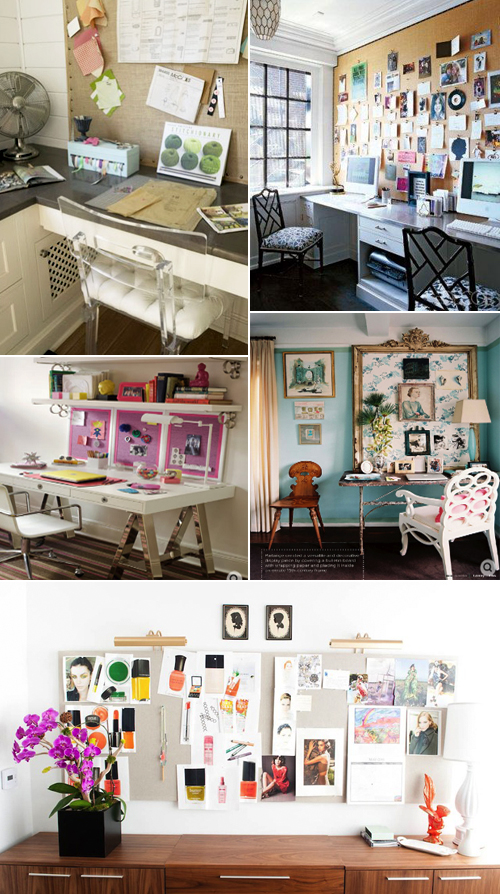 How awesome is that gold framed bulletin board? It was likely an old mirror that they converted. I had an old dresser mirror that I turned into a map board, mirrors make great bulletin board frames.
A fabric lined bulletin board could be as simple as a classic burlap or tweed – or as ornate as a toile or suzani! Try lining a simpler bulletin board in nailhead trim or ribbon.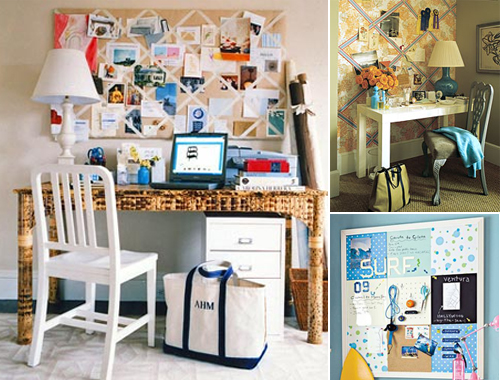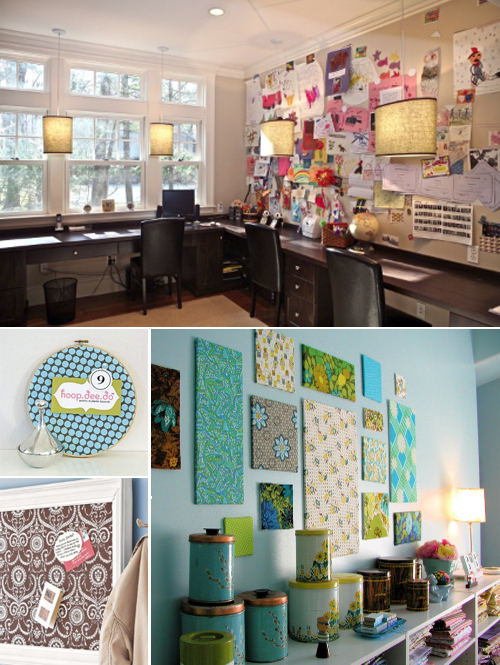 That little needlepoint ring is an interesting take on a fabric board (I'm assuming you'd cut your cork to fit the ring?) and here's a tutorial for unframed fabric panels (like the lower bottom right).
Now back to work on mine!
Sources: DecorPad, Martha Stewart, Pottery Barn, Bella Dia, Houzz, and Houzz again.
Tags:
Accessories
,
Crafty Solutions
,
Decorating
,
DIY
,
Fabric
,
Favorite Trends
,
Home
,
Inspiration Board
,
Office
Posted in
Crafty Solutions
,
DIY
,
Home
,
Renovating Adventures
|
Comment »
December 21, 2010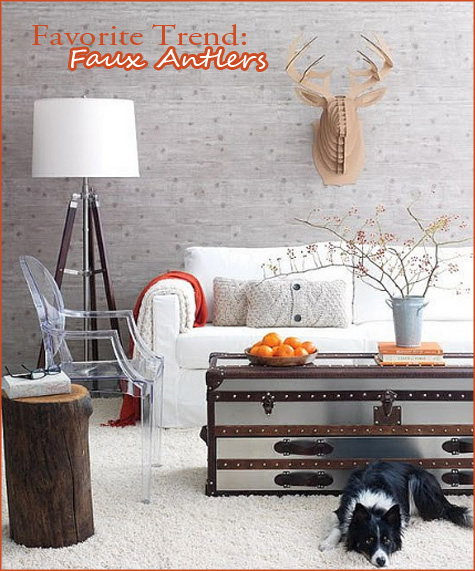 I fell in love with the little fella below when I was wandering the racks at Kohls for last-minute Christmas shopping this past weekend.
I kind of have a thing for ceramic animals (and antlers!) and have always felt that they add a little special and contemporary something to a room.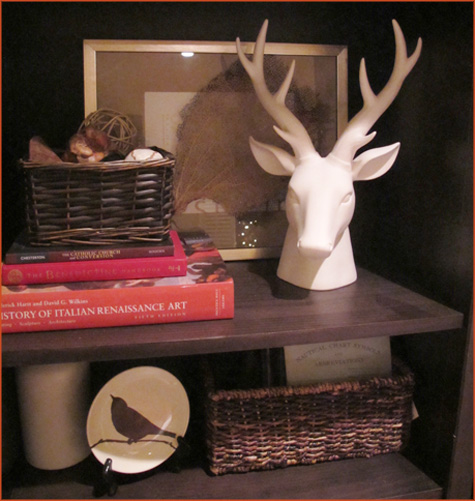 Bringing him home made me wonder what other inspiration is out there for decorating with faux antlers throughout the house.
The search was on and it produced some seriously beautiful results: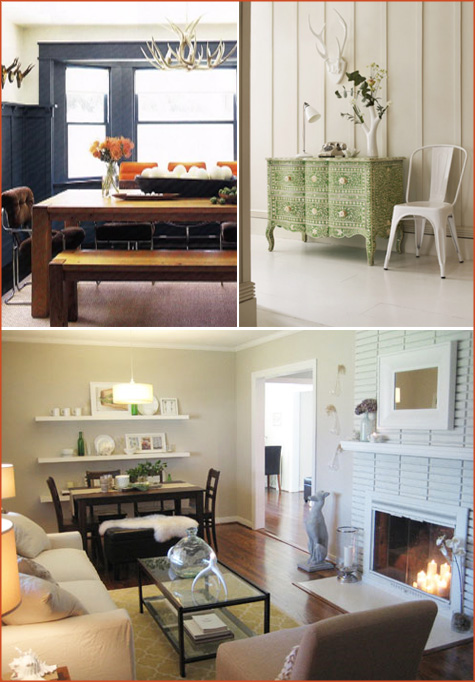 Can you spot the antlers? It's kind of like a Where's Waldo for deer heads… each of these homes creatively showcase their version in a different way.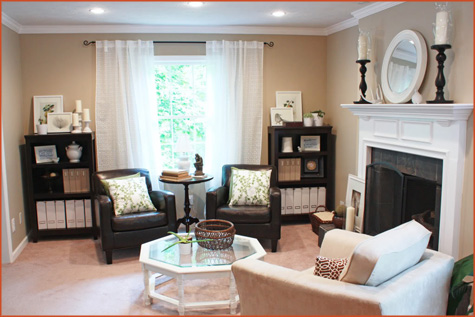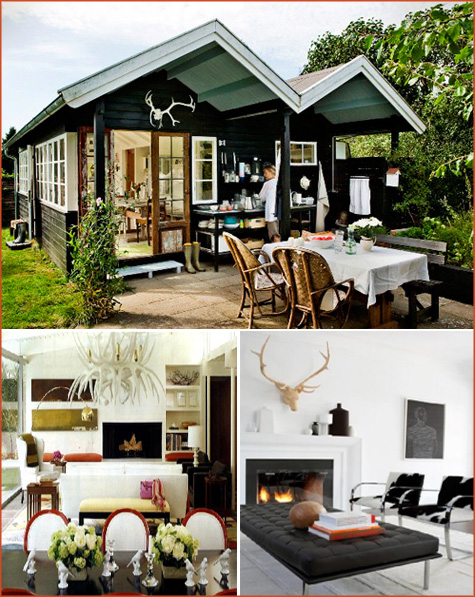 Plus this is sort of the perfect time of year to add them to your space, no?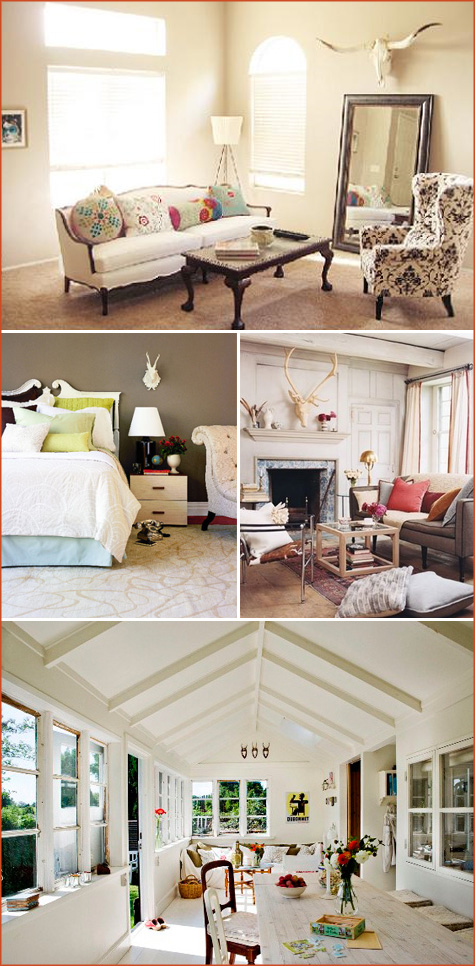 I don't know how I feel about the real deal – I think I prefer the animal-friendly, crisp white versions for now (and on the pro side, they won't turn your living room into a hunting lodge decorating-wise).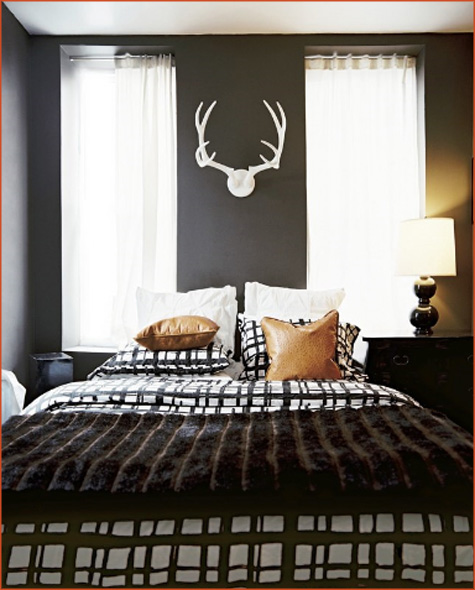 And here's the last of them! Mmm, love the look. It's bold and maybe a bit trendy, but they sure look darn good in these inspirational spaces.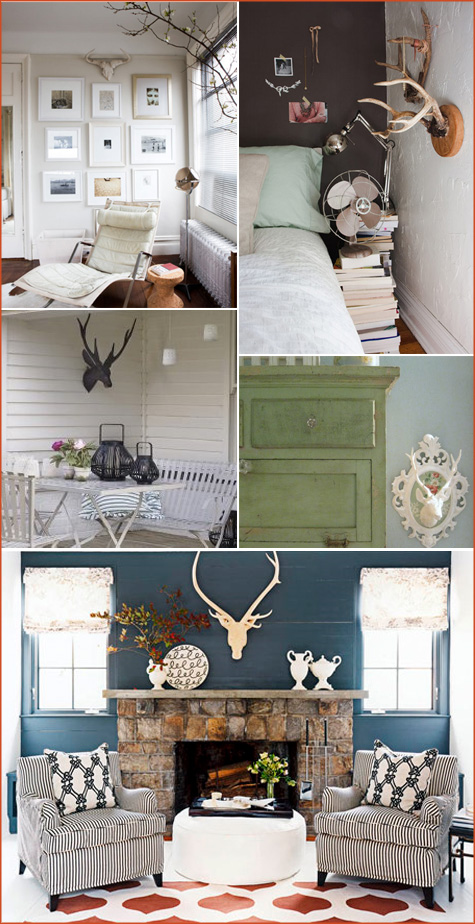 Image sources from top: Flickr "It's Great to be Home", DecorPad, Graham and Green, Young House Love, Bower Power, Made by Girl's living room via Hygge Nook, Decor8, Domino Magazine, Lonny Magazine via Things We Love, Style Files, Just Something I Made and House Beautiful.
Four days until Christmas!
Tags:
Accessories
,
Bedroom
,
Decorating
,
Favorite Trends
,
Home
,
Living Room
,
Office
Posted in
Home
|
6 Comments »
October 12, 2010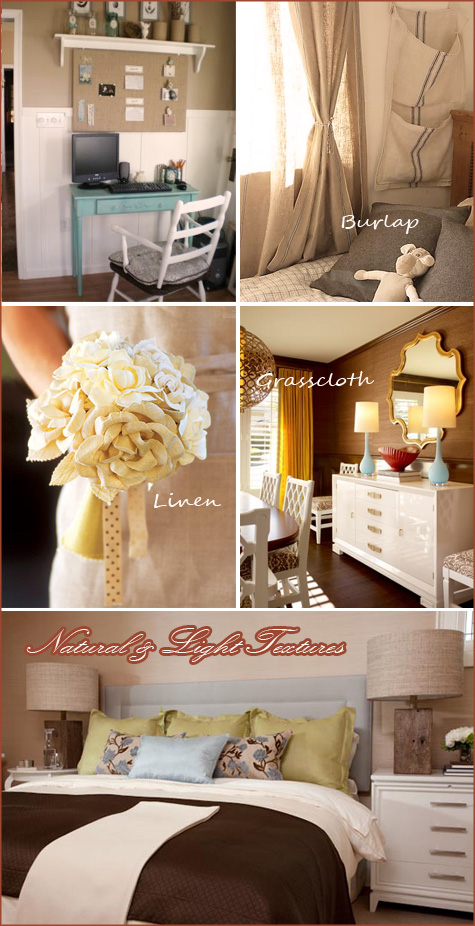 I'm very much a fan of these three materials year round, but they're even more appropriate now that it's fall (a simple burlap runner or squares makes the perfect base for a fall tablescape!).
There's something about the natural texture of grasscloth that is both warm and inviting – and very modern. And linen is a great material for lampshades, covering a corkboard or a few extra throw pillows, it brings in that country/autumn feel that helps keep a room cozy. There are so many diy projects to be found using any one of the above ideas, here is a bit of my favorite inspiration and I'm thinking a single wall in our soon-to-be new office would be the perfect place to try these out.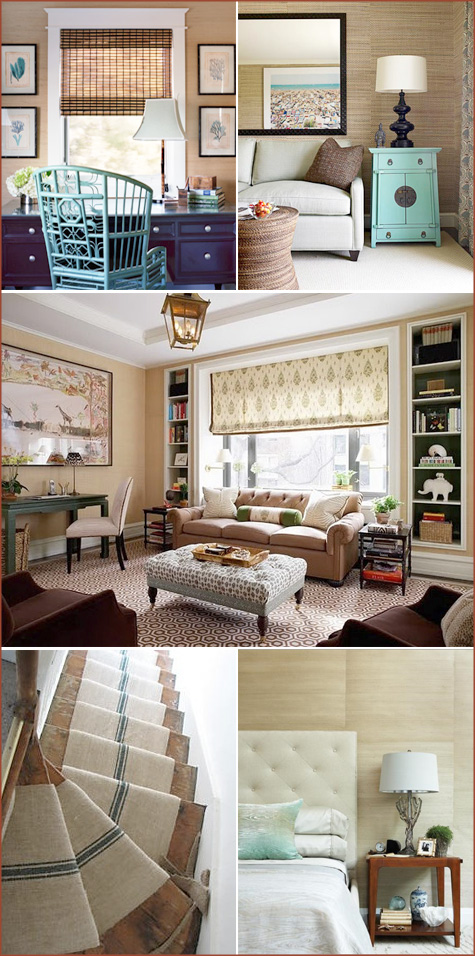 The entire inspiration board above is amazing – each room showcases an eclectic mix of design that when pulled together appears polished and well-thoughtout. Mixing chinoiserie, bamboo and grasscloth? No problem. Throw in a modern trellis print? Why not.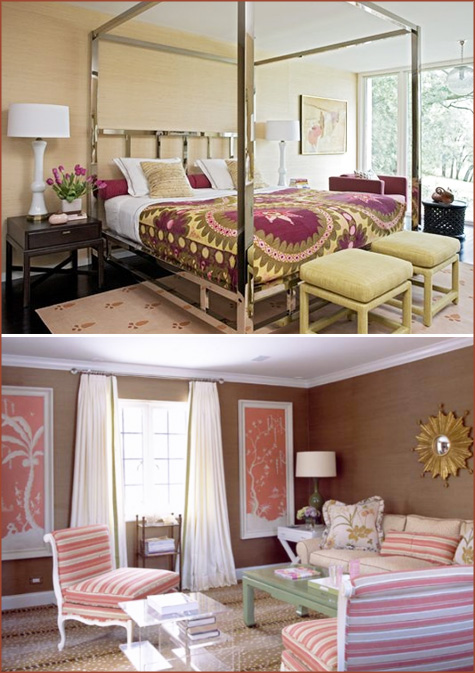 Camila over at High-Heeled Foot in the Door shared this great grasscloth source (that beat out even Lowes!) when she covered the ceilings in her kitchen.
Or, for a more do-it-yourself approach, here's a tutorial on creating a linen look for less with paint by Janell of Isabella & Max Rooms. She covered an accent wall in the bedroom and it turned out beautifully!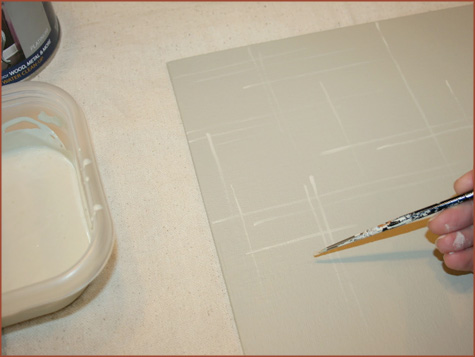 Why stop with rooms when linen makes such a neat fashion statement! Still Dottie created these brooches (just below) to be worn in the hair, on a belt or pinned to a sweater and I love the look. A recovered set of French chairs in a rugged burlap makes a great statement piece as well.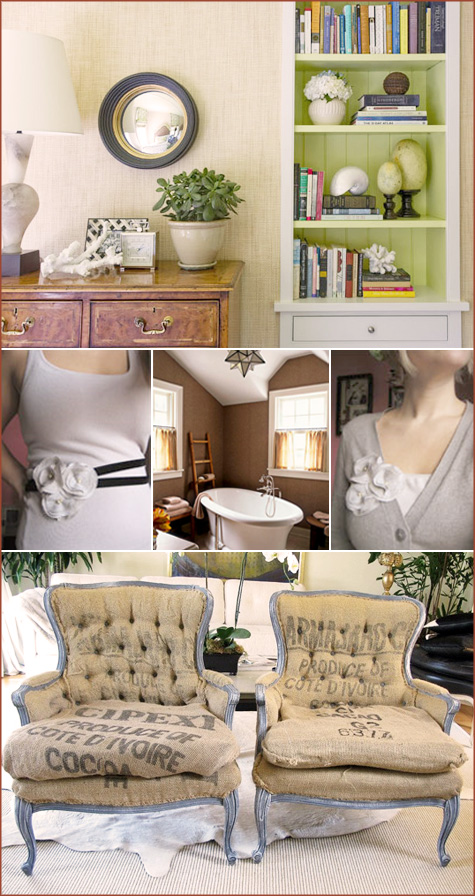 Grasscloth, linen and burlap are year-round materials, but I think that this is the perfect time of year to make some room in the home for the new textures. More 'Favorite Trends' found here

.
Sources, starting from top: Linen Bouquet, Odi et Amo, Ashley Whittaker, Marshall Watson on House Beautiful, Angie Hranowsky, Waterleaf Interiors, Canadian House & Home, Jeffrey Bilhuber, The Yellow House, Willey Design, Remodelista, Apartment Therapy
Tags:
Accessories
,
Bedroom
,
Decorating
,
DIY
,
Fabric
,
Favorite Trends
,
Home
,
Living Room
Posted in
Home
|
7 Comments »