April 15, 2010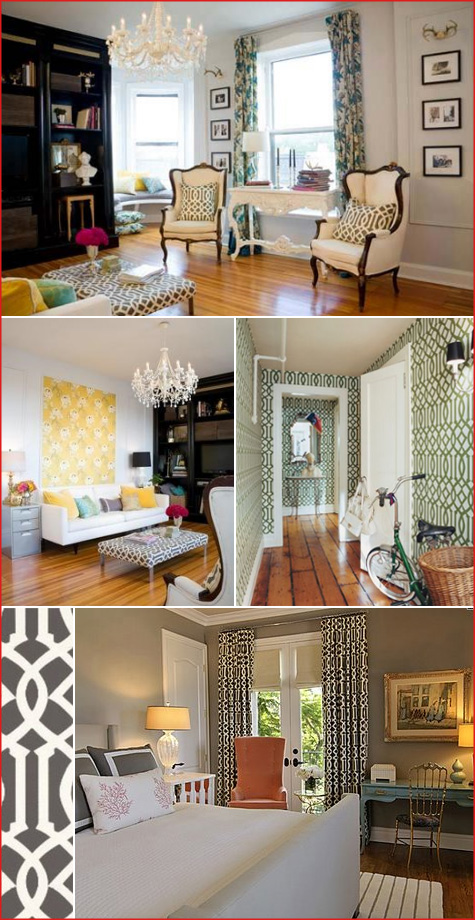 A favorite trend that I'd like to share today is one that has really lit up the design world over the past year. Kelly Wearstler's contemporary pattern covers everything from throw pillows to hallway walls (that's Chloe Sevigny's green entry way above).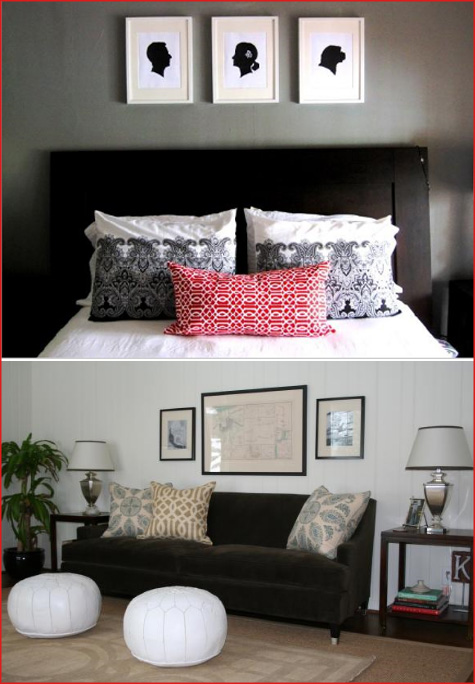 What's special about the design is that even in small doses the imperial trellis print adds just enough modernity to update a living room that's feeling dated, it's amazing what a super-trendy fabric, wallpaper or stencil (check out that dining room wall just below) can do for a room!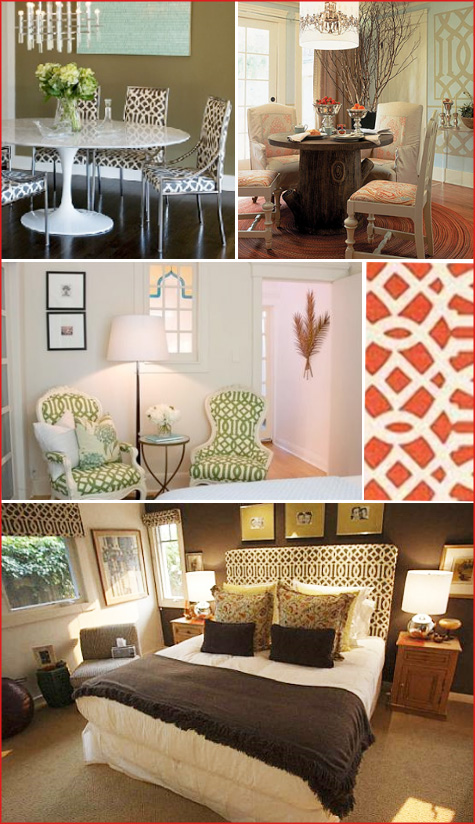 Kirsten over at 6th Street Design School even made her own trellis fabric for a recent pelmet box project – see the process here. And there's my update for today! Images from DecorPad (more great imperial trellis inspiration over there, too).
Tags:
Bedroom
,
By Color
,
Decorating
,
Dining Room
,
DIY
,
Fabric
,
Favorite Trends
,
Home
,
Living Room
,
Patterns & Color
Posted in
Favorite Fabric
,
Home
|
5 Comments »
April 5, 2010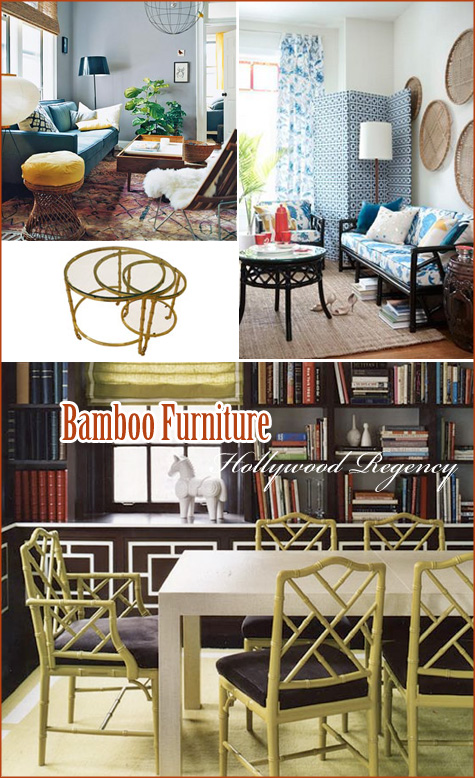 There's a fast growing trend in the realm of alternative wood furniture, and while at first glance it might seem like a welcomed flashback to all things 70s, the chinoiserie style can be beautiful without exuding the least bit of tacky.
It stems from a decorating movement known as Hollywood Regency – and with just a little bit of glam here and there, I think it can look fantastic in the home (especially in bright colors!).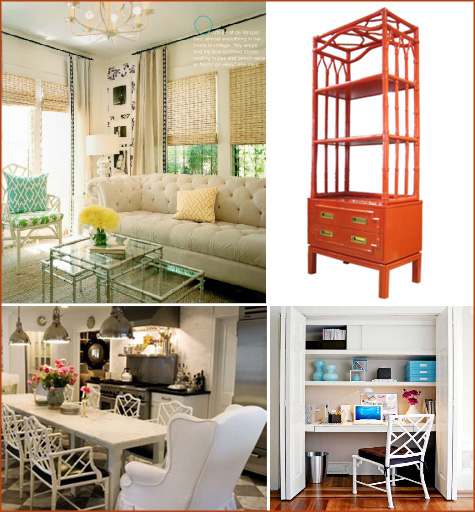 In the very top collage, 6th Street Design Blog inspires with yellow lacquered dining chairs, a black bamboo coffee table and a natural wood side table/stool.
DecorPad has plenty of ideas ranging from silver nesting tables to the white bamboo office chair (both above) and the faux gold vanity stool (below). ElleDecor shared the refashioned red occasional chair below. With these rooms holding just a hint of bamboo elements they balance out the style so well!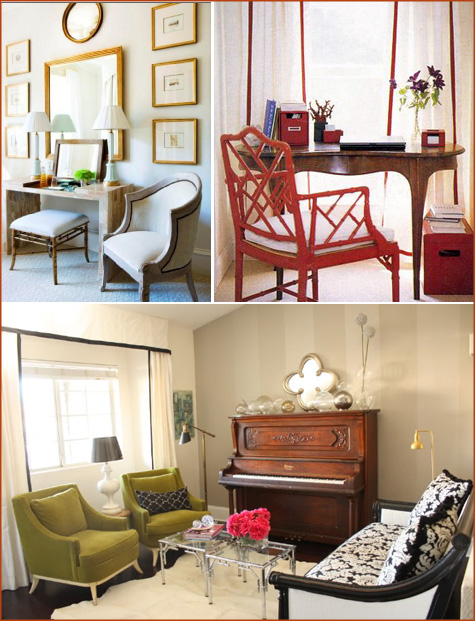 Christina over at Full House (above living room with those awesome olive green side chairs) hunted these silver chrome bamboo tables down from a Craigslist find in Portland – only to have them shipped to her hometown of Phoenix by her sister because they were such a steal! Now that's a love I can appreciate (I'm remembering a moment where I tried to coerce a gentleman in Denver to pack up and ship his sleigh bed all the way to San Diego because it was such a Craigslist find…).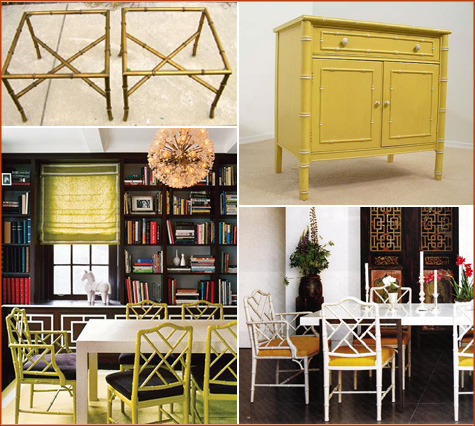 A bit of antiquing and garage sale hunting is all you need to track down your own Hollywood regency flair. DIY projects range from tables to dressers to chairs – my favorite being this makeover from Kelly over at High Street Market (featured on design*sponge):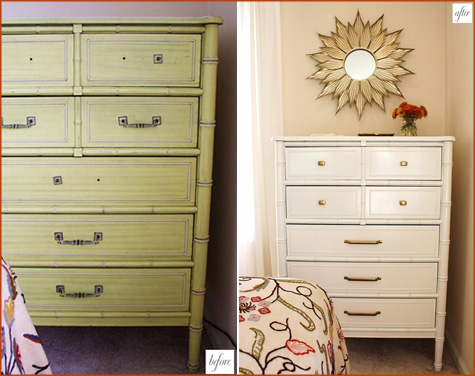 A fresh coat of paint and it's brand new!
And there's a quick round-up of my favorite faux bamboo examples. Breaking up the look and feel of traditional wood furniture can keep a room looking modern and up-to-date. Good luck with your next thrift store find (and maybe just a big of digging around in grandma's attic is all you need to reveal the perfect faux bench project). Happy Monday!
Tags:
Accessories
,
Before & After
,
Crafty Solutions
,
Decorating
,
DIY
,
Favorite Trends
,
Furniture
,
Home
Posted in
Home
|
12 Comments »
March 22, 2010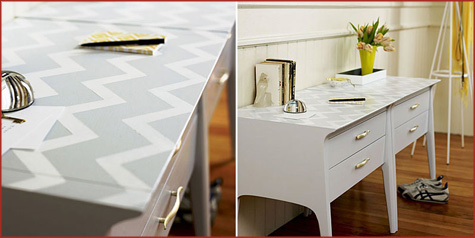 I can't help but share a recent trend (that I know is all to familiar with everyone) that I've been loving, and when I found these easy DIY ideas, they had to be shared! There's something so simple and classic about a zigzag (or chevron) design - it compliments nearly every style from shabby chic (in light greys and whites) to ultra-modern (in bold, complimentary colors).
I love how subtle the chevron design on top of this dresser is, it's a sweet surprise on an unassuming piece of furniture. Sunset Magazine shares the detailed instructions here.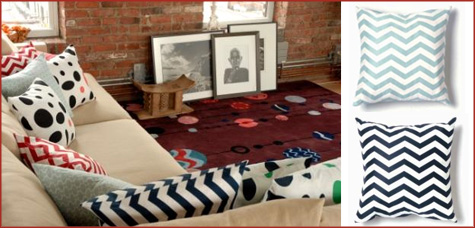 And how wonderful are these pillows stacked casually across this Twinkle Living couch? While you can purchase them here, you might try your hand at sewing or painting the zigzag pattern from directions here.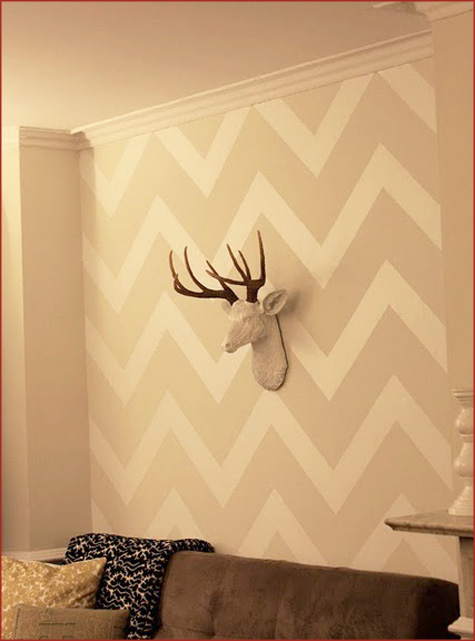 Oh and I love this wall. Stephanie over at Sabbe created an entire accent wall out of contact paper and a very accurate measuring system. Wow!
And finally, designer Nick Olsen gave new life to an old rug by painting it chevron style.
And that's my zigzag wrap up – I hope you all enjoyed and happy Tuesday!
Tags:
Accessories
,
Crafty Solutions
,
Decorating
,
Fabric
,
Favorite Trends
,
Furniture
,
Patterns & Color
Posted in
Crafty Solutions
,
Home
|
4 Comments »