December 9, 2009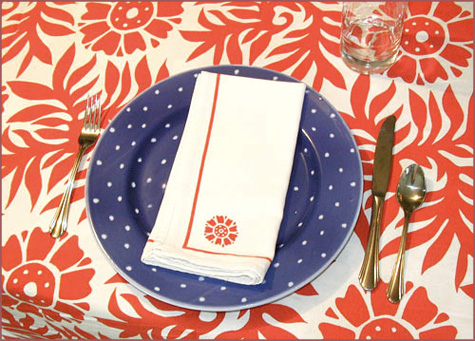 Inspired by Susan Sergant's affection for very bright colors (this is one of her patterns above), here are a few cheery room ideas that make even the dreariest of fall days a little brighter. I am not usually so bold as to paint an entire room lime green — but I must admit I'll be stealing more than a few of these ideas for the house!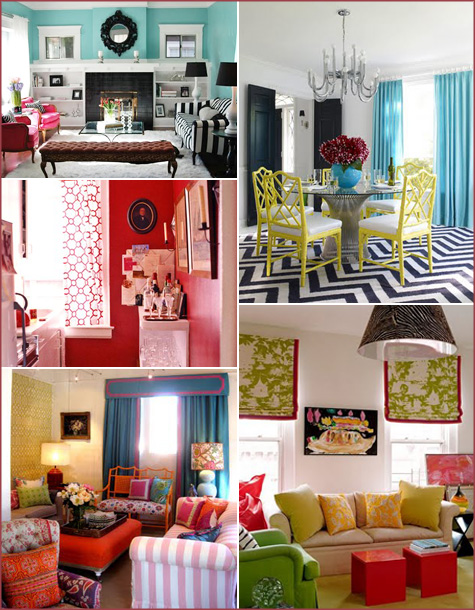 This fall, muted colors 'pale' in comparison to bright statement choices (I couldn't help myself) — bold colors abound this season for the wardrobe, throughout party themes and definitely in home decor. If you're not ready to go all in, try a few accent pieces here or there in a bright and bold hue. How great are the yellow dining room chairs in Jonathan Adler's design (above) and the brilliantly pink foot stools (next page)?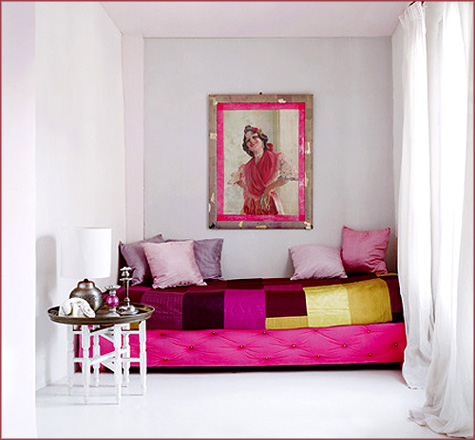 Nine more inspiring rooms full of color to go! As well as accent pieces (such as bedding and throw pillows) that leave a similar — yet not so permanent — effect. Read more »
Tags:
Accessories
,
Bedroom
,
Blue
,
By Color
,
Decorating
,
Dining Room
,
Fabric
,
Furniture
,
Green
,
Home
,
Living Room
,
Orange
,
Paint
,
Patterns & Color
,
Pink
,
Purple
,
Red
,
Yellow
Posted in
Home
|
4 Comments »
November 14, 2009

Love to knit? Then I've got the project for you… cozy up to one of these awesome chairs this fall by taking inspiration from the UK's Melanie Porter who showcases an entire collection of knitted gloriousness. Oh how I would LOVE to snuggle with a chair like this by the fire!
Decor8 shared this wonderful artist a while back, and I'm beginning to wonder how I might reupholster one of my own chairs with my novice knitting skills?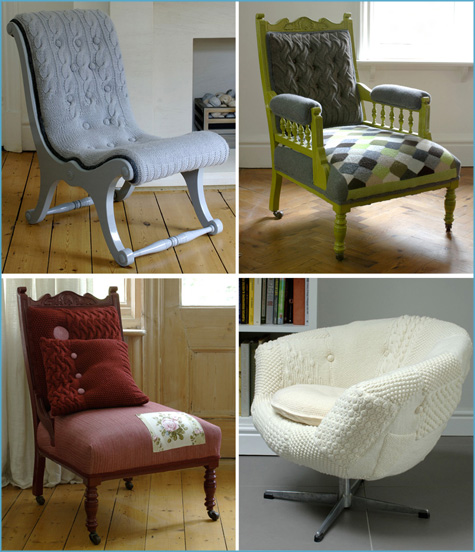 When in doubt, leave it to the pro. In Melanie's words, "Each project starts with the chair itself – anything from an antique Victorian nursing chair, to a 1970s Egg chair – which is painstakingly stripped back to the frame, before being restored and reupholstered using traditional techniques. This blank canvas is then covered with a series of hand-knitted panels, especially created for each chair."
Hot cocoa and a good book, anyone?
Tags:
Accessories
,
Crafty Solutions
,
DIY
,
Furniture
,
Home
Posted in
Crafty Solutions
,
Home
|
2 Comments »
October 18, 2009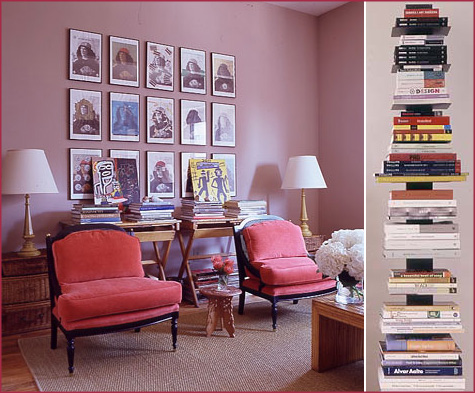 One of my favorite new trends is a unique way to display your favorite books: stacking one on top of the other. It's a simple way to mix up your current bookshelf or create new displays around the house.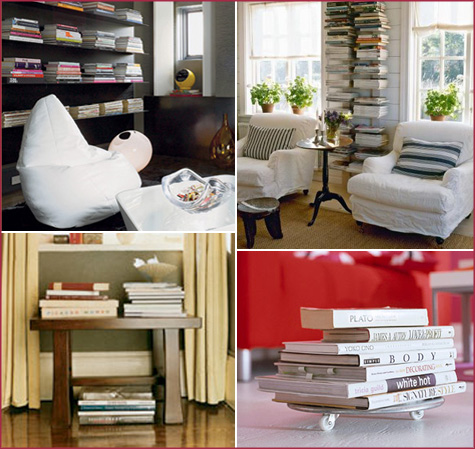 I love the way stacked books look on ledges, like the above left photo, or the way the 'invisible bookcases' (shown below) work seamlessly into the above right room.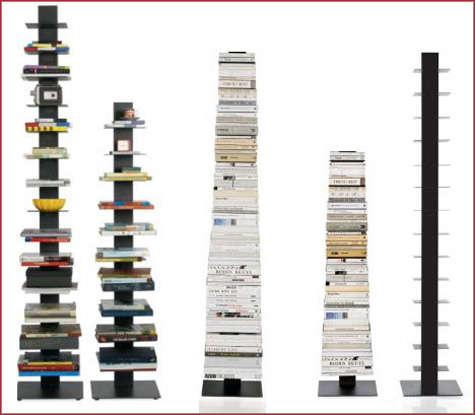 Follow the jump for more great ideas and where to find the shelving units displayed! Read more »
Tags:
Accessories
,
Decorating
,
Furniture
,
Home
,
Living Room
,
Office
,
Organizing
Posted in
Home
,
Organizing
|
5 Comments »