May 9, 2013
I have a fun project to share with you today!
I've been on the hunt for a neat centerpiece (to either DIY or buy) for the big outdoor table that Kevin built on our new deck and am so happy with how this oversized planter's box project has turned out. My favorite might be the pops of color in the form of five added geometric hexagons.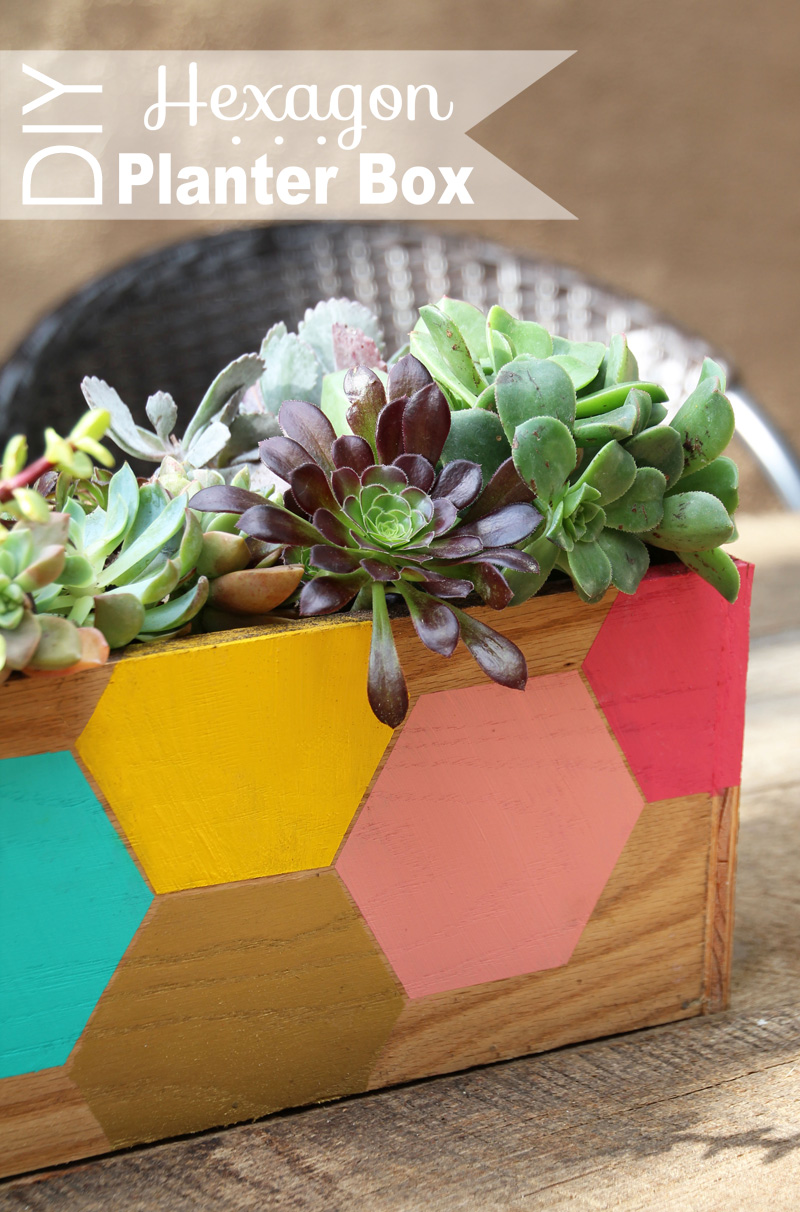 Succulents and I get along really well, and they look so pretty all together in one large container! I've been wanting to play with them more in our garden in unique ways, maybe even designing a succulent wall along the back bbq area.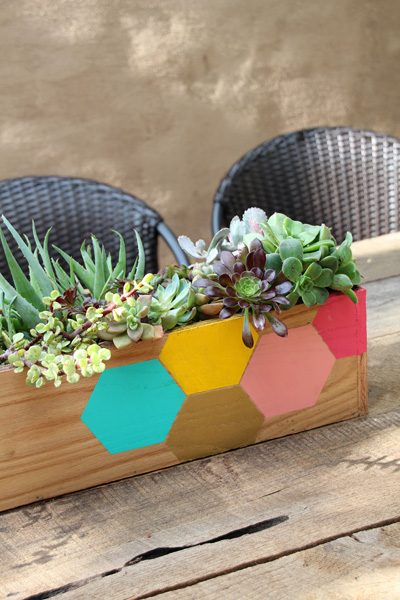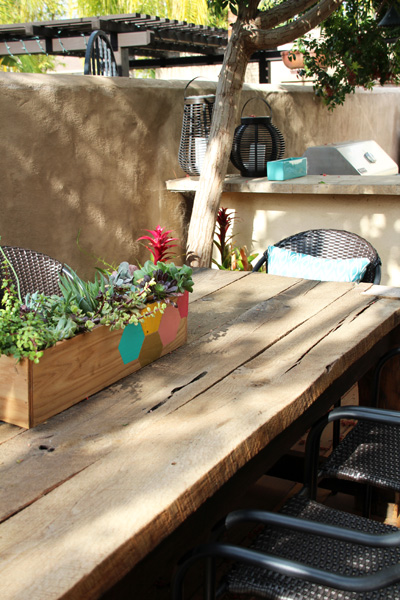 The hexagon pattern wraps over the top edges of the box and along one corner as well, I love the symmetrical pattern and how the painted shapes work together but provide their own little bursts of bright, unexpected color.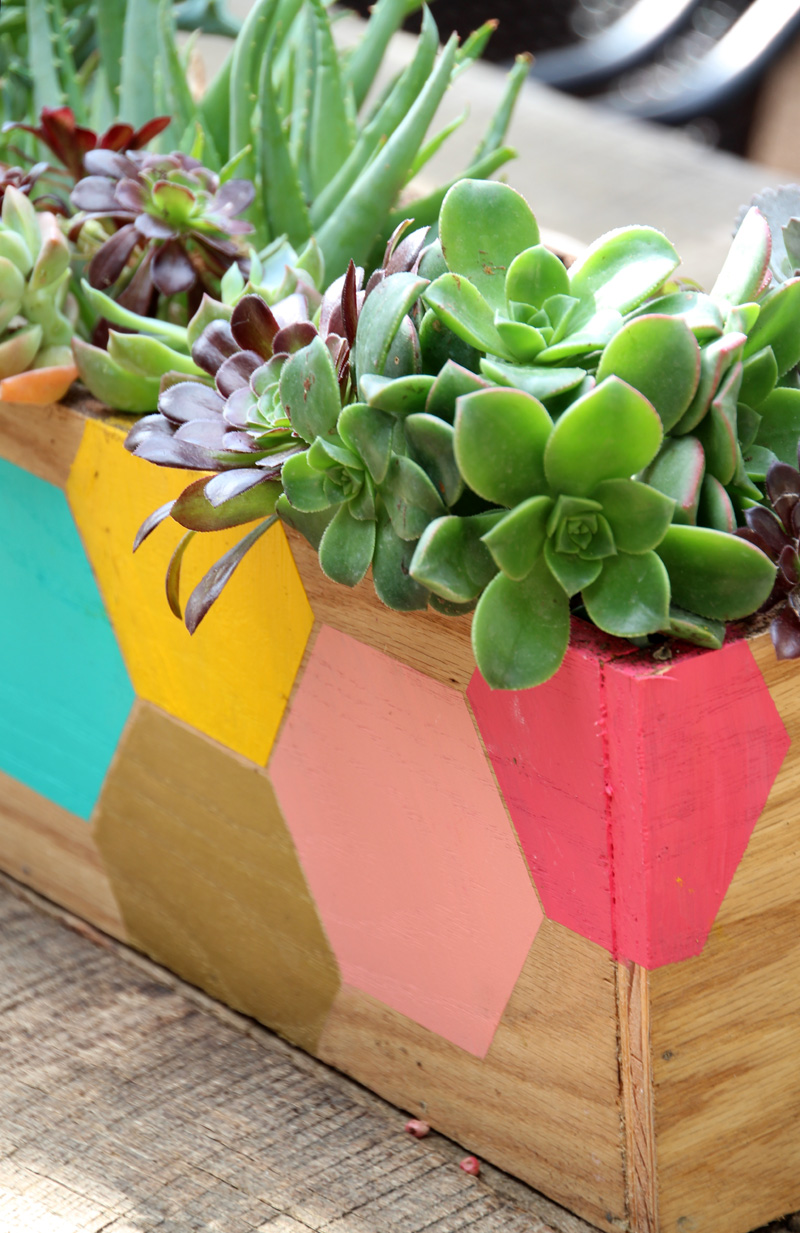 I was actually inspired to finally getting around to finishing this project by Katie and Sherry's Spring Pinterest Challenge:

It provided the inspiration needed to pull my materials together and take a couple of hours to build, stain, paint and plant my new succulent centerpiece.

The goal of the challenge is to take a pinned idea and make it happen – here's my pinned inspiration: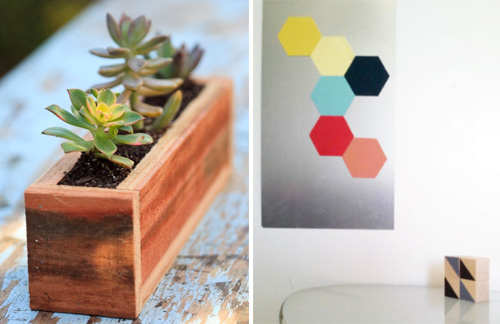 This lovely wooden planter box from The Growing Wall and these neat felt hexagon shapes by Squared Array. I imagined them as potentially very pretty when combined together.
Let's get into the nitty gritty…
The process for building my initial planter was pretty simple. To keep material costs on the low end, I purchased a single piece of 24×28″ plywood from Lowe's and asked the technician to cut the board horizontally into three strips  that were 24×6.5″ in size and the remaining 24×6.5″ piece into two 6.5″ square sides. That used up just about every inch of the wood perfectly (I had just one large rectangle left over).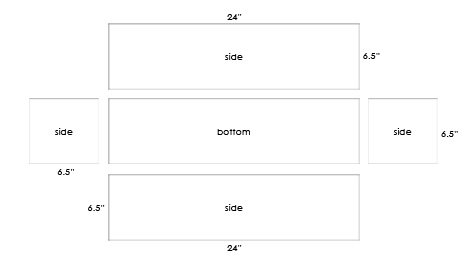 Cutting plywood often causes freying at the edges so if I had needed a more exact cut I might have opted for real (rather than compressed) wood instead. But this worked out perfectly as the cuts were kept to a minimal and the plywood cost just $6! And all of the cuts were made at Lowe's so I didn't have to bring the board home, pull out the table saw and add that extra step to the process.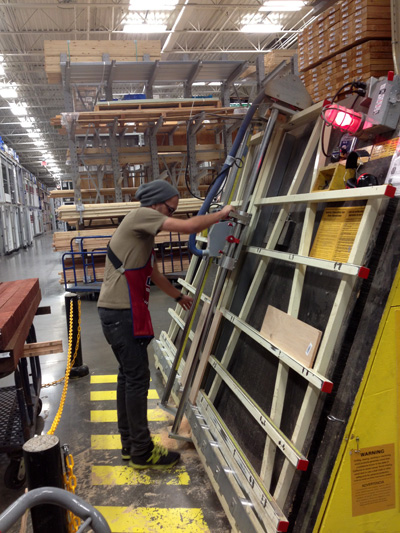 Thanks, Lowe's man.
To nail the box together I used small tack nails that I had on hand.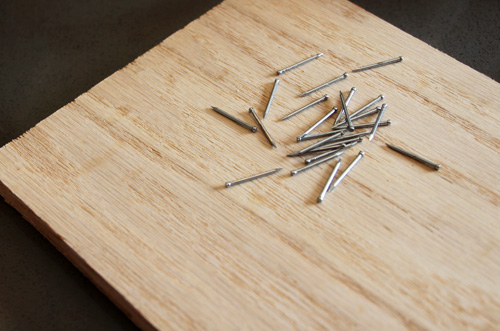 As well as my trusty floral hammer! No need to dig through the garage and pull out a massive hammer from the tool chest, I really love having my smaller-than-average tools in my office and waiting for everyday use.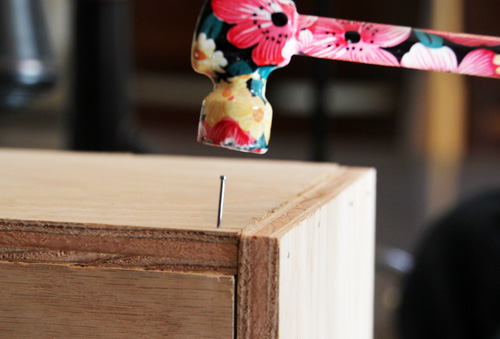 I placed a nail every 3″ or so along all edges of the box that met with another edge. 32 nails and one finger later, and the planter box was assembled.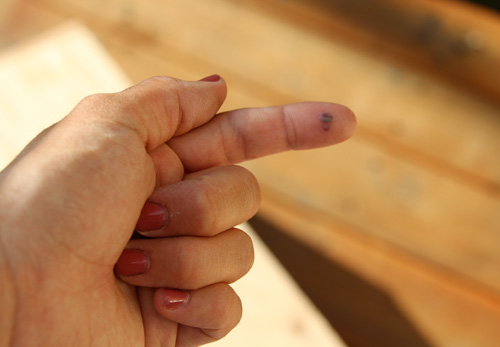 To hide the silver tops of the nails, I used a stainable wood filer that we had on hand (but I would say that this step is optional).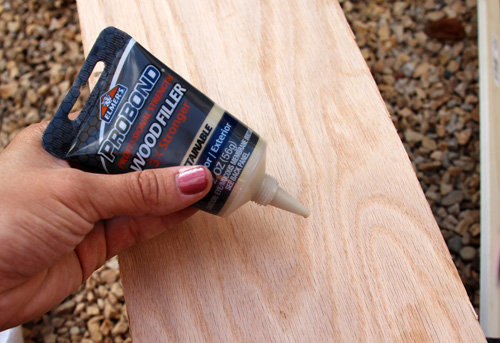 And to remove any pesky store barcode stickers (why do they make them actual stickers??), a little Goo Gone.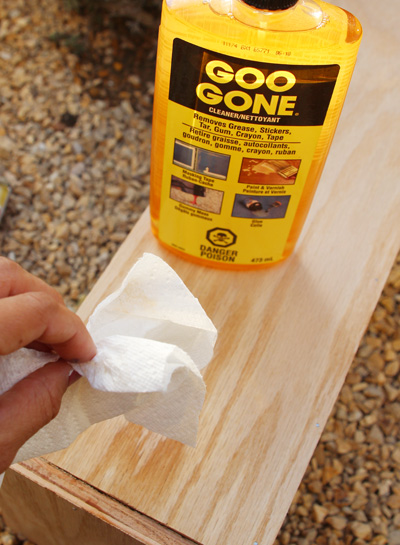 We have a decently sized stain collection from various projects in our garage so I chose from two of the lighter finishes. I ended up using both the "ash" and "oak" (oak first followed by a quick layering of ash) to give the box a slightly birchy, slightly weathered look.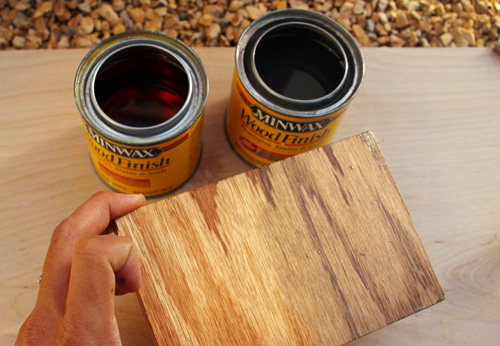 With the glare of the light it's hard to see the finished stain coat here, but the coloring came out just as I had hoped.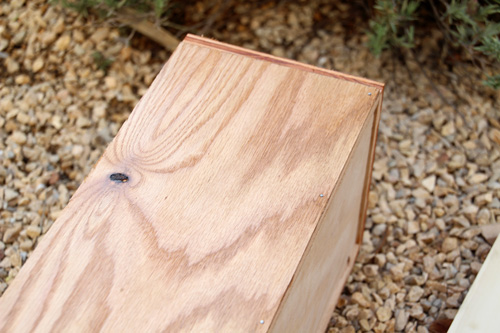 I stained the first few inches of the inside of the box as well, the rest will be filled with soil and will be pretty much unnoticeable.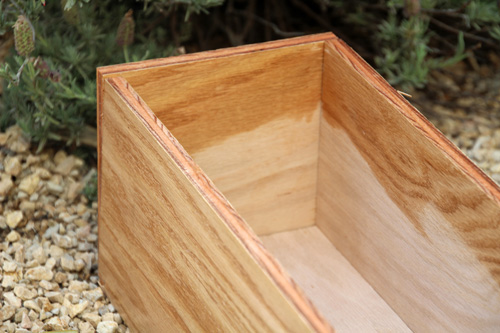 To make my hexagon painted shapes, I printed out a basic hexagon outline (using the Illustrator shapes feature) on to cardstock. Feel free to download my copy here. Laying out the cut out shapes in various formations helped me to come up with a final pattern.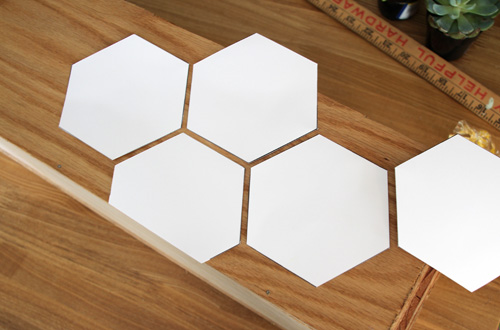 Using that pattern as my template, I taped out the various paintable hexagons one at a time.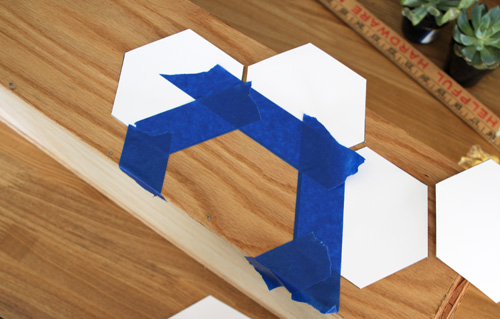 And slowly filled in the taped off areas with various colors. You can see that I left a sliver of wood showing between each shape, I love that little detail.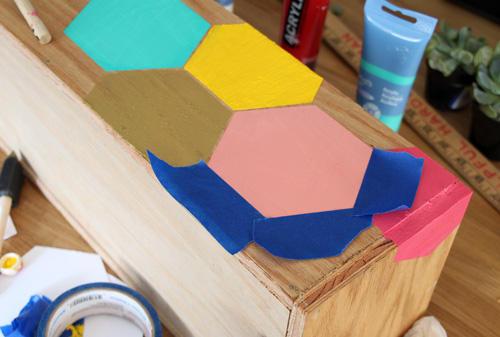 Press down solidly on those edges to prevent any under tape bleeding! And as soon as you've applied the paint to the wood, pull up that tape right away for a flaw free line.
Next up was planting. I found it was cheaper to purchase most of my succulents in one large prearranged plastic round planter from Lowe's (that I broke apart and replanted), then supplemented with littler containers and cactus from our garden.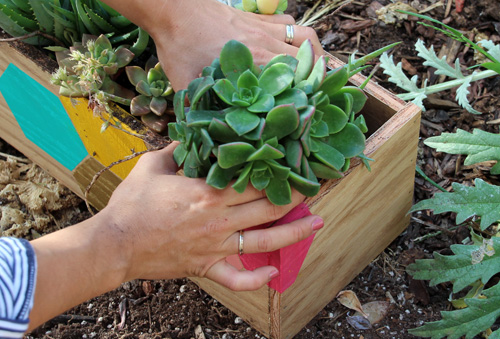 Finished!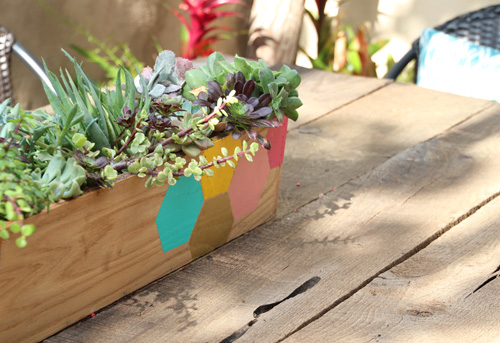 A new, pretty centerpiece that is just the right size for our 12 person table. This will look great in the summer for outdoor picnics and parties – I'm picturing a pretty table set in whites and navy blues, or even pinks and mint greens to compliment the colors of the planter box.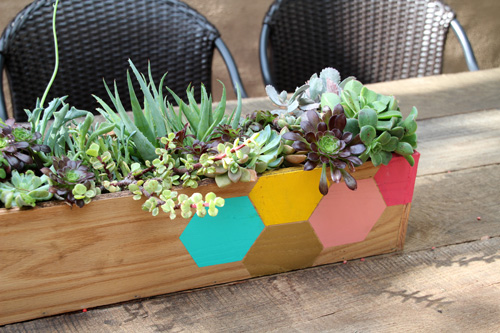 The hexagon shapes are definitely my favorite part.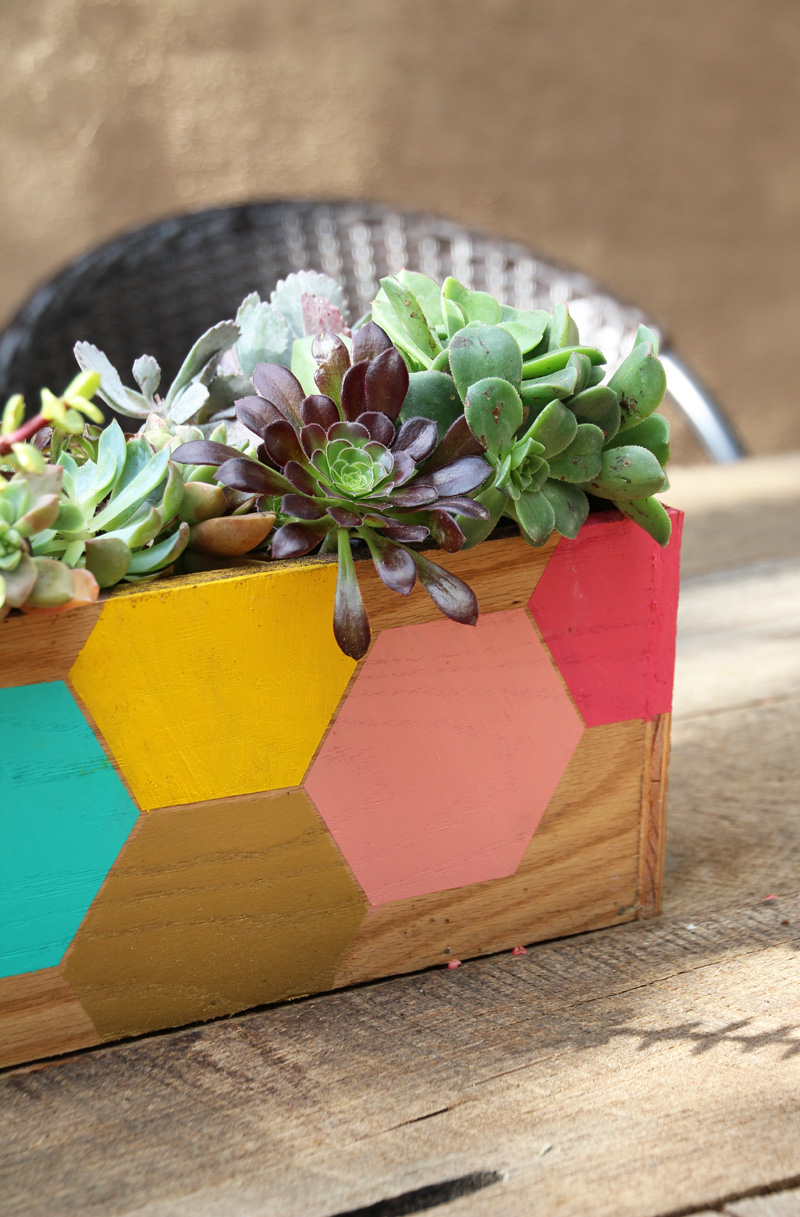 I will be linking this project up with the four hosts of this season's challenge: Katie, Sherry, Emily and Renee. Check out all of the great projects!!
Here's a link to my previous Pinterest Challenge projects (including the fireplace facade that has an exciting announcement to make soon, an ombre step stool for Liv, faux gold mercury glass, a chevron cloth napkin project, a painter's tape stenciled hallway and so many more fun ideas…).
Tags:
Accessories
,
Crafty Solutions
,
Decorating
,
DIY
,
Gold
,
Home
,
Paint
,
Patterns & Color
,
Pink
,
Pinterest Challenge
,
Teal
,
Turquoise
,
Tutorial
,
white
,
Yellow
Posted in
Construction
,
Crafty Solutions
,
DIY
,
Downloadables
,
Favorites
,
Gardening
,
Handmade Gifts
,
Home
,
Our Yard
,
Renovating Adventures
|
6 Comments »
April 24, 2013
Happy midweek! This is the time of the week that I just love because I'm starting to plan out my weekend projects and anticipate my time away from work with the fam, but am still not so rushed to finish my desk deadlines that I'm biting my fingernails. Midweek is a great time of the week.
A quick update to share regarding the trending colors that are making a friendly splash in this casa. That is to say that gold might be the new pink in this house. Or maybe they're tied at this point (as evidenced here, here, here, here and here), but I'm noticing that I've been drawn to gold-hued home decor for a while now and that it has begun to pop up with sparkly and brushed gusto over the past couple of months.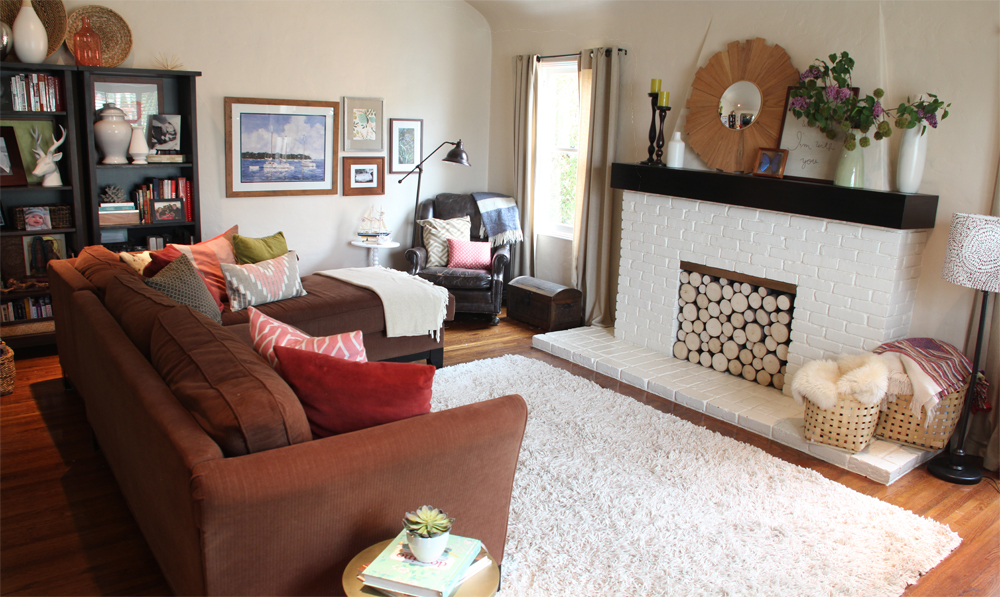 Lots of pops of pink. Something so soothing and warm and inviting, no? Perhaps teal or navy should make an entrance…
I feel like I jumped on the gold-lovin' band wagon early and began to embrace its shiny patina back when Kev and I first married almost six years ago. I'm pretty sure gold was still very not cool back then (remember the grimace you made when visiting Grandma's perfectly brass-covered bathroom?) and I recall bringing a dainty gold chain necklace in for repair to my local jeweler and having him inspect it oddly, telling me 'no one wears gold, no one'. I still wear that simple gold chain with a little pendant from Kevin every day.
Okay, side stories aside, here's a new gold addition that I'm especially enamored with: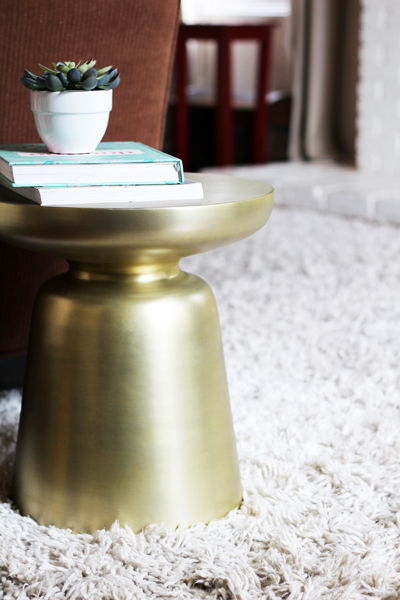 And it's brass, too! Without a coffee table we have been in need of a convenient table solution for drinks and whatnot, especially with friends over. I have a little wooden tray that I usually keep on the couch that houses all things reading material, remote controls, etc but with a bouncing toddler and snuggly dog it never felt quite sturdy enough to hold mugs of tea or glasses of water.
So it's been a side/coffee table search.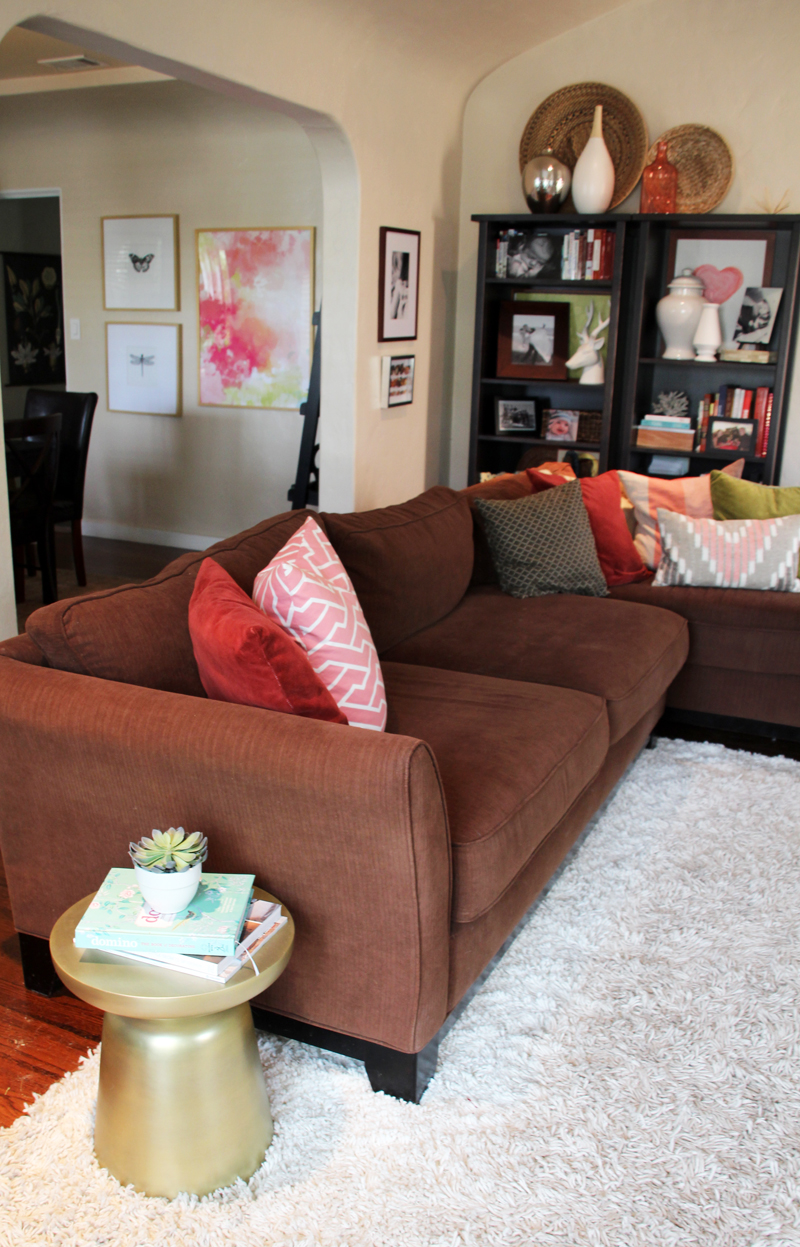 I tried out a couple of variations here and there over the past year (loooong search) but quickly found that this end-of-the-couch location called for something low profile and sturdy (anything with legs was easily tipped during the Liv and Bodie trial – one has inquisitive fingers, the other a very strong tail).
This antique brass West Elm drum table passed the test with flying colors.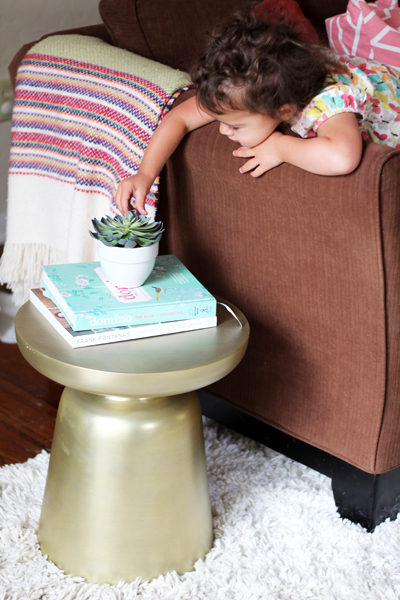 It is still tail height and it is still visited by inquisitive hands, but now the table is far from tipping when anyone runs by it at a fast speed. It's also fairly  light weight so we move it to the center of the sofa when it's needed for wine and water glasses.
I've had too much fun at West Elm over the past few months. It's rare that I'm toddler free outside of work and one of my favorite little stops when running errands is to swing by our local West Elm store and browse the sale section (which happens mayyybbeee once every three months). Other recent West Elm additions? There are a few now that I can spot.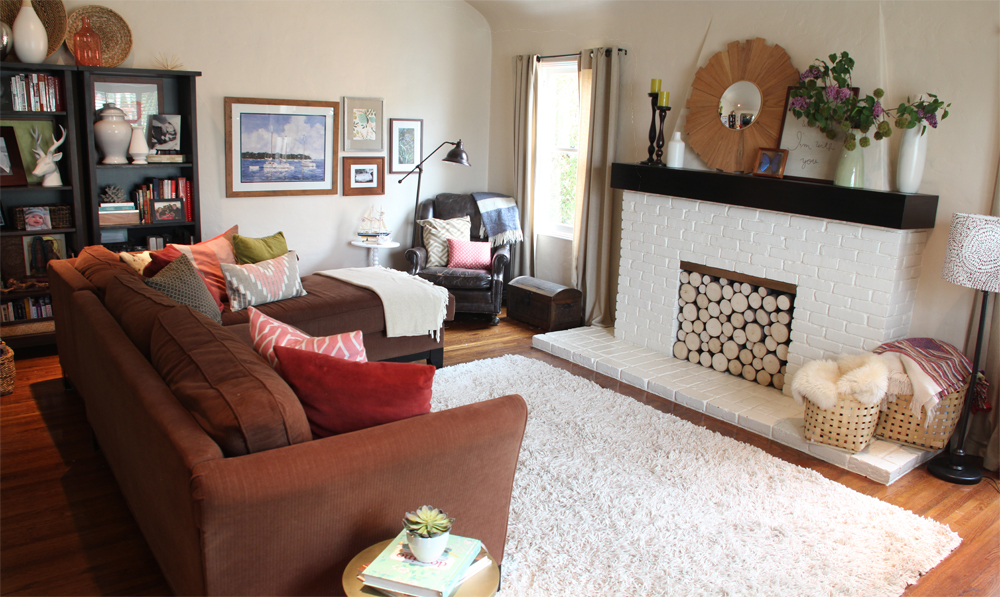 This pink/coral vase that sits atop the bookshelves is a clearance find. (Kevin didn't love my gold 'home' art project that used to also sit here and he ended up winning – I decided the letters might be best elsewhere after a couple of weeks).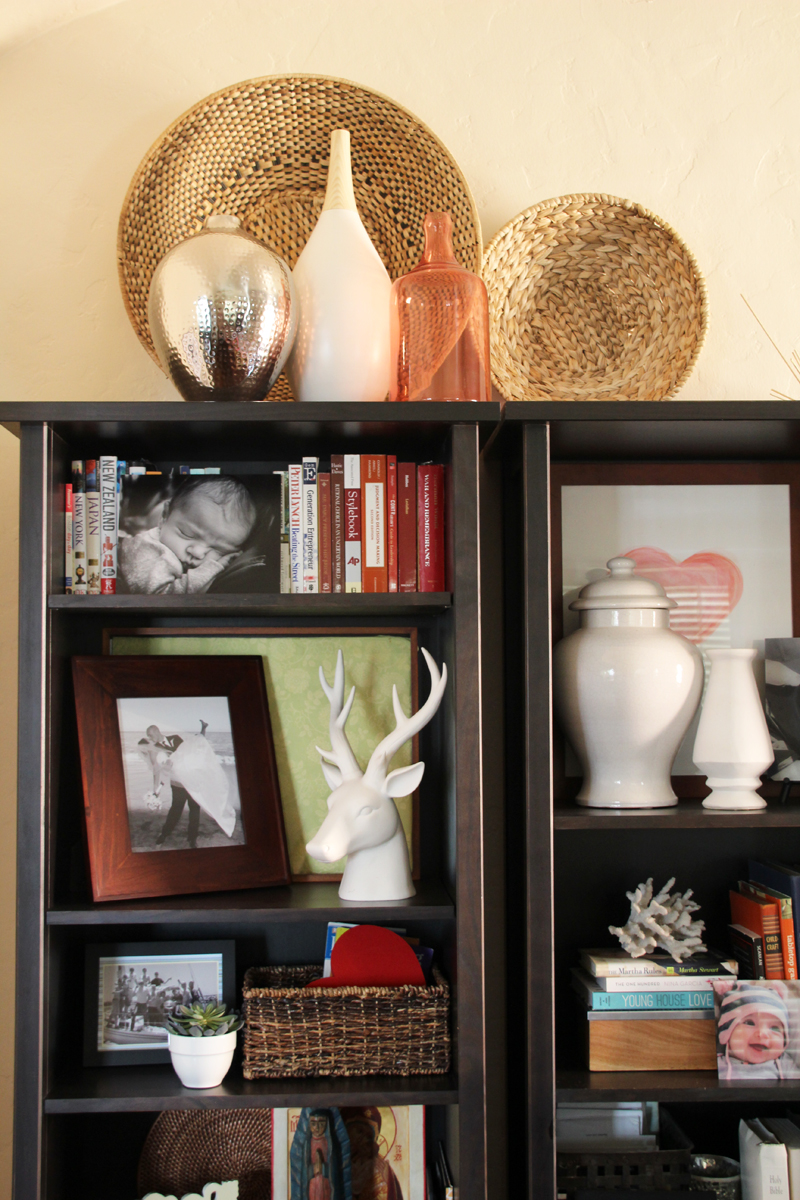 As well as a couple of new pillows. How great is that pink and taupe tribal print? Or the striped coral and brown guy that pulls the entire couch ensemble together?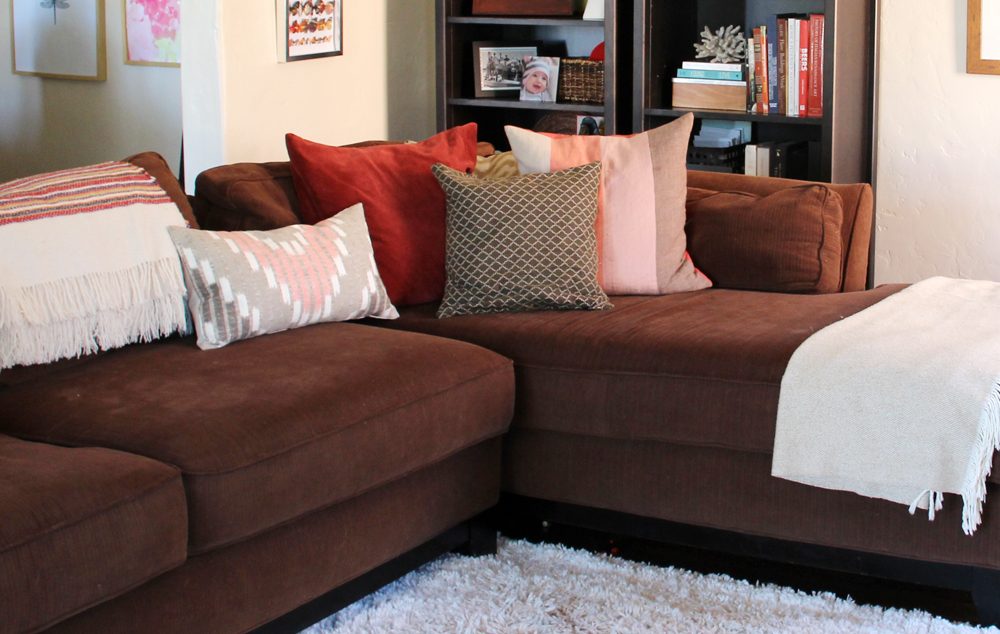 This one also now sits on our old leather corner chair.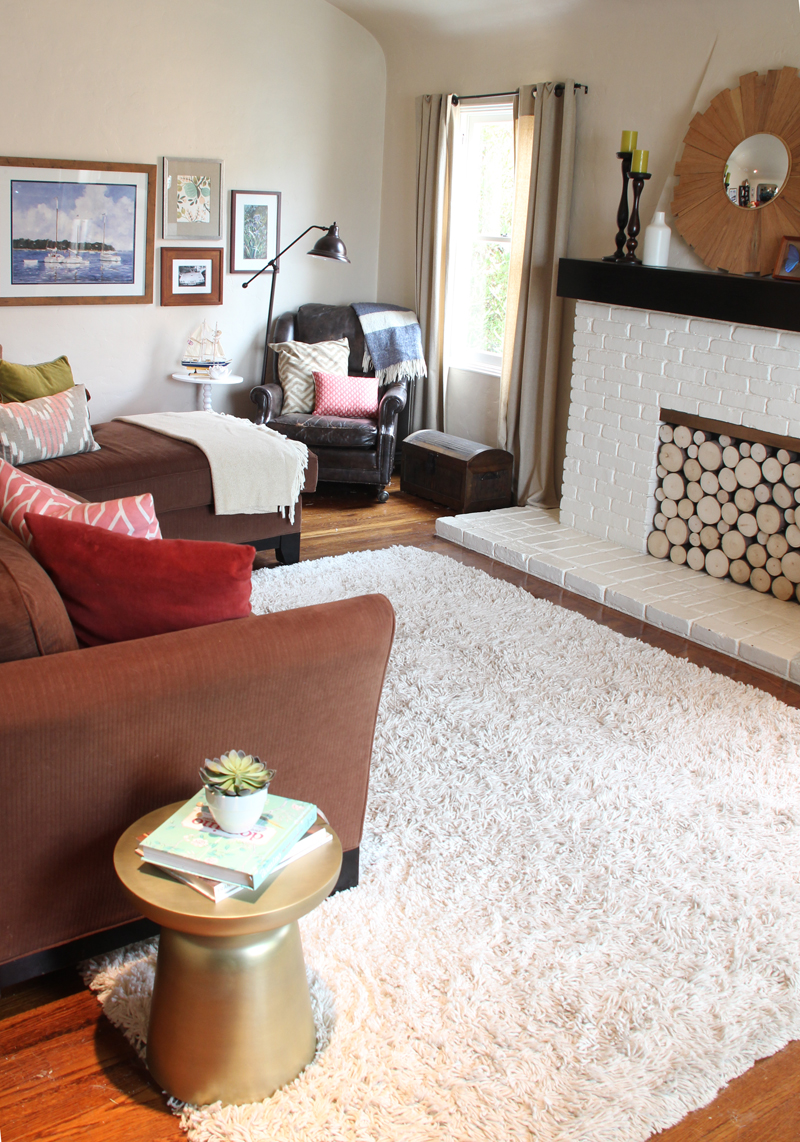 On the more pink front, I believe I've finally settled the score on deciding on new wallpaper for the new nursery! And my gold Land of Nod desk lamp and pillow for the office have recently arrived. Talk about sparkly

.
Happy soon-to-be weekend.
 All living room posts are sorted by tag right here for easy searching.
Tags:
Accessories
,
Decorating
,
Gold
,
Home
,
Living Room
,
Patterns & Color
,
Pink
Posted in
Home
,
Our Living Room
,
Renovating Adventures
|
1 Comment »
April 8, 2013
While maybe a little overdone, I've been kind of loving 'letter art' for a while. We have our initials on the bookcase in the dining room and even a 'LIV' set in Liv's room that I don't think I've shared just yet.
When placing an order recently with Land of Nod for a cool new desk lamp, I fell for a free shipping coupon and had to spend $15 ish more on the site to qualify. So at $4 each, I threw four of these letters in for good measure (which with a free shipping discount makes them a steal at like $2 each, right?

).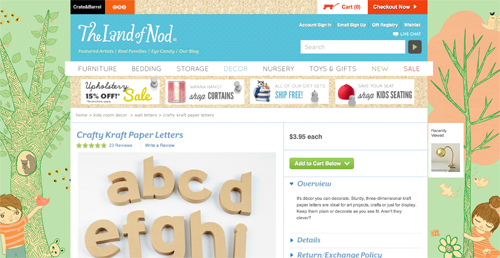 They were made out of brown craft paper, 8-10″ tall and very light weight. I thought they might be fun to cover in paint or fabric or wallpaper and hang on a wall or bookcase in the house.
For now, my 'HOME' letter art calls the bookcases in the living room home: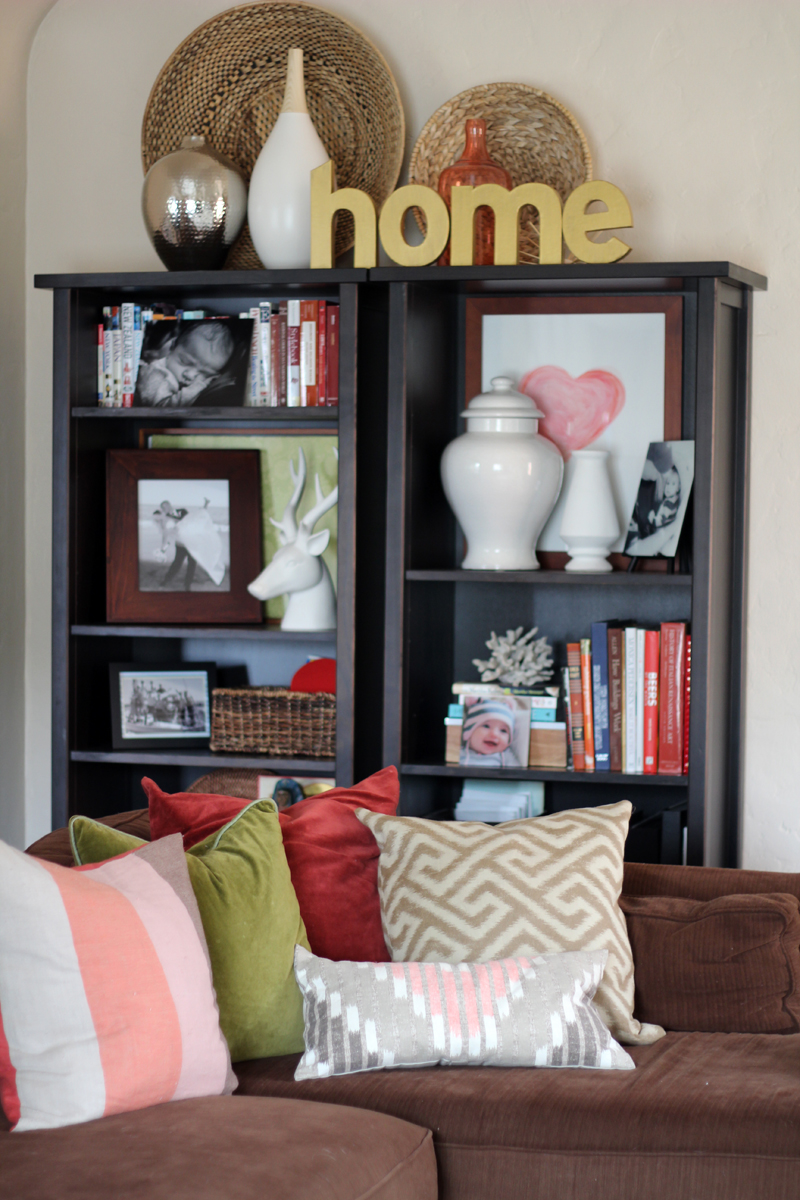 But that might change soon. They feel a little big for this space? Would love to shrink them down about an inch on each side.
I thought about spray painting these guys for a super quick gold application but ended up sponging gold craft paint (left over from our Easter project) late one night, thinking that I might like a more burnished rather than solid effect (and the sponge would allow me to give that textured look). The result is definitely a solid gold (I nixed the burnished look after a few minutes), but I love how they've turned out.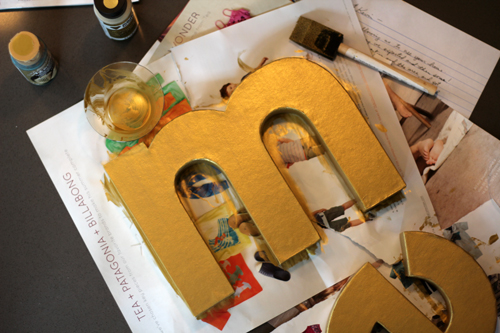 I have a few gold paint containers in my stash but this metallic gold by Folk Art continues to be my favorite: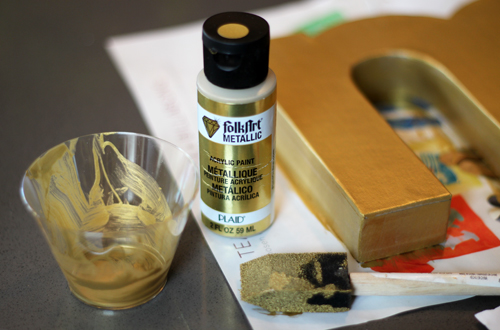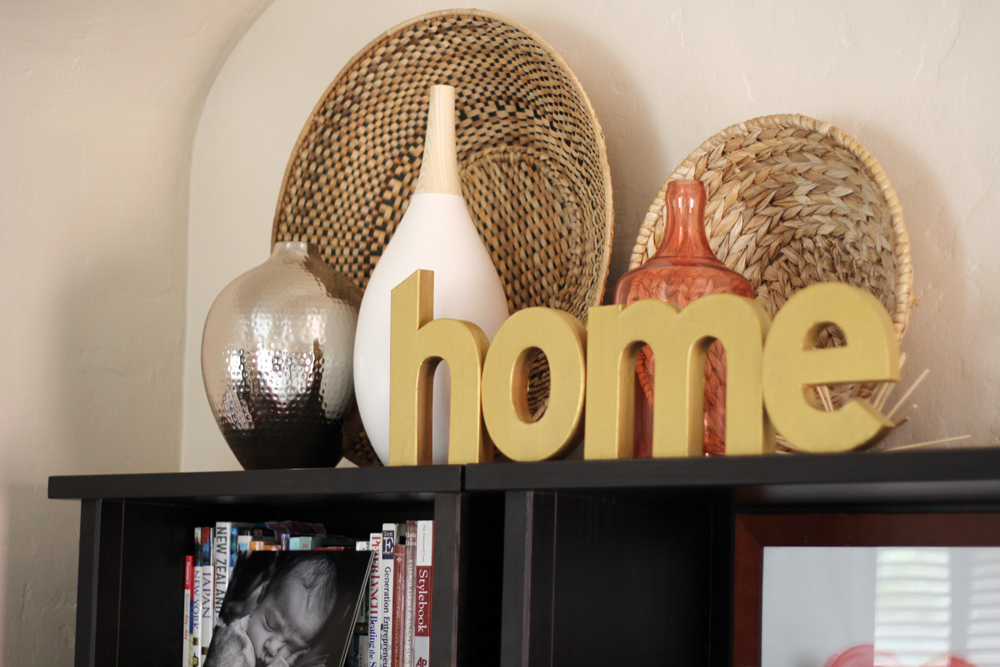 While the letters might not stay here, I do love the addition of gold and pink to the space!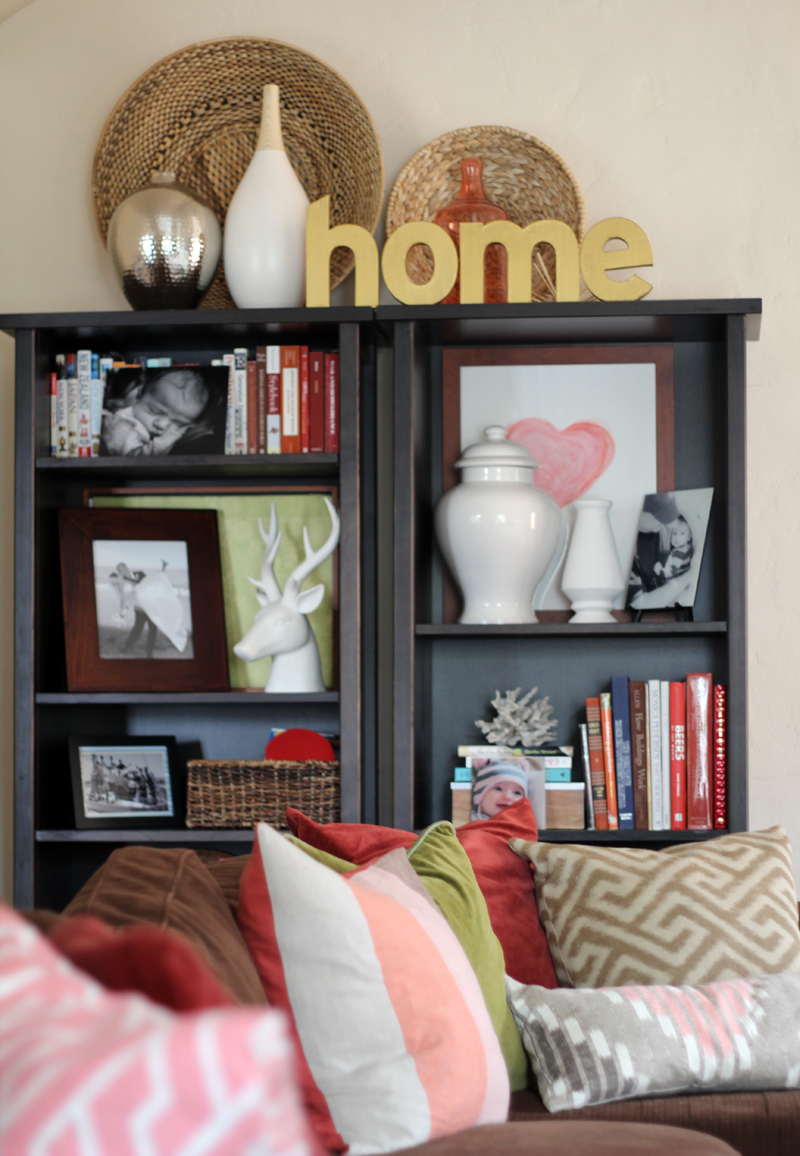 Now the heart art ties in with the new Spring pillows (still debating pillows over here

) which ties in with that cool new glass coral vase (West Elm's sale bin) up on the shelf.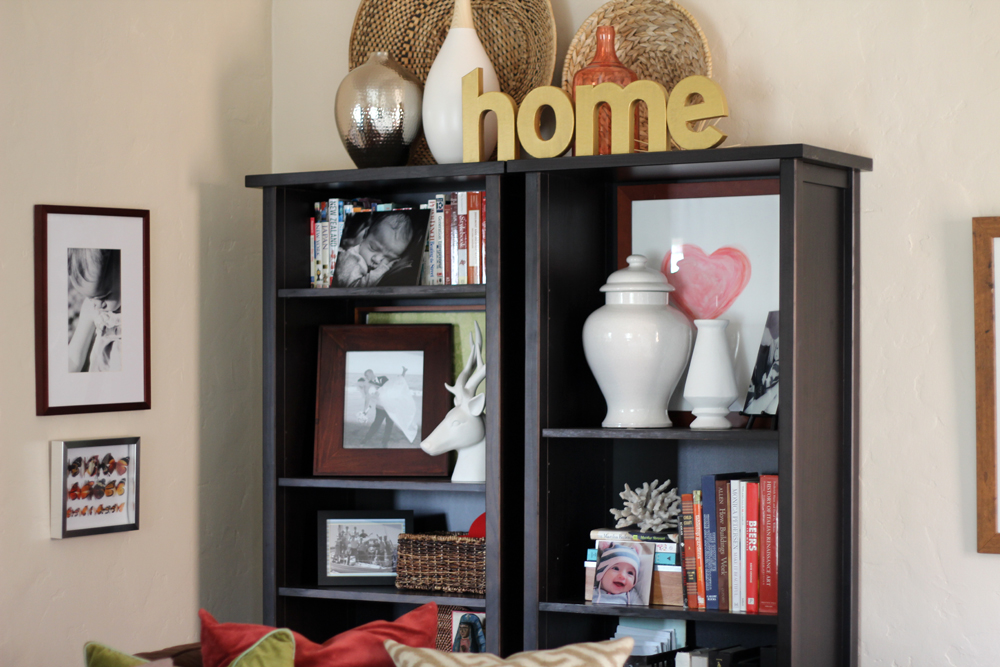 My plan B was to set the letters up on top of the kitchen cabinets. Might be fun to add a splash of gold?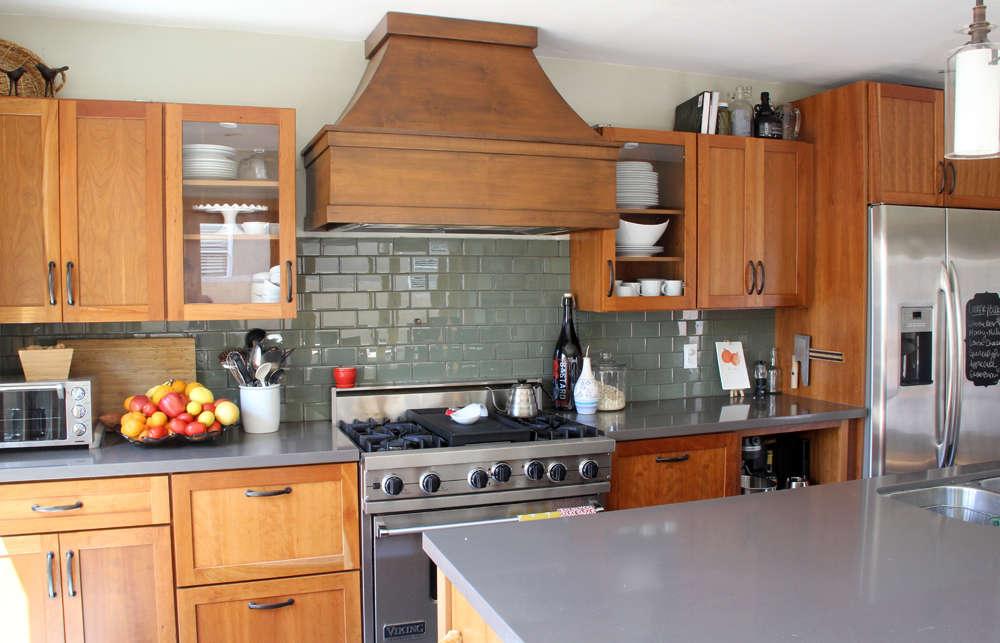 What do you think, has letter art become cliche? Overused to the moon and back? or does it still make for a fun and crafty addition?
PS The entire living room makeover is chronicled right here.
Tags:
Accessories
,
Crafty Solutions
,
Decorating
,
DIY
,
Gold
,
Home
,
Living Room
,
Paint
,
Tutorial
Posted in
Crafty Solutions
,
DIY
,
Home
,
Our Living Room
,
Renovating Adventures
|
3 Comments »