May 6, 2013
Liv and I spent some time this weekend working on a few handmade Mother's Day gifts. I thought I'd share the first round with you today!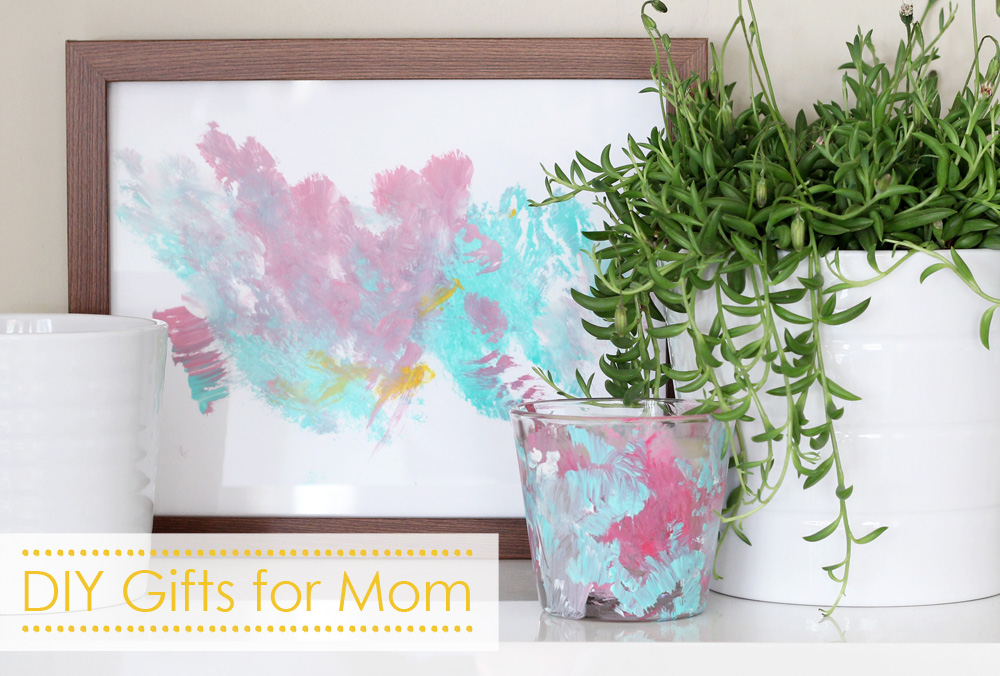 Our theme for this year's gifts is clearly leaning towards all things paint now that I'm looking back… painted candles and candle holders, mugs and glasses, vases and framed pictures, you name it. It's been fun to take everyday objects and spice them up with a little handmade love. Especially Liv's handmade love.
This first project was easy peasy but I LOVE how the candle holders came out. We used Ikea TINDRA candles in vanilla – which I absolutely adore and constantly have a back up supply on hand – to transform into mini canvases. Actually these burn through really quickly (way to quickly) but keeping the heavy duty glass cup around is a great way to turn this project into a unique vase, whiskey glass (just don't put it through the dish washer with acrylic paint on it) or flower pot (how pretty with a succulent!).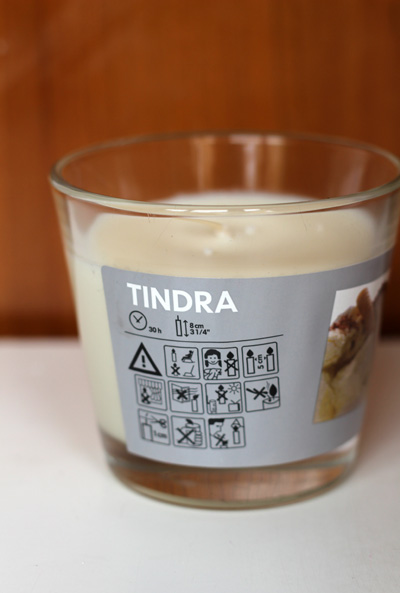 The label comes off so easily making this a pretty candle to keep out all of the time, and an easy one to decorate.
We focused on mint green, raspberry pink and white as our paint colors of choice, and then Liv got busy!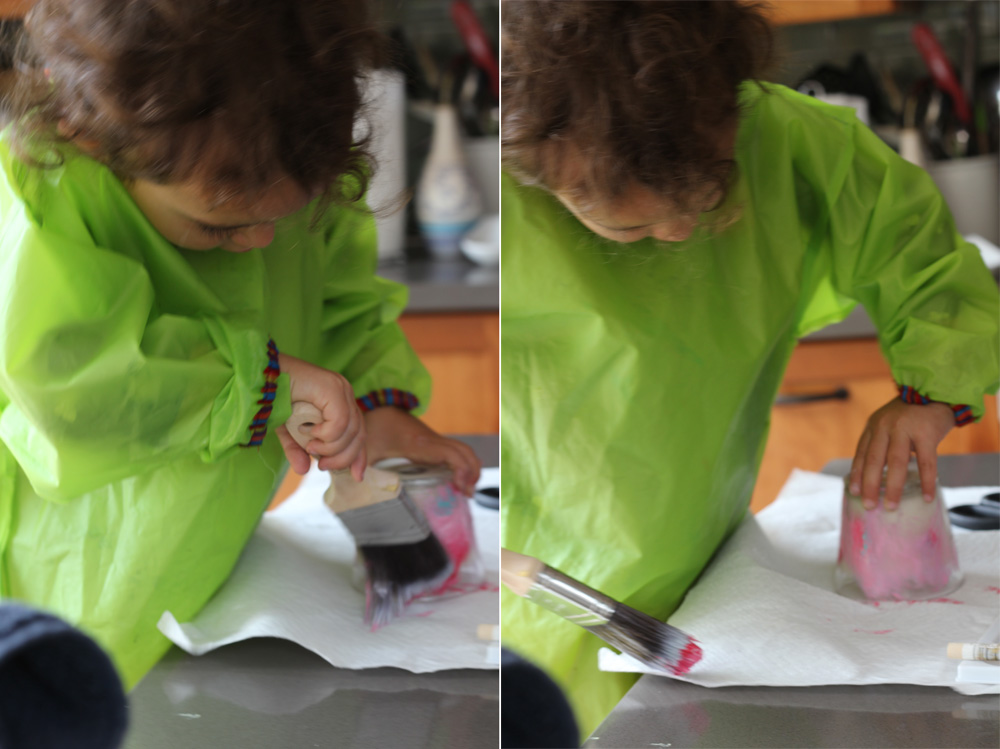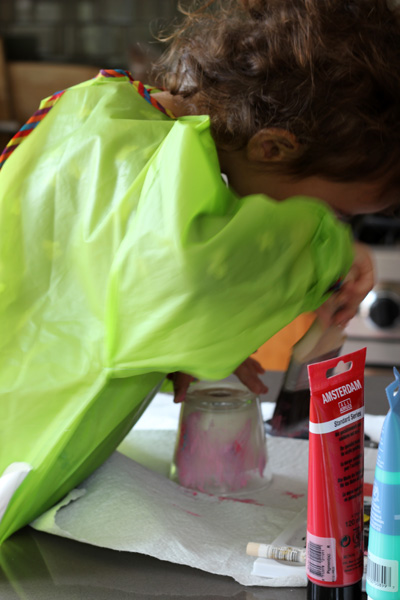 A bristled paintbrush helped to create the splotched effect.
While we had our paints out, Liv also painted white pieces of construction paper for framing.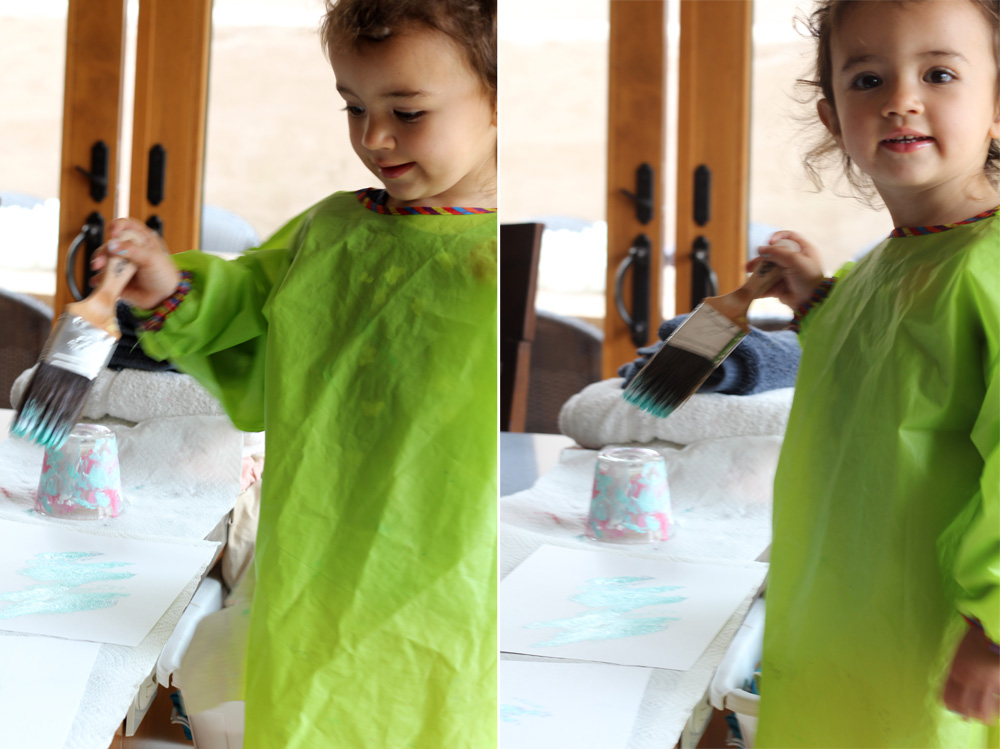 Love my abstract painting! Good thing she made a few so I'll have a couple to give away… I'm having trouble parting with any of her gifts.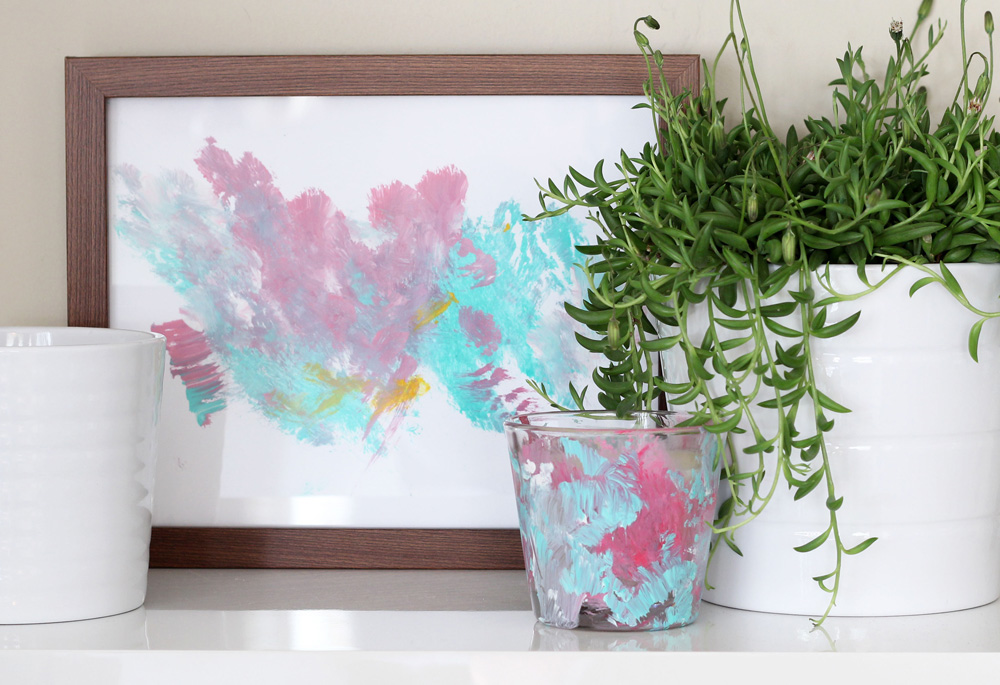 Since we already owned the acrylic paint, these gifts came in at about $2 for each candle and $5 for each framed print (the walnut RIBBA frame is also from Ikea).
More handmade ideas to come, and here's a link to last week's line up of store bought or *purchased* gift ideas.
All gift idea boards can be found right here and all posts tagged with 'Mother's Day' right here!
Tags:
Accessories
,
Crafty Solutions
,
Decorating
,
DIY
,
Green
,
Mother's Day
,
Paint
,
Patterns & Color
,
Pink
,
Tutorial
,
white
Posted in
Crafty Solutions
,
DIY
,
Handmade Gifts
,
Home
,
Olivia
|
3 Comments »
April 28, 2013
Liv is collecting little art supplies and toys by the bucket full. The big bins that we initially added to her bookcase are great for storing bigger toys, but little cars, wooden blocks, doll clothing and so on is quickly swallowed up – and finding complete toy sets (like Liv's wooden train) is impossible these days! So we're working on adding small container storage to the room little by little.
One of the first organizing projects I tackled included Liv's art supplies in her little reading nook.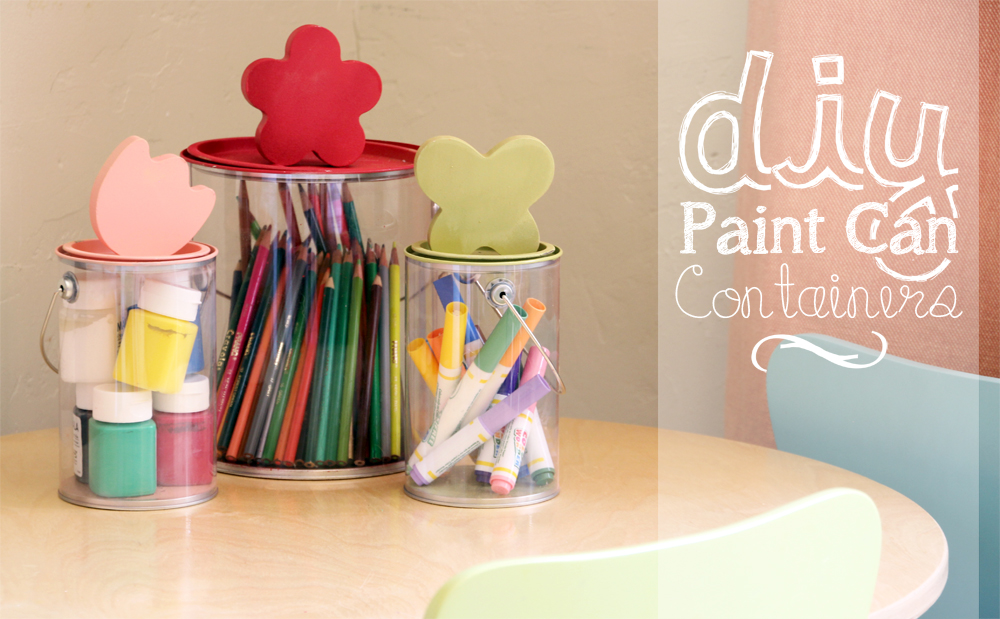 Rather than collect colored pencils, markers and paint into one central storage location (as we had previously done for a while), separating out supplies makes it easier to focus on one specific art activity, put that craft away, and then move on to the next. I first attempted this with open buckets but soon everything was mixed together and crazy again. What is it about organized spaces with a home for each little item that is so darn appealing? It makes my world feel right.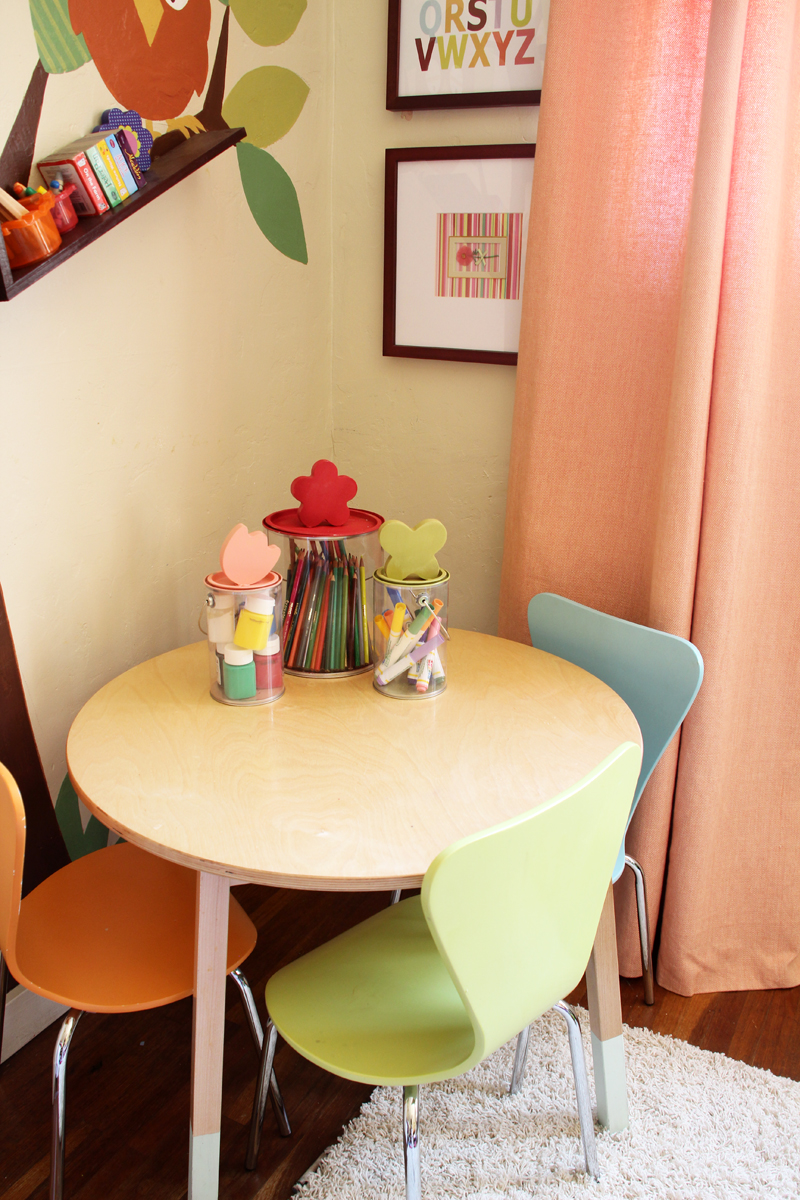 When I spotted these clear containers at Michaels I thought that they might work well just for Liv's art supplies. I love that they're plastic paint cans

.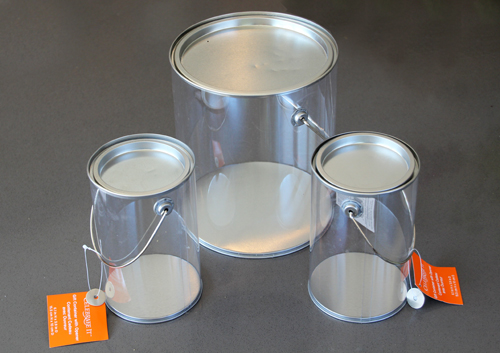 After bringing them home I discovered that cheap was too good to be true – the tops are impossible to pop off! Just like a real paint can, to open and retrieve anything inside requires some prying from a really strong object (like a screwdriver) which is not ideal for kids. Poor design.
I thought it would be fun to come up with a DIY handle that would help Liv open up the cans whenever she wants to play, and I kind of like that I can press the lids in extra tightly for art supplies that I don't want her to have easy access to (like real tubes of paint) so that even with a makeshift handle the lid sticks really well.
I thought about gluing little plastic animals or some other little toy to the top of the paint cans and then remembered that we have a very cute wooden Melissa & Doug flower puzzle that has received quite a bit of wear and tear since Liv began assembling and disassembling two years ago.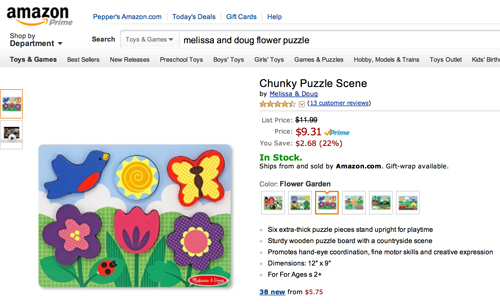 I love the shapes and use them all of the time as decoration for her floating tree bookshelves so the entire puzzle really doesn't stay assembled nor is it really used anymore.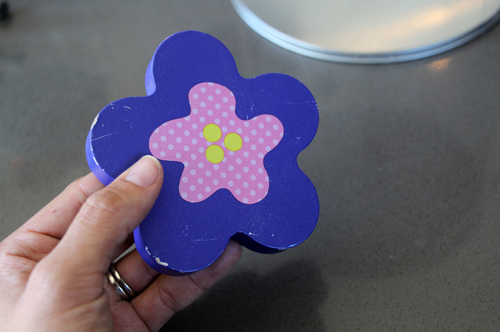 I picked out three of the shapes and hot glued them to the top of each of the paint cans.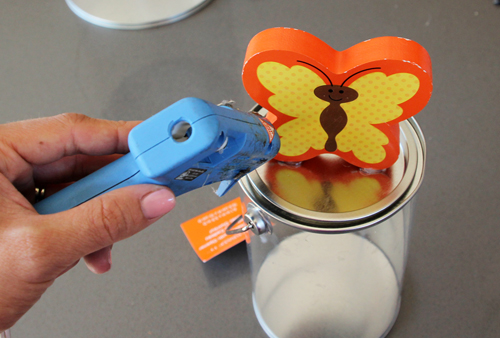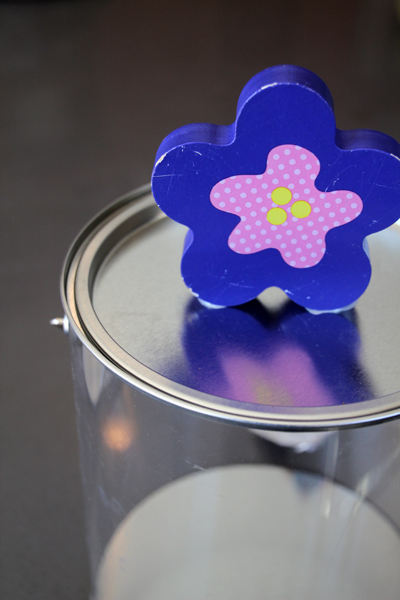 But after a night of drying quickly found out that even with strong hot glue the wooden shapes popped right off of the lids if the lids were really well planted onto the container. Boo.
Thankfully the puzzle pieces were wooden and not plastic, so plan b was to drive a little tack nail or two into each shape through the bottom of the lid (with my favorite floral desk hammer – perfect size to keep inside). Now the wooden pieces are stuck stuck.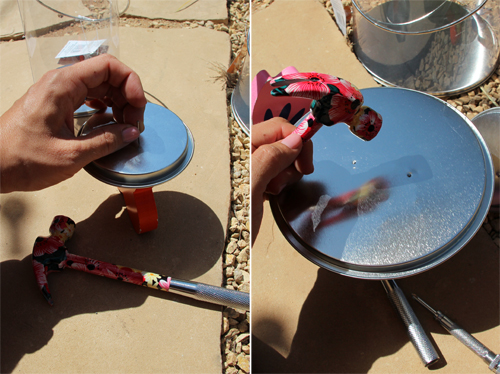 I used three paint spray colors that I thought worked well in Liv's nursery today, and would also match her new nursery for two.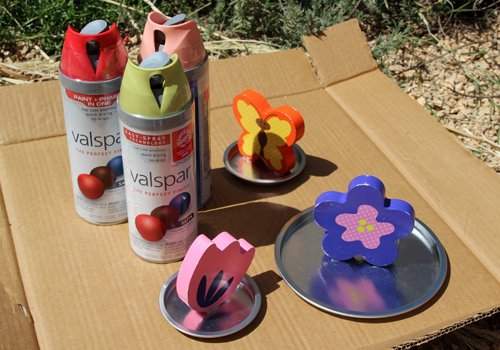 The colors turned out a bit chalky rather than pretty and polished, I'm actually really disappointed in the consistency of these particular primer + paint in one Valspar paint cans. I picked up a glossy varnish to cover all with at some point in the future that I'm hoping will fix that.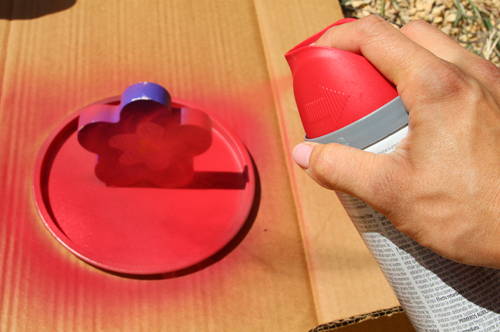 For the paint can itself I wanted just the edge painted out so I carefully taped off all exposed clear areas inside and out. Learned that lesson the hard way with a slightly careless first round of taping. Thanks goodness for Goo Gone.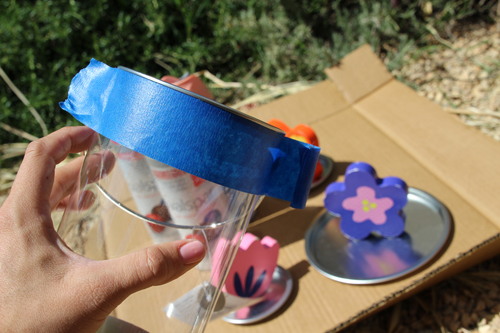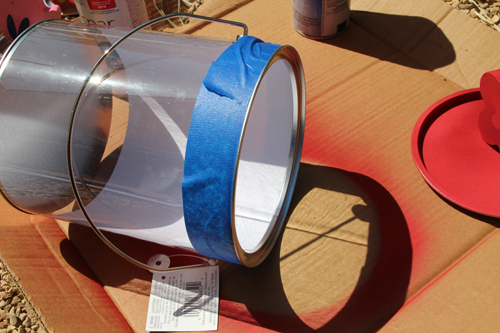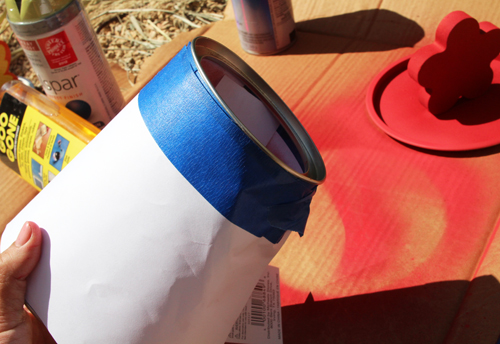 If spray paint still makes it through onto the clear plastic, Goo Gone to the rescue.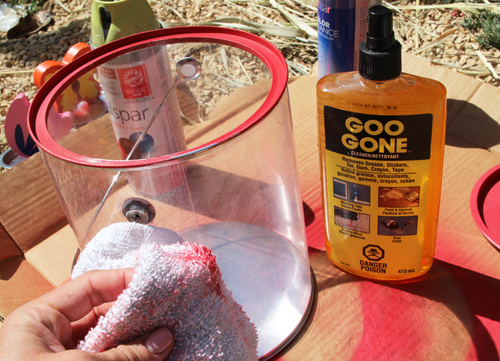 Finished! You can see the chalky consistency if you look closely…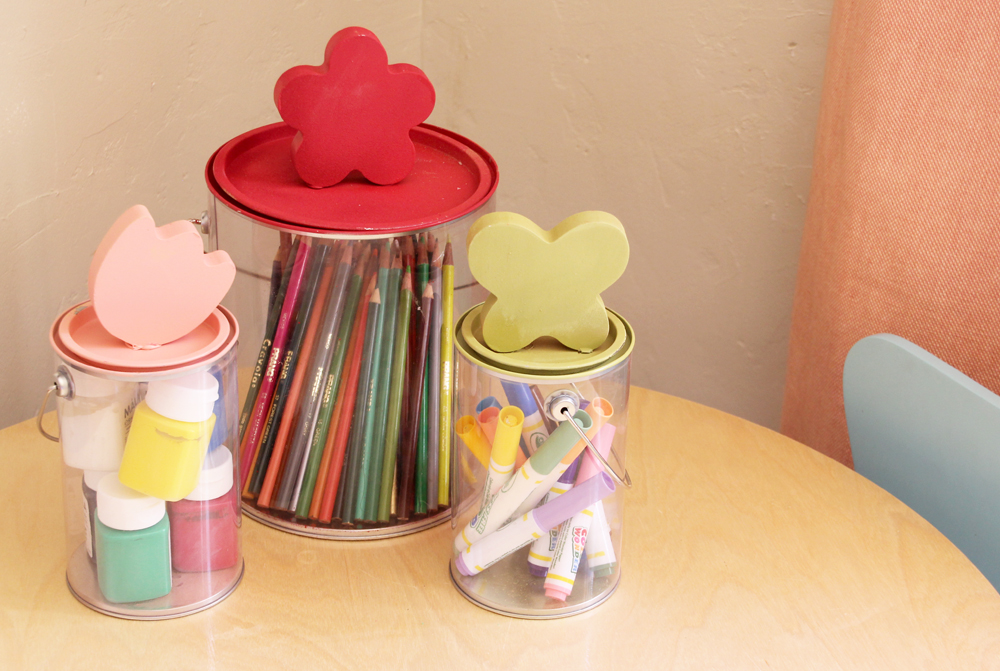 But for now they're a cute new addition to the nursery.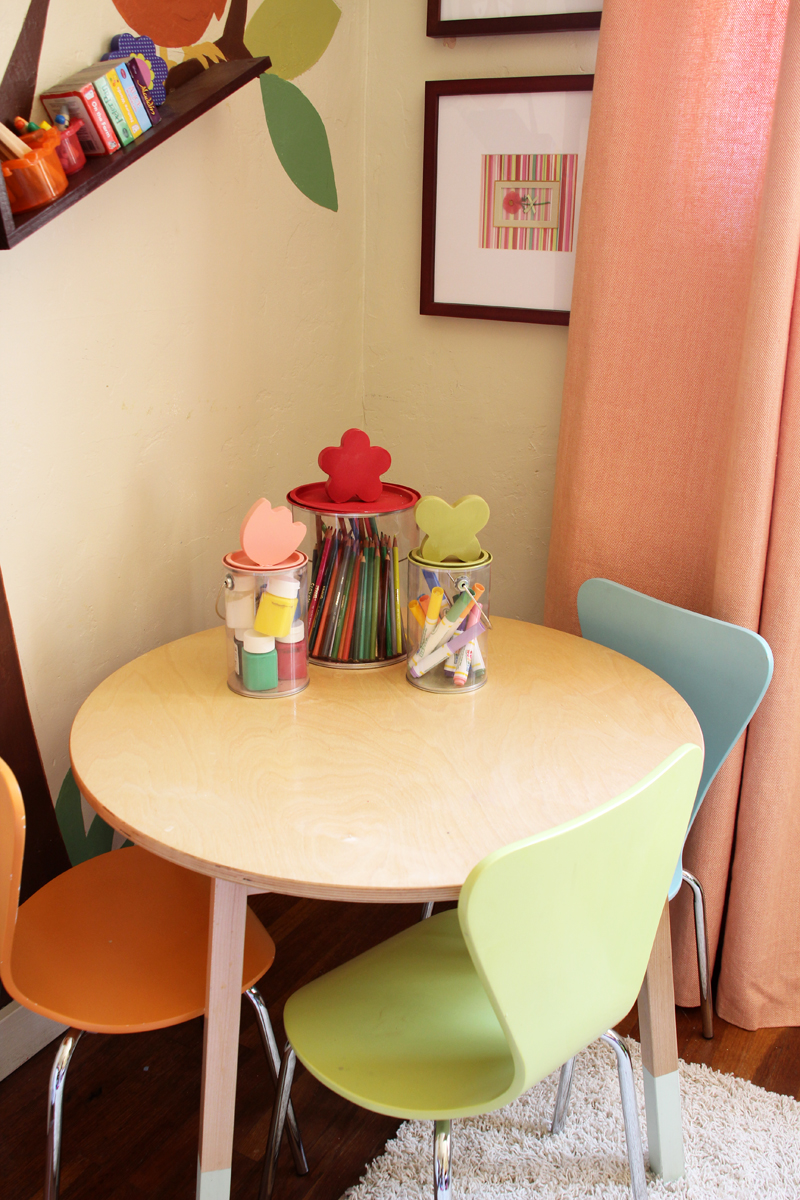 Love that the colors work well with the artwork hanging above the little table and chairs and with the painted tree and owl on the wall.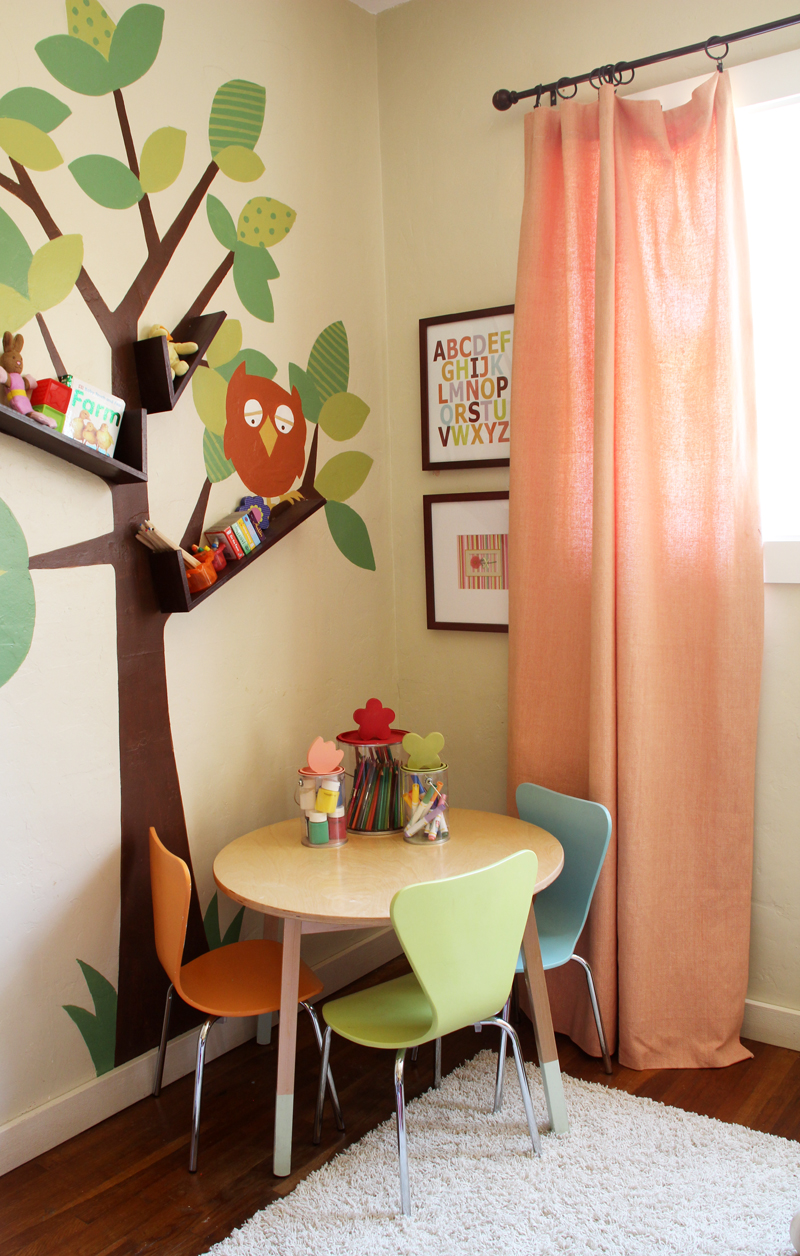 Now onto all of the other little toys (like bubble wands and figurines and musical instruments…) that are filling up Liv's room! Time for a spring cleaning.
PS all Project Nursery posts are sorted right here.
Tags:
Accessories
,
Bedroom
,
Before & After
,
Crafty Solutions
,
Decorating
,
DIY
,
Green
,
Home
,
Nursery
,
Patterns & Color
,
Pink
,
Red
,
Tutorial
Posted in
Crafty Solutions
,
DIY
,
Home
,
Liv's Nursery
,
Organizing
,
Renovating Adventures
|
4 Comments »
October 30, 2012
I rolled up my sleeves and crossed one big holiday-related project off of my list this past week after a little motivation from Katie and Sherry's seasonal Pinterest Challenge. Too early for Christmas? Maybe, but making this project happen (with all that I have stacked for the big holiday season) was high on my priority list for Liv this year and I'm SO happy to have it ready to go for the holidays! Liv totally digs it, too. Even if we have to box it up and rehang it in about a month.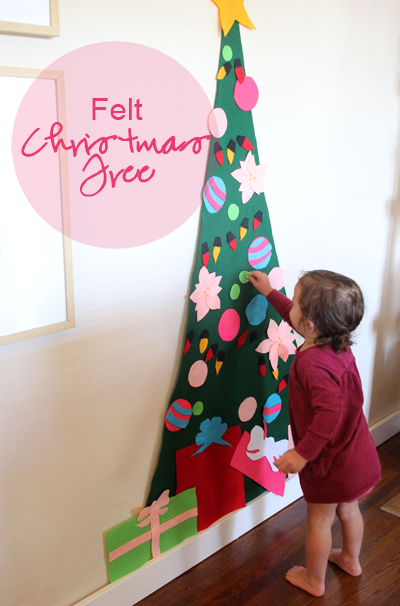 I imagine turning this into an Advent calendar of sorts when Liv is old enough to open up one ornament each day to add to the tree (maybe even ornaments we've made together?), and the concept behind Advent. Maybe I'll try a version this year to… to be determined.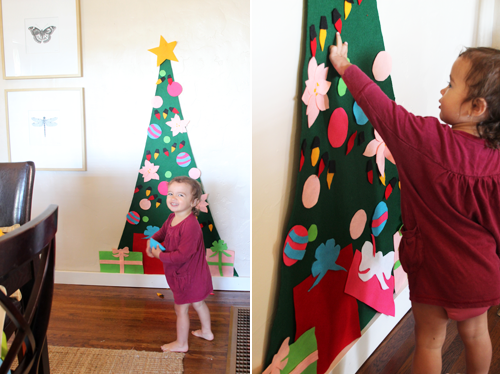 I love me a good deadline to make a project that I would normally push off and off happen. It could be a visit from family, a dinner party or a challenge like this one! Previous Pinterest challenges have produced my ombre stool for Liv, painter's tape wallpaper, DIY gold mercury glass, shimmery chevron napkins (a bit of a womp, womp – these guys didn't wash so well, though they look awfully cool) and the capiz pendant/chandelier that hangs in our office.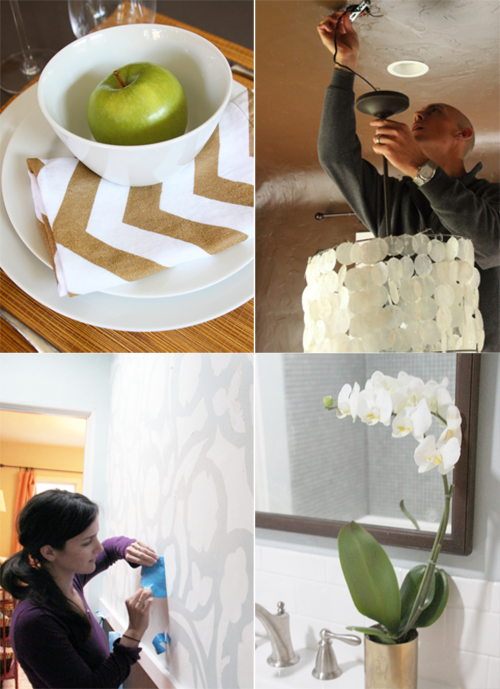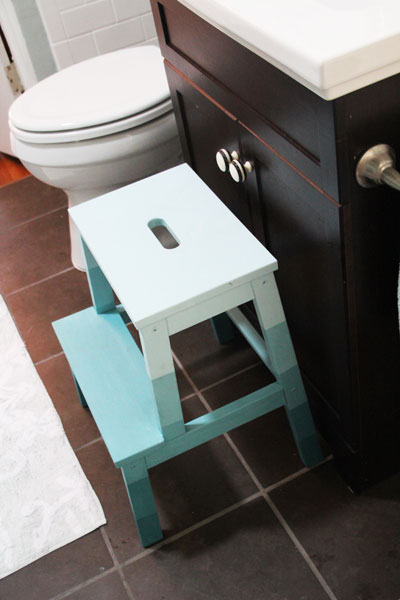 The original inspiration for the felt Christmas tree came from this blogger, who redeveloped her version of a felt tree after being inspired by this blogger.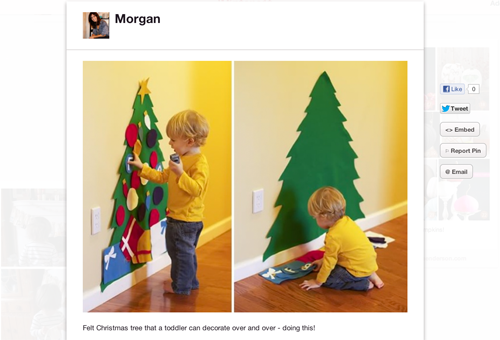 What a neat idea for a toddler? Liv is at that age where she loves to mimic and especially loves to replicate whatever I'm doing on her own – she likes to carry a purse when I have a purse, cook when I'm making dinner, pretend to drive when we get into the car, attempt to apply lipstick in the bathroom mirror…. and the best solution for her to recreate and to copy momma and dadda, without actually cooking or carrying around my purse, is to give her her own version. Hence why this felt tree is genius.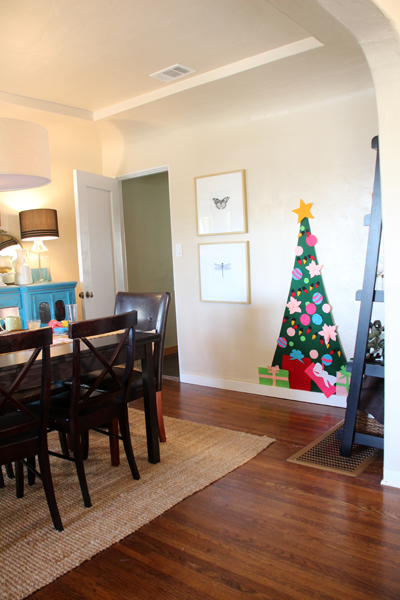 I hope that when it comes time to decorate the 'big' tree, she'll be just as cheery at decorating her own version. And perhaps not try and undress or reorganize the real version in the living room?
A few of the ornaments I assembled in advance, like the poinsettia flowers and the striped pink and turquoise bulbs. A little stitch or glue holds these guys together so it's easier for Liv to move the entire decoration. It's wonderful that felt sticks to felt – no adhesives to attach the actual ornaments to the tree.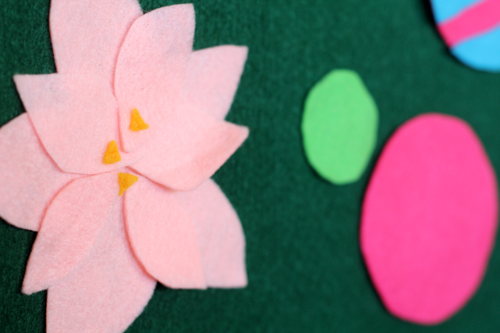 Others I left unglued so that she can play with and rearrange bows and packages and Christmas lights.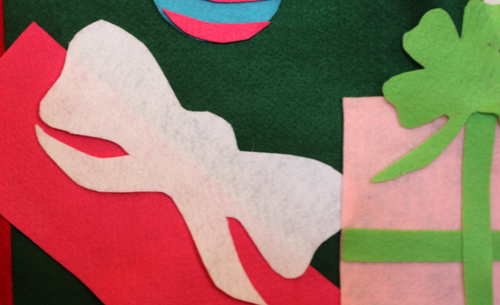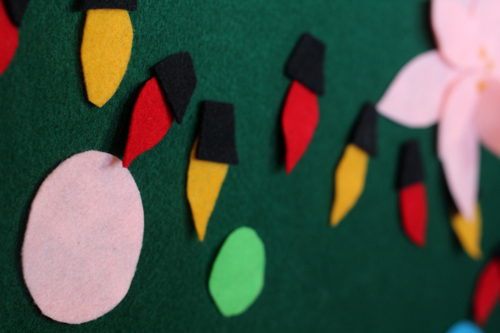 Creating this guy was fairly simple. I way over bought on yards of felt (1.5 of green for the tree, 1/4 each of the various colors) which left me with about $18 worth, this project was probably made with a fourth of that though so you can add this to the extremely budget-friendly category.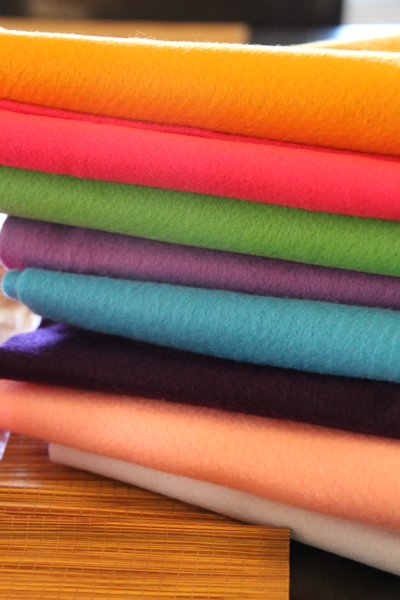 I opted for a modern, basic triangular shape for my little tree and chose the dining room (with a big open space on the wall while our fiddle leaf fig soaks up some sun closer to the window) as its home.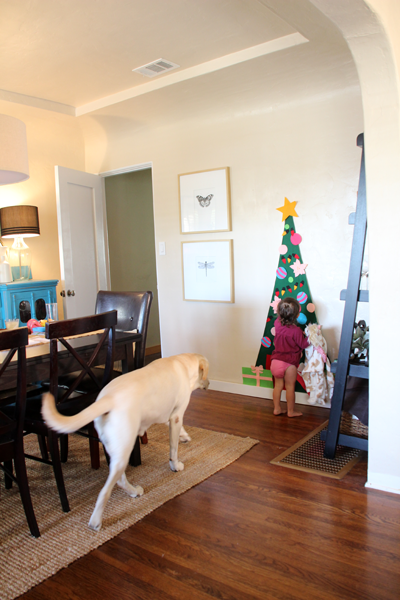 Various votive candle holders and glasses made for the perfect stencil to make my round ornaments, the rest were basically free hand.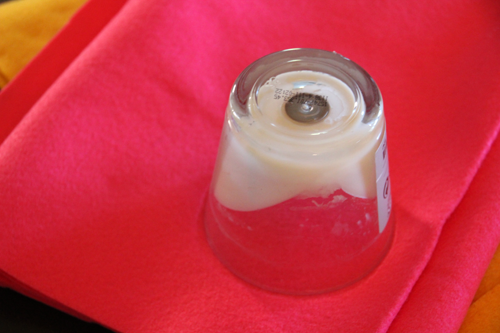 One of the best tips I have for messy projects like this (aka lots of bits of felt everywhere) is to use the ol' Rachel Ray scrap bucket rule. I love this! instead of leaving your scraps (of food on the prep table, in Rachel's case) out, collect them all in a bowl for the trash or composting pile. In our case, a felt scrap bowl. As we cut out ornaments, we immediately pushed all of the extra bits and pieces from the table into the bowl leaving us with a cleaner workspace.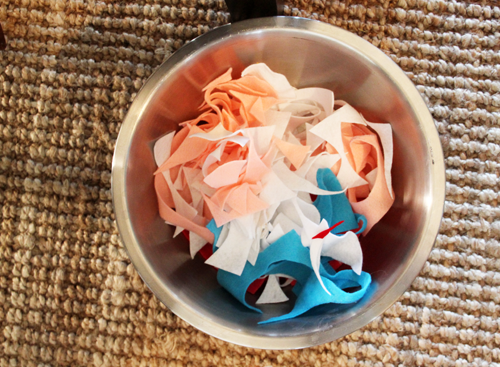 Which resulted in faster ornament making!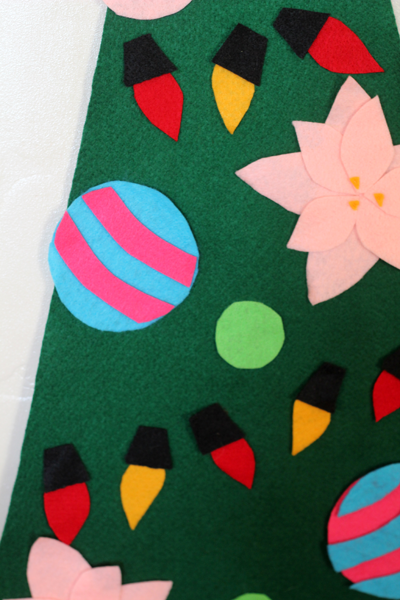 I'm imagining the felt board possibilities… We can keep rearranging and updating this tree through December, Liv has already stripped it down a few times to start again. What next? An ocean scene? or maybe a play kitchen out of felt?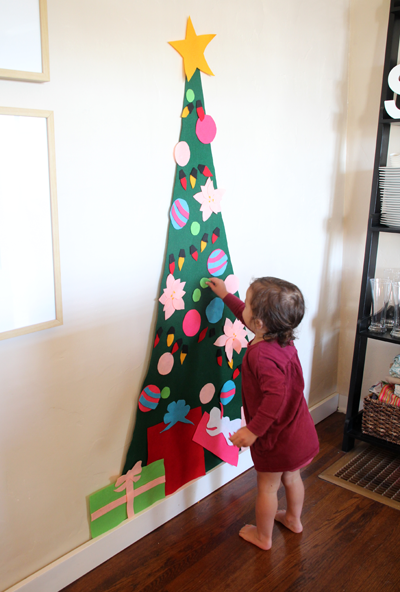 And as of tomorrow, back to Halloween. Can't wait to show you Liv's homemade costume and my plans for our annual Halloween dinner party. PS I owe you all updates on our recent travel adventures, painting of the house, new deck (new side yard!) and so much more. Forgive me, I'm so behind.
Happy Pinterest pinning! If you participated in the challenge, I'd love to see your project!
Tags:
Christmas
,
Crafty Solutions
,
Decorating
,
DIY
,
Green
,
Kid's Crafts
,
Pinterest Challenge
,
Tutorial
Posted in
Crafty Solutions
,
DIY
,
Home
,
Olivia
|
15 Comments »