September 30, 2010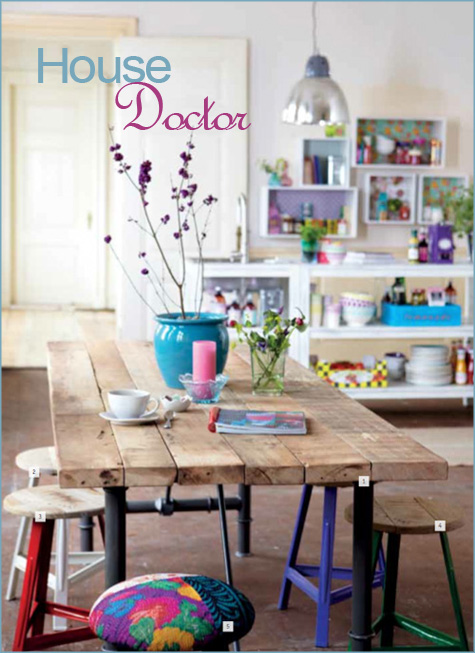 I would very much like to find a store like House Doctor here in the States. These rich jewel tones bring a nice contrast to the usual warm fall colors and I love how they look against a white background and with colorful fabrics.

More often than not I shy away from blues and cool tones in favor of earthy, warm colors. But I'm inspired to mix in some contrast this fall in the form of tinted glass vases, saturated table centerpieces and Mediterranean-inspired fabrics after a quick browse through the collection.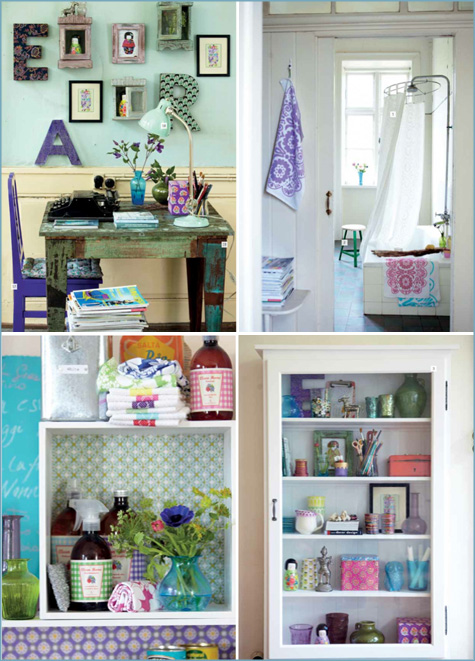 Beautiful.

The little details in the above photo are some of my favorites – handmade box shelves in the background lined in beautiful papers, colorful dishware stacked along side pantry items in this open kitchen setting, a recovered black stool in a bright fabric that pops, hand grown herbs at the ready are both practical and pretty.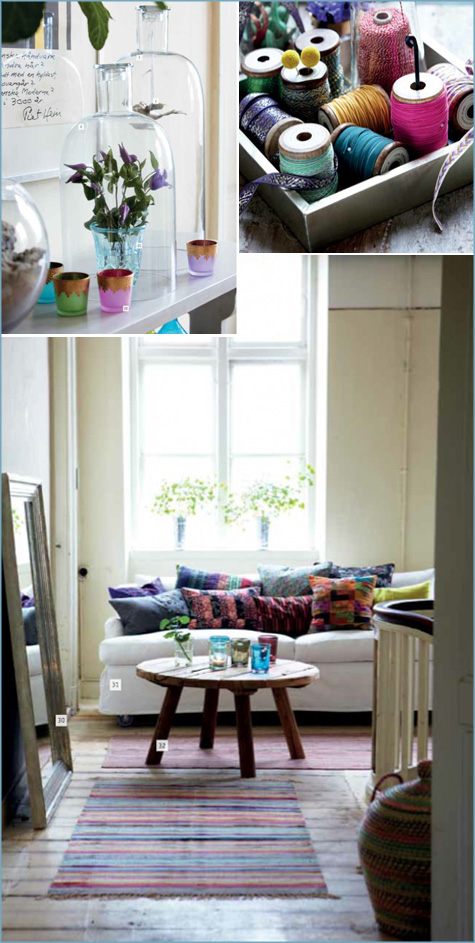 No, it's not spring yet. In fact I'm embracing fall to the fullest over here but I couldn't help but share a bit of inspiration to mix up your usual palette. Thanks, Decor8 for sharing this great find! While you're over there, don't miss House Doctor's creative blog, too.
Tags:
Accessories
,
Blue
,
Decorating
,
Green
,
Home
,
Purple
,
Teal
,
Turquoise
Posted in
Home
|
4 Comments »
June 16, 2010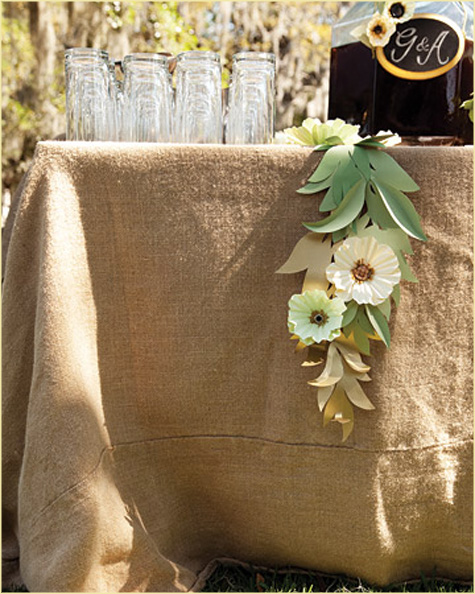 These are beautiful! A simple and elegant paper flower garland lights up a summer party – and it's so easy to recreate. Erin Heath handmade these paper flowers for Grace Bonney's wedding (of design*sponge). I adore the garland swags and would replicate this idea in a minute for a baby or bridal shower this summer.
For an easy paper flower tutorial (from my vintage nesting shower this spring) using the same button embellishments, check out this link here.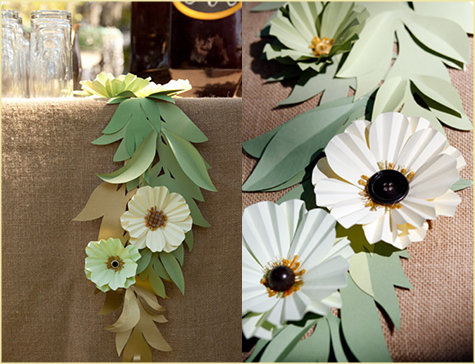 Erin made the garland by cutting different shades of green paper into leaves; to make the flowers cut your petal forms from similar paper and fold to create the ridged texture. Add a complimentary center using vintage buttons, trimmings and handmade paper.
There are so many wonderful details to share from Grace and Aaron's wedding, to get an overview of the rest of their DIY projects jump out to d*s's wedding roundup.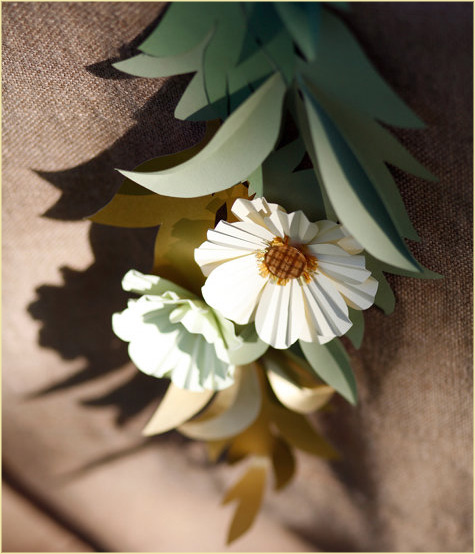 Tags:
Baby Shower
,
Birthday
,
Bridal Shower
,
By Color
,
Crafty Solutions
,
Decorating
,
Dinner Parties
,
DIY
,
Green
,
Paper Crafts
,
Parties & Entertaining
,
Wedding
,
white
,
Yellow
Posted in
Crafty Solutions
,
Parties & Entertaining
|
4 Comments »
June 1, 2010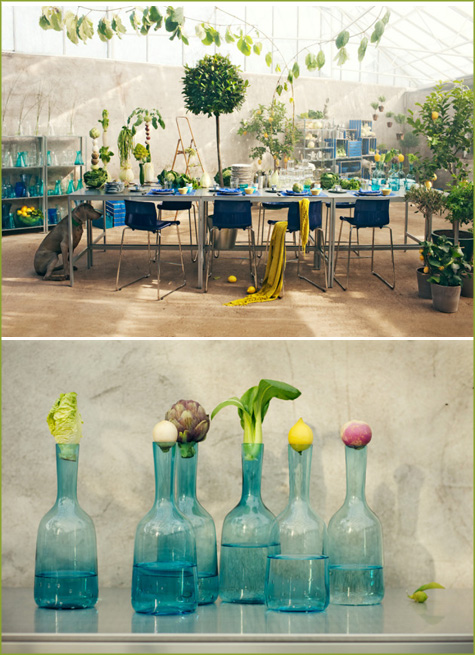 When it comes to beautiful presentation few do it better than the bona fide Stylists, so I thought it might be fun to take a quick look at one of my favorites for a few ideas and inspirations for a future party. Lo Bjurulf is a prop and food stylist for Agent Bauer: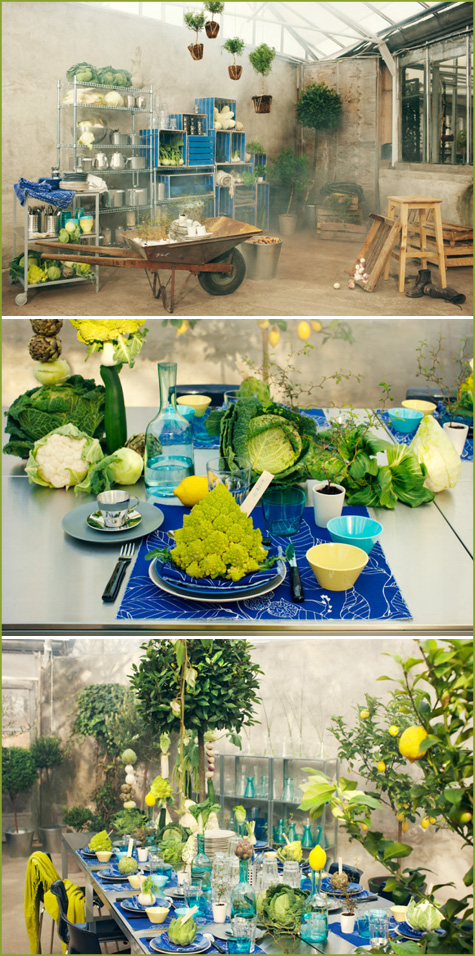 An earthy garden party complete with veggie centerpieces, beautiful blue glass bottle displays and enough casual draping and carefully placed silverware to create a realistic and stunning table. This would be so fun this summer and easy to pull together for an impromptu gathering – everything on the table could probably be found in your kitchen right now, from simple plates and glasses to veggies from the fridge!
This next one is one of my favorites – I think of it as a Moroccan Barnyard Dinner Party!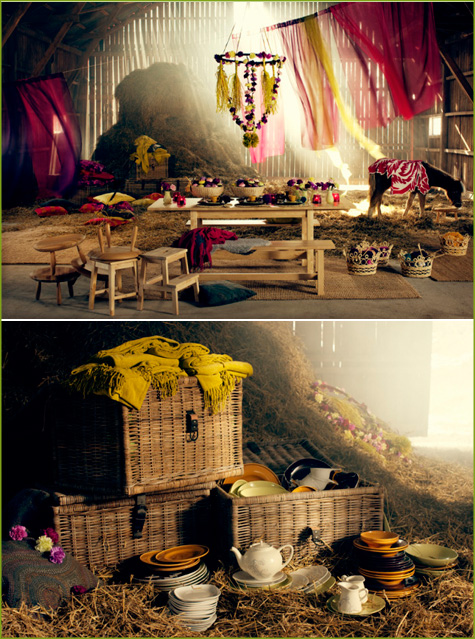 The images are whimsical and imaginative but offer great inspiration for thinking out of the box. What I love about the storyboard is how it highlights the understated importance of staging a party so that it's as eye-catching for all of your guests as you'd hoped it would be.
Staging basics offer a few rules we often forget, like:
*decorating at all eye-levels (bright pillows on the floor, a show stopping centerpiece mid-height and a beautiful chandelier just above the head – or how about those billowy curtains in the backdrop?)
*choosing the proper setting (no need to find a barn…)
*incorporating colors that work well together (be it complimentary or contrasting)
*and don't forget the finite details that makes everything come together (such as the flower blossoms scattered like confetti in the image below or the softly stacked afghans that leave guests appreciative of a considerate hostess on a chilly night – I actually attended a party where they were readily available and I couldn't wait to start my own collection for guests).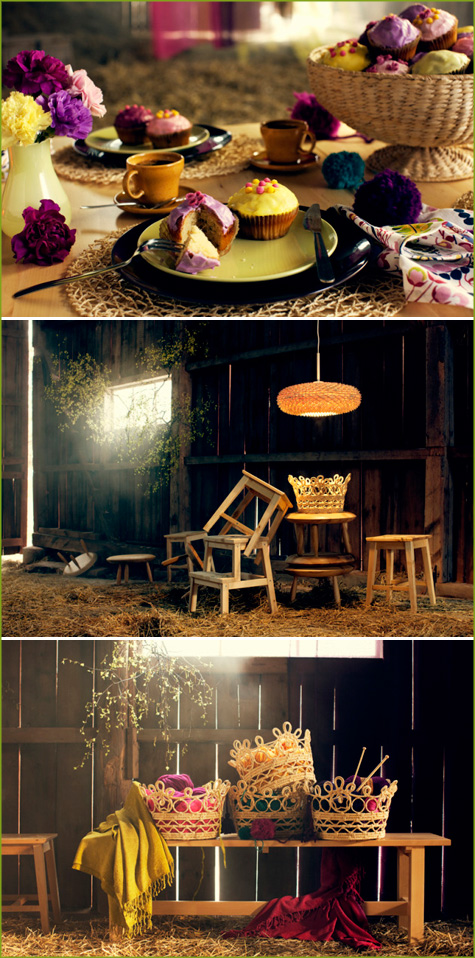 So beautiful! I'm so inspired by these images and the creative possibilities…
Tags:
Baby Shower
,
Birthday
,
Blue
,
Bridal Shower
,
Decorating
,
Dinner Parties
,
DIY
,
Green
,
Parties & Entertaining
,
Patterns & Color
,
Pink
,
Purple
,
Teal
,
Wedding
,
Yellow
Posted in
Parties & Entertaining
|
3 Comments »