September 18, 2009

Today's featured Friday Guest Blog brings us all the way to St. Louis for a quick catch up with Kim, founder and entertaining stylist for Head of the Table! While her shop is just adorable (why oh why don't we have a rental shop this chic and modern in my city??) it's her creative blog/tablescape/decorating ideas that really make me swoon.
Her table tops and party ideas are exquisite – and I love that her first and foremost entertaining inspiration revolves around creating a delightful and appealing design and mood for her guests. I think you'll love her answers to our four questions! Read more »
Tags:
Decorating
,
Dinner Parties
,
Guest Blog
,
Guest Interview
,
Parties & Entertaining
Posted in
Guest Blog
,
Interview
,
Parties & Entertaining
|
2 Comments »
September 11, 2009

It is such an honor to host Chris of Celebrations at Home for our Friday Guest Blog series! She's an extremely talented event planner & styler (you MUST check out her nautical themed baby shower after the jump!) with a degree in Fashion Merchandising and a spot-on specialty for creating perfect celebrations. Her passions include fashion, interior decorating and entertaining — and you'll absolutely agree with me that her eye for details is superb after reading her interview! After throwing a multitude of themed parties, showers and events for family and friends, she finally took her passion to the blogging world and created Celebrations at Home.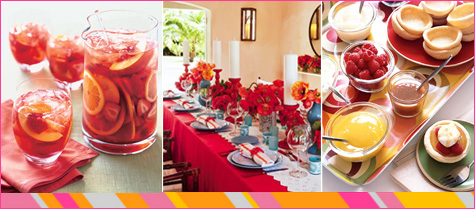 Again, we quizzed her with four critical home & entertaining design questions, and you will love her answers! She's offered us some incredible inspiration, tips and DIY ideas for our next Celebration at Home. Read more »
Tags:
Baby Shower
,
Birthday
,
Bridal Shower
,
Dinner Parties
,
Guest Blog
,
Guest Interview
,
Home
,
Parties & Entertaining
Posted in
Guest Blog
,
Interview
,
Parties & Entertaining
|
7 Comments »
September 6, 2009
Keep your outdoor fiesta going well into the night by incorporating unique party lighting to both embellish and decorate, as well as to serve its practical use. Here are ten great ways to light up your party after the sun sets! And thanks to the simplicity of some of these DIY ideas,  illuminating your festivities can be as easy as glue and scissors. We've featured a How-To article from Apartment Therapy to learn how to make the above vellum flower lights {#3} ! Follow the jump to find out more on how to make or where to find…
Tags:
Crafty Solution
,
DIY
,
Guest Blog
,
Lighting
,
Parties & Entertaining
Posted in
Crafty Solutions
,
Parties & Entertaining
|
Comment »