May 9, 2010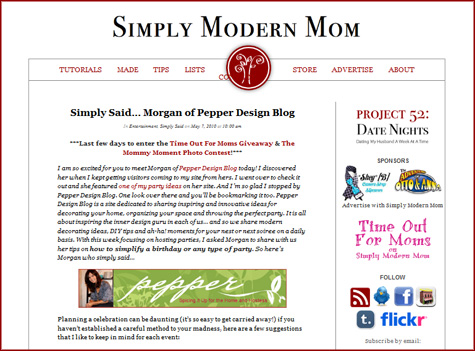 Tiffany over at Simply Modern Mom asked if I wouldn't mind sharing a few tips and tricks for simplifying the planning process of a party. I was more than delighted to take part in her week of party hosting posts!
Check out the guest blog and my three tips here.
Tags:
Guest Blog
,
Parties & Entertaining
Posted in
Guest Blog
,
Parties & Entertaining
|
Comment »
April 23, 2010

It would be a close call… but if I could choose one person to decorate my home from top to bottom it would be Janell of Isabella & Max Rooms. Her style is a creative combination between traditional & contemporary – with a comfy twist.
I adore her daily posts about diy projects and decorating – Janell shares step-by-step tutorials on everything from sewing and lining drapes to reupholstering occasional chairs, along with her inspiration process for her beautifully decorated home & client projects.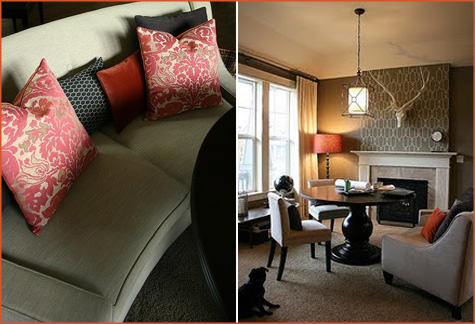 You might recognize the above room from an inspiration board I created a while back for my own living room . I *love* it – everything from the colors to the beautiful patterns and those wonderful antlers above the mantle.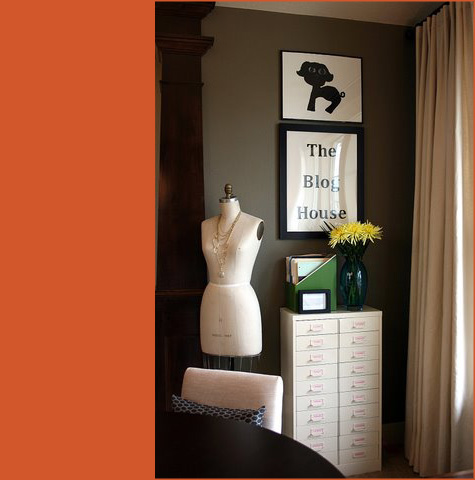 A bit about Janell: "I have always been passionate about design… I first studied painting and drawing, receiving a BFA from the School of the Art Institute of Chicago. After working briefly for a clothing manufacturer, I launched my own line [and] when a move took me to San Francisco I opened a boutique where I continued to design for my wholesale line.
Several years later, with a move to Portland, Oregon and the arrival of my wonderful children Isabella and Max, my focus shifted to the home and interior design. In 2006, I started my current business creating warm and eclectic interiors. It is a field I am thoroughly enjoying being involved in and challenged by!"
Let's dive right into this interview and see the rest of her home! Including her son Max's map-inspired bedroom (the chalkboard paint is genius), a beautiful teal & coral bedroom and remodeled living room. Read more »
Tags:
Bedroom
,
Decorating
,
DIY
,
Guest Blog
,
Guest Interview
,
Kid's Room
,
Living Room
,
Office
,
Patterns & Color
Posted in
Guest Blog
,
Home
,
Interview
|
9 Comments »
March 12, 2010

Happy Friday, everyone! I'm delighted to share a favorite blog today that encompasses all things home and fashion design. Viv, from Ish & Chi, shares her crafty know-how, decorating ideas, beautiful style and fashion favorites — and it's wonderfully enchanting to read.
I could not introduce her better than sharing the sweetest 'about me' collage she assembled for her site:
Her home decorating style is classy yet casual, evoking that cozy-and-comfortable feeling while introducing just the right amount of modern patterns and prints to keep her rooms fresh and chic. You'll love her house tour entwined with each of Viv's answers to PDB's four interview questions.
And so let's jump right in, because I am thrilled to take a moment to pick Viv's brain on some of her favorite trends, how she defines her 'design style' and a sneak peek at her fantastic home (where she's put all of her fabulous creativity and style to good use!) Read more »
Tags:
Decorating
,
Guest Blog
,
Guest Interview
,
Wardrobe & Fashion
Posted in
Guest Blog
,
Home
,
Interview
|
1 Comment »