April 5, 2013

I have a special guest to introduce to you all today. Erin from House of Earnest is popping over to share her answers to PDB's Friday Guest Interview questions and I know you'll love her inspiration and answers!
Through House of Earnest, Erin chronicles her favorite home decor, entertaining ideas and crafty solutions. She's so talented – what I'm drawn to most is her unique spin on the everyday and the beautiful way she captures it all with the photos she shares. Take these gold + avocado seed place settings, for example. How beautiful! Or these gold foil confetti tumblers that I'm dying to try, these incredibly unique crated photos, or the lacquered animal bookends that Erin reveals in the the new 5th question addition that I've added to this series (after 3 years of hosting this little Friday special with just four great questions on inspiration and trends – I'm introducing a new favorite DIY-related Q&A addition, and you must check out Erin's answer).
Or how about this beautiful summery brunch? See… so talented.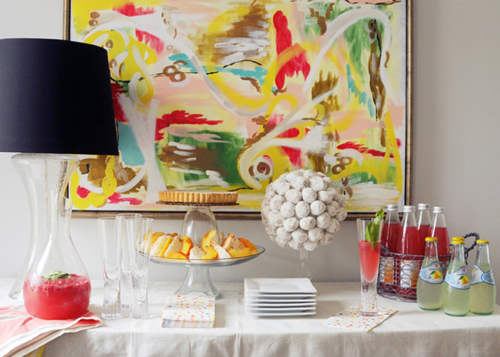 Erin was recently named as one of the "Best Up-And-Coming" blogs by a panel at Altitude Design Summit, she writes for Etsy twice a month and has been featured over at design*sponge and HGTV.com. Thank you for joining us today, Erin! Come check out all of her answers and inspirational photos after the jump. Read more »
Tags:
Decorating
,
Guest Blog
,
Guest Interview
,
Parties & Entertaining
Posted in
DIY
,
Guest Blog
,
Interview
|
Comment »
March 8, 2013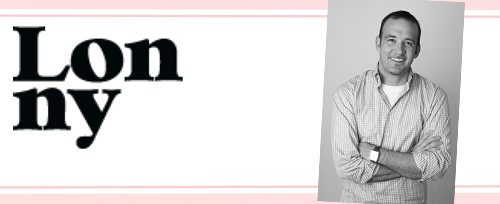 Back in December I had the luck to snag Michelle Adams (founder and editor-in-chief) of Lonny Magazine for a little guest interview. Well consider today part 2 because I'm so very honored to sit down with John Newlin who oversees the Lonny team and much more as Livingly Media's editor-in-chief (Livingly is the online publisher and larger media house behind names such as Lonny, StyleBistro.com and Zimbio.com). That is a lot of fashion, beauty, celebrity, home, lifestyle, and entertainment to manage!
Today's focus is more overtly directed towards John's passion for design and beautifully sensible functionality. He's chosen a few key images (like this one, below) that highlight his personal taste and has taken a stab at answering PDB's four usual Friday Guest Blog Interview questions.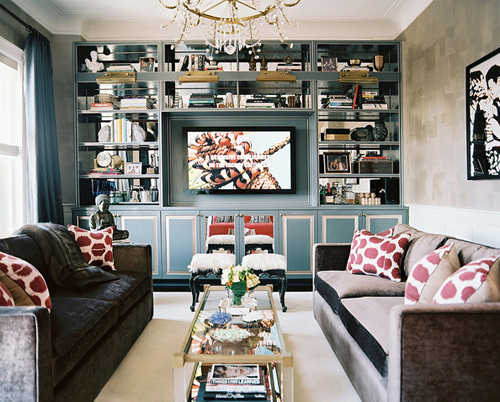 John lives in Northern California and is daddy to two. He began his career in print and digital media with the launch of a pop culture music and fashion print monthly at the early age of 22 and has penned articles for publications such as Stuff, Men's Journal and Details. You might recognize him as a regular from ABC's Good Morning America and Evening Magazine on CBS. (My favorite is that, for the purposes of a magazine article, he successfully infiltrated and appeared on Showtime as a "UFO expert"). You know he would make the best dinner party guest with all of those stories!
Check out the March 2013 edition of Lonny: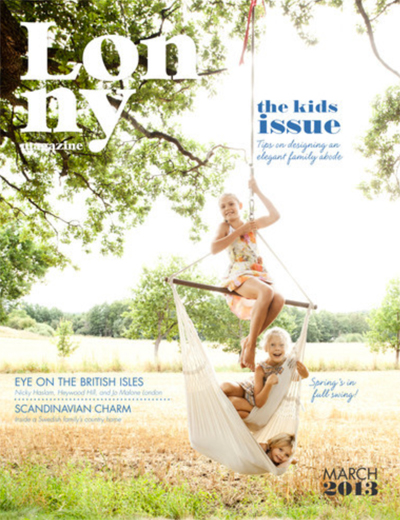 Now John oversees all things editorial for Livingly's online properties and just for today, he's sharing a look at his insight on the progression of home design and how the shift to blogging, online publications and the Internet at large has changed our perspective on how we design our homes.  Read more »
Tags:
Guest Blog
,
Guest Interview
Posted in
Guest Blog
,
Interview
|
1 Comment »
February 22, 2013

About once a month I get the chance to sit down *virtually* with a blogger (or author or artist or designer…) to pick their brain about their own sense of creativity and style.
Usually it's a home design blogger. Sometimes it's an entertaining/hostessing site (like here), or an organizing blog (like here), an inspirational everything collection (like here), an author or editor (here or here) and sometimes it's a super clever crafter (like here or here), but usually it's a blogger remodeling/redesigning/reimagining their home. Through these little interviews I get to share what makes these bloggers/authors/artists spark, what inspires them, what trends they're following and what some of their favorite design tricks might be. I don't get to interview nearly as many as I'd like. It's a time-consuming sort of post, but it is truly one of my favorites.
Some of my favorite blogs include families that are completely modifying and remodeling an older or builder-style home little by little. Like an HGTV show but over a few years rather than 30 minutes.
My guest today, Dana of House*Tweaking, is one of those bloggers! And her 1950′s rancher-style home is a seriously pretty example of such a transformation.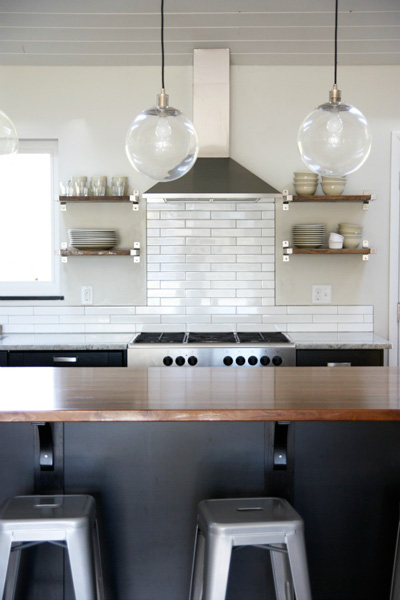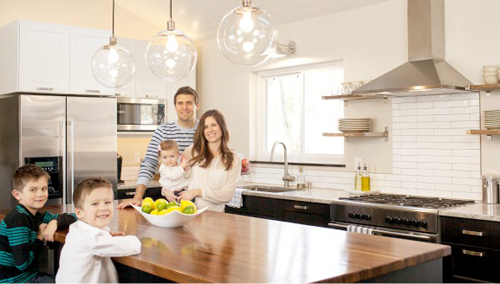 What initially drew me to Dana's blog is the awesome nursery she designed for her daughter, Mabrey (isn't that an equally awesome name??). The white wooden mirror with the coral gradient, those dark charcoal walls, the chevron jute rug, the white Eames rocker… I could go on and on.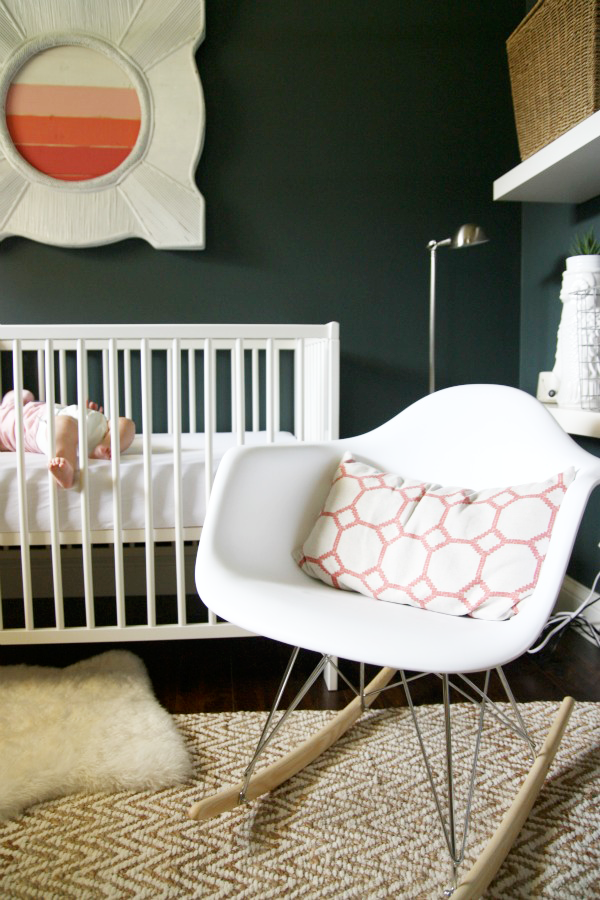 And the rest of her home? So very inspiring. (Wait until you see their new 'everything' room after the jump.) In fact, this interview is a reminder to myself that I'm about one weekend (and ten paint brushes) away from painting the inside of my entire house charcoal and white. Sigh.
Read on for more examples, and Dana's answers! Read more »
Tags:
Decorating
,
DIY
,
Guest Blog
,
Guest Interview
,
Home
Posted in
Guest Blog
,
Guest Post
,
Home
,
Interview
|
5 Comments »