October 30, 2009
I'm so excited for today's feature!! Kim, of TomKat Studio, is a true 'mom-preneur': she runs a fabulous blog, an adorable Etsy shop and was recently the 'Mama Power' feature in one of Arizona's top city magazines! Even TomKat is derived from her two little ones, Tommy + Kate. So when I asked if she wouldn't mind sharing her favorite entertaining design & trend secrets… I was so excited for her 'yes!'
If you haven't heard of the DIY diva, you must check her amazing style out — I would include her among my favorite inspirations, especially in the paper genre (check out her Etsy site and you'll know what I mean!). I asked Kim if she would share her recent Halloween projects from a custom dessert buffet (featured in the Houston news! Check out the clip!) as part of our {Halloween Feature Friday Guest Blog Interview!}
TomKat offers daily inspiration for creative entertaining, with a knack for truly adorable children's parties. Read Kim's answers to our four PDB questions… and be inspired! Read more »
Tags:
Baby Shower
,
Bridal Shower
,
Crafty Solutions
,
Decorating
,
DIY
,
Guest Blog
,
Guest Interview
,
Halloween
,
Kids Party
,
Parties & Entertaining
Posted in
Crafty Solutions
,
Guest Blog
,
Interview
,
Parties & Entertaining
|
6 Comments »
October 23, 2009

If you love weddings and fabulous decor, than surely you know Style Me Pretty — just quite possibly the most popular, sought-after sight for brides and decorating mavens alike.
Style Me Pretty is your one stop look book for incredible wedding-inspired design (dresses, invitations, centerpieces…) as well as submitted wedding features of some of the most fabulous weddings that take place each year. I find myself pouring through post after post for hours, delving up delicious ideas for a new color scheme (how can I find a way to use tangerine…), how to casually incorporate vintage (a delicate lace table runner, a ruffled pillow), a clever name card (was that a tea bag?) or stunning centerpiece I must try (coffee beans and lotus pods, stacked hardcover books, vintage bottles…).
If design + beautiful is your language, you will love Abby's (founder and editor) incredible sense of style and daily inspiration at Style Me Pretty; whether it's for your next dinner party, design you can transfer to the home, or perhaps even for your wedding.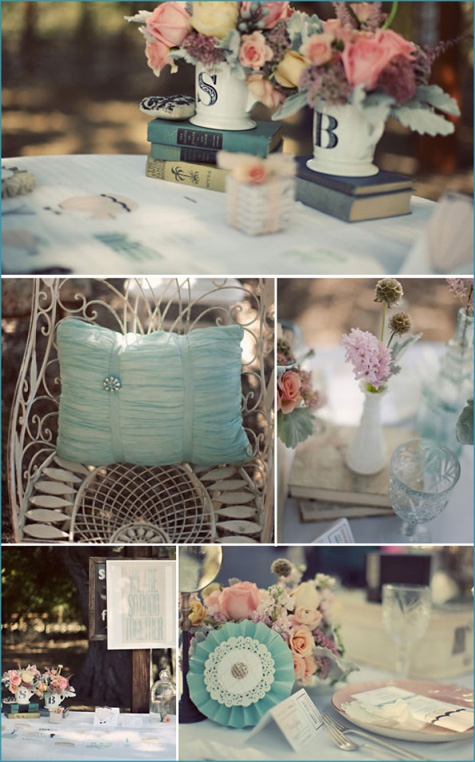 Rustic elegance, Hollywood glam, modern & edgy — you name it and Abby has brilliantly showcased, designed or delivered on such an entertainers wish. And Abby is the sweetest! Despite her wedding empire, which includes a series of stellar blogs (3 million monthly page views and a brag-worthy Google page ranking of 6 — yes, that is a wedding empire),  she's a friendly, down-to-earth blogger (all you fellow entrepreneurs/Curious Georges – check out Backstage!) with one basic backbone to her business: to share about all things beautiful.
… and so I was incredibly excited to ask her our four PDB questions! You will love the answers and eye-candy. Read more »
Tags:
Bridal Shower
,
By Color
,
Decorating
,
Guest Blog
,
Guest Interview
,
Parties & Entertaining
,
Patterns & Color
,
Wedding
Posted in
Guest Blog
,
Interview
,
Parties & Entertaining
|
2 Comments »
October 16, 2009

After several weeks of hosting Friday Guest Blogs of some very brilliant party/entertaining designers — you have to admit, these women are so brilliant — I thought it would be fun to mix it up with a few of my favorite home decorating blogs. Sharalee, from A Life More Fabulous, graciously agreed to answer PDB's four interview questions first!
Having grown up in Zimbabwe, and later living in an assortment of inspiring places such as Toronto, London, and Colorado, Sharalee brings an eclectically influenced beauty to her design style that is unusual and captivating. She also has a self-proclaimed 'life long obsession with interior design and beautiful houses' and an 'unhealthy collection of interior design magazines and tear sheets', all of which have slowly transformed into a fantastic blog that launched in April of this year.
'I've started A Life More Fabulous to fuel my passion for all things design and to chronicle and share some of my finds.'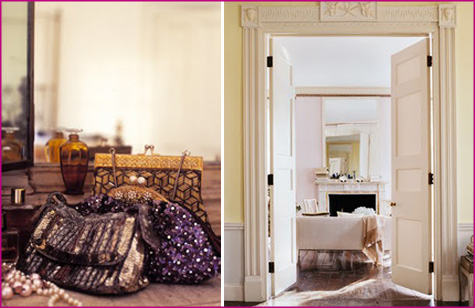 I started following A Life More Fabulous on my RSS feed just a couple of months ago, and I go back again and again to get bits of inspiration for here and there. My reader (don't have one? you should really consider) has become like that of my favorite decorating magazines — I pour my morning cup of coffee, sit back at my desk and read through the latest postings of those blogs which I love most. It's like flipping through a well-worn Elle Decor — you may actually never do those grand room ideas you find, but the daily design impact will nevertheless leave an impression on you.
My decorating style is forever pulled and twisted into this direction and that with the regular reading of my favorite design blogs… and so without further ado — I present my interview with A Life More Fabulous! Read more »
Tags:
By Color
,
Decorating
,
Guest Blog
,
Guest Interview
,
Home
Posted in
Guest Blog
,
Home
,
Interview
|
Comment »