August 29, 2012
Sometimes it's the little projects that take the longest to complete… our hallway light dilemma or the dining room curtains, for example (the former still in progress, the latter finally crossed off after much deliberation). You're ready to tackle your new project with much gusto, thinking it will be an easy fix or decision – but then you run into all of the little hurdles that keep it from completion and the project sits. For a long while. Patiently waiting its turn. This particular wall collage project is one just like these and one that has been nudging me for months!
There's a narrow wall to the right of the guestroom door at the far end of our office (if you were lying in bed you'd be looking at it) where I attempted a little art gallery a while back.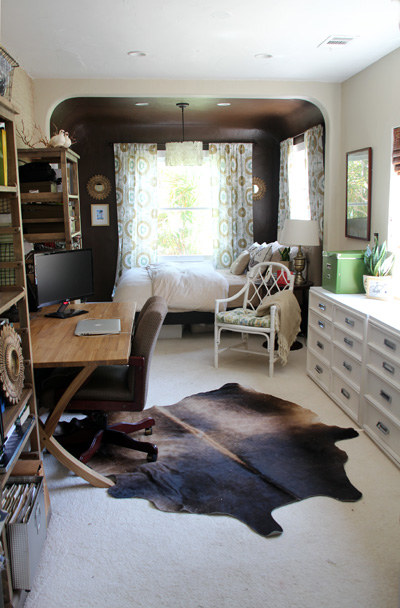 If we step forward through the office to the little guestroom nook of this room you'll see my newly transformed wall collage there on the left. Art framed, frames hung!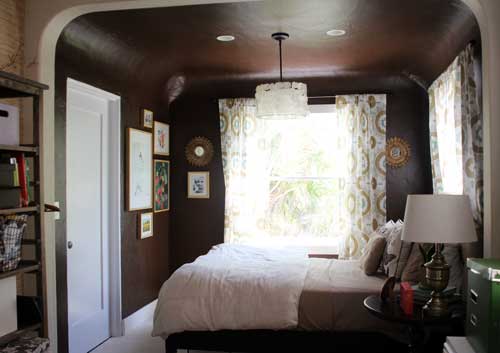 I'd still like to add another photo under the sunburst mirror on the right to help balance the wall out. Love those little starburst mirrors I picked up at Ballard Designs a while back.
The previous collage was not working, too many random frames, mats, colors… the entire wall needed grounding in the form of  some sort of consistency throughout. Something that would tie the entire collage together…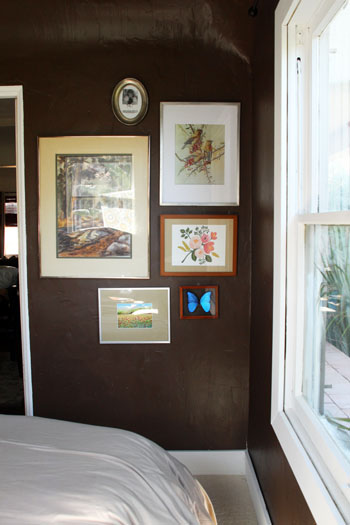 When Anna mentioned matching mats I thought it was a great idea! I had always planned on switching out the off white mats to white all around, but the mention of that idea again started to get the wheels turning.
This image is what inspired me most next: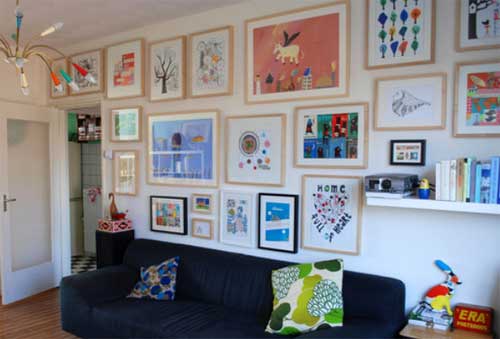 I had decided that birch frames were the way to go (had tried silver and brown and white – not working as well with the dark brown walls) but couldn't find great birch frames! Searched everywhere. Then the homeowner for the above (gotta love Houzz for their great forum) answered my reply that the frames were from Ikea. You might remember these Ribba guys from this project too, I actually bought the wall collage versions first but they hung with no art for a long while.
The only bummer about Ribba frames is that they are so deep – there's really no mixing in other art or the levels of the frames become a little disproportionate. No big deal for this space though, I was looking for all birch.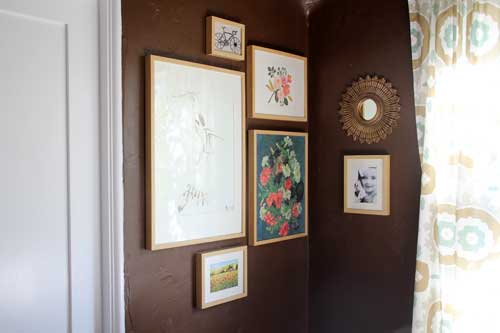 The birch frames bring cohesiveness to the space – exactly what the previous collage was missing. And the color is perfect against the chocolate brown walls!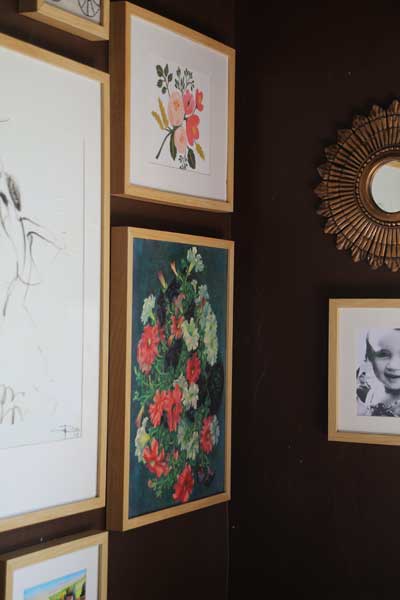 And just like finding the right frames for the space, the artwork has taken me quite some time to piece together, too. I would still like to replace the very bottom Tuscany fields painting (that we found on vacation) with something that fits the overall color scheme better at some point.
This dancer is one of my favorite finds. I needed a large, bright piece that wouldn't compete with the rest of the wall but would be interesting enough to feature in a pretty large frame. I thought a basic black charcoal on white would be ideal – an opportunity for the eye to rest and enough white space to brighten up the corner. I found this dancer on Etsy from the BalletArt shop.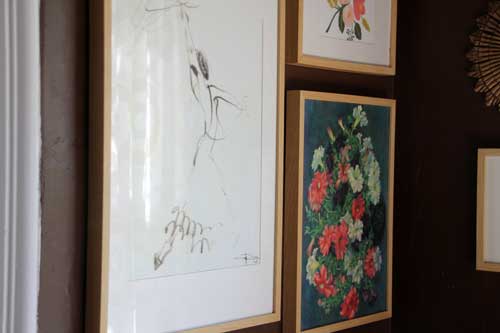 The floral prints just past my dancer bring coral and navy into the room – two colors that work really well with the existing sage, brown and tans.
The first is from one of my favorite calendars (I snipped the front page right off) by Rifle Paper Co and the oil painting is a $10 antique store find that I cut right off of the canvas board with an exacto knife and framed (don't worry, it was a reproduction

).
Love the colors! I'm thinking of switching Liv's picture (on the right there) for a sepia rather than b&w because of the warmer tones in this collage.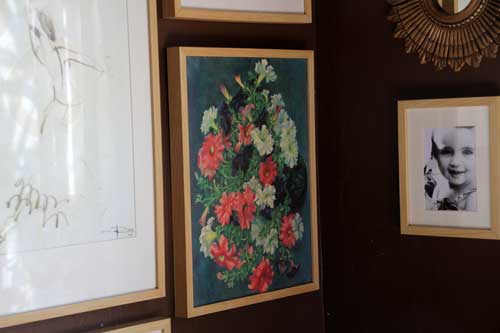 The very top piece of art is an embroidered bicycle that I made Kevin for Father's Day. Kev loves biking and it's one of his favorite activities to do with Liv. Originally this little box sat in the living room but I think it looks great here.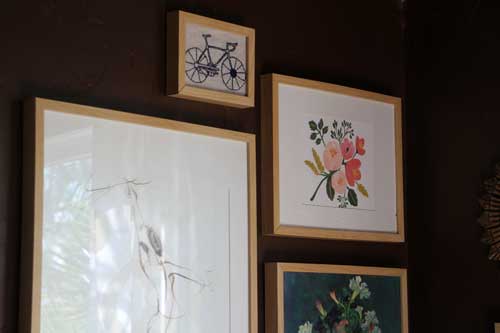 Much improvement over the first trial run: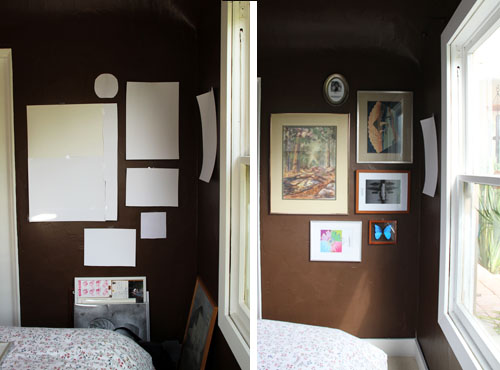 And here she is again today:
Now to find new ways to bring coral and navy into the room. I brought in a little coral/pink art canvas for the side table and perhaps a throw for the bed and pillows for the new bamboo white accent chair will help.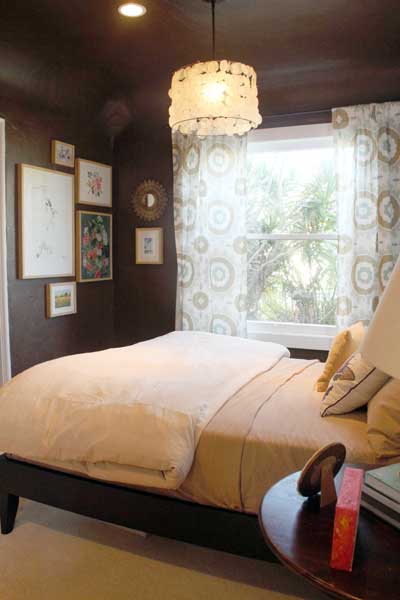 The office is that much closer to being complete! So happy with how it's coming along these days, the dreaded design block (writer's block for design?) for this room feels like it's finally over.
For more Office Makeover posts, check out: a new rug, chair & bookcases, a new tufted headboard for the guest bed, our floor plan, color inspiration, a new trellis print rug, stuck in a rut, designing and sewing the curtains, diy fabric bulletin board panels, handmade capiz pendant light, organizing the bookshelves, wall collage part 1, part 2, fabric bulletin board inspiration, (new) inspiration board, new lamps, wallpapering open shelves, finding the perfect credenza, new trim, dining table-to-desk, a new desk & bookshelves, installing remnant carpeting, grasscloth wallpaper, painting the office nook, finding carpet for the office, chocolate brown wall ideas, plastering progress, inspiration for a diy desk, back in action!, desking hunting for under $300, bookcases under $300,inspirational rooms, room layout options, demo part 1 & demo part 2.
Tags:
Accessories
,
Decorating
,
Home
,
Office
Posted in
Home
,
Our Guestroom/Office
,
Renovating Adventures
|
5 Comments »
August 22, 2012
So happy to share my recent find with you all today! I've been on a casual search for houseplants for some time. What's challenging about indoor greenery is A. keeping is alive and B. finding something that is both attractive/functional/not dated.
When I came across the fiddle leaf fig in the last episode of Design Star two years back, I near crawled up to the TV screen to admire this beauty of a houseplant (tree?). Then I googled the heck out of it until I learned what it was.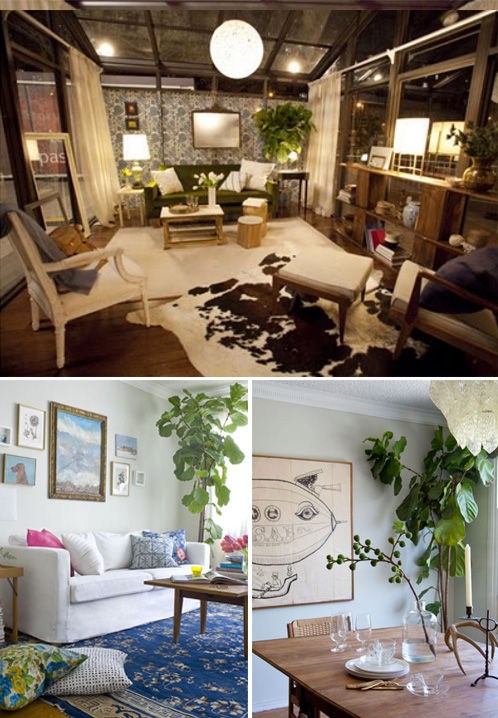 Soon after, inspiration came pouring in! What a beautiful, structural indoor plant that was not quite tropical, not quite in the fern family and not quite immediately recognizable (ficus, I'm talking to you). Source for above images here.

So I called around to my favorite local nurseries and came across the unfortunate truth that such large, mature trees fall well into the $150+ range, not quite justifiable in my mind for a houseplant (piece of Craigslist furniture or new tree for the dining room?).
Then I came across a blog that suggested Craigslist as a source for fiddle leaf figs! Hadn't thought to search for a houseplant on the site yet. But a couple of months later and still no one was looking to part.
Finally, I called up Lowe's and asked about special ordering. Turns out they carry these large guys and my local store receives a shipment every Tuesday. Well, two or three Tuesdays later and they were always sold out by the time I had arrived. Who would have known they were so popular?
I gave up… until just recently! After picking up some paint and other supplies during a recent Lowe's trip, I wandered through the indoor plant section as I usually do and came across one. last. beautiful fiddle leaf fig. At least I thought it was beautiful. The kind man at the register gave me 50% off without prompting when he noticed my 'badly bruised and brown leafed' tree purchase. But that left me with one giant tree for $22! I'll take it. And I whispered to my new tree that she shouldn't be offended and that she was not bruised at all.
Fiddle leaf fig, welcome to my dining room.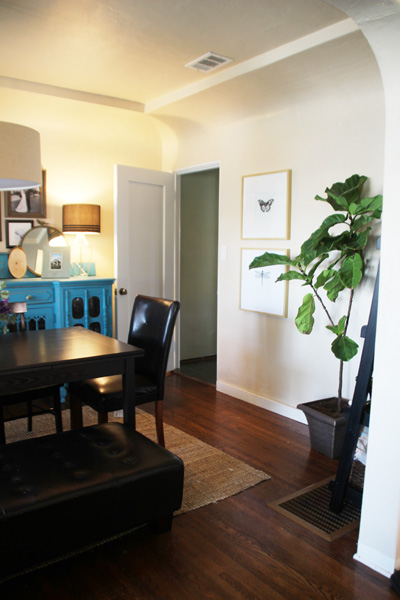 I had originally planned on placing you over here, where the large pile o' sticks is. But you are too small right now and you interfere a bit with the door to the guest room.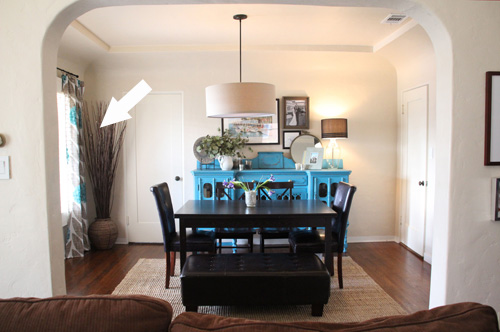 For now, you fill this wall up nicely.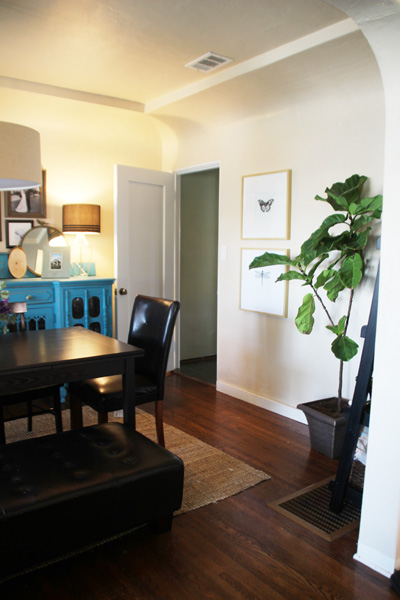 Such beautiful leaves! Here's hoping I keep her green and pretty. I'm not sure this tree will get enough light over here… most maintenance websites suggest 'good light' so we'll have to play with placement.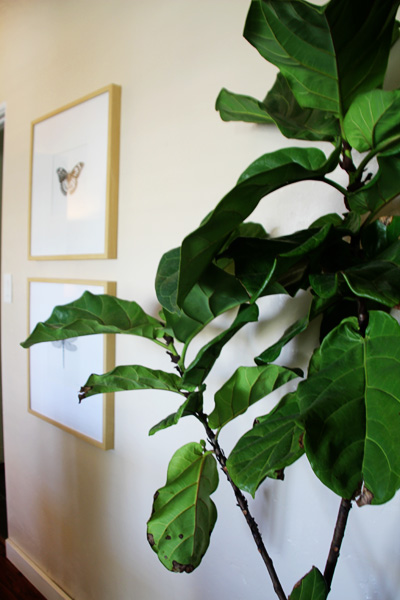 One day, fiddle leaf fig, you might look like this!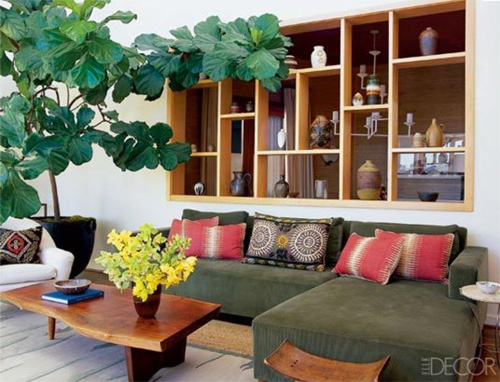 Next, I need to drill a hole in the bottom of this pot for drainage or switch it out into a new, nicer container pronto. Will keep you posted on my green thumb.
You can start from the beginning or jump in on any of the dining room posts here: new art illustrations, bench makeover ideas, choosing a rug, curtain call part 3,curtain call part 2, curtain call part 1, newly styled bookshelves, a buffet-over,upgrading the lighting, the before.
Tags:
Accessories
,
Decorating
,
Dining Room
,
Green
,
Home
,
Houseplants
Posted in
Gardening
,
Home
,
Our Dining Room
,
Renovating Adventures
|
13 Comments »
August 21, 2012
Because Kevin and my's families are each a decent drive (or flight) away, I try my best to keep grandparents and great grandparents alike up-to-date with recent pictures of Olivia and our little family. It's actually pretty simple and easy, and not at all a bother when it comes time to write a little note, print out a few photos and toss an entire batch of cards into the mailbox for the postman.
What helps to make the process so simple is a small, quarter-of-a-drawer letter writing station just for this purpose. After a year or so of pulling my big ol' stationary box off of the top shelf, hunting for stamps, addresses, and finally envelopes large enough for photos, I finally set aside a small space within easy access of my desk just for this job.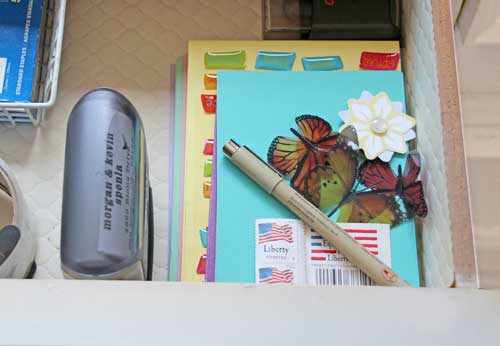 What prompted me to share this today is that I actually just transferred this space to my new office drawers as I'm getting ready to send a batch of cards out to the great grandparents. (There's so much more storage space in my new white dressers!)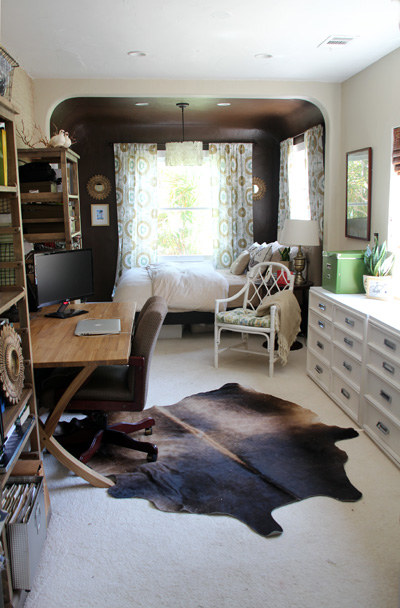 Within reach are envelopes that easily fit 4×6 Costco photos (a box of colorful pastel 4 3/4 x 6 1/2 found at Staples or online at Amazon), a stack of blank colorful note cards (Target) and little stickers or embellishments from my scrapbooking days (I have another giant box of these elsewhere, but I pull out a few every couple of months to replenish this supply). I'm totally serious about those butterflies too – sometimes it's the sweet little details that make receiving a letter extra special!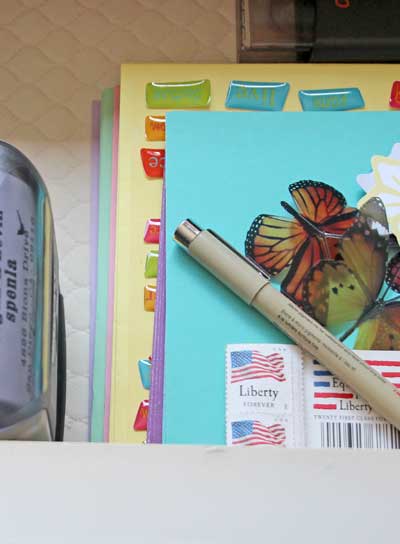 When we make a Costco run, I send a head a batch of favorite photos to pick up (five of each, for each of our grandparents and great grandparents). A hand scrolled note is added to the envelope (perhaps a scribble by Liv), a stamp from my pre made, self-inking address label (wonderful investment from Etsy) and into the mail it goes. Done and done.
Maybe one day I'll even pre address them as well.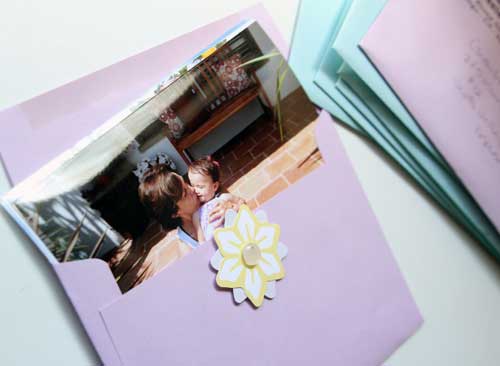 I know that Liv's great grandparents in Denver, Des Moines, Phoenix and Santa Cruz especially appreciate this little gesture, and when we visit sure enough their favorites of the photos are covering the fridge or in frames. I hope that Liv does this for me one day

. That is, if I haven't already purchased the house across the street from my future grandkids.
I still keep that stationary box full of birthday cards and thank you notes on the bookshelf for special occasions: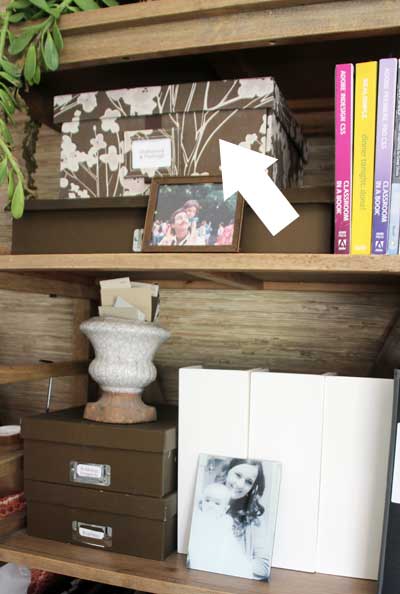 But this little letter writing station has its own purpose.

Of course this blog's purpose is, in a way, here to do the same thing. If only four of the six great grandparents that we send snail mail to knew what a blog was…
Tags:
Home
,
Office
Posted in
Family & Friends
,
Home
,
Olivia
,
Organizing
,
Tips & Ideas
|
2 Comments »