February 15, 2011
The fabric for the curtains has arrived! I was so excited as I cut the shipping paper off of the thickly wrapped bolts of Baltic Stripe fabric. I had purchased the lining for the curtains last week and was ready to get started (and get this nursery finished).
And then I had the most unfortunate discovery… instead of vertical stripes running top to bottom along the length of the fabric: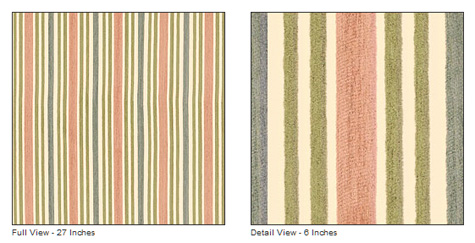 I quickly found that the beautiful, soft pastel lines actually ran horizontally across the width of the fabric: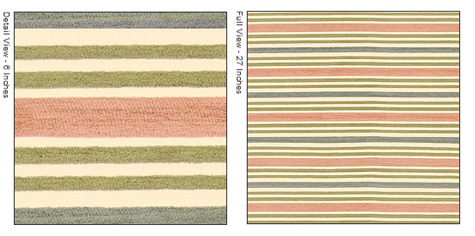 I shed a tiny tear as I realized that I wouldn't be able to create the curtains I had envisioned for the space. The horizontal lines meant that the fabric was only 54″ wide if I attempted to sew vertically lined curtains. I didn't want a seam half way through the fabric and I thought horizontally lined curtains might conflict with the horizontal wall stripes: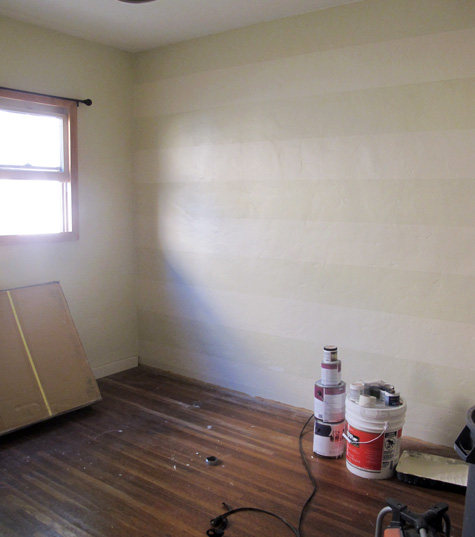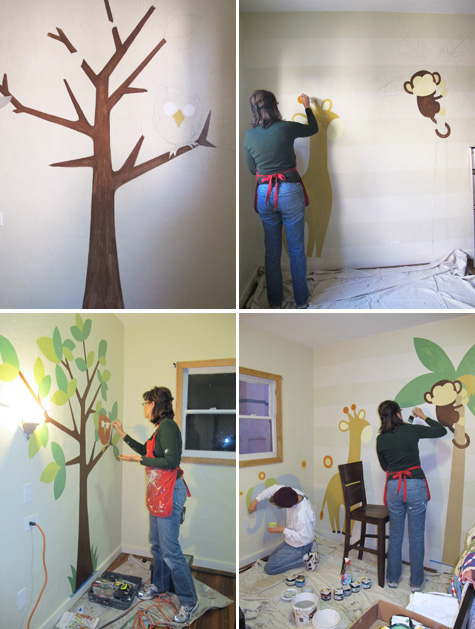 But I quickly moved on to plan b and found a solid fabric that I thought would add just the right feminine touch with its soft pink/coral color to balance out the other patterns and stronger colors (in the form of playful wall animals) in the room: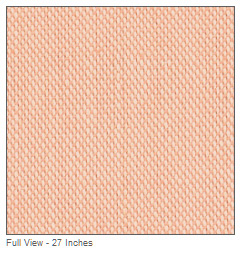 The fabric pattern is called Malibu and is from the Laguna collection at Thibaut. While the color I chose is referenced as 'peach', I ordered a sample and discovered that as I suspected, it appears much pinker in person and really compliments the rest of the room (and the fabric palette picked out here) well. As for the stripe? I have much in store for that fabric.
Other fabrics that arrived recently included the Malay Ikat that will create the perfect cushion covers for the nursery's glider: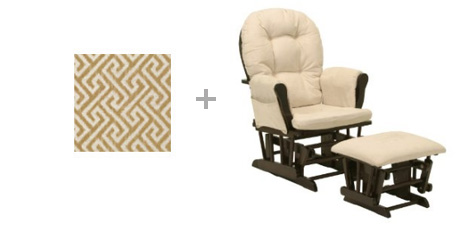 The fabric is just beautiful! I hope that there are a few extra swatches after creating the cushion covers (a must for a glider that's bound to get its fair share of spit up, etc) for throw pillows and what not.
I thought that these fabrics would look beautiful as crib bedding: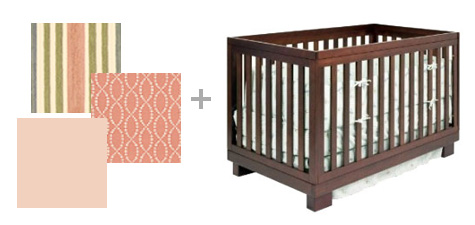 The other 'extras' that will help incorporate patterns into the nursery space might include basket liners, a pillow for the glider, a laundry bag/basket – even fabric book pouches for the walls.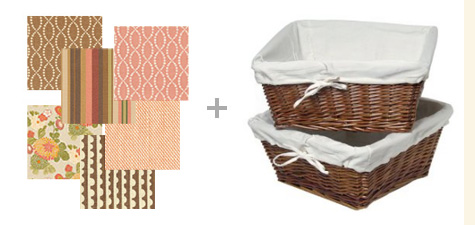 And while I won't tackle all of the sewing on my own (I have an amazingly generous aunt and an awesome local seamstress to help me out with the really tough stuff), these projects will keep me busy over the next few weeks!
If you're catching up on Project Nursery, here's a link to the fabric board, curtains part 1, rocking horse find, new pendant light, vintage wall art addition, changing table makeover, nursery wall striping tutorial, painted animal project, the initial inspiration board and the before picture posts.
Tags:
Crafty Solutions
,
Decorating
,
DIY
,
Fabric
,
Home
,
Nursery
,
Patterns & Color
,
Pink
Posted in
Home
,
Liv's Nursery
,
Renovating Adventures
|
5 Comments »
February 8, 2011
I'm letting the cat out of the bag a little early on this one… because I can't stand the anticipation any longer.
We officially won't break ground on our new guest bathroom until March, but that hasn't stopped me from numerous trips to Lowe's and plenty of mock-ups to design a brand new, sweet little modern bath for our visitors (and Olivia, it will officially be Liv's bathroom as we plan to have it accessible via the hallway as well as her bedroom).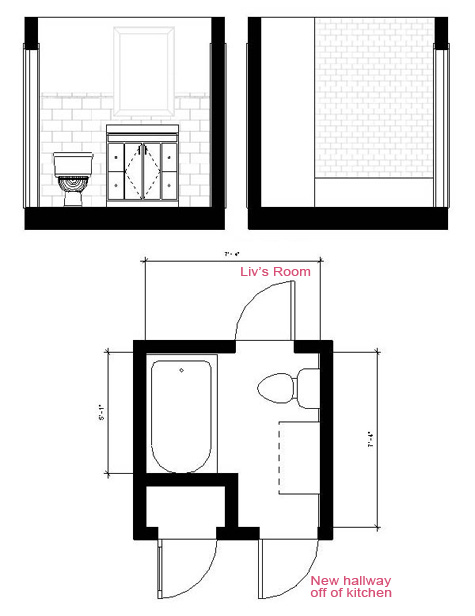 Sure, we still have the old-kitchen-turned-office to finish, the nursery-that's-75%-done and the brand-spankin'-NEW-kitchen (oh poor new kitchen with its teeny tiny details that just won't wrap up) – but why not dive into this amazing project that will leave us one bathtub closer to a clean and modern space for visitors to enjoy?
And we don't currently have a bathtub as our current bathroom's tub is broken (aka so old it has stopped working all together). And it's been over a year. And I'm a bathtub person. And I'd so desperately like to sooth my tired body in one that I'm willing to halt all other projects if necessary (though it's not and they won't) to add one to our home.
Can you believe Olivia's four weeks already!! Just for fun, here we are getting coffee with a friend.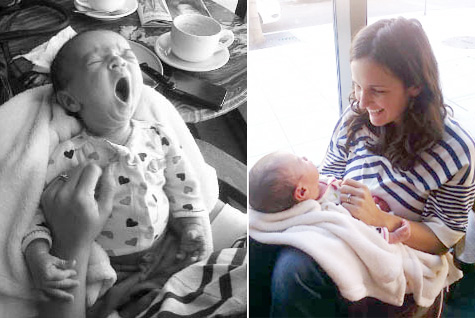 I could stare at that yawn for hours.
Tags:
Construction
,
DIY
,
Home
,
Our Bathroom
Posted in
Construction
,
Home
,
Our Bathroom
,
Renovating Adventures
|
10 Comments »
February 3, 2011
Pantone has named Honeysuckle as their 2011 Color of the Year – and with Valentine's Day just around the corner I've been inspired by the 'not quite hot pink but warmer than coral' color for the home, wardrobe and even a Valentine's Day party.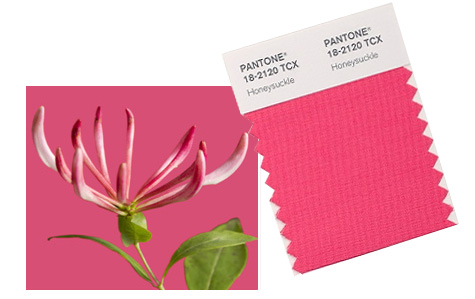 Honeysuckle (I thought of yellow when I initially heard the color) makes a great impact in small doses. I love the idea of a pink rug in a grey or navy room – or perhaps as a small side table, patterned pillow or a knitted throw for the couch.
For the wardrobe, how about a thin honeysuckle belt over a darker/neutral cardigan? Or even in a pair of daring heels!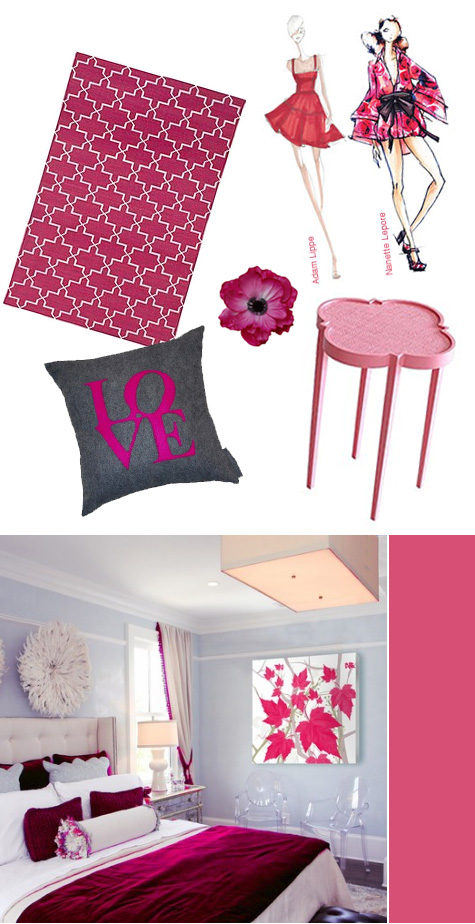 Clockwise: rug by Madeline Weinrib, sketches, Tini Table, room at DecorPad, pillow shared on Ecosalon,
For honeysuckle Valentine's Day inspiration, head over to Sweetopia for delicious recipes and cupcake decorating ideas.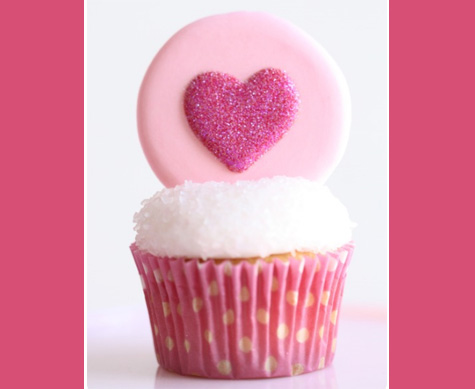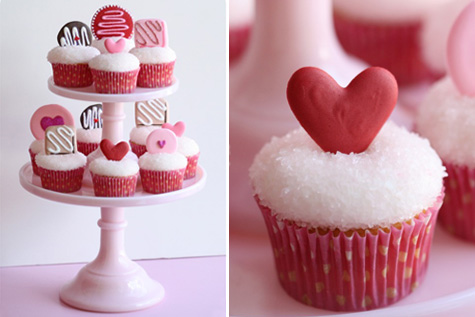 Yum.
Valentine's Day is just around the corner!
Tags:
Home
,
Parties & Entertaining
,
Pink
,
Valentine's Day
Posted in
Holidays
,
Home
,
Home Inspiration Board
,
Parties & Entertaining
,
Valentine's Day
|
5 Comments »