September 9, 2009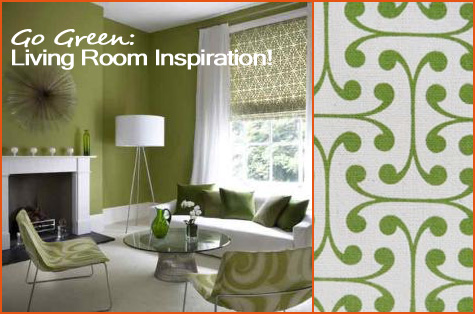 Some quick eye candy for inspiration on creating  a great green living room. I'm in the process of slowwwwly decorating each room of our home that we bought a year ago, and my current fetishes include patterned window shades, unique upholstered chairs and sunburst mirrors (randomly enough): Apartment Therapy delivers, once again! The great fabric shown to the right is by the 100% organic textile line Mod Green Pod, talk about going green!
Tags:
Decorating
,
Green
,
Home
,
Living Room
Posted in
Home
|
3 Comments »
September 9, 2009

Custom lampshades are an excellent way to add detail & personality to your home. Whether a standing lamp with strong patterns for a kid's bedroom, a delicate hanging pendant over the dining room table or an eclectic addition to the family den, adding color and patterns through a lampshade to your space is a chic way to brighten the room!
One of our future Before & After posts includes a quick How-To for everyone inspired to make their own, however with the exception of the stunning Galbraith & Paul pendants at the top of the post, all custom shades shown here are homemade by members of Etsy and are easy to custom order or select pre-made from your favorite store.
Follow the jump to check out these great vendors to find or design your perfect lampshades at a purse-friendly price. Read more »
Tags:
Accessories
,
Crafty Solutions
,
Decorating
,
DIY
,
Home
,
Lighting
Posted in
Crafty Solutions
,
Home
|
Comment »
September 4, 2009
I'm so excited to bring you our first Friday Guest Blogger, Kim Vallée! She absolutely embodies the 'home and entertaining inspiration & innovation' theme of Pepper Design Blog and has had wonderful success with her own stylish living website: At Home with Kim Valleé. Kim writes food and entertaining articles for FoodTV.ca and is a collaborator for Style Sheet, the blog of HGTV.ca where she shares tips on home decor. In addition, Kim has been featured in a host of major newspapers and magazines offering advice and tips on entertaining, home decor and social media.
For our interview, we asked her four critical questions about her design style, what she loves most about design blogging, her favorite trends and of course, her top suggestions for our readers!

Follow the jump to read the interview & see great ideas from her fabulous blog! Read more »
Tags:
Guest Blog
,
Guest Interview
,
Home
,
Parties & Entertaining
Posted in
Guest Blog
,
Home
,
Interview
,
Parties & Entertaining
|
4 Comments »