January 8, 2010
It's wonderful to bring the Friday Guest Interview series back after a break from the busy holidays (today is our first holiday-free Friday in a while!).
I'm so excited to introduce you to today's very talented blogger and have been waiting oh-so patiently to share The Party Dress and Kelly's wonderful interview! (And inspiration, because she has MUCH of it – just take a gander at the wonderful eye candy she sent over!)
The Party Dress is an entertaining inspiration site full of ideas that cover the gamut from hostessing, home decor, dressing in style and even an entire gallery on NAPKIN ideas (genius!).
Kelly founded The Party Dress ~ Inspirations from the Well-Heeled Hostess in 2009; she is also a regular contributor to Project Nursery, has a newly-opened shop on OpenSky, and just recently started a social stationary shop on etsy.com called WH Hostess (the neatest shop – adorably designed invitations and the like).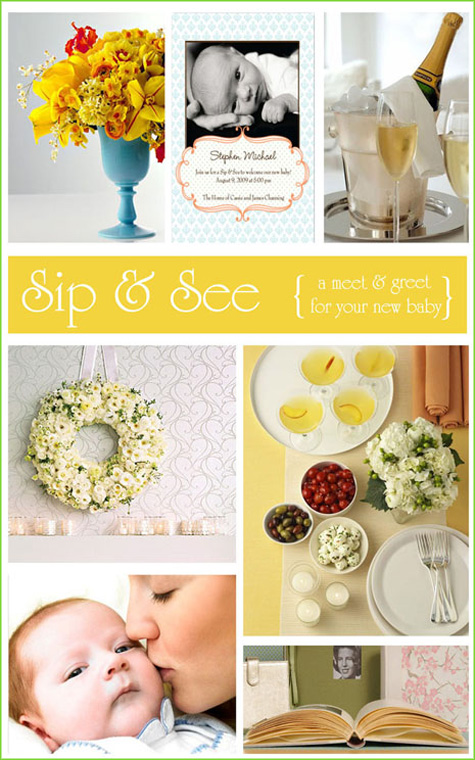 Splitting her time between the fashion industry and her love for party planning, Kelly shares her wonderful ideas on a very user-friendly site; posts are divided by categories so you can easily search for the latest and greatest by topic.
Be sure to check out more pictures and Kelly's answers to PDB's favorite four questions (love her dine-in answer to current favorite trends!) after the jump! Read more »
Tags:
Baby Shower
,
Bridal Shower
,
Decorating
,
Dinner Parties
,
DIY
,
Guest Blog
,
Guest Interview
,
Kids Party
,
Parties & Entertaining
Posted in
Guest Blog
,
Interview
,
Parties & Entertaining
|
6 Comments »
December 26, 2009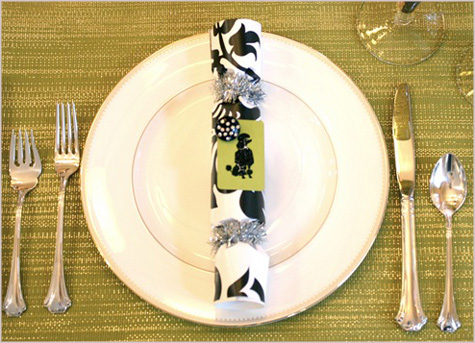 Here's a neat idea for this New Year's Eve. If you're hosting a get-together or dinner party consider this thoughtful treat for your guests — a homemade party cracker! Danielle and Centsational Girl share how.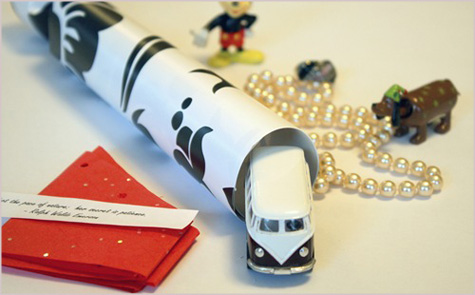 This decorative tube (an empty paper towel holder in this case) is usually filled with little knick knacks (paper crowns, fortune messages, small toys…) and is wrapped in bright shiny colors. Tradition holds that two people pull from each end of the cracker until it *pops*, emptying out the contents. Read more »
Tags:
Christmas
,
Crafty Solutions
,
Dinner Parties
,
DIY
,
Kids Party
,
New Year
,
New Year's Eve
,
Parties & Entertaining
,
Tutorial
Posted in
Crafty Solutions
,
Parties & Entertaining
|
Comment »
December 21, 2009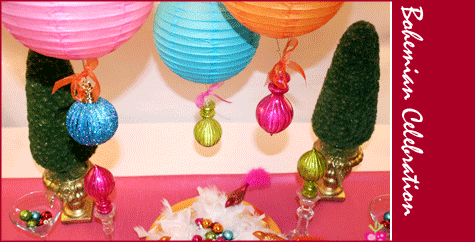 Looking for a unique party theme for Christmas or New Years? Top Party Ideas shares a very festive bohemian spread that would be perfect for either holiday!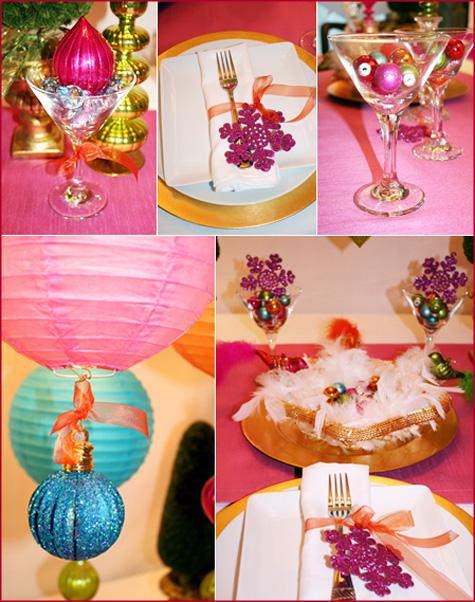 I love the bright colors and sparkly details! Martini glasses filled with pastel mini bulbs and gems as well as the stacked paper lantern ornaments are a few of my favorites (check out this post on handmade paper ornaments to replicate the combination). Read more »
Tags:
Birthday
,
Bridal Shower
,
Christmas
,
Crafty Solutions
,
Decorating
,
Dinner Parties
,
DIY
,
Kids Party
,
New Year's Eve
,
Orange
,
Parties & Entertaining
,
Patterns & Color
,
Pink
,
Purple
Posted in
Crafty Solutions
,
Parties & Entertaining
|
1 Comment »