October 2, 2009

I'm so excited for this Friday's Guest Blog… Amy, founder of Stem Parties, is incredibly inspirational and has the biggest HEART of all. Her ideas and parties are clever & creative in that perfect DIY fashion! And her role as the Chief Event Organizer for Operation Shower deserves all of the accolades I can offer. This exceptional organization honors the sacrifices military families make by producing and coordinating unit-wide baby showers and "showers in a box" for pregnant or expecting military families in a deployment or high stress situation.
Stem Parties, a boutique event planning service in St. Louis, Missouri, originated from Amy's love of party styling and entertaining and has transformed into a fabulous blog as well. A quick jump over proves that this designer was born to throw parties — peruse her recent events and you'll see immediately how easy and effortlessly she pulls off incredible events! It'll get the wheels upstairs turning!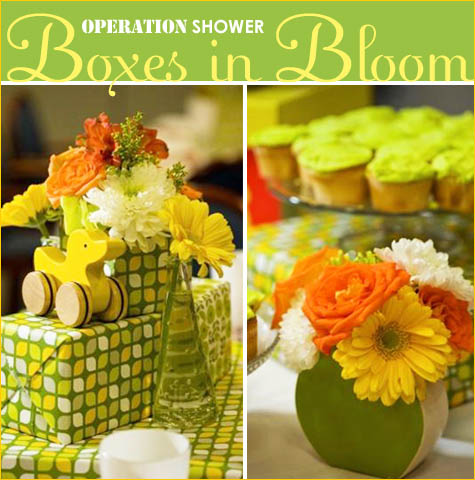 You must read her answers to our four key questions… you won't be disappointed! Follow the jump for the interview and pictures from her events, including more from Operation Shower. Read more »
Tags:
Baby Shower
,
Birthday
,
Bridal Shower
,
Crafty Solutions
,
Decorating
,
Dinner Parties
,
DIY
,
Guest Blog
,
Guest Interview
,
Kids Party
,
Parties & Entertaining
Posted in
Guest Blog
,
Interview
,
Parties & Entertaining
|
5 Comments »
September 21, 2009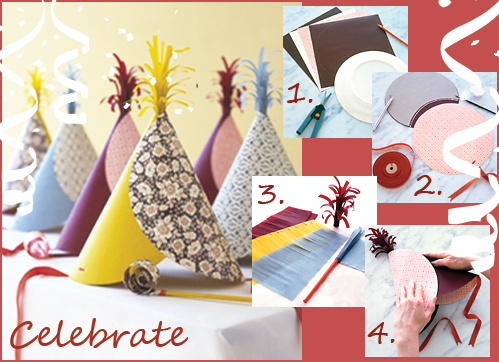 A cute way to incorporate your party colors and theme into personal favors is by making special party hats for each guest! This would be equally fun at a kid's party as it would an adult dinner party! I'm just picturing all of my guests for my husband's birthday (which is this Wednesday) sporting these awesome pom hats at the dinner table — it would make a great picture! You can really jazz these up too!
Follow the jump for step-by-step instructions from Martha Stewart Living. Read more »
Tags:
Birthday
,
Decorating
,
DIY
,
Kids Party
,
Parties & Entertaining
,
Tutorial
Posted in
Crafty Solutions
,
Parties & Entertaining
|
12 Comments »
September 13, 2009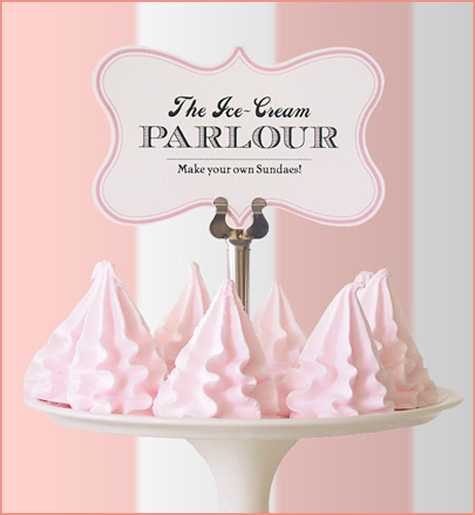 I stumbled across this adorable ice cream dessert buffet by Amy of Eat Drink Chic while perusing some of my favorite blogs (thanks Little Ant Design blog!) and had to share it with you! I think it's absolutely fantastic — from the candy pink theme to the perfect little labels (which, by the way, are available as free template downloads at the original post!).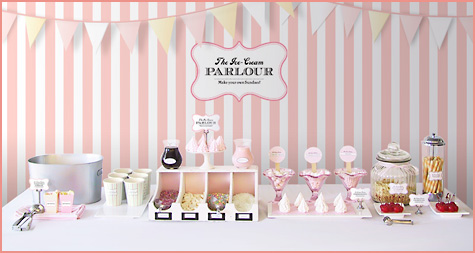 This easy buffet bar allows the hostess to build a crafty dessert center with very little food prep — 100% of your buffet could be store bought and no one would think twice about it! Plus, it allows guests to customize their own special treat, making the dessert delicious & fun! The free label downloads are so darling and ideal for any dessert buffet, from a wedding to a kid's party.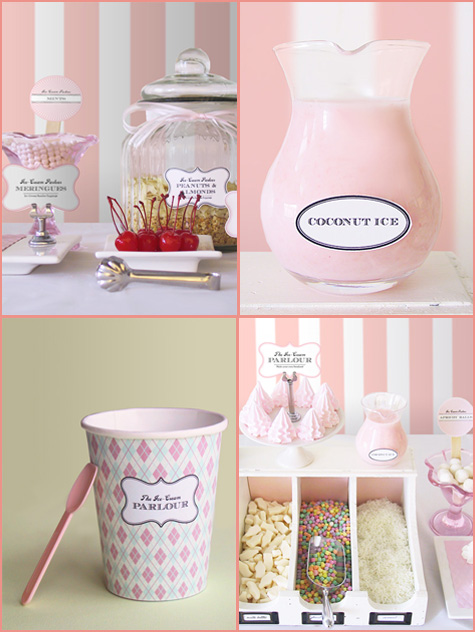 Follow the jump to find more fun images from Amy's masterpiece! Read more »
Tags:
Baby Shower
,
Birthday
,
Bridal Shower
,
Crafty Solutions
,
Desserts
,
DIY
,
Kids Party
,
Wedding
Posted in
Crafty Solutions
,
Parties & Entertaining
|
2 Comments »