September 10, 2009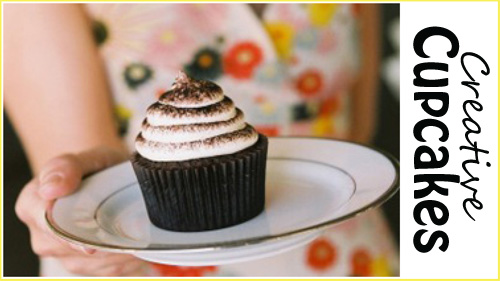 The search today for modern & pretty — but delightfully appetizing & divine — cupcakes is virtually endless. Cupcakes are the new wedding cake, dessert bar and afternoon snack. There are so many fabulous bakeries sprinkled about to satisfy the craving — but when Vanilla Bake Shop decided to divulge one of it's best kept secrets, how to recreate the salivatingly sweet Raspberry Meyer Lemon Cupcake with Martha and her audience, I dropped everything to give it a try myself. Amy Berman (founder of the Santa Monica patisserie) was featured on The Martha Stewart Show after proving that her cupcakes were not only beautiful, but also extraordinarily finger-licking delicious!
Note: the Raspberry Meyer Lemon Cupcake is pictured top left in the picture below, the other delicious goodies shown are also all Vanilla Bake Shop.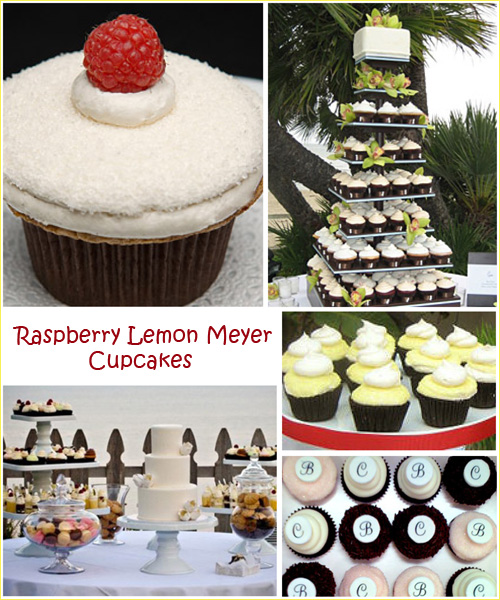 After many an attempt to recreate such delectable finds on my own, I borrowed Amy's recipe to make the (complicated but definitely worth it) treats for a friend's beach baby shower.
While the pressed white sugar topping is clever (I'll be using that again) I opted to swap it out for crushed graham crackers for a sun-kissed, sandy-beach cupcake topped with candy shells. (Another great hint after experimentation: try adding a whole raspberry into each filling hole with the lemon meyer concentrate – you'll knowwhat I mean after you watch the video). For a link to a video of Martha and Amy assembling the mini creations — as well as the recipe — follow the jump. Read more »
Tags:
Baby Shower
,
Birthday
,
Bridal Shower
,
Desserts
,
Kids Party
,
Parties & Entertaining
,
Wedding
Posted in
Parties & Entertaining
,
Recipes
|
1 Comment »
September 2, 2009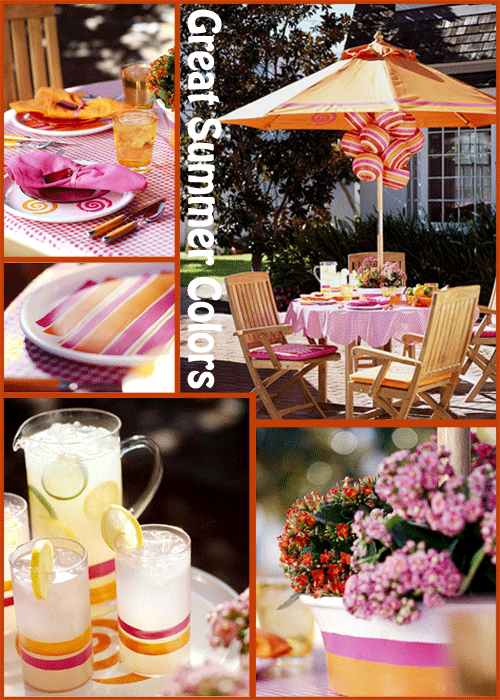 September is here and summer is coming to a close… but the weather has never been more perfect for an outdoor, hot-summer's-day BBQ! For a bit of inspiration, check out this great Orange, Pink & Red theme by Better Homes & Gardens. Colorful melamine plates and paper lanterns — ribbon adorned cups, pitchers and seat cushions — checkered table cloths and matching napkins! Get creative and incorporate any color scheme that you love, it's easy to set the atmosphere and bring cohesion into a lively party through colors and patterns. And as always, it's all about the details!
Tags:
BBQ
,
Birthday
,
Crafty Solution
,
Dinner Parties
,
Kids Party
,
Orange
,
Parties & Entertaining
,
Picnic
,
Pink
,
Red
Posted in
Crafty Solutions
,
Parties & Entertaining
|
1 Comment »
August 15, 2009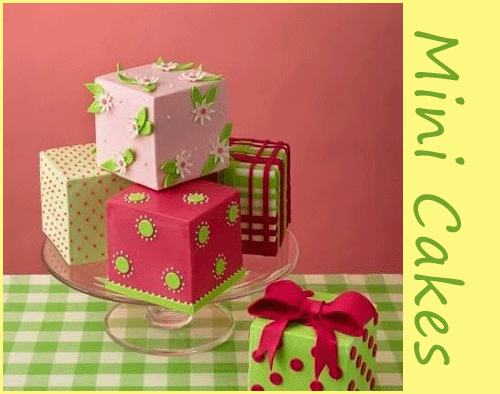 These mini cakes by Confetti Cakes are a great summer idea and incredibly clever. They're also the perfect size for a smaller get-together or birthday, and are even cuter when grouped! Think of all of the great ways these could be decorated!
To try your hand at creating your own, cut baked cake rounds into squares using pre-cut parchment paper as your guide (unless you have a square baking pan with perfectly perpendicular sides — as opposed to the traditional slanted option). Layer cake with a thin filling or icing (because the cake is pretty tall, I'd stick to a basic buttercream as opposed to a fancy filling that will cause the cake to droop or bulge) until the width is the same as the height and length, creating your cube. Finally, use a stronger icing or fondant to cover the box and keep all contents well contained, I'd suggest a crumb coat as well. Then decorate to your hearts content with frosting or fondant/gum sugar cutouts!
Be sure to check out Confetti Cakes online for more amazing ideas!
Tags:
Baby Shower
,
Birthday
,
Bridal Shower
,
Cake
,
Desserts
,
Kids Party
,
Parties & Entertaining
,
Recipes
Posted in
Parties & Entertaining
,
Recipes
|
Comment »